Even if you don't love fennel, this Citrus Fennel Salad with avocado will convince you to change your mind. It's refreshing, seasonal, and so sunny on these cold days.
Okay, so this blog has turned into a dessert blog lately because 'tis the season, but we actually do continue to eat healthy things around here every now and then during these crazy weeks. Just a little.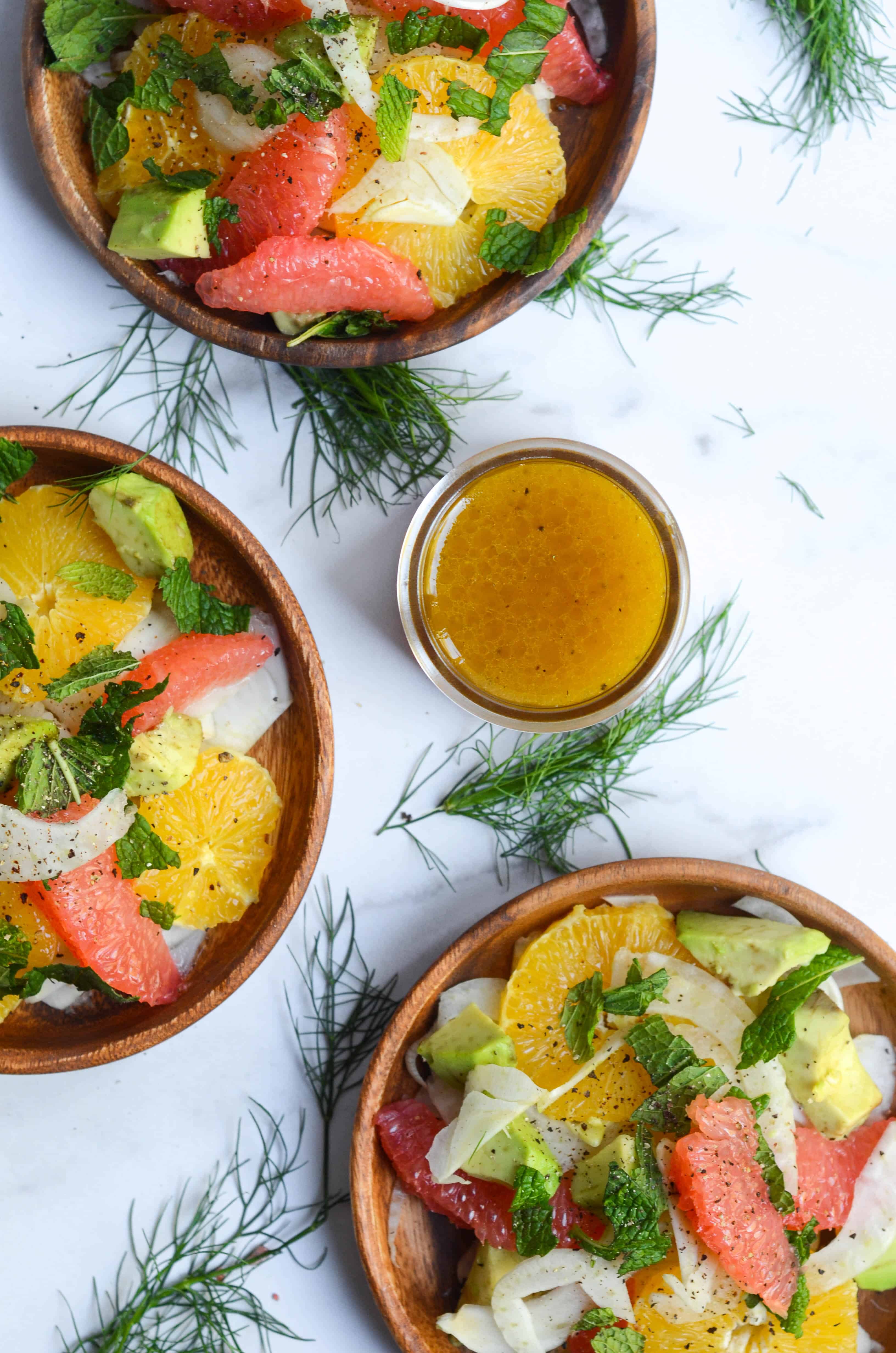 This Citrus Fennel Salad was a really nice detox after a weekend of binging on all sorts of junk food. Like this Pea Salad with Radishes, Ricotta and Mint, there's no lettuce in this salad. Citrus is just absolutely lovely this time of year and reminds me of Christmas morning, where we'd always get an orange in our stocking. I don't think any of us ever ate our orange come to think of it, but as an adult, I'd love to peel, cut, and add that orange to this salad now. Hindsight is 20/20.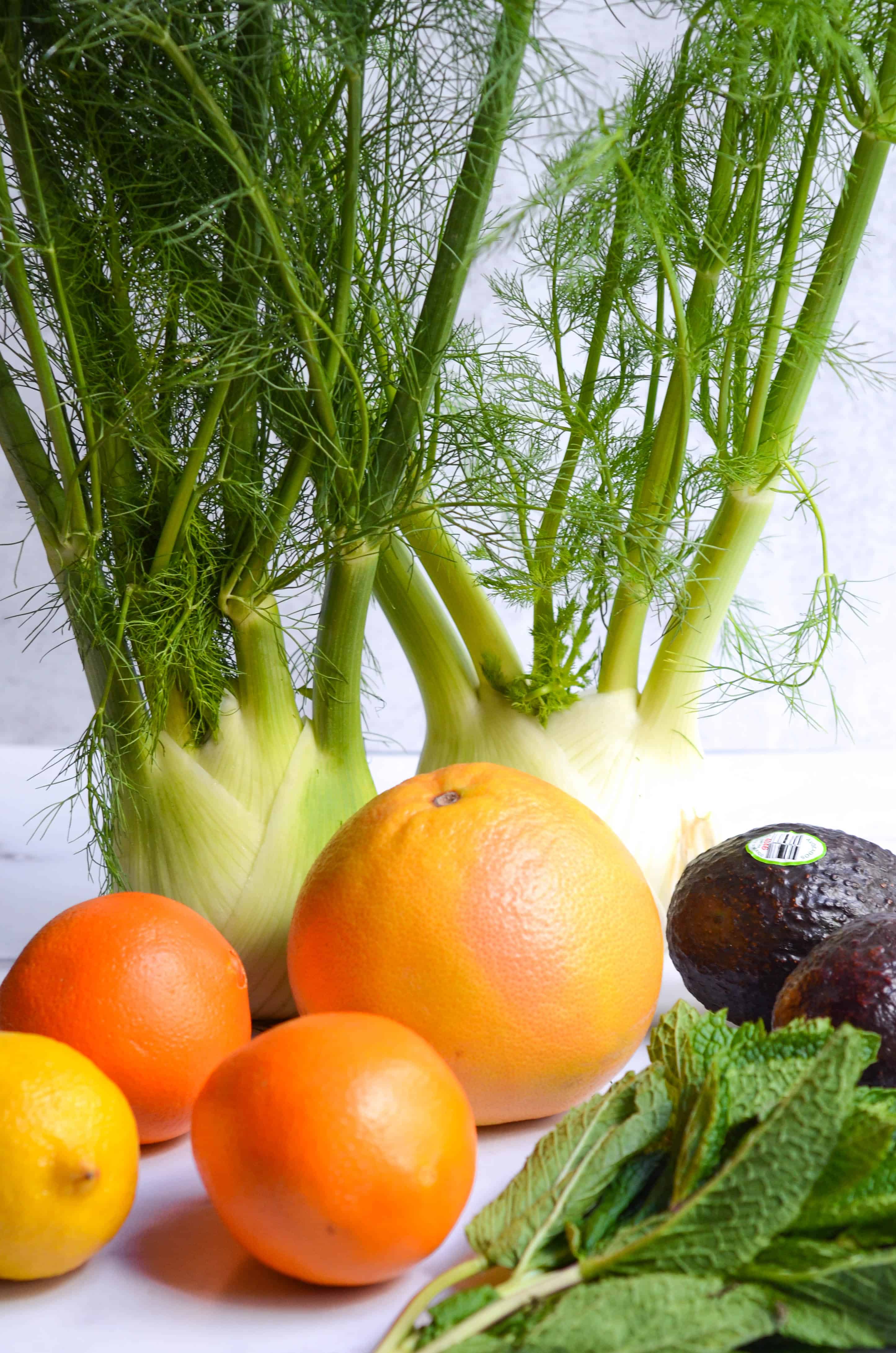 Fennel 101 for the Reluctant
Are you fennel reluctant? Me, too. I'm serious. I can do fennel in a few different things, mainly sausage (The Red Hen in DC makes this killer rigatoni with fennel sausage that's delightfully simple yet so delicious and it's one of the best pastas I've ever had and I could go on and on and on about it...)...and this Citrus Fennel Salad.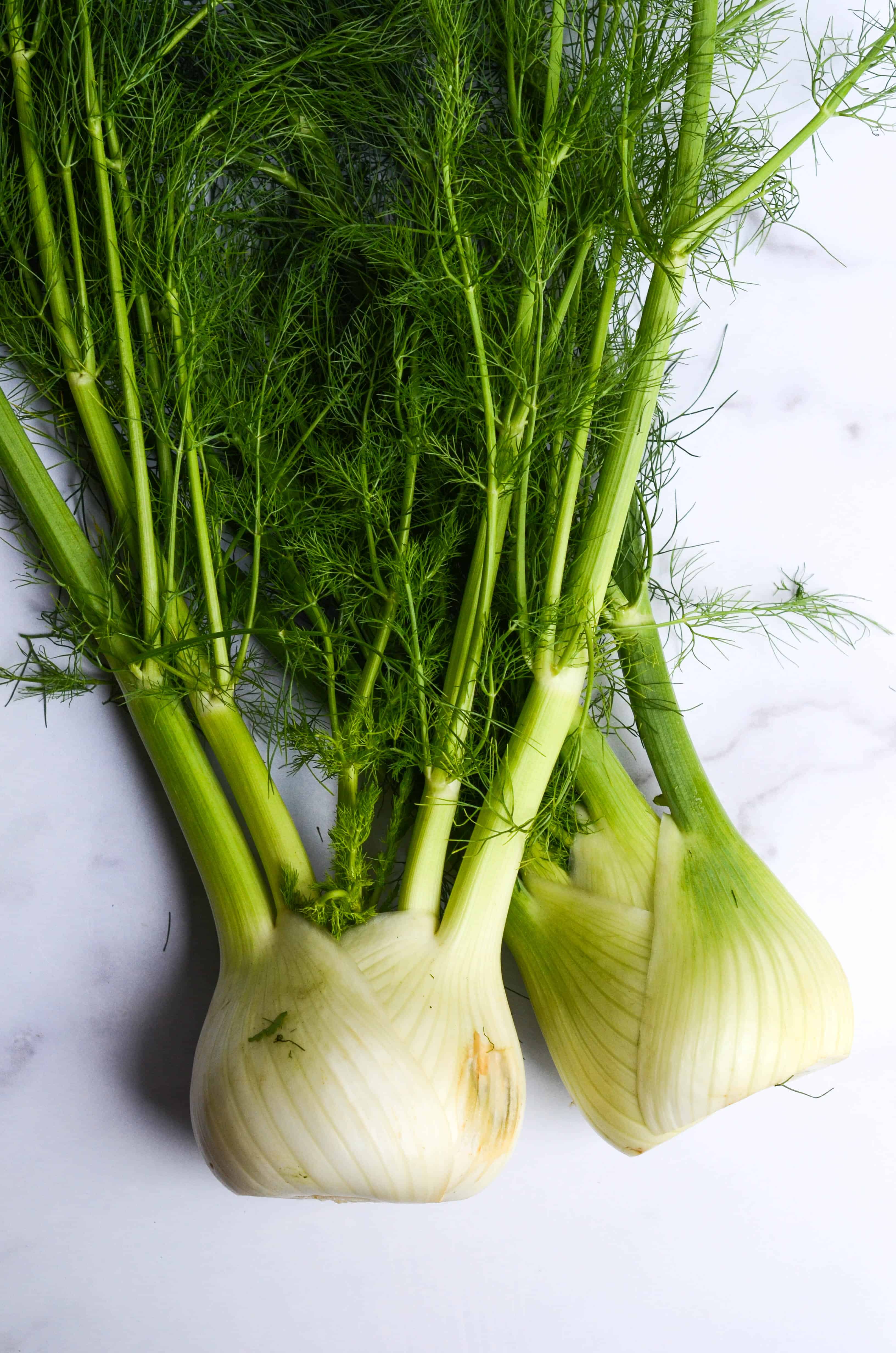 Fennel looks like a mix between an onion (because of the bulb) and celery because of the stalk. It also has these fronds that resemble dill. Fennel is actually part of the carrot family though. It's very aromatic and has a pretty bold, anise-like flavor. Think black licorice in vegetable form. But guess what? I don't like black licorice.
Then why do I like it raw in this salad? The naval oranges and Ruby red grapefruit do something amazing to the fennel, so I have no problem eating raw fennel in this salad...and trust me. I despise licorice. Fennel is absolutely delicious though when paired with the acidity in the oranges and grapefruit and the soft, mild avocado. Then the fresh mint just takes this salad over the edge of the deliciousness cliff.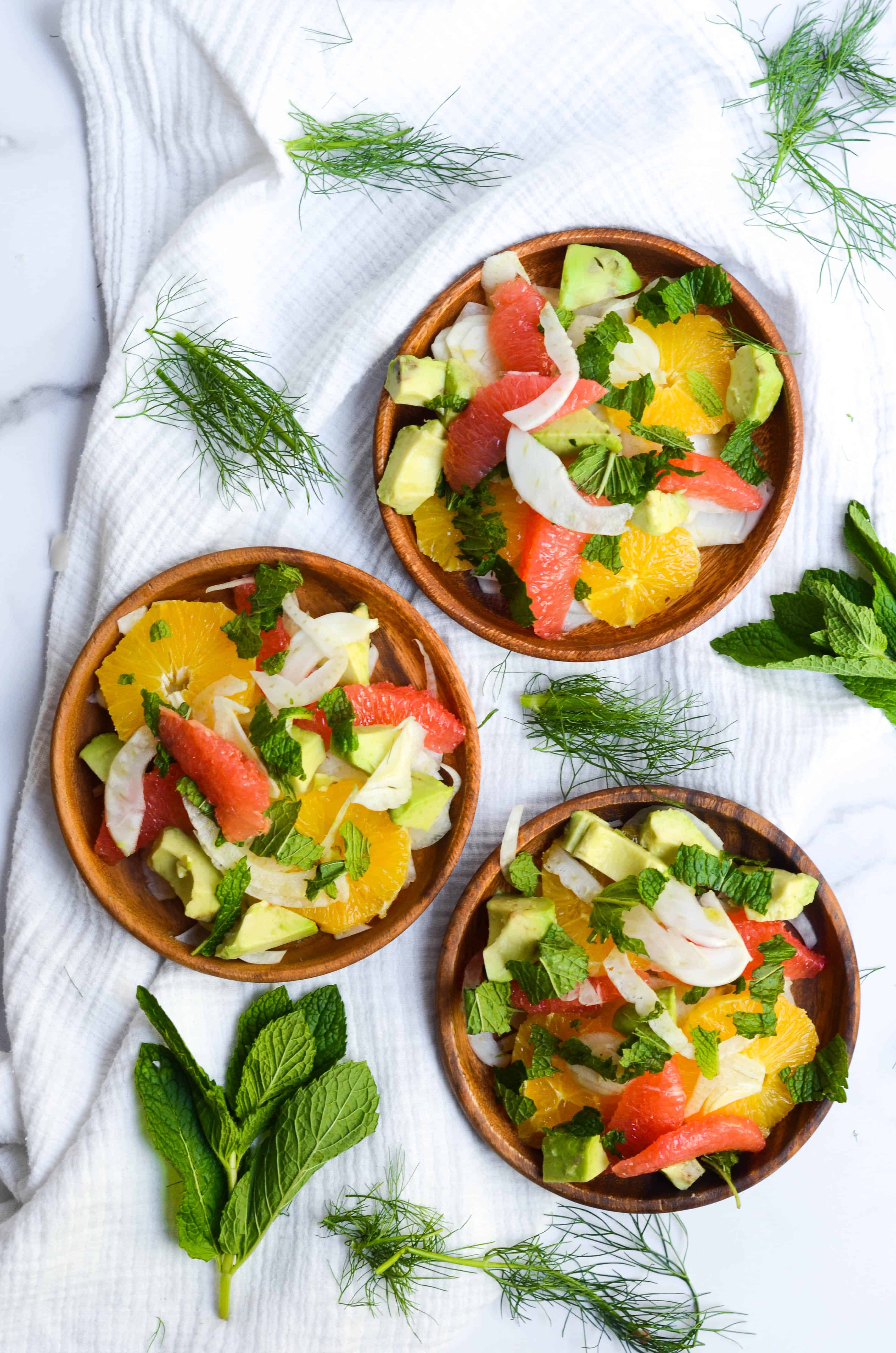 Ingredients in this Citrus Fennel Salad
This salad is stupid simple:
grapefruit
oranges
fennel
avocado
mint
olive oil
honey
salt and pepper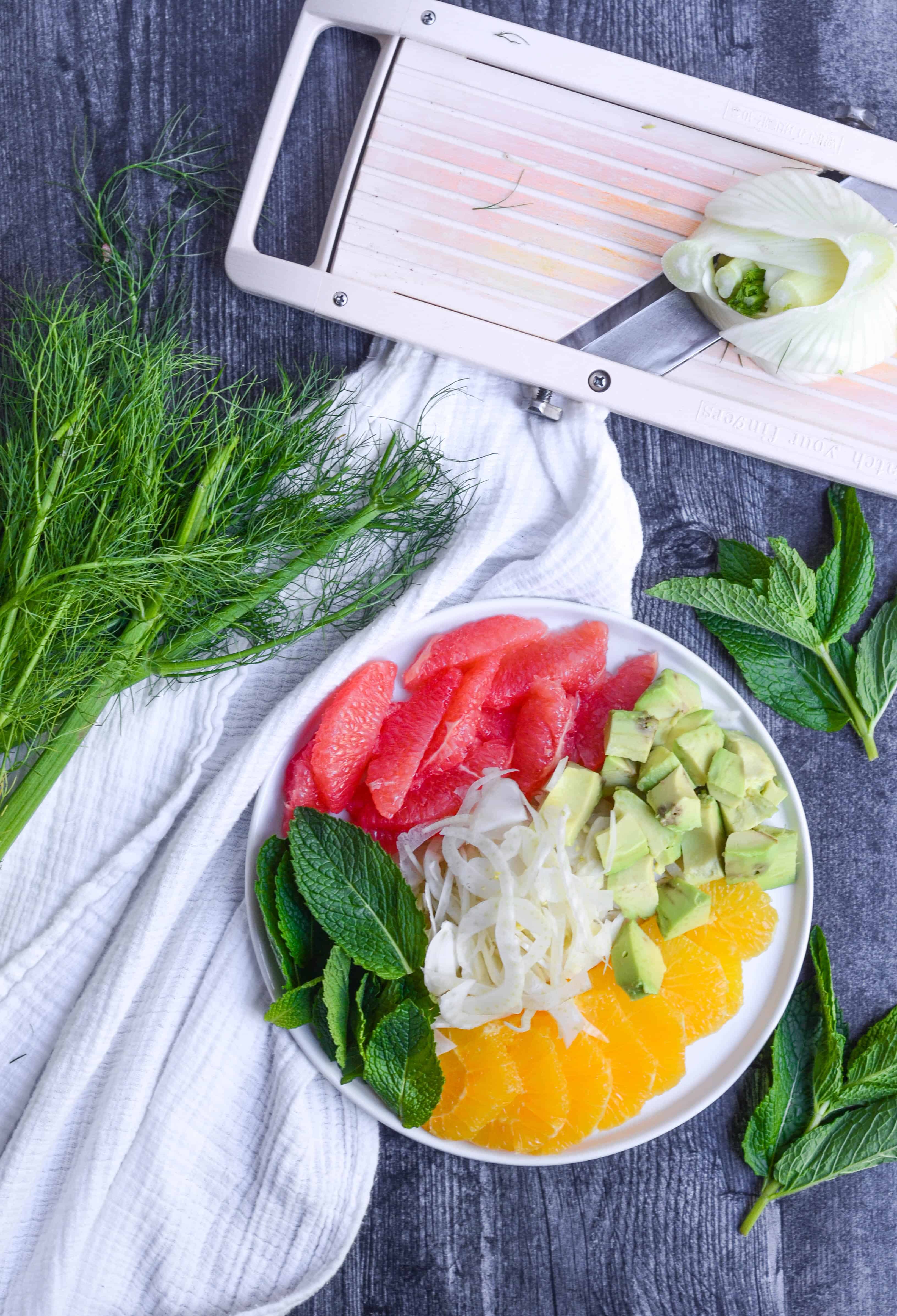 How to segment grapefruit and oranges
Easy peasy, but if you've never done it before, watch this video for how to peel and segment a grapefruit or this one that uses an orange. It's the same technique for either. In this salad, I actually segmented my grapefruit and sliced my oranges because the oranges were pretty small.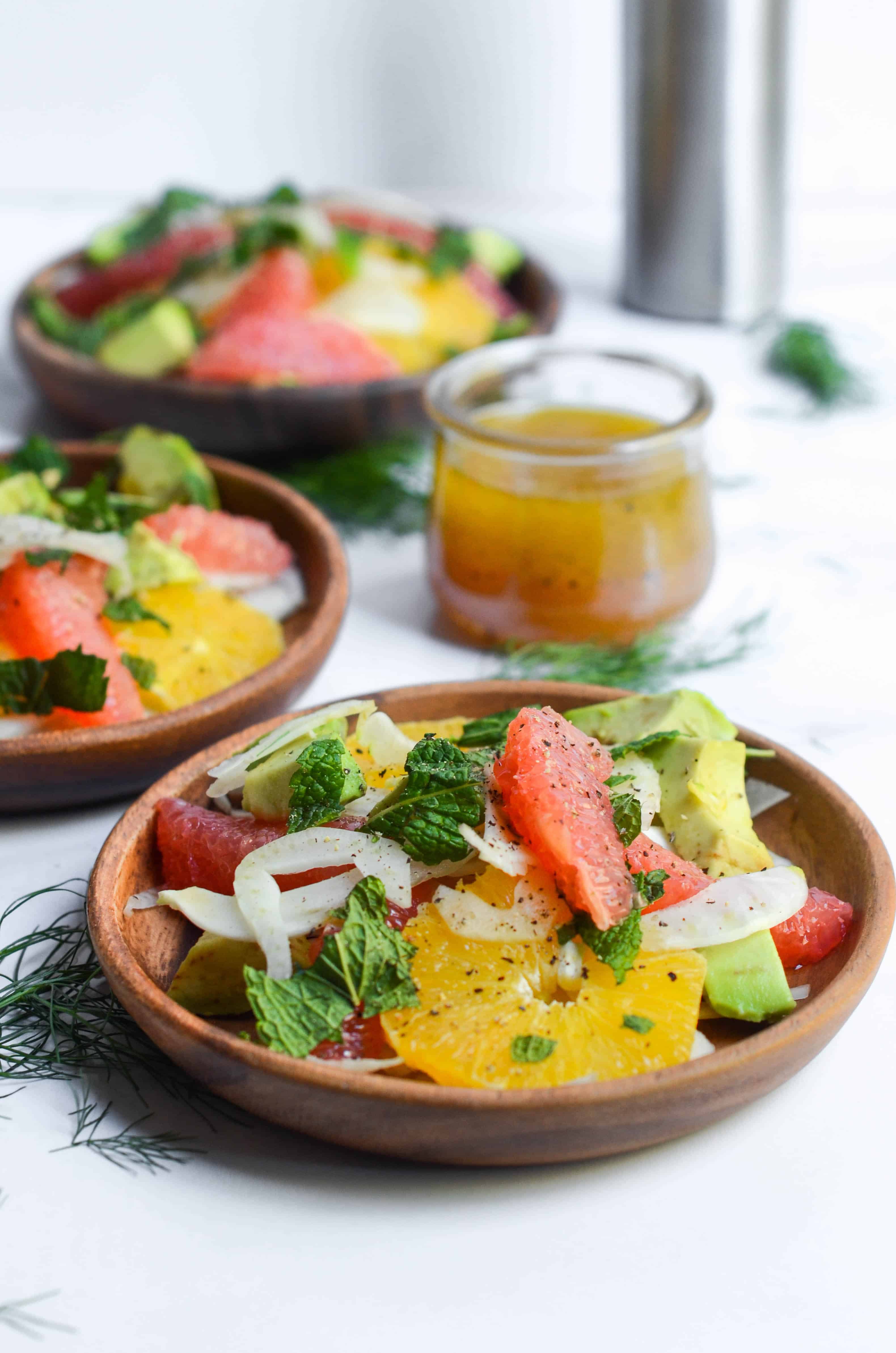 Preparing and shaving fennel
To prepare your fennel for this salad, you'll first need to cut the stalks off. You only need the bulb of the fennel (although you could save the fronds for garnishing because they're pretty, whispy little things). You can then remove the outer layer of the fennel if it's damaged or tough. Then cut the bulb in half lengthwise and make a triangle cut to remove the core on both sides.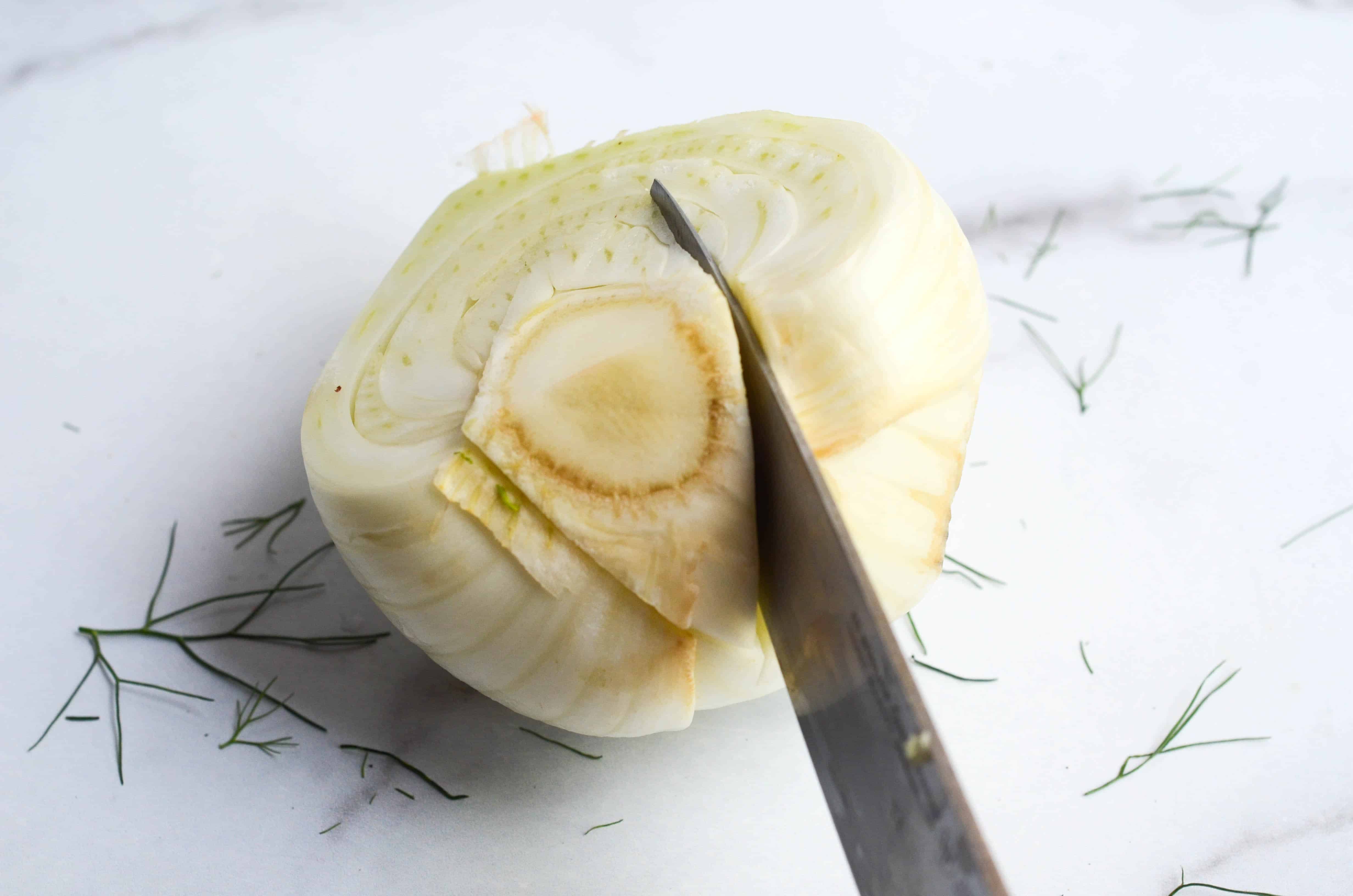 Once the core has been removed along with any outer layers that need to go, you'll either shave the fennel with the help of a mandoline or cut finely with a knife. I'm totally in love with my mandoline, but be super careful because I know people who have sliced their fingers off from one (no joke). It has an incredibly sharp blade that is not to be messed with. I wear these cut-resistant gloves (also no joke) when I'm using a mandoline because I really like my fingers.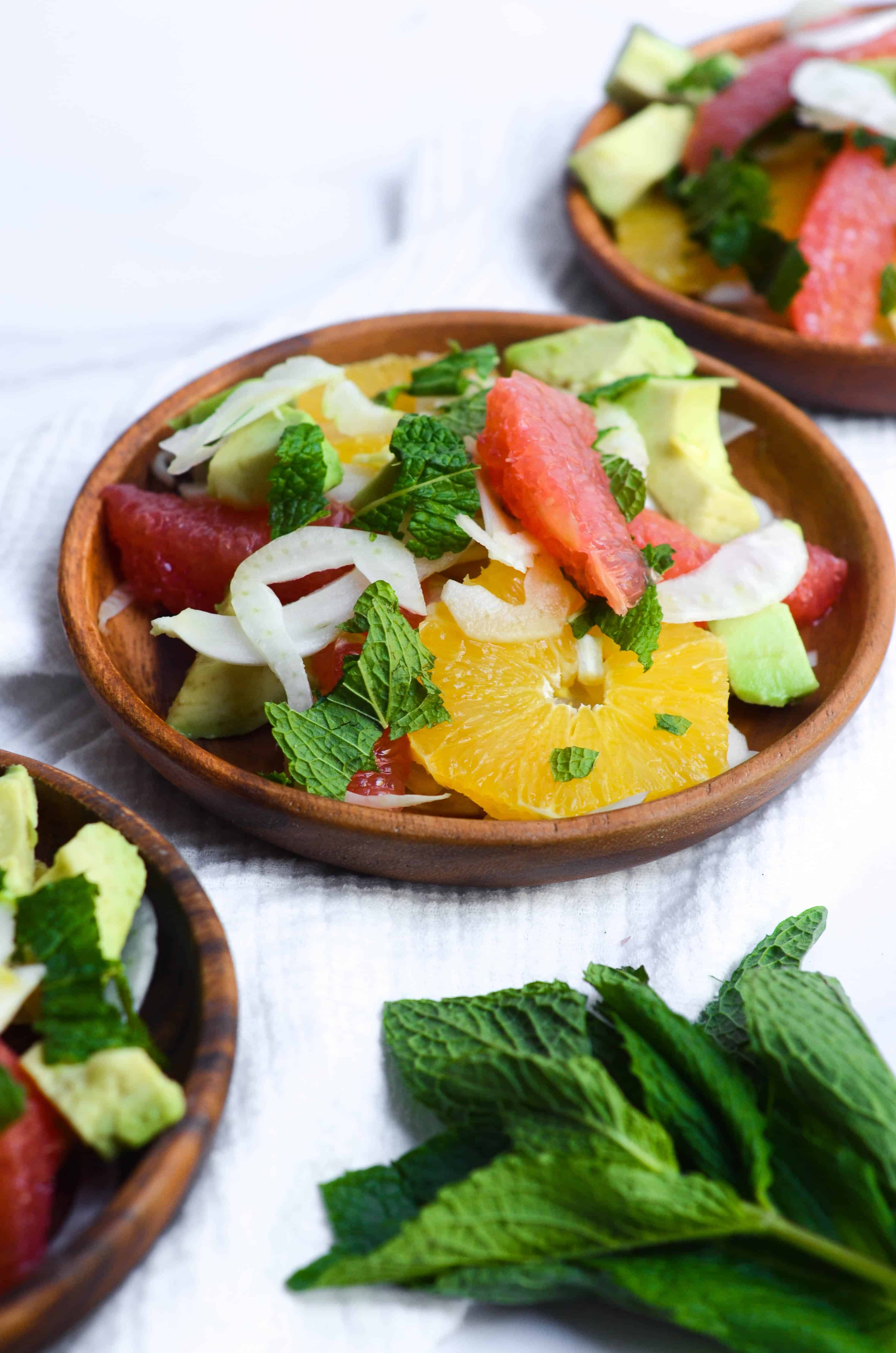 Grapefruit Vinaigrette
I absolutely love using all parts of a food (like the tops of carrots in this carrot top pesto), and once you segment the grapefruit -- don't throw it away! You'll squeeze the remaining juice out and use it in the vinaigrette. It's a very simple vinaigrette -- nothing fancy -- and won't take you much effort to put together. Just add your grapefruit, olive oil, honey, and salt and pepper to a jar and give it a good shake. Done! My 5 year old is my grapefruit vinaigrette hand model below...complete with Play-doh in his fingernails.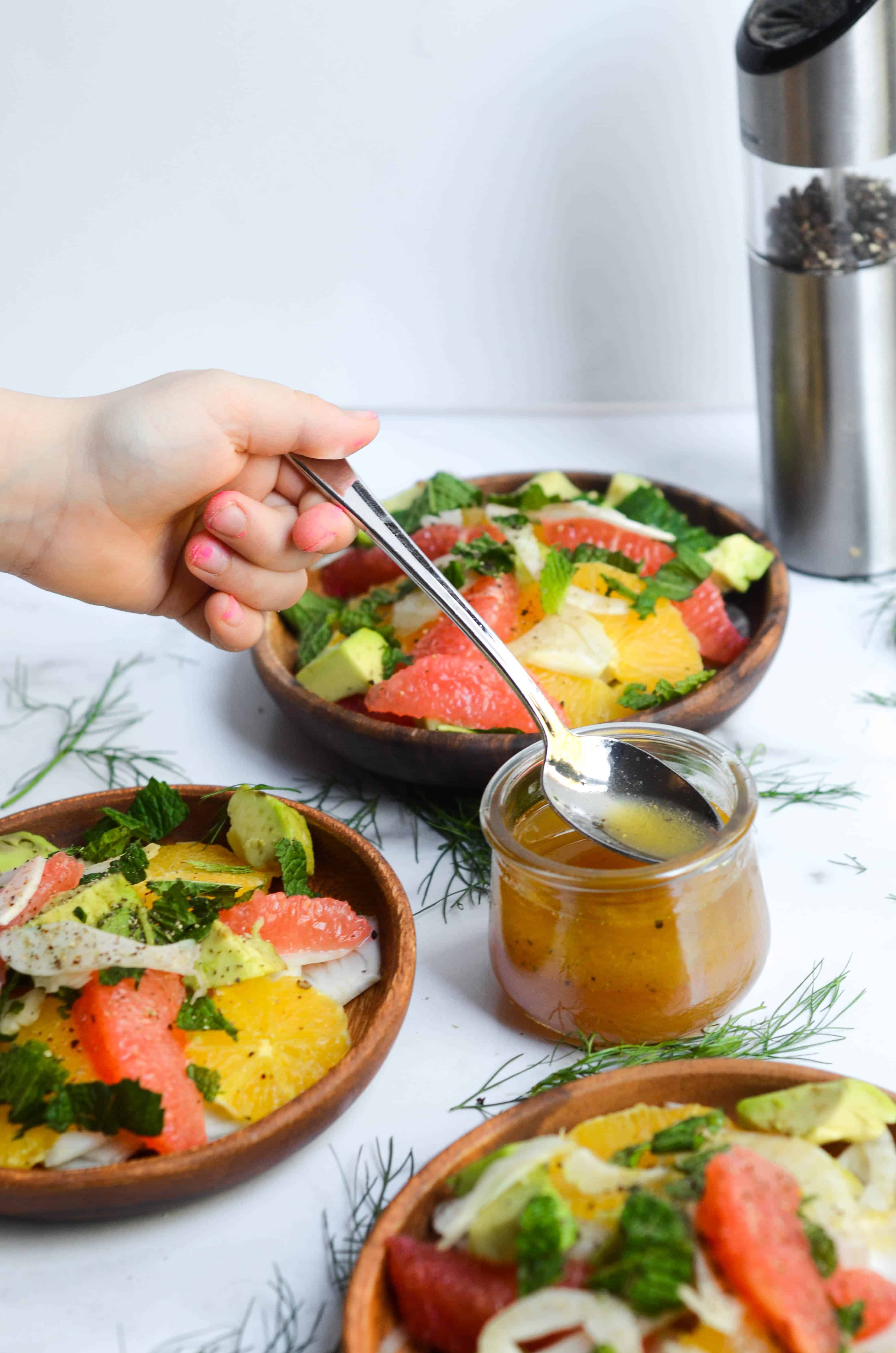 Okay, that's all folks. Let's try to get some greens in amongst all the junk!
xox
kathryn
As always, if you make anything from the blog, be sure to let me know! I love hearing from you in the comments on this post below or find Worn Slap Out on Facebook, Instagram, or Pinterest!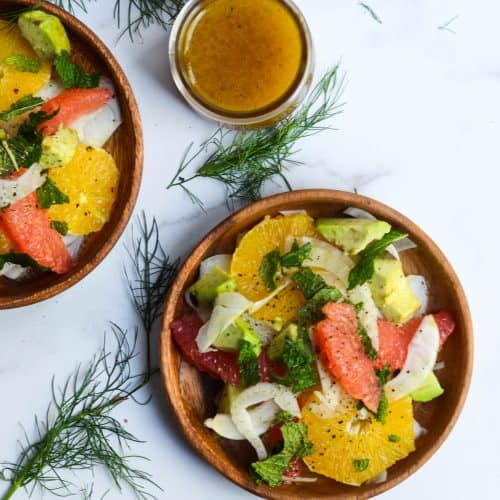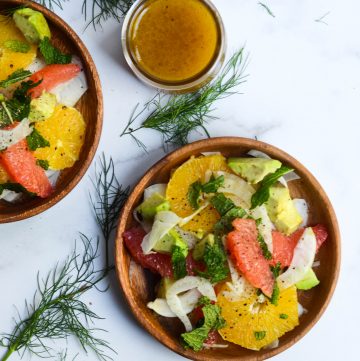 Citrus Fennel Salad with Grapefruit Vinaigrette
Even if you don't love fennel, this Citrus Fennel Salad with avocado will convince you to change your mind. It's refreshing, seasonal, and so sunny on these cold days.
Print
Pin
Rate
Ingredients
For the salad
2

bulbs

fennel, cored and shaved

1

Ruby red grapefruit, peeled and segmented

2

naval oranges, peeled and segmented or sliced

2

avocados, cubed

12

large mint leaves, torn in small pieces
For the vinaigrette:
¼

cup

fresh grapefruit juice

¼

cup

olive oil

1

teaspoon

honey

salt and pepper,

to taste
Instructions
In an old jar, shake vinaigrette ingredients together.

Place salad ingredients on a platter and toss with vinaigrette just before serving.
Notes
Storage: Store salad (without avocado and dressing) in the refrigerator until you're ready to use.  Salad will be fresh for 3-4 days without the avocado or dressing.