These colorful Roasted Rainbow Carrots are jazzed up by a pesto made from the tops of carrots that takes less than 2 minutes to make.
What have you been up to in the new year? I consider this a great start to my new year's resolution to have more fun this year per Connor's resolution (see below).  I've also been KonMari'ing my house and thanking clothes for their service before donating them.  I live on the edge with the fun factor over here.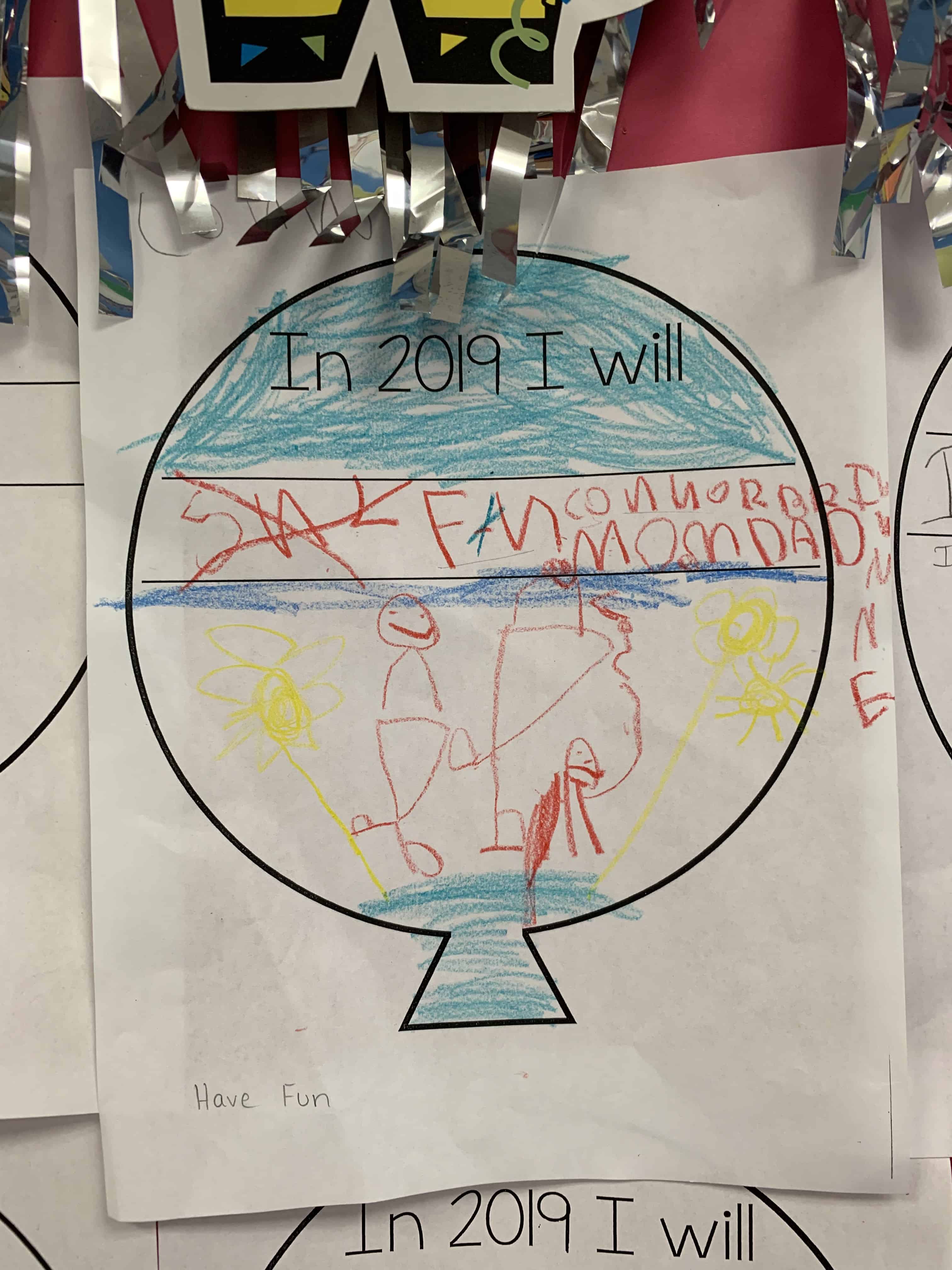 Maybe one of our other new year's resolutions should be to eat more vegetables because they're killer good and we all could use more good...especially in the thick of winter.
Reasons I love these Roasted Rainbow Carrots
Ahh, let me count the ways.
First, the kids devour carrots. No matter the color, no matter the size, roasted carrots are one of the vegetables I don't have to force down my kids' throats. That's a big win for everybody.
Second, roasted rainbow carrots are so colorful. They're such a nice accompaniment on a plate...and just makes you happier. This has been scientifically proven, FYI.
Finally, these carrots require minimal fuss. It takes you approximately 3 minutes of "hands-on" time, while these bad boys roasted in a hot oven. Easy peasy for a weeknight dinner side or are great for entertaining.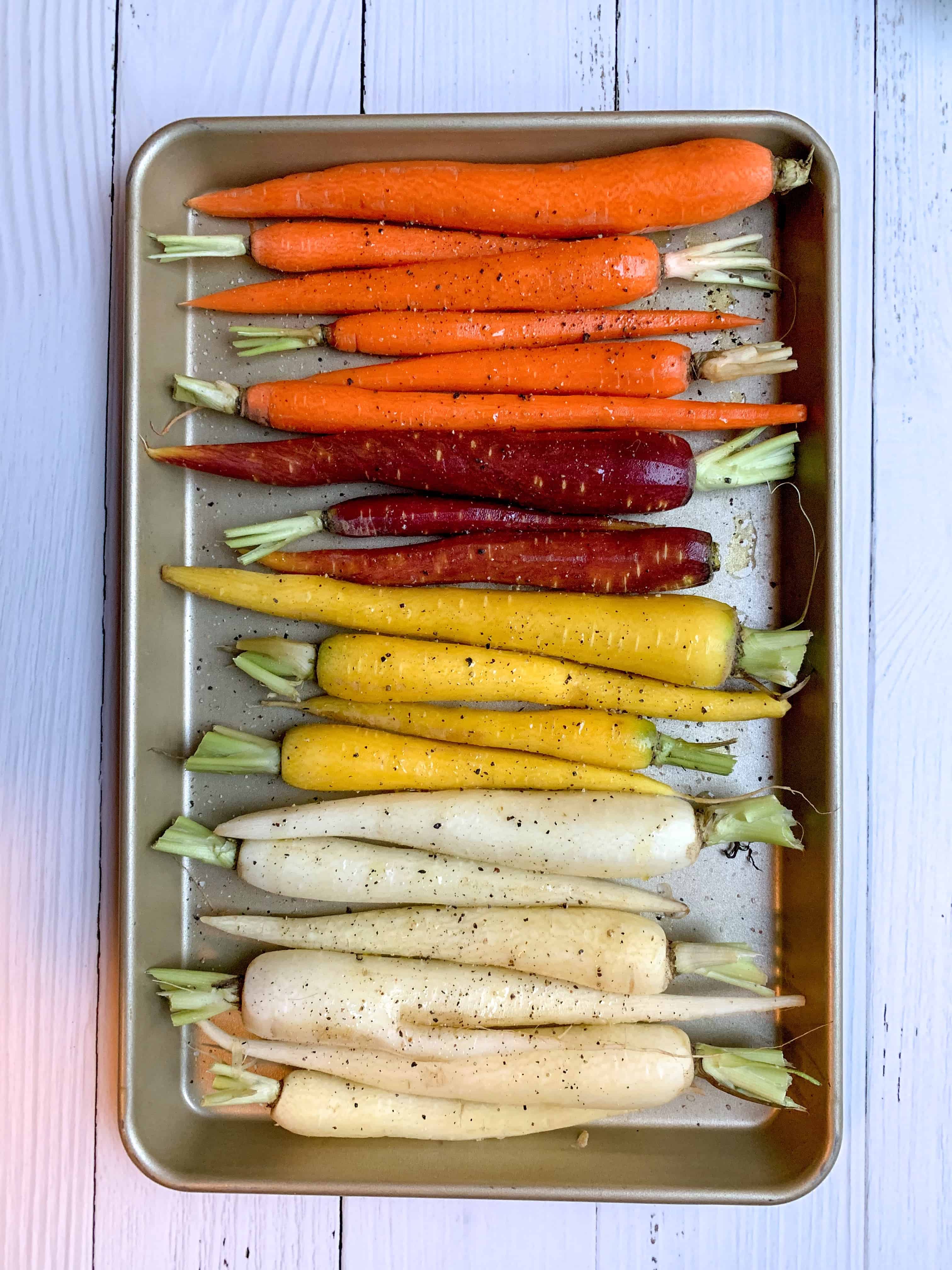 Don't waste the tops of the carrots!
Sometimes meat gets all of the saucy glory, but vegetables deserve to shine in their own right with some culinary accouterments, too.  You know that shrub you trim from your fresh carrots that go right in the trash?  It's time to put those to good use here with this carrot top pesto.  Rainbow carrots are already so beautiful and flavorful.  This deep emerald green carrot pesto punches even more flavor and brilliance to this sexy little side dish (and ridiculously easy, I might add).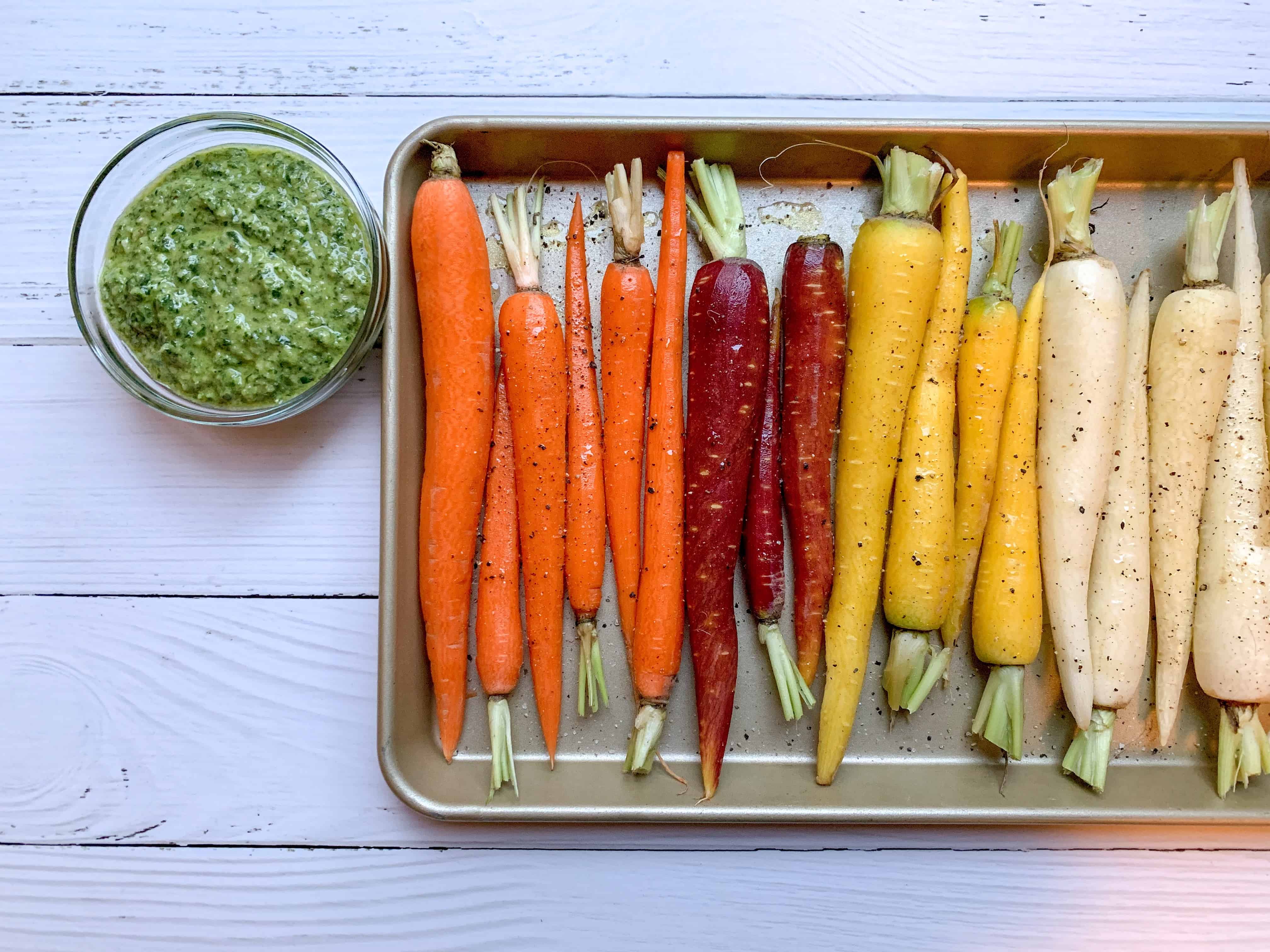 Other uses for carrot top pesto
Pesto is not only healthy but it's packed with so much flavor that can have a million different uses and last for a couple of meals.  I eat pesto plain with my dinner or lunch (I'll just put a scoop of avocado pesto on my plate and use it as a dip), over fish or meat, toss in some pasta, or as a garnish for vegetables.  And it's SO EASY to make because you just put a bunch of stuff in your food processor and push a button.  Done in 2 minutes flat.  If you're into pesto like I am, check out this pea pesto that's awesome with salmon or this traditional basil pesto that's perfect for...well, anything.  I'll share the recipe for my avocado pesto soon.  Stay tuned.
Other Delicious Roasted Vegetables
Need some more veggie inspiration? Try some of my favorite ways to eat roasted vegetables when I'm not eating these rainbow carrots!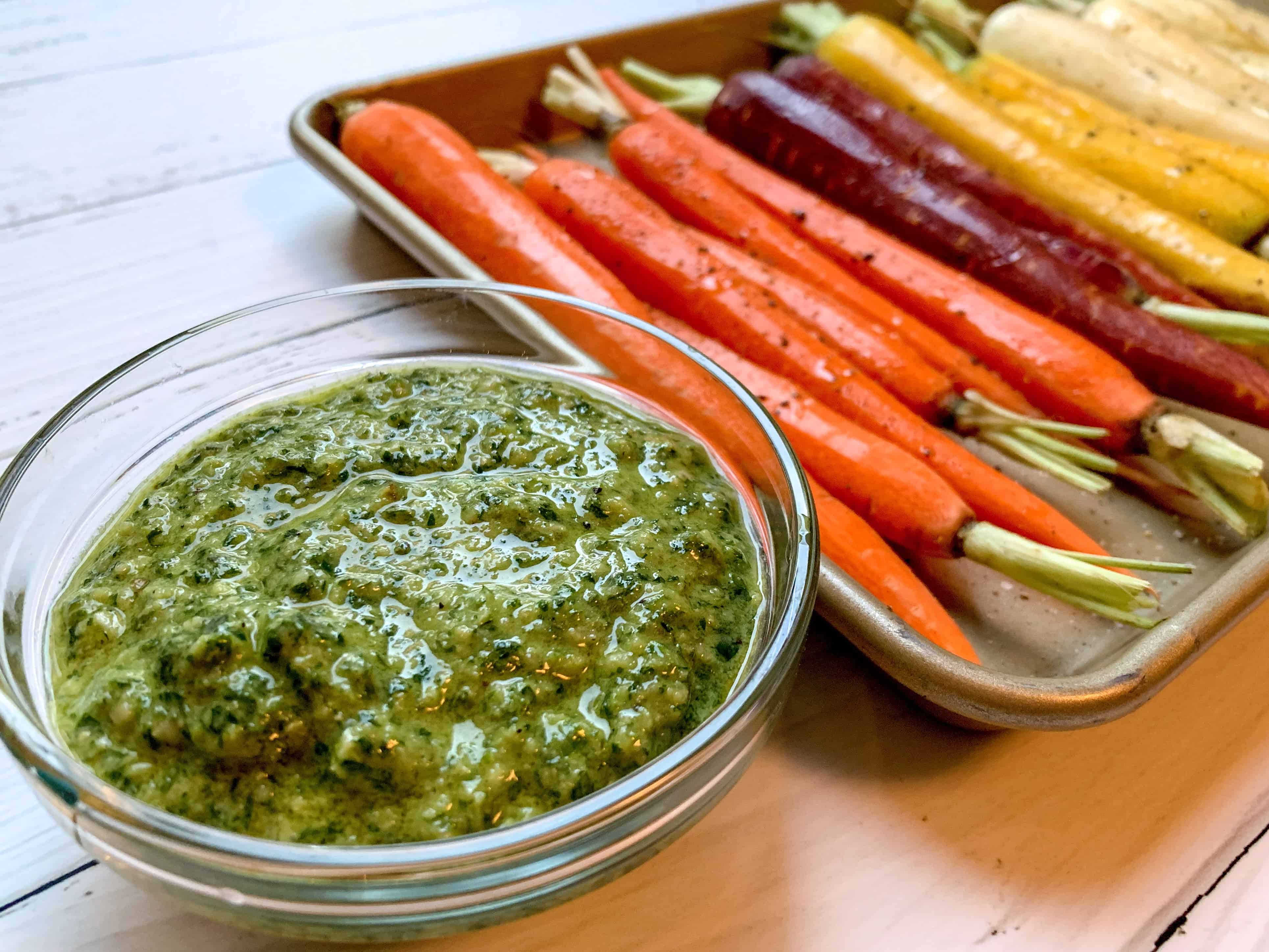 xox
kathryn
As always, if you make anything from the blog, be sure to let me know! I love hearing from you in the comments on this post below or find Worn Slap Out on Facebook, Instagram, or Pinterest!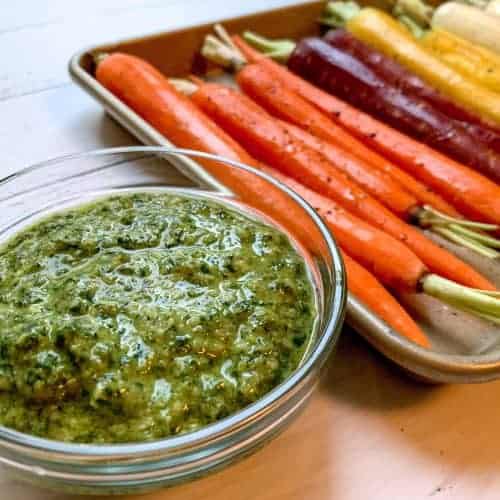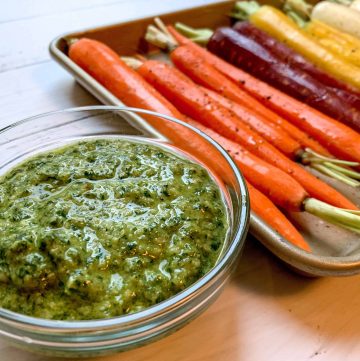 Roasted Rainbow Carrots with Carrot Top Pesto
These colorful Roasted Rainbow Carrots are jazzed up by a pesto made from the tops of carrots that takes less than 2 minutes to make.
Print
Pin
Rate
Ingredients
For the carrots:
2

pounds

whole rainbow carrots

stems cut and peeled1 tablespoon olive oilsalt and pepper
For the carrot top pesto:
½

cup

carrot top greens½ cup parsley⅓ cup pine nuts¼ cup Parmesan cheese

grated (optional)lemon juice from ½ lemon1 garlic clove½ teaspoon salt¼ teaspoon black pepper¼ cup olive oil

pine nuts, toasted (optional for garnish)

parsley, finely chopped (optional for garnish)
Instructions
Place carrots on baking sheet.  Rub with olive oil, salt and pepper.  Roast at 375 for 20 minutes.

Meanwhile, combine all of the pesto ingredients except for olive oil in a food processor.  Process ingredients for a few seconds until all of the ingredients are well combined.  Slowly add olive oil until you reach your desired consistency.

Once carrots are out of the oven, spread pesto over carrots and serve warm.  Scatter with toasted pine nuts and/or chopped parsley if your heart desires.