This refreshing and easy sugar snap pea salad only requires 4 ingredients that are all tossed in a homemade, zesty lemon balsamic vinaigrette.
The secret to making salads (in general)
Our friend Evan makes the best salads. Like ever. Who knew salads could be so hard to master? Once you have one of his salads though, you feel like every salad you've ever done is an inadequate mess. He comes to dinner parties, brings a few ingredients from Whole Foods and seems to just effortlessly toss all of the ingredients together to make the tastiest salad. They're innovative, fresh, and atypical. They're always a great escape from your typical caesar, garden, or spring ones.
When I asked Evan what makes his salads so good, do you know his one secret? He uses fresh herbs. GENIUS. It makes such a huge difference.
Sugar snap pea salad is perfect for spring
This sugar snap pea salad, which I adapted from Melissa Clark's of NYT, reminds me of Evan's salads. It's not your standard lettuce-based salad and contains Evan's secret weapon of fresh herbs -- in this case mint. This sugar snap pea salad contains just four simple, genius ingredients: sugar snap peas, radishes, ricotta and mint all tossed in a light and zesty lemon balsamic vinaigrette.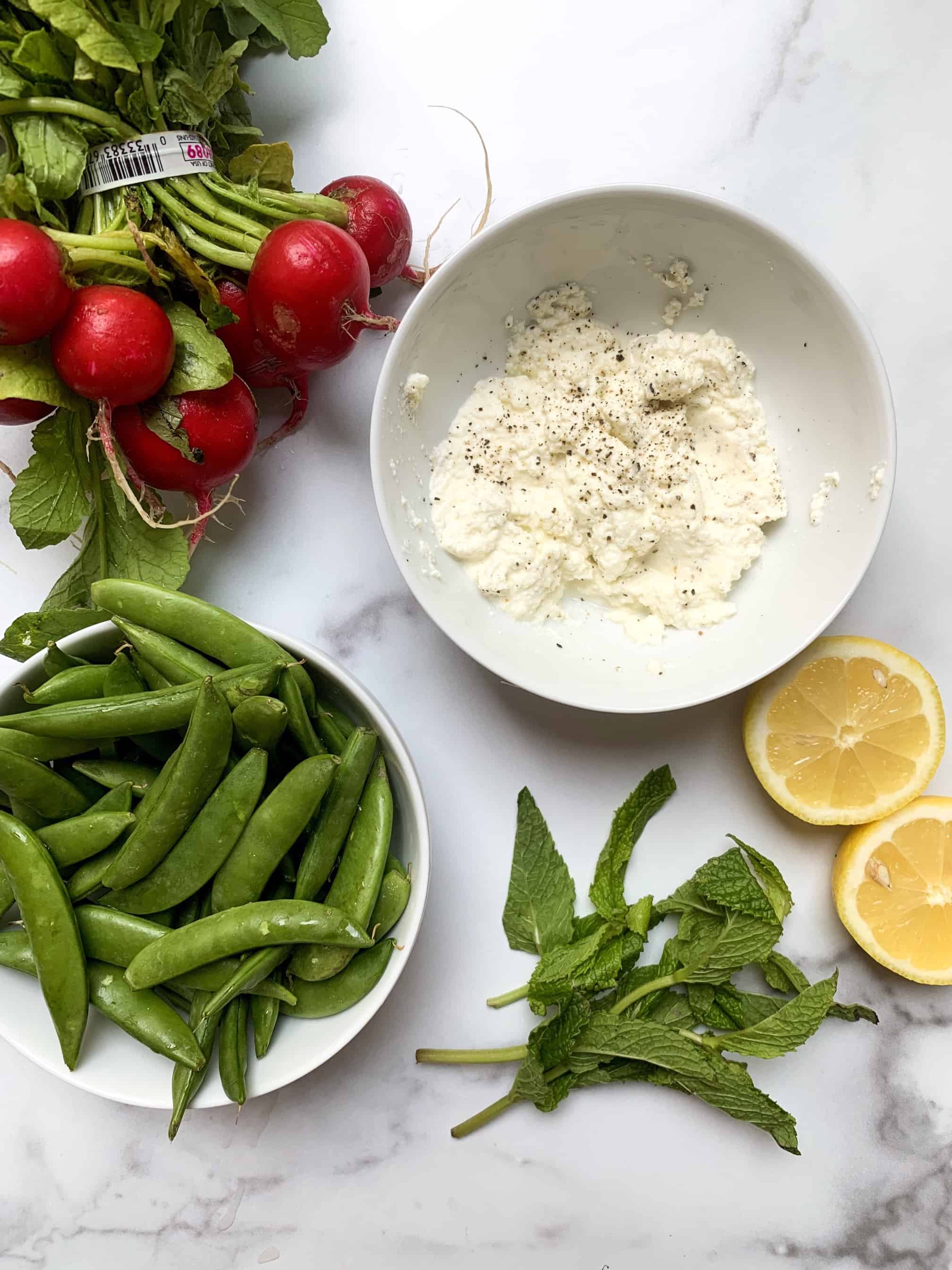 I mean, when's the last time you had ricotta in a salad? It's a must.
Drooooooooooooooooooooool town.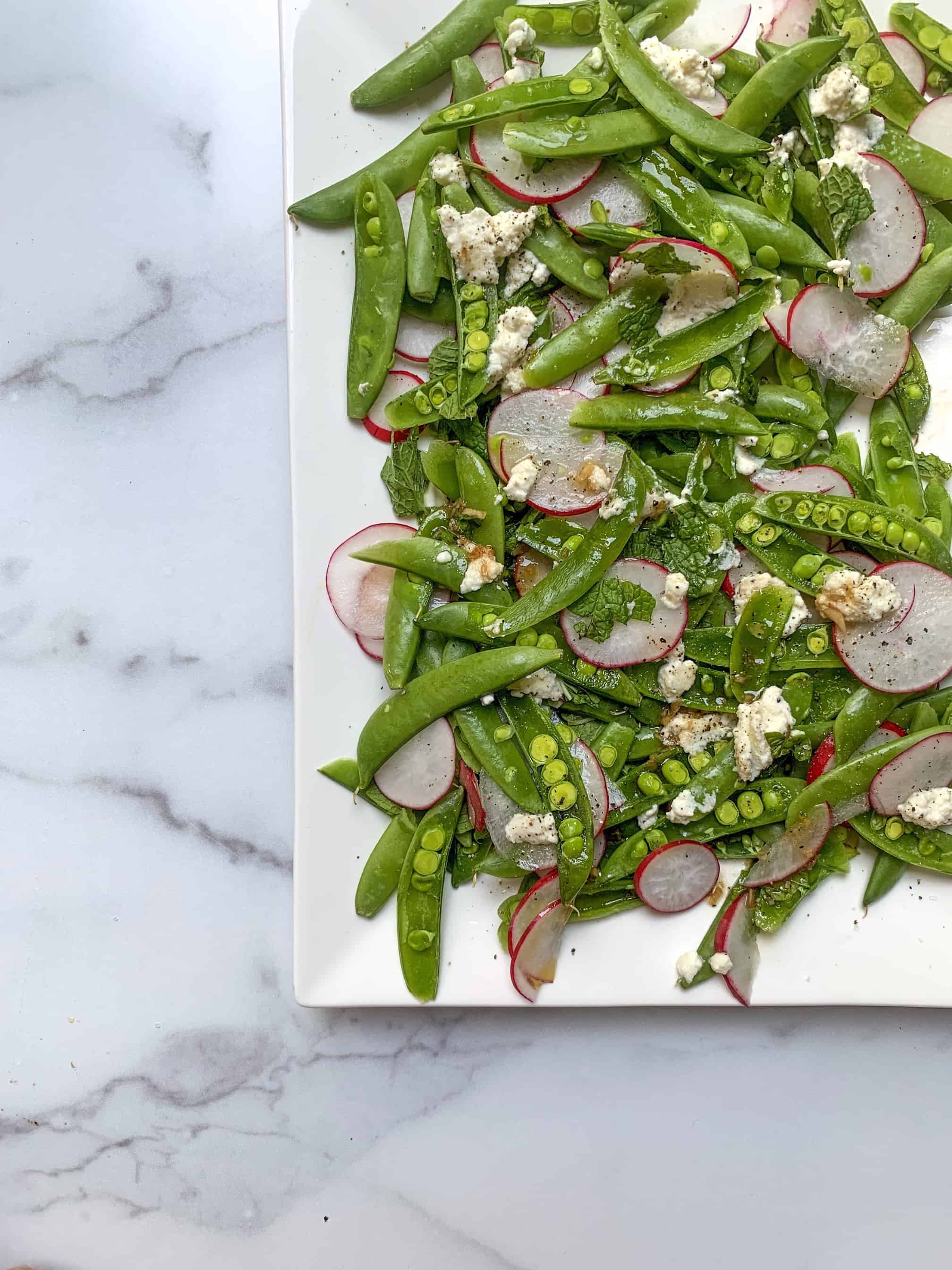 Melissa Clark's' original recipe calls for ricotta salata, which is just Italian ricotta cheese that's been pressed, salted, and aged for at least 90 days to make a firmer texture. I can't readily find ricotta salata, but whole milk ricotta is a great substitute. Just make sure to generously salt and pepper your ricotta and let it sit out for an hour if you can. I always find cheese is much better if it's not really cold from the refrigerator.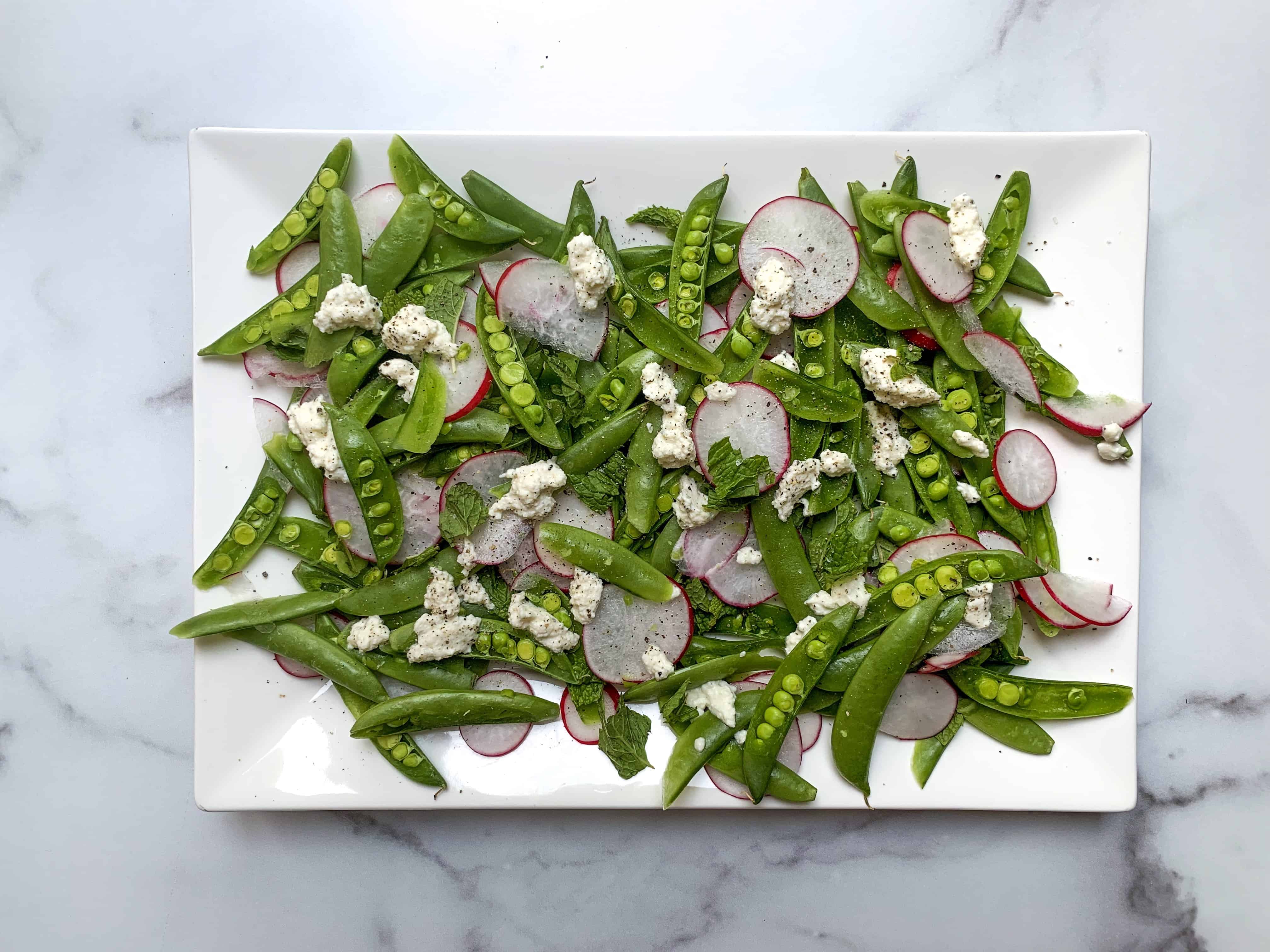 What can I pair with this salad?
This salad in all of its simplicity is a perfect salad to serve with a piece of fish (like this slow-roasted salmon) or baked chicken. For the meal we just recently ate, I baked chicken thighs with the remaining lemon leftover from making this salad at 375 for 30 minutes then under the broiler for another 3 minutes to get the skin nice and crispy.
This would be a perfect salad for eating on the porch on a hot summer night...maybe with a glass of rose? Okay, definitely with a glass of rose. Maybe serve this easy dairy-free chocolate cake after eating so healthy? 🙂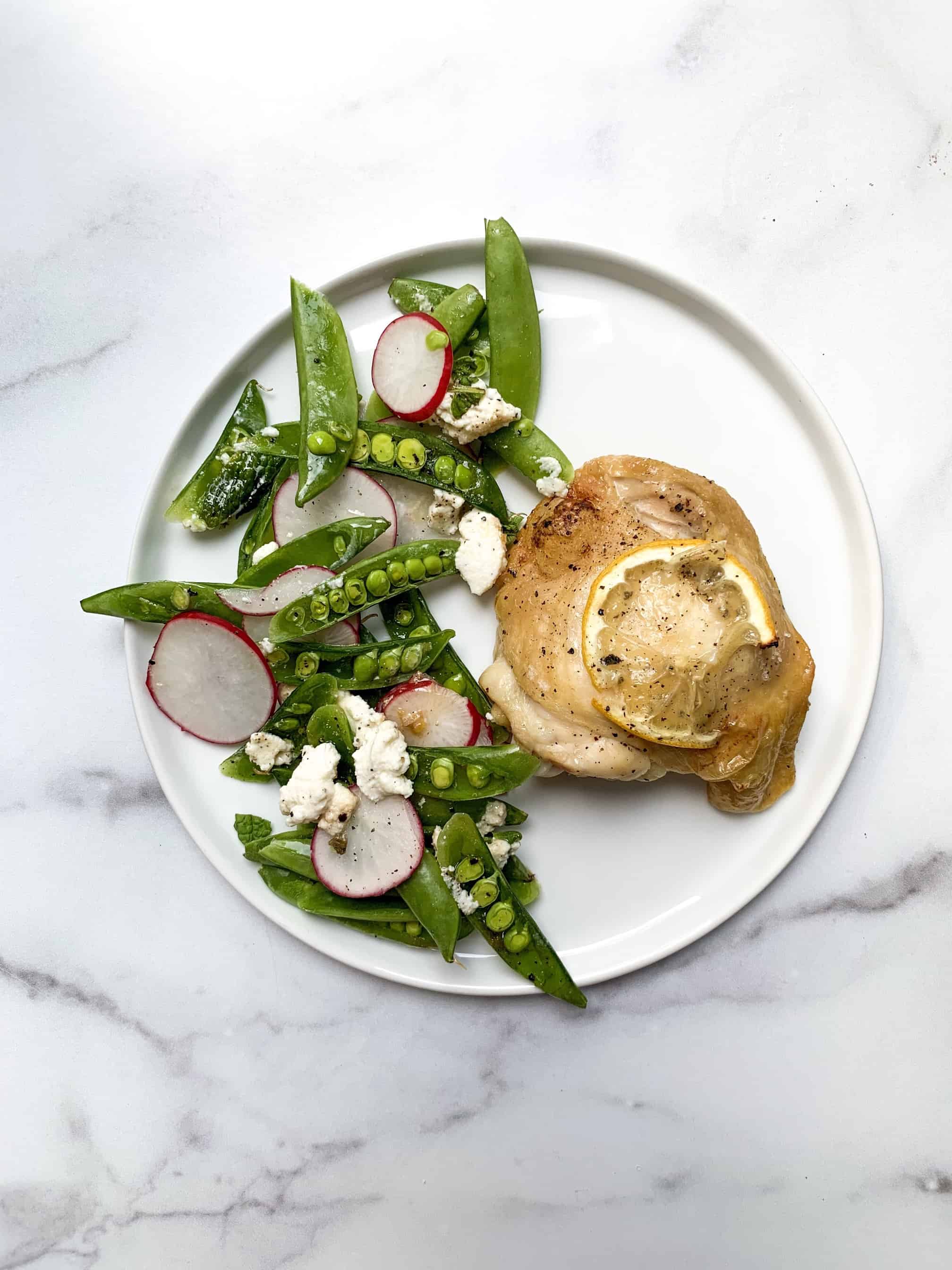 As always, if you make something from the website, be sure to comment below or tag me on Insta @wornslapout. I absolutely love hearing that you've tried something from the ole blog!
xxox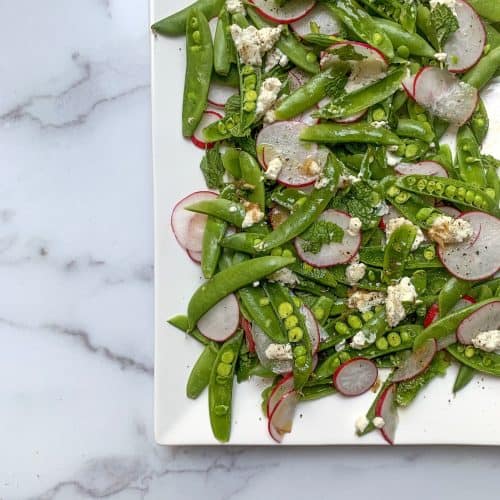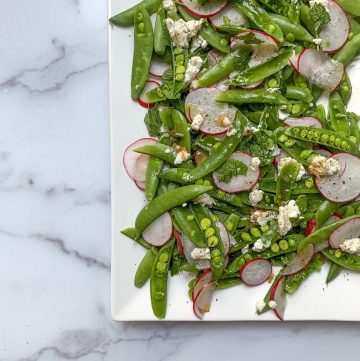 Sugar Snap Pea Salad with Radishes, Mint, and Ricotta
This refreshing, summery salad is perfect for an evening on the porch and a glass of rose.
Print
Pin
Rate
Ingredients
For the salad
½

cup

radishes, sliced thin

1 ½

cups

sugar snap peas, sliced lengthwise

½

cup

mint, torn in small pieces

¾

cup

whole milk ricotta

salt and pepper, to taste
For the dressing
½

garlic clove, minced then smashed into paste

1

tablespoon

freshly squeezed lemon juice

zest from half a lemon

2

teaspoon

balsamic vinegar

3

tablespoon

extra virgin olive oil

salt and pepper, to taste
Instructions
Toss sugar snap peas, mint, and little spoonfuls of well salt and peppered ricotta in a medium-sized bowl.

In a smaller bowl, whisk garlic paste, lemon juice, lemon zest, and balsamic vinegar together. Slowly whisk in olive oil while whisking stirring. Add salt and pepper to taste.

Toss dressing in salad until well-coated. Enjoy!
Notes
I just make a garlic paste by cutting the garlic into slivers, then smashing the slivers with the flat end of my knife.  Easy peasy.