These classic Buckeye candies are made of a creamy peanut butter inside dipped in a crunchy, dark chocolate outside and are the essential treats for any Christmas or holiday swap.
Okay. I'm no Northerner. This is a Southern-inspired blog, so I feel a little like an impostor making these buckeyes, but these are so deliciously creamy on the inside with a little chocolate crunch on the outside I don't know how you can not like these things. You'll see a lot of variations for buckeye candies on the interwebs, but I prefer the simple version that only uses 5 ingredients.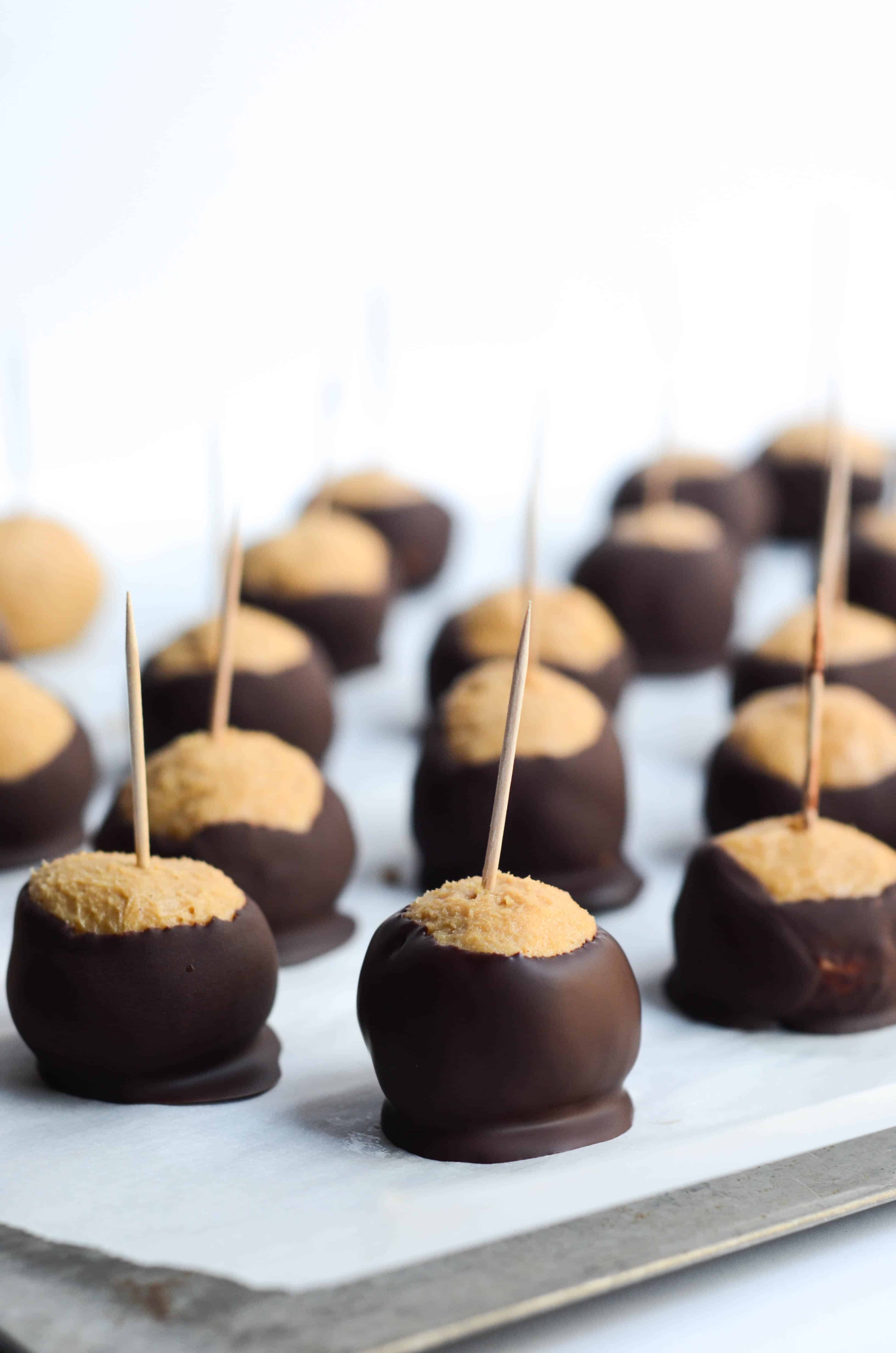 When I think of any Christmas cookie -- whether it's these Lemon Crinkle ones or the classic Peanut Butter Blossoms -- I always think of my best friend's mother who'd make us the most extensive and beautiful Christmas cookie display I've ever seen. She baked over a dozen different treats and would always package them so nicely for my family to enjoy. Mrs. Wolfgang always included Buckeyes (perhaps paying homage to her Indiana roots?)...and they were always one of my favorites in the mix.
These buckeye candies are just the right amount of salty and sweet, which is why they're a hit in my house. They also require no baking. And are they technically a candy? A cookie? I'm not really sure. I'm filing them under Christmas cookies, but I'm calling them candies because they're not flat and round like you'd expect from a cookie. Plus, they have no flour so they're gluten free. This might be similar to the "is-a-hotdog-a-sandwich" argument, so I'm just going to stop right there and let you decide.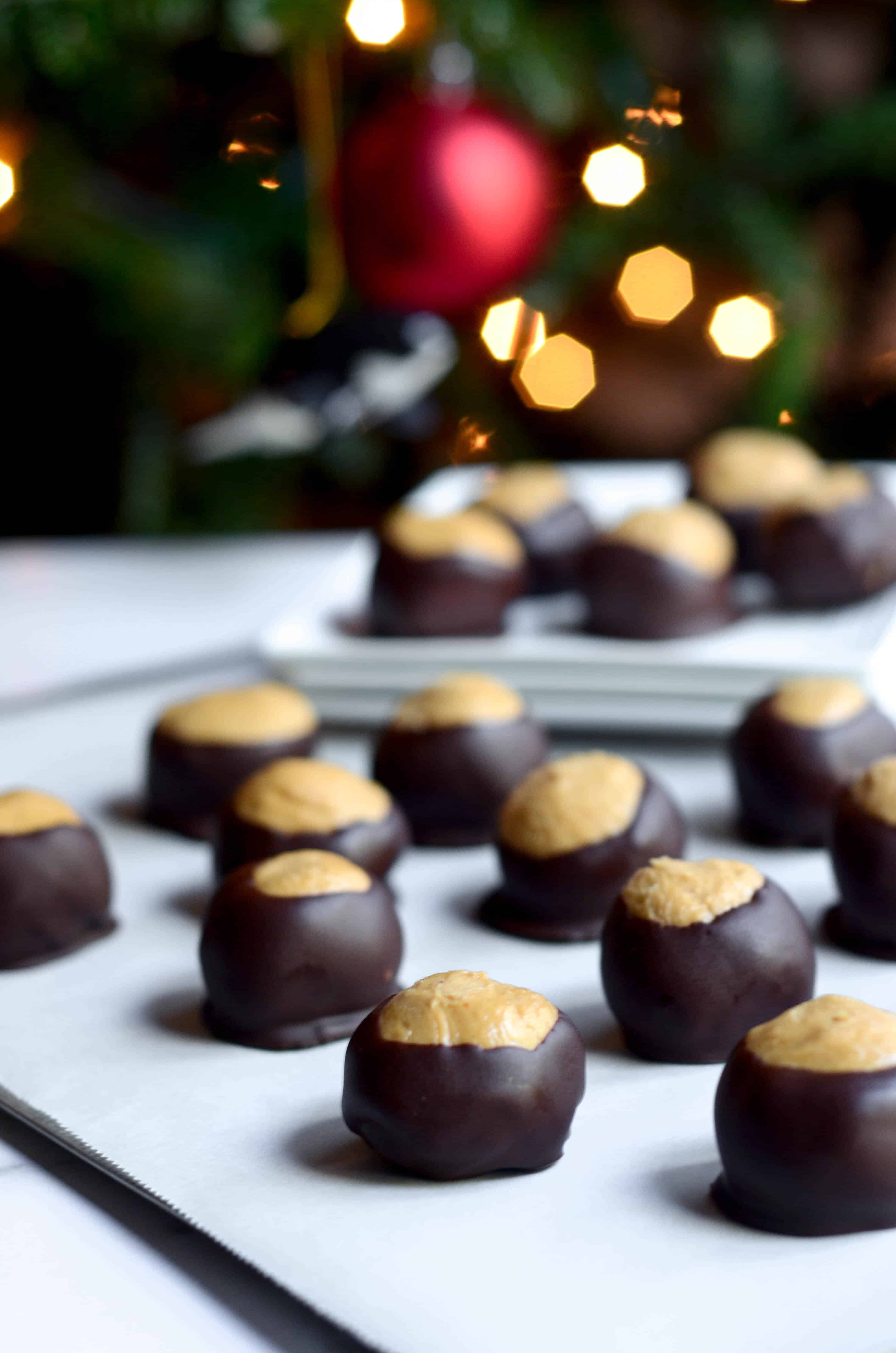 Here's what you need make these buckeye candies:
creamy peanut butter
unsalted butter
vanilla extract
powdered sugar
dark chocolate melting wafers (or milk chocolate...whichever you prefer)
a recycled jar for dipping (I use an old jelly jar)
toothpicks
Tips for this no bake treat
Use creamy peanut butter, the regular kind, not the natural kind. The natural kind will have too much liquid, and you want to create a solid dough out of the peanut butter, butter, and sugar. Use whatever brand you prefer -- Jif, Skippy, you name it -- but stay away from the natural kinds.
Freeze your buckeyes before dipping them in the chocolate. You don't need to freeze for long -- about 15 to 20 minutes, but you want them to be as solid as possible when you're dipping them into the chocolate with the help of a toothpick. If they're not frozen, they'll fall off the toothpick into the chocolate.
Use an old jar to dip. You want a fairly narrow container to melt your chocolate and dip. I used an old jelly jar, and it works great to quickly drop the peanut butter ball in, partially dip, and pull it right back out.
Melt your chocolate and dip in batches. I melt ½ cup of chocolate at a time to prevent the chocolate from getting too cold, which then denies you from getting a smooth coating of chocolate on the outside. Along that same vein, take only 6-7 buckeyes out of the freezer at a time for dipping. You'd be surprised how quickly the buckeyes warm up, especially once they're dipped in the warm chocolate. You won't need to work as feverishly fast if you only take a small amount out at a time.
Smooth out toothpick hole. This is definitely optional, but if you're a little obsessive about certain things sometimes, run your fingers around the tops of the buckeye candies to smooth over the hole created by the toothpick. This takes maybe 5 minutes total to feel like a total magician.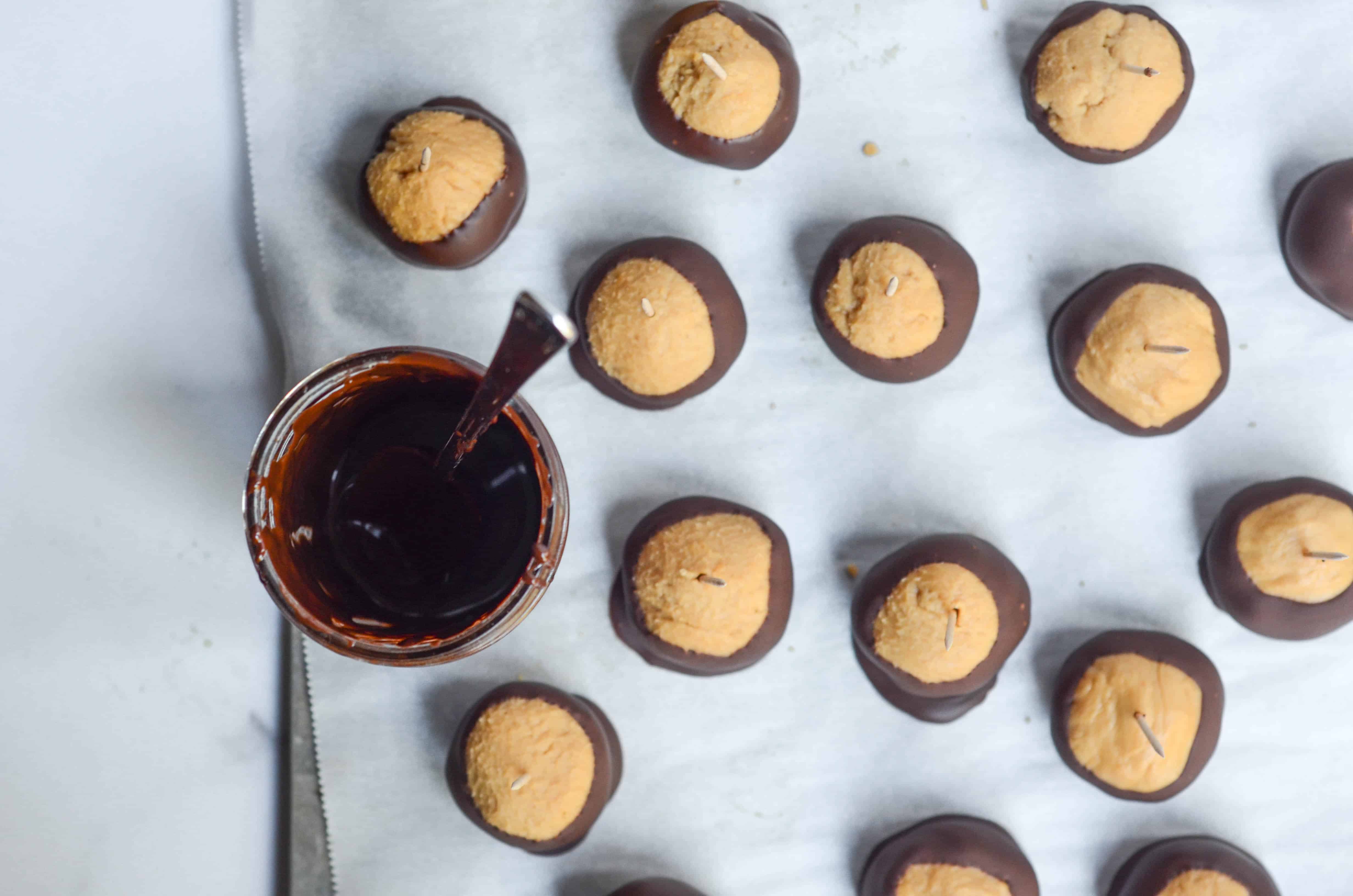 Other no bake peanut butter treats:
Looking for other no-bake peanut butter cookies, candies, and/or treats? Look no further. Here are some of my top picks:
FA LA LA LA LA LA LA LA LA
xox
kathryn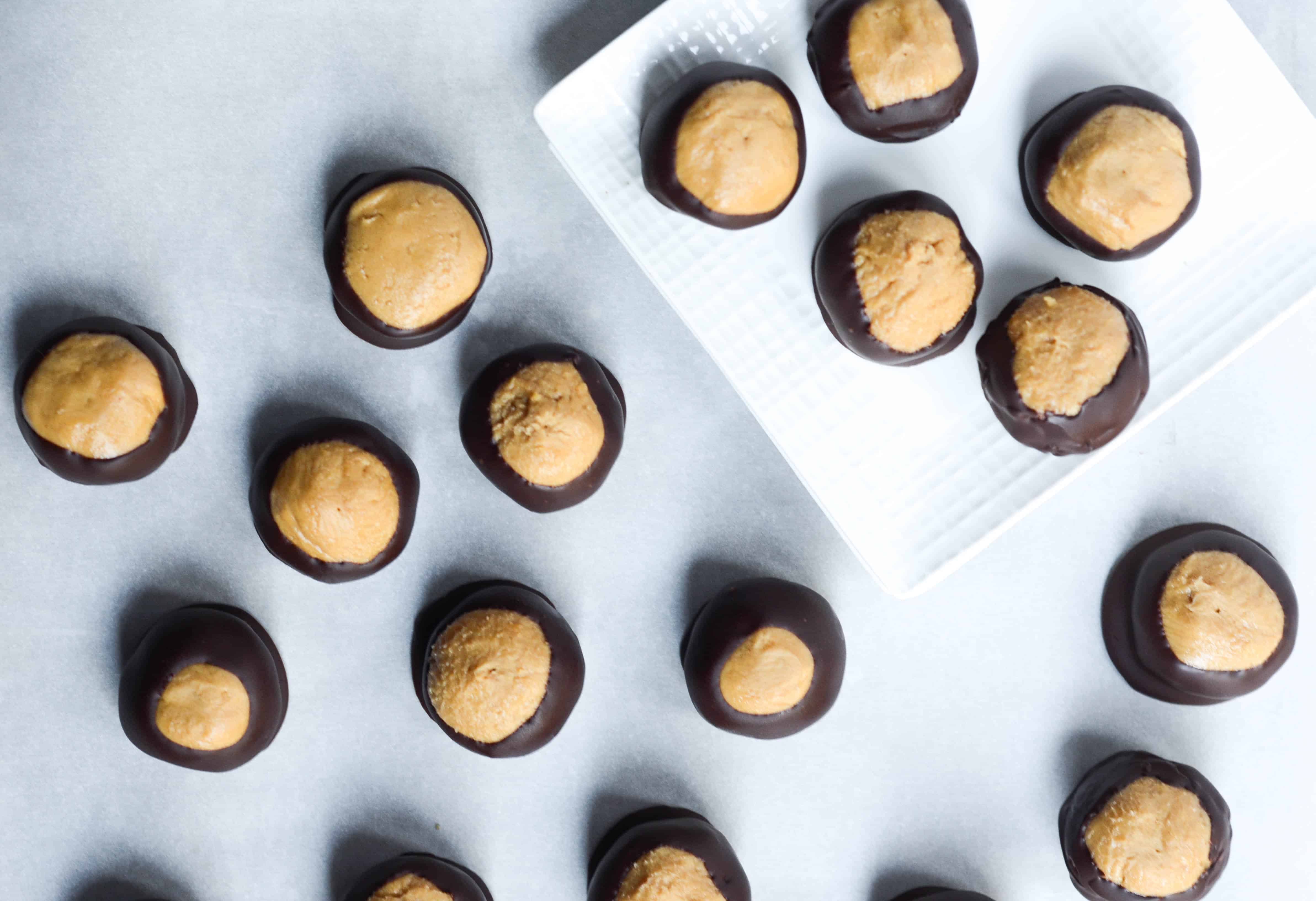 As always, if you make anything from the blog, be sure to let me know! I love hearing from you in the comments on this post below or find Worn Slap Out on Facebook, Instagram, or Pinterest!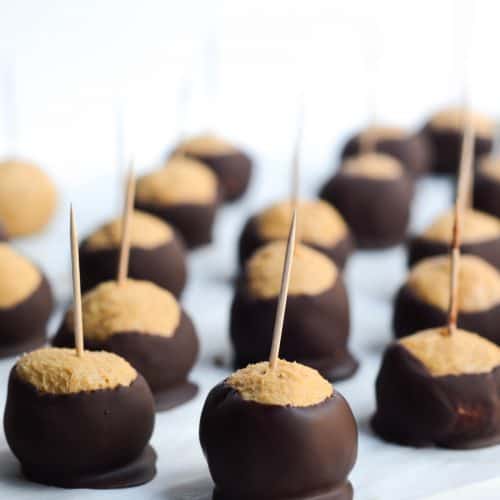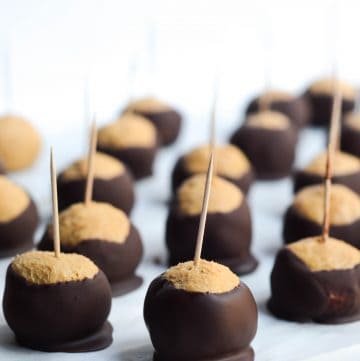 Classic Chocolate and Peanut Butter Buckeyes
These classic Buckeye candies are made of a creamy peanut butter dough dipped in high quality dark chocolate and are essential treats for any Christmas or holiday swap.
Print
Pin
Rate
Ingredients
2

cups

creamy peanut butter

not natural peanut butter

½

cup

unsalted butter

at room temperature

1

teaspoon

vanilla extract

3 ½

cups

powdered sugar

2

cups

dark chocolate melting wafers

or milk chocolate if you prefer
Instructions
In a stand mixer with paddle attachment or hand mixer, mix peanut butter and butter together until light and fluffy (about 2-3 minutes). Add in vanilla extract and mix until combined.

With mixer on low, slowly add in powdered sugar. Stop when you've mixed 3 cups and check for batter consistency. You want batter to hold together well but not be too sticky. If batter is too sticky, slowly add up to ½ cup more powdered sugar. Mix on high for about 5 sections to make sure everything is properly combined.

Using a cookie scoop, scoop out a tablespoon worth of the peanut butter mixture and shape into a ball with your hands. Place on a parchment paper lined baking sheet. If batter is not smooth, stick in the refrigerator for 10 minutes until it holds up a bit more. Stick baking tray in the freezer for about 20 minutes.

Place ½ cup of chocolate melting wafers at a time in a glass container. Melt your chocolate in the microwave in 30 second increments (be careful it doesn't burn). Using a toothpick inserted into the top of the buckeye, quickly dip the buckeye in the chocolate, letting the excess drip off. Stick back on the parchment paper. Add more chocolate as necessary until you've dipped all of the buckeyes.
Notes
Storage: Store buckeyes in an airtight container in the fridge.  They'll be delicious for 5-6 days.  
Freezing: You can definitely freeze these balls.  Freeze them in a tightly sealed plastic bag with as much air out as possible.  Take them out of the freezer and place in the refrigerator overnight to thaw out.