This Copycat Cosi Signature Salad is made of mixed greens, grapes, pears, gorgonzola cheese, pistachios, and dried cranberries all tossed in the most delicious sherry shallot vinaigrette. Add some protein or keep it simple -- it's delicious and healthy any way you eat it.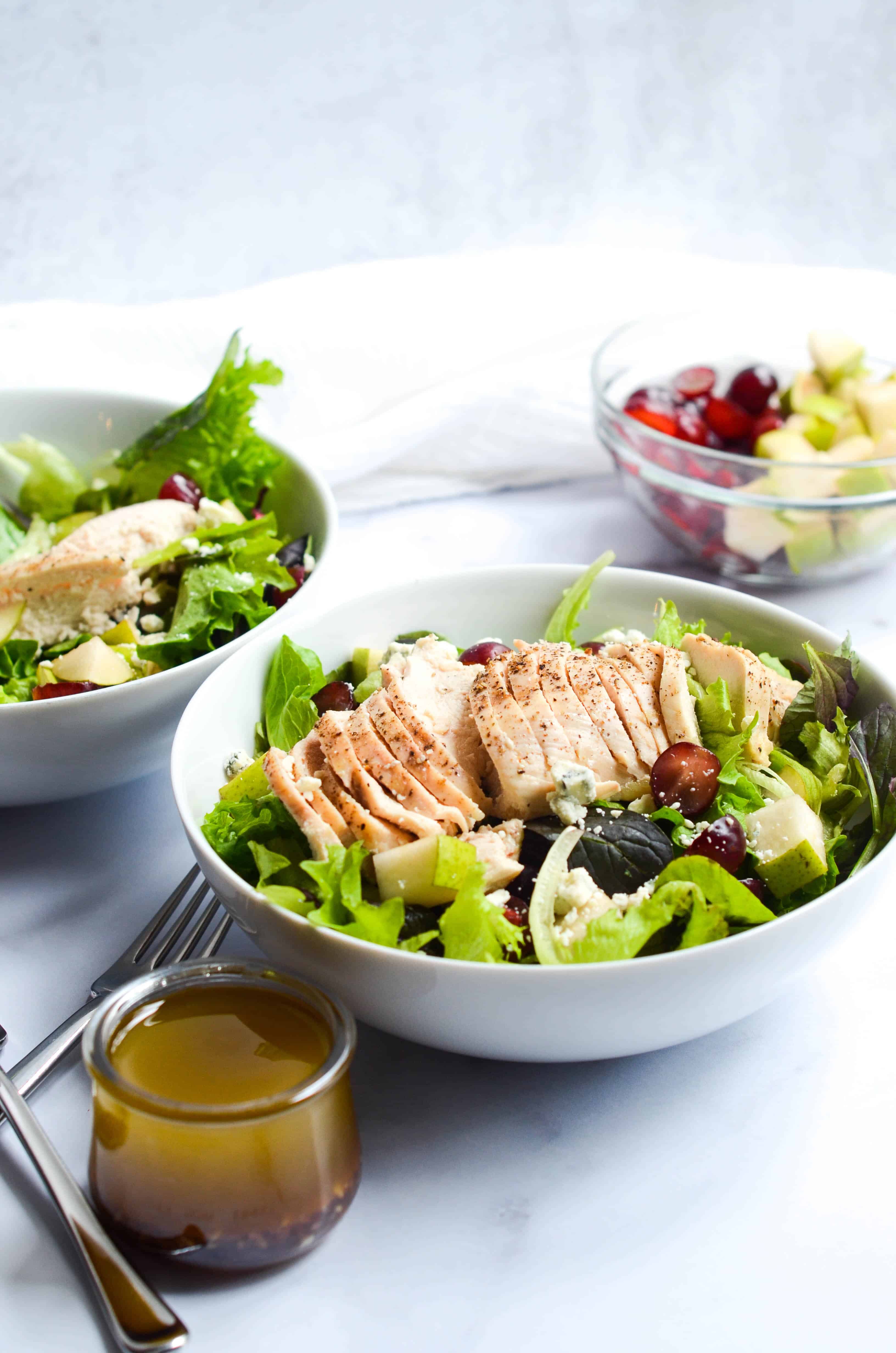 I get on these major salad kicks, where I find a salad that I love and want eat it on repeat until I can't stand to look at it. Let's be real though...salads at restaurants are expensive.
That's why I've been starting to make way more salads at home. The only hard part is mastering the dressings because that's what makes a salad delicious in the first place, but damn! I'm so pleased with the result of this sherry shallot vinaigrette imitating the signature salad from Cosi.
This Copycat Cosi Signature Salad is delightfully easy to throw together and I just can't rave enough about this sherry shallot vinaigrette. The salad can last you for several meals (especially adding some simple chicken breasts to the salad like I've done here) or it'd be great for a gathering (you just will likely need to double it depending on the number of people you're having over).
What is a Cosi Signature Salad?
My friends back home have likely never heard of Cosi before, so allow me to explain. Cosi is a fast sandwich/soup/salad spot up here -- similar to a Potbelly. They have a salad called their signature salad that I was obsessed with (but unfortunately they closed down their Bethesda location). John would always order the TBM (tomato, basil, and mozzarella) sandwich while I'd get the signature salad (obvi).
When I was pregnant with C I craved this salad like no other. It was one of the first things I had after popping C out, in fact. The salad has basic ingredients (which I'll go into below). Nothing special. But the sherry shallot vinaigrette is just so delicious I don't even have the words to describe it. It's sweet, tangy, and full of flavor.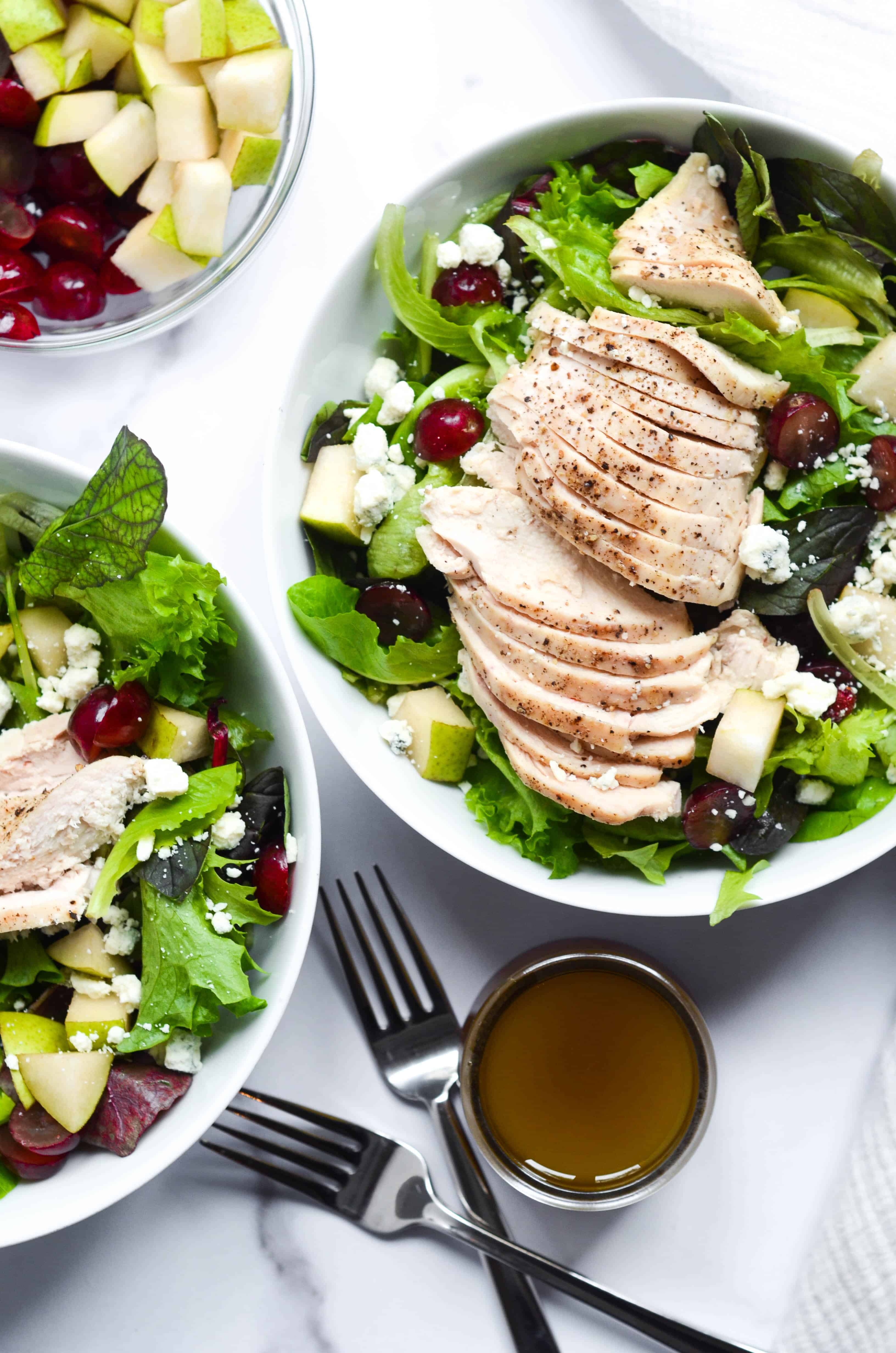 The secret ingredient: Sherry vinegar
Let me tell you upfront that sherry vinegar can be hard to find at some grocery stores. At our local Giant, there are about a thousand different kinds of vinegars, and there's only one brand of sherry vinegar, so you could easily pass it up. It really gives this salad dressing a rich, nutty and slightly sweet flavoring that's so delicious but not overpowering. You'll want to find sherry vinegar.
If you can't find sherry vinegar, use red wine vinegar as a substitute. I would strongly recommend you buy it off Amazon if you can't find it in your local grocery store though.
And just a note: sherry cooking wine is NOT the same thing as sherry vinegar. Sherry cooking wine can be substituted for wine when you're cooking, but not substituted for sherry vinegar for this salad.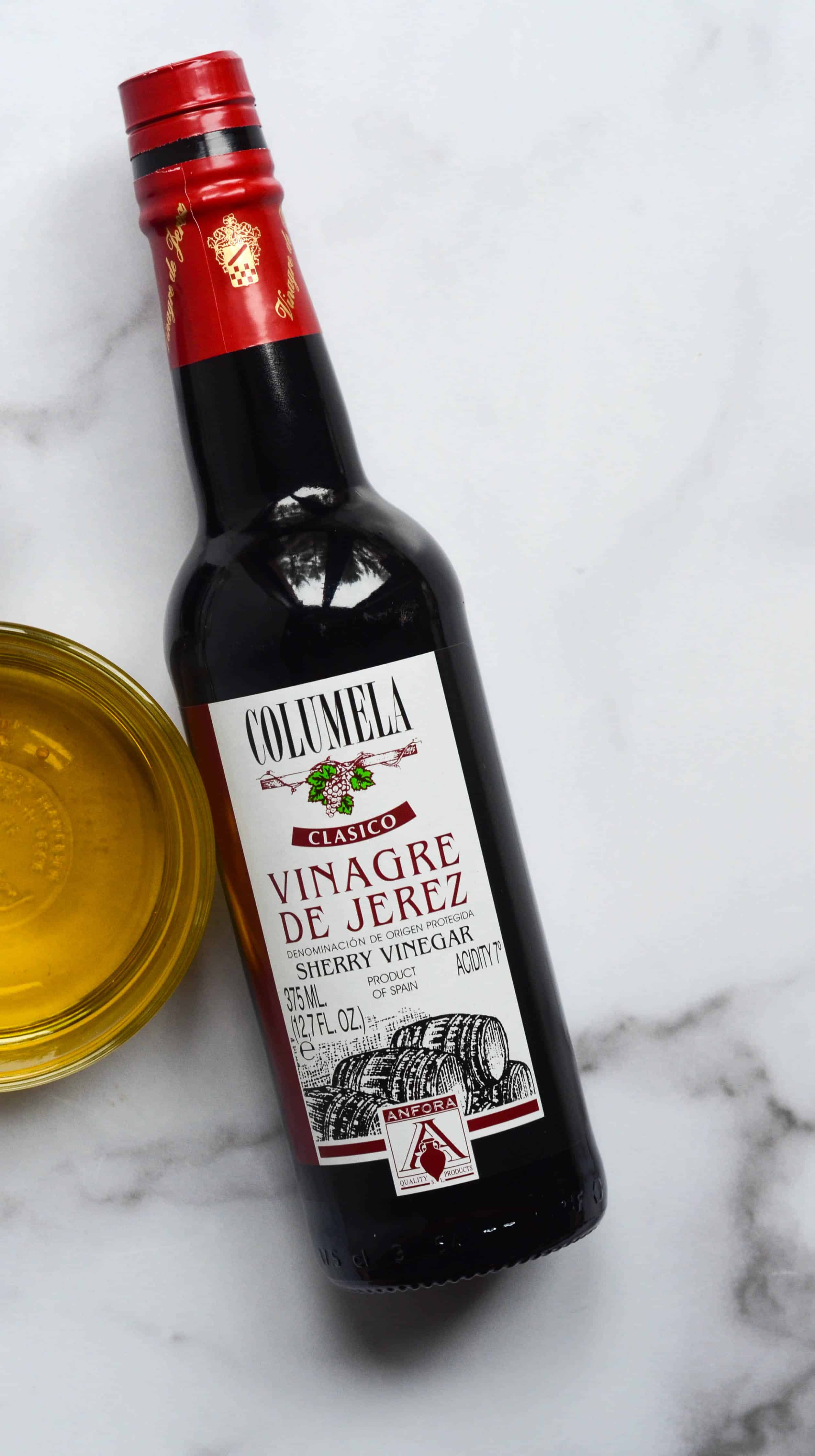 Ingredients for the sherry shallot vinaigrette
Y'all. This vinaigrette is goooooooood. Just trust me. I could drink this stuff straight from the bowl. Have I talked up this dressing too much?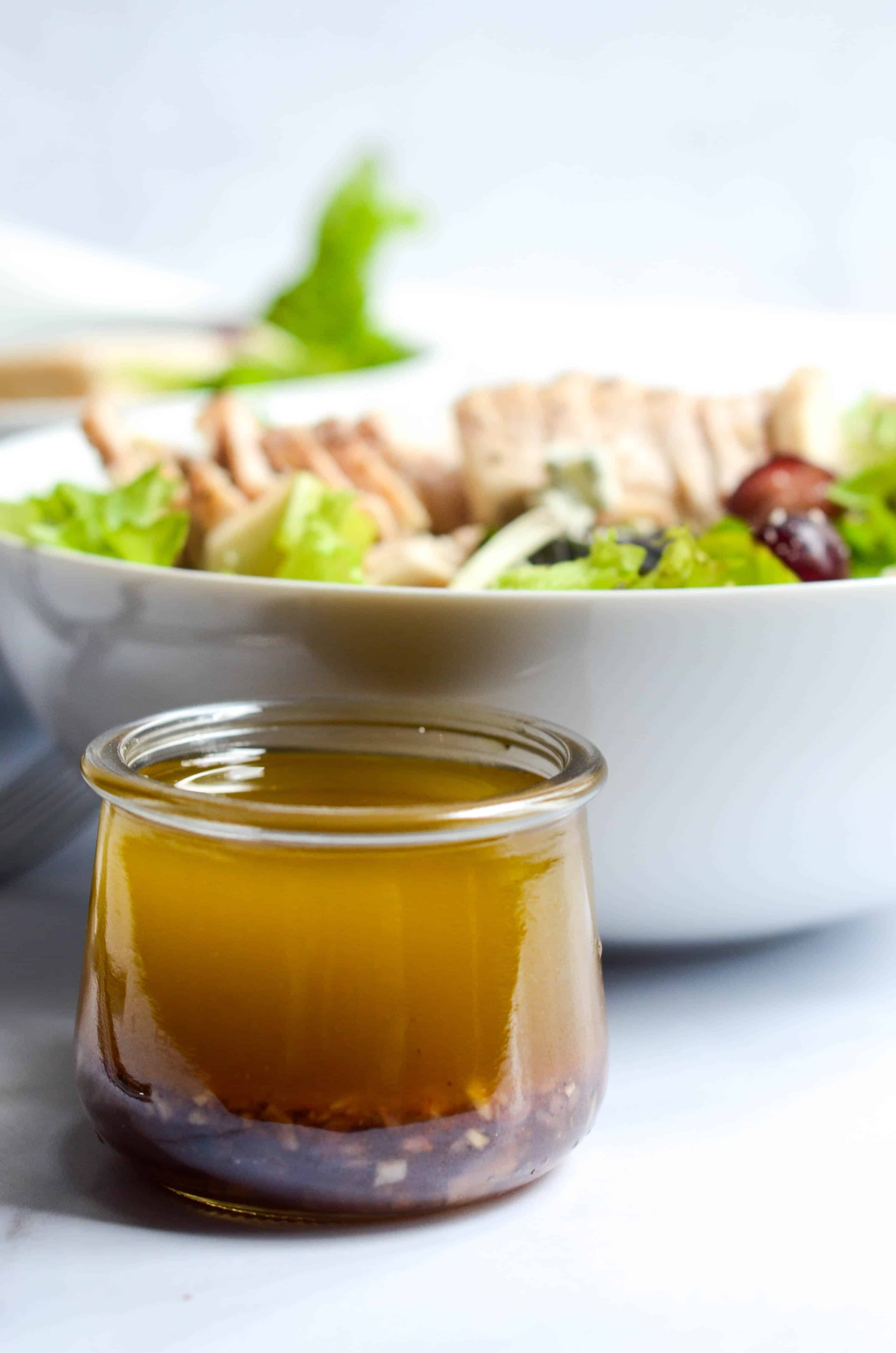 Here's all you need for the signature salad's dressing:
shallot
garlic
sherry vinegar
olive oil
honey
squeeze of lemon (optional)
salt and pepper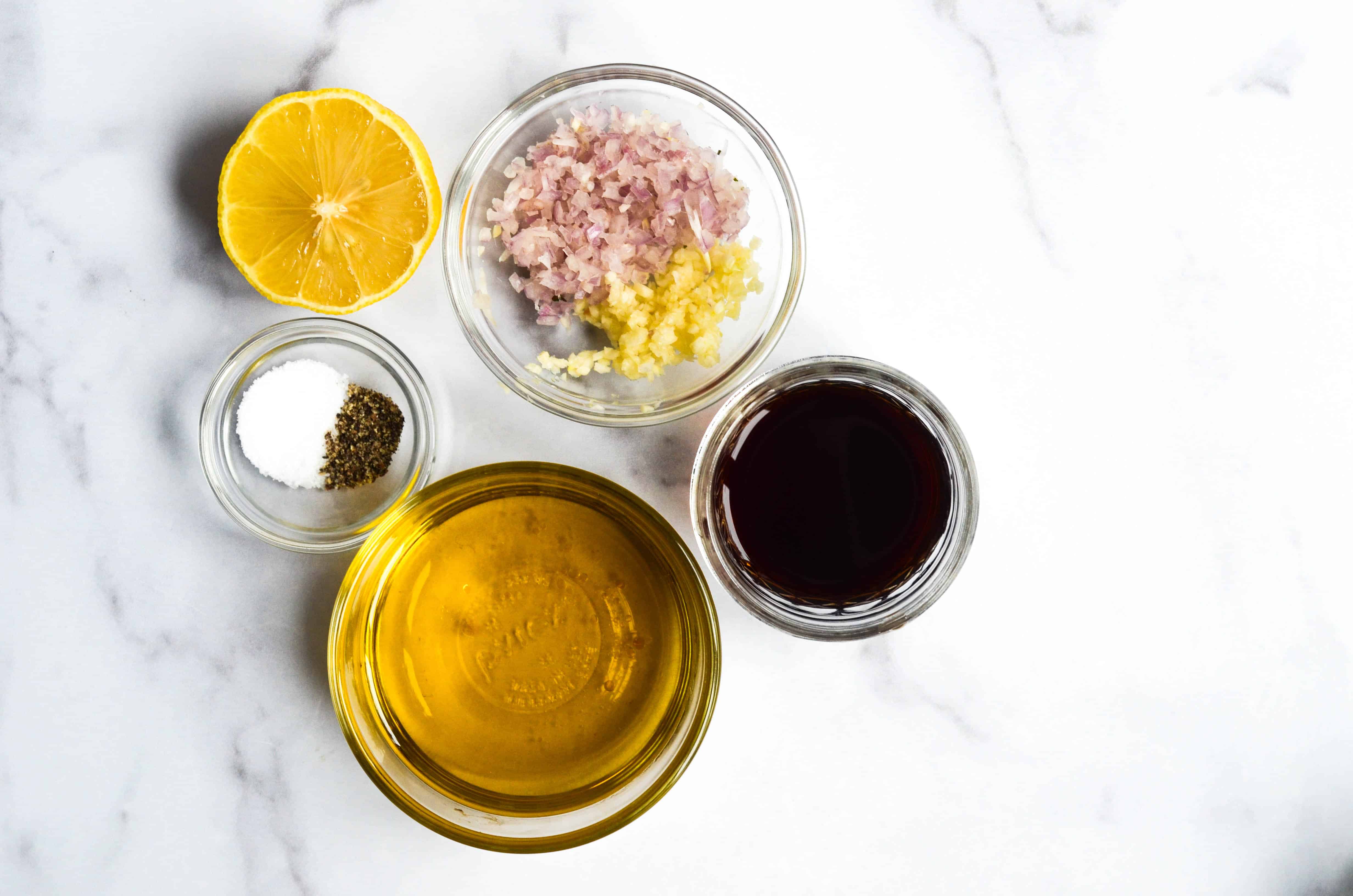 Ingredients for the salad
mixed baby greens
grapes, cut in half
pear, diced
dried cranberries, I prefer the kind without added sugar, but you do you
gorgonzola cheese, yes, it's a strong cheese, but no, you won't regret it
pistachios (which, of course, I forgot until I had about 3 bites of salad left)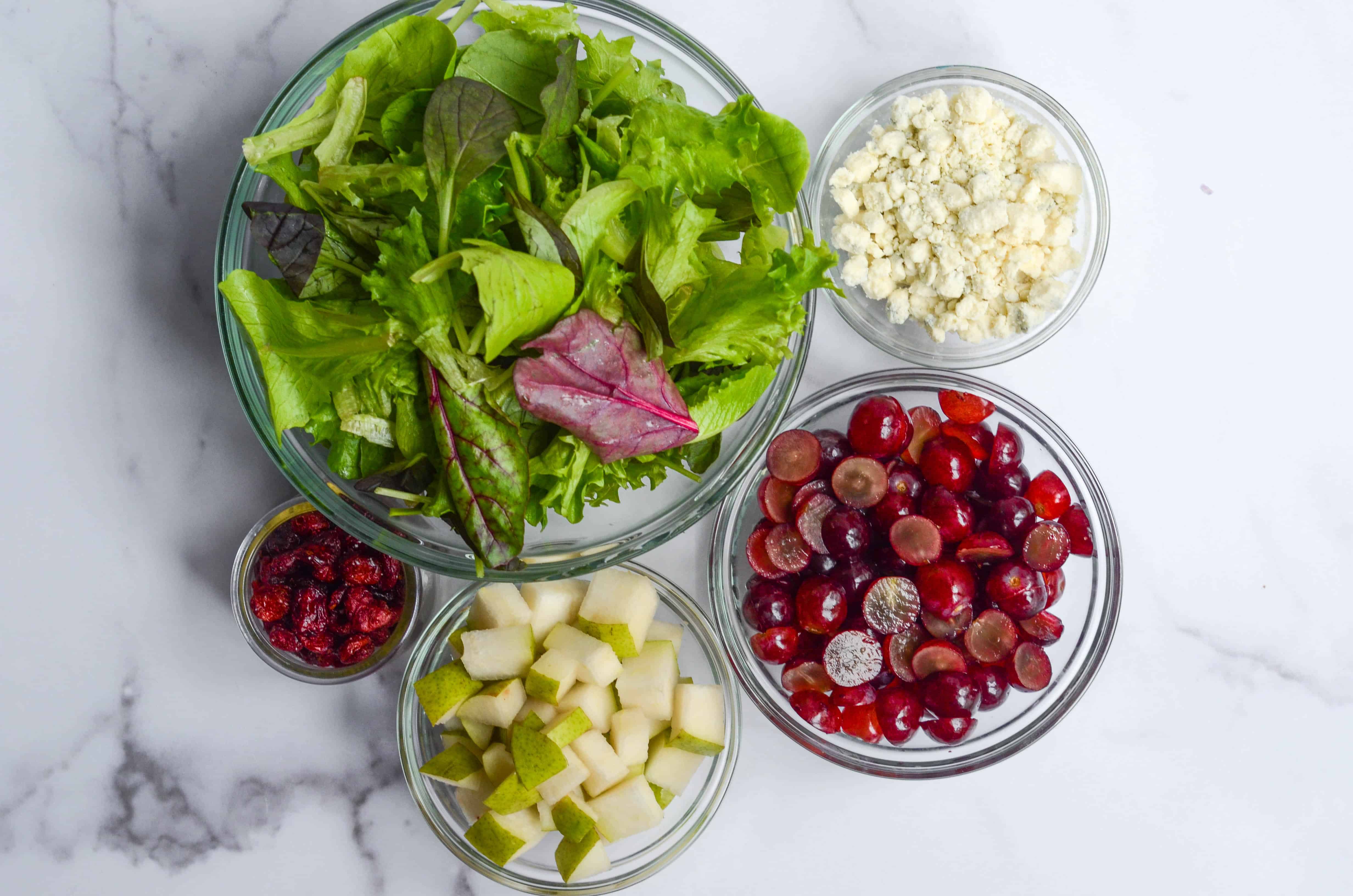 A salad for all seasons
I love me a good salad, especially a seasonal salad that uses fresh produce. I get so sad when I can't eat a salad during the "off season" but then it's like Christmas when I can eat it again. Here are some of my seasonal favorites: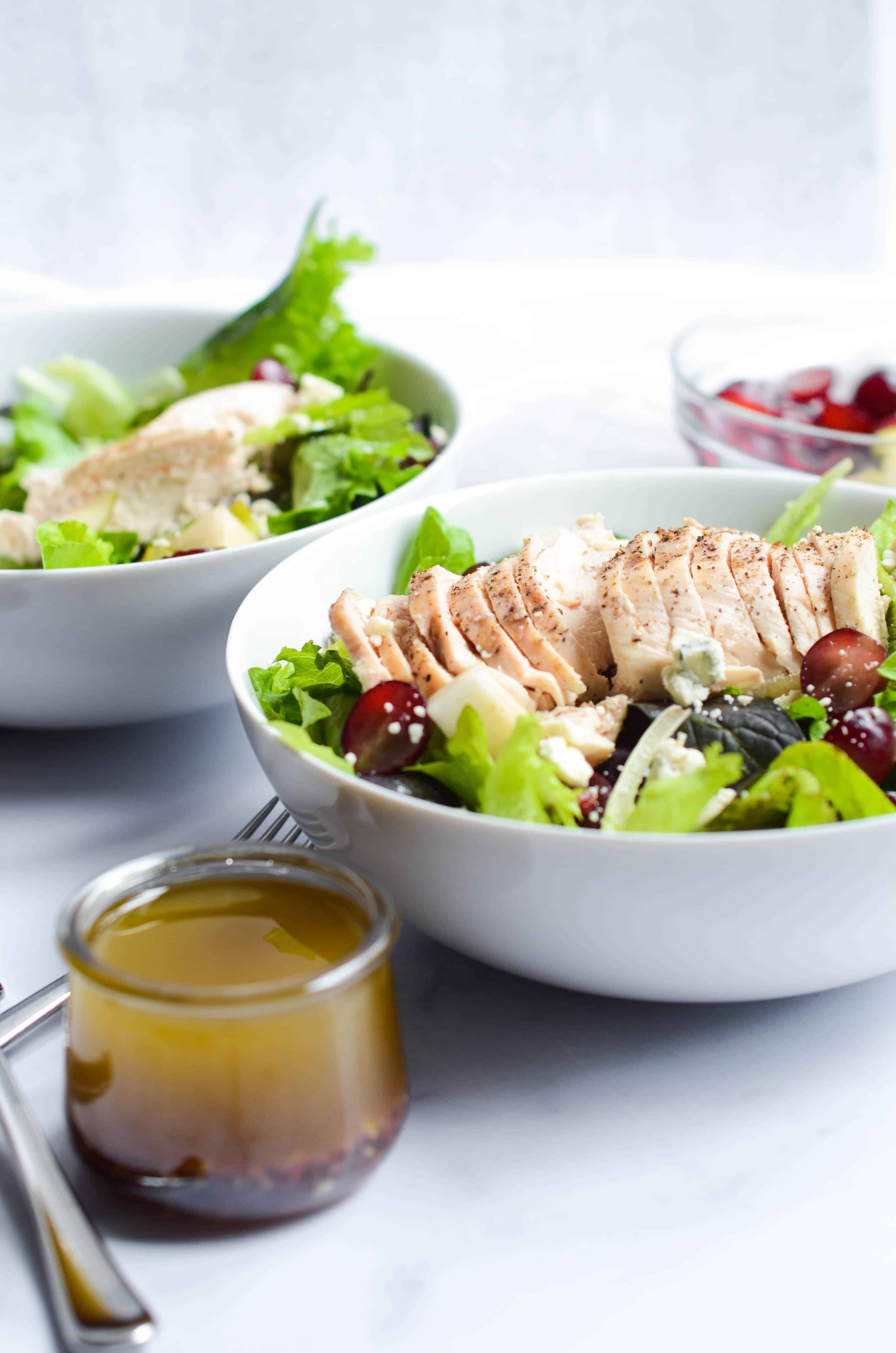 Here's to many more salads in the new year!
kathryn
As always, if you make anything from the blog, be sure to let me know! I love hearing from you in the comments on this post below or find Worn Slap Out on Facebook, Instagram, or Pinterest!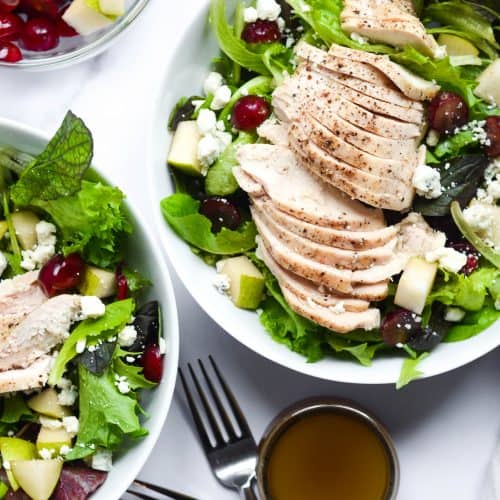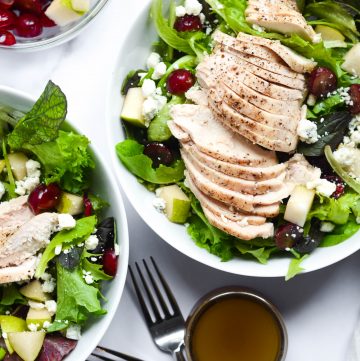 Copycat Cosi Signature Salad
This Copycat Cosi Signature Salad is made of mixed greens, grapes, pears, gorgonzola cheese, pistachios, and dried cranberries all tossed in the most delicious sherry shallot vinaigrette. Add some protein...or not!
Print
Pin
Rate
Ingredients
For the salad:
1

large package of mixed greens salad

1

cup

red grapes, sliced in half

1

pear, cored and diced

⅓

cup

dried cranberries

¼

cup

pistachios

¼

cup

gorgonzola cheese

4

cooked chicken breasts, sliced
For the dressing
½

large shallot, minced

1

clove

garlic, minced

½

teaspoon

salt

¼

teaspoon

pepper

¼

cup

sherry vinegar (or red wine vinegar)

2

teaspoon

honey

½

cup

olive oil

squeeze fresh lemon,

optional
Instructions
Combine all salad ingredients in a large bowl.

Combine all salad dressing ingredients except for olive oil in a smaller bowl. Slowly whisk in the olive oil until fully incorporated. When you're ready to serve, toss dressing in salad and serve immediately.
Notes
Note: If you're planning on having leftovers, save the salad first without tossing in the dressing.  The salad will stay fresh for 2-3 days.