This Chick Fil A kale salad is a homemade version of the salad we love (and that you can get on Sunday!) and includes the most delicious maple vinaigrette.
**This post was updated with new photos and revised copy in March 2020. Hope you love!**
I'm so bloated you could use my stomach as a flotation device in the event of an emergency landing. That's what traveling does to me, no matter how well I eat...and boy, did we eat well. Park City is full of amazing places, and I just can't rave enough about their food, the relaxed vibe, the outdoor scene, and did I already mention their bougie restaurants that are just to die for? I'll try to do an Eating Your Way Through Park City post soon. That's for another day though.
Given my eating indiscretions, I'm back on the healthy wagon and spent nearly $300 at Whole Foods this morning to repent for my sins. I'm craving all the salads this week, so it's only natural I'd turn to this salad -- one of my favorites lately.
The fun thing about cooking and recipe experimentation is the ability to make small changes that make a big difference, like the changes made in this superfood kale salad. While Chick-Fil-A is pretty tight-lipped about their ingredients in their maple vinaigrette dressing, I think I've found a salad and dressing that's pretty damn close...and dare I say...EVEN BETTER.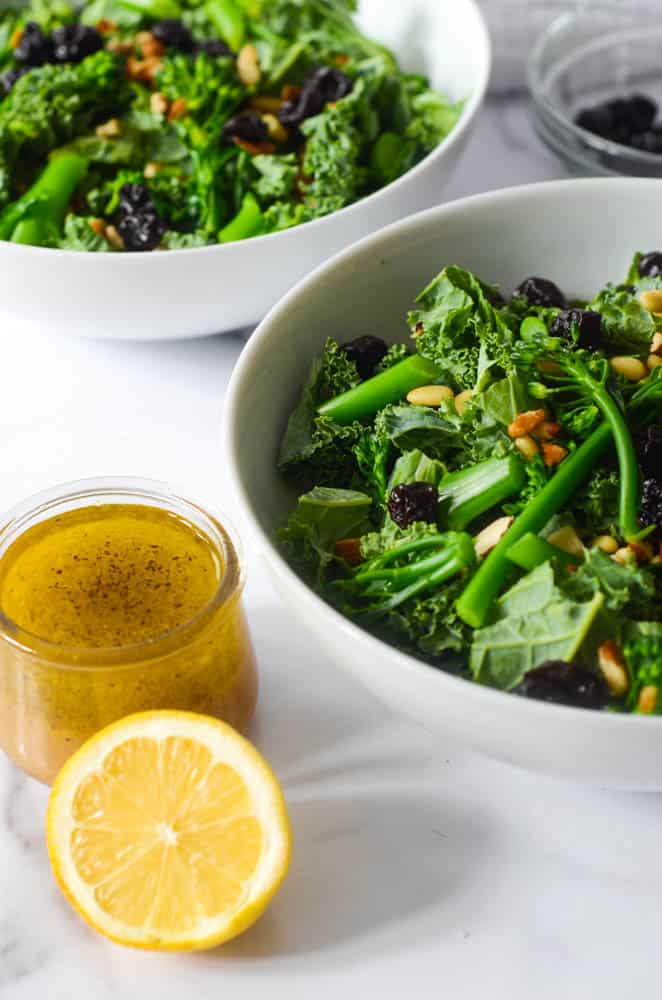 The Super Secret, Double Blind Experiment
Better than CFA?! Yep. That's a bold statement. I've tricked many a people on our leadership team with which one is the real one (because I've actually made it and had it catered for the team...sneaky). Most people can't tell the difference and if they can tell a difference, they prefer mine over Chick-fil-A's. I guess a double-blind super secret taste test is a good way to show you've nailed it.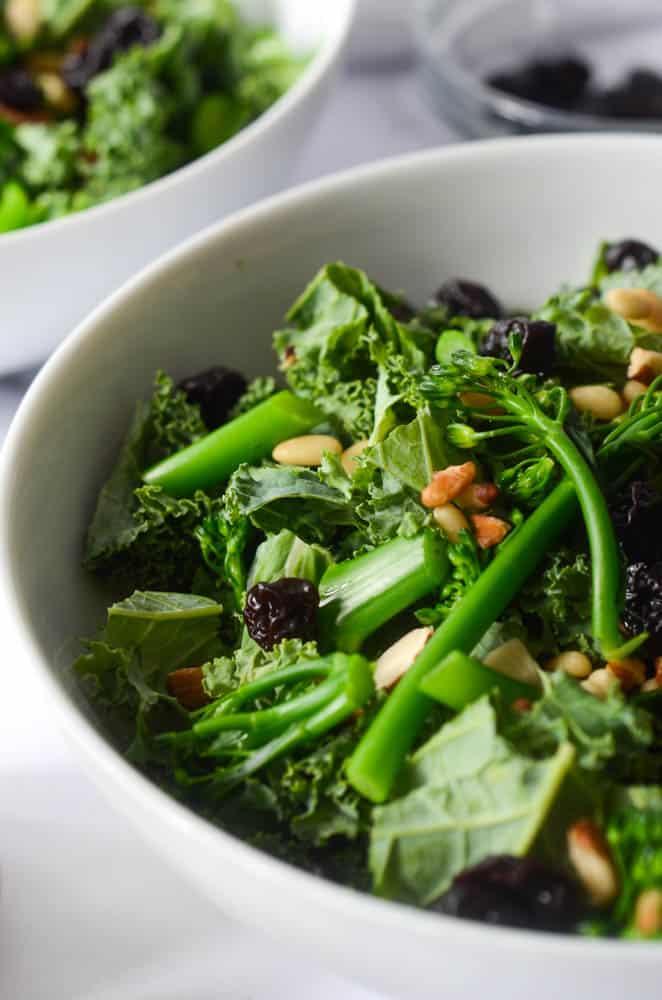 Changes Made to the OG Chick-Fil-A Kale Salad Recipe
Anyone can put together stuff in a bowl and call it a salad, but not everyone can make a good dressing that ties all of the stuff in the bowl together in the most perfect way. A good dressing is critical. Chick-fil-A's maple vinaigrette dressing is a little too sweet, IMHO. They also tend to drown the lettuce in the dressing like my 3 year-old playing with roly polies in a puddle. Chick-fil-A is also a little skimpy on the other ingredients besides their kale blend in the salad. I'm a kale fan and all but I don't want to just eat a bowl of kale drowned in a vinaigrette. Let's add more of the other ingredients.
Ingredients You'll Need for this Salad
Kale. Chick-fil-A uses a kale blend -- which means they put a little bit of kale in their salad and use other, cheaper lettuces. Let's cut to the chase and just use all kale, k? There's a lot to say about kale, so read the next section below to take your kale to the salon before eating. Kale likes to get all gussied up. Me and kale share that.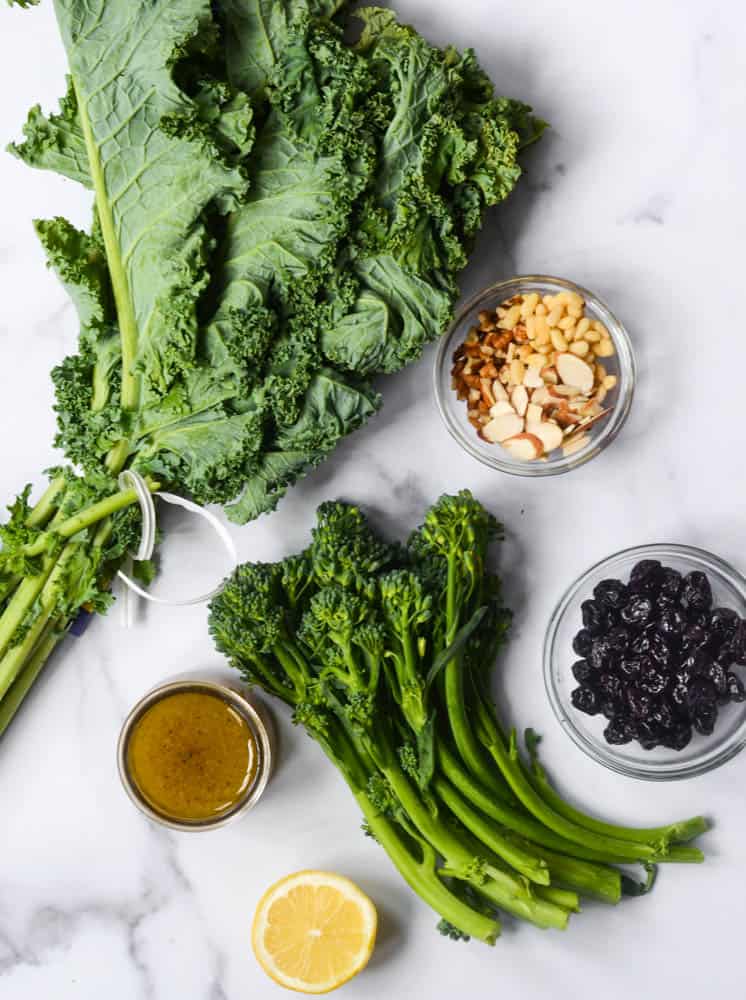 Broccolini. Fun fact: broccolini is trade-marked. Baby broccoli is not, so I'll use baby broccoli from here on out because I don't want to get sued by these guys. Baby broccoli is absolutely delicious with a delicate, sweeter taste than regular broccoli and packed with just as many essential vitamins and minerals. You'll simply boil it in salted water for 2 minutes then stick in an ice bath for another minute before chopping into pieces. Done.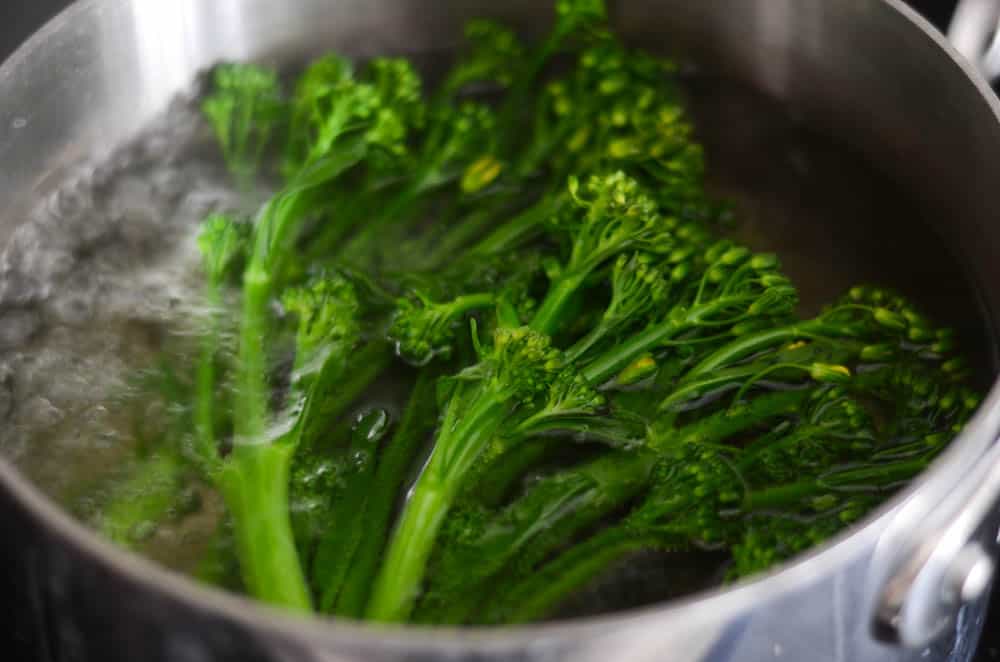 Nuts. Chick-fIl-A's superfood kale salad uses a roasted nut blend, which is Southern for I'm only giving you the cheapest nuts. That's cool. Just use whatever nuts you have on hand. Here, I roasted pine nuts, almonds, and pecans because that's what was in our pantry. (Side note: did you know macadamia nuts are the most expensive nuts in the world?)
Dried sour cherries. Don't skip these. They make the salad pop with a tart, sweet bite amongst the super serious kale. Try to find dried sour cherries without added sugar if you can.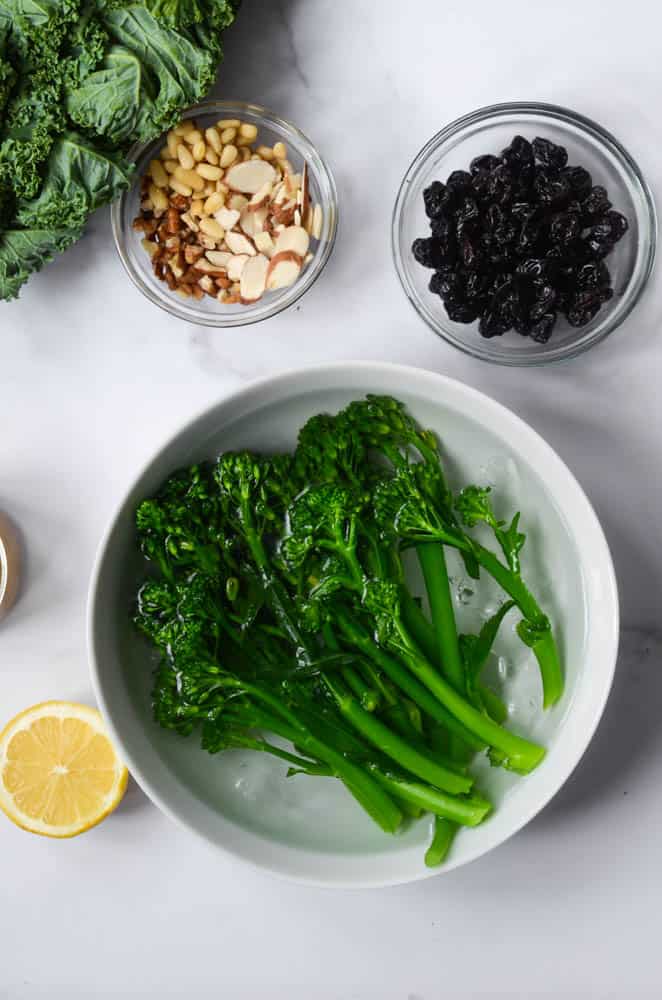 The Maple Vinaigrette
For the maple vinaigrette, you'll need:
olive oil
pure maple syrup
apple cider vinegar
Dijon mustard
zest from one lemon
lemon juice
salt + pepper
I've already raved about this vinaigrette, but to me it's the perfect combination of sweet (from the maple syrup) and acidic (from the vinegar) and really ties the simple salad together.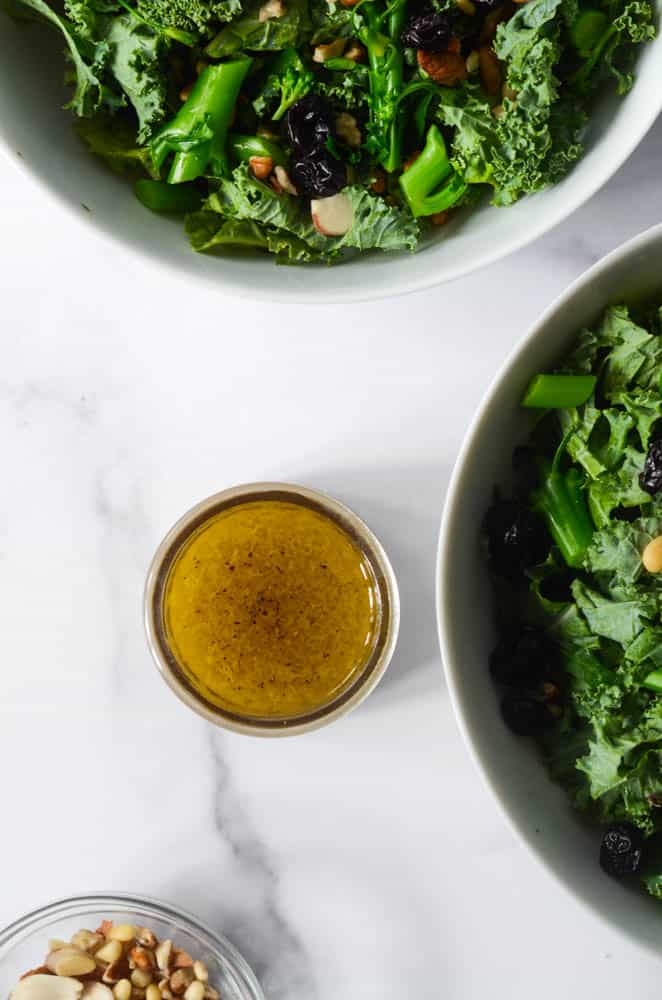 Kale: Massage it, massage it good.
I think about 90% of people who don't like kale don't like it because it hasn't been massaged prior to eating. Kale is finicky -- it's large, dinosaur-like leaves are physically tough and can be tough on the gut as a result, but giving kale a quick beauty treatment tenderizes the kale and takes away much of the bitterness. Here are tips on how to massage your kale to peak satisfaction:
Quickly remove leaves from stems by running your fingers from the bottom of the kale stem to the top. Bye, stems!
Break up the kale into smaller pieces, then wash and dry. Drying is the hardest part -- but you'll want the leaves dry to prevent the kale from getting soggy.
Squeeze lemon juice on the leaves and massage with your fingers for about 2-3 minutes. You want to massage it well with your hands but not smother it so that the leaves become soggy.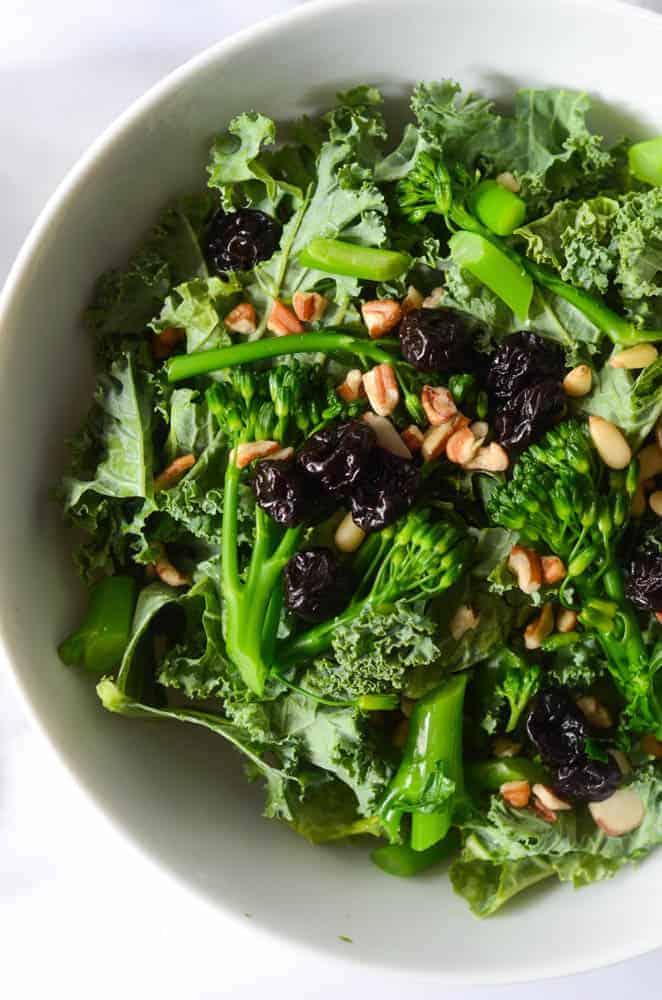 The dressing will also help tenderize the kale, so don't go too nuts on it. If you think kale is too bitter, you can double-wash your kale here, then add more lemon juice and massage again. I don't find kale terribly bitter though, so I stop after one round.
Other Salads Y'all Will Love, Too
Feelin' the salads along with me? Try some of my other favorites:
This salad won't disappoint. Go and make you some. It's better than the one we spend too much money on. Guaranteed. Hope y'all enjoy!
xox
As always, if you make anything from the blog, be sure to let me know! I love hearing from you in the comments on this post below or find Worn Slap Out on Facebook, Instagram, or Pinterest!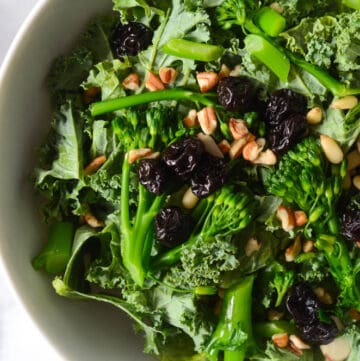 Copycat Chick-fil-A Superfood Kale Salad
This superfood kale salad is perfect to enjoy year-round and involves a not-overly-sweet maple vinaigrette that ties in all of the goodness.
Print
Pin
Rate
Ingredients
For the salad
1

bunch

baby broccoli

1

bunch

kale (about 8 cups), massaged and torn into pieces*

⅔

cup

dried sour cherries

⅓

cup

assorted nuts, whatever you have on hand**

½

lemon
For the vinaigrette
¼

cup

olive oil, high quality

2

tablespoon

pure maple syrup

2

tablespoon

apple cider vinegar

1

teaspoon

Dijon mustard

1

teaspoon

zest from one lemon

½

lemon

squeezed

salt and pepper, to taste
Instructions
In a small frying pan, toast nuts for about 5 minutes or until you can smell the nutty aroma. Shake pan constantly so they don't stick. This is when you know they're sufficiently toasted.

Get a large bowl of ice water ready. Set aside.

Place baby broccoli in small saucepan filled with salted, boiling water. Boil for 2 minutes. Take out of water and stick in ice water for a minute.

Place all vinaigrette ingredients except for olive oil in a bowl. Slowly whisk in olive oil until completely combined.

Using the kale and baby broccoli as your base, add in the cherries and nuts and toss with the dressing. Serve immediately.
Notes
*See notes in post on properly massaging kale
**I used a combination of pine nuts, almonds, and walnuts in this one, but feel free to use whatever you have on hand!