Peaches, burrata, pecans, arugula all drizzled with a balsamic glaze. This peach burrata salad is an ode to summer, for sure!
How is it the end of summer already? Where did time go and why didn't summer tell me it was going to be so crazy short? I'm a little in my feelings about all this, but just like that -- it's now freezing cold (for me anyway!) and football is on the television.
We technically have three days left of summer, and I intend to not waste them. We can get to the squash, potatoes, and brussels sprouts in a few days. I've got the last of the summer produce from the grocery store and will just pretend it's still 85 and sunny outside. This burrata peach salad is perhaps the easiest salad known to man and the most perfect way to say goodbye to summer properly. You don't even have to make a salad dressing.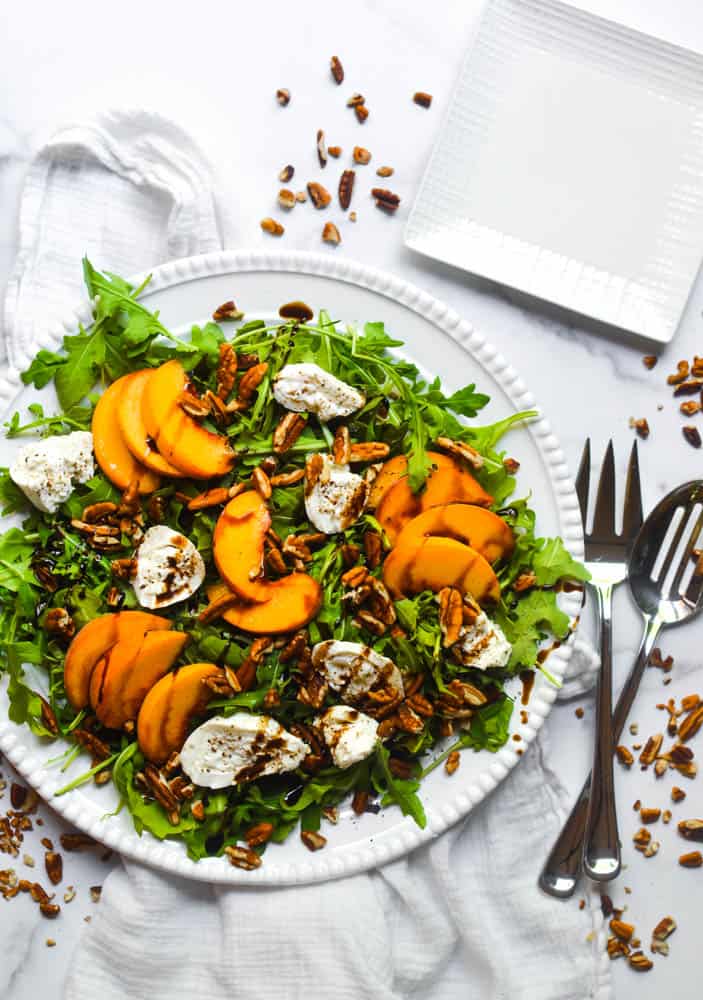 This Peach and Burrata Salad Recipe is More Like a PSA
I say this salad recipe is more like a PSA because it doesn't take any special technique or skill or time or fancy equipment to make -- and it's hard to even write out the "recipe" because there's not much to it. This recipe is more of a reminder that these flavors and textures work so well together. The peppery arugula, sweet peaches (especially if you're lucky enough to get them in-season from The Peach Truck), creamy burrata, crunchy pecans, and tangy balsamic glaze all make a symphony of epic proportions in your mouth. If peaches were available all year, I'd happily eat this salad in the winter.
Here's what you'll need:
arugula
peaches
burrata
pecan pieces (highly recommend you check out All The Fixins for some homegrown Georgia pecans)
balsamic glaze (store bought or see below to make your own!)
salt and pepper
Let's Talk Burrata
Daaaaaang. If I told you the burrata you get at the grocery store is trash, would you believe me? It's straight up JUNK. I'm talking about the major brands you buy in the cheese section of the grocery store that come in those plastic containers. That kind of burrata has a hard, thick outer layer of cheese and what little cream there is on the inside isn't actually very creamy.
Thinking I was just stuck, I started lamenting about my inability to acquire high quality burrata to my foodie friends. DUH! They suggested I look into ordering from an Italian grocery stores or ordering burrata from a restaurant. That's exactly what we did the other night. Pizzeria Da Marco came through and Y'ALL IT WAS SO DELICIOUS.
All of this to say, buy the store stuff if you're in a pinch and need burrata fast. If you're able to plan ahead though, pick up fresh burrata from elsewhere. You won't regret it.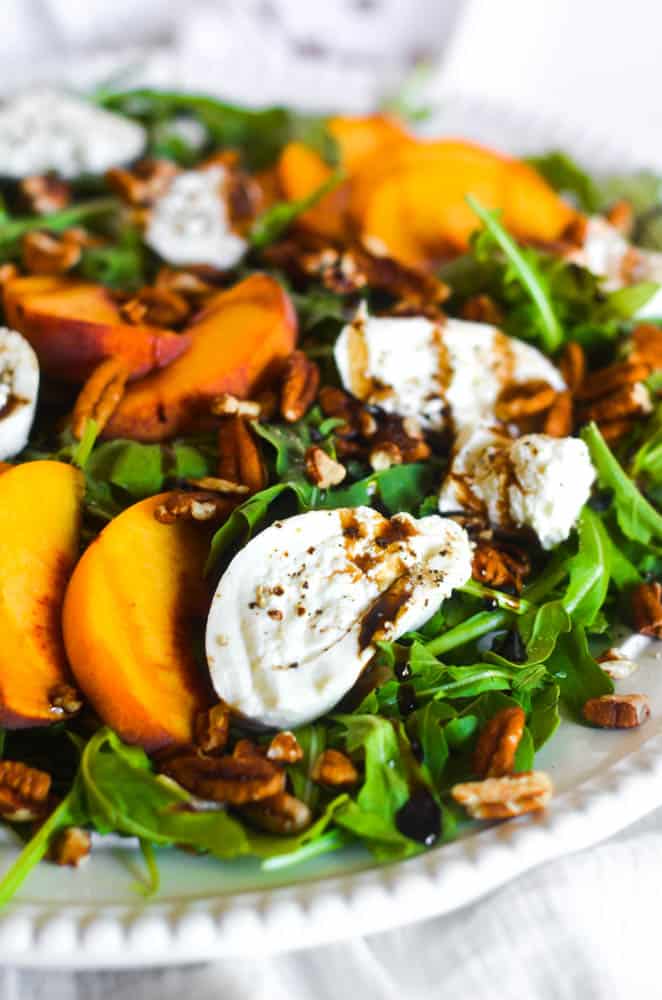 Make Your Own Balsamic Glaze
I'm definitely cheating here and buying balsamic glaze already made. You can find this in any 'ole grocery store with all of the oils. You can easily make your own though if you have extra time. Here's how:
Place 1 cup of balsamic vinegar in a small saucepan on medium-high heat until the vinegar starts boiling. Immediately reduce the heat to medium and let simmer for 20-25 minutes stirring occasionally. You'll know it's done when you dip the back of a spoon in the vinegar and the spoon is coated. Remove from the heat and let sit for a few minutes. The glaze will thicken as it cools.
You've just made your own balsamic glaze!
Salad Variations
There are some other ingredients you can add to this salad that are great variations, depending on your personal preferences. Try adding:
Prosciutto for some salty protein.
Tomatoes because #summertime
Thick croutons because we all have stale bread laying around
Fresh basil to make it more like a peach caprese salad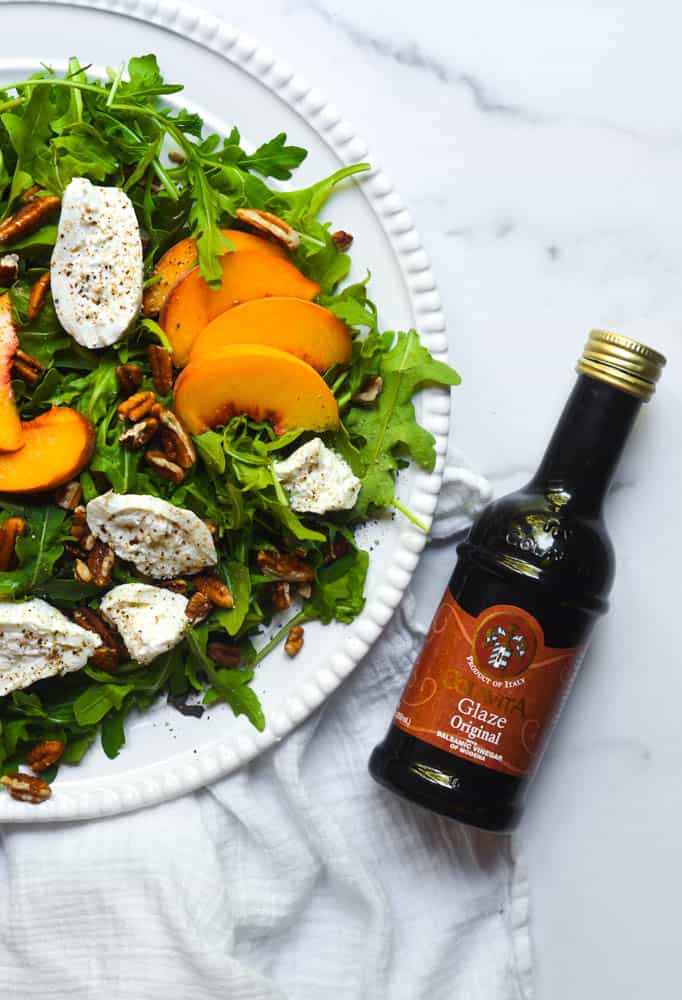 What to Eat with Peach Burrata Salad
Enjoy the last of summer!
xox,
kathryn
As always, if you make anything from the blog, be sure to let me know! I love hearing from you in the comments on this post below or find Worn Slap Out on Facebook, Instagram, or Pinterest!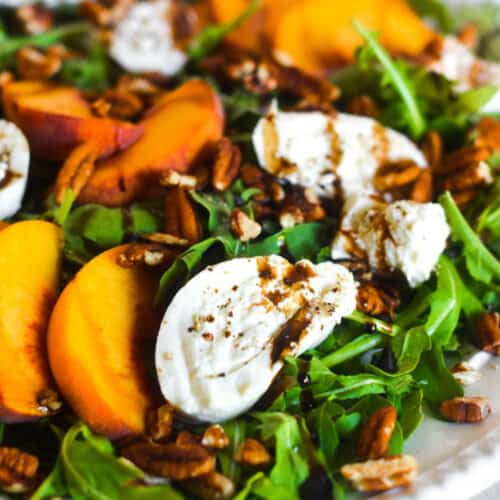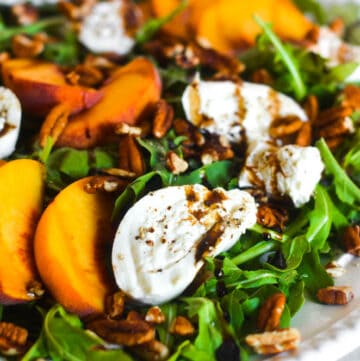 Peach Burrata Salad
Easy and simple, this Peach Burrata Salad has just a couple of ingredients and is the perfect summer side salad to eat with nearly anything!
Print
Pin
Rate
Ingredients
6

ounces

fresh arugula

2

peaches, cored and sliced

1

large ball of burrata (or two smaller ones)

¼

cup

pecan pieces

4

Tablespoons

balsamic glaze

salt and pepper, to taste
Instructions
Place arugula on large serving tray. Spread 3-4 slices of peaces in different areas over the arugula. Fill gaps with pieces of burrata. Salt and pepper burrata generously. Sprinkle pecan pieces all over. Just before serving, drizzle balsamic glaze all over.
Notes
Make ahead: This salad can definitely be made in advance.  Just wait to drizzle the balsamic glaze over top until just before serving.