This Tomato Basil Soup is creamy, reasonably healthy and requires no roasting. It only takes 30 minutes to make so this can be made on a weeknight...and don't forget the easy parmesan crisps!
I'm feeling alllllll the soups lately. Whether it's Orzo Soup with Sausage and Spinach, Italian Sausage and Spinach Soup, or Weeknight Chicken Tortellini Soup, I'm into all the comfort foods these days. I also don't want to eat something wildly unhealthy because I've injected myself with more junk food in the last 3 weeks than I'd care to admit.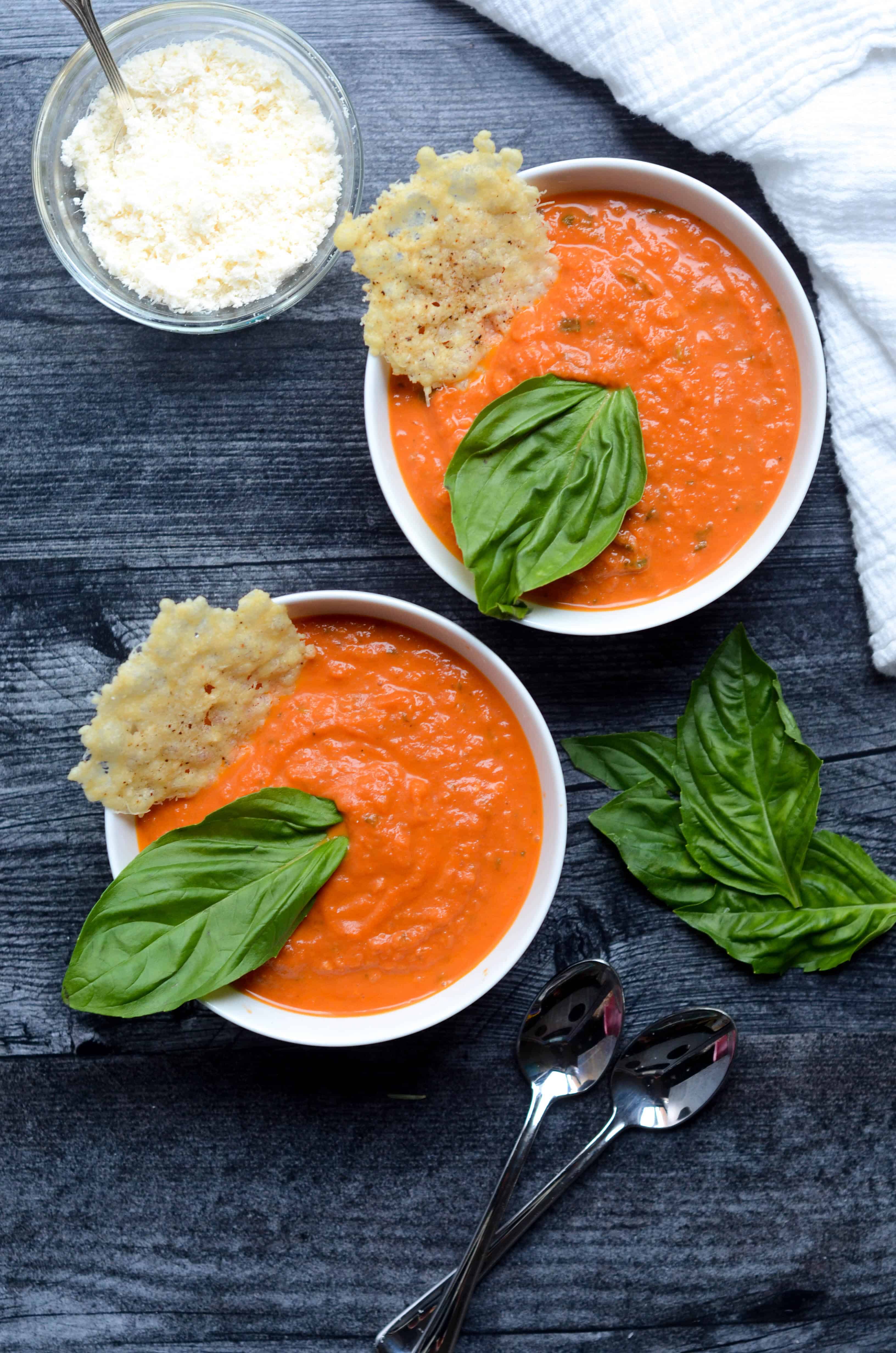 Is there anything better than a creamy tomato basil soup with a grilled cheese sandwich on a cold winter's night? Nah.
Why is this the best tomato basil soup, you ask?
This tomato basil soup is so creamy and delicious -- without adding a ton of calories. It has ⅓ cup of heavy cream -- so this is by no means something that's going to make you feel like you have a dumbbell sitting in your stomach after you eat it. And if you like Panera's tomato basil soup, just you wait. This is *way* better. Other things I love about it:
It's a great weeknight addition because it can be made in 30 minutes
There's very little chopping except for the onion and garlic. Total weeknight dinner win.
Despite the tomatoes being the star of the show, it's not acidic thanks to the cream, long(ish) simmering time, and a tiny bit of sugar (yes, sugar). The sugar really helps to balance out the acidity from those 'maters. Just to compare, Campbell's tomato soup has 30 grams of sugar in the can. I use ½ teaspoon here. Can you believe it?! If you wanted to make this tomato soup sugar free (or at least refined sugar free), try adding honey instead of sugar.
You can let the soup simmer unattended for 20 minutes while you do other things like tell your children multiple times they can't pull their sibling down the steps on a blanket.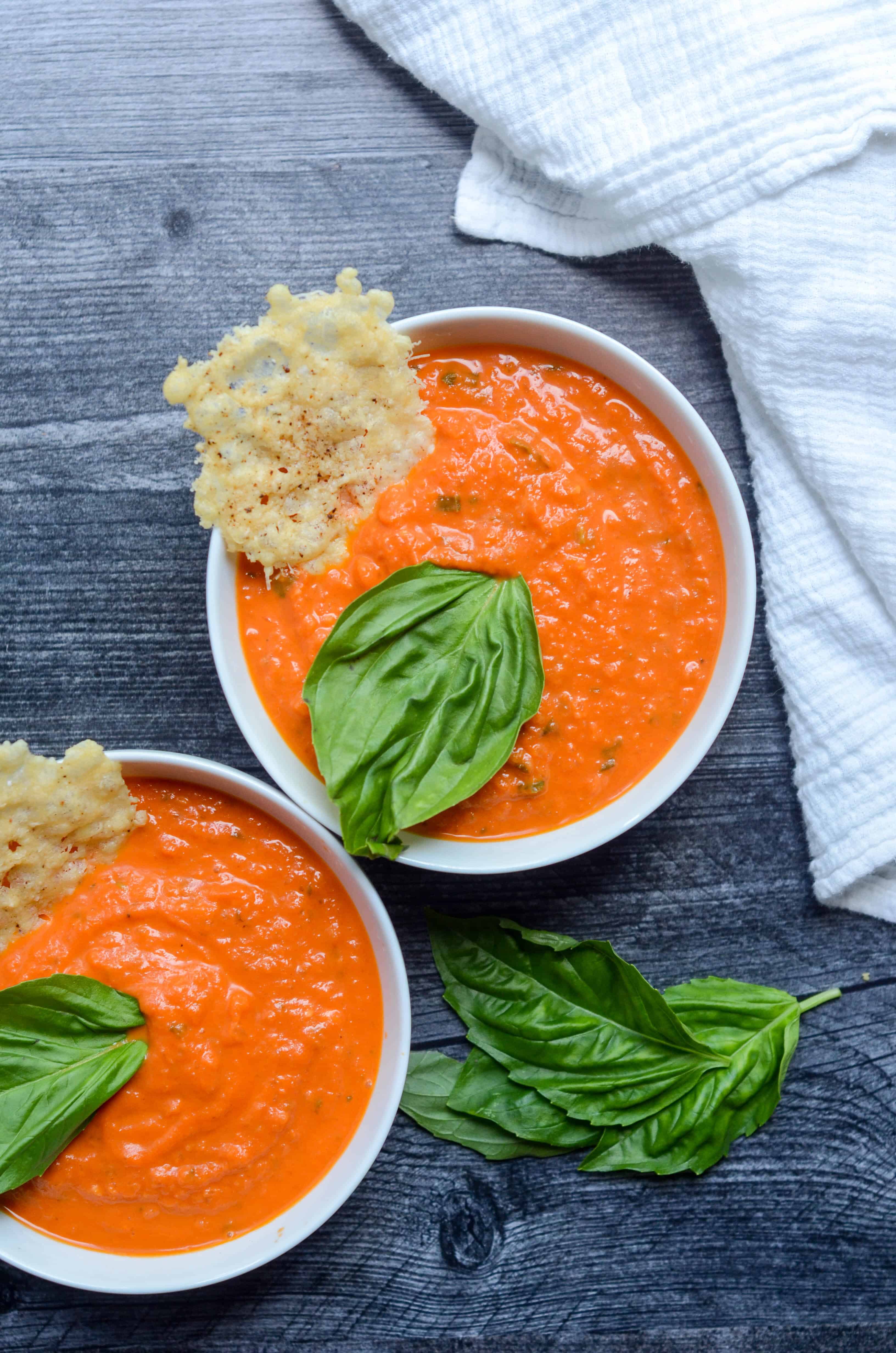 How to make tomato basil soup
First, you'll want to saute your onions in a large saucepan with some olive oil, salt, and pepper until they're tender and translucent, about 5-7 minutes. Add your garlic and saute for another minute. Then you'll add the tomatoes, chicken (or vegetable broth), and your basil and simmer until the soup reduces slightly. Once the soup cools a bit, you'll process in a food processor or blender with olive oil until it's smooth, add your cream, and serve to hungry bellies. So easy, right?
What kind of tomatoes should you use to make tomato soup?
San Marzano whole peeled tomatoes are the greatest tomatoes of all time, and I prefer the Cento brand but any brand will do. You can find them at any grocery store (and even cheaper at Costco), and San Marzano tomatoes are more expensive than the generic, but it's so worth it IMHO. The tomatoes are bursting with flavor and taste like they're fresh off the vine.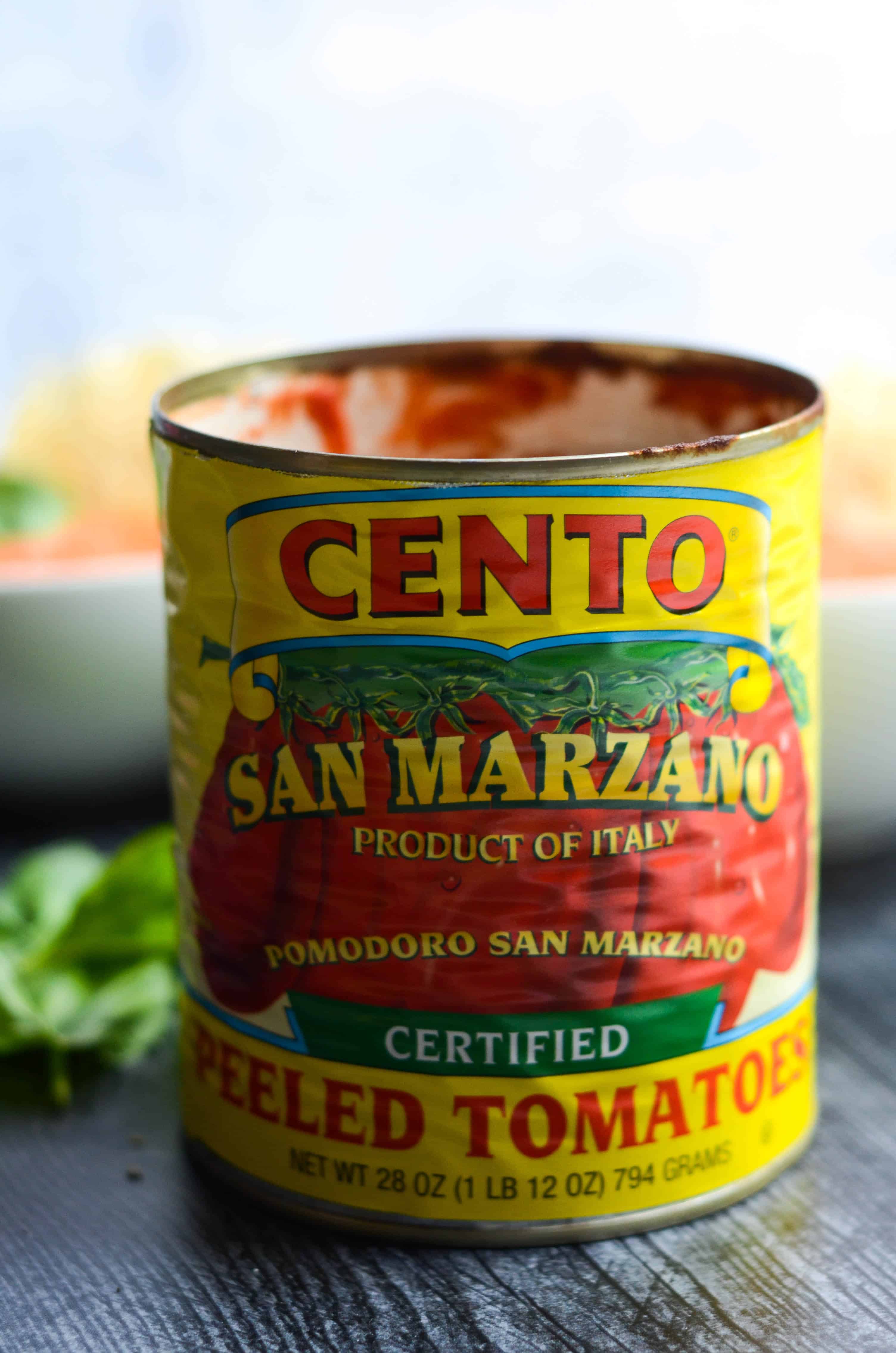 What to eat with tomato basil soup
Here are my favorite pairings:
Grilled cheese on sourdough is just the best. Hands down.
You could add some tuna to your grilled cheese and make a tuna melt if you wanted some protein.
A white pizza would be delicious to pair with this. If you're having company over, I'd definitely order the pizza and make the soup. Not a lot of fuss but people will be so happy.
Add tortellini and you have yourself an even heartier meal. Pasta and soup = killer combo.
A simple white, flaky fish (cod, halibut, etc.) cooked very plainly -- with just some olive oil, salt and pepper would be delish.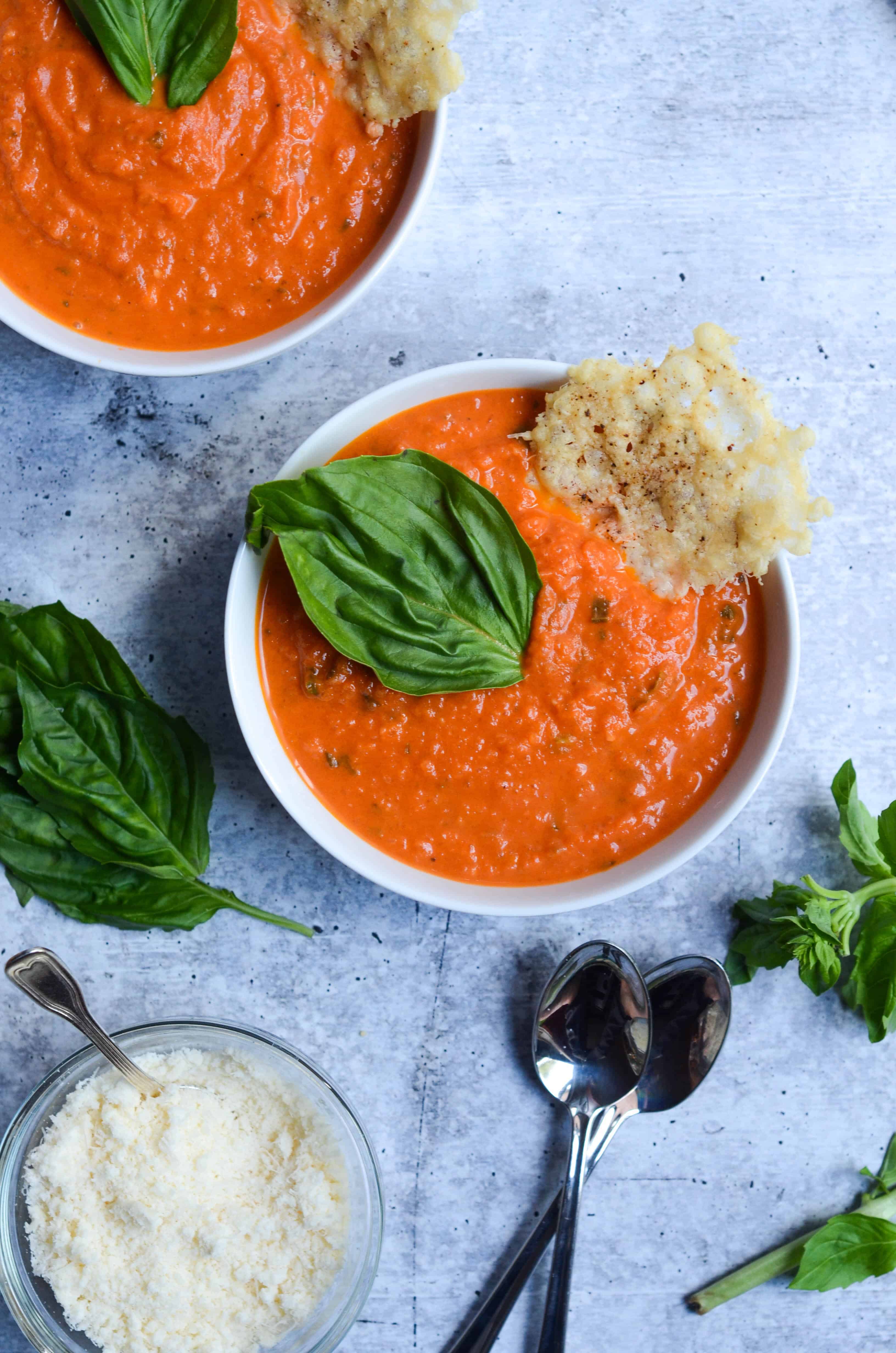 How to make parmesan crisps
I've been thumbing through Chrissy Tiegen's Cravings: Hungry For More cookbook, and she reminded me how simple parmesan crisps are to make.
All you need to do is spread about 2 Tablespoons of grated parmesan cheese around on a parchment lined baking sheet to form a rough circle about 3" in diameter. Add some cracked black pepper on top and bake at 375 for 6-7 minutes. They'll need about 3 minutes to sit and cool off (they also harden up more as they cool) before eating them...but man are these things a delicious pairing with the creamy tomato basil soup!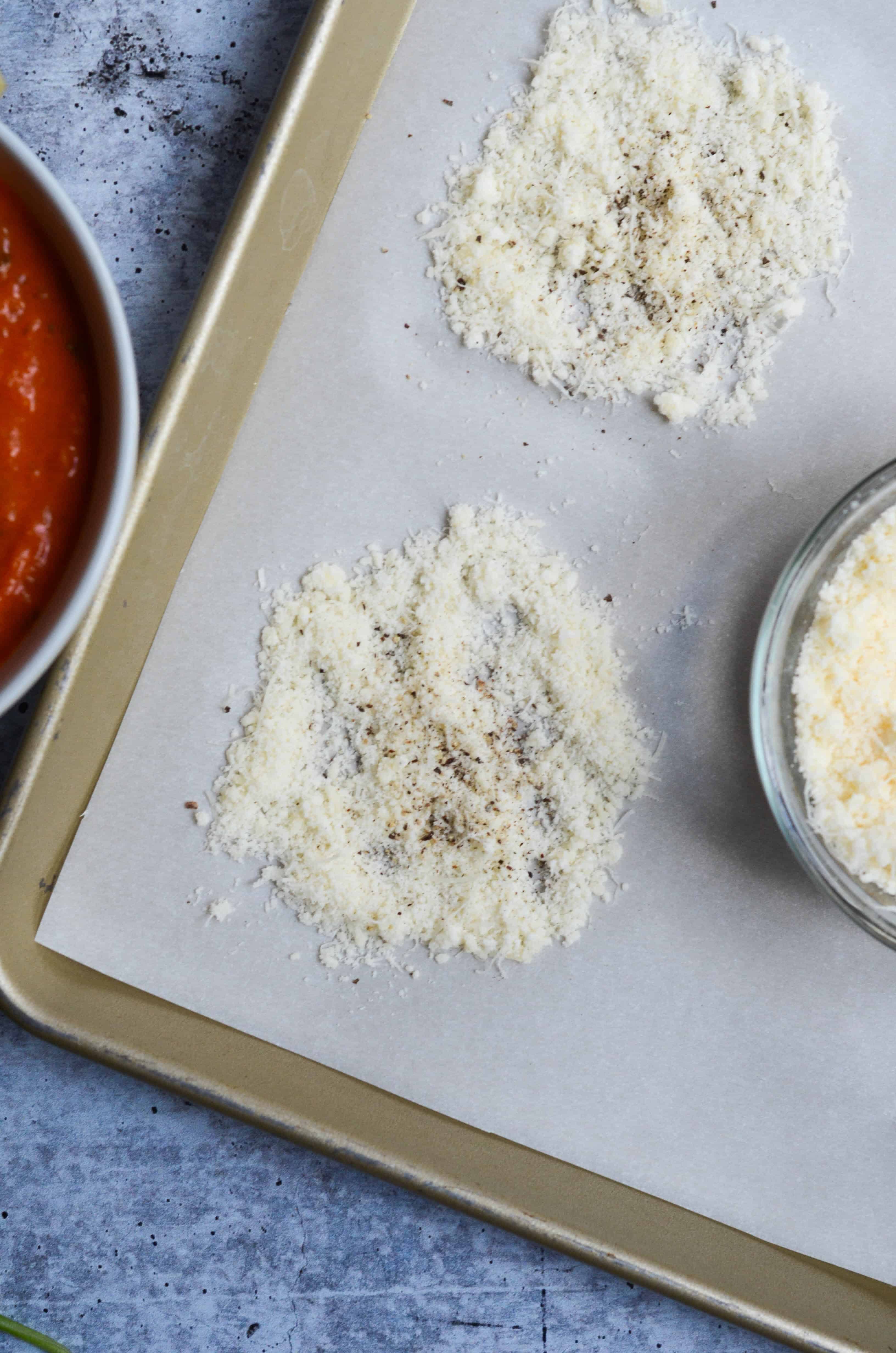 Hope y'all have the most wonderful New Year!
xox
kathryn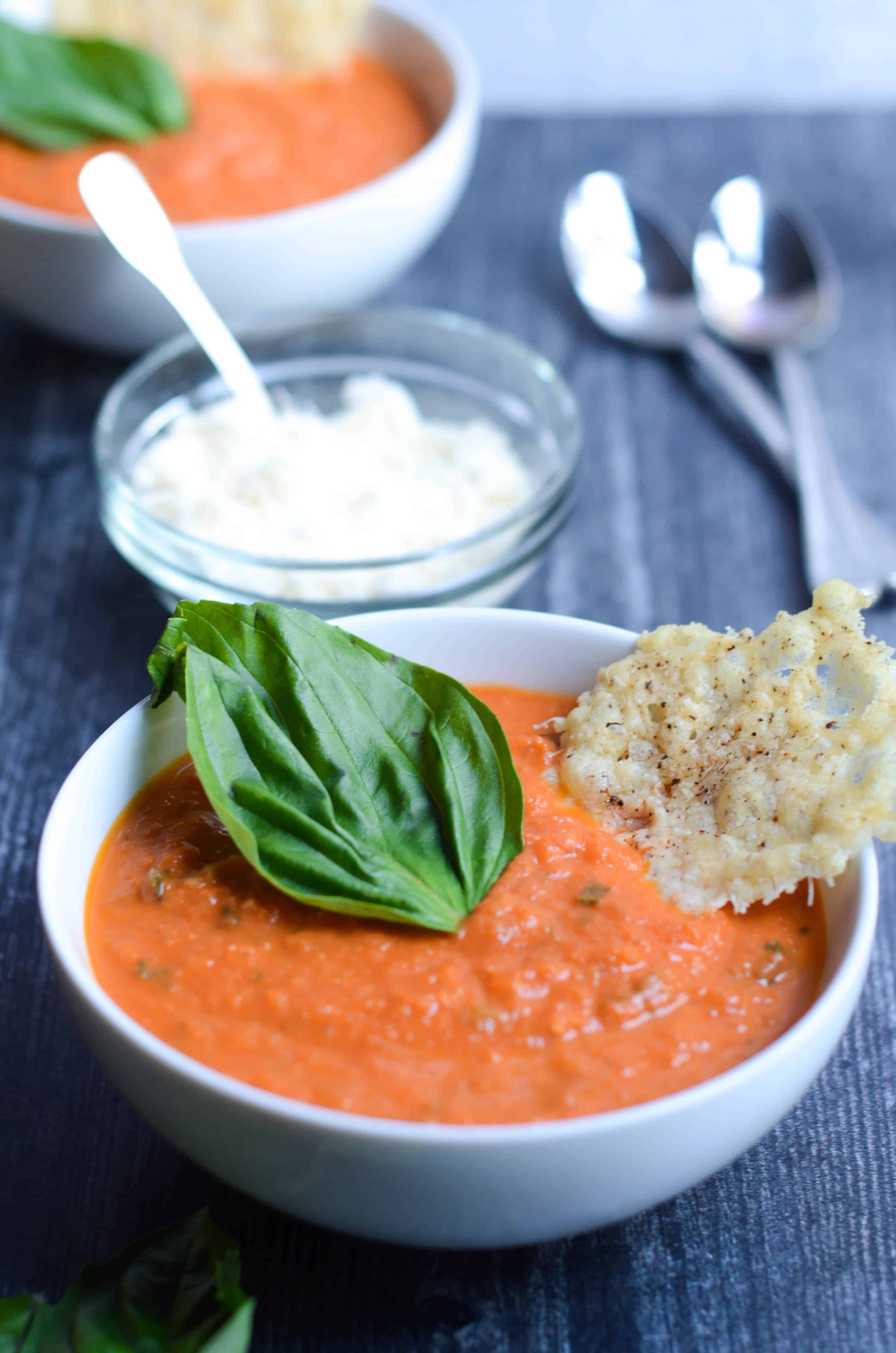 As always, if you make anything from the blog, be sure to let me know! I love hearing from you in the comments on this post below or find Worn Slap Out on Facebook, Instagram, or Pinterest!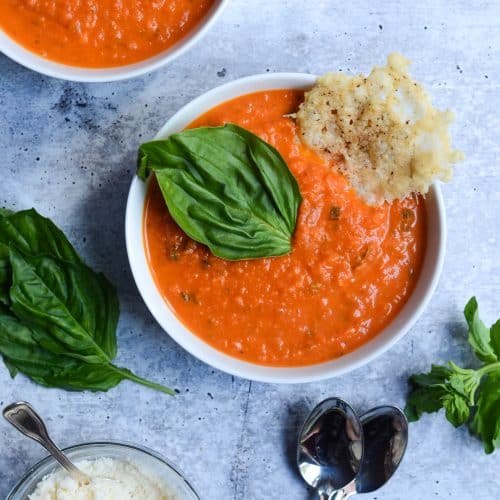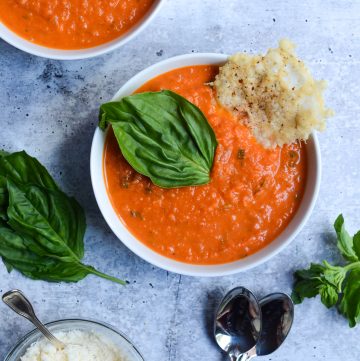 Creamy Tomato Basil Soup
This Tomato Basil Soup is creamy, reasonably healthy and requires no roasting. It only takes 30 minutes to make so this can be made on a weeknight...and don't forget the easy parmesan crisps!
Print
Pin
Rate
Ingredients
2

tablespoon

olive oil

1

onion, chopped

½

teaspoon

salt

¼

teaspoon

pepper

4

cloves

garlic, minced

1-28 oz.

can

whole peeled tomatoes

½

teaspoon

sugar

½

cup

chicken or vegetable broth

15

large fresh basil leaves, sliced thin (about ½ cup loosely packed)

⅓

cup

heavy whipping cream

extra basil and parmesan for serving
For the parmesan crisps:
1

cup

parmesan, grated

1

teaspoon

black pepper
Instructions
In a large saucepan with olive oil, saute onions, salt and pepper over medium heat until tender and translucent, about 5-7 minutes. Add garlic and saute for another minute.

Add tomatoes, including juices, along with chicken or vegetable stock and basil. Crush tomatoes slightly with a wooden spoon or fork. Let simmer until the liquid reduces by about a quarter (about 20 minutes or longer if you can). Take off the heat and let cool for just a bit (long enough to stick in blender or food processor).

While soup is simmering, preheat oven to 375 degrees F and place 2 Tablespoons of Parmesan cheese piles on a piece of parchment-lined baking sheet. Spread out each of the cheese piles to make 10 3" rough circles. Add fresh black pepper on top of each pile and bake for 5-6 minutes or until browned and crispy. Let cool for 3 minutes or so before eating.

Place slightly cooled soup into a food processor or blender (you may have to do this in two batches depending on the size of your equipment). Blend until fairly smooth (2-3 minutes), then pulse in heavy whipping cream until combined. Serve with extra basil and parmesan crisps.
Notes
Store in an airtight container in the fridge once it's cooled.  
Tomato basil soup will keep fresh for 3-4 days.