Soup season is upon us, and this Orzo Soup with Sausage and Spinach is both warm and flavorful for those cold, blustery nights ahead.
The moody weather continues. One day this week is nearly reached 75 and the next day was blustery and 55. I just recently put away the kids' summer clothes and traded them out the warm sweater and jackets (finally!), but I have yet to do this for myself. I'm still wearing long maxi dresses to work with a sweater because of my lack of motivation. That's a problem.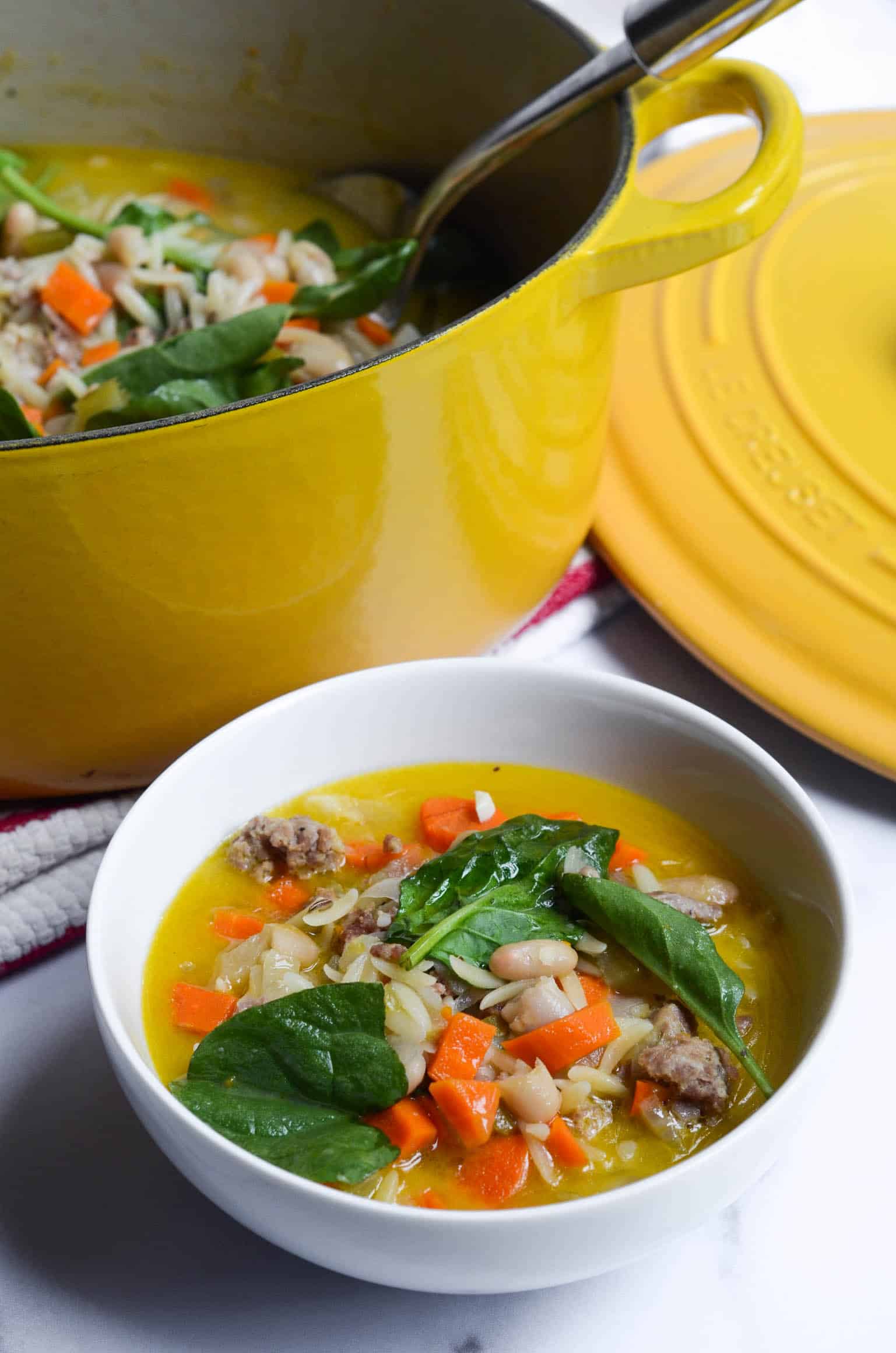 Since the weather isn't getting any warmer, it's time to embrace soup season again. It's such an easy thing to make on winter weekends when you know you're going to be trapped indoors, so what's 30-45 minutes of simmering time? Nothing.
Ahh, orzo soup! I love you.
This orzo soup is like a combination of a chicken noodle soup (with the chicken broth base and traditional onions, carrots, and celery) and a minestrone soup because of the beans and greenery (spinach, in this case). I use sausage in the soup because it's something we don't eat a ton of (and it's always nice to mix up things from your regular rotation) and cooking the sausage in the same pan as the rest of your soup adds so much flavor. The sausage drippings coat the vegetables as they cook, making the soup that much more flavorful.
If you don't love sausage, you could easily use rotisserie chicken for an even faster meal or make this soup vegetarian by nixing the sausage altogether and using vegetable broth instead of chicken broth. It's a very diet-friendly, something-for-everyone kind of soup, I'd say. Feel free to use what you have available in your refrigerator if you don't have identical ingredients.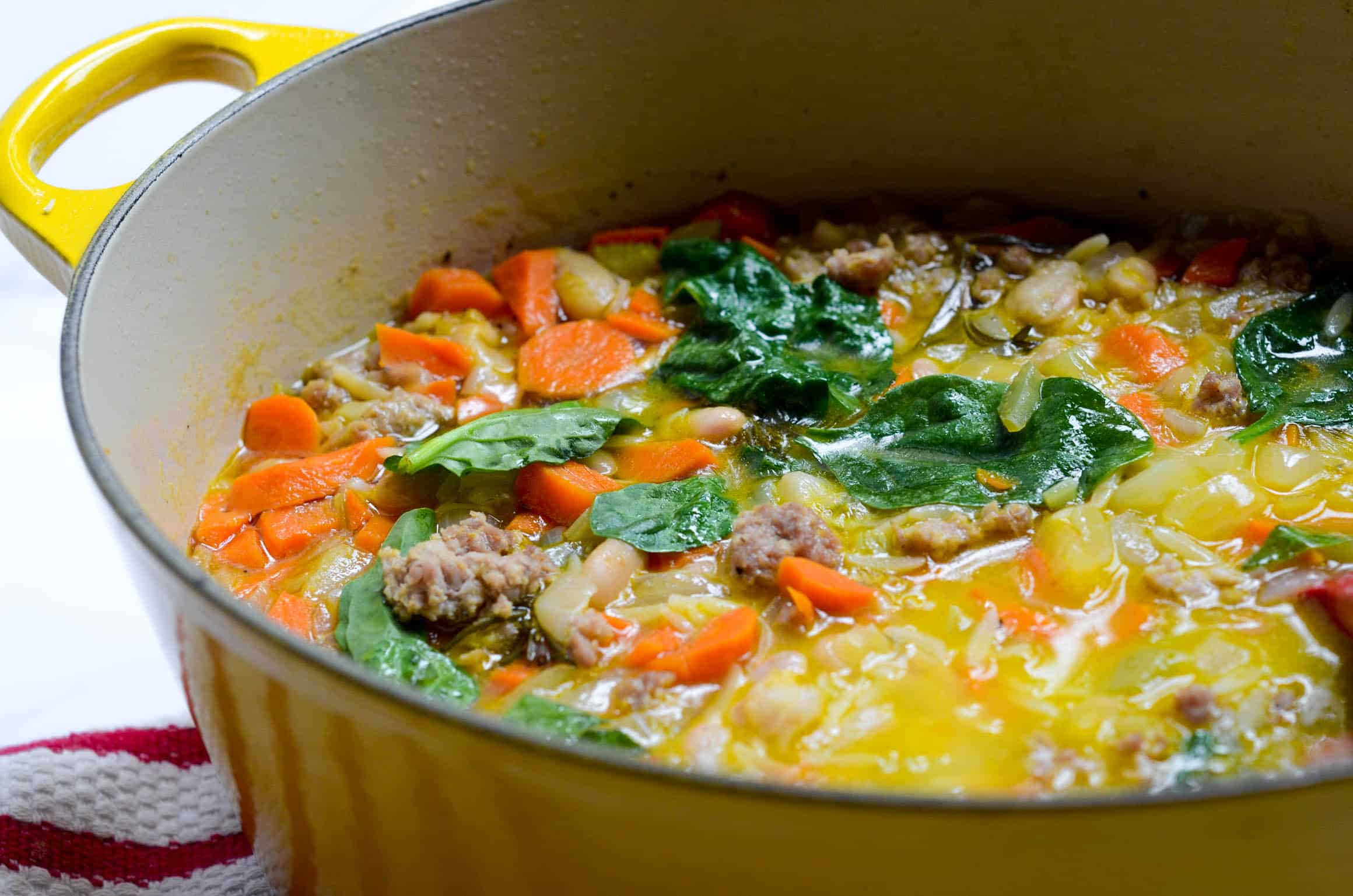 Like my salads, I really like my soups to be hearty -- and probably like a lower broth to contents ratio than many. I also really like pasta in my soups, like this Weeknight Chicken Tortellini Soup. I think the orzo adds some necessary texture to the soup and makes it feel that much more like a meal as opposed to an appetizer. Feel free to add more broth as you see fit if you prefer your soup to be a bit thinner.
Tips for making this soup:
Brown your sausage. You'll want to get a nice sear on your sausage before adding it to the soup. It gives you some nice texture (I told you...I have texture problems) and is just visually much more appealing than fully cooked but un-browned sausage. Trust me.
Choose fresh herbs over jarred ones. It'll make a huge difference. It's really tempting to use jarred herbs because well...they're convenient. You always have them in your pantry. But it makes a big difference if you use fresh ones. They add a much stronger flavoring to your soup.
Add orzo and spinach right before serving. You'll do this for different reasons. The orzo will soak up so much of the liquids the longer it sits in the soup, so in order to have a good liquid-to-soup-contents ratio, I highly recommend waiting until you're ready to serve. (See tips below for reheating the soup, too!) You'll want to add the spinach at the very end to prevent the spinach from wilting too much. This isn't a bad thing -- more of an aesthetic thing you may want to consider if you were serving for guests. My family definitely gets the wilted spinach version without question.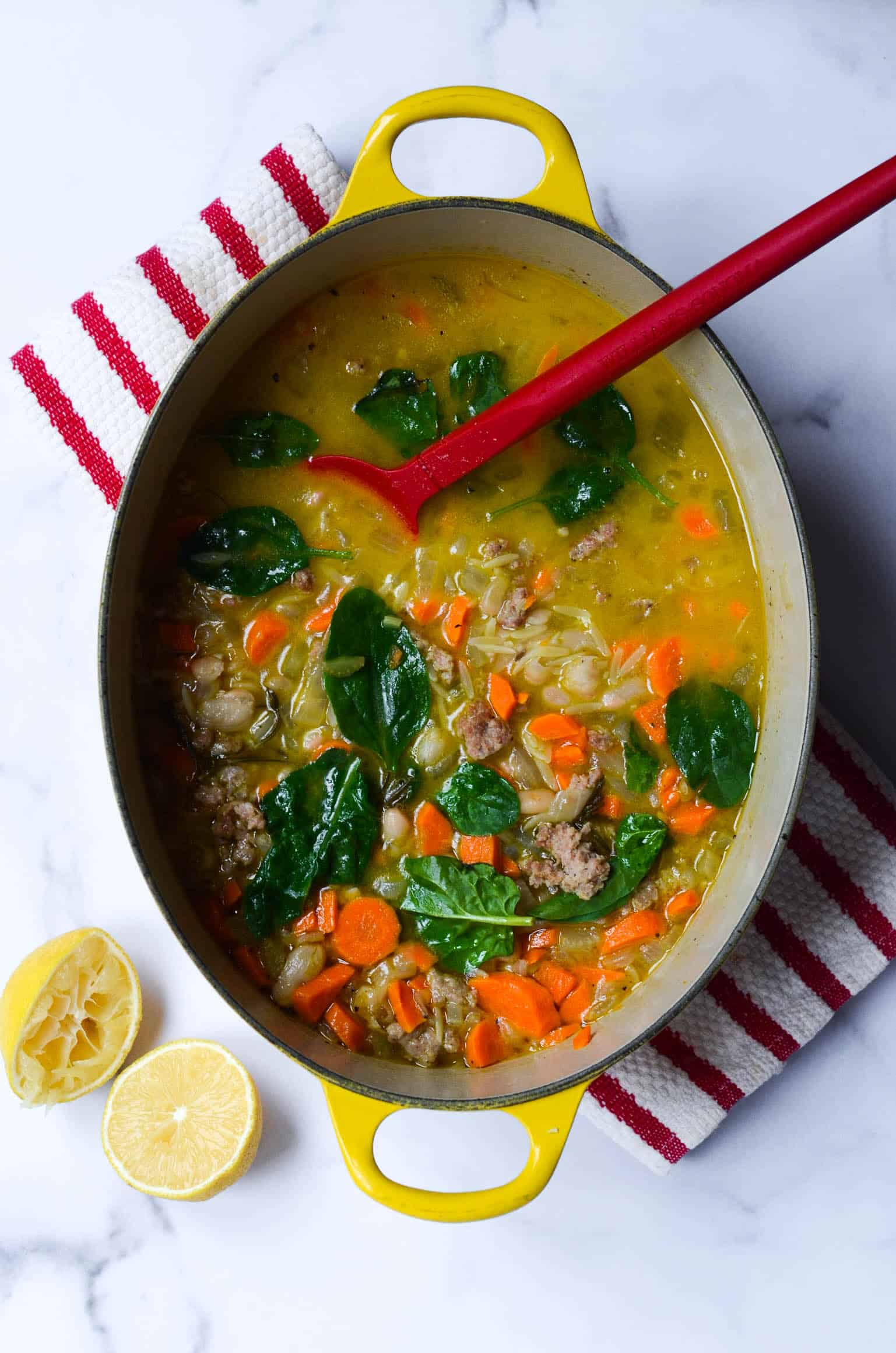 Reheating this soup
When you're heating the soup, you'll need to add 1-2 cups of either water or chicken broth. This may sound weird to add water because no one likes watery soup, but the broth and the juices will still be in the soup -- it's just soaked up by the pasta and vegetables. Adding water doesn't make this soup watery by any means.
Heat the soup in a saucepan under low heat until the sausage is hot. Extra spinach can be added at the last minute for the same reasons as above.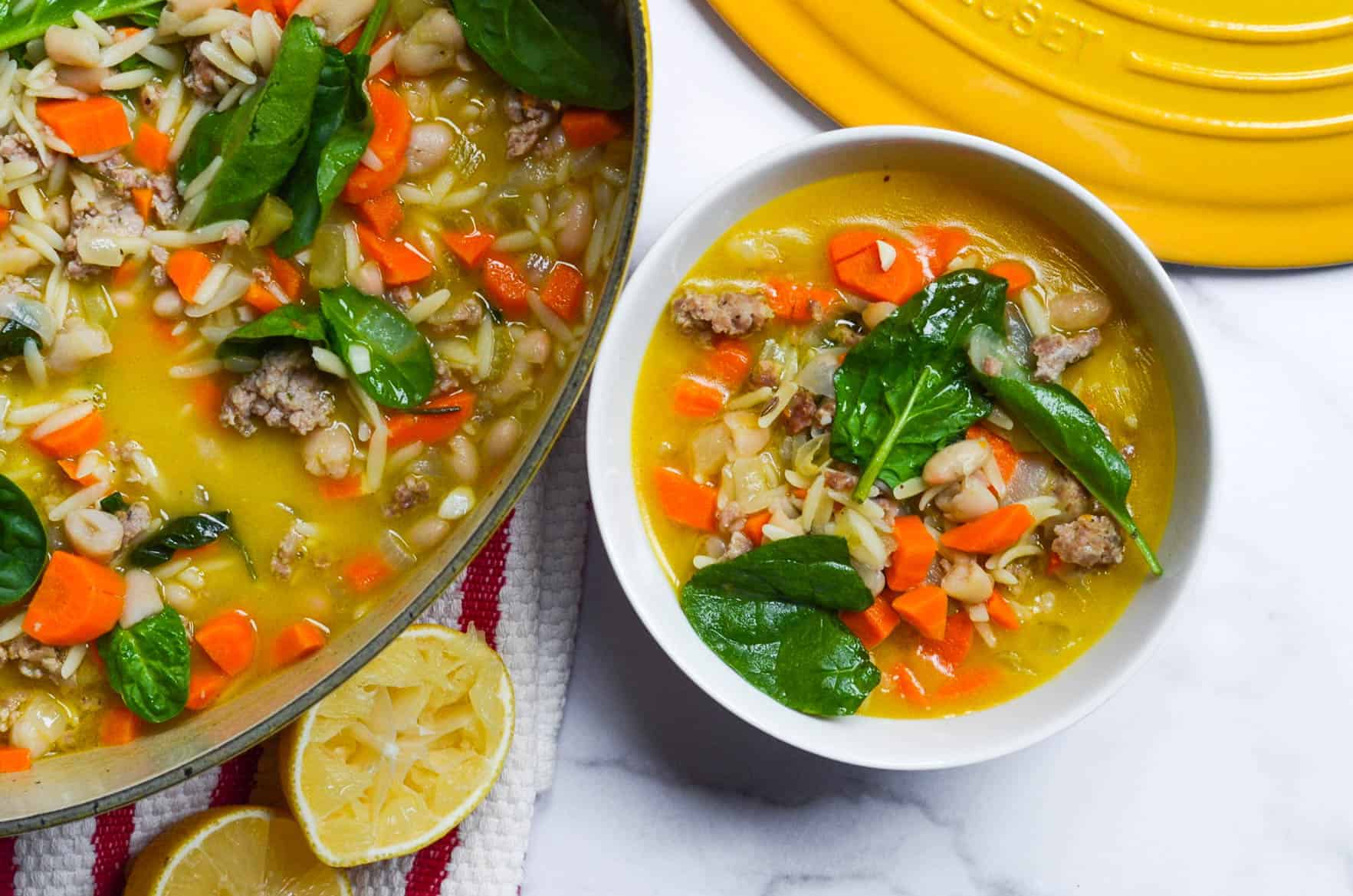 Other Cold Weather Favorites
Need some more winter meal inspiration? Check out some of these awesome cold weather favorites: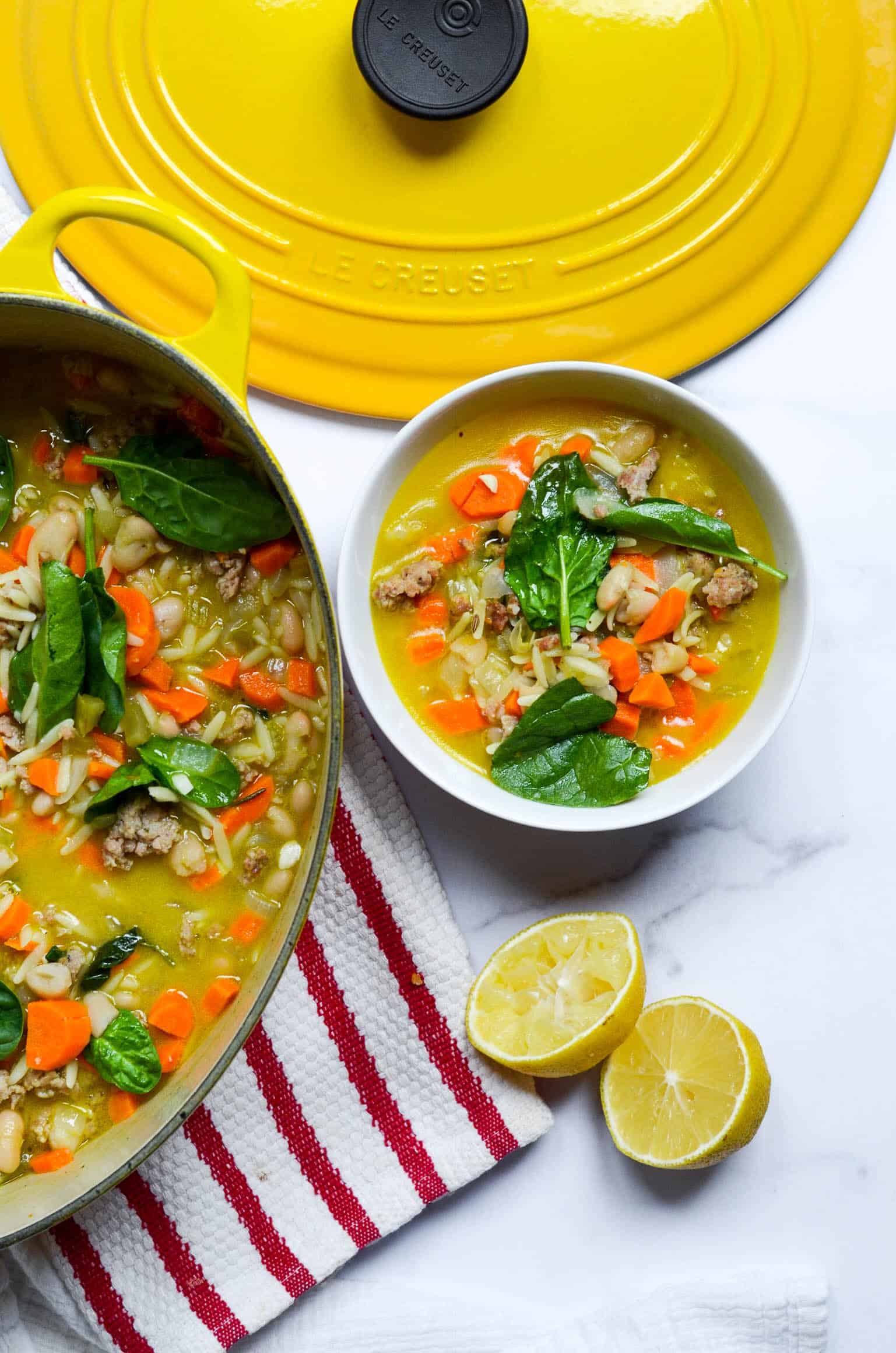 As always, if you make anything from the blog, be sure to let me know! I love hearing from you in the comments on this post below or find Worn Slap Out on Facebook, Instagram, or Pinterest!


xoxo
Kathryn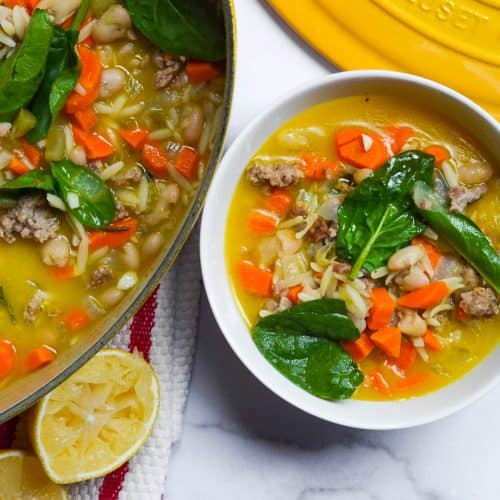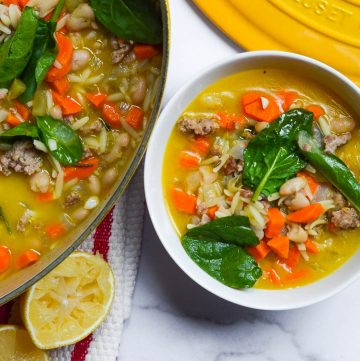 Orzo Soup with Sausage and Spinach
Soup season is upon us, and this Orzo Soup with Sausage and Spinach is both warm and flavorful for those cold, blustery nights ahead.
Print
Pin
Rate
Ingredients
4

large sausage links,

mild, Italian, or spicy (whatever you prefer)

3

tablespoon

olive oil

1

onion

3

carrots, chopped

3

celery stalks, chopped

3

garlic cloves, minced

1

Tbsp

tyme, finely chopped

2

teaspoon

rosemary, finely chopped

4

cups

chicken broth

1

can

cannellini beans, drained

½

cup

orzo

2

cups

spinach

½

lemon
Instructions
In a large Dutch oven or sauce pan, heat olive oil on medium-high heat. When drop of water sizzles in the pot, you're ready to add the sausage. Break up sausage in the pan into ½" pieces. Let brown by leaving sausage alone for 2-3 minutes, then flip so other sides get browned as well. Remove from the heat.

In the sausage juices, add onions, celery, and carrots. Let cook for 6-7 minutes until onions are translucent. Add the garlic, thyme, and rosemary and stir well for a minute or so. Add chicken broth and beans and stir, getting any of the brown bits off bottom of pan. Add the sausage back in.

Cover, reduce heat, and let simmer for 30 minutes. Add dried orzo and juice from half a lemon and cook for 5 more minutes. If you're ready to serve immediately, stir in spinach during the last minute and serve immediately*.
Notes
*The spinach will wilt quickly, so wait to add spinach until you're ready to serve. 
Storing soup: Let cool completely before putting in an airtight container.  Store in the refrigerator for 3-4 days. 
Leftovers: The vegetables and orzo will suck up so much of the broth overnight.  Add 1-2 more cups of either chicken broth or water as you're reheating the soup over medium-heat on the stove. 
To freeze: Stick in the freezer once soup has cooled completely.  
To defrost: Place soup in the refrigerator the night before using then heat in a saucepan.