You've heard of sheet pan meals but have you heard of sheet pan soup? This Easy Roasted Butternut Squash Soup only requires butternut squash, potatoes, garlic with some spices that are roasted together before getting creamed.
This is legit the easiest soup recipe around and one I just made up trying to get rid of some butternut squash I had laying around for weeks on end. These two squash were giving me the evil eyes for far too long, and I just am not a huge fan of plain roasted butternut squash, which is highly unusual because I typically roast 95% of our vegetables. I think I always lust after sweet potatoes when I'm eating butternut squash and am just disappointed. Enter this soup.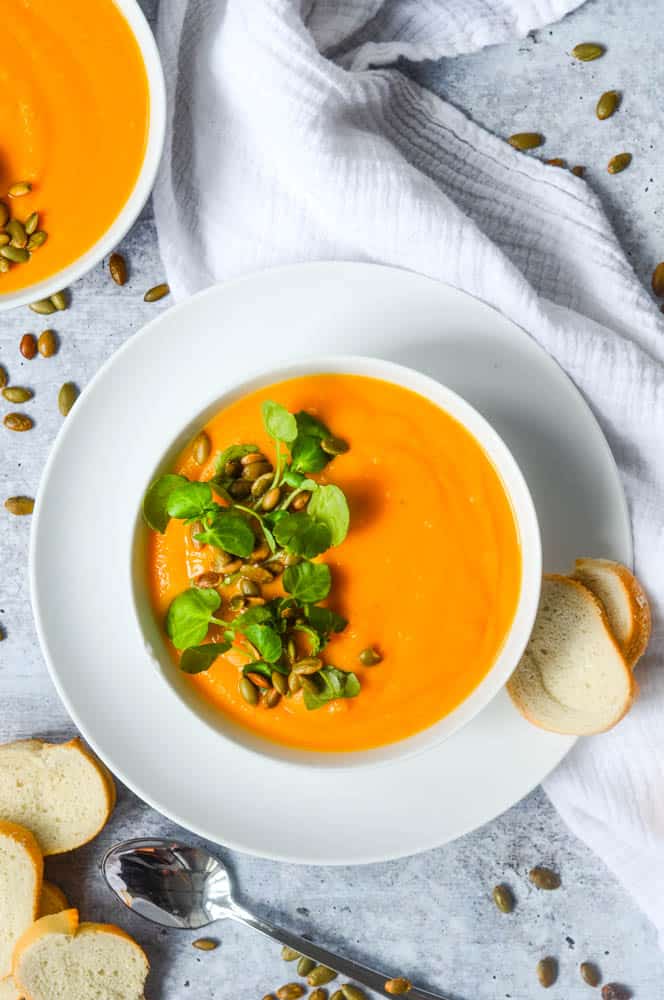 The Easiest Soup Recipe Ever
Here's why you'll love this soup, too:
Crazy easy. You place vegetables on a sheet pan, roast, then blend. Seriously, it's that easy. While we're stuck at home, the vegetables roast and you have a healthy lunch ready for you in 5 minutes.
Healthy. Butternut squash is an excellent source of fiber, Vitamins A, C, B, and E, as well as calcium, magnesium, and zinc. Wooo. That's a lot to love right there. There's no heavy cream or milk despite its luxurious texture (see Tips and Tricks below). I don't mind eating three bowls of it in one sitting.
Not a lot of clean up. Not going to lie here. If I'm covering a pan in a couple layers of aluminum foil and only cooking vegetables on it, that thing is going right back on the shelf. This soup requires a sheet pan and a blender.
Great to meal prep. You can easily double or even triple this recipe easily and eat it all week, make for a dinner party (one day), or freeze leftovers to use later. More on freezing below.
Even better the next day. The flavors have some time to sit with one another, and I think it's even better the next day.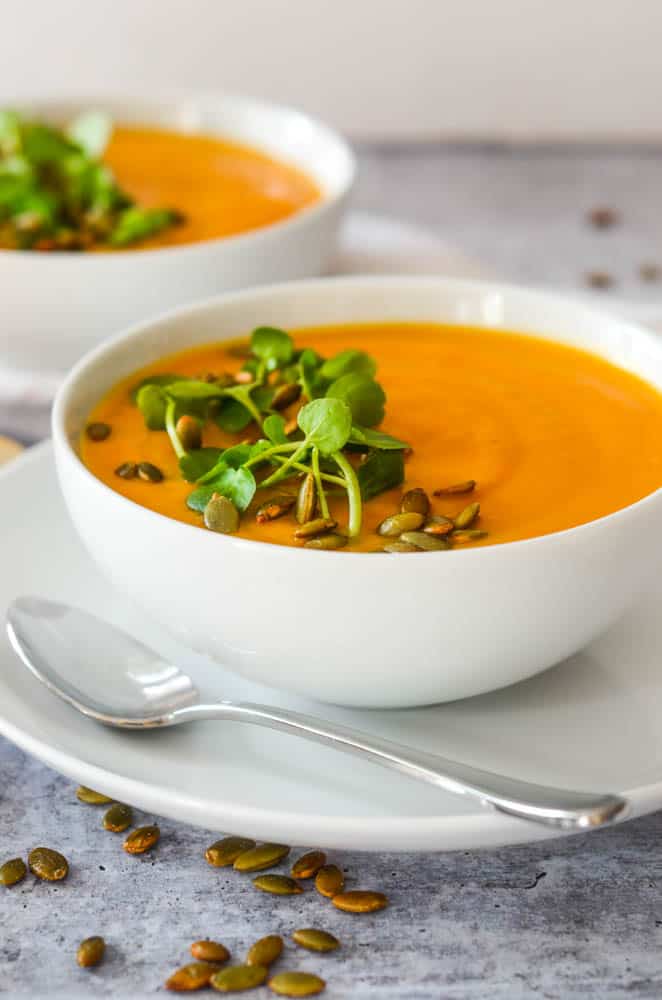 Tips and Tricks
This soup is so crazy easy thanks to a couple of tips and tricks. If you know the tips and tricks and why they work, then you really have so much freedom in the kitchen to replicate these same tips and tricks with other foods.
The Russet potato is important. I looooove heavy, cream-based soups but my stomach does not, so I've learned to easily pivot to creamy without using cream. That's what the potato does for this soup. Use a good ole Russet potato like you'd use for a baked potato. I think Russets cream up better than any other potato. If you want the soup even creamier, add another whole potato. I wouldn't be mad at it one bit.
High heat caramelizes the vegetables. The olive oil keeps the vegetables from drying out, but there's just enough oil to also allow the vegetables to caramelize on top, which adds so much flavor to the soup. That's why you roast the squash at 400˚F for a solid 40-50 minutes.
Choose your own texture. It's like the "Choose Your Own Adventure" books I used to read as a kid but with soup texture. Blending the soup in a blender or in a food processor gives you the ability to make the soup thicker (blending on medium for half the length of time) or super creamy and smooth (blending on high for at least one minute).
Go light on the stock. I think you'll want at least one cup of vegetable stock, but after you blend the soup with the stock, give it a quick check for consistency. Is it your desired creaminess? If not, add a little more stock and blend the soup a little more. Two cups of stock is always the magic amount for me. For those who like a thinner soup though, add 3 to 4.
Roasted Butternut Squash Soup Toppings
You know what I bet you haven't had in awhile? WATERCRESS. Watercress are the bagged leaves you rarely notice at the grocery store, but those little clover-looking things have some seriously super food health benefits.
I also like to top the roasted butternut squash soup with pepitas. Pepitas are pumpkin seeds from a particular type of hull-less pumpkin. They're great to add in all sorts of salads and soups. You can find them usually in the nut aisle at any grocery store.
You can also add some coconut milk (to keep it vegan) or sour cream and extra red pepper flakes.
Chopped cilantro or parsley is a wonderfully easy topping for butternut squash soup, too. You can even add some dried fruit -- like cranberries or cherries for a little bit of texture.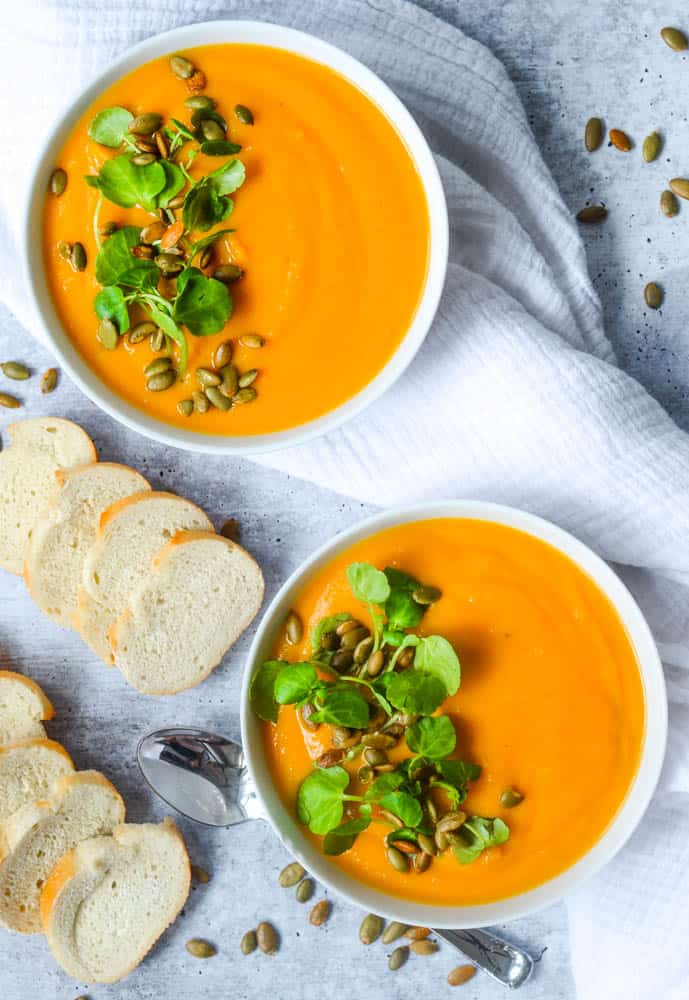 What to Serve with Butternut Squash
This soup is hearty enough to eat as an entree with a big hunk of toasted bread, but if you want to serve butternut squash as a side dish, here are my recs: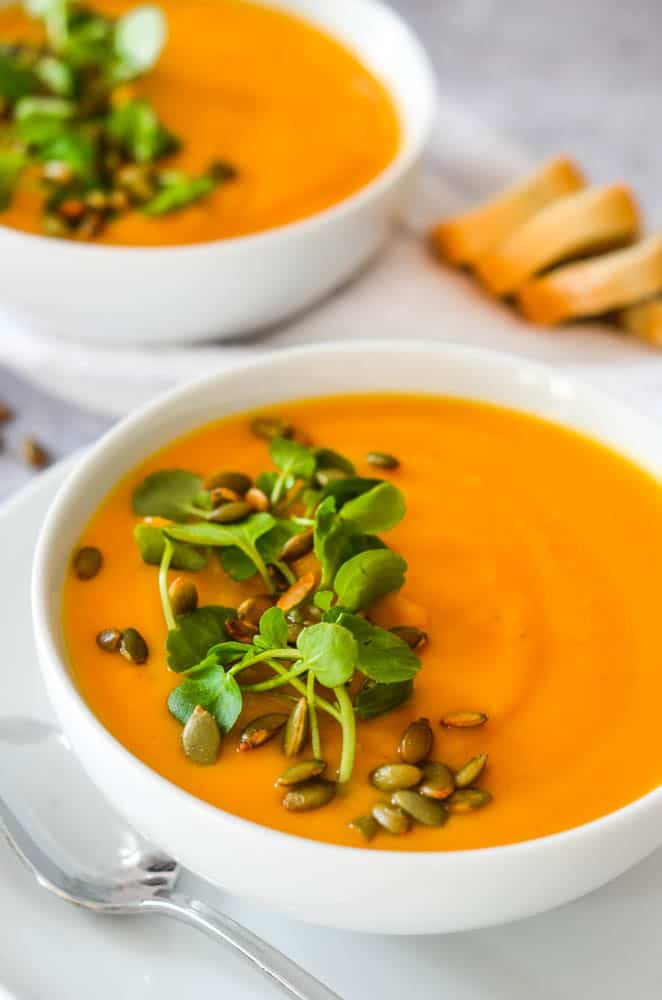 xox,
kathryn
As always, if you make anything from the blog, be sure to let me know! I love hearing from you in the comments on this post below or find Worn Slap Out on Facebook, Instagram, or Pinterest!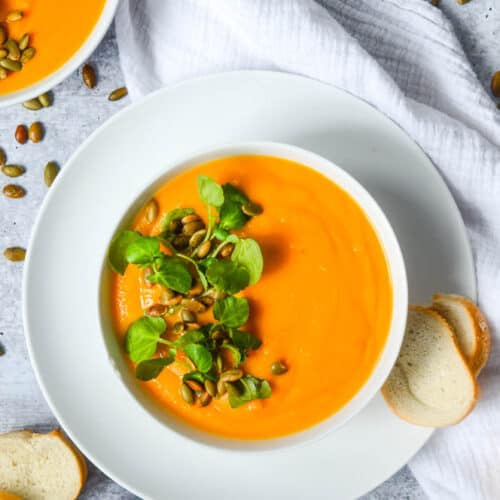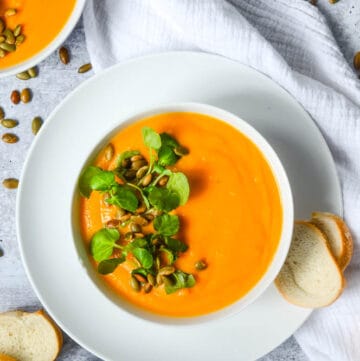 Easy Roasted Butternut Squash Soup
You've heard of sheet pan meals but have you heard of sheet pan soup? This Easy Roasted Butternut Squash Soup is garlicky and so healthy. The soup is vegan - no dairy thanks to a couple of tricks.
Print
Pin
Rate
Ingredients
2

medium-sized butternut squash

4

Tablespoons

olive oil

4

cloves

garlic

peeled

1

Russet potato

peeled, cut into 4 quarters

1

teaspoon

yellow curry powder

½

teaspoon

coriander

½

teaspoon

cumin

¼

teaspoon

red pepper flakes (leave this out if you don't want a little kick or add more)

salt and pepper

2

cups

vegetable broth

pepitas & watercress,

optional for garnish
Instructions
Preheat oven to 400˚F. Line baking tray with aluminum foil or parchment paper. Set aside.

Cut ends off butternut squash and cut in half lengthwise. Scoop out the guts and seeds with a spoon and discard. Lay inside of squash face up on baking sheet. Lay potatoes and garlic cloves down on baking sheet around squash. Add spices (curry powder, coriander, cumin, red pepper flakes, salt and pepper) to the top of the butternut squash. Cover everything (squash, potatoes, and garlic) with a generous amount of olive oil (about 4 Tablespoons total). Roast at 400˚F for 40-50 minutes or until squash is fork tender.

Remove from oven and spoon out squash from the rind. Then add everything on the sheet pan to a blender. Blend on high for one minute. Add vegetable broth and continue blending on high, starting with a cup and slowly adding more depending on the consistency you're seeking (I usually use two full cups of vegetable broth). Taste for salt and pepper.

Top with watercress and pepitas (optional for garnish) and enjoy hot, room temperature, or cold.
Notes
Store leftovers in an airtight container in the refrigerator for up to 5 days. 
To freeze: Place cooled soup in large, freezer safe plastic bag. Remove as much air as possible from bag and store in the freezer flat. Soup will be great for up to 3 months.