This pan-seared chicken breast is seasoned and seared to perfection to get juicy chicken on the table in just 15 minutes.
There's not too many meals you can easily whip up in 15 minutes, right? We eat this chicken frequently (second to only the Zero Effs Chicken). These chicken breasts are lightly seasoned, so you can easily tailor to use for so many different things: soups, pasta, chicken salad, on top of a salad.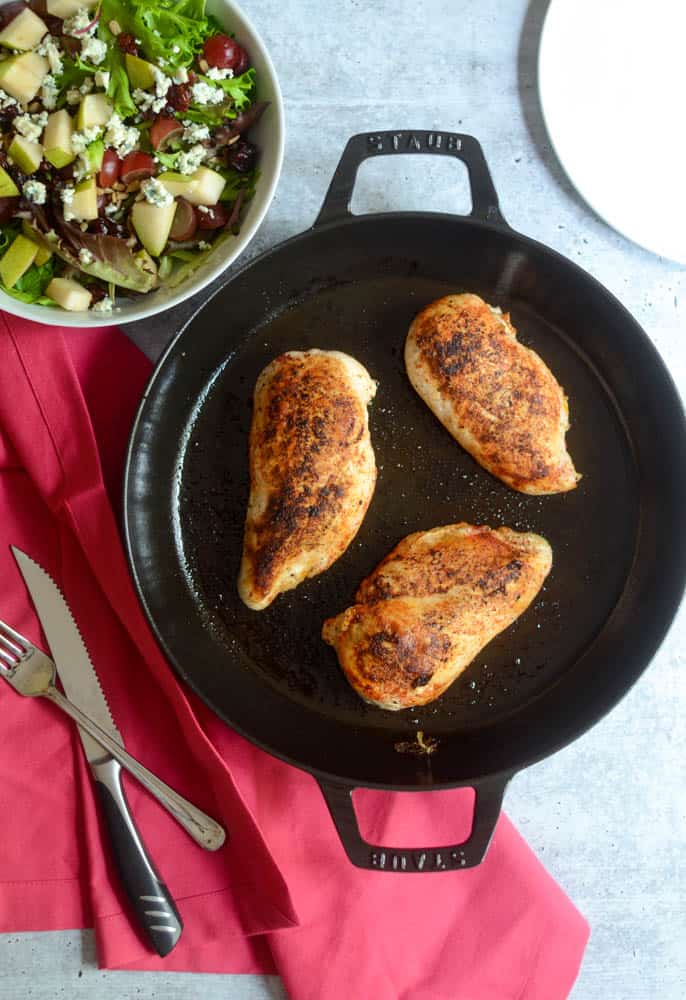 The Secret to Juicy Pan-Seared Chicken Breast
No one likes dry chicken. It's one of the grossest things around -- and hard to even chew. Yuck! So what's the secret to making sure your chicken breast doesn't dry out?
Three secrets to remember:
Sear the chicken. You want to cook it on medium-high heat to ensure the chicken gets browned, not just for aesthetic appeal but for flavor, too.
Don't overcook the chicken. Make sure you follow these easy directions to ensure your chicken doesn't dry out. 5-6 minutes per side.
Cover the chicken for the last couple minutes of cooking. This will help lock in some of the moisture.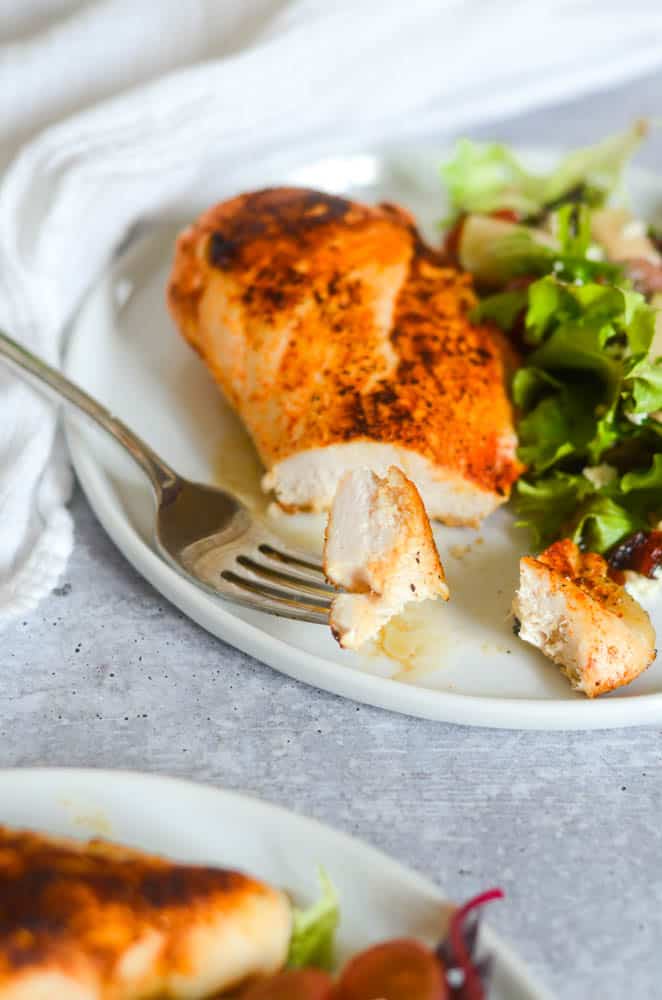 Thin Chicken Breast Recipe
I find that most chicken breasts I come across at the grocery store aren't terribly large. If you do happen to get a chicken breast that's much thicker in parts than others, place the chicken between two sheets of plastic wrap and gently pound the chicken a few times until you get a uniform thickness. Starting with a thin chicken breast will help the chicken cook more evenly. I must admit that I very rarely find this necessary though.
How to Sear Chicken Breast
First, pat your chicken breasts with a paper towel to get rid of moisture before seasoning. This helps your chicken breast get a nice sear. Then season appropriately.
Next, heat up olive oil in a non-stick or cast iron skillet over medium-high heat. Don't touch the chicken even if you want to. Set a timer and just walk away (not too far...). DON'T TOUCH FOR 5 MINUTES. Don't think about laying a finger on it. You'll know it's ready when the chicken doesn't stick to the pan.
Finally, flip and sear the other side for another 5 minutes. Except this time, place a lid on the skillet for the last two minutes to seal in some of the moisture.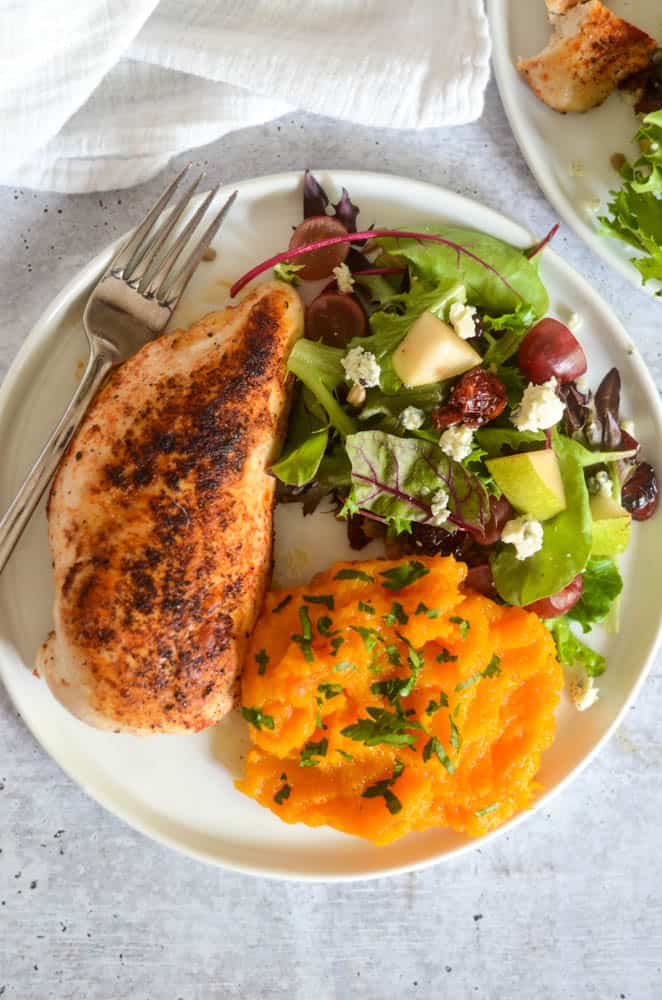 Cast Iron Skillet v. Non-Stick Skillet when Searing
Cast iron is my favorite skillet to use for searing meats. As cast iron withstands high heat -- much higher than a non-stick skillet. Even though you don't want your heat higher than medium-high, I find it creates a more uniform sear, too. Just know that these two pans heat up very differently.
A non-stick skillet will work well though -- just keep in mind that a non-stick skillet might not get as hot as a cast iron skillet, so you may need to cook for another minute or two.
How Long to Cook Chicken Breast on the Stove
You'll pan fry your chicken breasts for 5-6 minutes per side! No more, no less. When the time is up, you can always check the internal temperature of your chicken reaches 165˚F.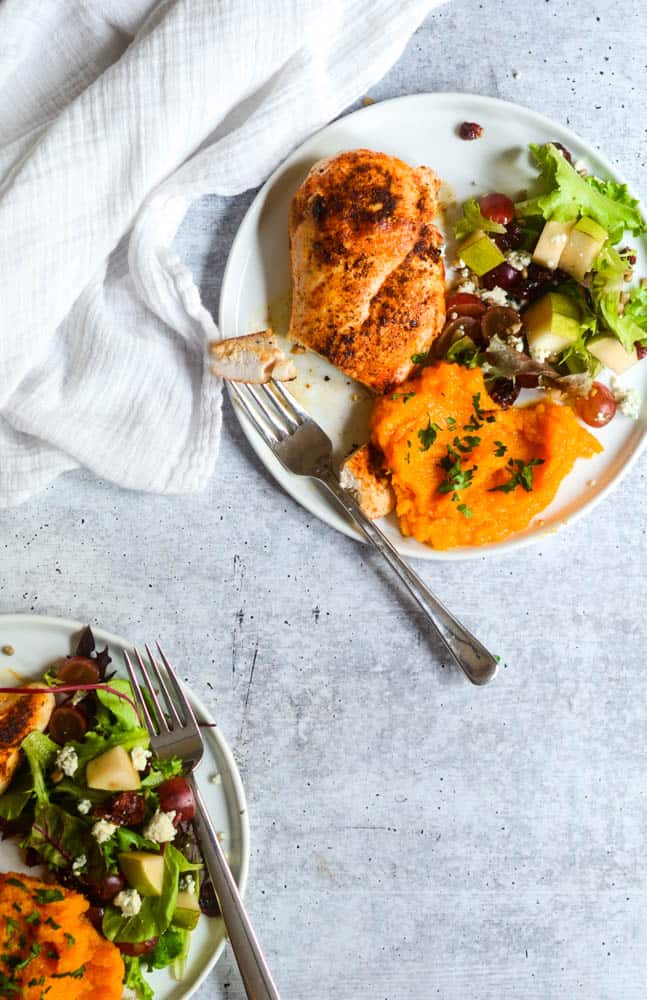 Sides that Are Great with Stove Top Chicken Breast Recipe
xox,
kathryn
As always, if you make anything from the blog, be sure to let me know! I love hearing from you in the comments on this post below or find Worn Slap Out on Facebook, Instagram, or Pinterest!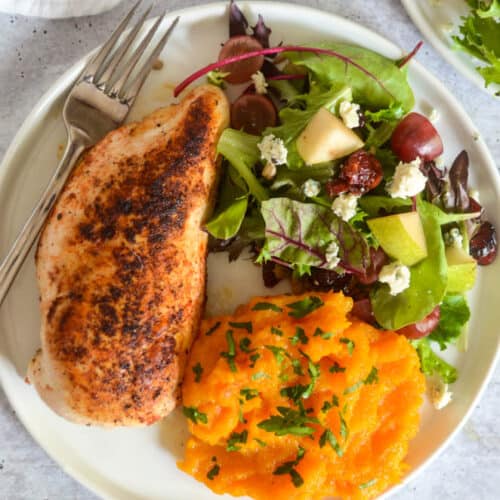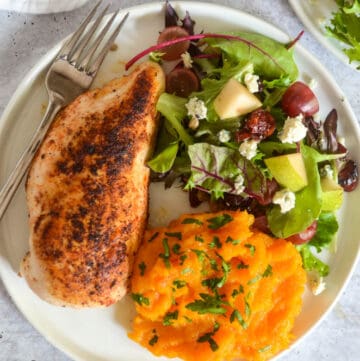 Perfect Pan-Seared Chicken Breast
Well seasoned then seared and cooked in the skillet, then this pan-seared chicken breast comes out perfect every time and can be used in so many ways.
Print
Pin
Rate
Ingredients
3

boneless skinless chicken breasts

3

Tablespoons

olive oil

¼

teaspoon

smoked paprika

¼

teaspoon

garlic powder

¼

teaspoon

onion powder

½

teaspoon

salt

¼

teaspoon

black pepper
Instructions
Pat chicken breasts dry with a paper towel. Mix all of the spices (smoked paprika, garlic powder, onion powder, salt and pepper) together in a small bowl. Drizzle on the tops of the chicken until the tops are well coated.

Heat a cast iron or non-stick skillet with olive oil over medium to medium-high heat. When the pan is hot, add the chicken breast (I do 3 at a time max to not overcrowd the pan). Do not touch chicken for 5 minutes, alllowing the chicken to get a nice sear. When chicken easily comes off the pan and it's browned, you know it's ready to flip. Flip and cook for another 5 minutes but place the lid on the chicken for the last 2 of those minutes.

Remove chicken from the pan, add more oil, and repeat if you have any remaining batches.