These Gluten Free Chocolate Cake Donuts are so fluffy and soft and packed full of chocolate then dipped in a one-minute chocolate ganache. Perfect for any morning baking project!
Another day practicing social distancing, another baked treat to make with the kids. The future is scary and uncertain right now, but having the kids stick to their normal schedule as much as possible and creating something every day, whether it be these donuts or a painting, has been helping us keep what little sanity we have left.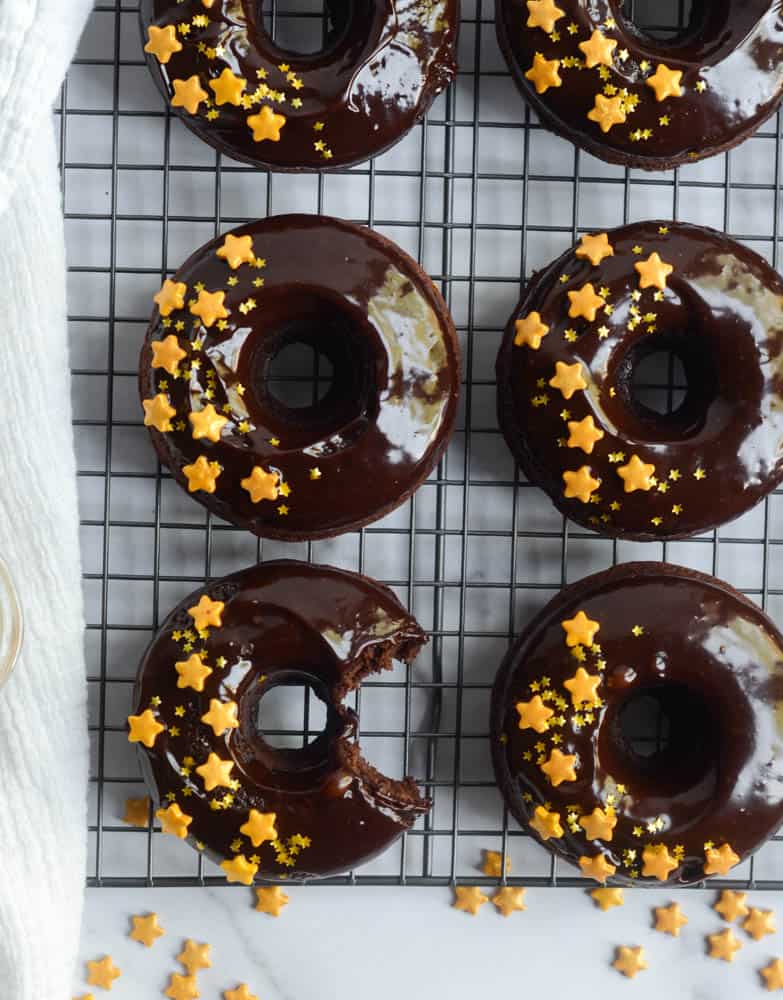 The kids are obsessed with helping me make stuff in the kitchen, which is fun because I get to teach them what makes things rise, expose them to new ingredients, and maybe...just maybe...have them develop a deeper appreciation for the food that magically pops up on their plates a few times each day.
Kitchen projects also fill up some time...and sometimes on these days that seem like they will never end...this isn't such a bad thing.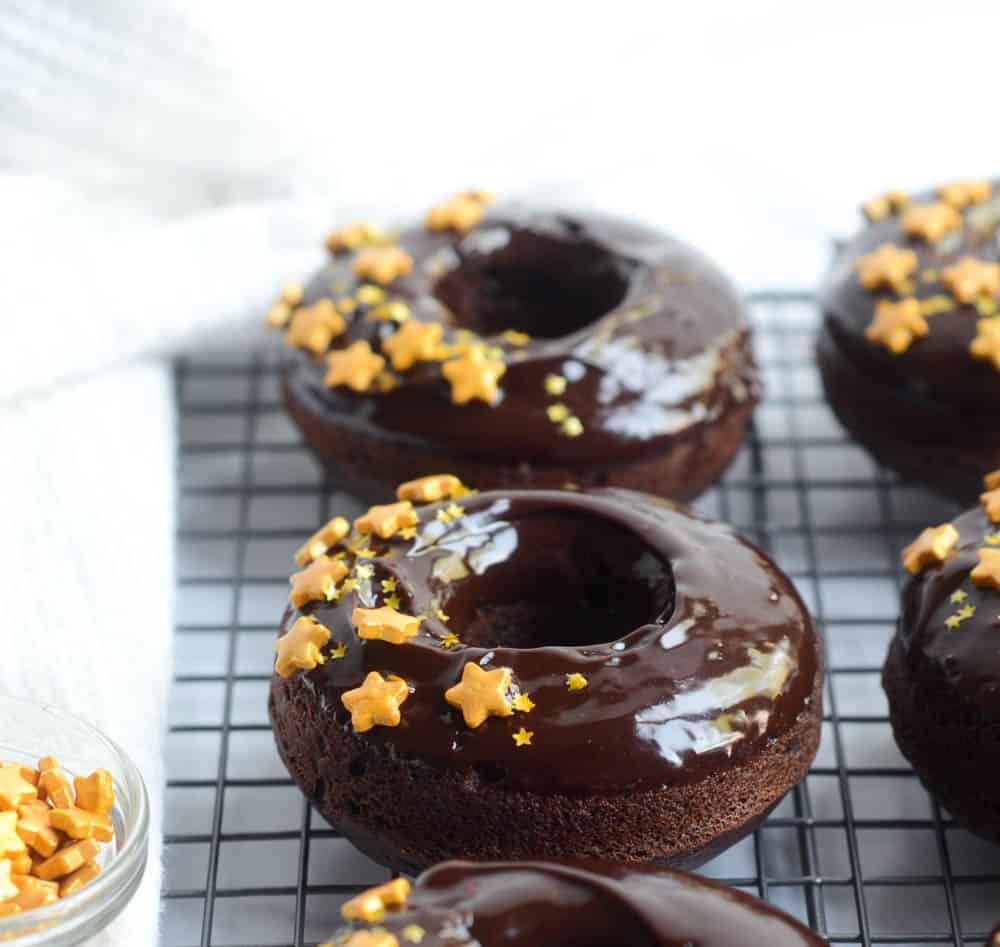 The kids especially like the end -- dipping the donuts in a one-minute chocolate ganache and liberally sprinkling the donuts with their favorite sprinkles.
I mean, who doesn't like the therapeutic, slow placing of each sprinkle onto the donuts? It's mind numbingly amazing for me -- and a sharp contrast to the kids' method -- dumping an entire container of sprinkles on one donut.
The Gluten Free Chocolate Donuts You'd Never Know Are Gluten Free
My husband likes to stay away from gluten as much as possible (but he lives with me), so I've been experimenting with more gluten free baking lately. For months I haven't been happy with the texture of so many of my gluten free baked goods I experimented with. They were too tough or too gummy.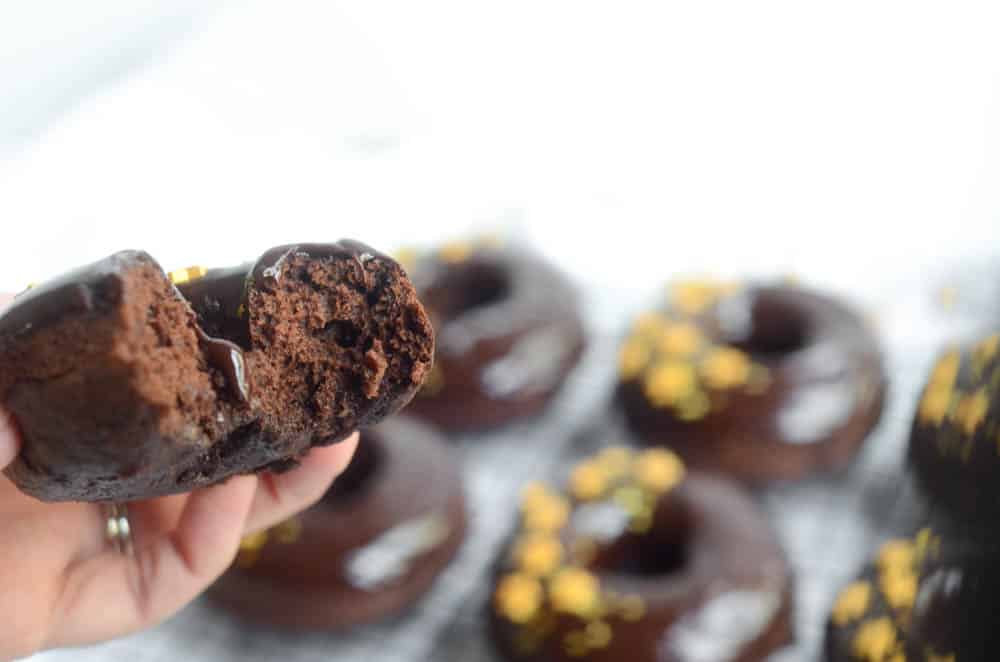 After a lot of trial and error, I would challenge you to make these donuts and taste any difference. They're perfect for the gluten-free lovers in your life or the gluten-full...and you could always make these with all-purpose flour if you didn't have gluten free flour on hand (and didn't need them to be gluten free, of course) The correct ratio of gluten free flour and buttermilk are the keys to keeping the batter soft and moist.
Gluten Free Flour
I use King Arthur's Gluten Free Measure to Measure Flour you can get on Amazon or at your local grocery store. As long as the recipe doesn't require yeast (and this one doesn't), this gluten free flour should be a pantry staple, as you can use it in any number of your favorite recipes in place of all-purpose flour. No other special ingredients are required.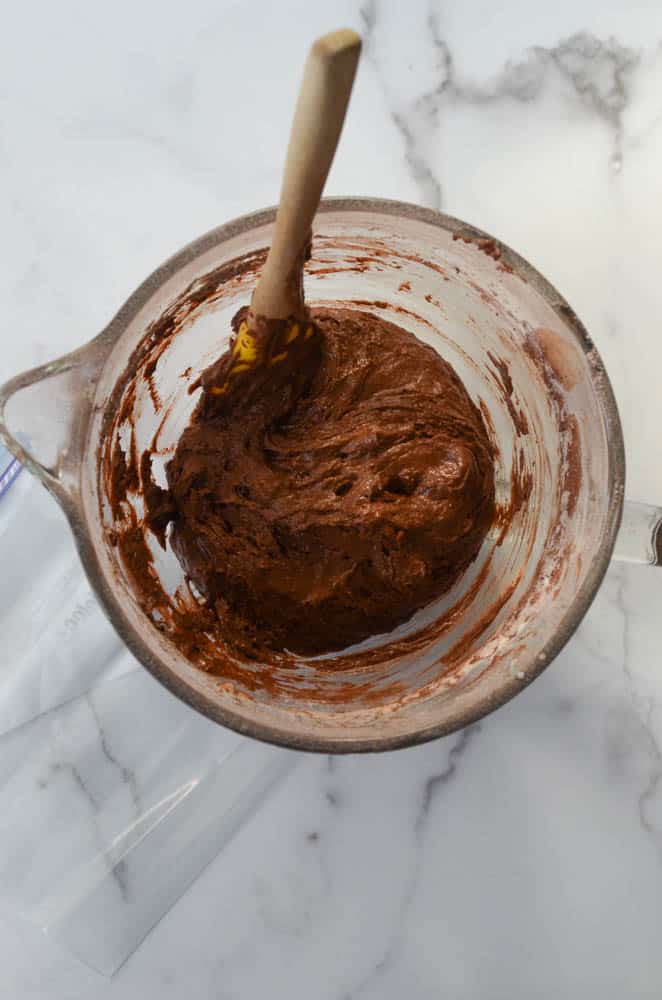 Ingredients and Equipment You'll Need
These ingredients make 9 very large, fluffy donuts. Just maybe you could eek 10 out of the recipe, but I'd recommend you double the recipe if you want more! Here's what you'll need:
semi-sweet chocolate chips
espresso powder (optional)
gluten free measure-to-measure flour
cocoa powder
baking soda
salt
granulated sugar
egg
sour cream
vanilla extract
buttermilk
I used these donut pans to make perfectly round, smooth-on-top donuts. They're great -- and not very expensive. Other than that, you'll need a hand or stand mixer, a couple of bowls, and measuring cups and spoons.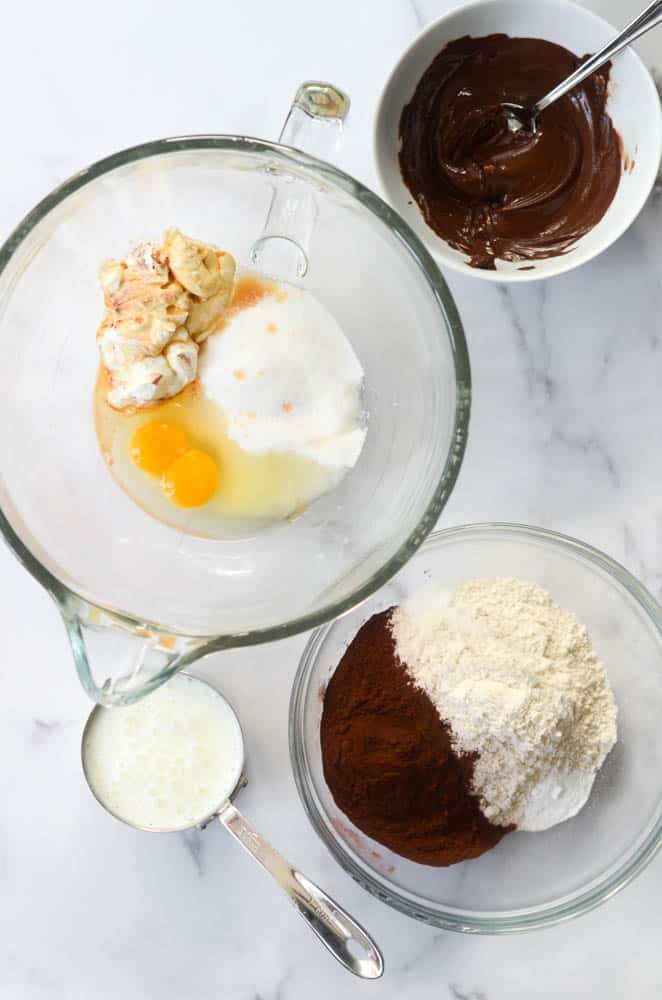 Tips for Making These Beauties
Once you've made your batter, place the batter in a quart-sized plastic bag and cut an inch off one of the ends. This will help you pipe the batter neatly into the donut cavities so you have less mess.
Once the donuts have cooled a couple of minutes (they don't need very long), go ahead and make your chocolate ganache. By the time your ganache is ready, your donuts will be cool enough to handle.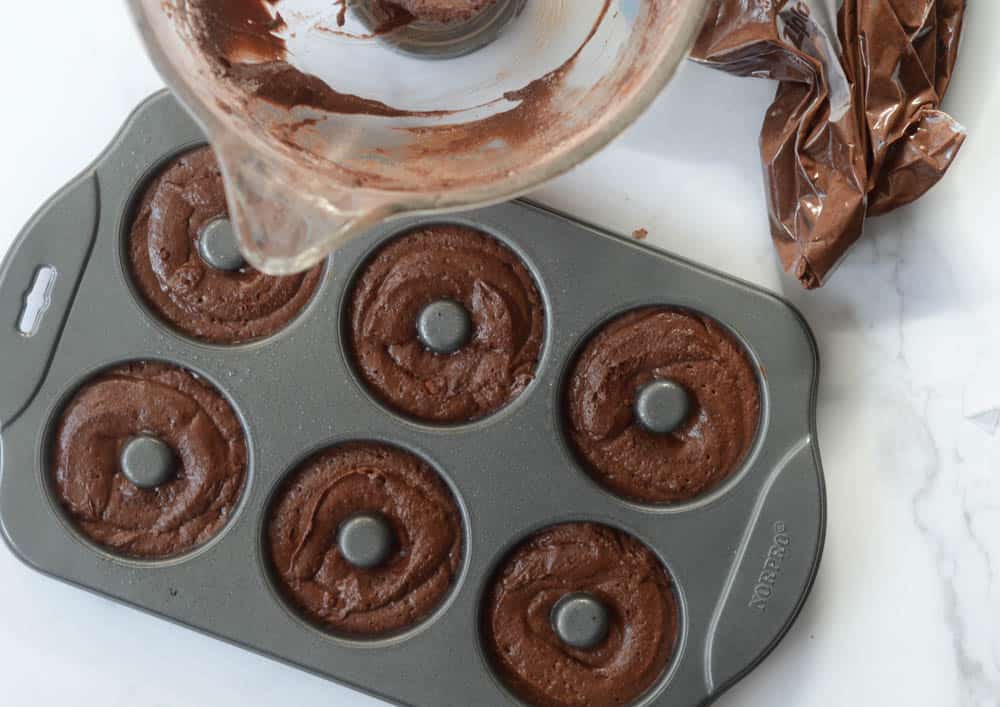 Decorating is the Best Part
The chocolate ganache is truly a must. It takes one minute to make in the microwave, simply by melting chocolate chips with heavy cream. It's the same chocolate ganache I use in my Double Chocolate Bundt Cake (another great baking project idea!).
The top with your favorite sprinkles. You know the ones -- the ones that put a smile on your face. Those ones. I used these larger gold stars and these smaller star sprinkles to create an ethereal effect that makes me smile.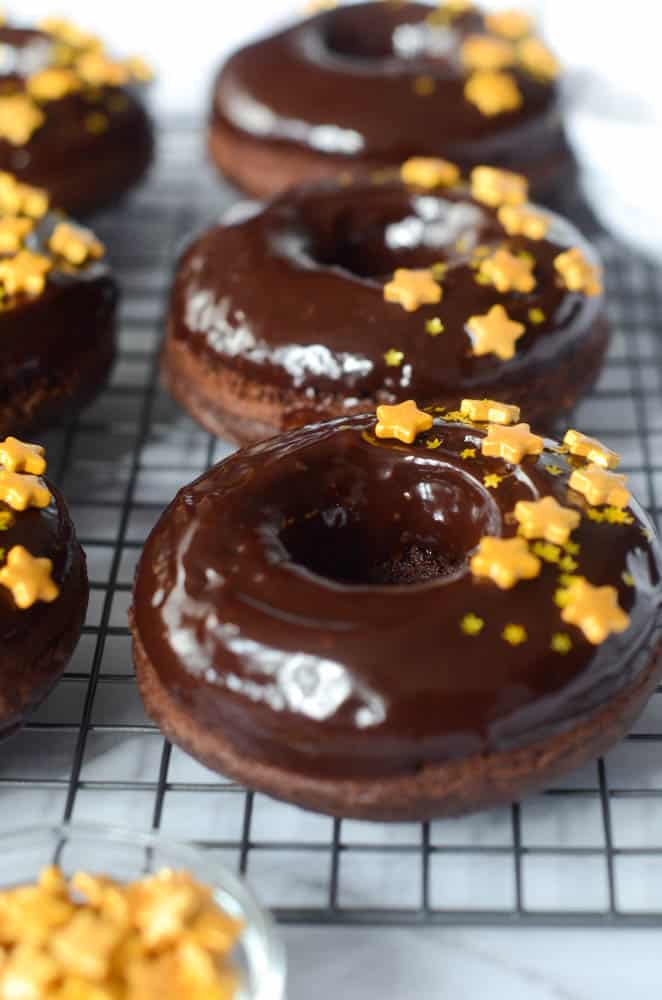 Making Homemade Buttermilk
No worries if you're like me and rarely have buttermilk. To make your own, place 1 Tablespoon of either lemon juice or white vinegar in a measuring cup and then pour enough milk in the measuring cup until you hit exactly 1 cup. Give it a gentle stir and then let it sit for about 5 minutes until the milk curdles. Voila! Homemade buttermilk!
Storing These Donuts
These donuts can be stored at room temperature. They're still great the next day as long as you store them in an airtight container. These donuts don't last too long in our house, so I've never tested them on Day 3.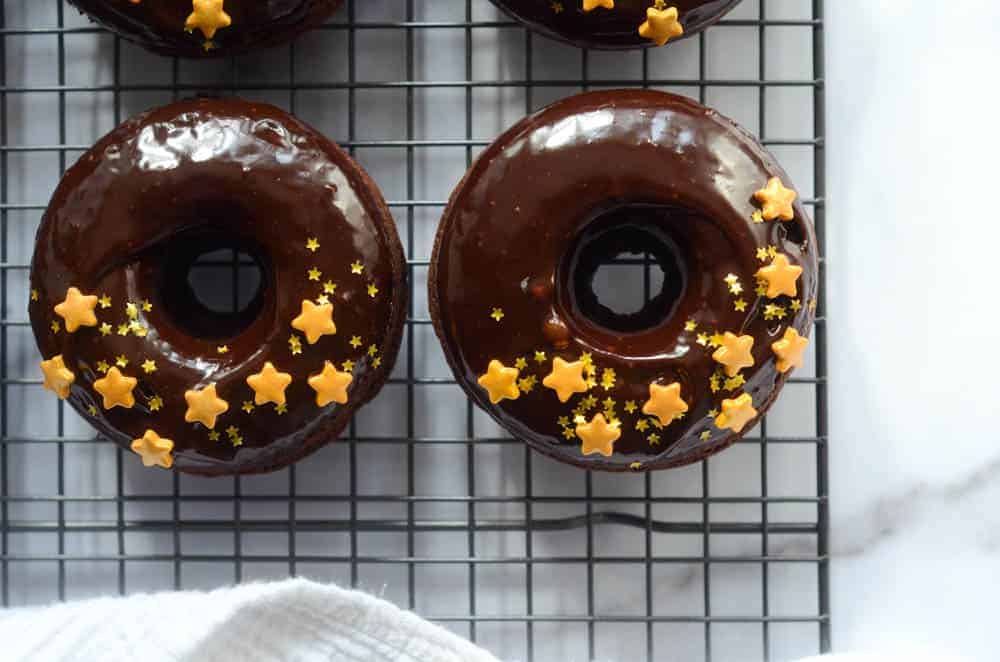 More Breakfast Sweets
We all need sweets to brighten our days ahead, right? Try this Blueberry Breakfast Cake with Lemon Drizzle or these Baked Mini Donuts. I also love Ina Garten's French Toast Bread Pudding.
Stay safe and be well!
xox
As always, if you make anything from the blog, be sure to let me know! I love hearing from you in the comments on this post below or find Worn Slap Out on Facebook, Instagram, or Pinterest!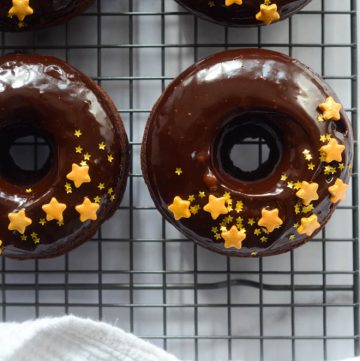 Gluten Free Chocolate Cake Donuts
These Gluten Free Chocolate Cake Donuts are so fluffy and soft and packed full of chocolate then dipped in a one-minute chocolate ganache. Perfect for any morning baking project!
Print
Pin
Rate
Ingredients
For the donuts:
½

cup

semi-sweet chocolate chips

¼

teaspoon

espresso powder (optional)

1 ½

cups

gluten free measure-to-measure flour

⅓

cup

cocoa powder

½

teaspoon

baking soda

¼

teaspoon

salt

¾

cup

granulated sugar

1

large egg

⅓

cup

sour cream

1

teaspoon

vanilla extract

1

cup

buttermilk
For the ganache:
⅔

cup

semi-sweet chocolate chips

¼

cup

heavy whipping cream
Instructions
Preheat oven to 350 degrees F. Grease or spray a donut pan.

In a small microwave safe bowl, melt the chocolate chips and espresso powder together in 30 second increments until completely melted. Set aside.

In a medium sized bowl, combine gluten free flour, cocoa powder, baking soda, and salt. Set aside.

In the bowl of a stand mixer with paddle attachment, mix sugar, egg, sour cream, and vanilla extract until combined. Mix in melted chocolate and espresso powder. Alternate between mixing in flour mixture and buttermilk until combined.

Place donut batter into quart-sized plastic bag. Cut edge off and carefully pipe batter into each cavity until ¾ full. Bake for 8-10 minutes or until center is set when poked with toothpick.

While donuts are cooling, heat chocolate chips and heavy cream in a microwave safe bowl in 30 second increments until completely melted. Dip top of donuts in ganache, place on cooling rack, and decorate with sprinkles.