These baked mini donuts can be whipped up in less than 15 minutes...and don't be afraid to get creative on the toppings. The world is your oyst…I mean donut!
We have made it to the beach. We have made it to the beach.
Our three-hour trip didn't start off so well. We dropped John off to get a haircut while we went to Chick-fil-A. But Chick-fil-A wasn't McDonald's, and then we went through the drive-thru, which was the worst of crimes because there was a playground inside the Chick-fil-A. On our way to the playground to have a picnic and play (see, I'm not the worst mom ever), Connor's tears caused his sunscreen to run into his eyes, which caused him to switch from sad tears to tears of anguish. And, of course, I can't stop the car and wipe his eyes, so I just told him to close his eyes until we got to the playground ("I AM closing my eyes, Mommy! They still BURN!"). Then I get out of the car to get to him and he grabs my dress like it's the only thing that can save him, and I end up flashing the entire park. You're welcome. Happy 4th of July to you, too.
But we're all here. And all is right with the world.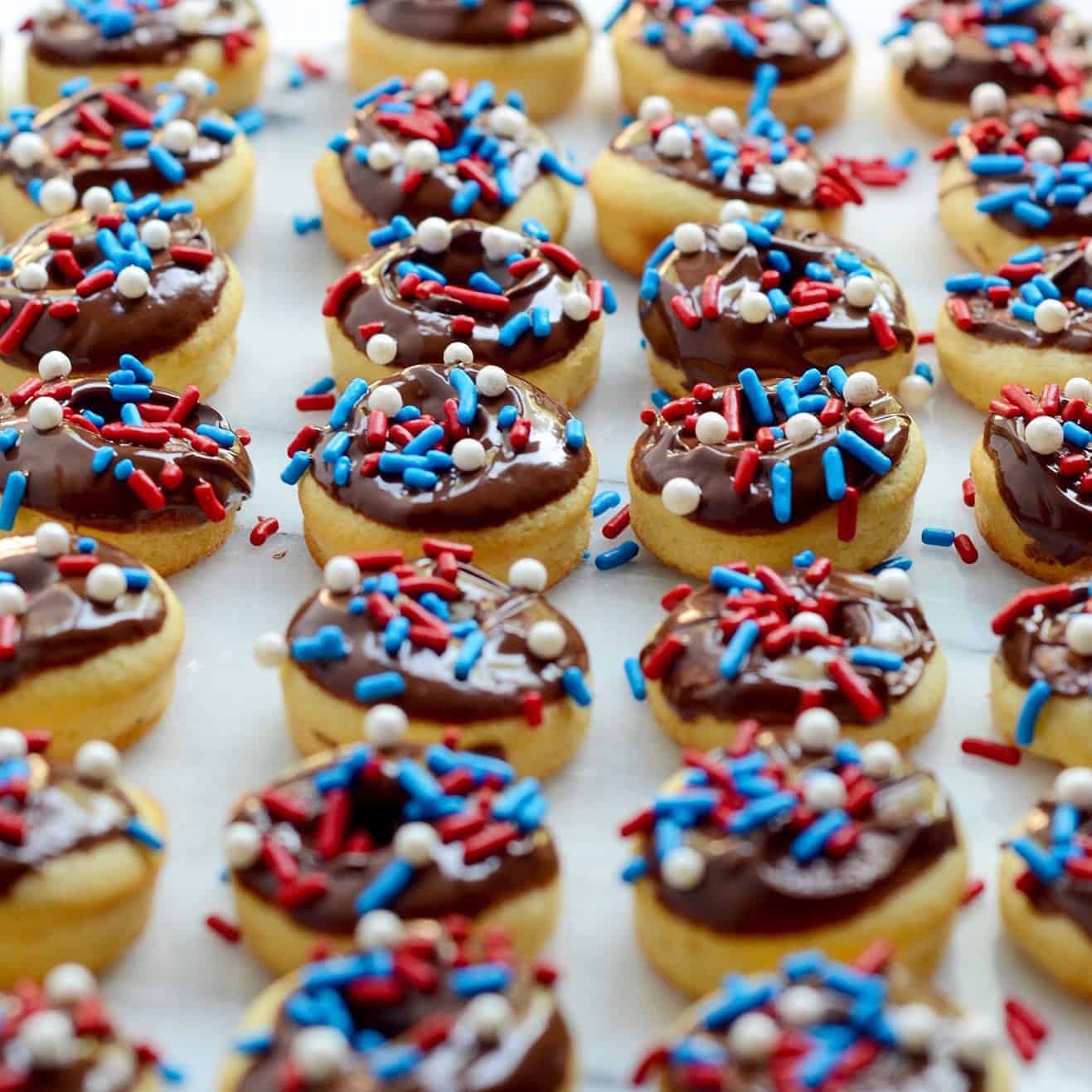 Today, we talk doughnuts.
First, should I be spelling them doughnuts or donuts? Whatever. I'm sticking with donuts.
Donuts are yet another weakness of mine. I don't think I want a donut until one is near me and then I just can't say no. It doesn't really even matter where they're from (Dunkin', Krispy Kreme, beach donuts at the Fractured Prune...I have an appreciation for each one of them as long as they're not greasy). While we were in Jacksonville last weekend, we discovered a new donut spot that is probably the greatest donut place I've ever been to -- Mini Bar Donuts. I highly recommend them if you're ever in that part of Florida. They're small so you don't have to feel too glutenous, cake instead of yeast based, and you customize the toppings placed on top of the donuts as opposed to changing the donut itself. It's a pretty ingenious idea. They can crank out a lot of donuts in a relatively short amount of time and jazz them up in seriously fun ways. You should follow them on Instagram -- you can get lots of cool inspiration for spicing up your own. Plus, the owner is incredibly awesome.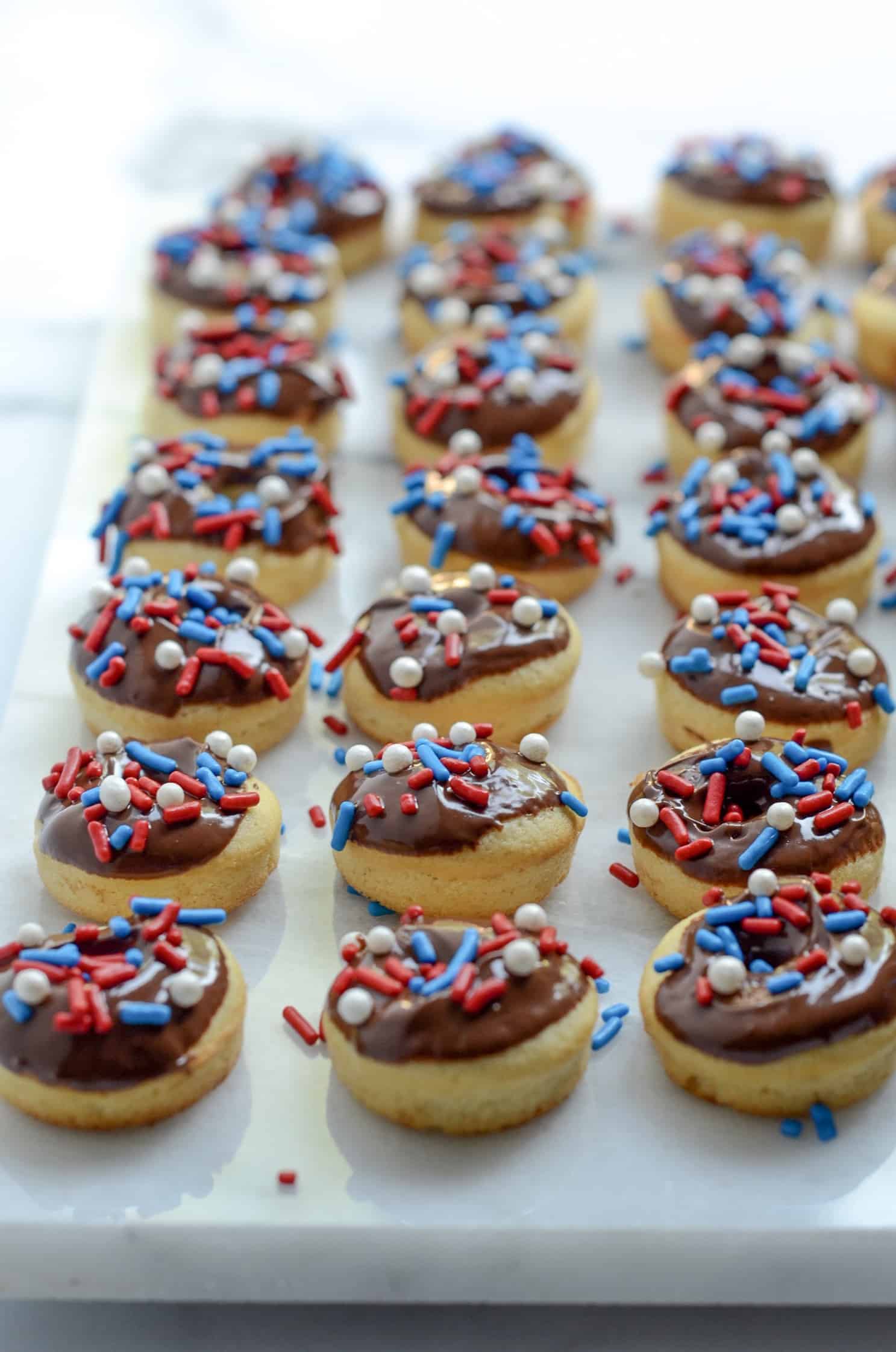 Why are these mini baked donuts so awesome?
Like Mini Bar's donuts, these mini guys are cake-based. No yeast you need to work with and let rest for awhile. They're so tiny and cute-- see Bri's little hands to see what I mean -- and perfect for a festive breakfast or brunch. You also don't feel nearly as guilty eating them because they are not fried in God-knows-what oil. The batter takes less than 10 minutes to make and then these guys are baked right in the oven and done in 5 minutes. The kids have so much fun decorating these, too. Anything with sprinkles...and my kids are in! You know I'm a sucker for holidays (i.e., these Halloween cookies), and these can be used for any of them.
Was that enough evidence to convince you to make these?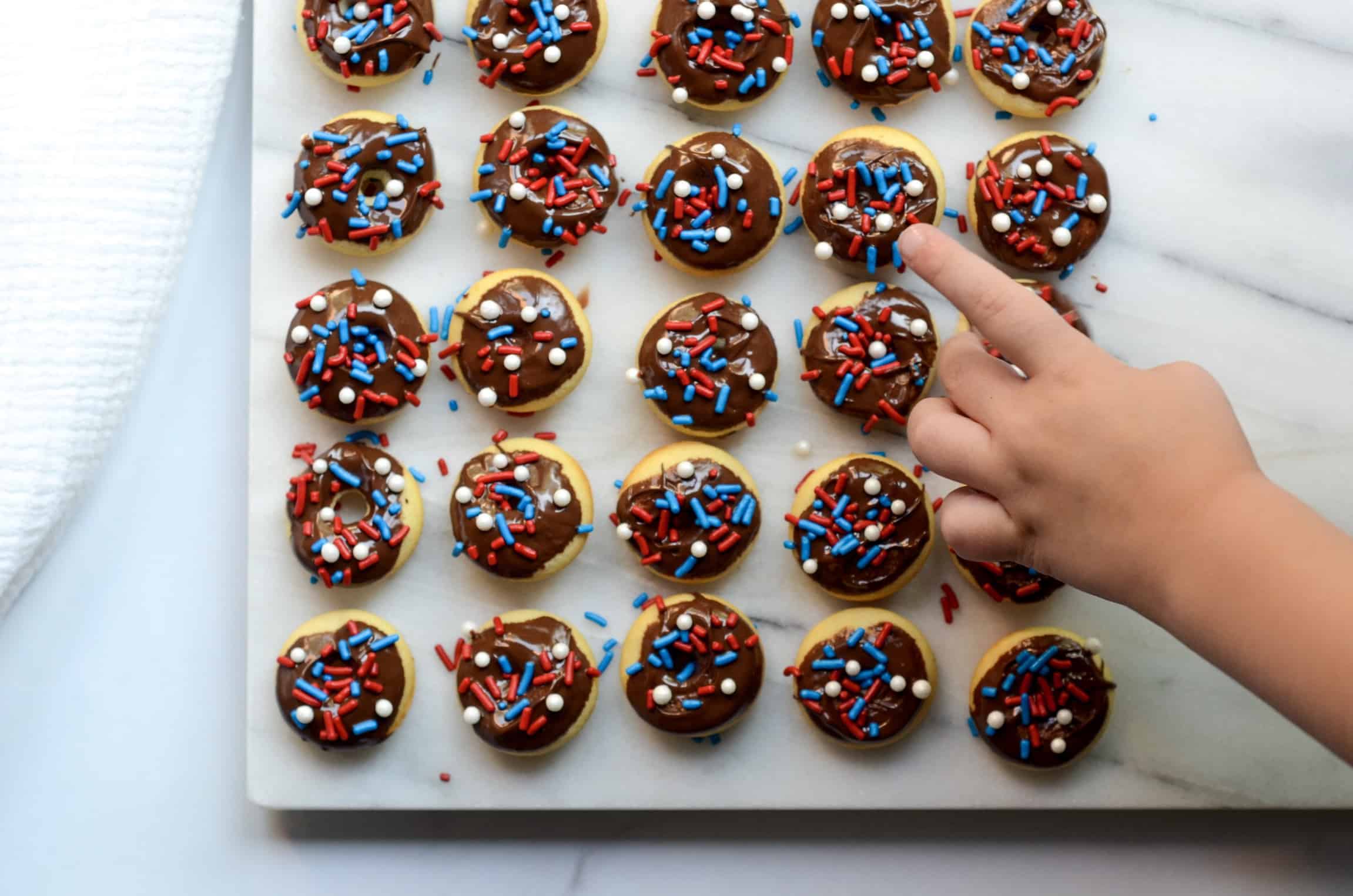 But I don't have a donut pan.
No problem. Just use a mini muffin tin or a large muffin tin, depending on what size you want. If you're that adamant about donuts only being donuts because of the hole, this is when you want to cut a hole in the middle after having baked them. Bam. It's a donut. However, when you frost the top of these little things and call them a donut, no one will question you. And if they do -- eat their share of the donuts.
If you want a mini-donut pan, I bought this one off Amazon. It's super cheap and works great, so you won't be breaking the bank if you wanted to splurge and buy one. It's silicone, so you don't have to use cooking spray.
I hope you all have a very happy 4th of July!
My only question is how are you going to decorate yours?
xox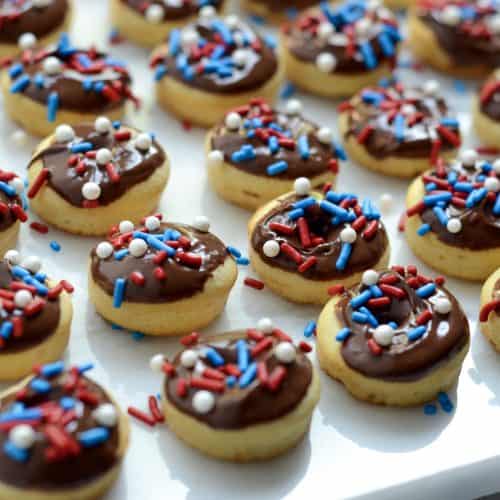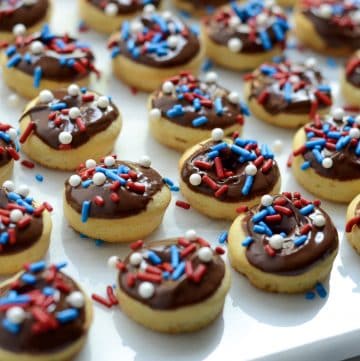 Baked Mini Donuts
These baked mini donuts can be whipped up in less than 15 minutes...and don't be afraid to get creative on the toppings. The world is your oyst…I mean donut!
Print
Pin
Rate
Ingredients
4

tablespoon

unsalted butter

at room temperature

¼

cup

vegetable oil

½

cup

sugar

⅓

cup

brown sugar

2

eggs

1 ½

teaspoon

baking powder

¼

teaspoon

baking soda

¾

tsp

salt

1

tsp

vanilla extract

pinch

cinnamon

2 ⅔

cups

all-purpose flour

¾

cup

milk

½

cup

semi-sweet chocolate chips

(or whatever kind you have on hand)

1

teaspoon

coconut oil
Instructions
Preheat oven to 425 degrees F.

In a stand mixer with a paddle attachment, beat the butter, sugars, and vegetable oil together until well combined

Stir in the eggs, baking powder, baking soda, salt, cinnamon, and vanilla extract.

Slowly mix in flour and milk, alternating between the two.

Put batter into plastic bag, cut tip off, and fill small donut cavity with batter. Bake for 5 minutes or until golden brown.

Meanwhile, melt chocolate and coconut oil in the microwave until smooth. Dip cooled donuts in chocolate and add sprinkles (if desired)