Good enough to eat for dessert but designed with much less sugar for breakfast, this Blueberry Breakfast Cake with Lemon Drizzle can be made in advance to tackle the mornings ahead!
Since vacation's over (did you read this post about my vacation belly?!), it's time to get back into the routine. For us, that means no more leisurely mornings waking up slowly before getting everyone dressed for the day. Since Connor starts Kindergarten (eeek!), he's going to actually need to be on time every day. Sigh. This seems so daunting of a task to me. When we rush out of the house during the chaos of the school year, we certainly skimp on breakfast (if we eat it at all).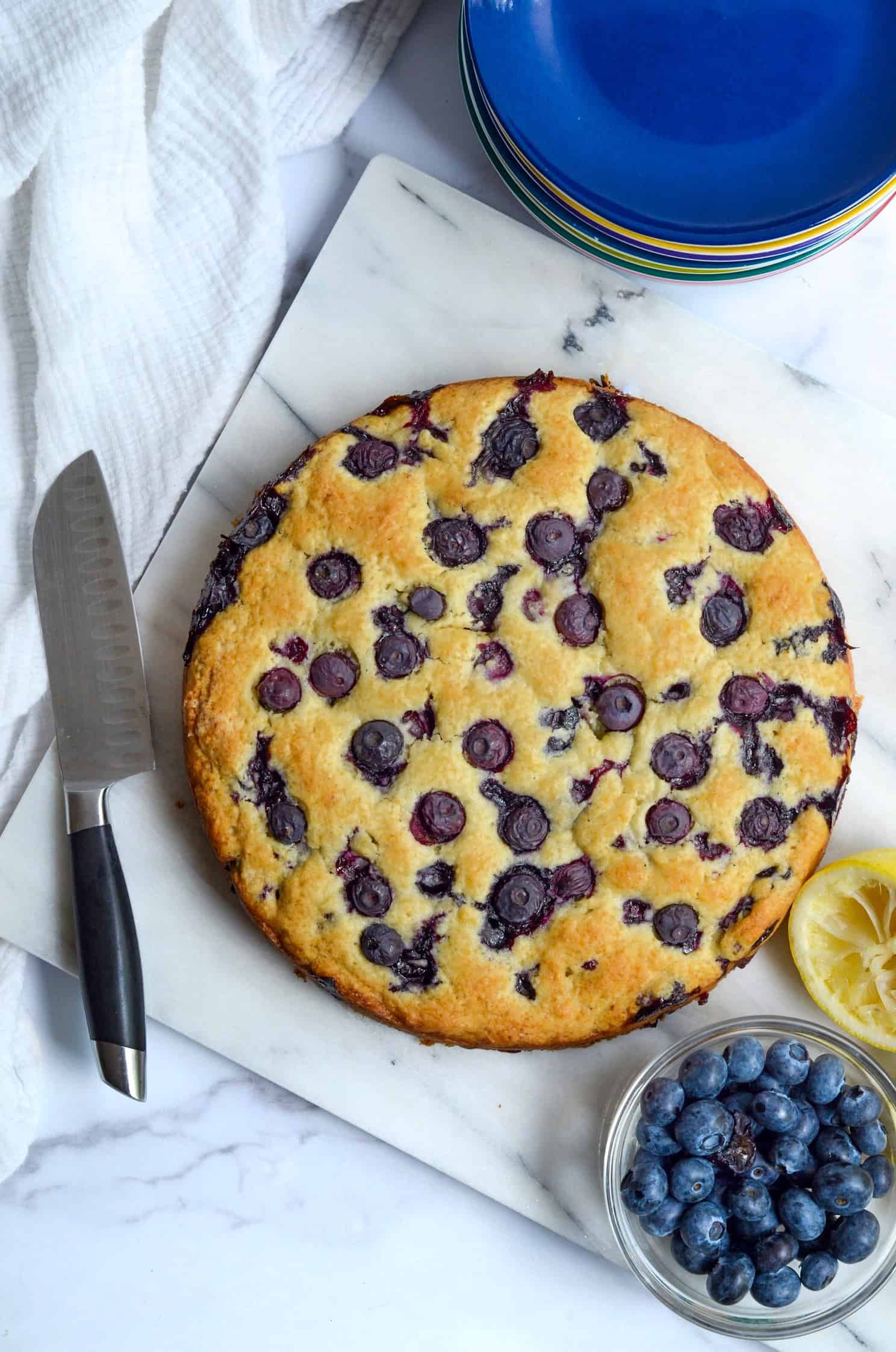 I've been experimenting a lot with breakfasts I can make in advance (or at least prepare in advance) that are delicious, quick, and will "jazz up" our regular rotation. This Blueberry Breakfast Cake with Lemon Drizzle is one of my favorite breakfasts when you want to have something a little sweet. Plus, blueberries are a great source of fiber, so I can classify this as moderately healthy, right?!
What makes this blueberry breakfast cake so special?
You can make it in advance. It'll take you about 10 minutes to prepare. Just pour the batter into your greased and parchment-lined cake pan, and stick in the refrigerator until the morning. It's such a great thing to pop in the oven while you're in the shower and getting dressed because the smells. ALL THE SMELLS.
This Blueberry Breakfast Cake with Lemon Drizzle has a lot less sugar than your typical cake, passing as a more-than-acceptable breakfast option you can feel good about giving your family (think of it as more of a muffin).
It's chocked full of blueberries. It has two cups of blueberries, ensuring that you get cake and blueberry goodness with every bite, and it's something that adults and kids can get excited about. It pairs great with some coffee and can be eaten on the go.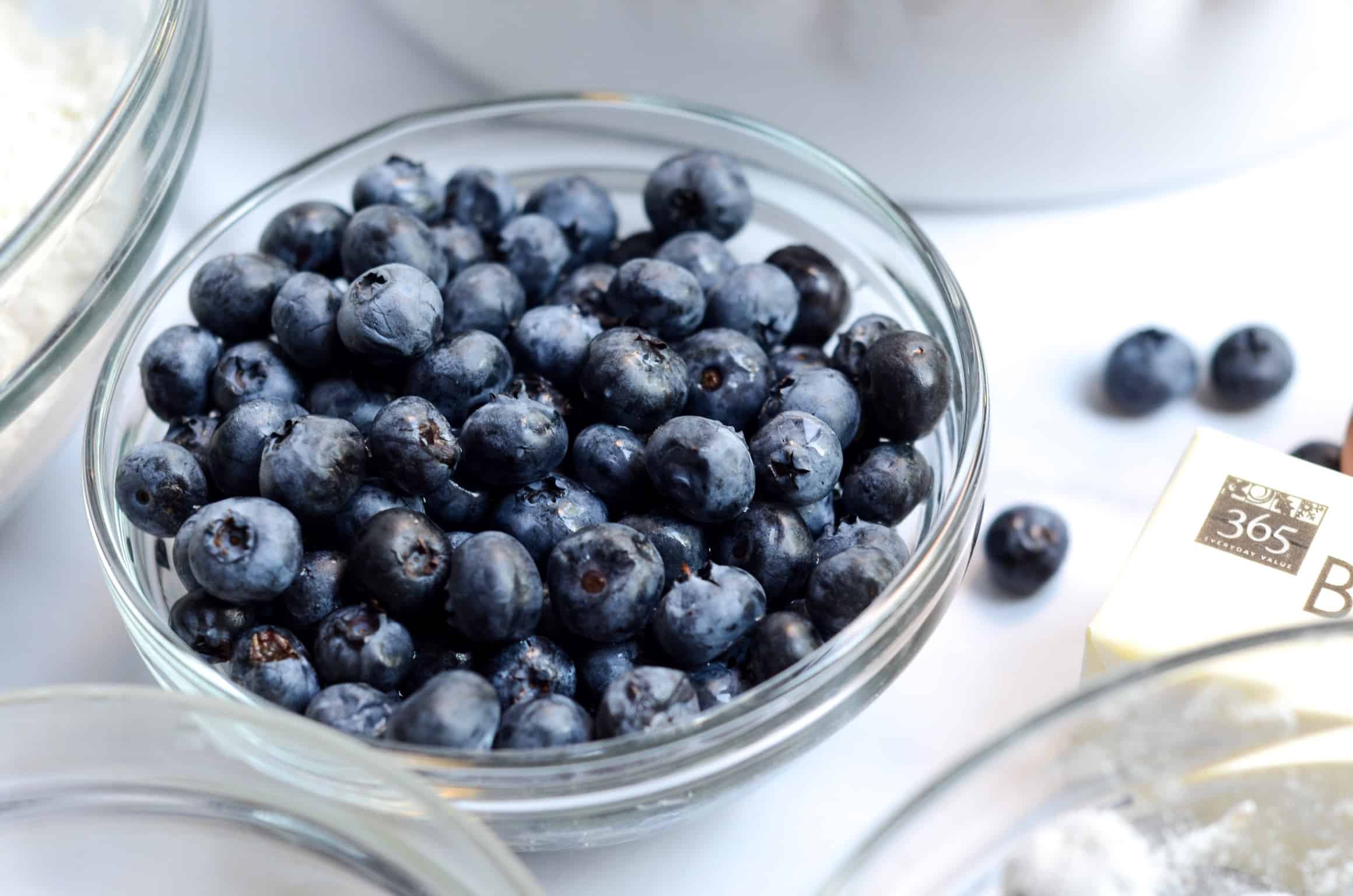 Lemon drizzle, lemon drizzle, I need you fo' shizzle.
The lemon drizzle is totally indulgent, and it may seem unnecessary. BUT IT IS NECESSARY. You need to have this in your life because it makes the Blueberry Lemon Breakfast Cake that much more lemony, fresh, and just...special. You wouldn't eat pancakes without maple syrup, right? Think of this accompaniment as essential to this breakfast cake. Sure, you can go without it, but why would you want to?!
I've teamed up with my friend Kate from Culinesco to introduce to you the Ergo Spout, which makes pouring this lemon drizzle (and so many other things!) that much more convenient. Kate and her husband Bryce designed the Ergo Spout to transform a regular mason jar into a pourable jar without all the mess. Its flip-top lid attaches to any regular-mouthed mason jar and includes a sturdy, long handle to pour your contents without a sticky mess.
The best part is that the Ergo Spout allows you to store your lemon drizzle in the refrigerator until you're ready for the next pour. While it's not an airtight seal, it's great to store your lemon drizzle in the refrigerator for a couple of weeks. You can make a double batch (like I did) and use it for scones or to have on pancakes when the weekend rolls around.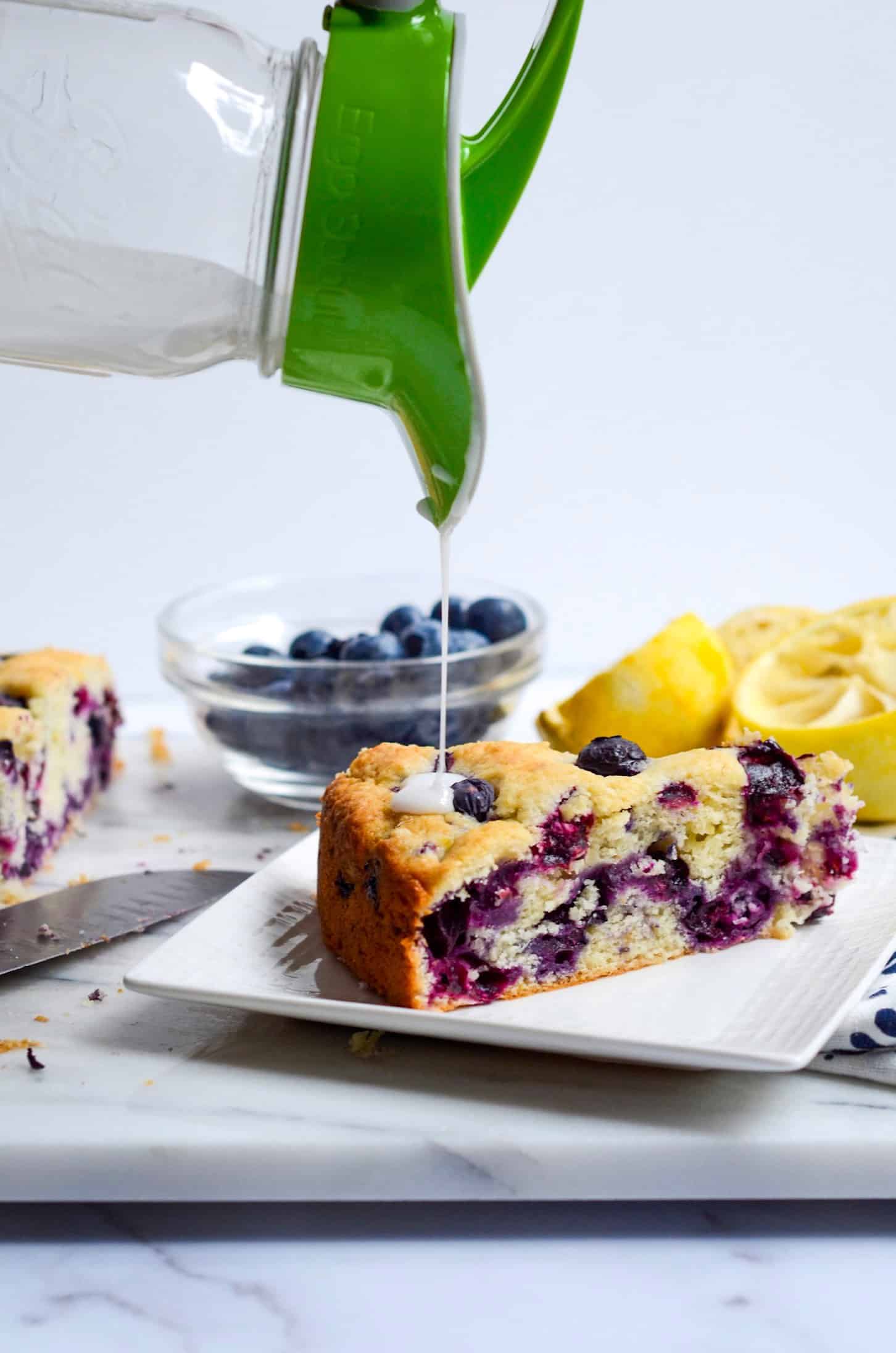 What else can I do with my Ergo Spout?
There's so many ways you could use your Ergo Spout and need not be limited to this lemon drizzle:
Make a homemade dressing and have it last all week. Try Kendell's Mandarin Peanut Vinaigrette with his Asian Chicken Salad or Josie + Nina's amazing Marscapone Ranch Dressing for your next salad.
Have it handy for your next BBQ. Use your Ergo Spout on the go -- whether it's for your condiments or for your dessert.
Culinesco has four different, fun colors to select from, too.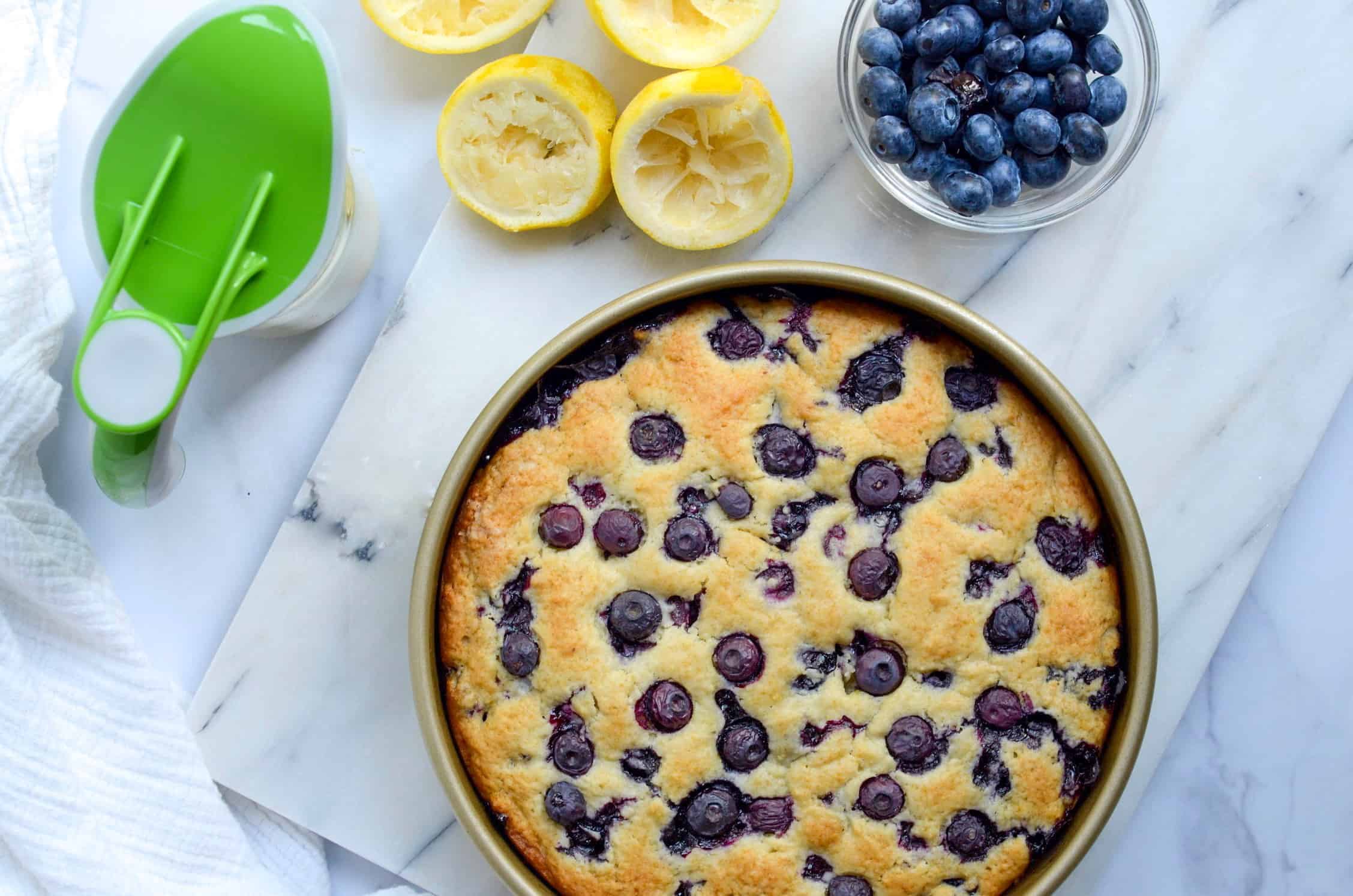 Hope y'all love the recipe!
xox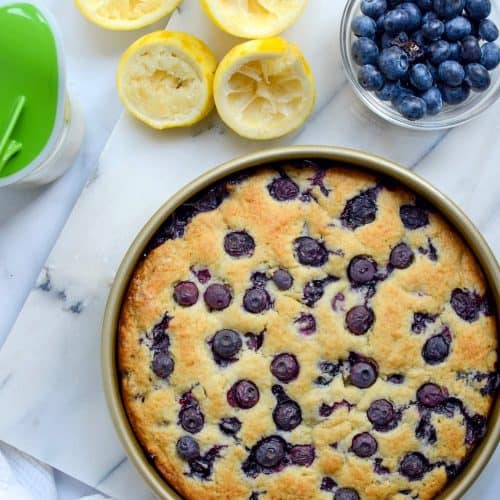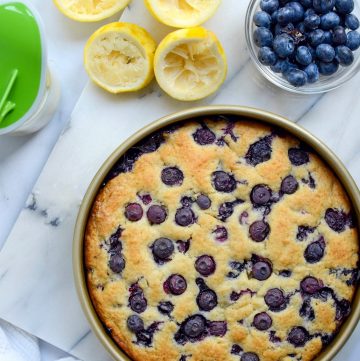 Blueberry Breakfast Cake with Lemon Drizzle
Good enough to eat for dessert but designed with much less sugar for breakfast, this blueberry breakfast cake with lemon drizzle can be made in advance to tackle the mornings ahead!
Print
Pin
Rate
Ingredients
For the blueberry breakfast cake:
2

cups

blueberries

2

cups

all-purpose flour, divided

2

teaspoon

baking powder

1

teaspoon

salt

½

cup

unsalted butter, room temperature

¾

cup

sugar

zest from one large lemon

juice from ½ of a lemon

1

egg

1

teaspoon

vanilla extract

½

cup

milk
For the lemon drizzle:
1

cup

confectioner's sugar

3

tablespoon

fresh lemon juice

1 ½

teaspoon

lemon zest

1

tablespoon

unsalted butter, melted
Instructions
Preheat the oven to 350 degrees Fahrenheit. Spray a 9" round cake pan with cooking spray and line the bottom with parchment paper.

Place 1 ¾ cups flour in a medium-sized bowl. Add baking powder and salt.

Place the other ¼ cup of flour with the blueberries in a separate bowl. Coat all blueberries with flour. Set aside.

In a small bowl, combine the sugar and lemon zest. Rub zest and sugar together with your fingers.

In a stand mixer with a paddle attachment (or manual mixer), cream butter and sugar mixture until light and fluffy. Add vanilla and lemon juice.

With mixer on low, alternate adding half of flour mixture and milk to the mixer. Mix until just combined. Do not overmix!

Add blueberries (along with the leftover flour) to the mixture and gently stir blueberries and flour in by hand.

Spread mixture into bottom of your cake pan, making sure to evenly spread out the mixture. Bake for 40-45 minutes, or until cake turns light brown on top and begins to barely pull away from the cake pan.

For the drizzle: combine all ingredients in a small bowl using a fork. Add more ocnfectioner's sugar or lemon juice to the desired consistency (should be the consistency of thick honey). Pour over cooled cake.
Notes
Store the breakfast cake in plastic wrap once cooled.  The breakfast cake will be great at room temperature for 3-4 days.  Store the lemon drizzle in the refrigerator for up to two weeks.  You'll need to give it a good stir (as the contents will begin to separate) before using and bring it to room temperature.