The classic treat got an upgrade and a spooky twist for Halloween! These treats are perfect to make with kids and only takes a few minutes!
There's a lot of things I definitely had wrong about motherhood before having children. In my pre-parenthood daydreams, there were a lot more moments of frolicking through the woods, singing, and holding hands than there's actually been. That's definitely only on social media. If you ever see me frolicking through the woods with my kids on social media, it's all lies. There's less of that and more worry and anxiety than I would have ever imagined prior to having children. You worry about your kids physically, but you also worry about them emotionally. You want them to be good people who work well with others, stand up for themselves, and help others out when they're most in need. When they hurt, you hurt. And all of that's a lot of damn pressure.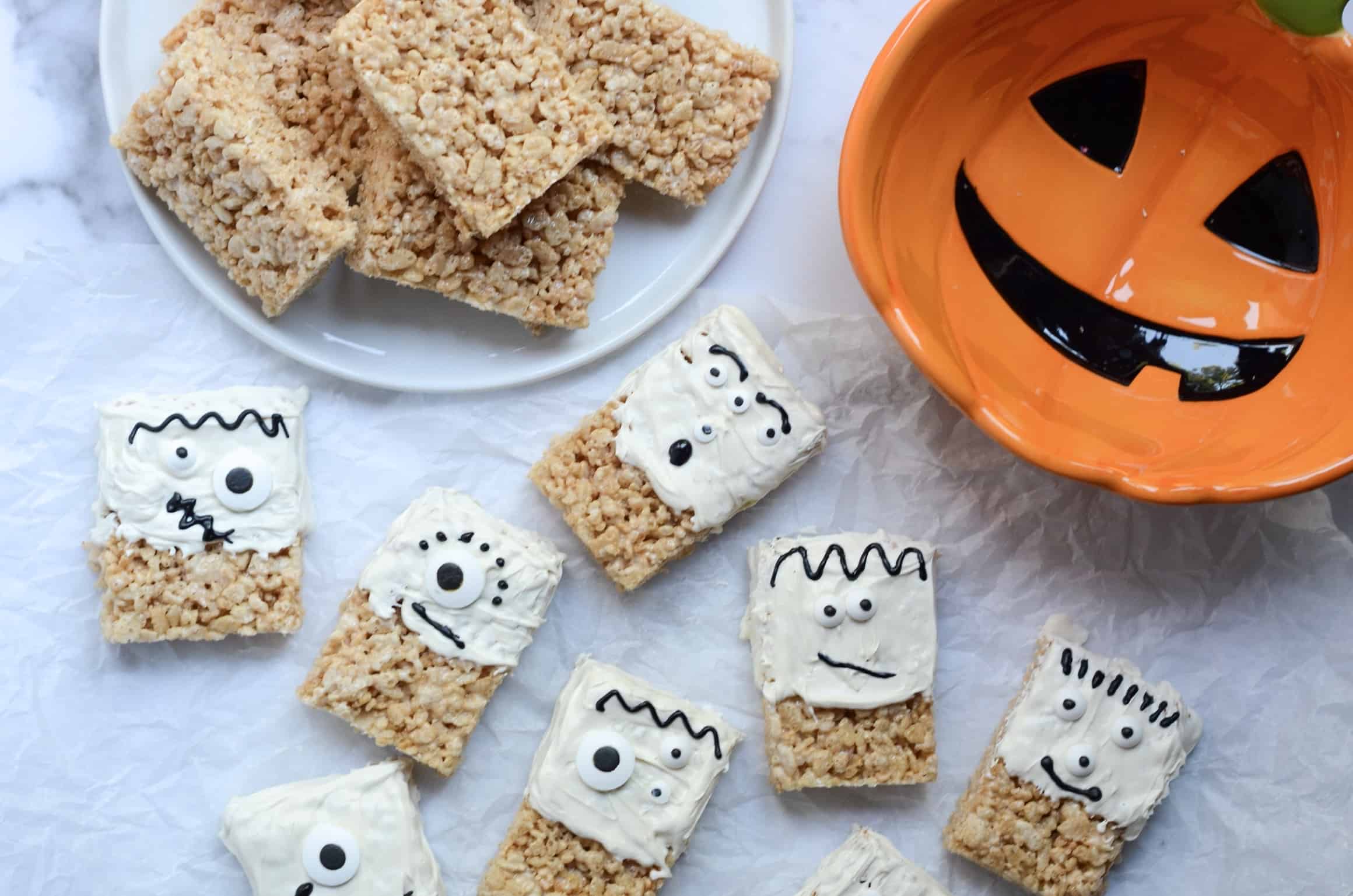 One of the things I had right though was how fun the holidays would be with kids. I always pictured us decorating for the holidays together, doing fun arts and crafts projects, and baking and cooking seasonal treats together. Both kids are so excited to celebrate anything and everything...something we adults could really learn from. Had an especially wonderful day? Let's celebrate that. No accidents in your pants?! Let's party! Once October hit, we'll on full-on Halloween mode in this house. Let's break out all the fun Halloween treats.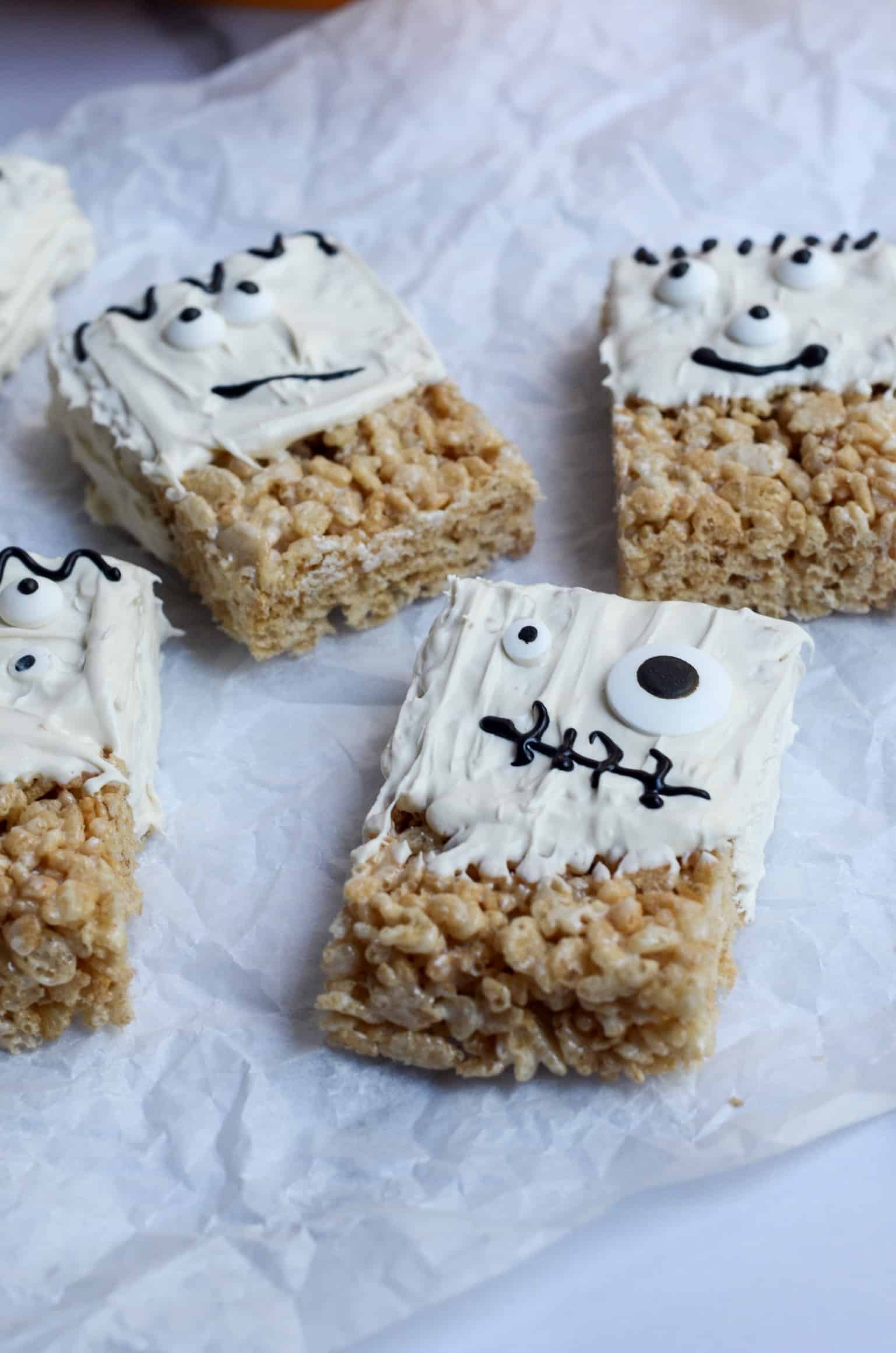 Rice Krispie Treats, why are you so good?
They're the classic dessert that childhood dreams are made of, right? They're sticky, buttery, yet still crispy and crunchy. These rice krispie treats take absolutely nothing away from the classic version, but these have some upgrades. Namely, there's GOT to be more marshmallows. The original recipe is just a little skimpy on the most important aspect of the rice krispie treat, and as a result, I had to bump up the other ingredients just slightly. The original ones are a little too skinny for me.
Finally, I added some vanilla extract for a slightly more adult flavor because vanilla is a great complement to most any sweet treat.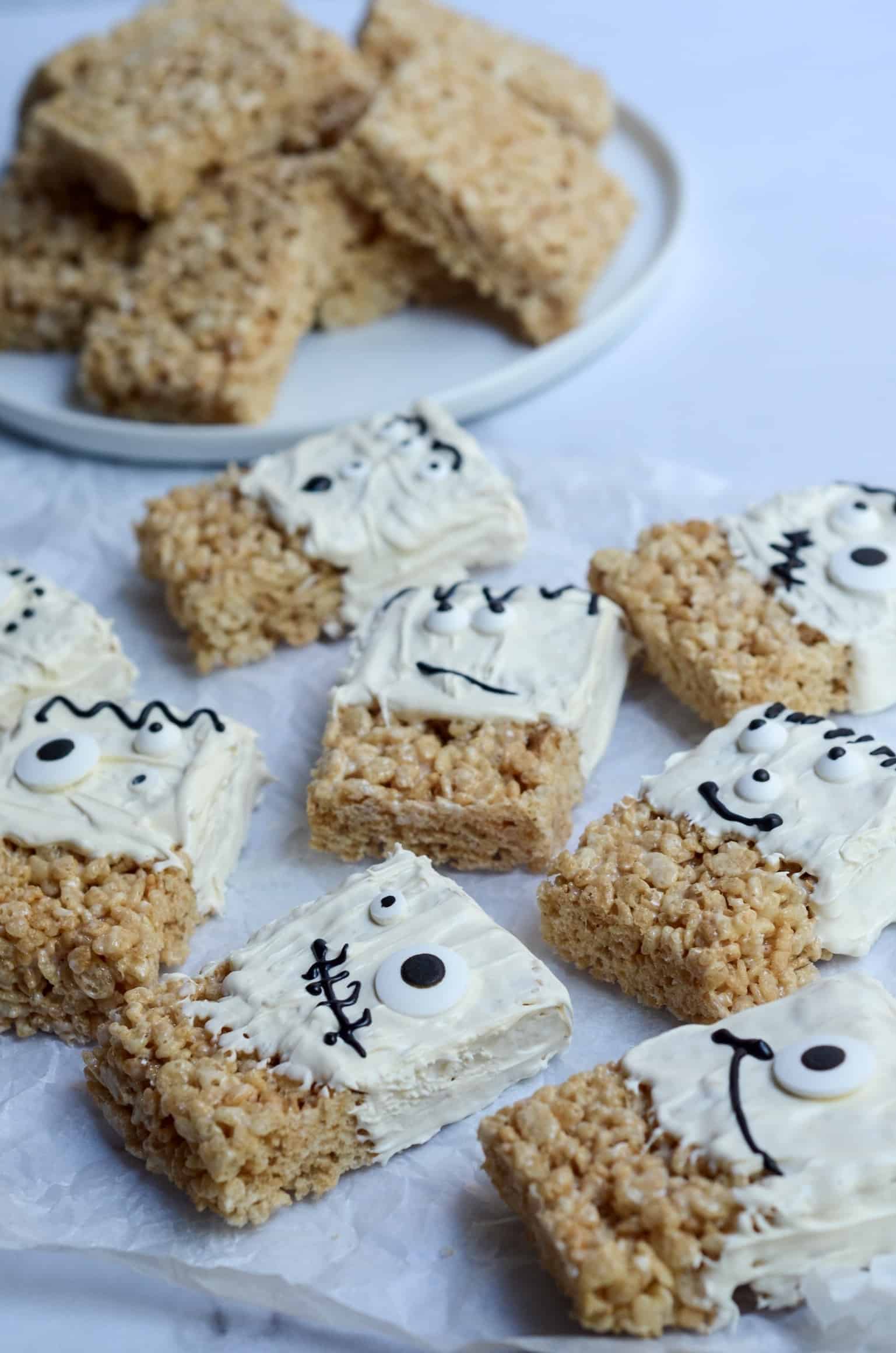 Making the Treats Spooky
To make these treats spooky, I bought a pack of edible candy eyes and a package of white melting wafers to dip the treats into. Both can be purchased at any craft store, like Michaels or AC Moore. I placed 1 cup of melting wafers in a microwave-safe bowl at a time (because it'll harden quickly) and microwaved in 30 second increments until the candy was melted. Then, I dipped the rice krispies in the chocolate and used a spoon to make sure every part of the top was covered. Then we put the eyes on and used a black cookie icing pen (that I haven't touched since last Christmas) to draw the mouth, hair, etc. If you put the rice krispie treats on parchment paper to dry for about 10 minutes, you'll be ready to devour.
As another cute alternative, you could buy different colors of wafers (they come in almost every color you could possibly want or need) and make the monsters all different colors. We had white wafers, so that's what we used.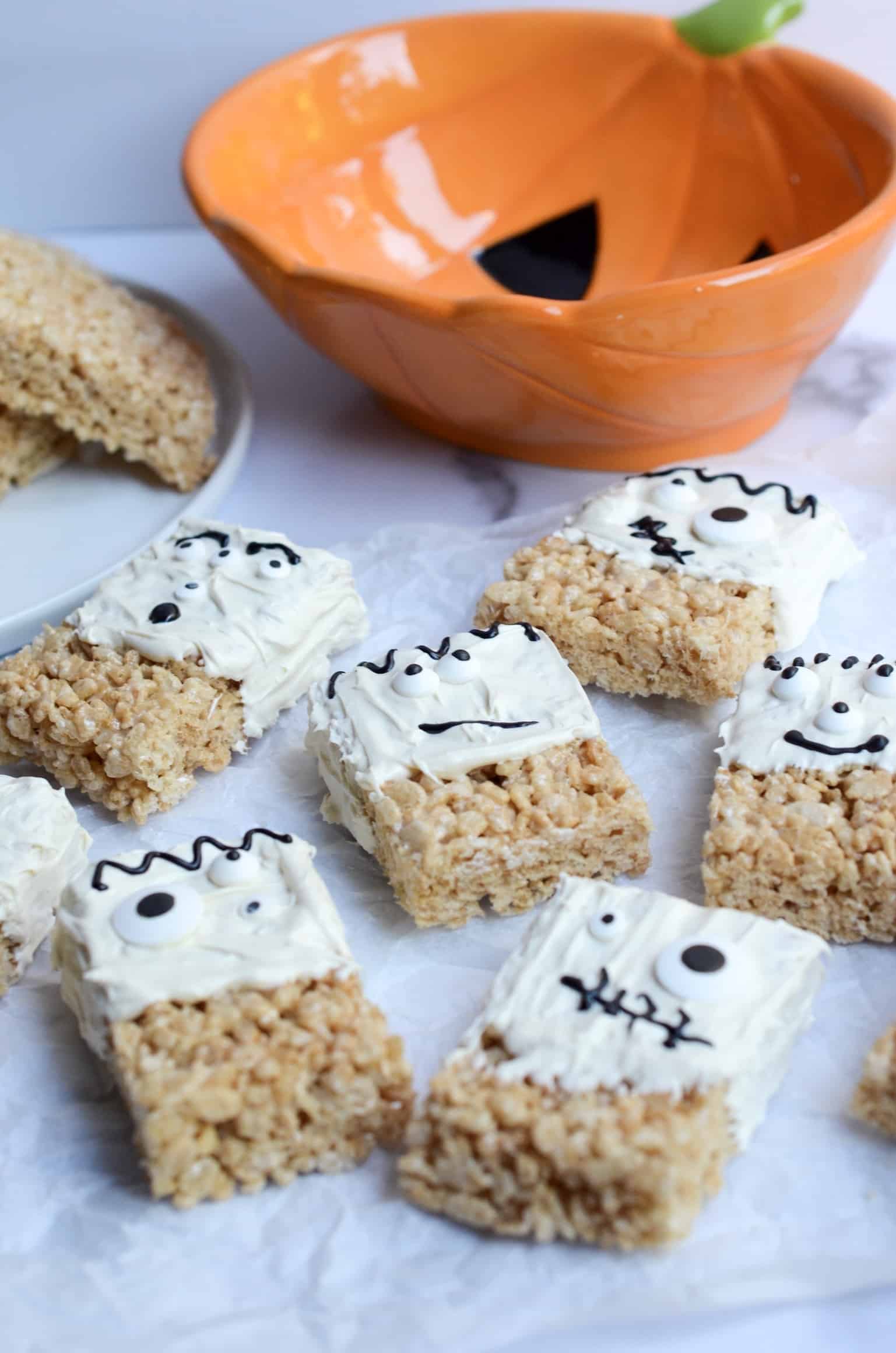 Other Halloween Desserts
If you're on the hunt for more festive ideas, check these out:
Happy Halloween, y'all!
xox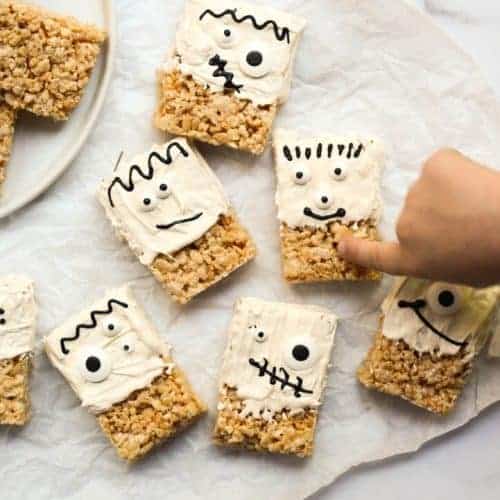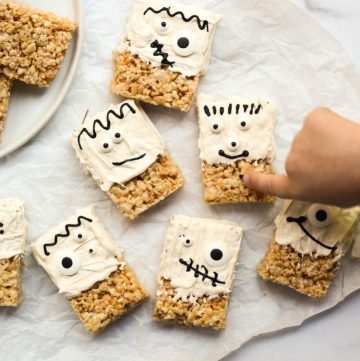 Halloween Rice Krispie Treats
These fun rice krispie treats will be a hit young or old with extra ooey-gooey marshmallow goodness.
Print
Pin
Rate
Ingredients
5

tablespoon

unsalted butter

1

package

mini marshmallows

½

teaspoon

vanilla extract

8

cups

crispy rice cereal

1

package of small, candy eyes*

1

tube

black cookie icing pen*

1

package

white melting wafers*
Instructions
Line a 9x13 pan with parchment paper, making sure parchment paper covers sides of pan.

In a large saucepan over medium heat, melt butter, vanilla extract, and marshmallows. When fully melted, take off heat. Gently stir in crispy rice cereal until combined.

Cut into rectangles using a greased knife. Dip the tops of the treats into your melted chocolate, add your eyes, and mouth. Let dry for about 10 minutes before eating.
Notes
*I get my candy eyes, melting wafers, and black icing pen at our local craft stores.  Michaels or AC Moore should definitely have them.