These low carb, gluten-free cauliflower fritters can be prepared as is (delish!) or customized with whatever you have on hand. These healthy fritters are also tasty in lieu of hashbrowns for breakfast.
For the longest time, cauliflower intimidated me more than other vegetables (don't ask me why), and I was at a loss for how to make cauliflower more interesting than simply roasting it. If you're in the same boat, don't fear! I love cutting cauliflower into big steaks and serving with a chimichurri sauce (which reminds me that I should post that recipe soon) or ricing cauliflower and turning them into these fritters. This recipe from the Washington Post also looks delish. But let me tell you -- when it comes to cauliflower rice -- I don't care what anyone else says -- my children full well know the difference between rice and cauliflower. There's no use in pulling a fast one on them and pretending it's a perfect substitute. Nope.
It's time to try these healthy cauliflower rice fritters. I make these with almond flour since John tries to eat a mostly gluten free diet, but you could easily make these with good ole all-purpose flour, too. We also have a ginormous bag of almond flour John bought from Costco (hint, hint, Kathryn), so I get excited when I think of ways to use almond flour. (Side note: This chocolate tart is my favorite dessert to make with almond flour)
What do you need to make cauliflower fritters?
You need the bare necessities (cue song from The Jungle Book), including:
cauliflower
eggs
parsley
almond (or regular) flour
salt and pepper
olive oil
frying pan
Do you need to buy cauliflower already riced?
Nope. I do usually because I'm lazy...but all you really need to do is grate the cauliflower using your regular cheese grater, and it'll be perfect. No need to cook the cauliflower in advance either.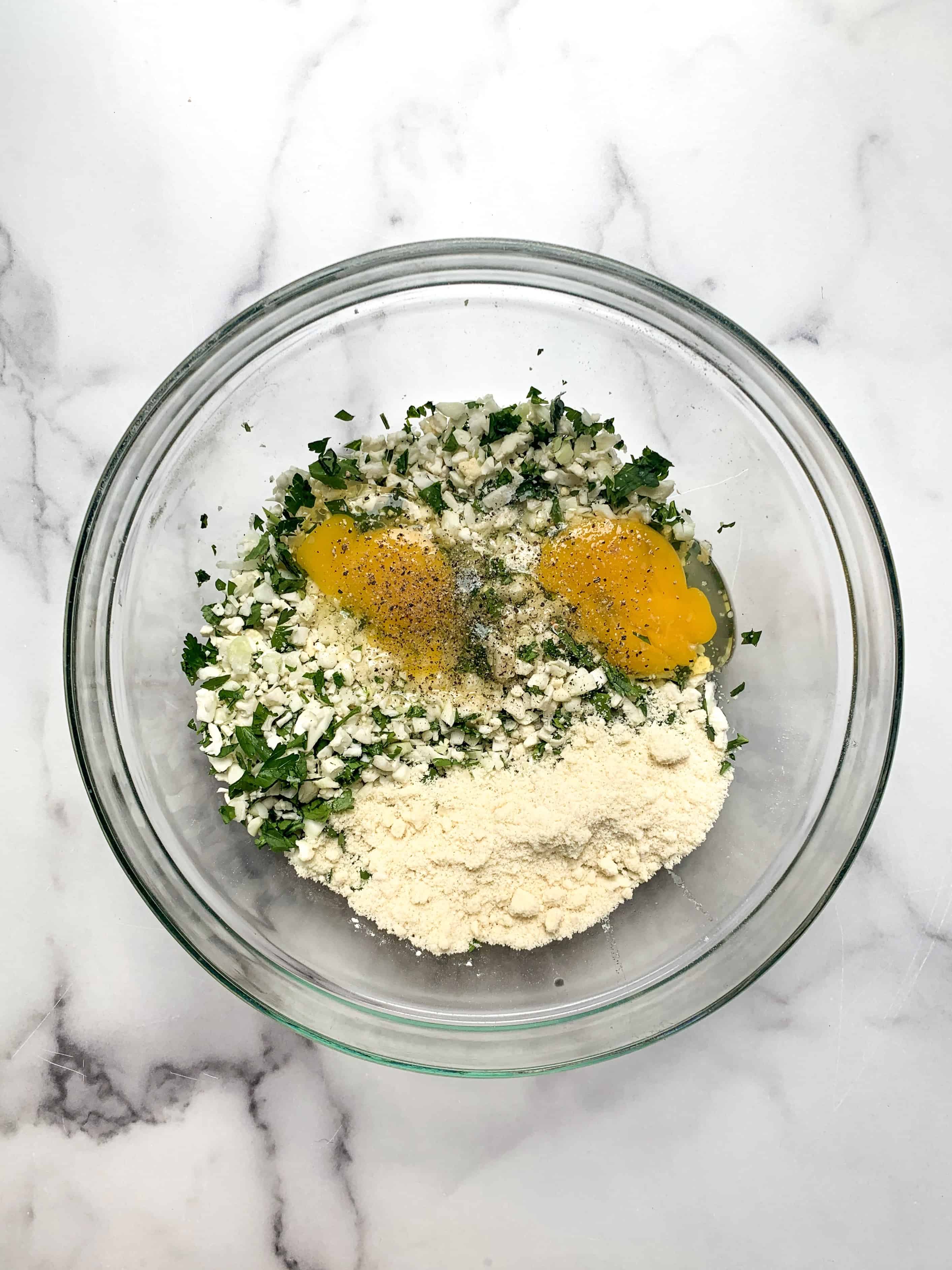 What other things can I do with cauliflower fritters?
You can make this recipe as is (which is what I tend to do) or treat this recipe like a base and add/tweak with other ingredients. Try:
Adding spices. hello, lemon pepper! What's up, cumin! Yes, you old Italian seasoning sitting on that turnstyle.
Adding leftover vegetables. Do you have some asparagus laying around from the other night? What about roasted broccoli from 3 nights ago you shoved into a Ziploc bag full well knowing it was going to go into the trash can when it's trash day? Cut them up into small pieces and don't waste your food!
Adding meat and make it a meal! Bacon and onion cauliflower fritters? Mmmhmm. Now you're talking.
Eating them for breakfast. These are a great low-carb option for breakfast instead of hashbrowns.
The rule of thumb I've discovered is to use no more than two cups of vegetables. This'll ensure the mixture stays together or isn't too runny, so if you add leftover asparagus and broccoli with your cauliflower, make sure you have no more than 2 cups total. Parsley and other herbs and spices don't count.
Quick meal ideas with these cauliflower fritters:
These suckers only take 15 minutes max, so they're perfect for a weeknight dinner. Here are some common pairings you could do to complete your meal:
saute shrimp (seasoned lightly with lemon pepper or paprika) or scallops in the same pan you cooked the fritters (15 minutes)
bake some chicken while you prepare these (30 minutes)
have breakfast for dinner. Serve with scrambled eggs and some bacon (15 minutes)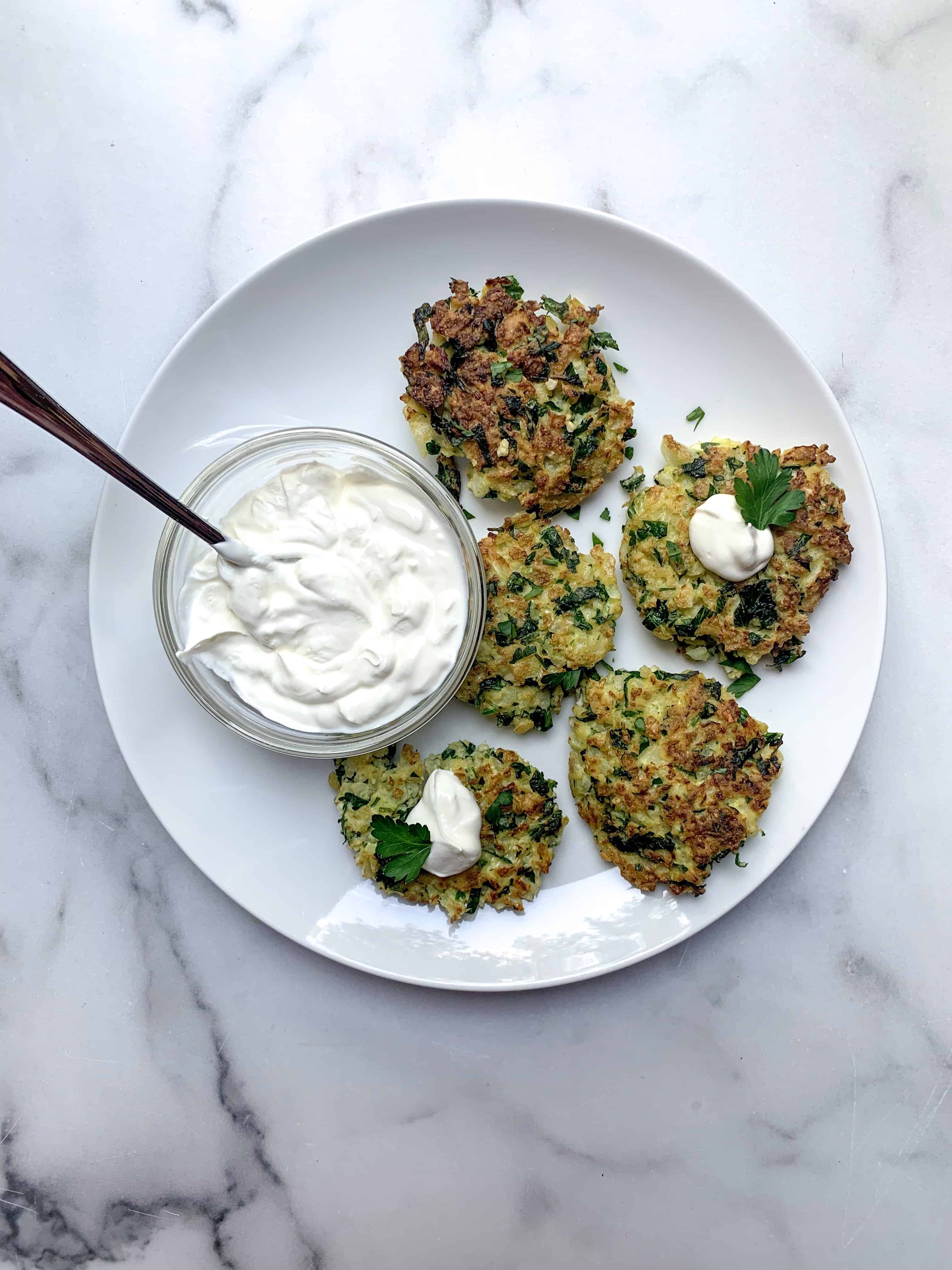 Hope you enjoy these healthy cauliflower fritters as much as we do!
xoxx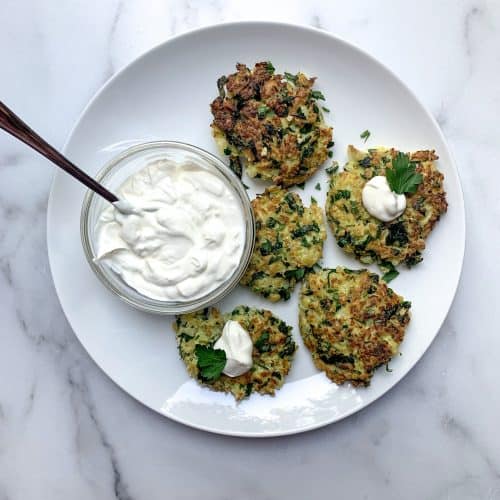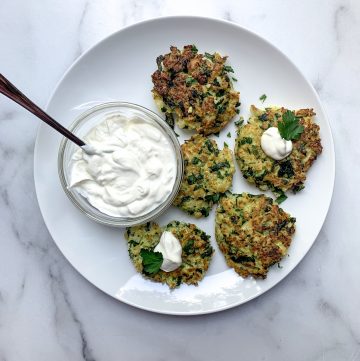 Healthy Cauliflower Fritters
These cauliflower fritters can be made in 15 minutes and are so delicious you'll forget you're eating all vegetables. Feel free to use this recipe as a base and spice it up with whatever leftover vegetables you have in your fridge, other spices, or parmesan cheese. I've used leftover asparagus, red peppers, broccoli...literally anything!
Print
Pin
Rate
Ingredients
2

cups

cauliflower rice

(or use grater to shave off from head of cauliflower)

2

eggs, lightly beaten

⅓

cup

almond flour (or all purpose flour if you don't need to make these gluten free)

¾

cup

fresh parsley, chopped

½

teaspoon

salt

¼

tsp

pepper

3

tablespoon

olive oil

sour cream or yogurt

optional

scallions

optional
Instructions
In a medium-sized bowl, mix cauliflower rice, eggs, almond flour, parsley, salt, and papper together with a spoon until combined. If mixture holds its shape in your hands when squeezed, you're good. If it's too liquidy, add a little more almond flour.

Form mixture into 2 ½-3" patties and place on a plate.

Heat olive oil in a non-stick pan over high medium-heat. When pan is very hot (and not before!), add your fritters to the pan. Do not touch them for about 2-3 minutes or until the fritters are a nice golden brown. Flip and cook the other side for roughly the same amount of time.

Serve hot with yogurt, sour cream, or scallions.
Notes
If you squeeze the fritters in your hands and they retain the shape of your hand, you know they're ready to cook.  If they still fall apart, add a little more flour until they hold their shape better. 
These fritters won't be perfectly moldable into a nice, neat shape.  That's okay.  They'll come together more when you cook them on medium-high heat.  The sear will bind the fritter together. 
These fritters are great the next day for breakfast. 
SPICE IT UP!  Consider adding different spices (hello, cumin or lemon pepper) and different vegetables (onion, asparagus, broccoli!), or meat (bacon, anyone?!)