I. Am. So. Tired. I can barely see straight. Work started in earnest this week, I've got a little one with a nasty cough that keeps her up at night, and I have a soon-to-be kindergartener who has nightmares and enjoys freaking me out by lurking by my face at 2 am. There's lots of transitions happening in our family, too. C starts Kindergarten in a few days, B goes to the Fours room at daycare, and John just switched jobs and is having to be an A+ employee (boring!). I don't do well with change. It's just not my thing. But alas, change doesn't care about me and my feelings.
So we'll all adjust. We've started packing lunches the night before again, bringing our clothes out of the hamper (it's never folded in the dresser like it should be) and laying out our outfits, and having plans for a solid, quick breakfast in the morning.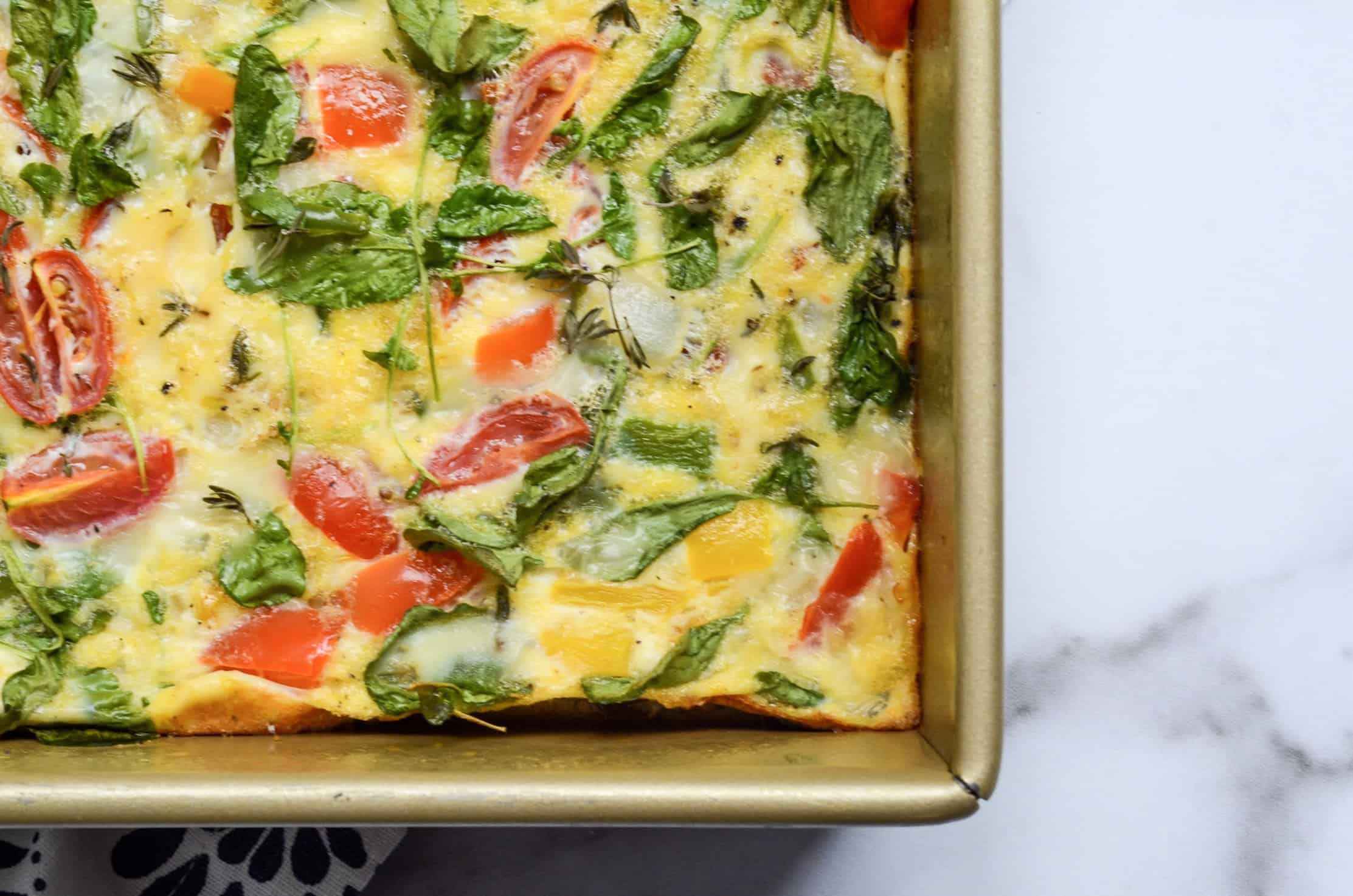 Hello, Healthy Egg and Vegetable Breakfast Bake. We're Going Back to School.
You're my friend again. It's been awhile, but it's not you, it's me. I haven't needed you. I've had leisurely mornings waking up before my kids and making them whatever breakfast they requested before sauntering out the door singing "The Hills Are Alive." Now everything's changed. I'm not bitter at all.
This Healthy Egg and Vegetable Bake is a saving grace though because it takes approximately 5 minutes of your time to cut whatever vegetables you'd like and lasts all week. I made this egg bake with cherry tomatoes, bell pepper, spinach, and mozzarella cheese. You could easily substitute asparagus from the night before, or use up the goat cheese you have in the fridge. This recipe is easily adaptable. It also stores really well in the refrigerator in an airtight container. Just stick a slice in the microwave for 30 seconds to warm up.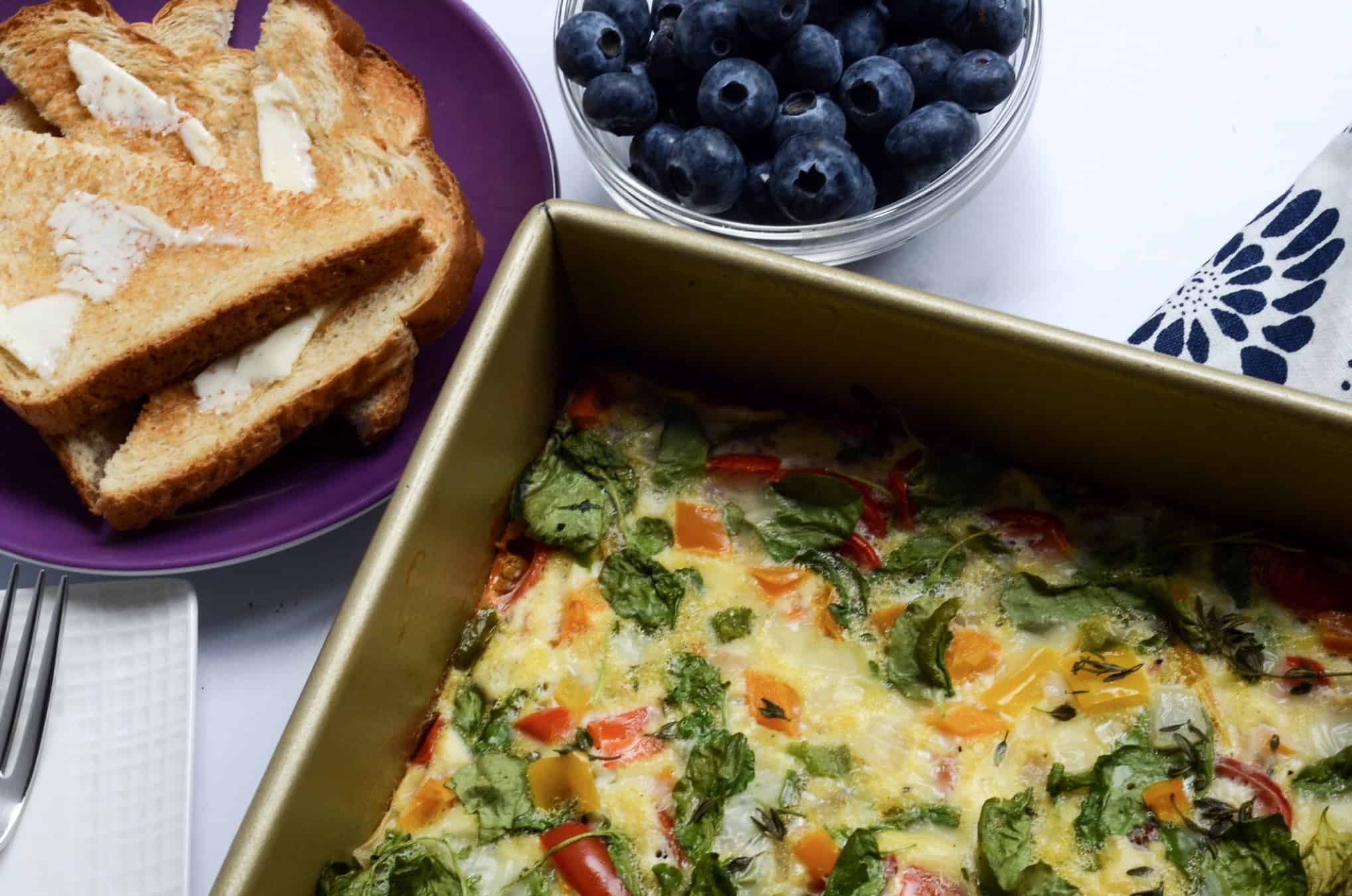 Work smarter, not harder.
I've written about this before, but meal planning is like an intriguing puzzle I can't stop working on. It gives me a little bit of a high trying to figure out what ingredients we already have on hand then buy the freshest, healthiest ingredients without buying the random ingredients I won't use again to make a yummy meal. Then there's the added challenge of being the most efficient with your time when you have it. How can I buy a bunch of broccoli, use that broccoli in different ways throughout the week so I don't get bored, AND only take out the cutting board once? See what I mean? That's my kind of puzzle.
This Healthy Egg and Vegetable Breakfast Bake is something I make after I made these Easy Sheet Pan Chicken Fajitas. I don't have to fuss sautéing onions because they're already cooked, and I can use the bell pepper in a new way that's totally different. Oh, and I cut everything one time. ONE TIME.
More Back to School Ideas!
Check out these awesome ladies with other cool Back-to-School ideas: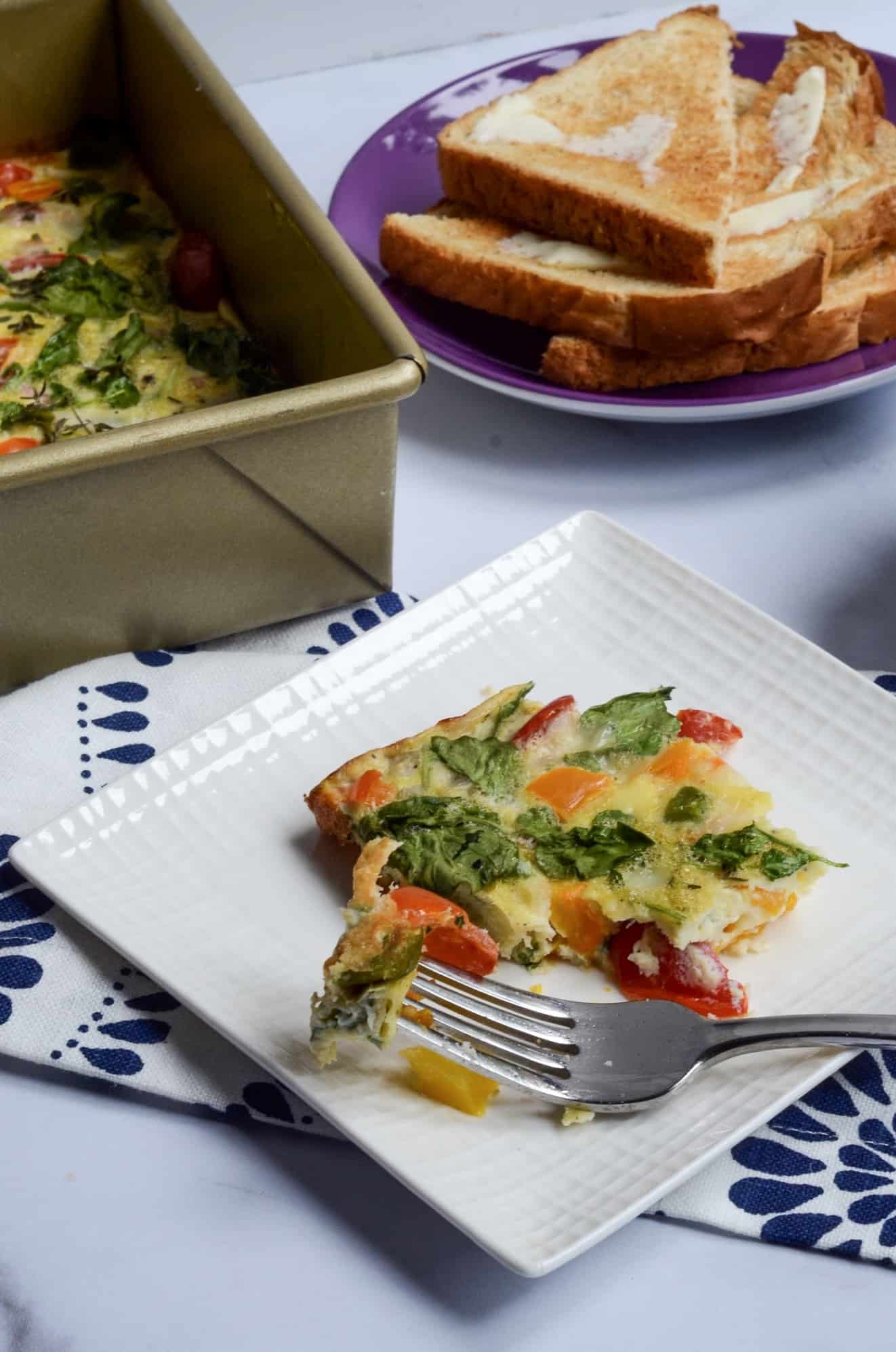 Here's to a great new year full of exciting changes!
xox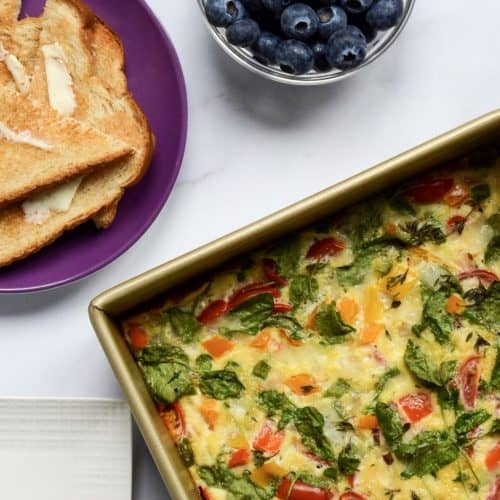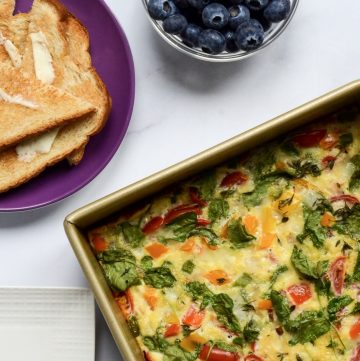 Simple Egg and Vegetable Breakfast Bake
This easy breakfast bake is filled with eggs, cheese, and any vegetables you have lurking in the fridge.
Print
Pin
Rate
Ingredients
12

eggs, slightly beaten

½

cup

milk (any %)

2

tablespoon

olive oil

½

onion, diced

2

cups

fresh spinach, chopped

1

cup

cherry tomatoes, halved

½

cup

any variety bell peppers, chopped

1

cup

mozzarella or cheddar cheese, shredded

(or any kind you have on hand)

1

teaspoon

garlic powder

¾

teaspoon

salt

½

teaspoon

pepper
Instructions
Preheat oven to 325 degrees and spray a 9x13" baking pan with cooking spray. Set aside.

On medium-high heat, cook your onions with the olive oil until translucent, about 5-7 minutes. Remove from the heat. Let cool for a few minutes.

Place remaining ingredients (including onions) in a large bowl. Whisk until incorporated.

Pour into baking pan. Bake for 35-40 minutes or until eggs are set.
Notes
Cut and keep individual pieces in an airtight container.  These are perfect for popping into the microwave in the morning for a quick breakfast or for taking to work.