Sheet pan chicken fajitas are a perfect weeknight meal to keep in the rotation, and are something humans from all ages can get excited about.
Are you a sheet pan dinner fan or nah?
You know I love me a good sheet pan dinner because I can throw stuff on one sheet pan and be done quickly with minimal clean-up. It has to be the right kind of ingredients though on that sheet pan, which is where a lot of people go wrong. If you have incompatible vegetables and/or meat, you're left with soggy vegetables or under cooked meat. That's why I'm pretty discriminatory in my sheet pan meal tastes. All sheet pan dinners are not created equal.
This sheet pan chicken fajita meal though is about as perfect as sheet pan meals get. For real. And it couldn't be easier. The cook times are nicely aligned, chicken is cooked to perfection (so juicy!), vegetables are a crisp-tender, you don't have a ton of prep, and the best part - you don't have a lot of cleaning afterward. I mean c'mon -- look at that juicy chicken and those crisp but still tender vegetables!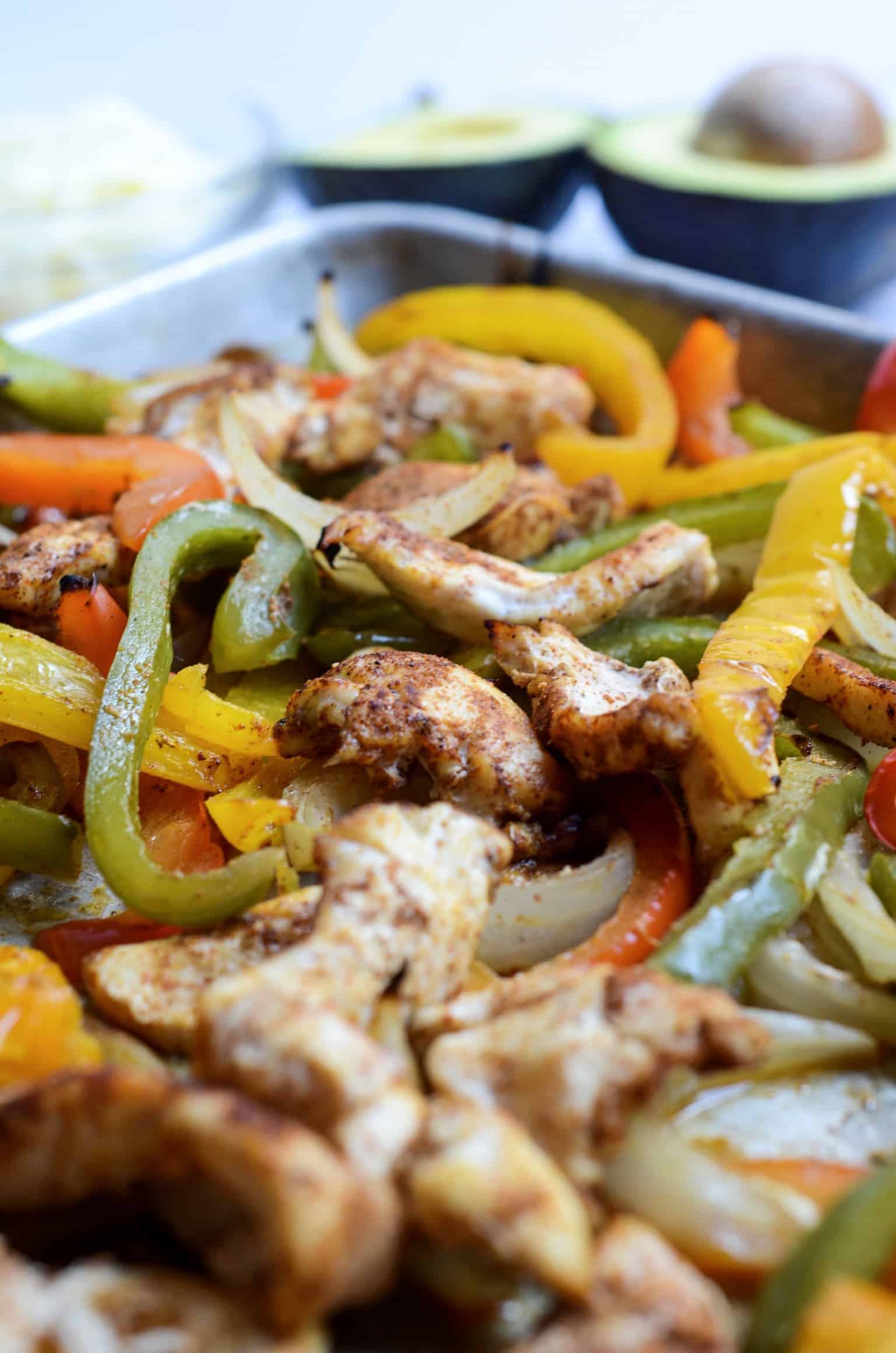 Your prep for this meal is slicing your peppers, onion, and chicken into about ½" strips, then you let the sheet pan, a few spices, and olive oil do their magic in the oven.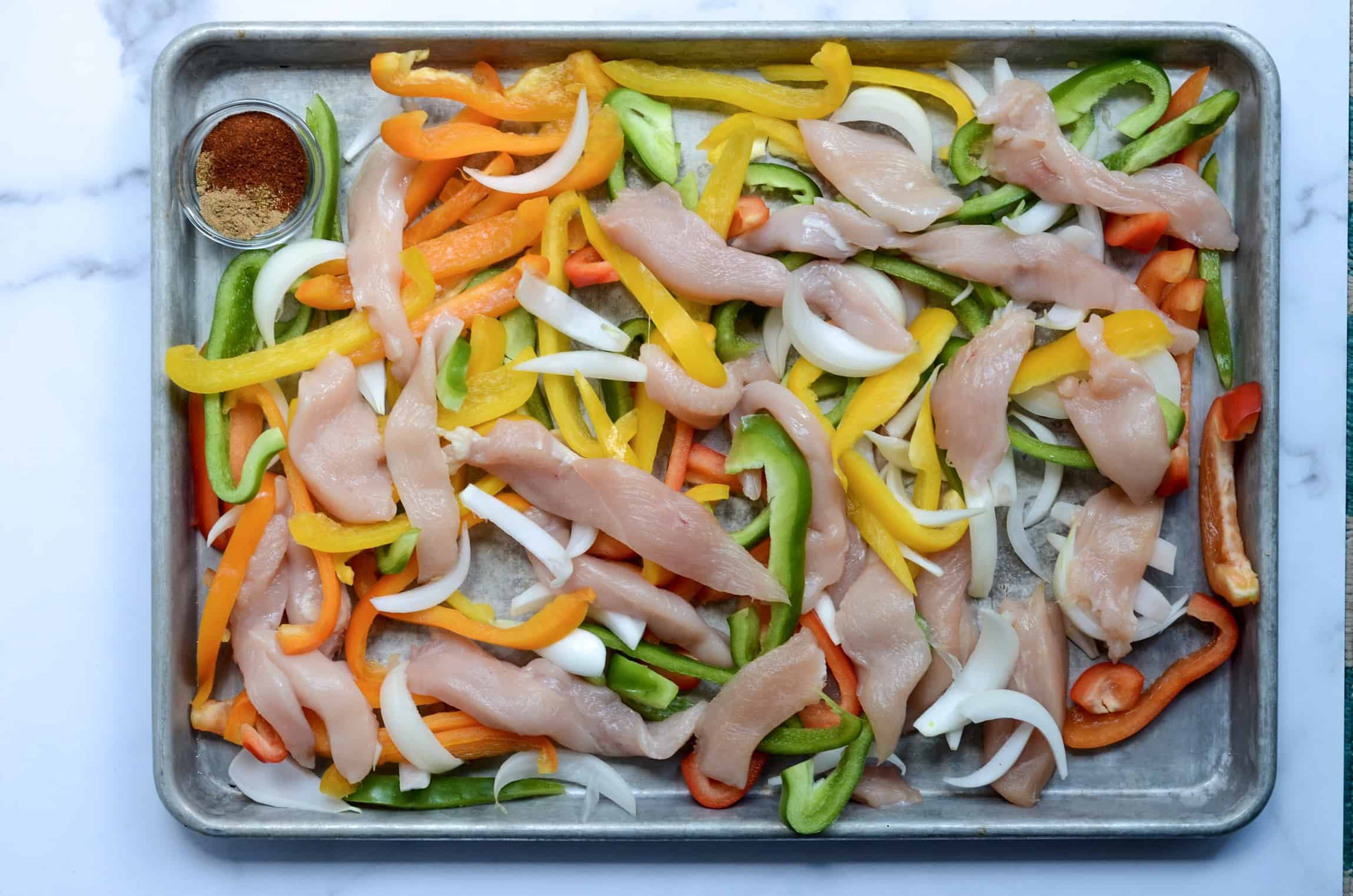 Bye, store-bought taco or fajita seasonings.
While you're at it, go ahead and throw away alllll that junk because you just don't need it. You already have probably every spice you need to make your own homemade taco / fajita seasoning, and it's going to taste so much better, contain way less sodium, and you can customize your blend to meet the needs of your own taste buds.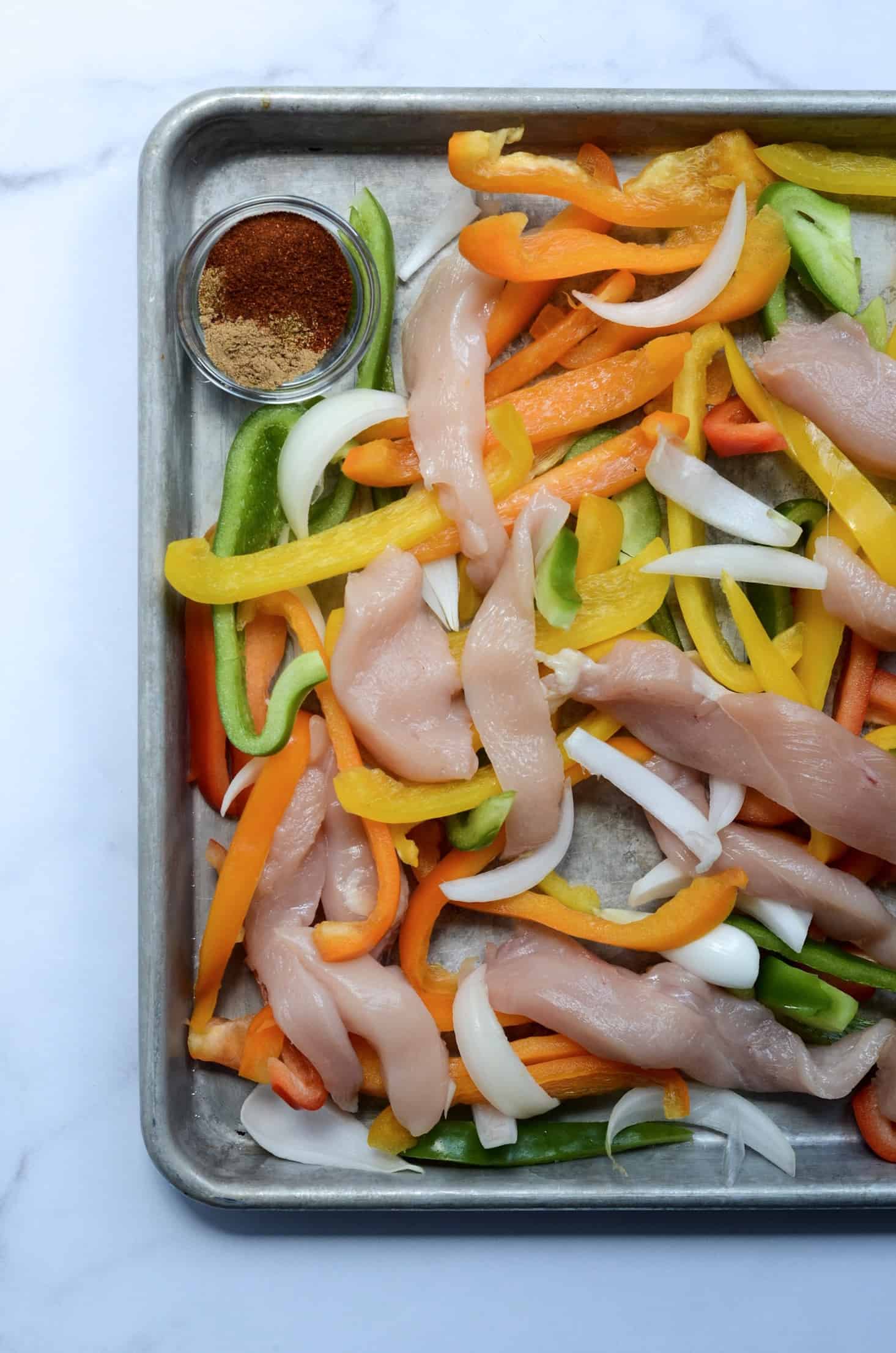 But how?
Making a taco or fajitas seasoning requires a compilation of a few, simple spices: chili powder, cumin, paprika, coriander, red pepper flakes (if you want a little heat), salt and pepper.
Not so bad, right? The seasoning gets sprinkled all over your veggies and chicken, olive oil gets drizzled over everything, and then you're putting everything in the oven for a little less than 20 minutes.
There's just something about homemade tex-mex that's so delicious and always a win in our house. The kids may not love the onions, but they can easily be picked out of the mix, and if you say this dinner involves warm tortillas and sour cream, well my kids come to the table in record speed.
Favorite Fixins
Our favorite fixins (as we say in the South) for these easy sheet pan chicken fajitas are warm flour tortillas, easy homemade salsa, Tillamook shredded mozzarella cheese, and avocado slices. If you want to do a home-made salsa like I did, just combine diced fresh tomatoes and finely diced red onion. It's great with the fajitas because it adds a cold, fresh component...and again, couldn't be simpler. And the Tillamook cheese -- it's the best cheese out there (at least that you can buy at a grocery store). It's thick-cut and just totally dreamy. You can't find it everywhere, but I find that Safeway usually has it in stock.
Most of the time we put shredded cheese, sour cream, and other fixins out on the table in their packages and get really casual with it. Nobody's every complained in our house -- as long as there's still enough sour cream to go around.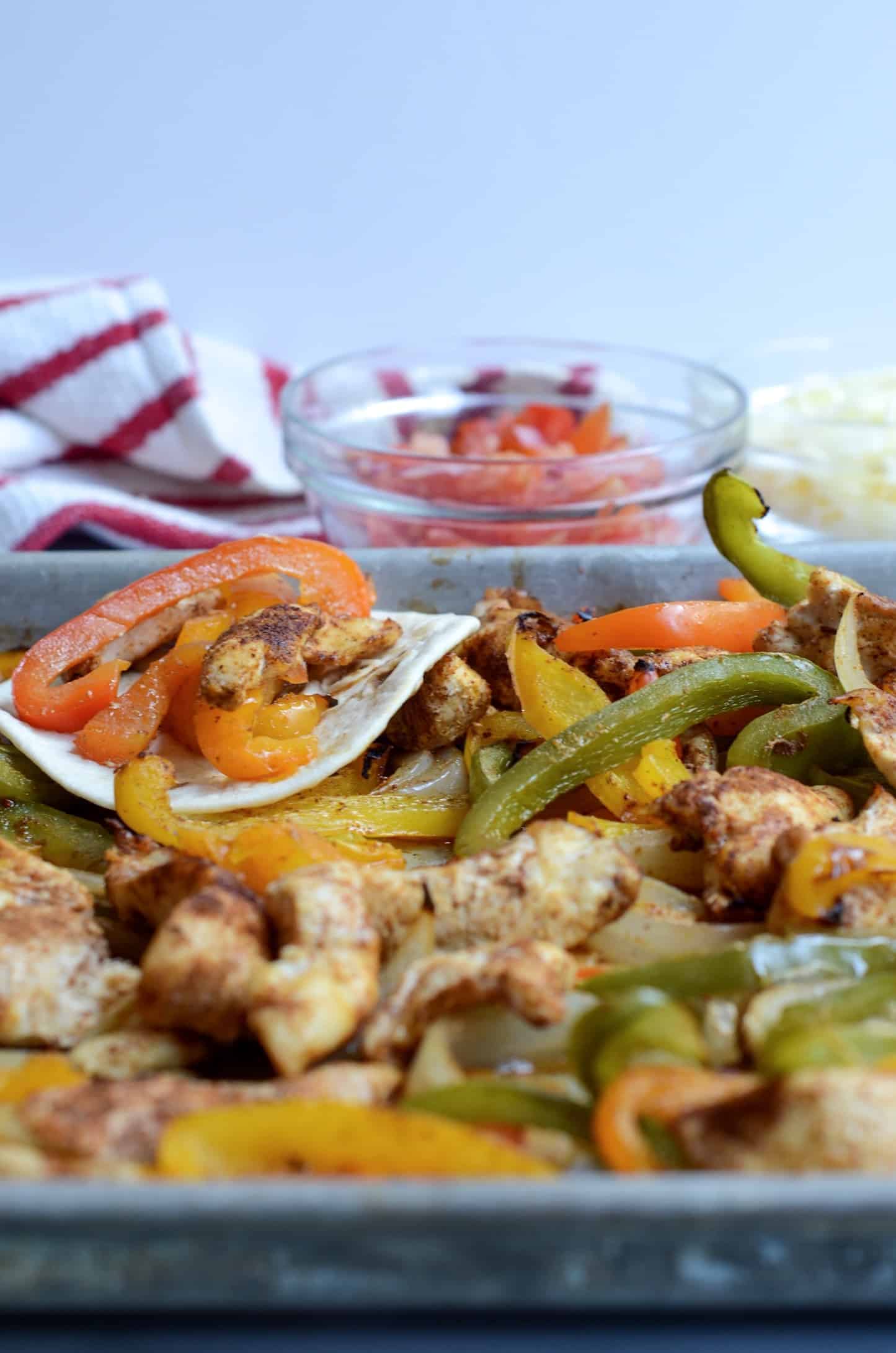 Love y'all. Hope you have a great start to your week!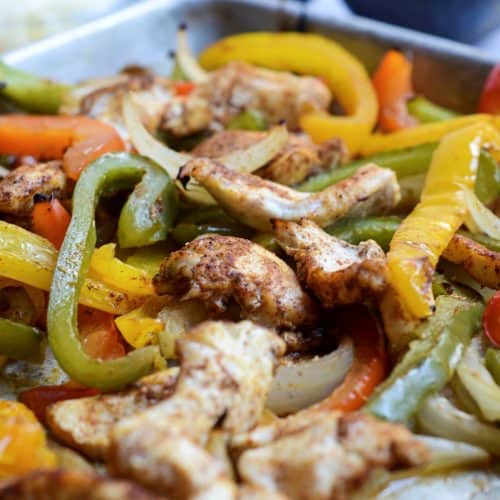 Sheet Pan Chicken Fajitas
Sheet pan chicken fajitas are a perfect weeknight meal to keep in the rotation, and are something humans from all ages can get excited about.
Print
Pin
Rate
Ingredients
3-4

chicken breasts, sliced into ½-3/4" strips

1

red bell pepper, cut into strips

1

yellow pepper, cut into strips

1

green bell pepper, cut into strips

1

orange bell pepper, cut into strips

1

onion, cut into strips

2

teaspoon

chili powder

2

teaspoon

ground cumin

2

teaspoon

coriander

2

teaspoon

smoked paprika

⅛

teaspoon

red pepper flakes, optional

½

teaspoon

salt

¼

tsp

pepper

3

tablespoon

olive oil

Fixins: corn or flour tortillas, salsa, limes, cheese
Instructions
Preheat oven to 400 degrees Fahrenheit.

On a half sheet pan, spread out chicken, peppers, and onion in as close to a single layer as possible (obviously there will be some overlapping).

Mix chili powder, coriander, paprika, cumin, red pepper flakes (if using), and salt and pepper together in a small bowl. Spread over chicken and vegetables, coating as much as possible. Drizzle olive oil on top.

Bake for about 18 minutes or until chicken is cooked through, turning halfway through to ensure even cooking. Place the sheet pan under the broiler for an additional 2 minutes if you want to get some charring on the veggies.

Serve immediately with tortillas and all the fixins.