Fried Green Tomatoes are a total staple in the American South -- and for good reason. This version is made in the healthiest of ways and includes a zippy remoulade with a kick!
Eat your vegetables is a phrase you've heard over and over again, and I catch myself saying this to my kids nightly, too. But in the Deep South, you see, the vegetables are often cooked in some seriously good (but seriously bad) ways that make them, well...not so vegetable-like. You want green beans? Great! Let's cook them with a thick hunk of fatback. You want mashed potatoes? Of course. We need buttermilk and looooots of butter. How about tomatoes? Let's bread them and deep fry them until you can't taste the tomato.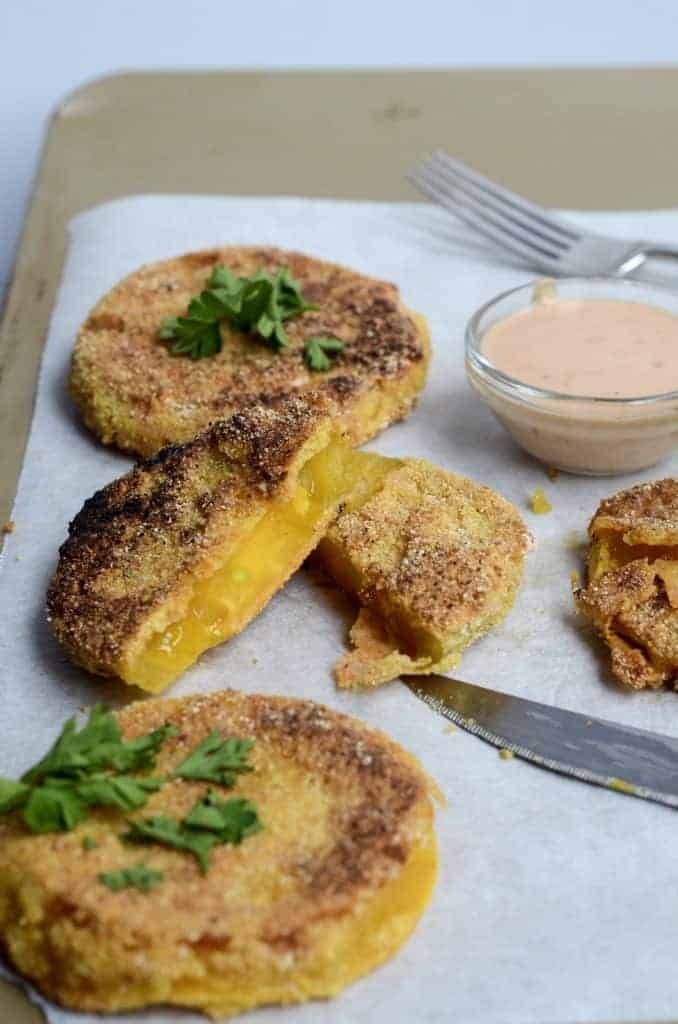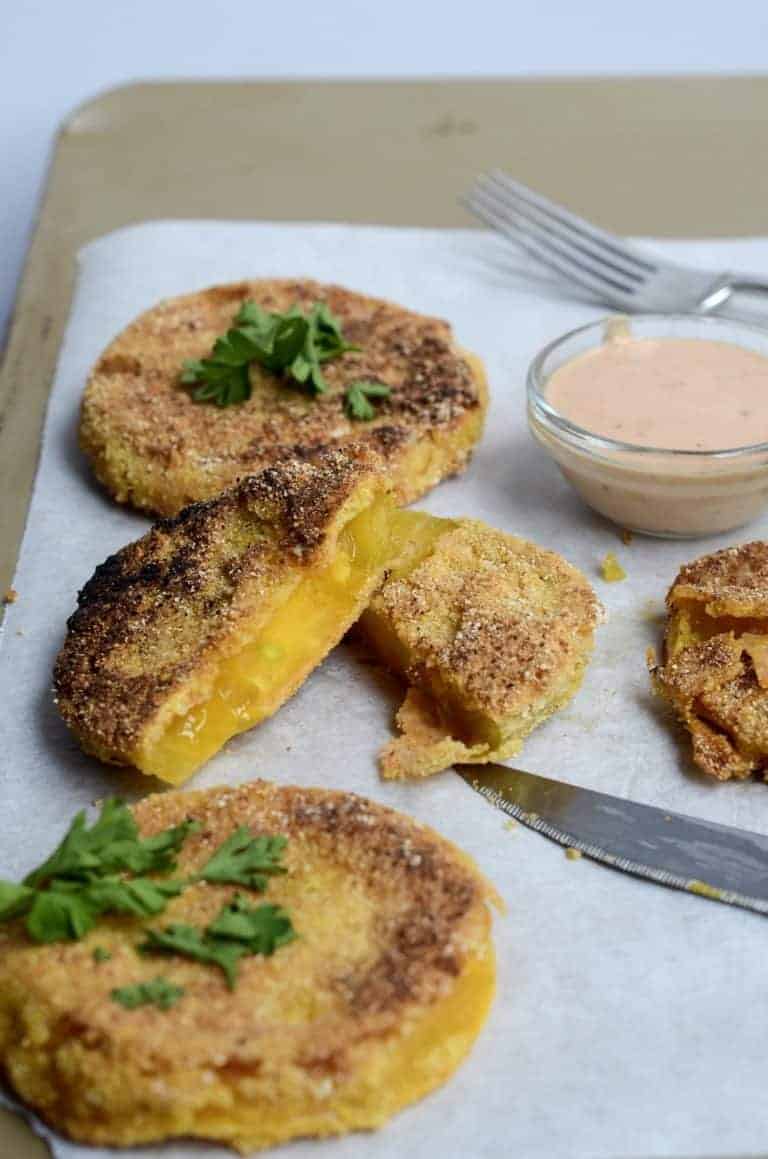 Secret confession: I used to devour allllll of this up. There used to be a place in Athens called Peaches Fine Foods That place with their delicious soul food (and the copious drinking) added nearly 30 pounds to my college experience <<fist shake>>. It's just not for me anymore. I guess I'm old. My stomach can't handle all of that fat or grease. Somehow, someway, I survived those days relatively in tact, but I'm not ready to give up on Southern cooking. Noooo way. The food and its (modernized) preparation is just way too good.
These Fried Green Tomatoes are a healthy, yet delicious alternative to the more old school Southern food recipes.
What are green tomatoes?
It's a little confusing because green tomatoes can be one of two things. They can be a variety of tomatoes that are green when they're fully ripe (you typically see these as heirloom varieties in the grocery store) or, by the more traditional, Southern definition, tomatoes that are picked before they're vine ripe.
For this recipe, you'll want to use the green tomatoes that aren't ripe yet. You'll likely have to go to a farmer's market or an actual farm to pick them early because most grocery stores don't carry them for obvious reasons. We picked ours at Butler's Orchard a couple weekends ago (and you can see that some of them turned orange by the time I got to using them!). You'll want to use unripened tomatoes because they will hold up much better when lightly seared. You could use ripe tomatoes, but they won't keep their structure because the fleshy part of the tomato will pop out. These two types of green tomatoes are pretty easy to tell apart by their hardness and their taste. Green tomatoes that aren't ripe yet are exactly what you'd imagine -- hard and solid. Unripe, green tomatoes have a tarter, more acidic flavor than ready-to-eat green tomatoes.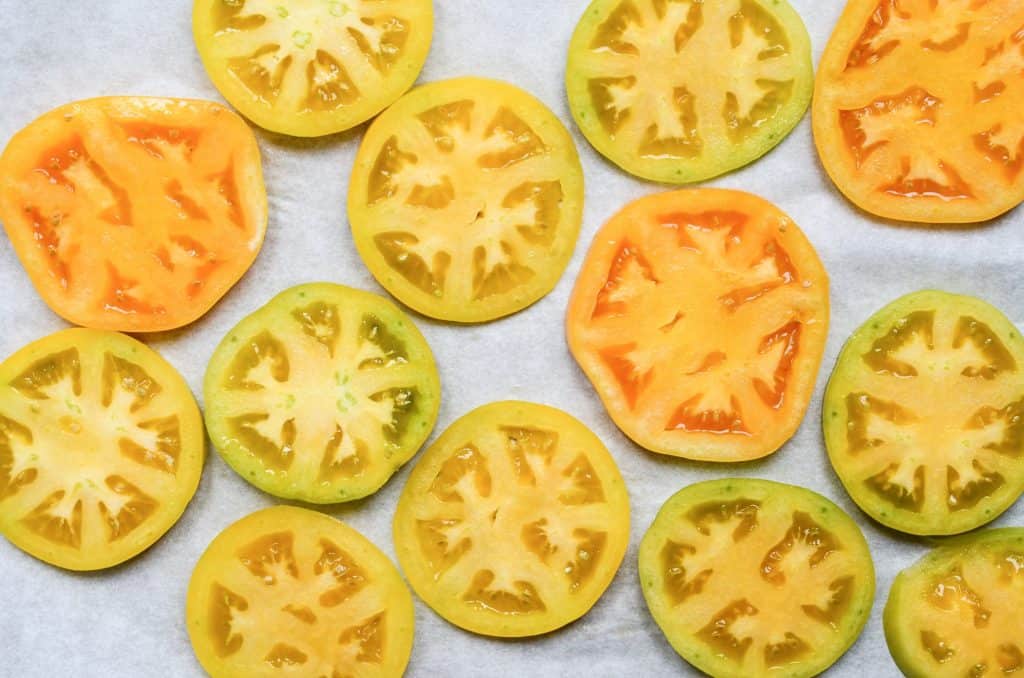 What makes these Fried Green Tomatoes healthy?
They aren't deep fried -- just pan-fried in a non-stick pan with a little bit of olive oil until they're a beautiful, light brown color. The three coatings you'll put on these will form a flavorful breading that'll be crunchy on the outside and tomato-y soft on the inside.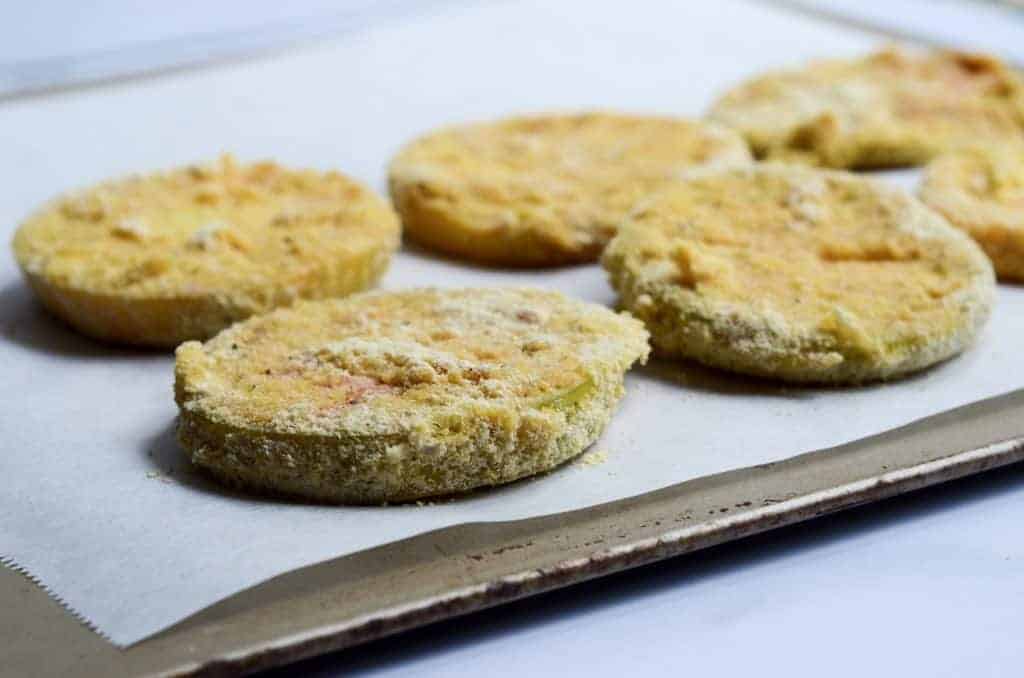 Last, but not least, let's talk about the remoulade.
What is a remoulade in the first place? A remoulade is a French, fancy way of saying a sauce that's typically mayonnaise-based.
Every now and then I enjoy a good remoulade when I'm eating Fried Green Tomatoes or crab cakes. Other condiments that are delicious with these fried green tomatoes include a pickled relish or pimento cheese.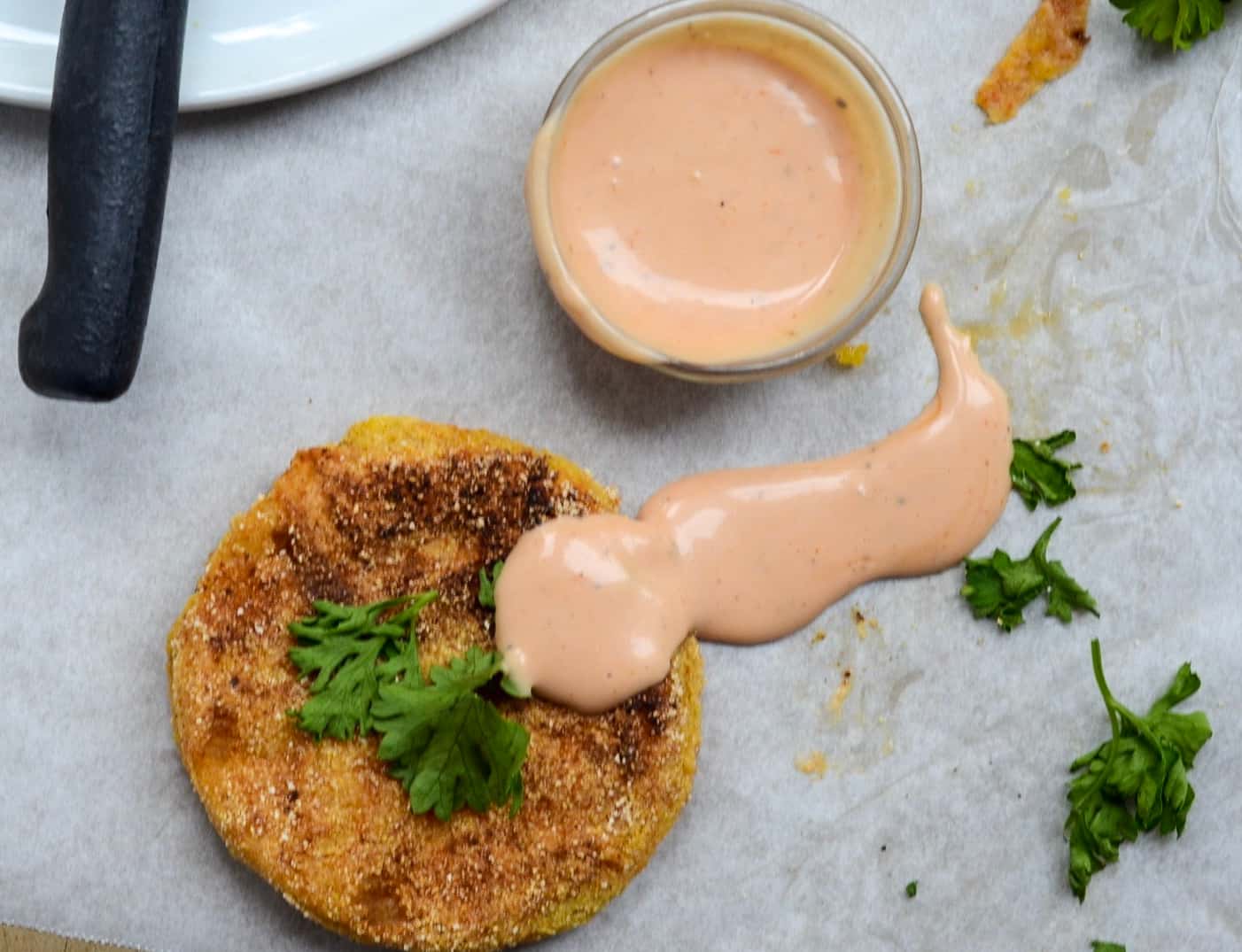 Some inspo to eat with these fried green tomatoes:
Here are my recs:
BBQ Baby Back Ribs are the ultimate set and forget meal that's literally finger-licking good.
What goes better with ribs than mac and cheese? Lori from Josie + Nina's Last Meal Macaroni and Cheese is just divine. It uses real cheese, not that processed garbage, and includes my fav panko topping.
Summer Peach Tart is so good for dessert, y'all. And there are still peaches to buy, so it's not too late.

Hope you enjoy!
xox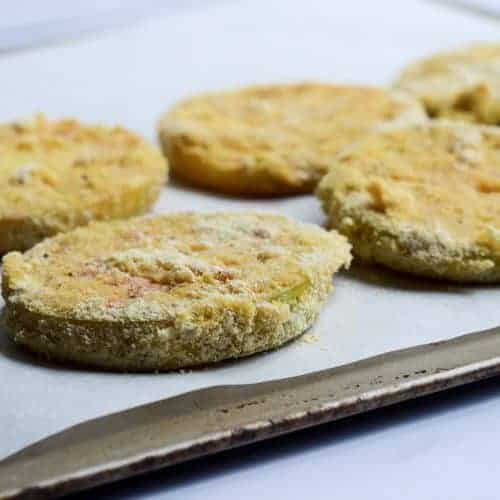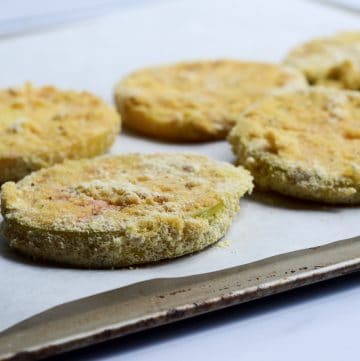 Ingredients
For the fried green tomatoes:
3

large, green tomatoes, cut into ¼-1/2" slices

2

teaspoon

salt

¼

cup

flour

½

teaspoon

smoked paprika

½

teaspoon

garlic powder

¼

teaspoon

cayenne pepper

¼

teaspoon

onion powder

¼

teaspoon

fresh black pepper

½

cup

cornmeal

1

egg, lightly beaten

4

tablespoon

olive oil
For the sriracha remoulade:
¼

cup

mayonnaise

1

tablespoon

sriracha

1

teaspoon

Dijon mustard

¼

tsp

cayenne pepper

1

teaspoon

lemon juice

¼

teaspoon

Worcestershire sauce
Instructions
Lay out your tomato slices on paper towels. Liberally sprinkle your tomatoes with salt. Let them sit for 5 minutes until they sweat. Then pat dry with paper towels.

Make remoulade by combining all ingredients in a small bowl. Set aside.

Take out three bowls or plates with a small lip. In the first, put flour, salt, smoked paprika, and garlic powder. Stir to combine. In the second bowl, put the egg. In the third bowl, combine the black pepper and corneal.

Per tomato slice, cover in the flour mixture, dunk in the egg wash, then coat with the cornmeal. Press cornmeal into the tomato until it's well coated (it's not enough to roll it around). You want to make sure it's well coated.

Heat a non-stick skillet to medium-high heat with olive oil, when drop of water is dripped on pan and it sizzles, it's ready. Add tomato slices 4-5 at a time. Don't crowd the pan. Don't touch them for 3-4 minutes. When they're lightly browned, flip them and cook them on the other side for the same amount of time.

Remove from the pan to a paper towel to soak up any remaining oil. Eat immediately with sriracha remoulade or other favorite sauce/topping.
Notes
*You'll want to eat these immediately.  They best served hot!