I really like using all parts of something.  Take my roasted rainbow carrot top pesto, for example.  There's something so gratifying about making something delicious with something I would have normally thrown in the trash.  I think that's why I love banana bread so much, too.  There's no shortage of overly-ripe bananas in our fruit basket which also holds other random stuff that's been accumulated throughout the month.  (Currently, ours also holds gummy bears from the airport to bribe the older one, nasal spray, and an unidentified charger in case you were interested.)
A few months ago, Bri reached up to the counter to grab one very black, squishy banana, and Connor flipped out like she was about to chug dish detergent: "No, Brianne!  You can't eat that one.  That banana can make banana bread in your stomach."  He's always looking out for his sister.  I always think about this when I'm making banana bread...which makes banana bread taste that much sweeter.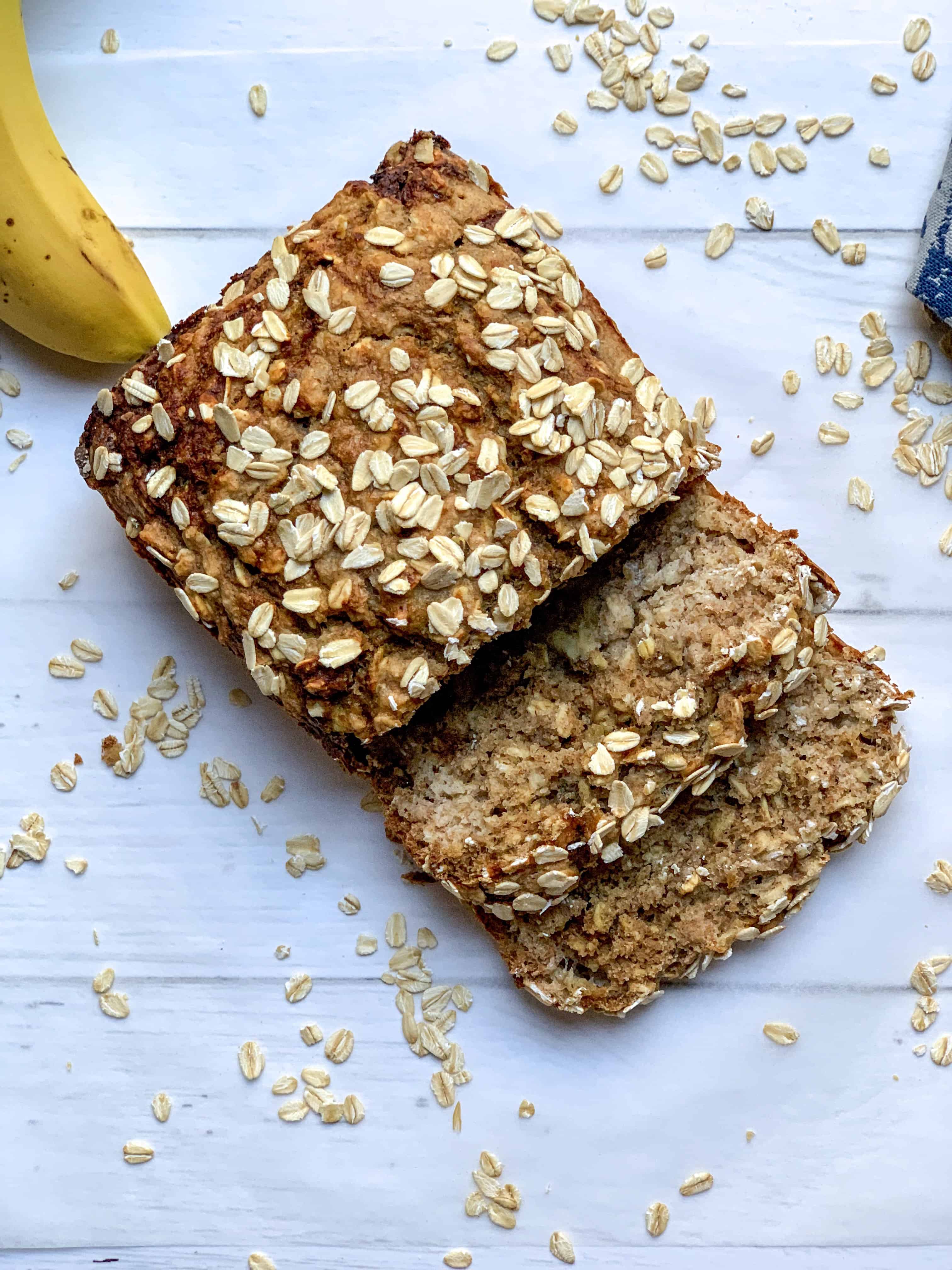 This oatmeal banana bread is the banana bread you're looking for if you're trying to go healthy.  This one is packed with rolled oats, whole wheat flour, honey as the only added sweetener, and unsweetened applesauce instead of oil.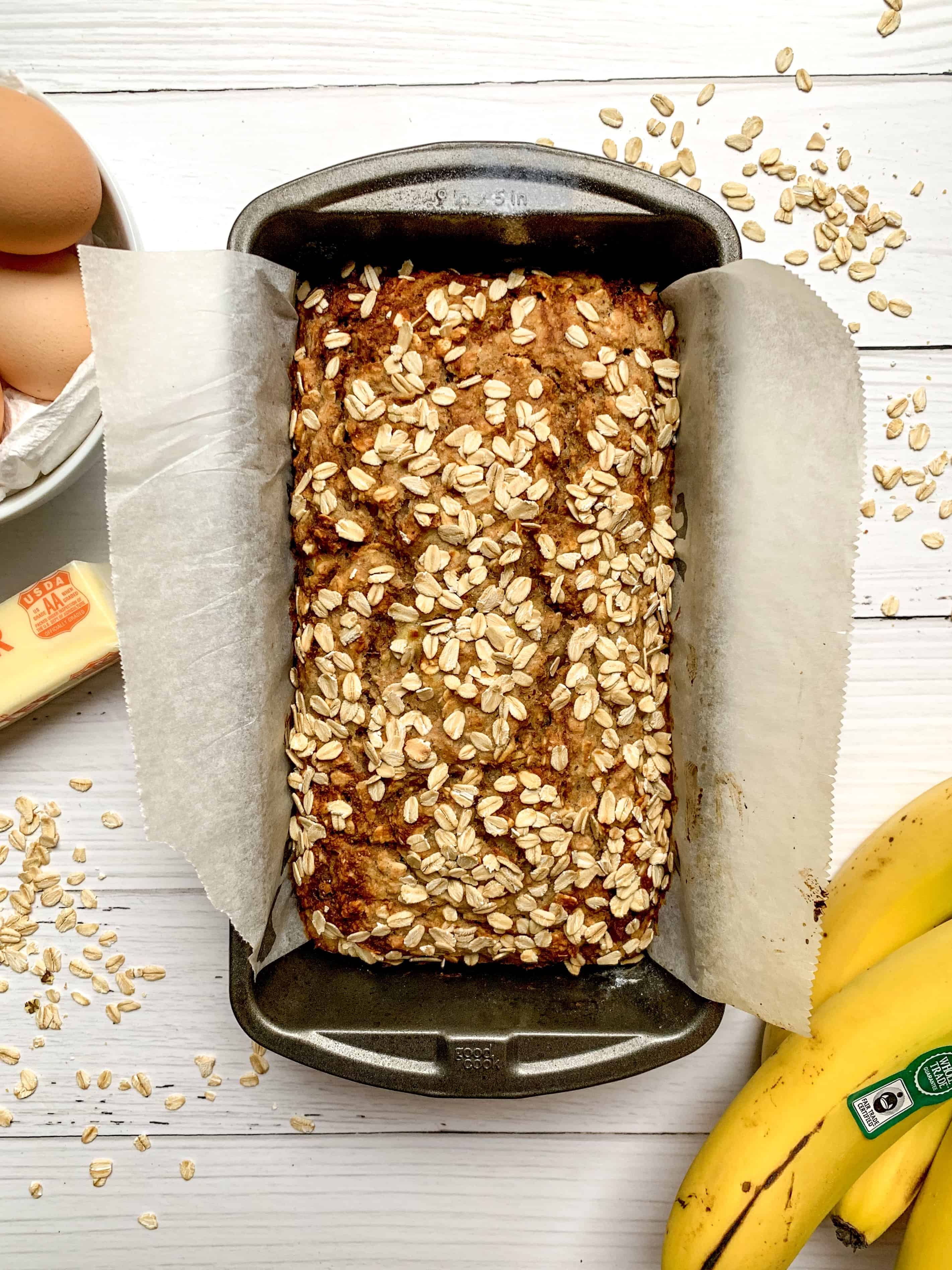 It's particularly delicious as soon as it comes out of the oven slathered in some butter.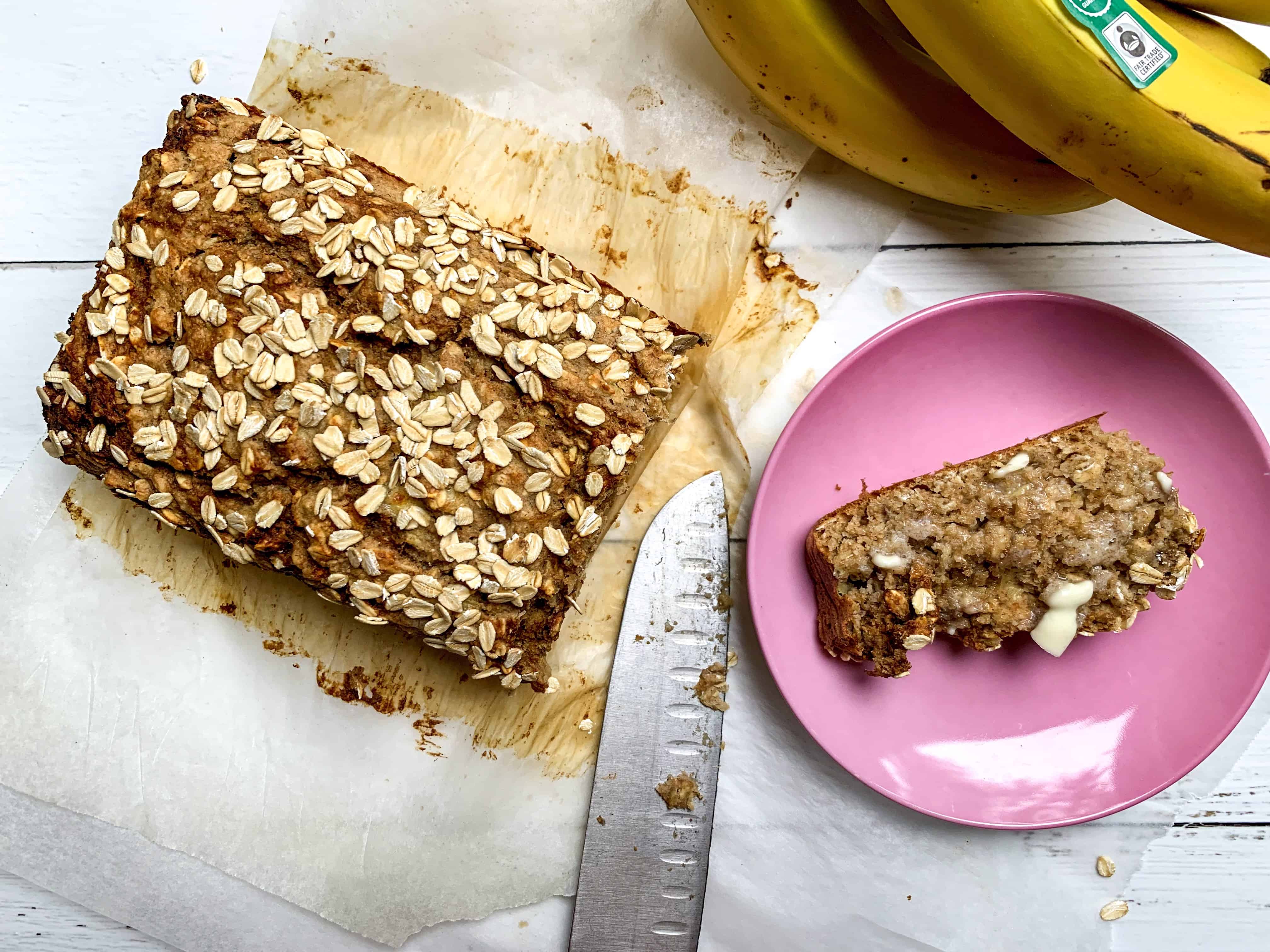 It's also perfect a couple days later toasted in the oven with a side of scrambled eggs.  Or covered with Nutella.  You choose.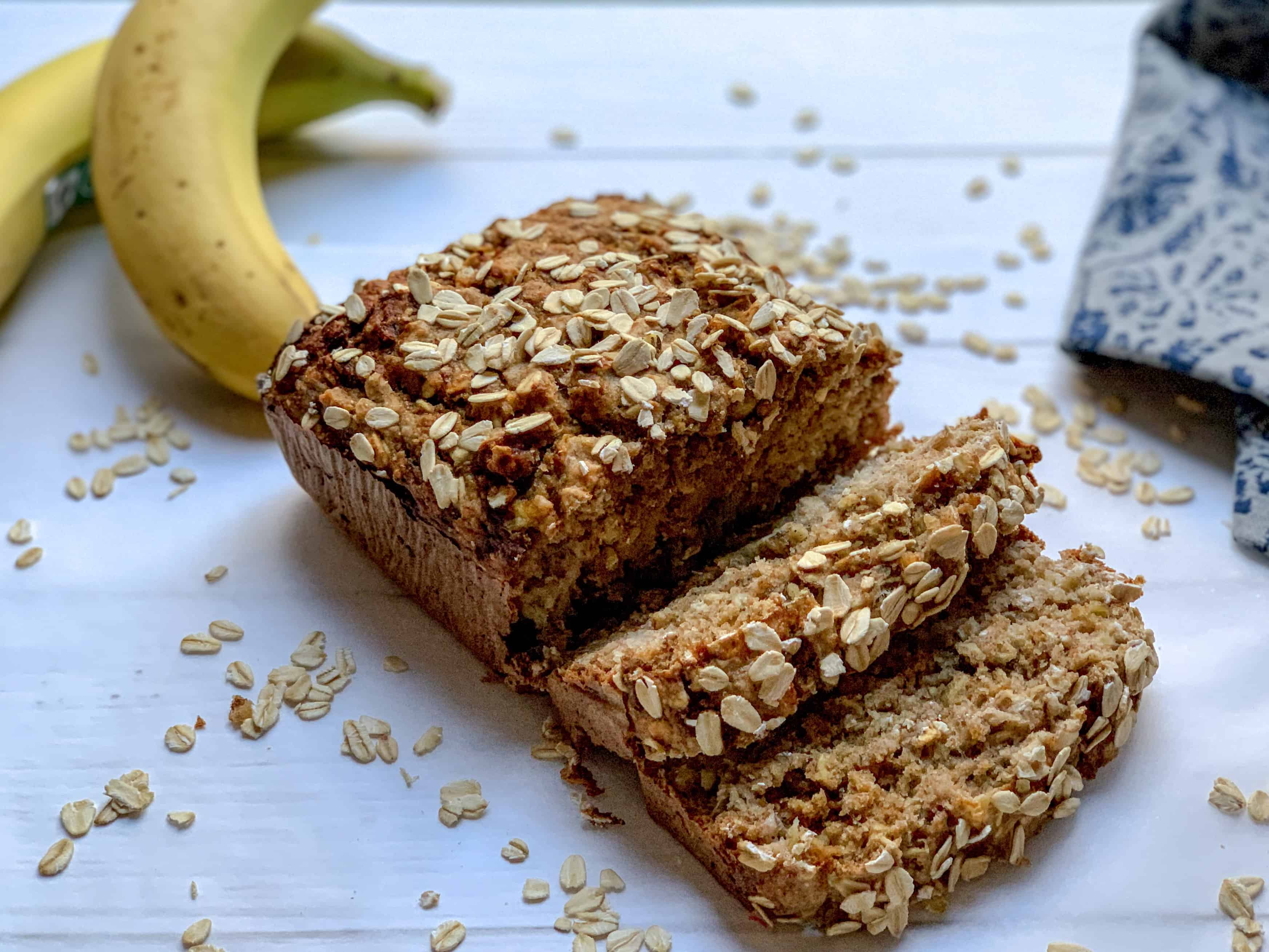 Either way, let's use up those bananas sitting in our fruit basket and feel good about it!
Active Time: 10 minutes
Total Time: 50-60 minutes
Yields: 9 servings
Ingredients:
3 over-ripe bananas, mashed
⅓ cup honey
⅓ cup (or 1 kid's pack!) of unsweetened applesauce
1 teaspoon vanilla
1 egg
¾ cup milk
1 ½ cups whole wheat flour
1 cup rolled oats (plus a ¼ cup for garnish)
1 ½ teaspoons baking powder
¾ teaspoons baking soda
¼ teaspoon salt
1 teaspoon cinnamon
pinch of nutmeg
Directions:
Preheat oven to 350 degrees.  Spay a 9" loaf pan with non-stick cooking spray and line with parchment paper.  Set aside.
In a large bowl, combine mashed bananas, honey, applesauce, vanilla, egg, and milk.  Stir to combine.
In a separate bowl, whisk together flour, rolled oats, baking powder, baking soda, salt, cinnamon, and nutmeg.
Slowly add your dry ingredients into your banana mixture until just incorporated. (Don't over mix!)
Pour mixture into loaf pan and sprinkle top with remaining oats (if desired).  Bake for about 40-50 minutes or until a toothpick inserted in the middle comes out fairly clean.
Remove from oven and loaf pan after 5 minutes and let cool on a wire rack.
Smear that butter allllll over it so it's not *too* healthy.
Thanks for all the love, y'all!
xoxo