Meatball mummies that are super spooky (okay...maybe just super fun) to celebrate Halloween are just what you need. So easy thanks to small conveniences!
Scary! The election is coming up -- and I'm terrified. How about you? But that's not why these meatball mummies are here. These meatball mummies are here because of Halloween being right around the corner!
These meatball mummies (meatball pull-apart bread?) are like eating a meatball sub but in puff pastry form, which is even better IMHO. Cheesy goodness rolled into a buttery, flaky crust filled with savory meatballs? I'm in!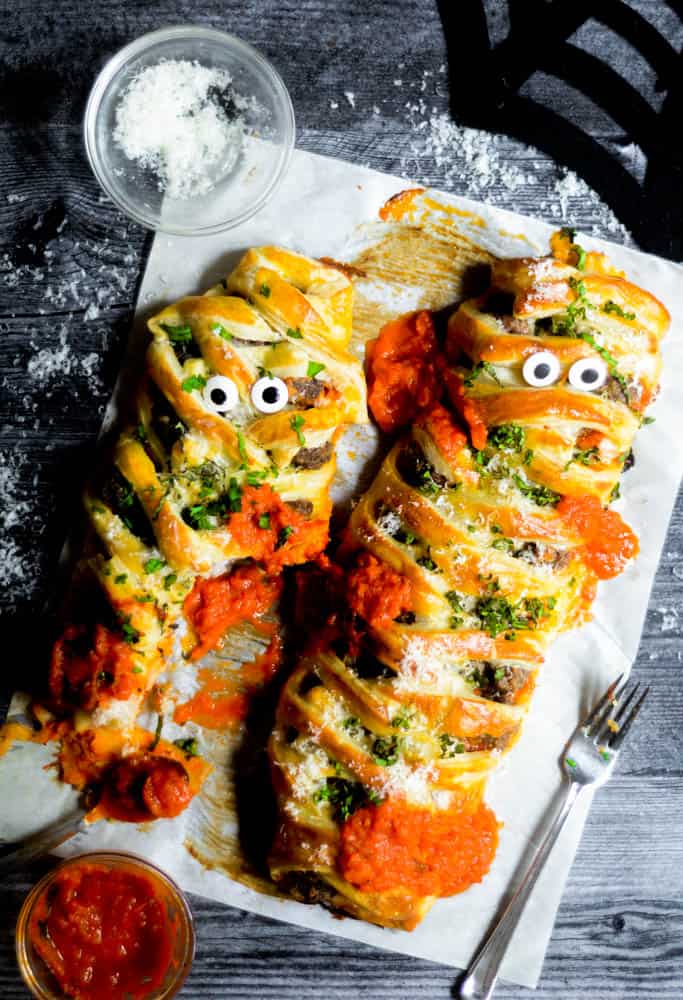 Meatball Mummies: Dead on Arrival
If these don't make you smile, then you're just dead inside. My husband, who doesn't really care for any holiday fun, was not impressed by the fact that these were mummies but he loves these things. He wants to put these mummies in the regular rotation, which hey -- I'm not terribly opposed to. If Christmas in July is a thing, Halloween in March can be a thing, too.
These meatball mummies are super kid-friendly -- they can do all of the parts except for maybe the cutting of the dough -- and let me tell you. Kids love anything with eyes on it.
These meatballs also require about 10 minutes of hands-on time, especially if you make your meatballs in advance or use frozen meatballs.
Nothing's Scarier Than Wasted Time
You can really cut corners on this meatball mummy bread if you want. Here are the shortcuts:
Cheese - Buy pre-shredded cheese. Done and done.
Puff pastry - You could make your own, but ain't nobody got time for that. Buy your puff pastry from the freezer aisle at your local grocery store. The quality of puff pastry varies widely (and so does the price). The more expensive Dufour puff pastry is the best, in my opinion. I don't say more expensive is better with everything, but I think that's the case with puff pastry.
Meatballs - We always have frozen meatballs on hand for the kids, and while I much prefer my homemade meatball recipe used here, mini frozen meatballs are perfect in a pinch. No need to cook those in advance (assuming they're already fully cooked, of course).
Marinara sauce - Maybe this goes without saying, but you should definitely buy a jar.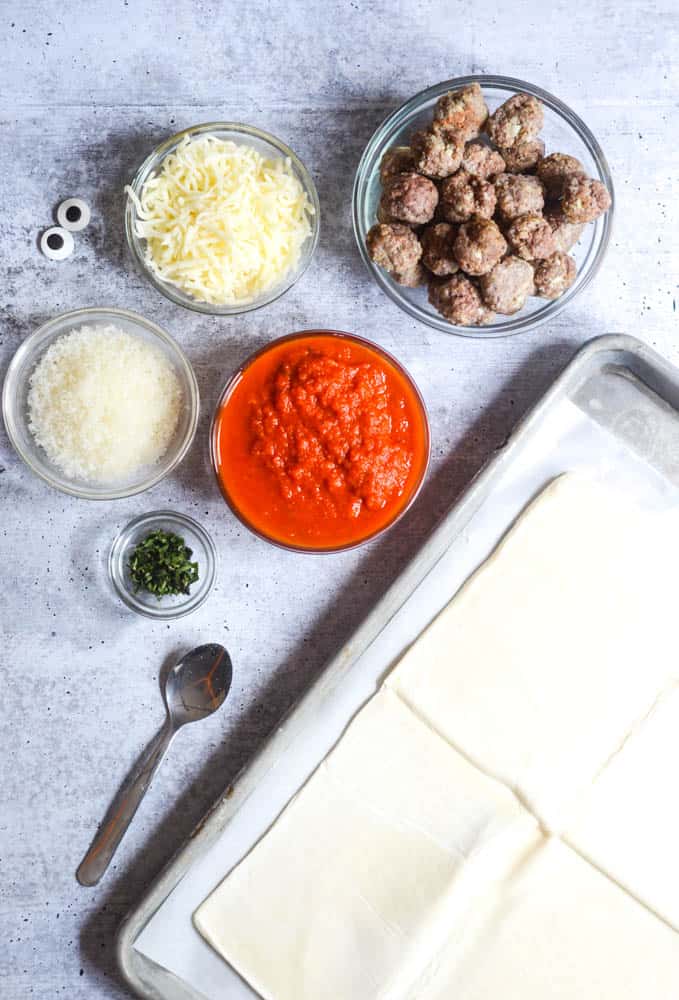 How to Properly Thaw Puff Pastry
The most annoying part of this whole recipe is remembering to take your puff pastry out of the freezer to thaw.
You may read about shortcuts like placing the puff pastry in the microwave for a few seconds, but this is way too risky. The dough can get soggy very quickly.
The fastest way to thaw store-bought puff pastry is to take the puff pastry out of the freezer and let it sit on the counter for about an hour before using. This ensures the puff pastry is easily able to be unfolded but not be too soft that you can't work with it easily. When you can easily unfold it and it doesn't get smooshy in your hands, you'll know it's ready. I wouldn't let it sit out longer than an hour and a half on the counter though.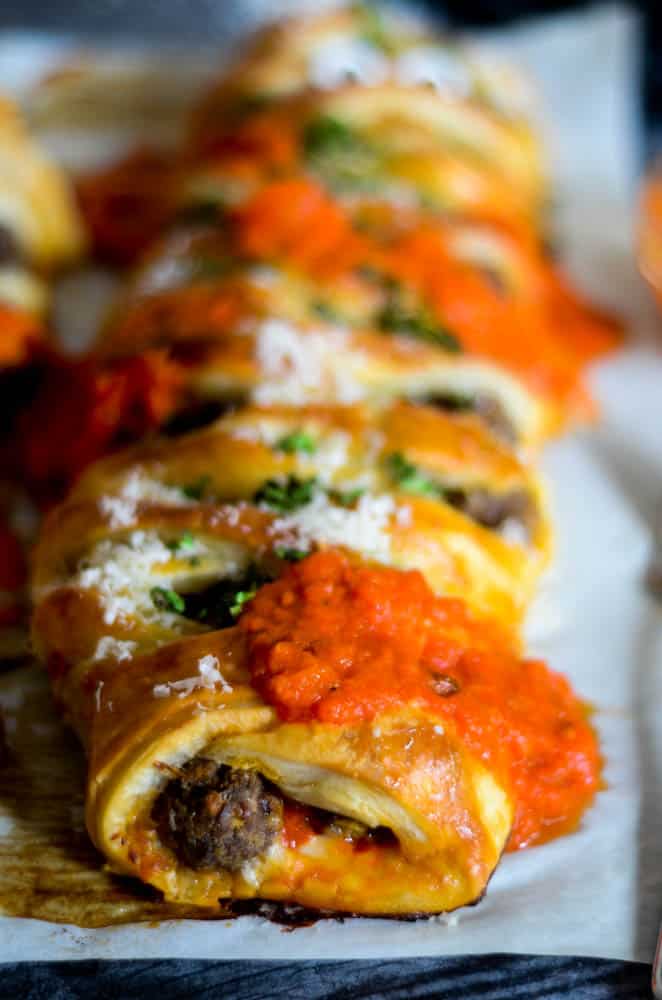 How to Make This Mummy Meatball Sandwich
I've called this thing a million different things -- I'm not quite sure what it is...all I know is it's delicious. It's super simple.
Lay your puff pastry sheets down on a large baking sheet covered with lightly floured parchment paper. Add mozzarella cheese, marinara sauce, meatballs, then parmesan cheese and more mozarella.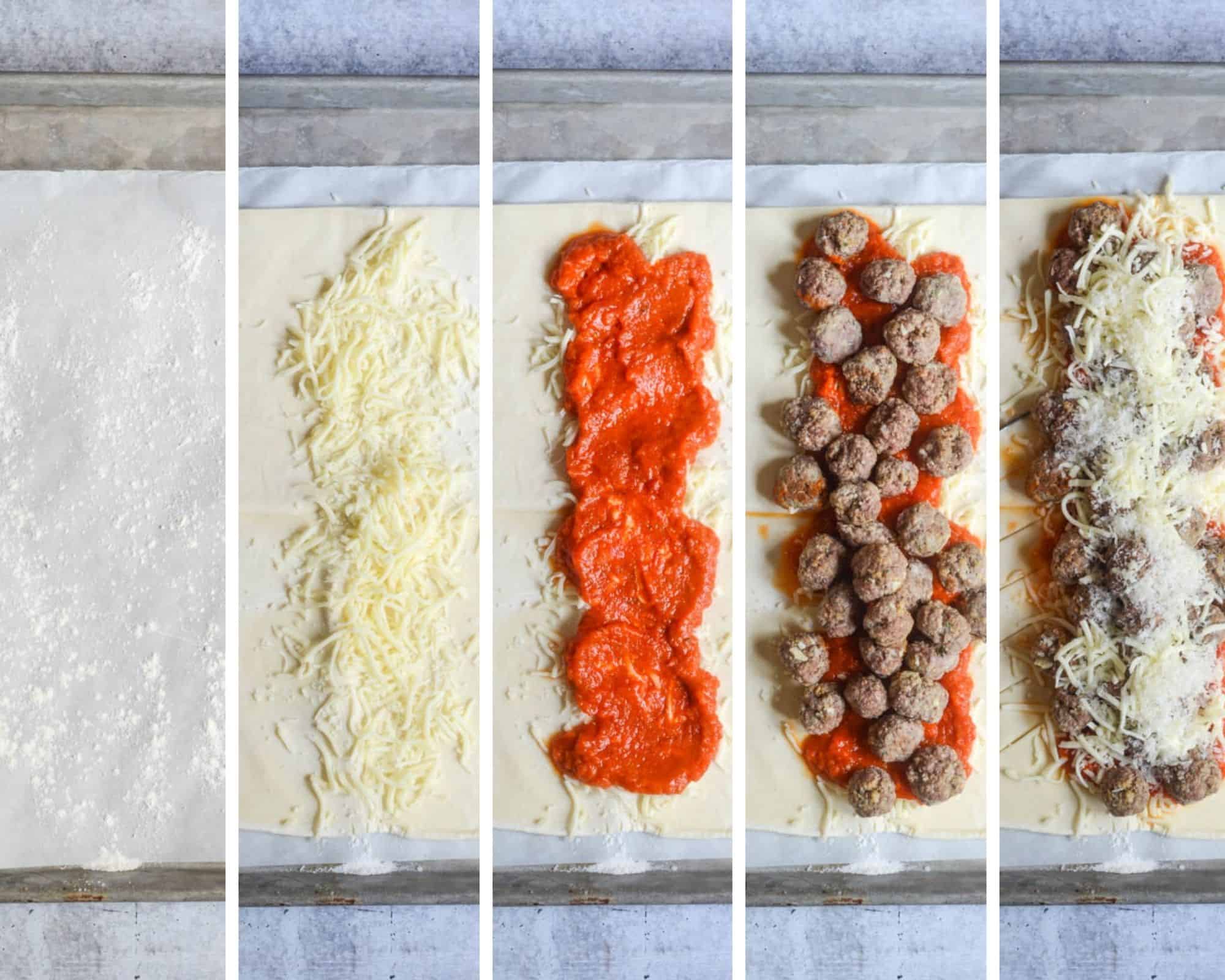 Then cut slits in the pastry with a sharp knife that run diagonally down the mummy. Starting at the top, cross one side over the other side until the mummy is wrapped. Brush with a simple egg wash and bake in a 400˚F oven for 20-22 minutes or until the pastry is nice and brown.
As soon as the bread comes out of the oven, add the candy eyes and garnish with more parmesan cheese, basil, and marinara sauce. Let the meatball mummy bread cool down for about 10 minutes and then enjoy -- because it's definitely best soon after it comes out of the oven.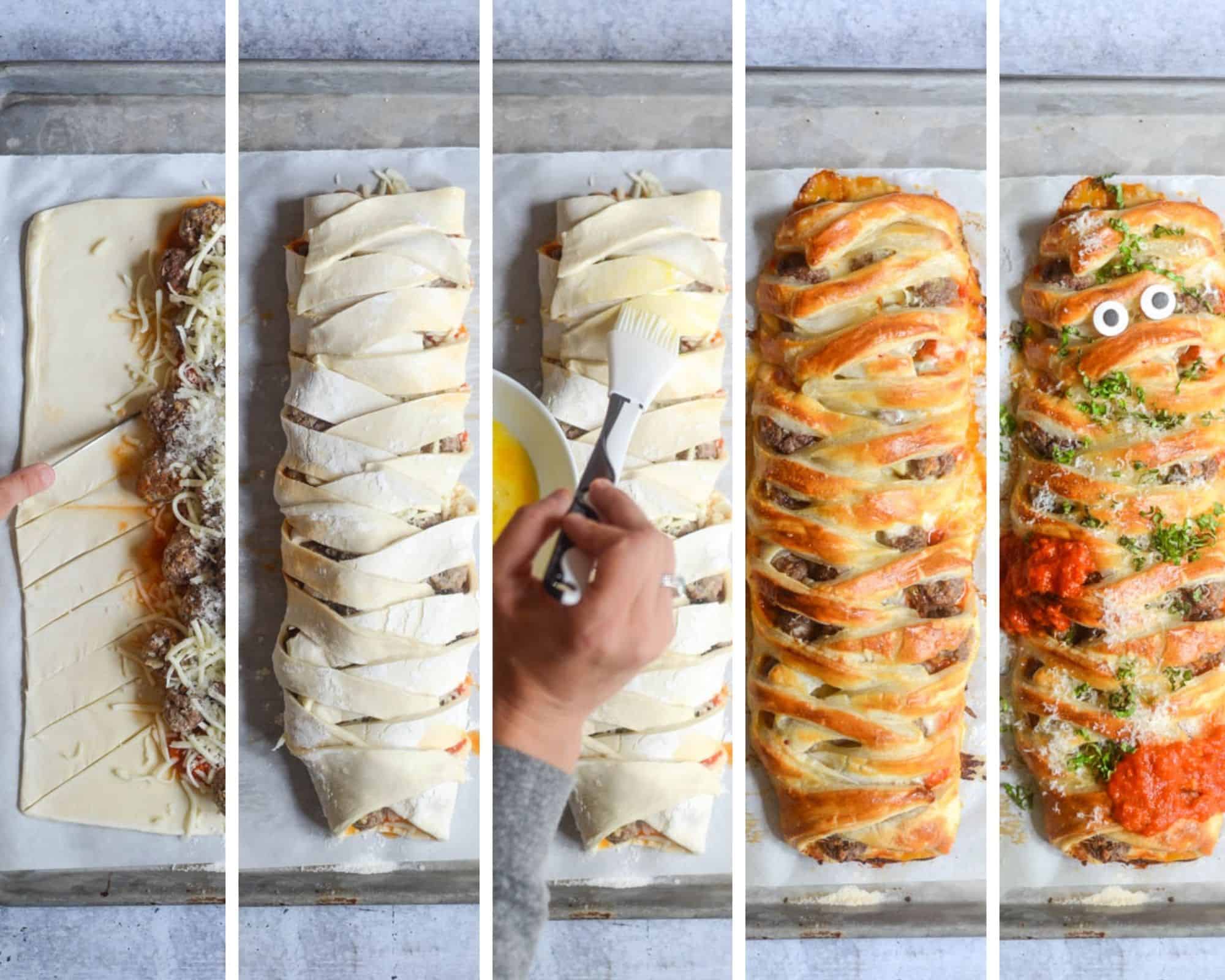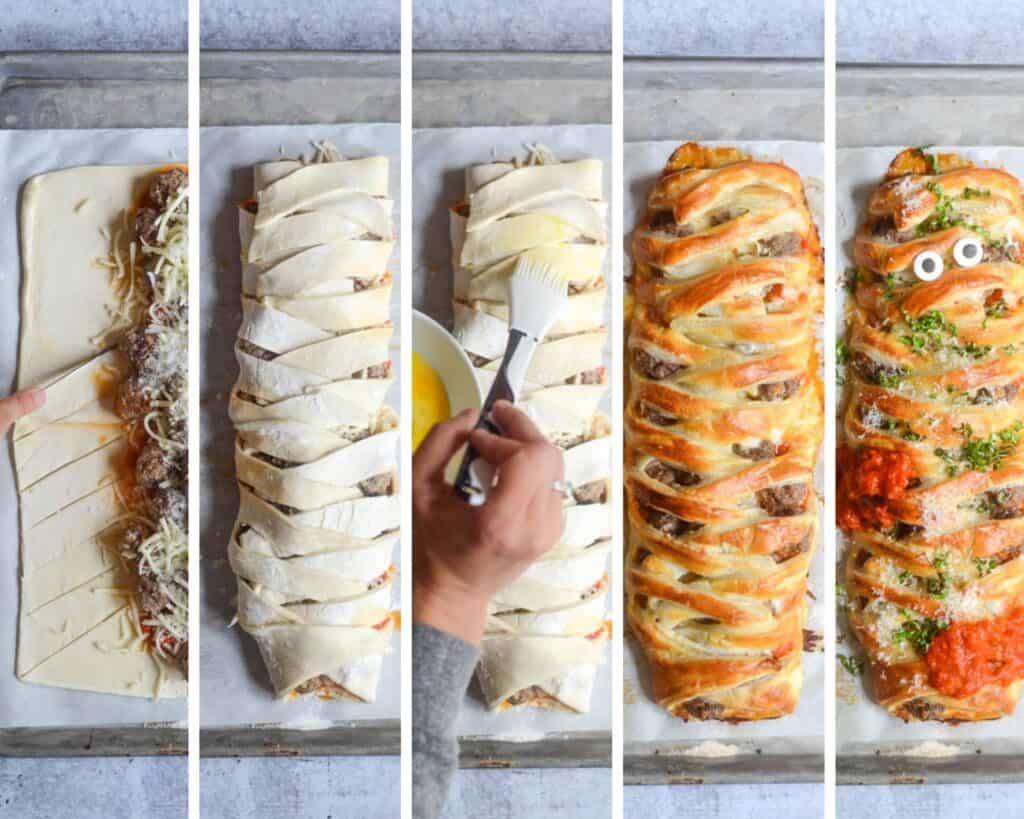 Other Halloween Recipes to Get You Spooked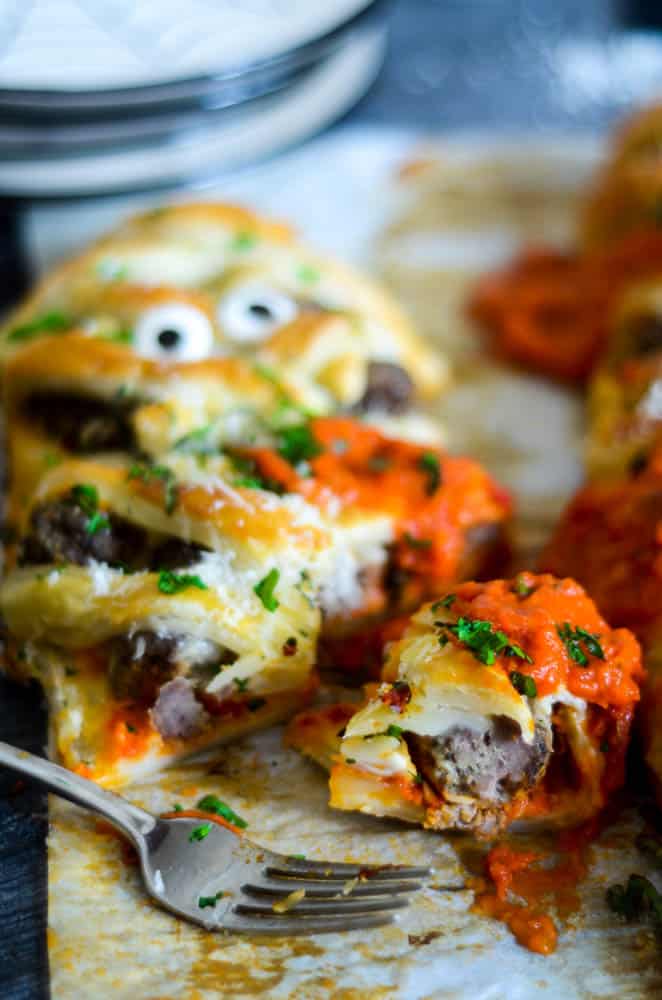 Happy Halloween, y'all!
xox,
kathryn
As always, if you make anything from the blog, be sure to let me know! I love hearing from you in the comments on this post below or find Worn Slap Out on Facebook, Instagram, or Pinterest!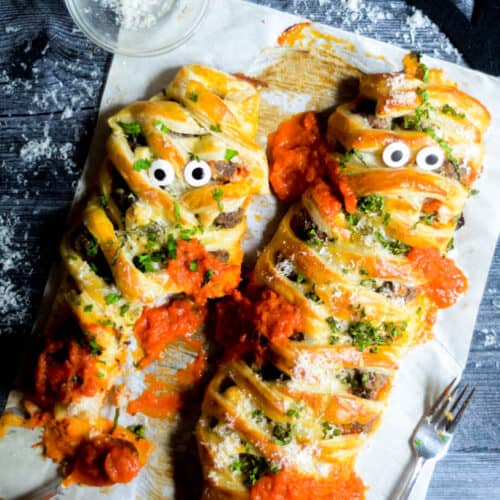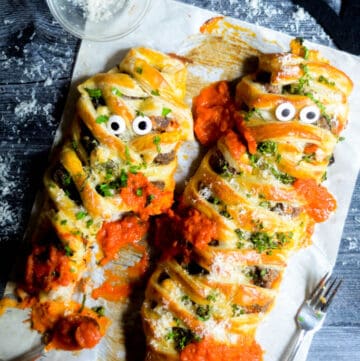 Meatball Mummies with Puff Pastry
Meatball mummies that are super spooky (okay...maybe just super fun) to celebrate are just what you need. So easy thanks to small conveniences!
Print
Pin
Rate
Ingredients
2

sheets

puff pastry,

thawed, (sometimes this means buying two packages depending on brand)

3

cups

mozzarella cheese,

shredded

1

cup

parmesan cheese,

grated, plus additional for serving

2

cups

marinara sauce

plus additional for serving

3

cups

meatballs,

fully cooked

¼

cup

basil,

julienned

1

egg

1

teaspoon

water

4

large candy eyes
Instructions
Preheat oven to 400˚F and line two baking sheets with parchment paper. Sprinkle a little bit of flour on parchment papers then place each sheet of puff pastry on top of flour. Line middle of pastry with shredded mozzarella cheese, top with marinara, cooked meatballs*, then more mozzarella and parmesan cheese. You should leave about 3" clear on either side.

Using a sharp knife, cut slits on the diagonal going all the way down the pastry. Wrap one side over the other until the contents of the bread are wrapped.

In a small bowl, whisk egg and water together. Brush on top of puff pastry until the pastry is covered in egg wash. Bake for 20-22 minutes or until puff pastry is browned. Place candy eyes on top, sprinkle mummies with basil, more parmesan cheese, and adorn with extra marinara. Let cool for a few minutes before cutting!
Notes
*I always make these meatballs -- but about half the size. 
Store meatball mummy leftovers in the refrigerator. To reheat, place back on parchment paper and reheat at 350˚F for 15-20 minutes or until heated through. The mummies are much better when eaten right after coming out of the oven though -- as the dough gets soggy when storing.