Recently, I've been trying out a couple of ideas for an upcoming brunch I'm hosting (like these Asparagus and Ham in a Blanket with Honey Mustard), and thought it'd be fun to do a savory, breakfast galette.  While these galettes aren't a good fit for a brunch with a ton of people who would be up mingling, these are perfect for your family or for a small group gathering -- like overnight guests -- who are seated for a meal.  These definitely require a fork and knife.  The crust is buttery and crisp and filled with mozzarella cheese, mushrooms, spinach, onion, and fresh herbs.  Then you bake the galettes with a fresh egg on top...OMG.  You need this?  I thought so.
We're currently enjoying them on a snow day. Last I saw the news we were slated to get 1-3 inches, but we actually got between 8-10 inches and now have the day off from school. I love being home with these two crazies. We do some crafting, some baking, some cooking, some playing in the snow, and some quiet time (currently) so Mommy can take a little break. It's also nice to have some time to make good breakfasts and lunches. Most breakfasts consist of the kids grabbing a breakfast bar and me grabbing a yogurt on the way out the door. The weekends are really the only time we get a solid breakfast in. To save a ton of time in the morning, you could easily front-load the cooking the night before and just assemble and bake the next morning.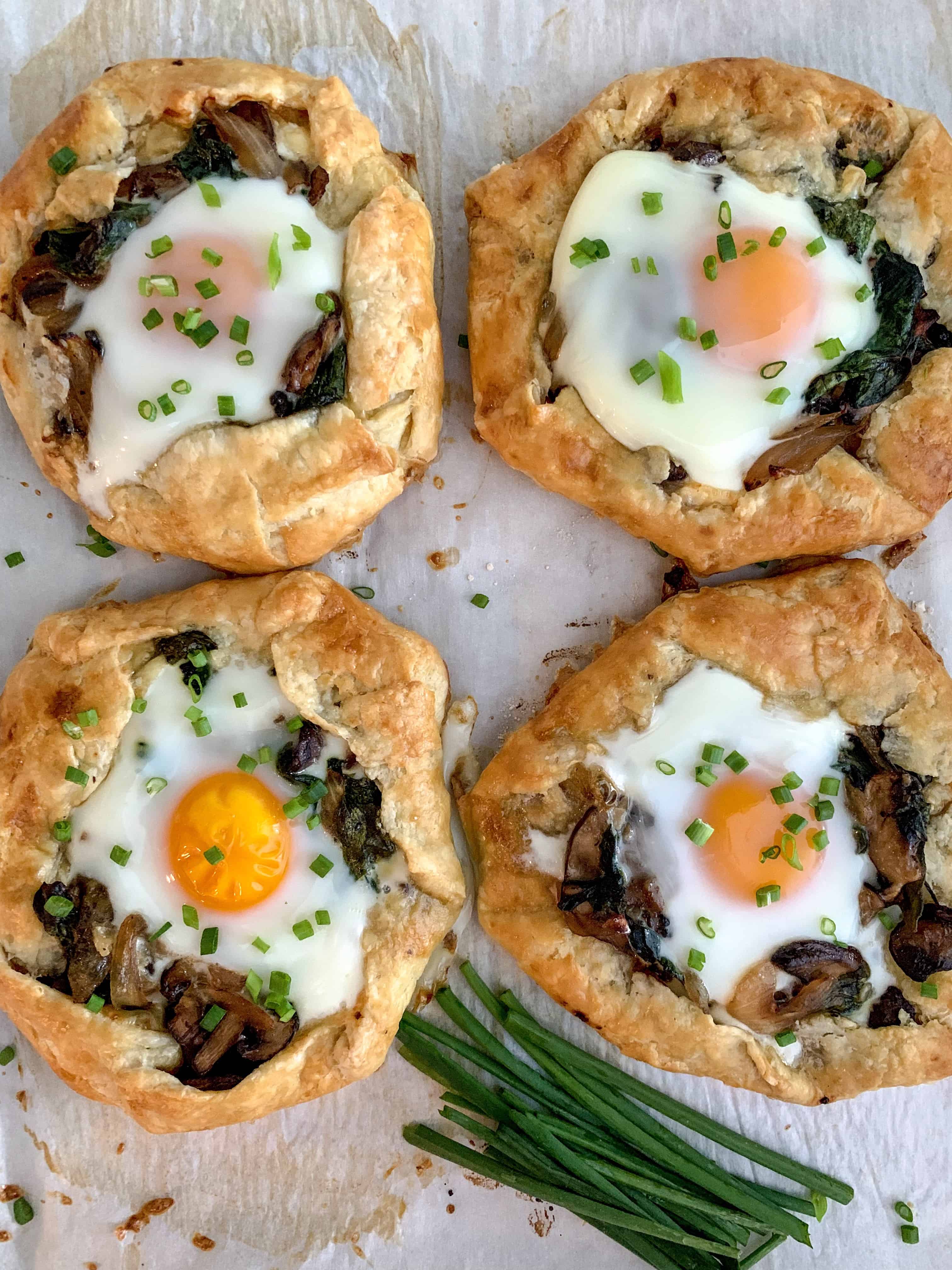 If you've already made galettes (like this one that's a favorite of mine with fresh peaches in the summertime), you now know how easy they are to throw together but look really impressive.  It's a great alternative when you're craving pie but don't want to fuss with pie crust.
Hope you all enjoy the snow!
Active Time: 30 minutes
Total Time: 70 minutes
Yields: 4 individual galettes
Ingredients:
For the crust:
1 ½ cups flour
1 teaspoon salt
½ cup cold butter, cut into small pieces
4-6 Tbs ice cold water
For the filling:
2 tablespoon olive oil
1 medium yellow onion, sliced into small strips
1 garlic clove, minced
1 pack of Bella mushrooms, sliced
1 teaspoon fresh oregano (or thyme...whatever you have in your fridge!)
1 large handful of spinach
1 cup mozzarella cheese, shredded
5 large eggs (1 will be for the egg wash)
chives (optional for garnish)
Directions:
In a food processor, pulse the flour, salt and butter together until combined. Slowly add the ice cold water and pulse until it forms a dough. You may need to add a touch more water if dough seems too dry.
Transfer dough to a bowl and knead a few times until all the pieces form a nice round dough ball. Using a sharp knife or pastry cutter, cut the dough into 4 equal pieces. Roll each piece into a ball, flatten the ball out, then wrap in plastic wrap. Place in the refrigerator for 30 minutes.
Meanwhile, heat up olive oil in large pan over medium heat. Add onion and cook until translucent and soft (about 10-15 minutes). Add garlic and oregano and cook one more minute. Add mushrooms and cook for another 5 minutes until mushrooms become soft. Add spinach and cook until wilted (1-2 minutes). Take pan off the heat and set aside to cool.
Preheat oven to 425 degrees F.
Take dough out of fridge and on a lightly floured surface roll into 4 8-inch circles. They don't need to be pretty!
In the middle of each galette (leaving about a ½" empty edge), add a small handful of mozzarella cheese then the mushroom, onion, and spinach mixture on top of the cheese. Fold edges of dough over filling and pinch to keep closed.
Brush edges of the galette with an egg wash (egg + 1 tablespoon water) with pastry brush. Bake for 20 minutes.
Take galettes out of oven and make well in the center. Crack egg in the middle of each galette*. Bake for another 10 minutes or until eggs are jiggly but not overcooked.
Add salt, pepper, and chives to garnish and enjoy!
*I put the egg in a small bowl to pour into the galette so there are no shells and it stays pretty.
You'll want to eat these immediately when they're nice and hot. I saved the last one for the next day, and while I enjoyed every single bite of it, it did get soggy.
These mushroom, spinach, and onion galettes were inspired by Diane Morissey's galettes. She's amazing.