Citrus is God's way of telling us that not everything about winter completely sucks. These green beans with orange zest and juice really brighten up the side dish and make your kitchen smell delicious while the almond slivers add a nice crunch. This is a healthy weeknight side dish that can be on your table in less than 20 minutes.
Winter? Winter? Are you done with us yet? My husband and I took the kids to the mall last weekend because Connor earned the right to make the rules for an hour. In that hour he decided he wanted macaroons because he saw them on an episode of Butterbean's Cafe and declared them his favorite dessert. So off we went to the mall to get him something I knew he would not like. Spoiler alert: he spit the first bite out.
That's not why I wanted to tell this story though. We're eating lunch at the mall food court. It was unusually quiet, so instead of needing to breathe out of a brown paper bag in between my chews, I had time to look around at the other people, mostly parents, who were enjoying a meal. The guy behind me was speaking baby to his kids as they were eating. The dad in front of me was eating in complete silence with his toddler. The mom to my left was frazzled that her kid wasn't sitting down to eat his meal that she rolled out all the stops to convince him sitting down was a good idea. I felt really bad for them...until I realized that a part of me was in each of them. I may not use "wah wah" to refer to water, but I refer to desserts as brownies (read this post). I'm so tired sometimes that if there is a quiet time, I often take it and savor the silence because I know it won't last long. I try not to bribe but I still find myself doing it frequently, especially when I'm at my wits end. I'm sure they're looking at me like, "Damn, that mom looks tired," too. Solidarity, parents. Solidarity.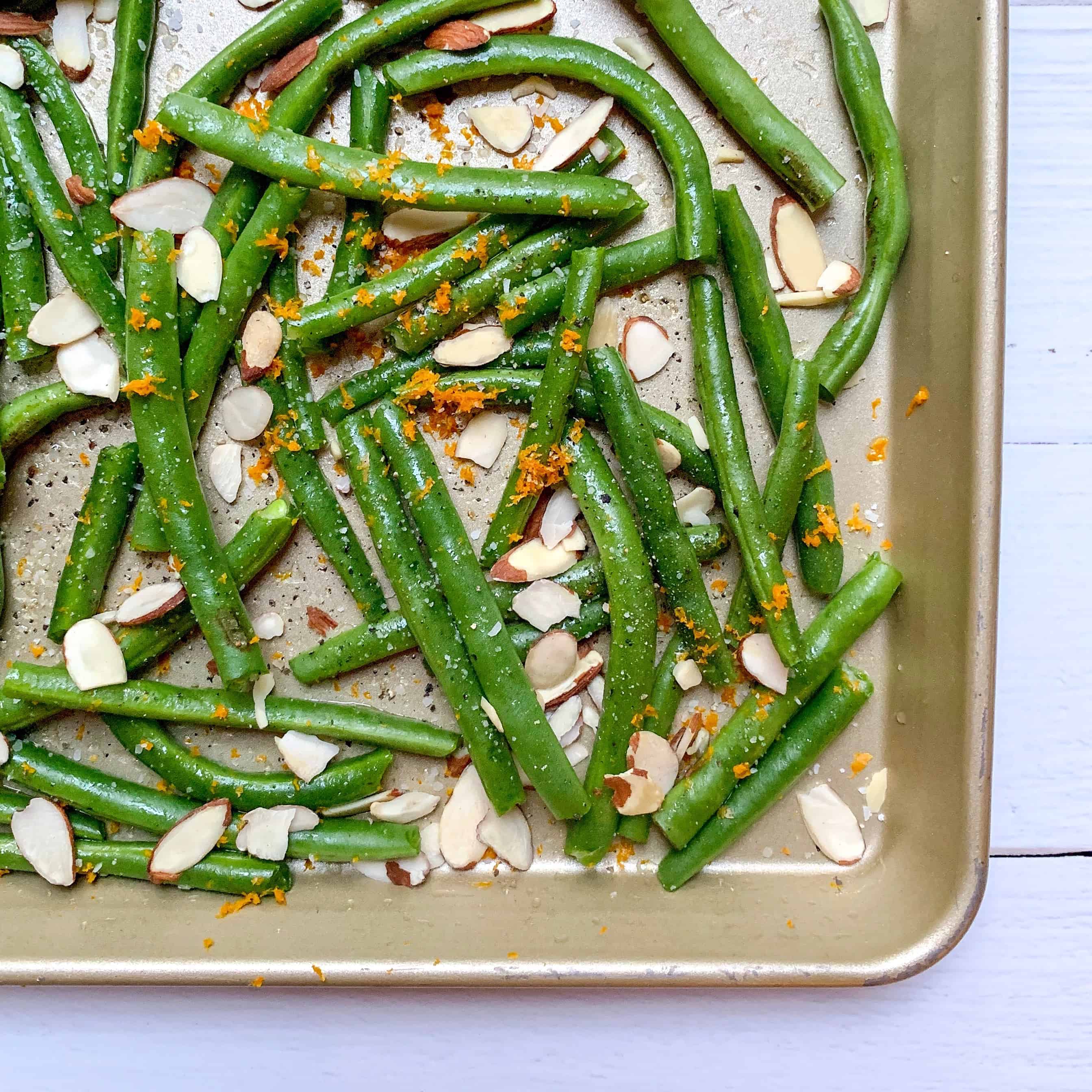 Winter will end. It will. We will be able to play with our kids outdoors instead of holed up in a packed mall food court for entertainment. And one of the great things about winter is citrus. Citrus is at its sweetest and juiciest in the winter, so we've been fighting the winter blues with an uptick in our Vitamin C levels. Hello, clementines, oranges, grapefruits, and tangelos!
These green beans are also a good reminder that green beans exist as a vegetable option (I don't know about you but I always forget about them) and the citrus is a quick and delicious addition. Don't be afraid to up the salt on these, too. Green beans need to be sufficiently salted. One of the best parts of these green beans is that they are great warm or at room temperature. I made these last night at 4 pm and let them sit on the counter until we ate them at 6 pm, and they were delicious.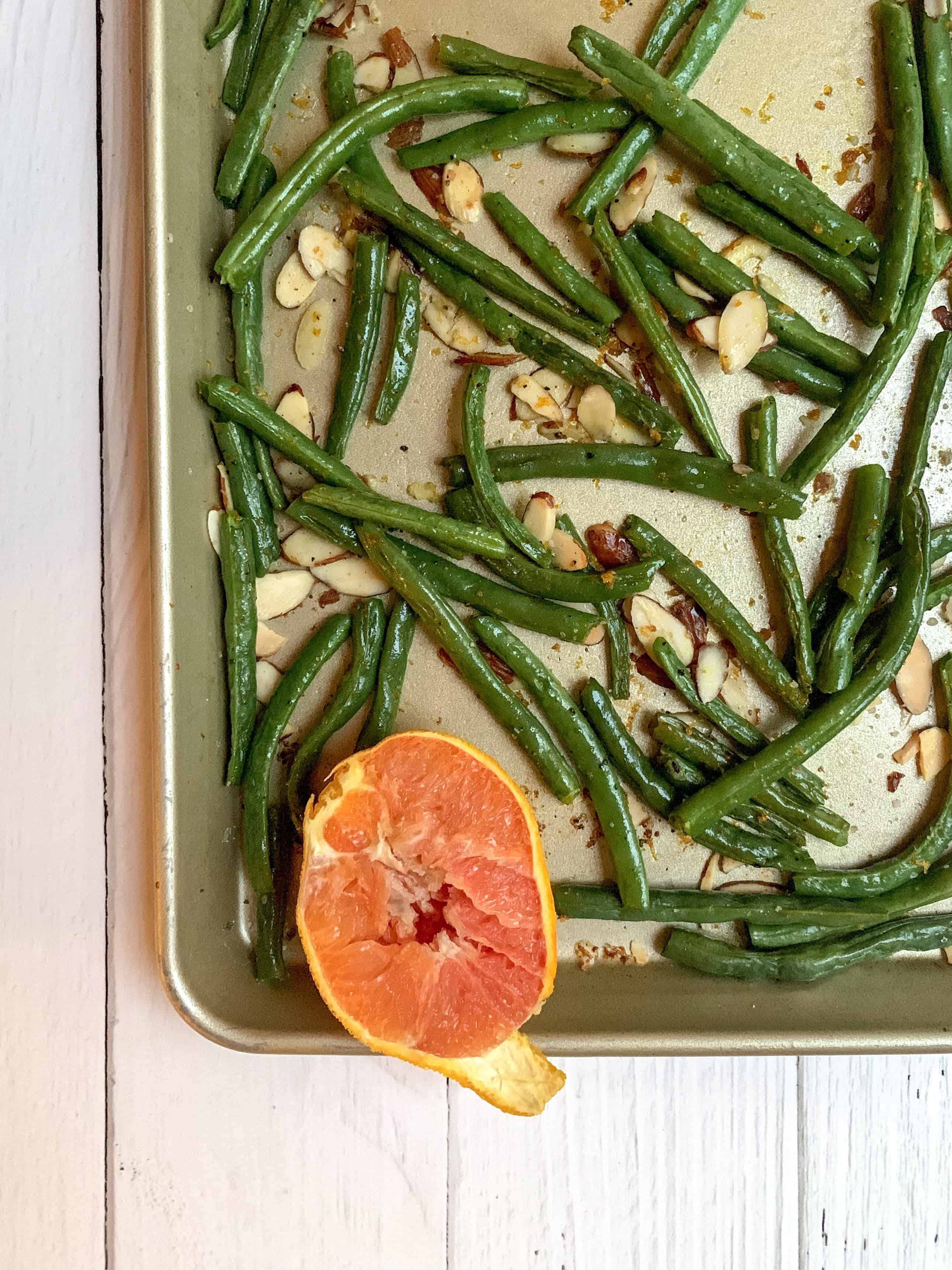 Active Time: 5 minutes
Total Time: 18 minutes
Serves: 4
Ingredients:
1 pound green beans, trimmed
1 tablespoon olive oil
1 orange, zested and squeezed
¼ cup slivered almonds
⅛ teaspoon pepper
½ teaspoon salt
Directions:
Preheat oven to 400 degrees Fahrenheit. Line baking sheet with parchment paper or aluminum foil for no dishes.
Toss green beans with olive oil, orange zest, juice from ½ an orange, almonds, and salt & pepper until fully coated.
Bake for 8 minutes. Take green beans out, squeeze other half of orange on green beans, and put back in the oven for 5 more minutes.
Serve immediately or later. These green beans do really well at room temperature, too.
These green beans do really well at room temperature, too, which is often not the case for sides, so you can definitely make these in advance and let them sit for awhile. They're perfectly delicious at room temperature.
Enjoy!
xox