This Sausage, Asparagus, and Mushroom Quiche can be made ahead and/or adapted to use what you have in your refrigerator right now. It's one of the many comfort foods that doesn't require too much fuss (even with making your own pie crust from scratch).
I've been on a total comfort foods kick lately. So much so that John's like, "Are we ever going to be eating healthy again?" My answer: "Not any time soon." But for real though. Give me all the mashed potatoes, lasagna, macaroni and cheese you can give me. There's no better comfort food than these foods that are cozy and filling like this quiche.
I love that this quiche recipe can be easily adapted for whatever you have in your refrigerator OR make a quiche to your liking and use the leftover vegetables for something else, which is what we did. This quiche can't handle a whole bundle of asparagus or a whole pack of mushrooms, so I save the remaining vegetables and made a simple shakshuka the next night. Two meals, one-time effort.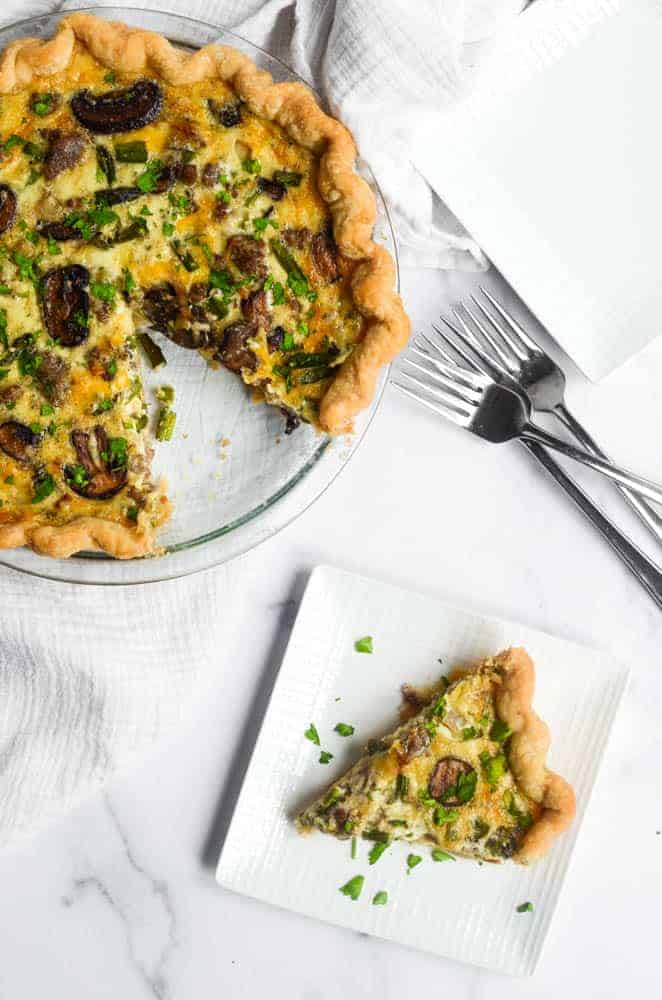 Pie Crust from Scratch
If you find yourself having extra time on your hands, don't hesitate to make your pie crust from scratch. I've been using this pie crust a lot lately, but you could just as easily skip this step and use a store bought pie crust, too. I won't tell anyone.
The Magic Ratios for Any Quiche
This quiche uses onions, mushrooms, and asparagus and includes sausage, but you can really use whatever you have laying around as long as you follow some general ratios when assembling your quiche:
1 cup cheese
4 eggs
2 ½ cups of "toppings" (this includes your meat and your vegetables)
¾ cup whole milk
¼ cup heavy cream
If you're using greenery, like spinach or arugula, you can include much more in the quiche because the leaves shrink down to nothing.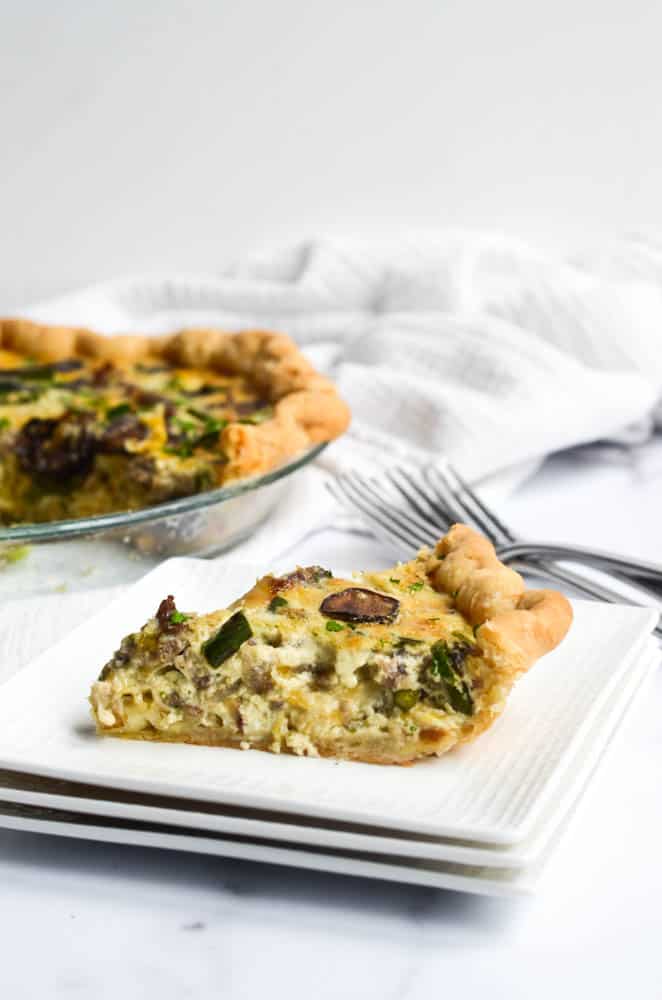 Ingredients and Measurements for this Mushroom Quiche
These are the exact measurements of what I used for this mushroom quiche though:
½ cup chopped asparagus,
1 cup sliced mushrooms,
¼ cup onions, and
¾ cup of sausage
That's 2 ½ cups total of the "toppings" AKA the good stuff. If you love sausage and want that to be the dominant flavor, by all means add more sausage and lower the amount of the asparagus, for example. Other ingredients include:
eggs
milk
cheese (I used a combination between mozzarella and cheddar because that's what I had in my fridge)
heavy cream
dry mustard for a little extra flavor
salt & pepper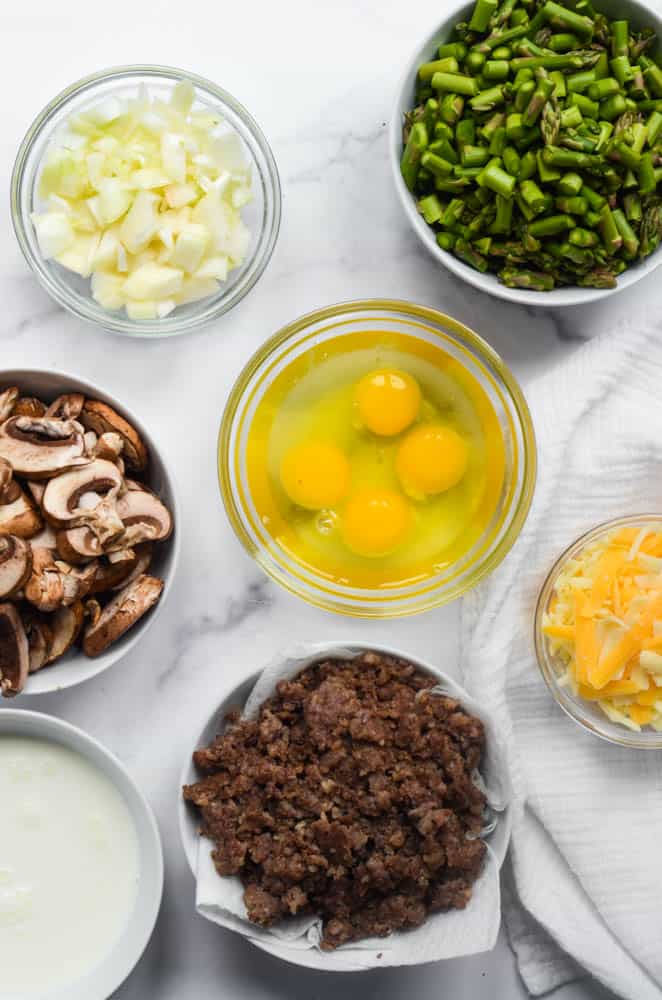 How to Make A Delicious Quiche
Pre-bake your pie shell in a 350˚ F oven for 10 minutes until just starting to turn brown.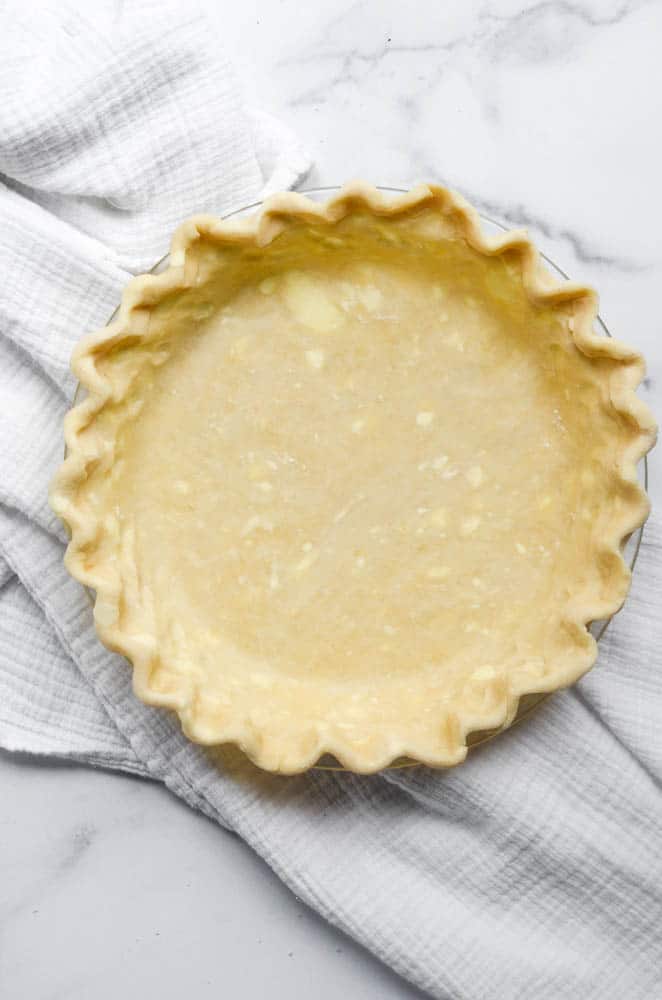 Cook your sausage over medium-high heat until it's nice and browned. Transfer the sausage to a paper towel-lined plate so the paper towel can absorb some of the grease.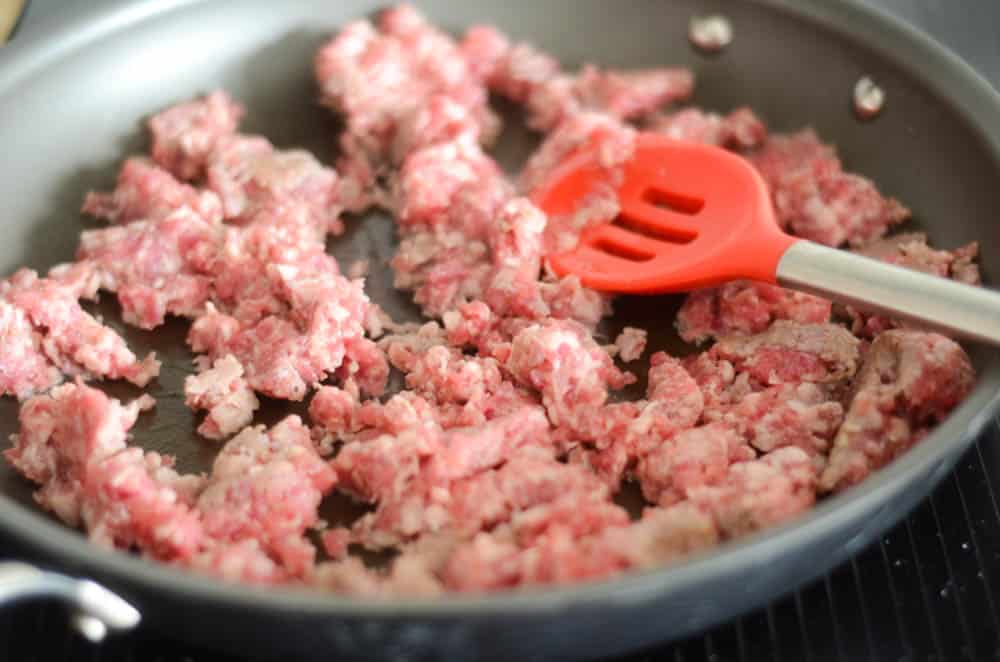 In the same pan you just cooked the sausage, sautee your onions until translucent, then add your asparagus and mushrooms. Cook until tender.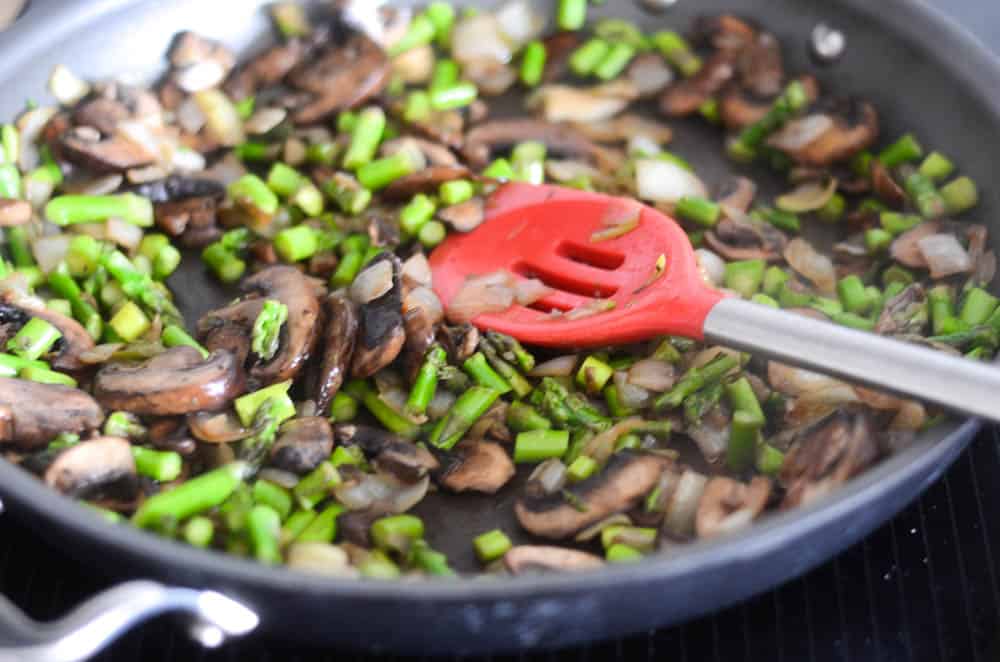 Last step: all of the ingredients go into a large bowl (this is where it's important to measure out your "toppings" because you'll likely have some leftover vegetables you won't be able to squeeze into your quiche). Pour ingredients into your pre-baked pie shell making sure to spread the toppings evenly around and stick that bad boy in the oven for about 45 minutes or until the middle is set.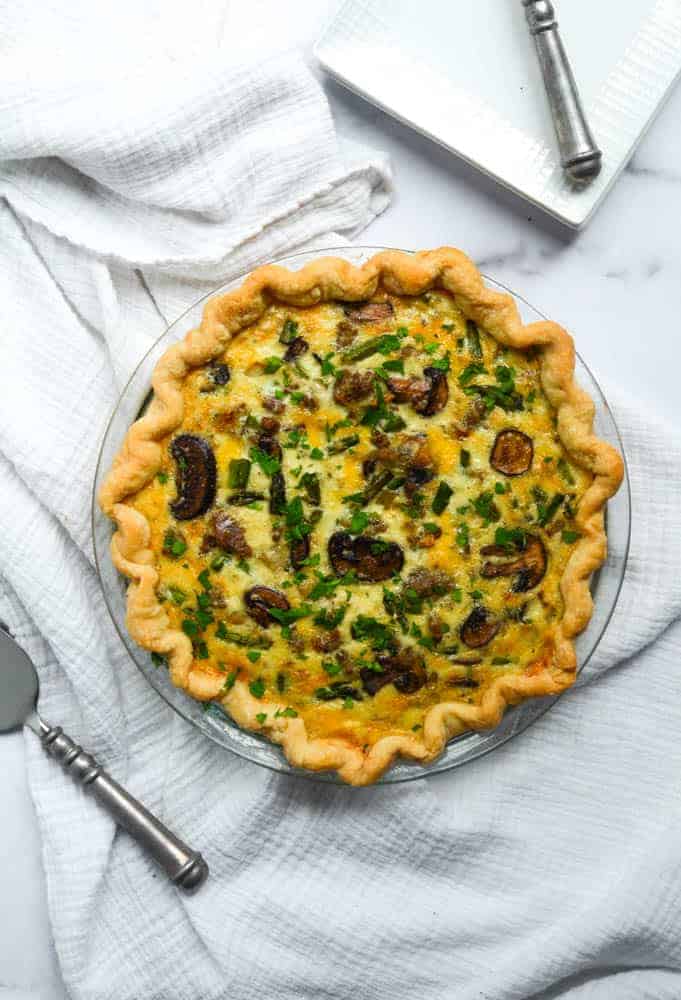 Other Favorite Quiche Combos
Whether you're using leftovers in the refrigerator to make your quiche or you're buying ingredients to make yours, there are so many different flavor combinations I'm partial to. Here are some of my favorites:
Sun dried tomatoes, arugula, and goat cheese
Caramelized onion and bacon with gruyere cheese
Ham, broccoli and cheddar
Spinach and garlic shrimp
Classic Quiche Lorraine (warning: this one has LOTS of cream in it!)
Love and comfort!
xox
kathryn
As always, if you make anything from the blog, be sure to let me know! I love hearing from you in the comments on this post below or find Worn Slap Out on Facebook, Instagram, or Pinterest!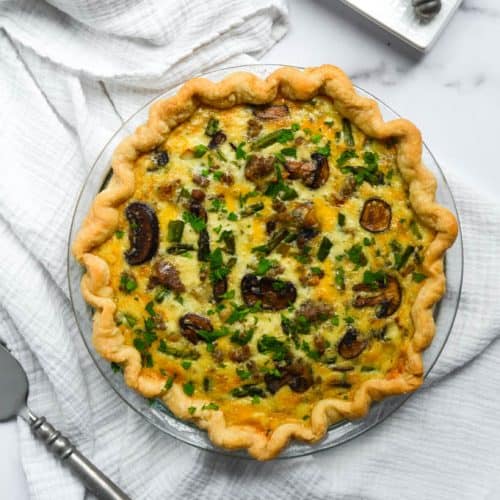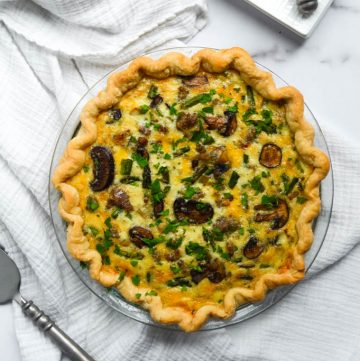 Sausage, Asparagus, and Mushroom Quiche
This sausage, asparagus, and mushroom quiche is so deliciously good. It's one of the many comfort foods I've been making lately -- and doesn't require a lot of fuss.
Print
Pin
Rate
Ingredients
1

pre-made pie crust (either homemade or store bought)

1

package

sausage*

½

package

sliced mushrooms*

½

onion*, chopped

½

cup

asparagus*, chopped in ½" pieces

4

eggs, lightly beaten

1

cup

cheese, whatever you have on hand but I used mozzarella and cheddar

¾

cup

whole milk

¼

cup

heavy cream

1

teaspoon

dry mustard

½

teaspoon

salt

¼

teaspoon

pepper
Instructions
Preheat oven to 350 degrees F. Pre-bake pie crust for 10 minutes until just starting to brown. Take out and set aside.

Meanwhile, make the quiche by cooking sausage on medium-high heat until browned and cooked through. Remove to paper towel-lined plate to absorb the grease. In the same pan, saute your onion until translucent, about 5 minutes. Add asparagus and mushrooms and cook until soft and tender.

Add the vegetables and sausage to a large bowl (you'll want to measure and make sure you're not adding more than 2 ½ cups of the toppings) along with all of the other ingredients. Pour into pre-baked pie shell and cook for 45-50 minutes or until middle is set.
Notes
*I always cook and sautee the whole package of sausage, mushrooms, and bundle of asparagus then measure out what I need for the quiche.  I save the leftover sausage and vegetables for shatshuka the next night.
Quiche stores well in the refrigerator for 3-4 days.  
You can also freeze the fully quiche until ready to eat.  Quiche will stay fresh for up to 2 months in the freezer.  Take quiche out of the freezer the night before you want to eat it.  Warm in the oven for 30-35 minutes at 350.