This salmon is slow roasted so it's perfectly cooked then drizzled with a yogurt tahini dressing to make this such a healthy weeknight dinner.
Happy April, y'all!  I write to y'all (as usual) from a very dark room that's only illuminated by a night light and a humidifier light.  The newly 5 year old boy is just about to fall asleep, so I have about 5 more minutes to watch this kiddo fall into (hopefully) a deep slumber.  I've really fought this whole "can't my child fall asleep on his own" thing for quite awhile, but now I'm really learning to embrace this quiet, dark space to think and write.  In fact, I kinda even look forward to it (gasp!).  Had it not been for my child needing me in his room until he fell asleep, there would be no blog.  And can I just thank you for reading these random blog posts?  It's been about one whole year of me turning this time sitting in this rocking chair into a food blog...and I have you to thank (and my son).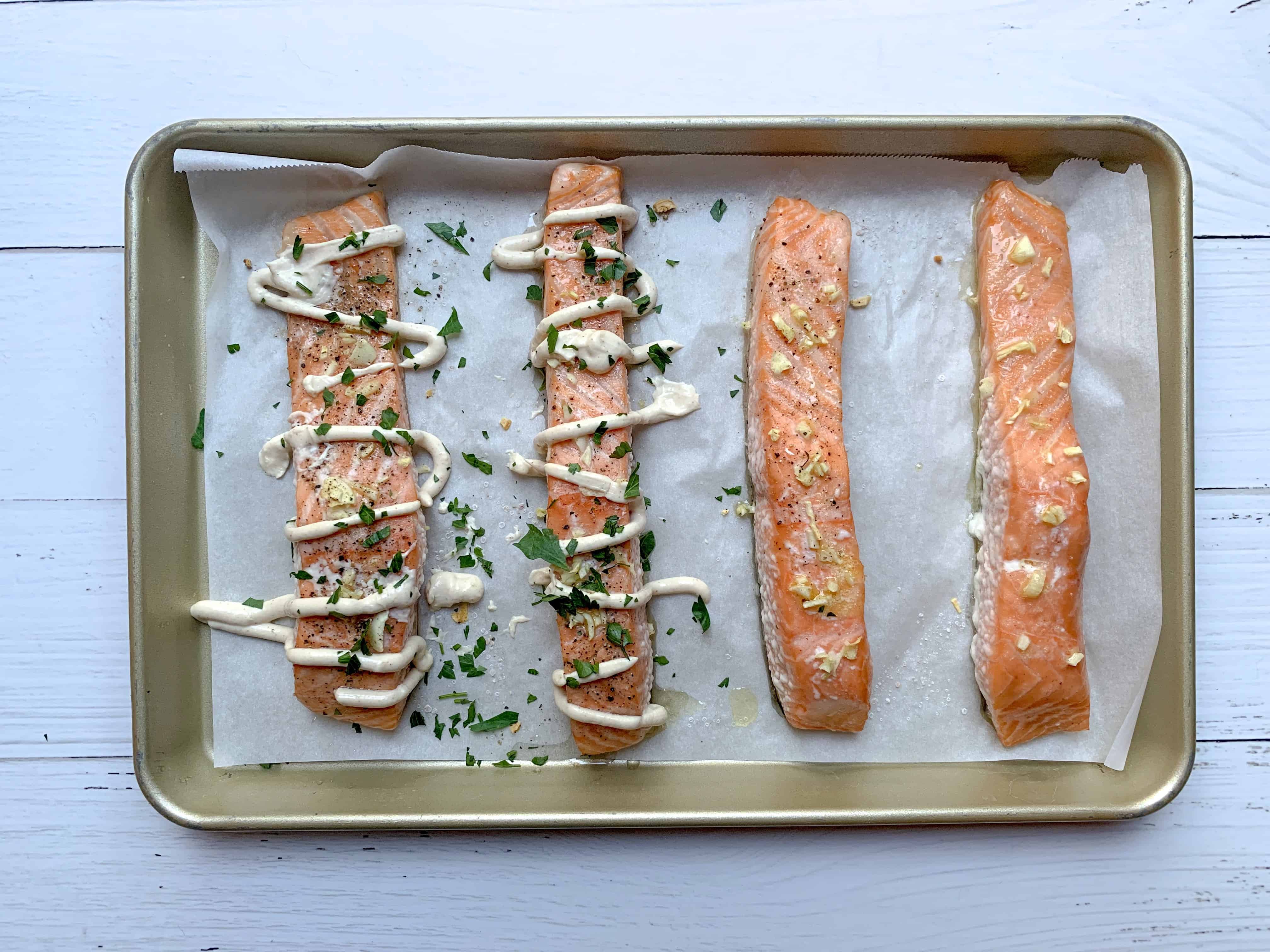 Now, let's talk about salmon.
Favorite ways to prepare salmon
I have two favorite ways:
Searing salmon and then roasting like I do for this salmon and pea pesto.  It's fast and delicious.  The salmon has a nice crispy top.  This is the way I usually do salmon.
Slow roasting salmon (like this salmon with yogurt tahini dressing) is perfect when you don't want to think about what you're doing and need to go on auto-pilot.  You roast low and slow - 30 minutes at 275 degrees.   You can't overcook your salmon like you can with searing it.  It's just foolproof.  And it's melt in your mouth buttery.  I learned this technique from Bon Appetit.  The only drawback is that your oven is on such a low heat you can't really roast other vegetables at the same time.  Hellooooo, leftovers or vegetables or sides made on the stove top!
I just cover the salmon with a tiny bit of olive oil, salt, pepper, and chopped garlic.  The yogurt tahini sauce can be made while your fish roasts.  The yogurt tahini dressing becomes the icing on the cake (Mmmm....chocolate cake!).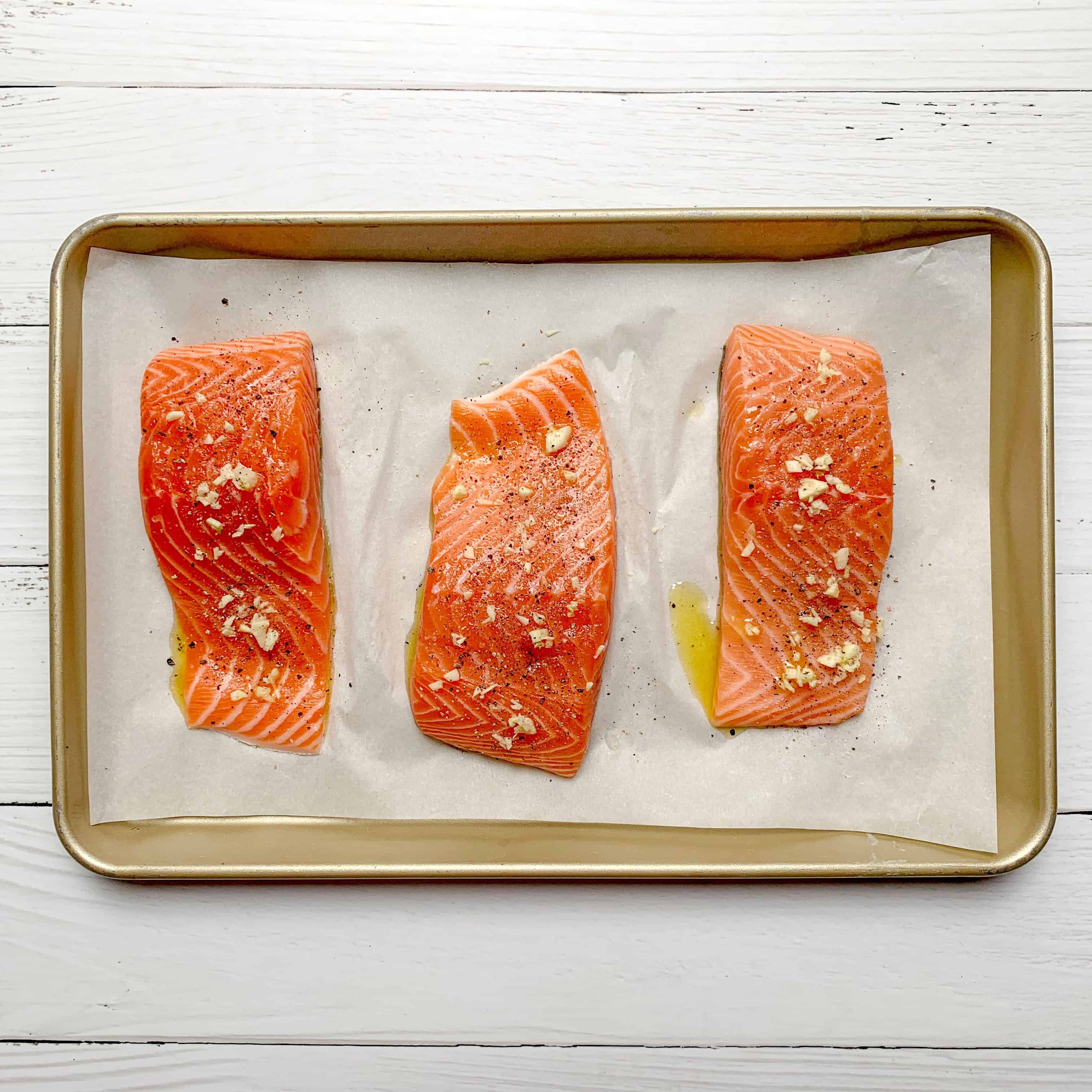 This yogurt tahini sauce is amazing
Speaking of yogurt tahini sauce...are you on team tahini yet?  I feel like I'm about 10 years behind the tahini train, but now I'm a full, card-carrying member of the I Love Tahini club.  Tahini is made from toasted ground sesame seeds, and you can put tahini in so many things-- from chocolate chip cookies, dressings, hummus, of course, it's very versatile.  It gives your food a slightly nutty flavor and smooth consistency.  I recommend buying a bottle.  I prefer the kind I get at Whole Foods because it comes in a bottle that's much easier to shake when the liquids separate.  At least at the Rockville Whole Foods, it's hidden with the peanut butter at the very bottom of the shelf.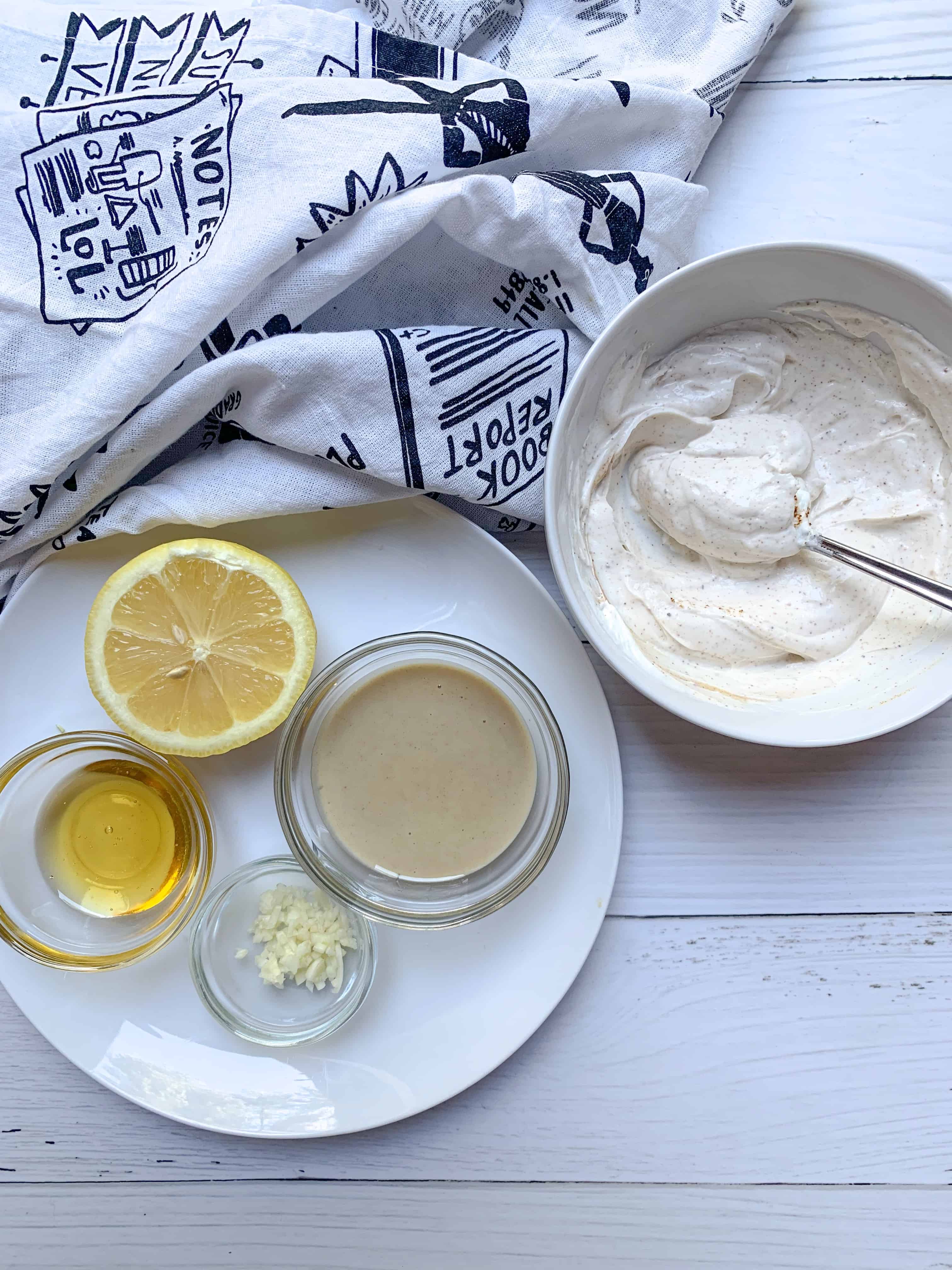 How to make the yogurt tahini sauce
To make the dressing, simply combine all of the ingredients: yogurt, salt pepper, paprika, garlic, honey, and tahini. Let it sit while your salmon cooks. I think it's best at or just above room temperature.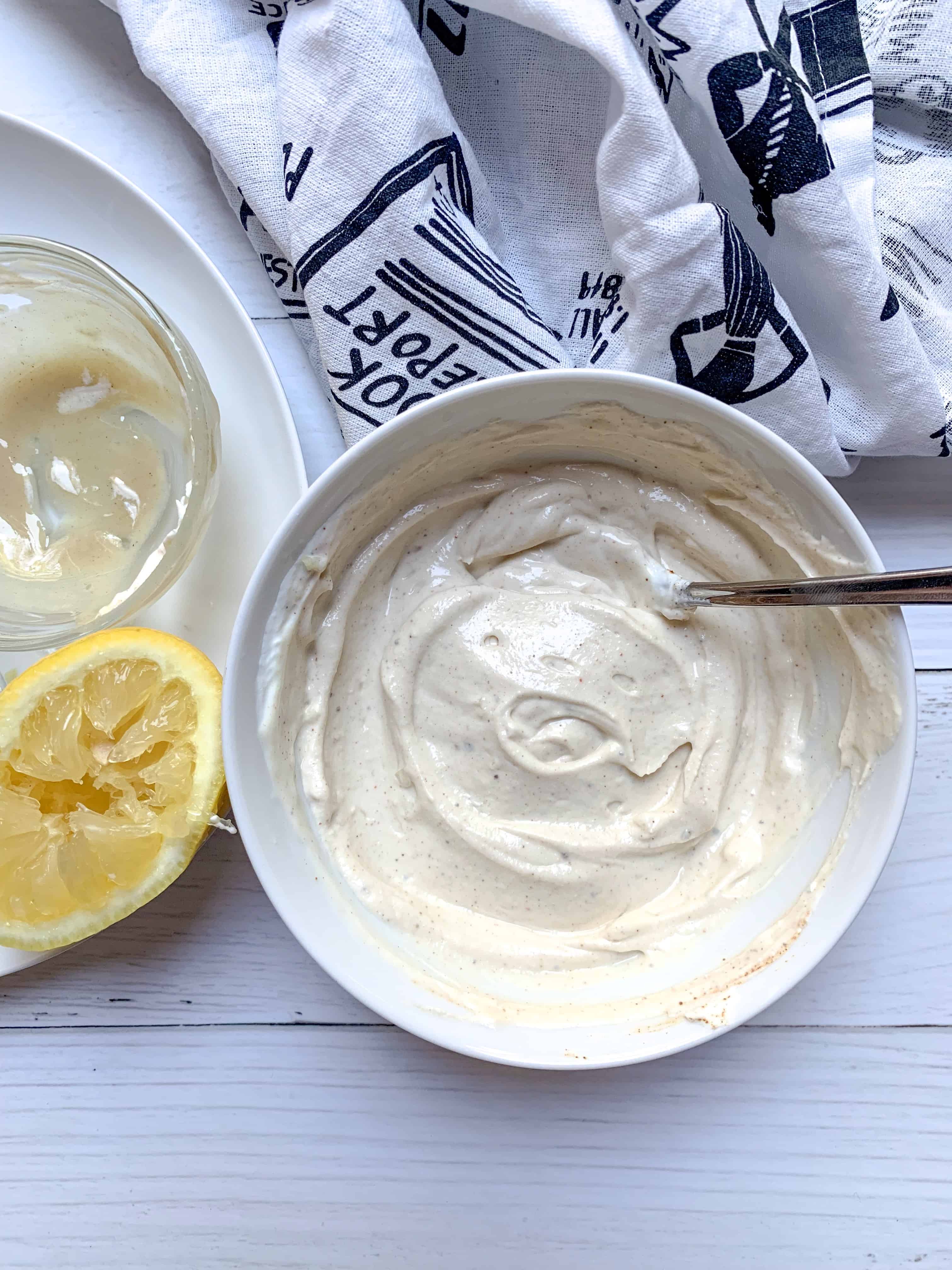 When I made this meal last week for some friends, I made this homemade hummus, pita bread, and couscous.  It was perfect.  This time, I served it with a mushroom tart and a goat cheese and beet salad.  I don't recommend the mushroom tart (again, because of the oven situation) for this meal, but a side salad and some couscous?  That's the way to go.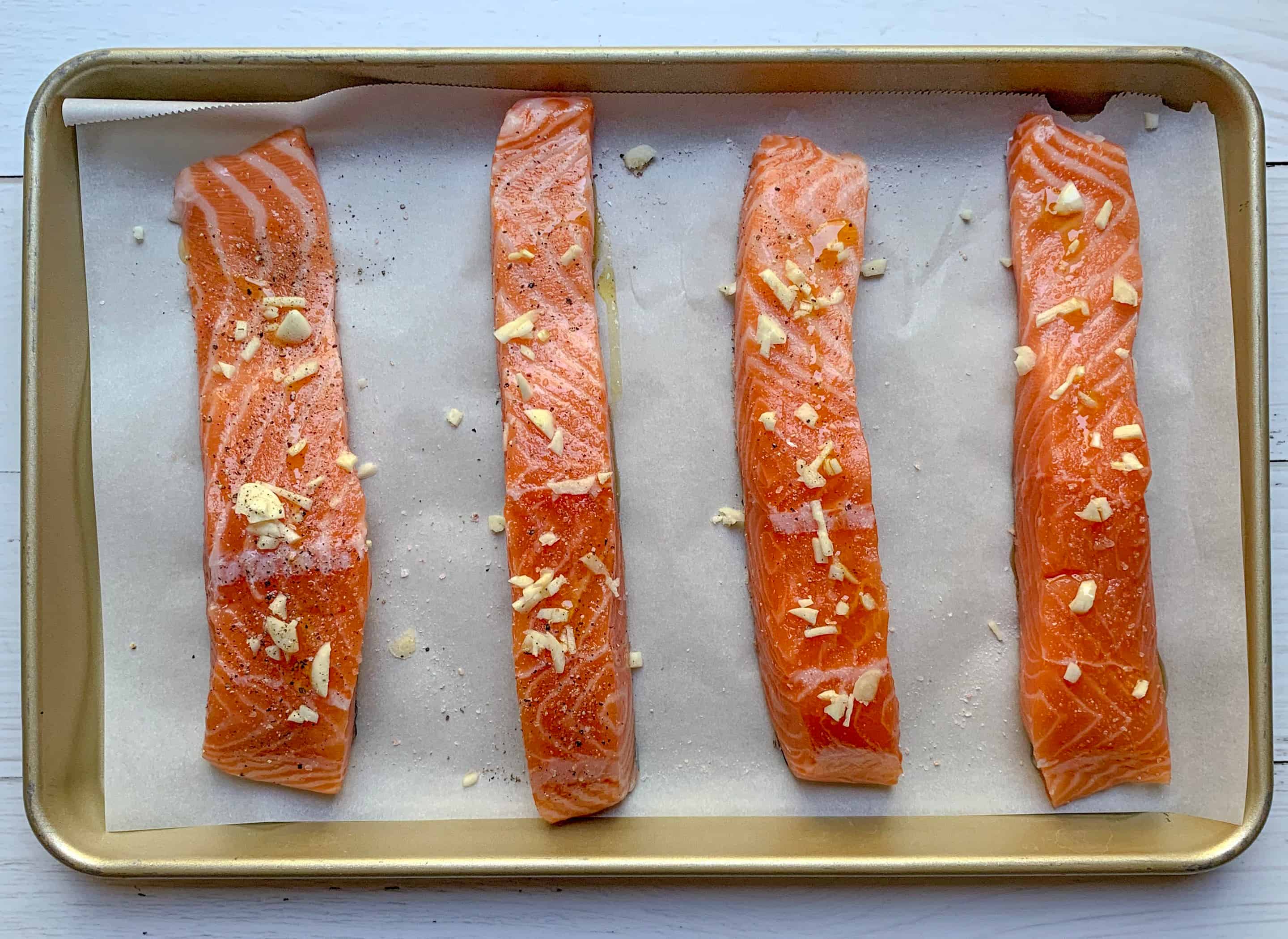 xox
kathryn
As always, if you make anything from the blog, be sure to let me know! I love hearing from you in the comments on this post below or find Worn Slap Out on Facebook, Instagram, or Pinterest!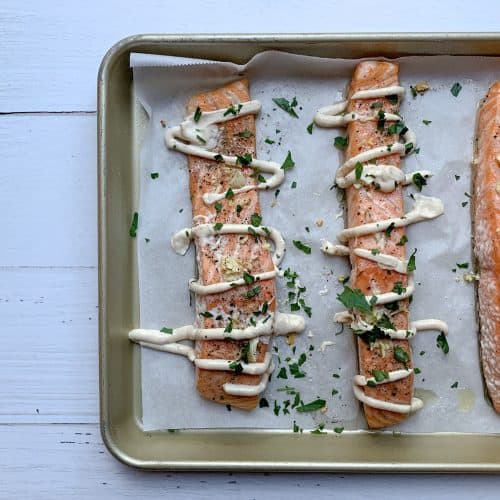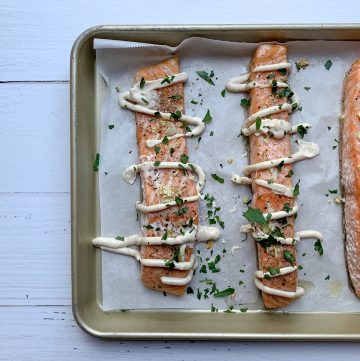 Slow Roasted Salmon with Yogurt Tahini Dressing
This salmon is slow roasted in the oven so it requires minimal hands-on time. And don't skip the yogurt tahini dressing -- it's out of this world delicious!
Print
Pin
Rate
Ingredients
For the salmon:
1.5-2

pounds

salmon

1

tablespoon

olive oil

2

cloves

garlic, chopped

½

teaspoon

salt

¼

teaspoon

pepper
For the yogurt tahini dressing:
½

cup

Greek yogurt

1

clove

garlic, minced

1

tablespoon

honey

2

tablespoon

tahini

¼

teaspoon

paprika

3

tablespoon

fresh lemon juice (from about 1-1 ½ lemons)

salt and pepper, to taste

fresh parsley, chopped walnuts, almond slivers, or pomegranates

optional, for garnish
Instructions
Preheat oven to 275 degrees Fahrenheit.  Line a baking sheet with parchment paper.

Place salmon skin-side down on parchment paper.  Brush salmon with olive oil, salt, and pepper on the tops.  Sprinkle 2 cloves of chopped garlic over fillets. Roast for 30 minutes.

Meanwhile, make the yogurt sauce by combining all ingredients in a bowl and stir.  Set aside while you wait for salmon to come out.  (I think it's best slightly above room temperature)