That's right. I typed that. I have a Southern-inspired blog AND I'M NOT USING MAYONNAISE IN MY TOMATO PIE. Slap me silly and take away my Southern card. This is happening.
If you know me, you know I don't like mayonnaise. I did have a ham and Swiss sandwich with lettuce, tomato and mayo from Le Vie de France today, but that's absolutely the only exception. Oh, and John's crab cakes. Two exceptions. I guess this makes me still able to carry around my Southern card, right? My taste for mayonnaise is bizarre. I can only eat it in very specific contexts and in near microscopic amounts.
Let's rejoice. There's no mayonnaise to worry about here.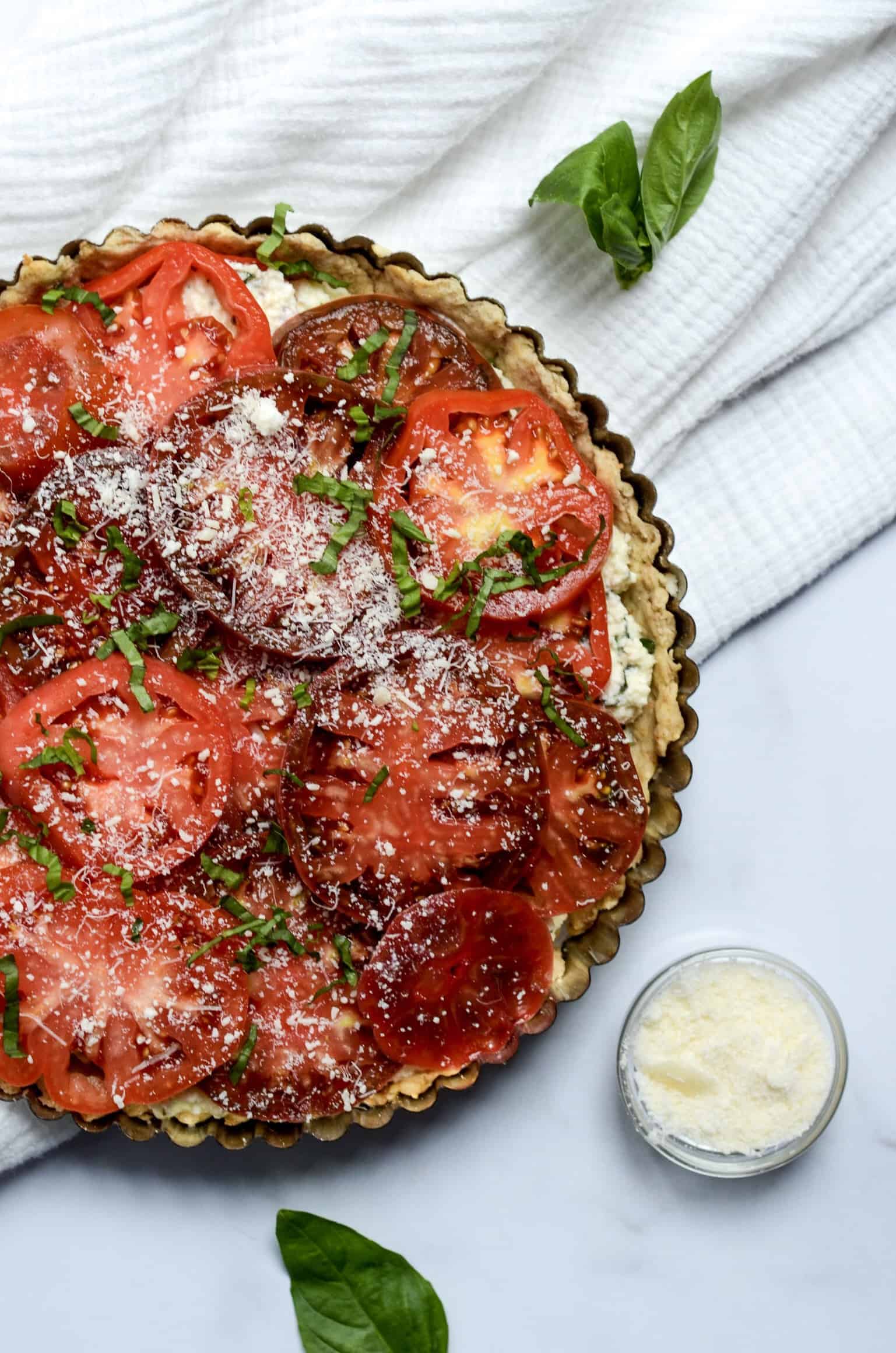 Instead of mayonnaise, there's ricotta.
If you take a quick survey of some of the most popular Southern tomato pie recipes (Paula Dean's, Southern Living's, or House of Nash Eats), they all have between ½ cup and 1 cup of mayonnaise. If you love mayonnaise, you should definitely give these a go. They truly look delicious. If you don't or want to try something new, say hello to ricotta. It's the secret to achieving the creaminess that mayonnaise gives you without...well, having to taste mayonnaise. Ricotta is also a healthier alternative and adds more of a complex flavor to your heirloom tomatoes, and it marries well with the parmesan, basil, salt and pepper you'll add to the ricotta before putting the cheese mixture between the layers of tomatoes. Match made in end-of-summer heaven.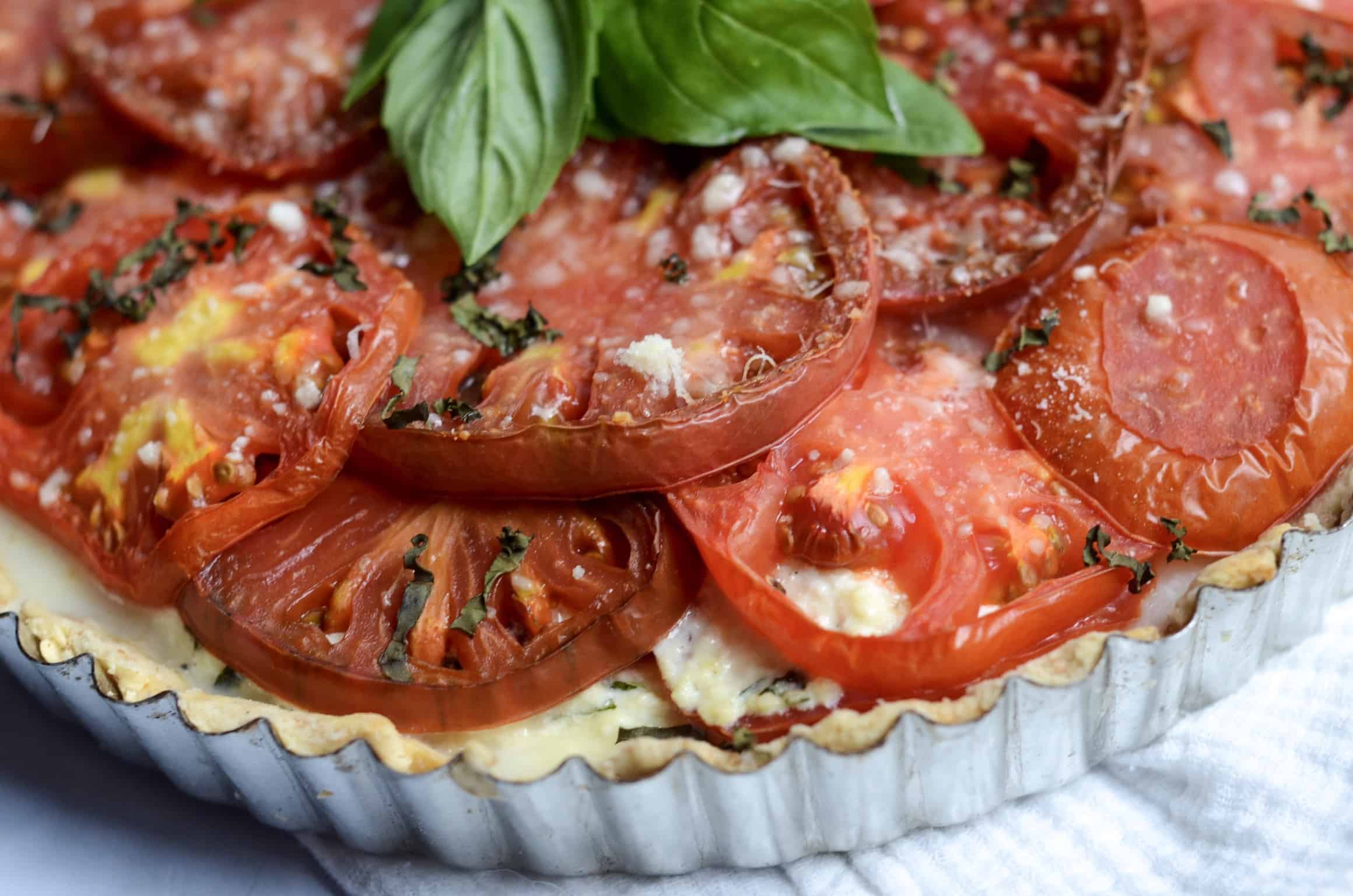 The whole wheat parmesan crust is the star.
Don't get me wrong -- the cheese mixture is so good with your tomatoes, but the crust here is really the star. Crust seems like a pain in the rear to make, but this one is so simple. You need a large bowl and your hands (no mixer!), so prep work and clean-up are minimal. I can get behind that.
This crust uses a combination of whole wheat and all-purpose flour. The whole wheat flour adds some density and heartiness to the crust, while the parmesan cheese adds some saltiness. It's dreamy.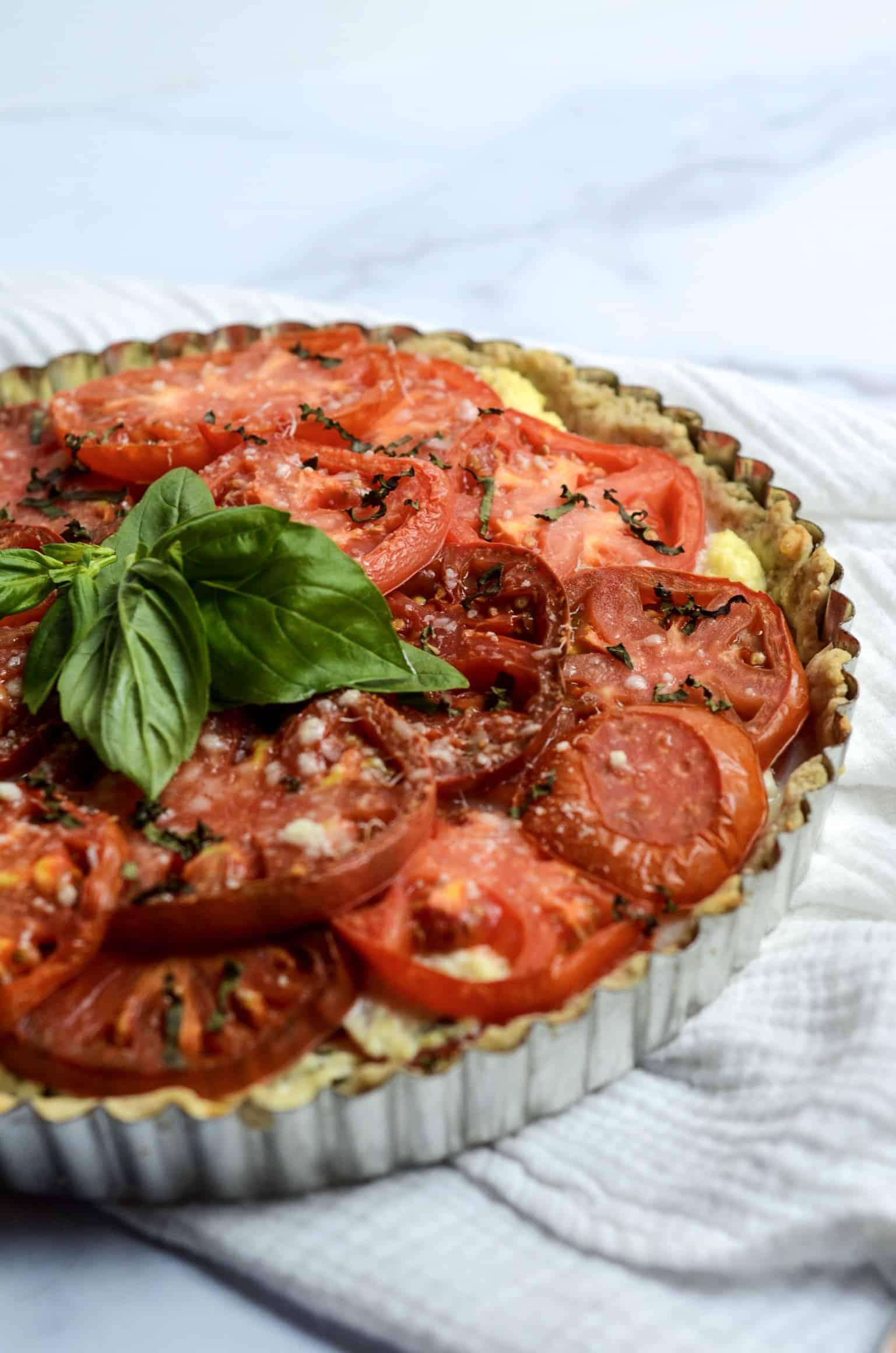 Let's make the most of these last tomatoes! And if you haven't tried the Roasted Salmon with Tomatoes, Corn, and Avocado Salsa, it's a great one for the end-of-summer. This and the Easy Summer Peach Tart have been and will continue to be on repeat until I'm forced to switch over to fall foods!
xox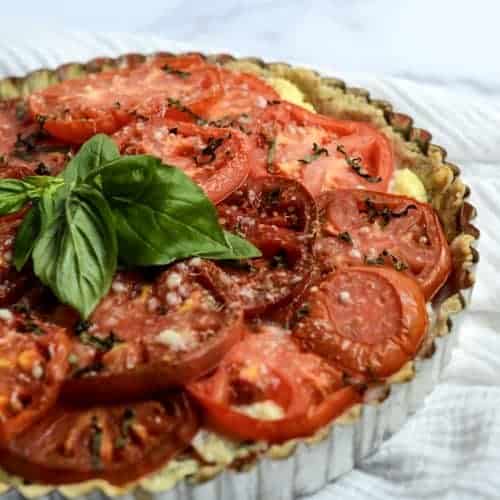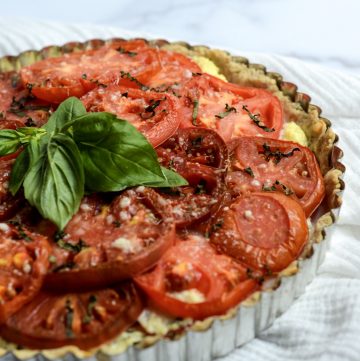 Ingredients
For the crust:
¾

cup

whole-wheat flour

¾

cup

all-purpose flour

2

tablespoons

parmesan cheese, grated

½

teaspoon

salt

¼

teaspoon

pepper

¼

cup

extra-virgin olive oil

3

tablespoons

ice water

plus more if needed
For the filling:
4-5

large tomatoes, preferably heirloom tomatoes, cut in ¼" slices

1

teaspoon

salt

1

cup

ricotta cheese

¼

cup

parmesan cheese, plus more for topping

½

teaspoon

pepper

¼

cup

fresh basil, chopped (plus more for garnish)

1

large egg, lightly beaten
Instructions
Preheat oven to 375 degrees F. Coat a 9" tart pan with cooking spray. Set aside.

Lay your tomato slices out on paper towels. Generously salt tomatoes slices and let them rest for 5-10 minutes. They'll start to sweat. Use a paper towel to wipe off excess moisture.

Meanwhile, in a large bowl combine your flours, salt, pepper, parmesan, and olive oil with a fork until combined. Pour ice water tablespoon by tablespoon until dough comes together in your fingers (If dough is too dry, add more water). Spread dough into bottom and up sides of 8" tart pan. Bake for 20 minutes. Let cool for a 5-10 minutes.

Lower oven temperature to 350.

In a medium-sized bowl mix ricotta, parmesan, pepper, basil, and beaten egg together. With crust slightly cooled, add half of the ricotta mixture on crust. Layer with half of the tomato slices and repeat one more time. Top with extra parmesan cheese and bake for 35 minutes.
Notes
You'll want to serve this pie as soon as it's somewhat cool or nearly at room temperature.  This tart doesn't keep well because of how juicy tomatoes are...so you'll want to eat it that same night.