This slow roasted salmon made on a sheet pan is topped with a corn, tomato, and avocado salsa. It's so easy to throw together for your family or a crowd...and the salmon and salsa are always such a hit.
I just don't care about making anything remotely complicated these days. And by complicated, I mean more than 5 minutes to meal prep, I'm not into it. With back to school madness in full gear, I've focused instead on getting back into the routine of going to bed at a decent hour, getting ready in the mornings at a reasonable pace, trying to remember all the things, and staying calm during the 5-7 pm grumpiness that inevitably overcomes them.
Enter this meal: Roasted Salmon with Corn, Tomato, and Avocado Salsa. It's so simple but so delicious, with salmon that requires zero fuss and slow roasts in the oven at 300 for 20 minutes. TWENTY minutes and your meal is on the table. Hallelujah. This recipe also uses Dress it Up Dressing's Champagne vinaigrette, so I'm not even making my own dressing. I ain't mad about this shortcut, and I'll explain why.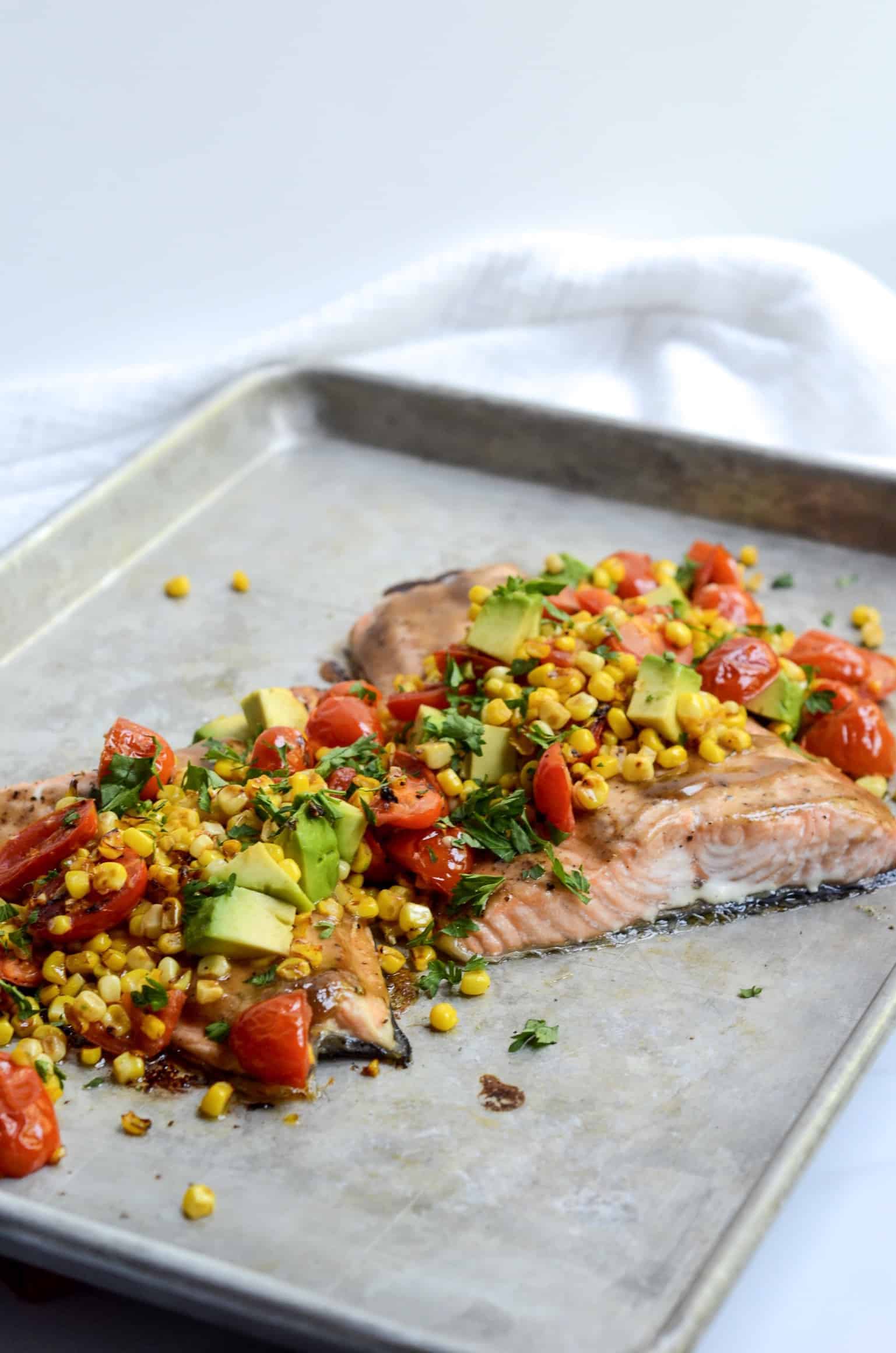 Dressin' Up Your Salmon
I honestly can't remember the last time I used store-bought dressing. Maybe 7 years would be my guess? I just make it at home when making a salad or marinade (this maple vinaigrette from the Copy Cat Chick-Fil-A Superfood Kale Salad being my favorite these days) because of the unnecessary ingredients in most store-bought dressings. There are 3,348 dressings to choose from -- and about 3,344 of those contain a myriad of preservatives and additives. Even the ones labeled "healthy" have lots of added sugar. But this Champagne Vinaigrette from Dress It Up Dressing is different. I have zero regrets for a few reasons. The company is
Woman-owned. The founder and CEO, Sofia, is a total #momboss.
Local. Dress It Up was started in Bethesda. I love supporting local businesses.
All natural products. There are no preservatives, and only a couple of the dressings have added sugar. The vast majority have the same ingredients you'd make if you were whipping up a homemade recipe.
Green conscious. They source from local vendors whenever possible and conscious of their footprint as a company.
Givers. The company does so many things for the local community, my favorite of which is providing dressings at cost to DC Public Schools so kids develop healthy eating habits early.
You can buy the dressings at Whole Foods across the Mid-Atlantic, so if you see them, give them a go! You won't regret it.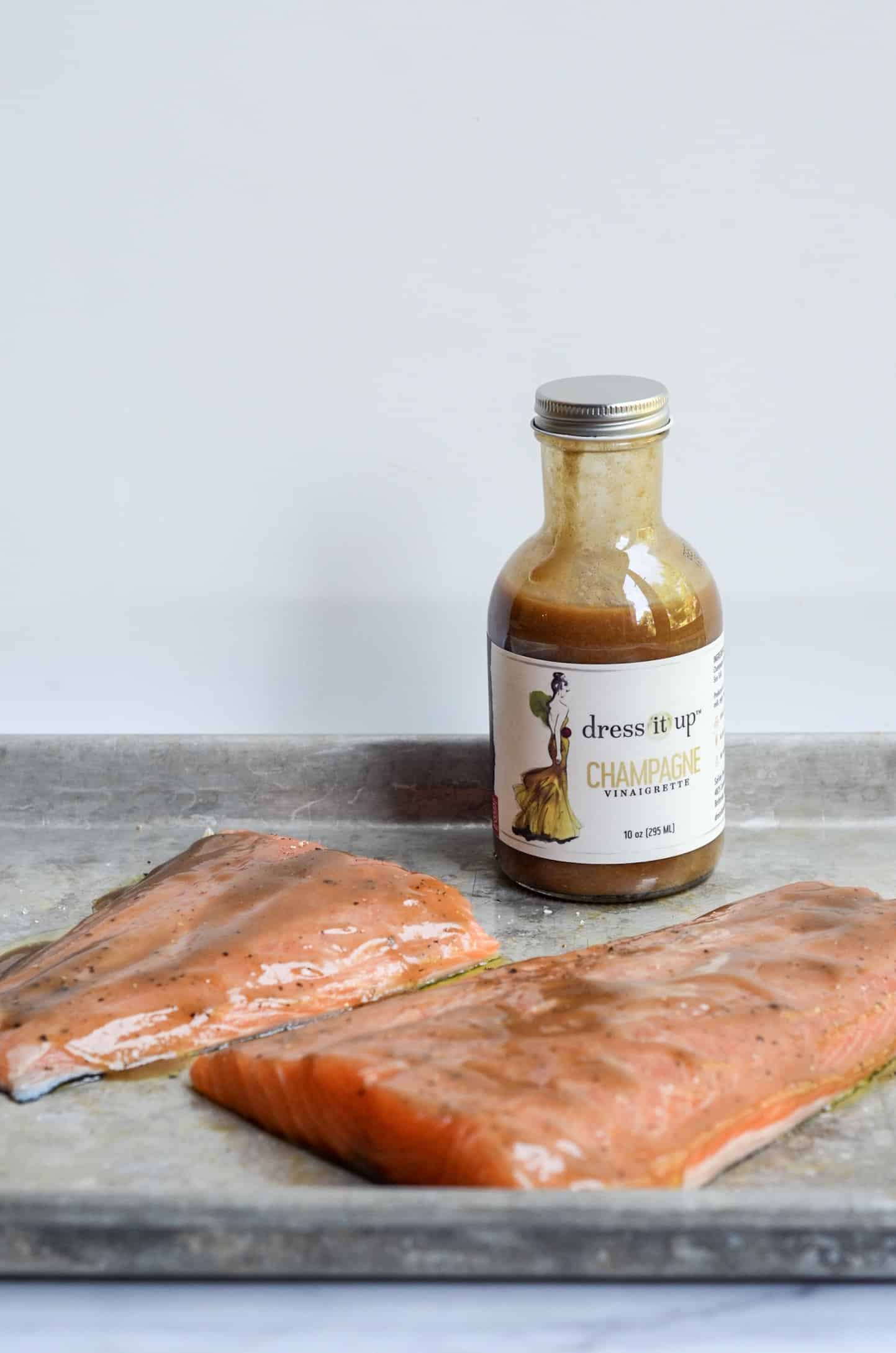 Okay, let's chat about how quickly and easily this comes together. It's almost comical to have steps, but it goes to show you how easy this is for a weeknight meal.
Step 1: Get yourself some nice lookin' salmon.
If you can see the whole fish, the eyes of the salmon should be clear, not murky, and the flesh of the salmon should bounce back after you press it. It also shouldn't smell very fishy. Salt and pepper your salmon and place on a baking sheet. You'll probably want to use parchment paper so you have easy clean-up.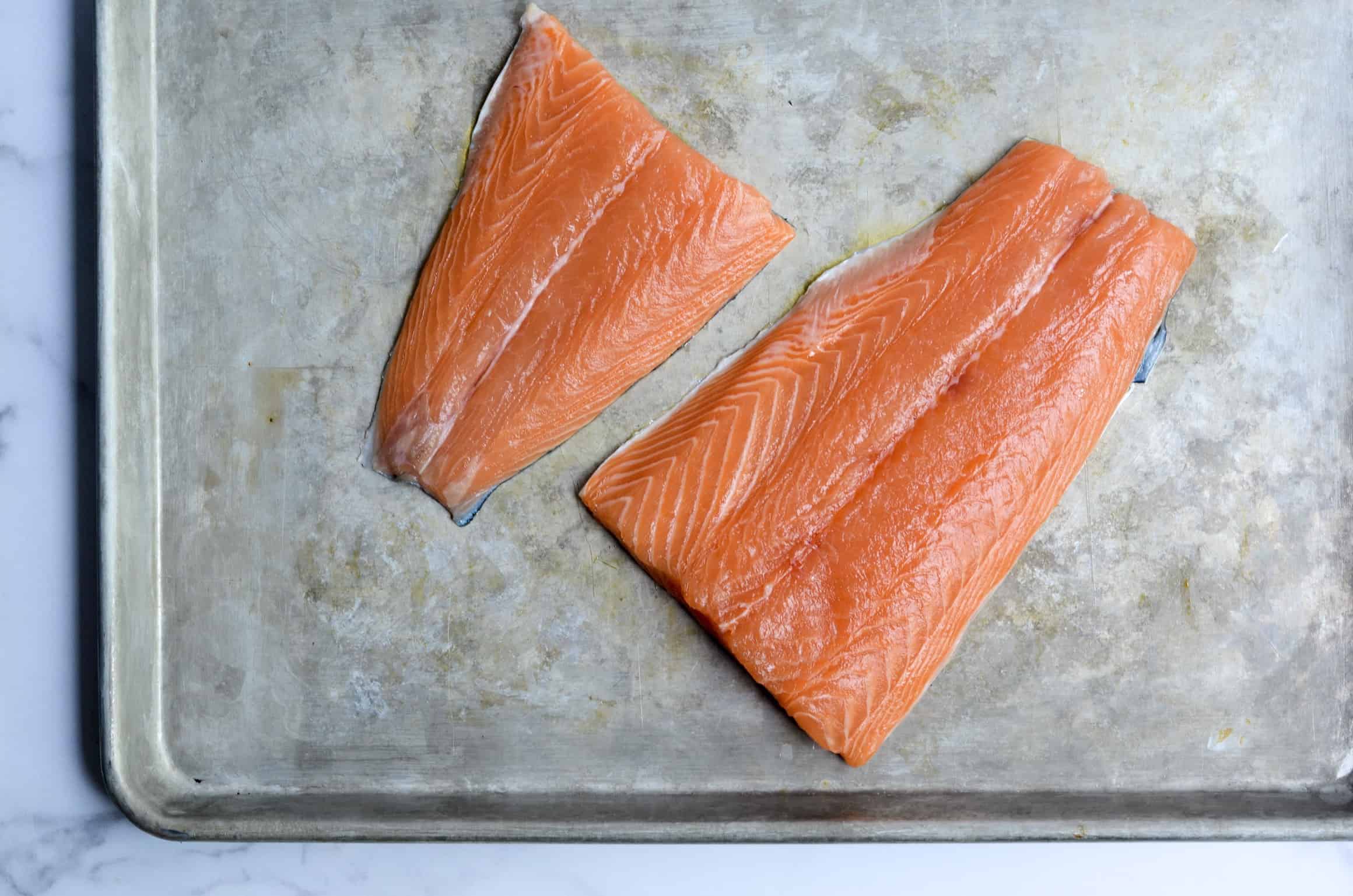 Step 2: Pour the dressing
Pour 3 tablespoons of Dress it Up's Champagne Vinaigrette over the salmon, covering the fillets. You don't need a lot because the dressing is pretty concentrated. A little goes a long way.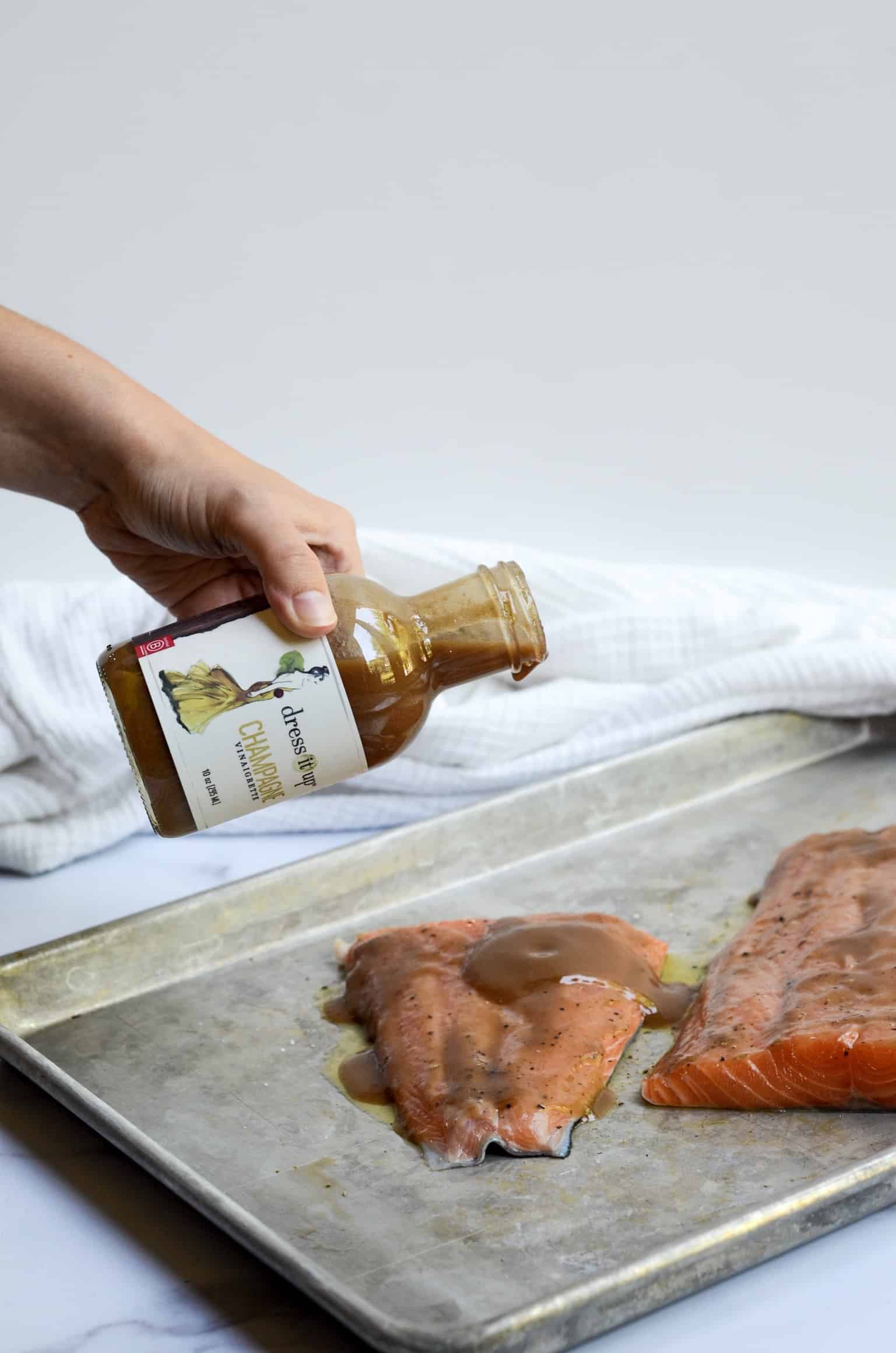 Step 3: Bake salmon
Bake the salmon for 20 minutes at 300 degrees F. Then stick the pan under the broiler for the last 1-2 minutes so the dressing gets nice and sticky. This'll enhance the flavor of the champagne vinaigrette.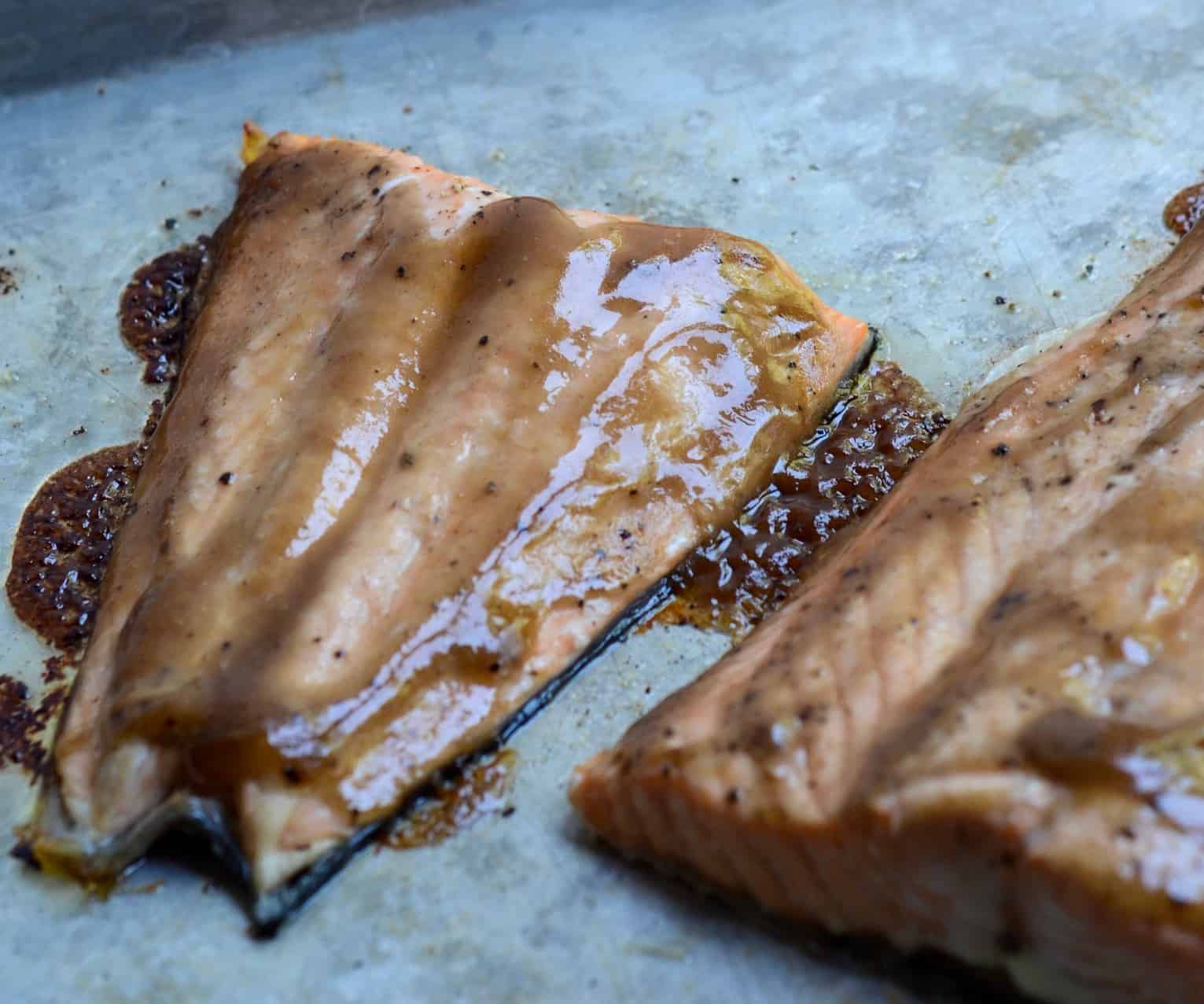 Step 4: Make your salsa.
In a non-stick skillet on medium-high heat, cook your corn for 1-2 minutes in the olive olive until the corn develops a little bit of a char. Add the tomatoes and cook for another 2-3 minutes. Just make sure your pan and olive oil reach a high temperature before adding the corn and tomatoes. This'll help the corn char a bit and help the tomatoes to open up. You'll also want to add some more salt and pepper at this point as the vegetables are cooking.
Take off the heat and add the diced avocado.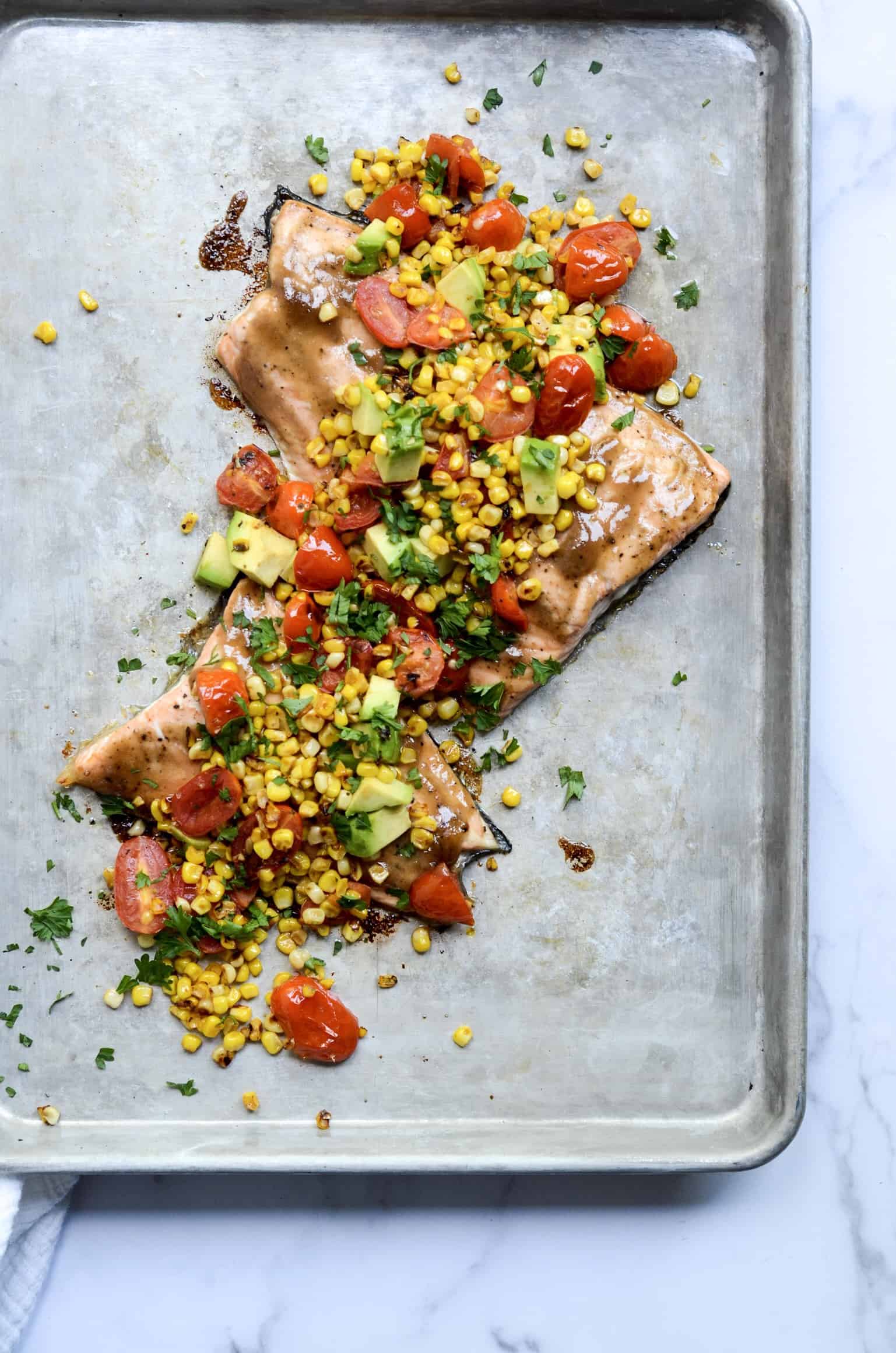 Step 5: Eat
Toss salsa all over the salmon and eat directly from the sheet pan (if you're like us). I can't even be bothered with plates this week.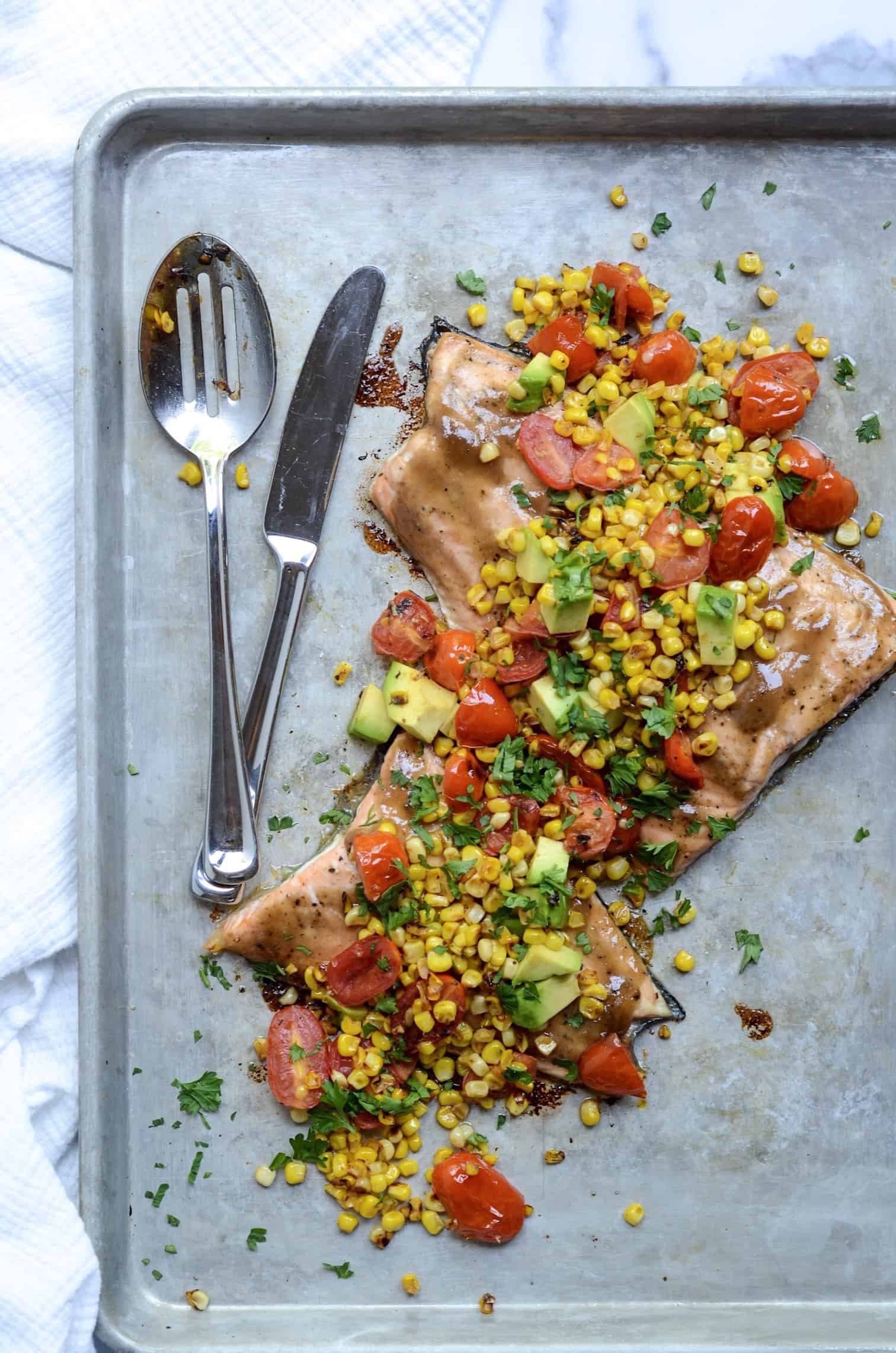 I hope y'all are surviving your first week of school!
xox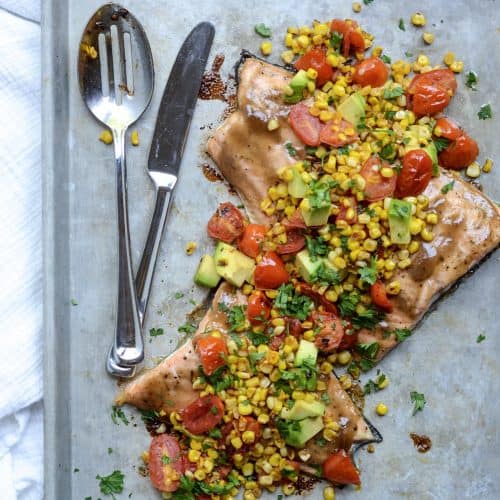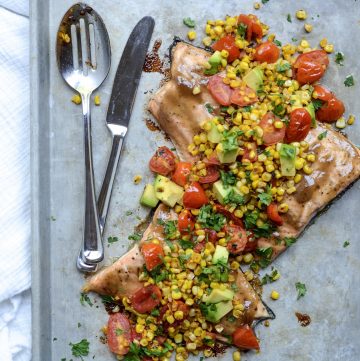 Roasted Salmon with Corn, Tomato, and Avocado Salsa
Delightfully easy, this weeknight dinner is a crowd please that can be eaten right off the sheet pan.
Print
Pin
Rate
Ingredients
1 ½

pounds

salmon

salt and pepper

2

tablespoon

champagne vinaigrette*

2

tablespoon

olive oil

3

ears of corn, cut off cob

1

cup

cherry tomatoes, quartered or halved depending on size

salt and pepper, to taste

1

avocado, sliced
Instructions
Preheat oven to 300 degrees F. Line a sheet pan with parchment paper to avoid a mess. Place salmon skin side down on parchment. Salt and pepper salmon well.

Spread champagne vinaigrette over salmon. Bake for 20 minutes (put under the broiler for the last 1-2 minutes if you want the dressing to be nice and sticky).

Meanwhile, heat 2 tablespoons of olive oil on medium-high in a non-stick pan. Add the corn and cook for 1-2 minutes or until there's a slight char on the corn. Add tomatoes and cook another 2-3 minutes until tomatoes blister slightly. Remove from heat. Add diced avocado.

Spread mixture over salmon. Serve immediately or serve at room temperature.
Notes
*I used Dress It Up's Champagne Vinaigrette.  You can buy the dressing at Whole Foods or make your own!