If chicken soup is good for the soul...then this Weeknight Chicken Tortellini Soup is even better because it requires zero fuss. Chicken soup has a warmness that's undeniable and adding some tortellini to the mixture makes it even more fulfilling and cozy. 
Chicken Tortellini Soup - Perfect Weeknight Dinner
This Weeknight Chicken Tortellini Soup is perfect for a fall weeknight.  We made it last night after a busy day of work, then to the doctor to get everyone a flu shot.  (And can I just pause for a moment and tell you how much C was oddly excited about this?)  I picked them up from school super early because I was positive it was going to be a show to get them out of there knowing they were going to the doctor's for a shot, but C just announced it loud and proud to everyone ("Friends!  I'm getting a shot!  I'm going right now to get a shot!").  B, on the other hand, was not amused ("Will you stay with me?  I'm scared.")  But when it came down to actually getting the shot, B didn't even seem to feel it.  That made C freak out a little bit because the bar was set higher after he talked a big game about wanting to go first and how he wouldn't even cry.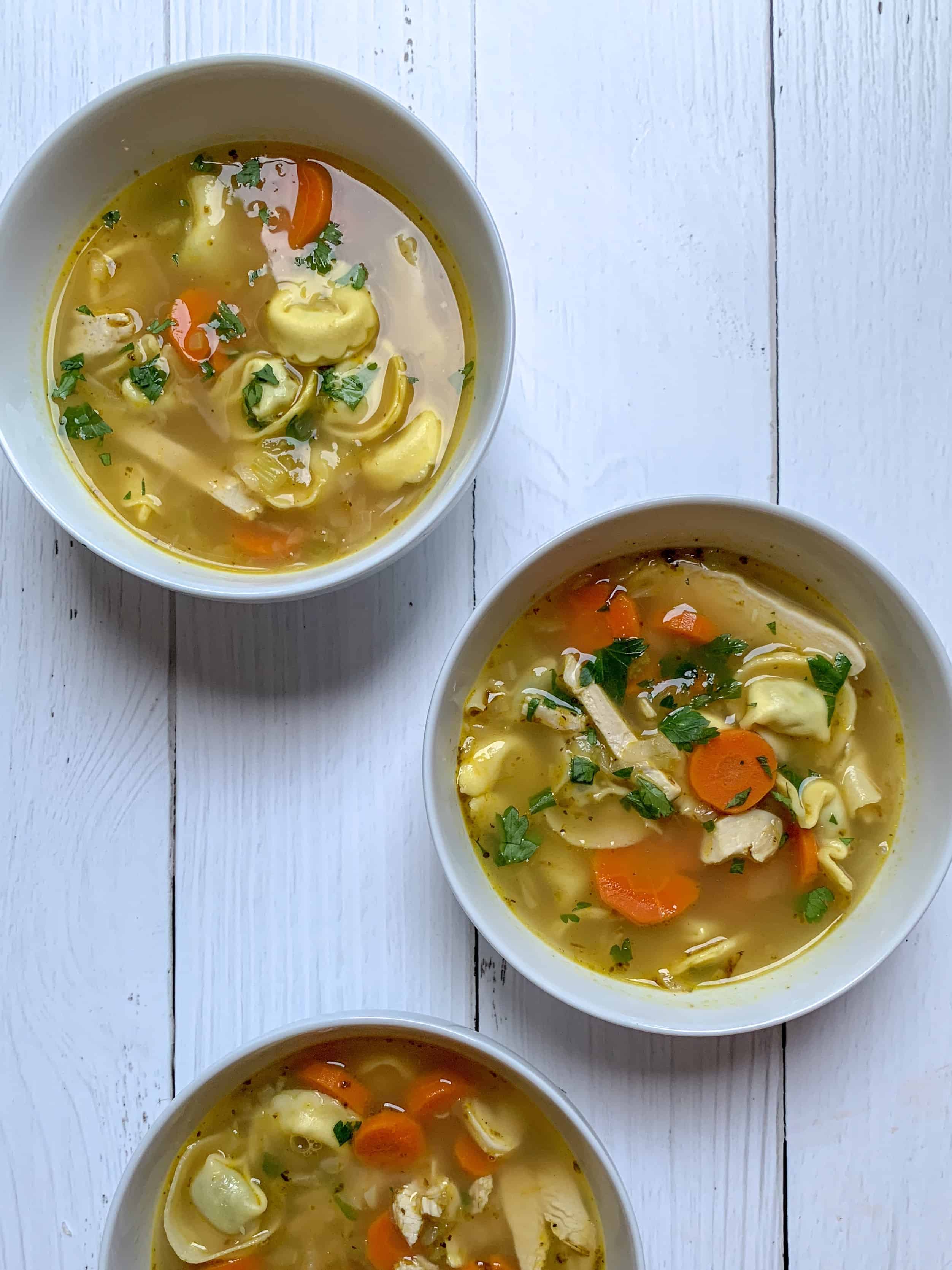 Use Short Cuts
It'll take you about 30 minutes from start to finish to make this soup, and that includes chopping all of the vegetables (carrots, onions, celery, and garlic).  You can ALWAYS buy the pre-cut mirepoix (I think that's the right term) they sell in the pre-chopped section at Whole Foods.  I've been known to buy that stuff when I'm desperate.  Ain't no shame in that game. 
Otherwise, I use cutting as a therapeutic outlet and save the $6 to make a boozy and chocolately Baileys Poke Cake or Chocolate Snack Cake (aka Chocolate Lifestyle Cake or John's favorite Key Lime Pie.
For the chicken, buy a rotisserie one. That'll save you time in having to cook the chicken.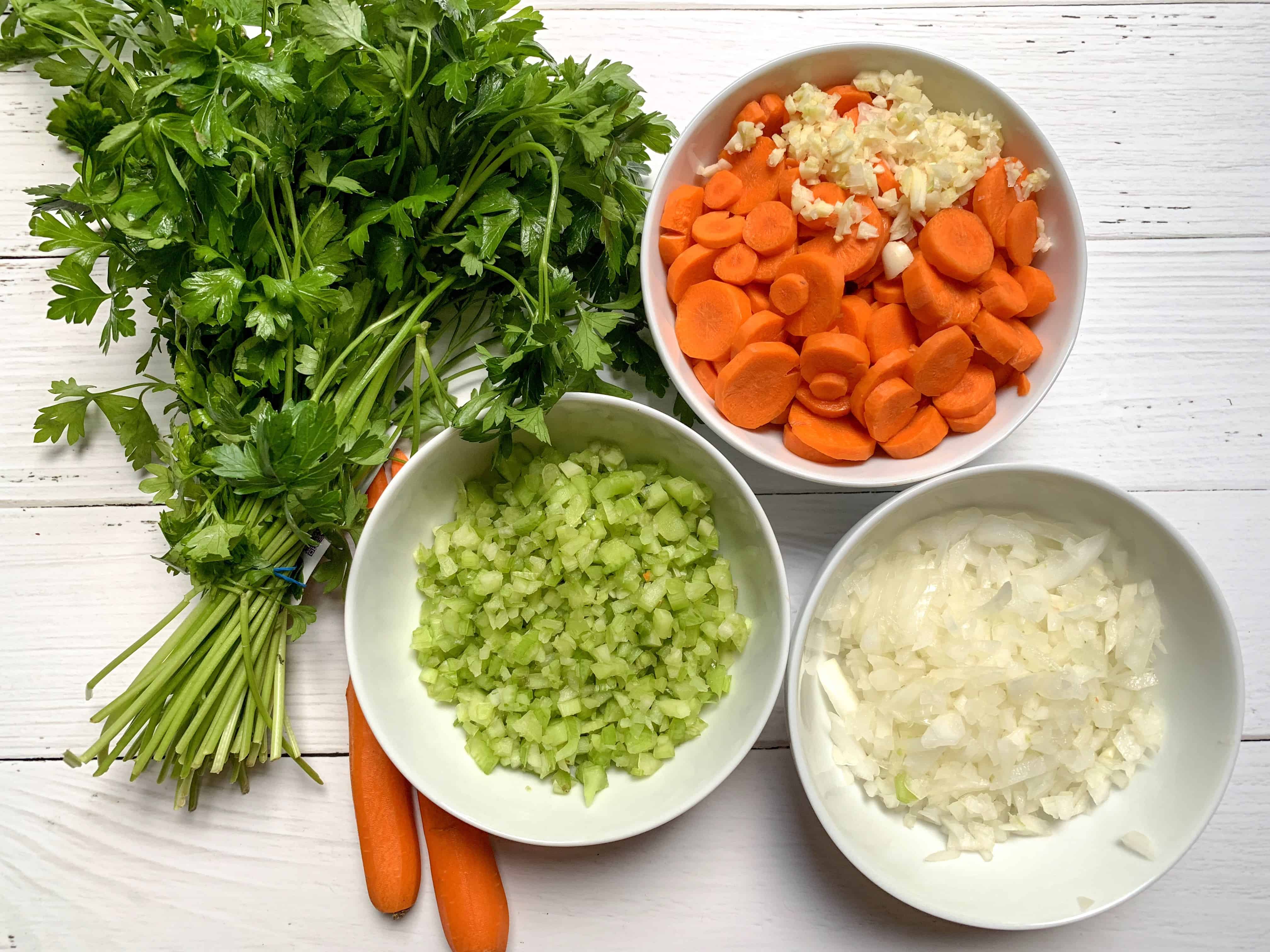 Tortellini, the Best Part IMHO
As far as tortellini, I love Artisola's fresh tortellini.  Not only do my kids eat it (usually covered with butter and parmesan), but they don't even know it has spinach inside of it, so it's a sneaky way of getting them to eat double the vegetables for a night.  You can find this in the refrigerated cheese and fresh pasta section at Whole Foods.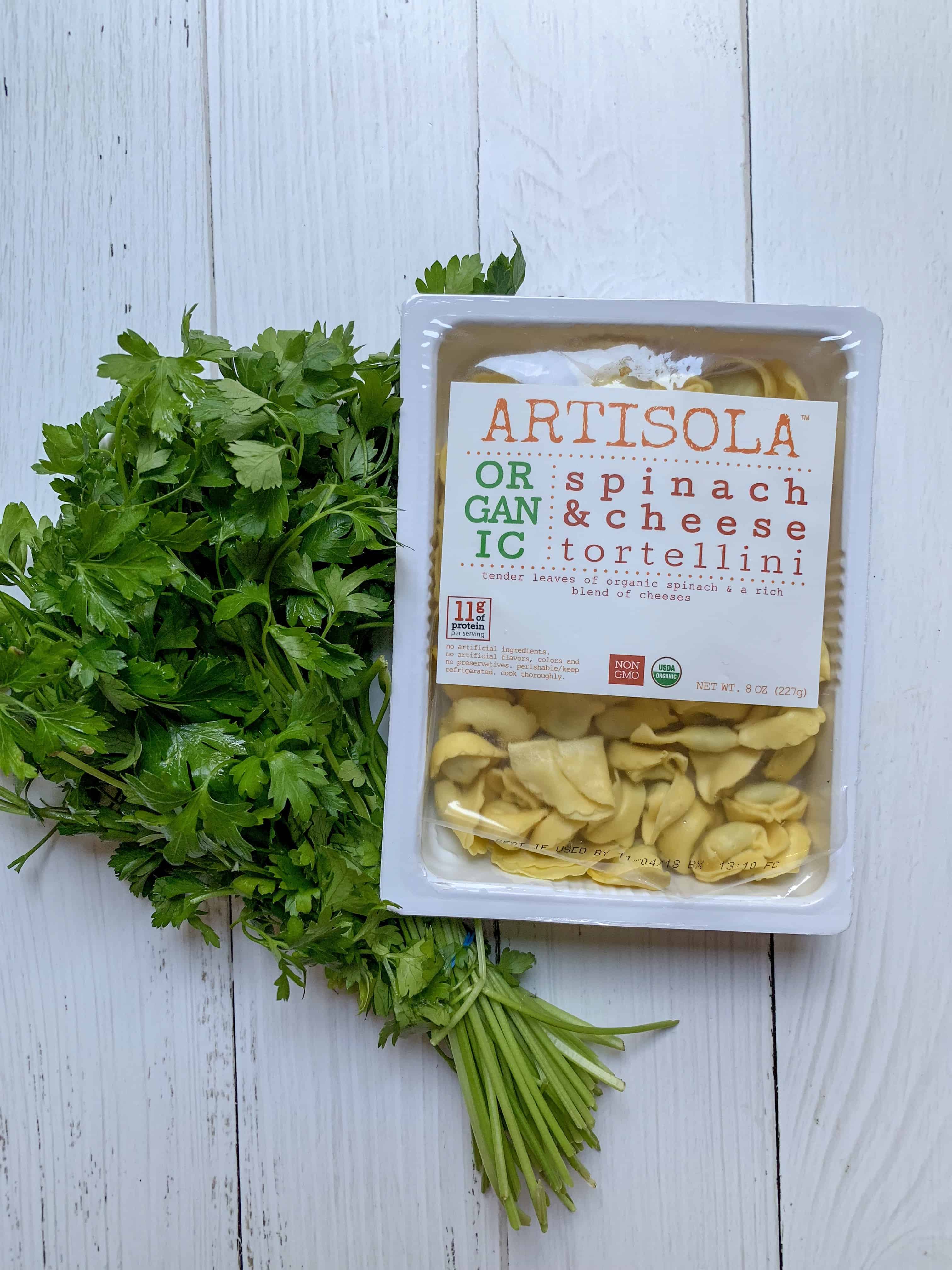 As always, if you make anything from the blog, be sure to let me know! I love hearing from you in the comments on this post below or find Worn Slap Out on Facebook, Instagram, or Pinterest!


xox
Kathryn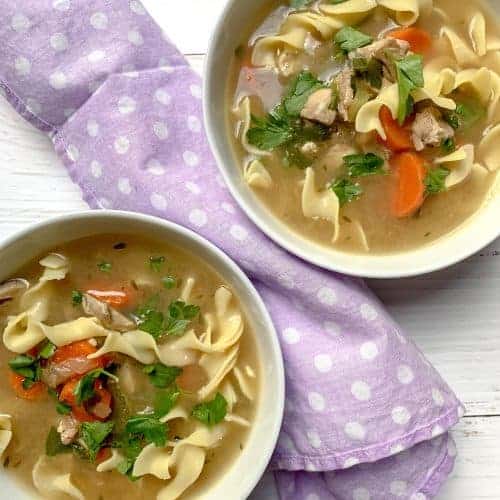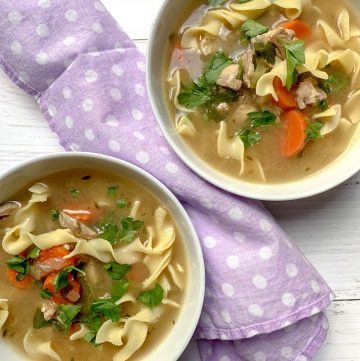 Weeknight Chicken Tortellini Soup
Cozy. Healthy. Quick. This soup will warm you up on the coldest of days.
Print
Pin
Rate
Ingredients
2

cups

cooked chicken, any kind

2 

tablespoons 

olive oil

½ 

medium onion

finely chopped

3 

sticks celery

 finely chopped

4 

large carrots peeled and sliced

3 

cloves

garlic

 minced

8 

cups 

chicken broth

2 

cups 

water

3

teaspoons 

Italian seasoning

2 

cups 

cooked chicken

sliced, pulled, or diced

1 

package of whatever tortellini your heart desires

salt and pepper to taste

chopped parsley for garnish
Instructions
Add olive oil to large pot over medium to medium-high heat.  Add your onions and saute for about 5-8 minutes or until onions are translucent.

Add your celery, carrots, and garlic and saute for another 3-4 minutes.

Add the chicken broth, water, and Italian seasoning.  Bring the soup to a boil, then reduce the heat to a rolling simmer for about 10 minutes.

Add your chicken and tortellini and cook for another 4 minutes or so (this will be longer if your tortellini isn't fresuntil fully cooked.

Season with salt and pepper.  Garnish with your chopped parsley.
Notes
This soup should be stored in refrigerator in an airtight container once cooled. 
Soup will stay in the fridge for 3-4 days.