No Pinterest fails here. These 5 Easy Halloween Snacks fun, festive, and healthy. They'll make your Halloween delicious for people of all ages.
**Worn Slap Out is a participant in the Amazon Services LLC Associates Program, an affiliate advertising program designed to provide a means for sites to earn advertising fees by advertising and linking to amazon.com. This comes at no cost to you.**
I absolutely love Halloween. I don't always love how much candy the kids get during the holiday though. It's just so much for such little bodies. I honestly feel like societal pressures of well-meaning people shoving candy in their faces is the only reason they will sometimes eat candy in the first place. They don't actually like it all that much -- which is a little bizarre, but I ain't mad about it. I end up hoarding most of their candy and eventually throwing it in the trash or bringing it to school.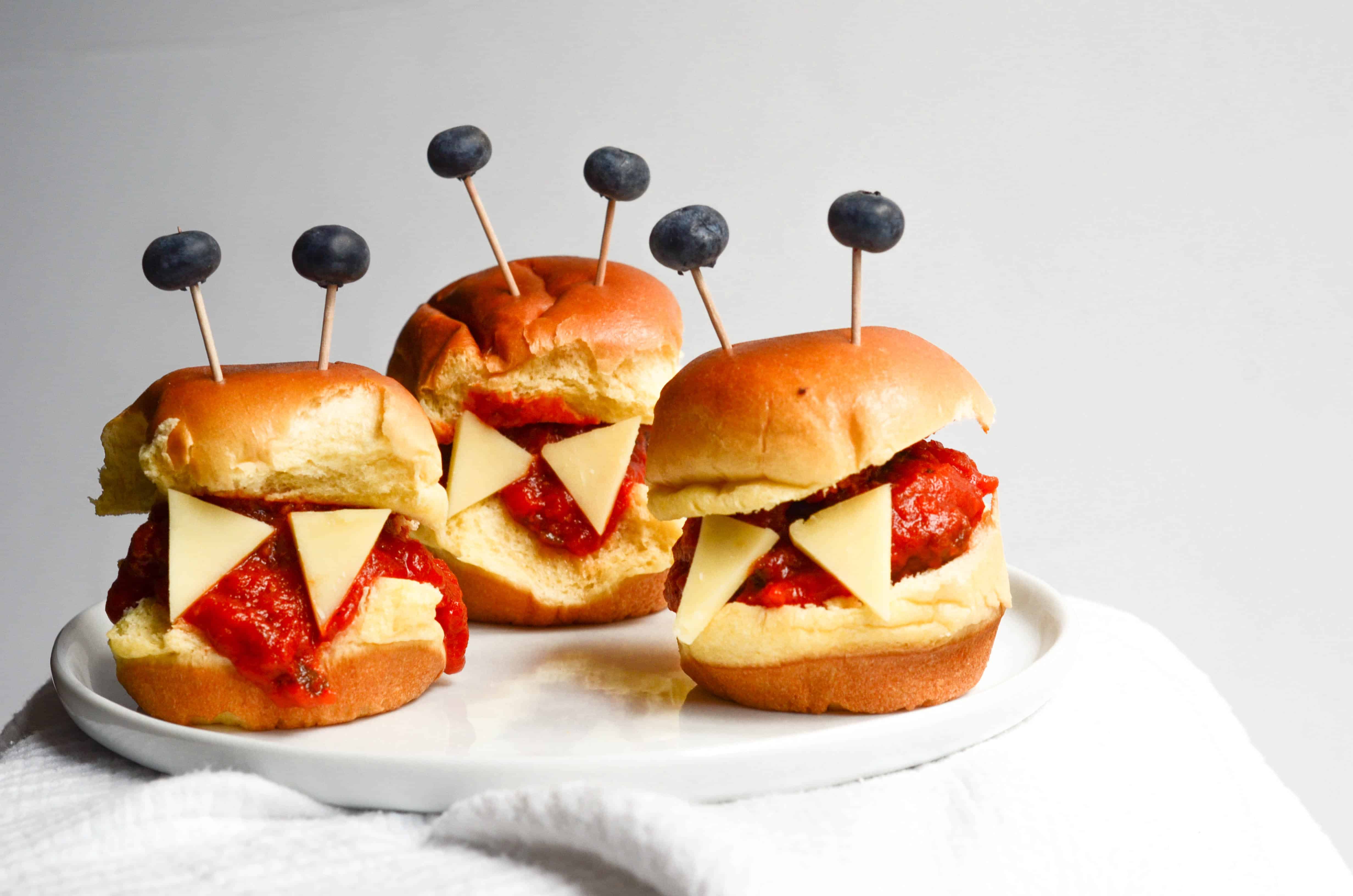 All of the these snacks are healthy, easy, and very kid-friendly. I don't feel the least bit guilty making any of these snacks for the kids, and I've turned two of these into full dinners. And when I say these are easy, I mean you won't find any Pinterest disasters here. You know what I'm talking about.
Here are my top 5 easy, healthy Halloween snacks:
1. Roasted Pumpkin and Bat Potatoes
Cut your Russet and sweet potato in ½" strips either lengthwise or cross-wise depending on the size of your potato (the sweet potato I found was absolutely huge so cutting into slices cross-wise was great but the Russet needed to be cut lengthwise). I use these cookie cutters to cut the potatoes into fun Halloween shapes. I used the pumpkin and bat cutters here, but the set comes with several you can choose from.
Place your cut-out potatoes on a sheet pan lined with parchment paper, lightly drizzle with olive oil, salt and pepper, and bake at 425 degrees F for 25-30 minutes.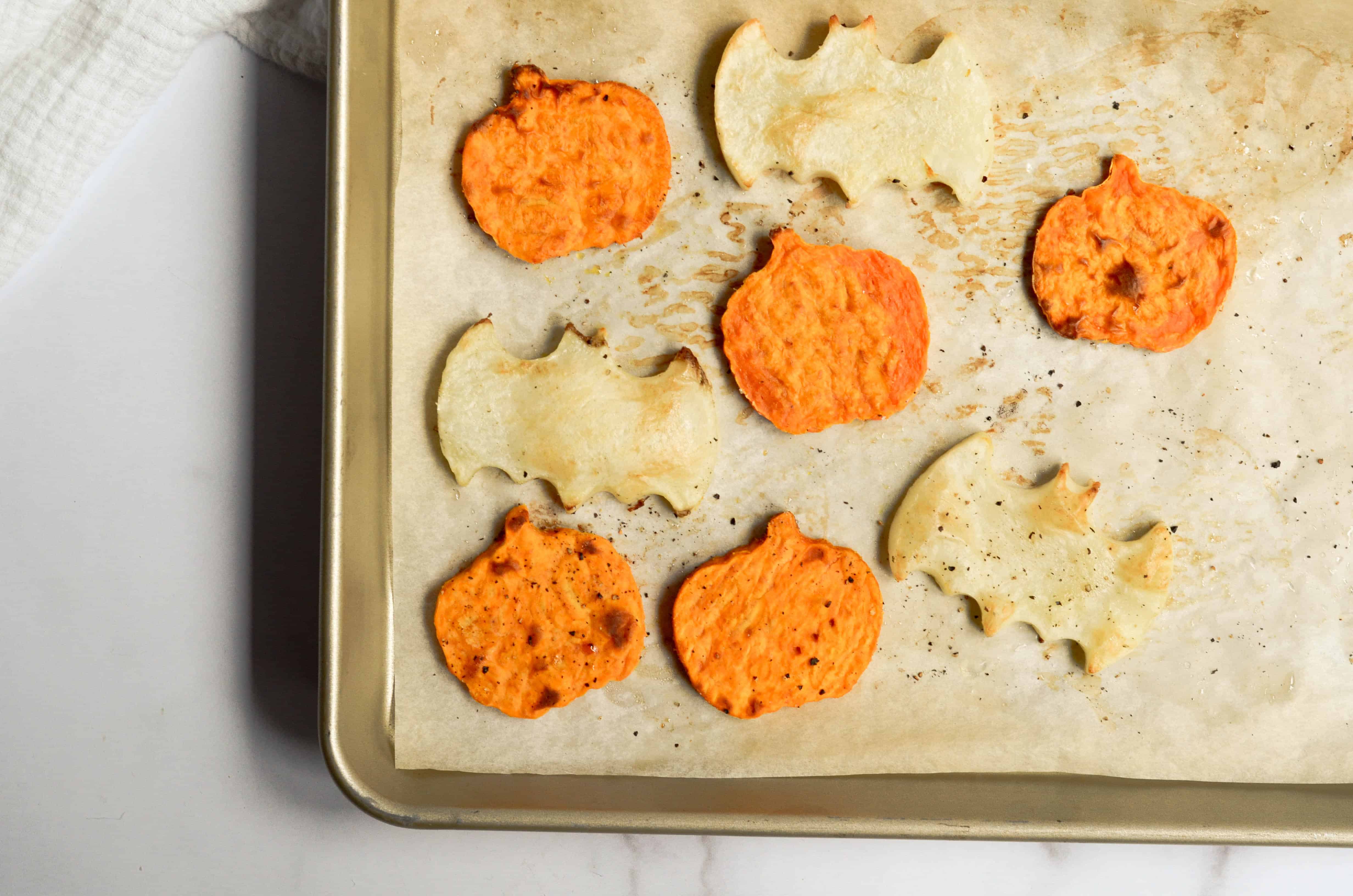 It's such a fun activity to do with your kids and a great way to make their dinner festive while eating healthy.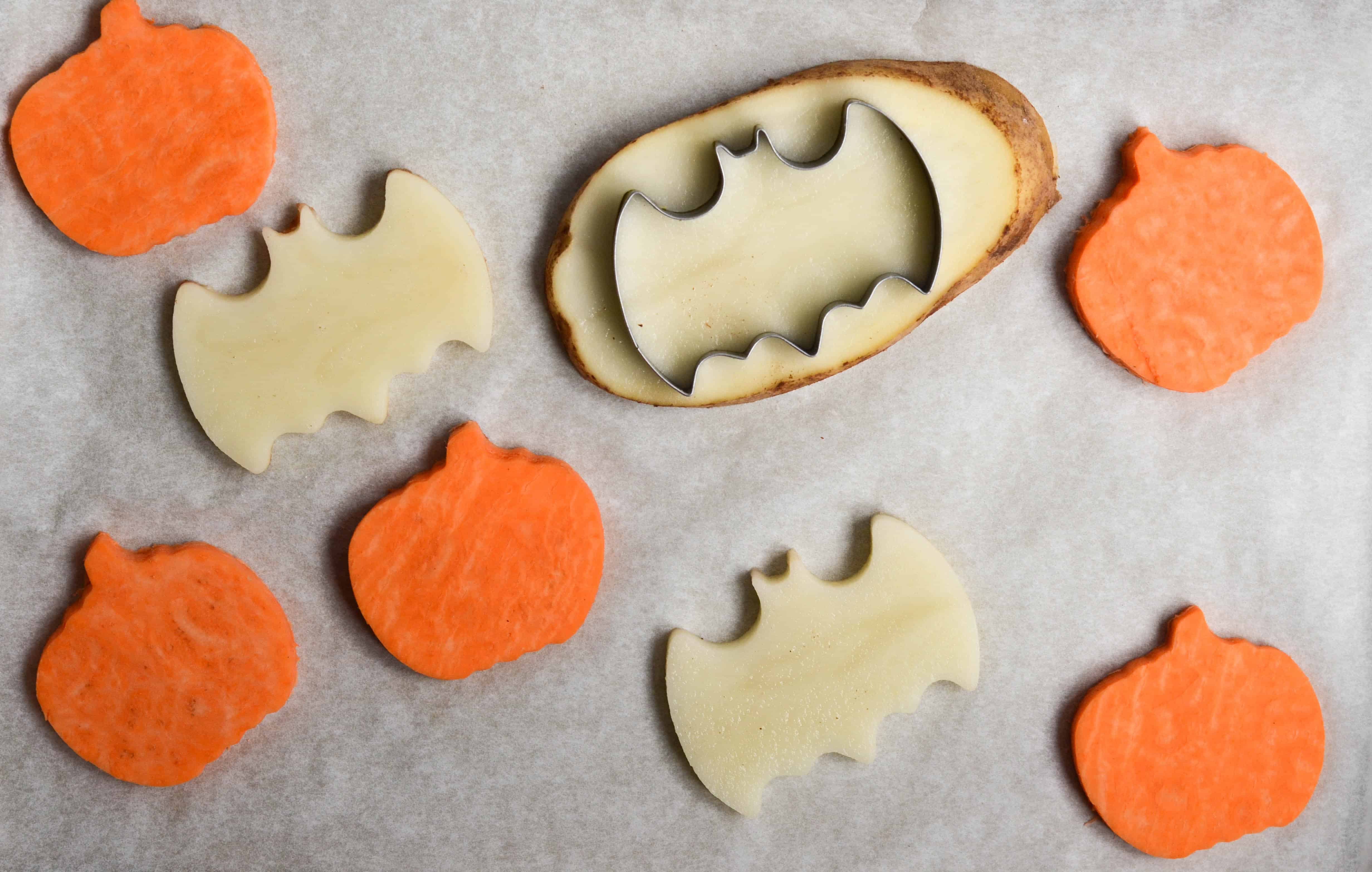 I even put the leftover potato scraps in a bag in the refrigerator and either boil them the next day to make mashed potatoes or roast the cut-out slices again for Night #2. Talk about using what you have!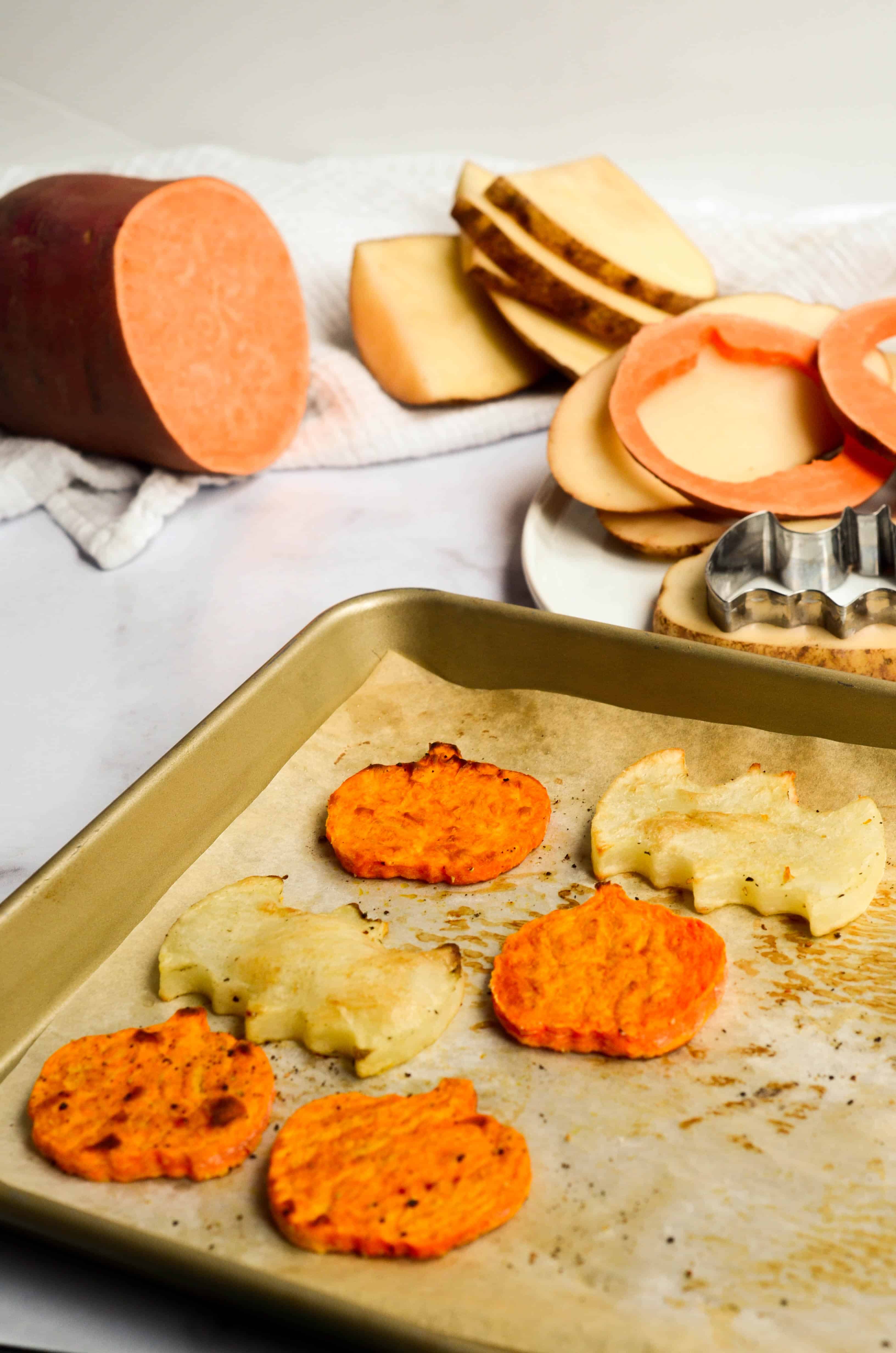 2. Spooky Cheese and Crackers Charcuterie Board
Another easy way to make a charcuterie board spooky is to use those same cookies cutters (see #1) to cut your cheese. The kids are starving when they get home usually, and when I put this board in front of them, it was like they had never eaten food in their life.
Sometimes, I'll make a larger board and make them choose 3 or 4 things from the board to have for dinner. Not only do the kids love it because it's an aberration from our usual, plated dinners, but they have a little more control...and what 3 and 5 year old doesn't want more control?!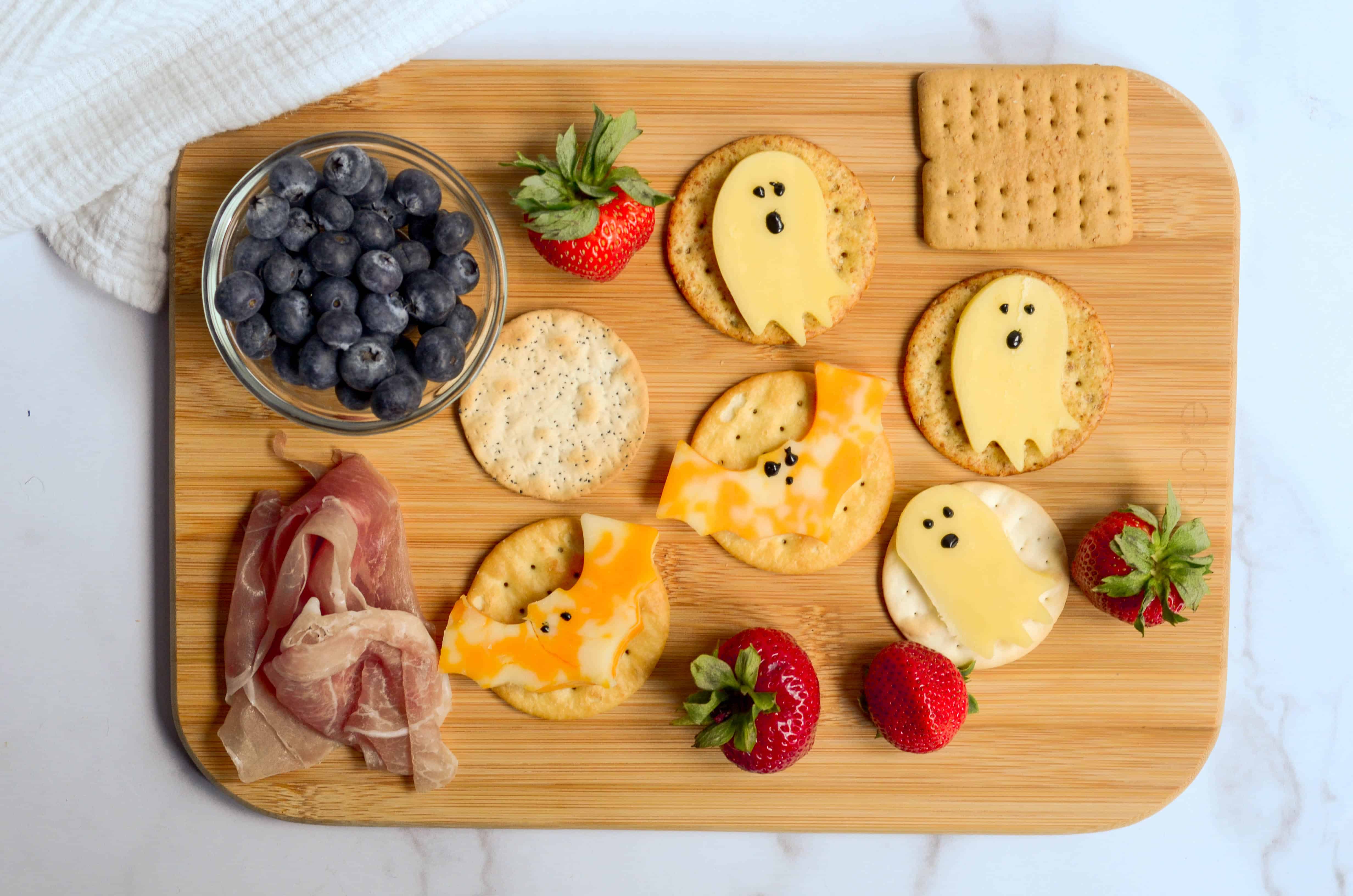 3. Frankenstein Avocado Toast
Avocado toast is such a great, healthy breakfast you can whip up in a couple of minutes, but what about making some Frankenstein avocado toast? Even better, right? I simply mash up the avocado and add sea salt, pepper, and red pepper flakes. Nothing fancy.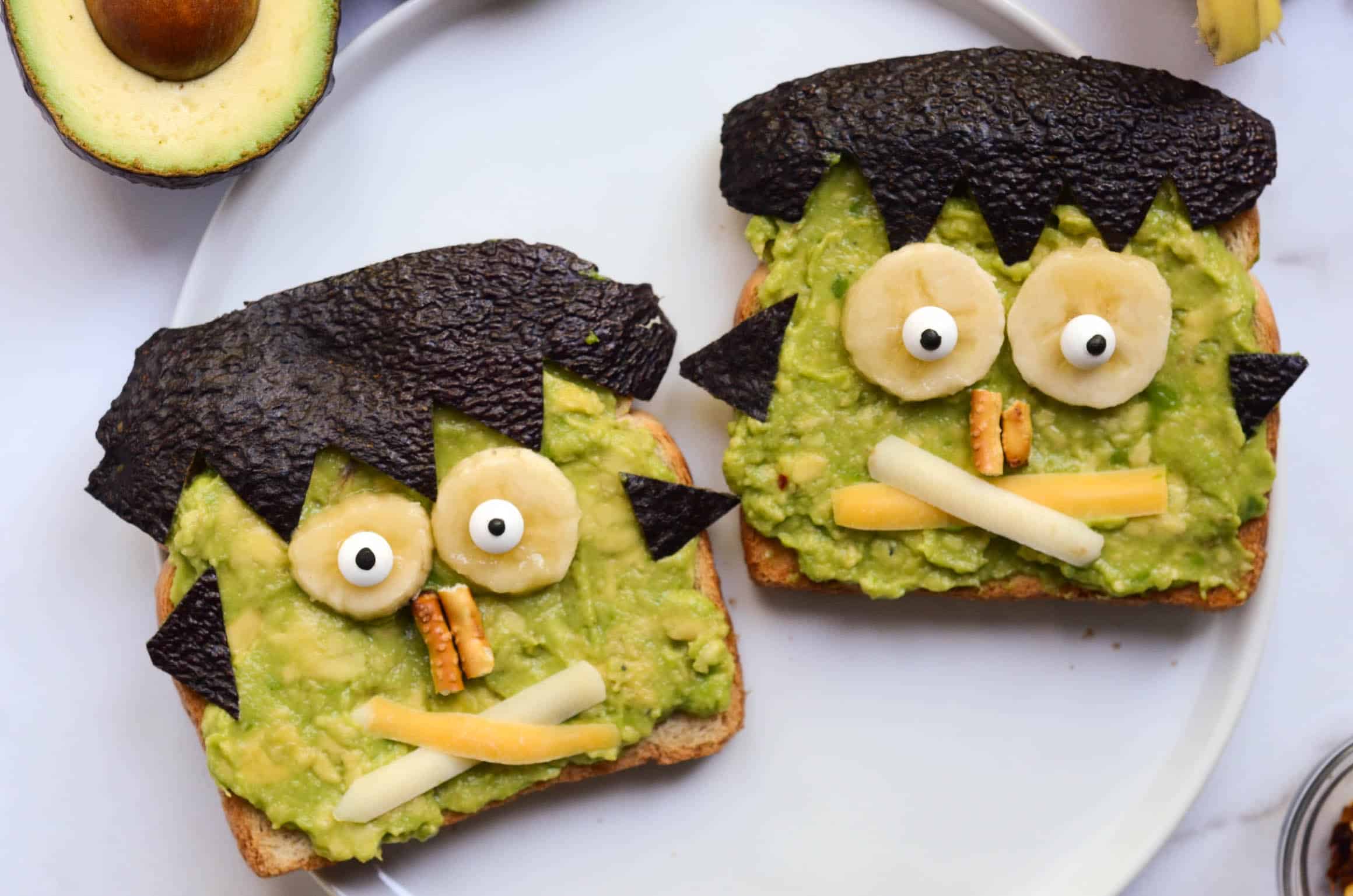 Feel free to get creative with whatever ingredients you have in your house to make the eyes, ears, and nose. I used the avocado peel to make the hair and ears, banana slices and edible candies for the eyes, pretzel sticks for the nose, and thick-cut Tillamook cheese for the mouth -- all of which I had in our kitchen.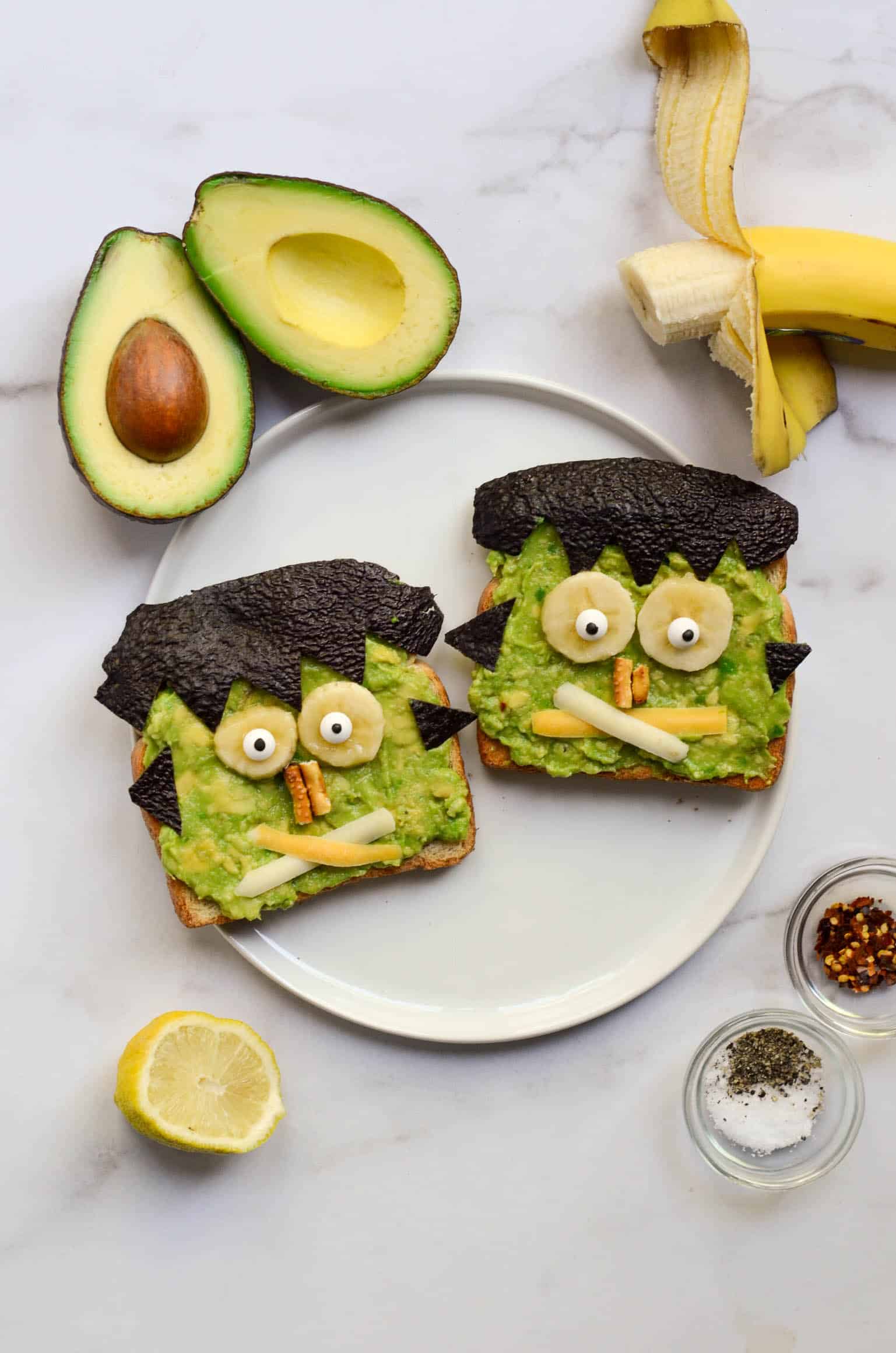 4. Monster Meatball Sliders
Another festive healthy Halloween snack are these simple meatball sliders that can made in 10 minutes for an appetizer or full-on dinner if you're in my house.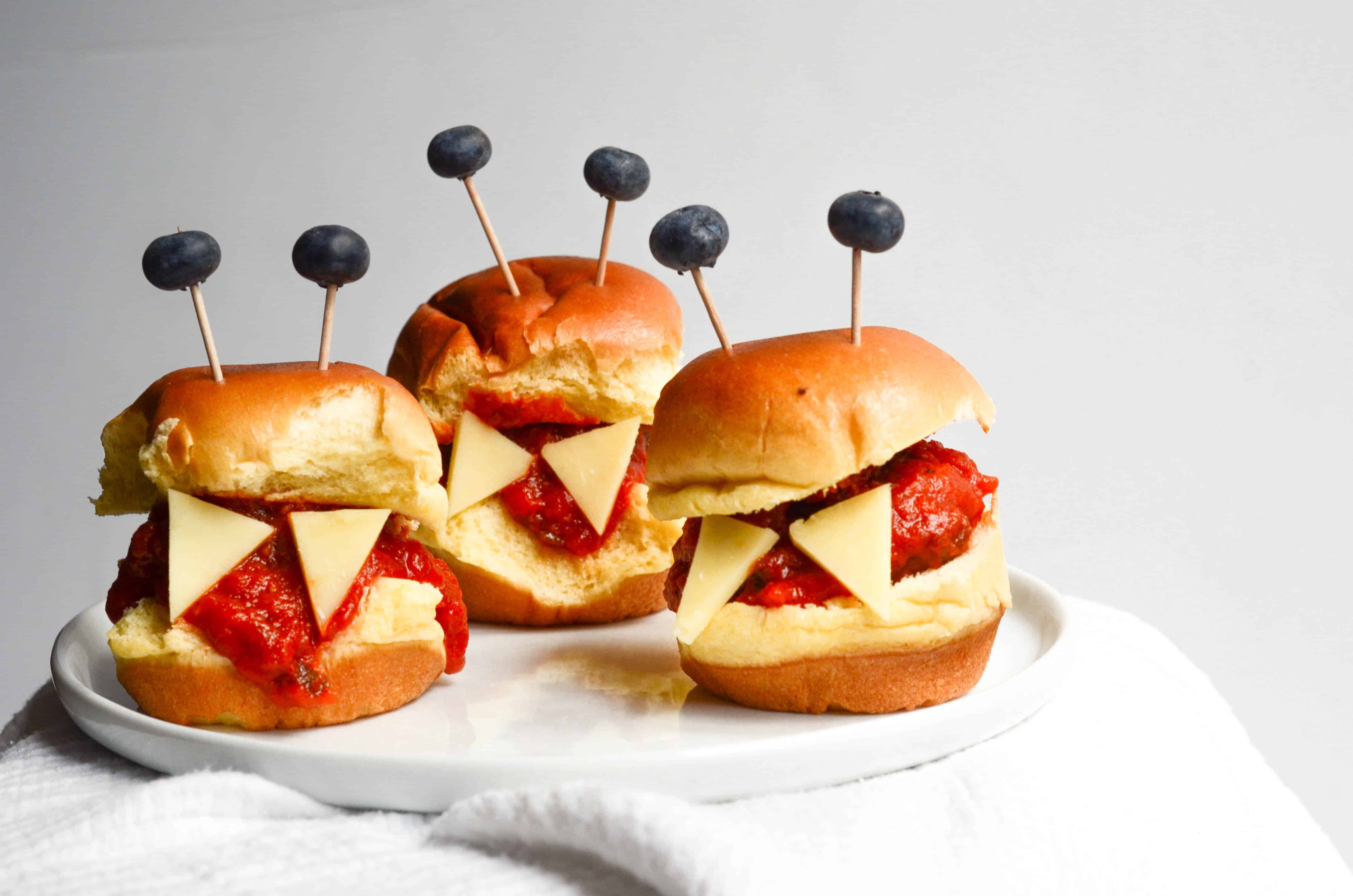 Simply shape ground beef (or ground turkey or chicken...whatever you prefer) in 1 ½" patties and fry on a non-stick pan on medium-high for about 3 minutes per side, or until the meat is cooked through. Then cover in your favorite marinara sauce and slide onto brioche slider buns. Add blueberries to the ends of toothpicks and insert in the top of the bun for the monster eyes. The monster teeth are cut from the same cheese I made the cheese and crackers from (see #2). Resourcefulness, y'all.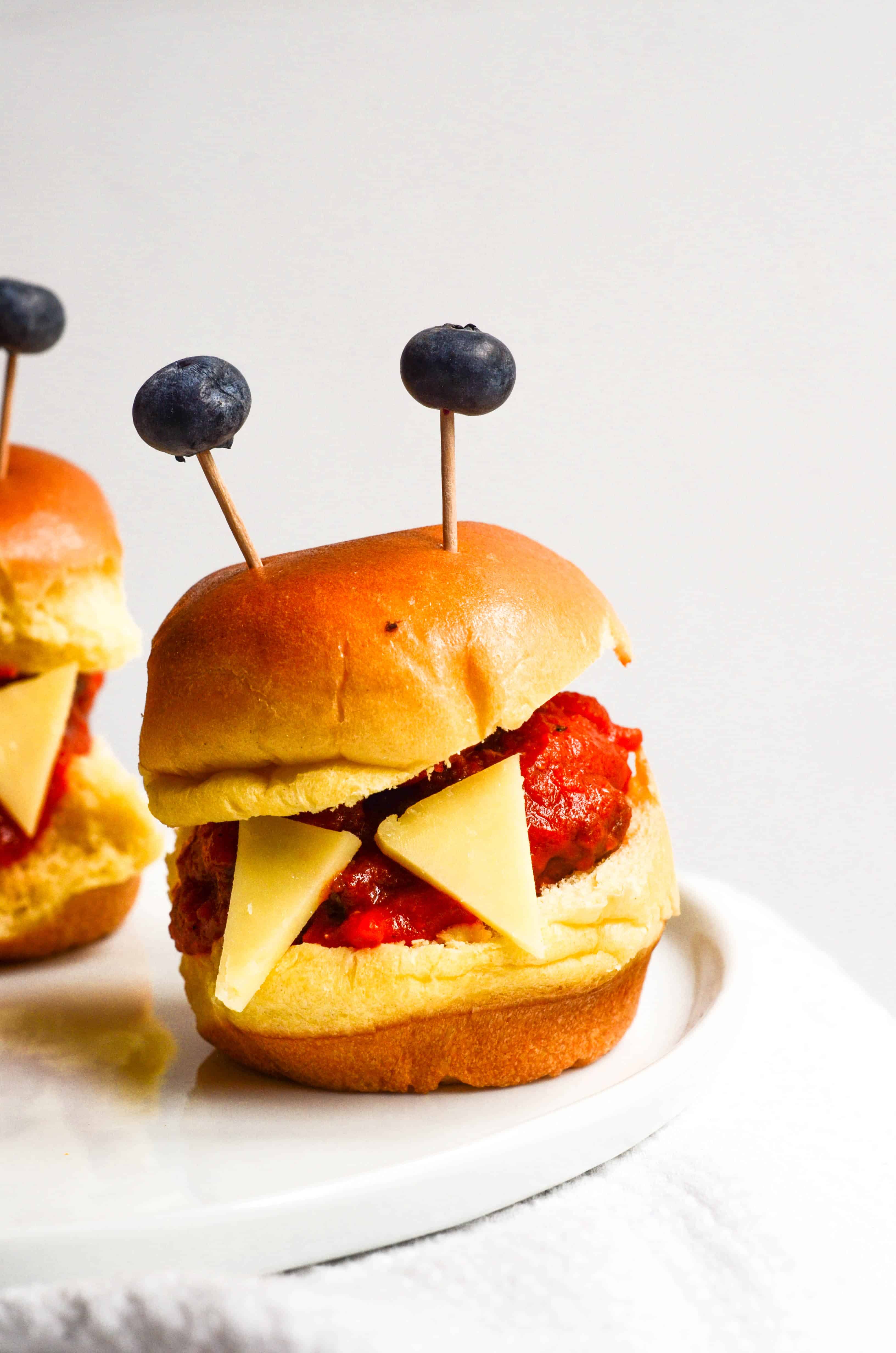 5. Chocolate Covered Bananas
What better snack than something healthy dipped in chocolate? I always joke around that this is the season I put edible candy eyes on everything, but I'm not even playing. It's true. These chocolate covered bananas are not only made in 1 minute, but candy eyes make them so much more fun for the season. I use Ghirardelli dark melting wafers. Simply heat up the chocolate in the microwave in 30 second increments until melted and gently dip bananas into the chocolate. Set on parchment paper, then stick in the refrigerator for about 10 minutes to firm up. The options are endless!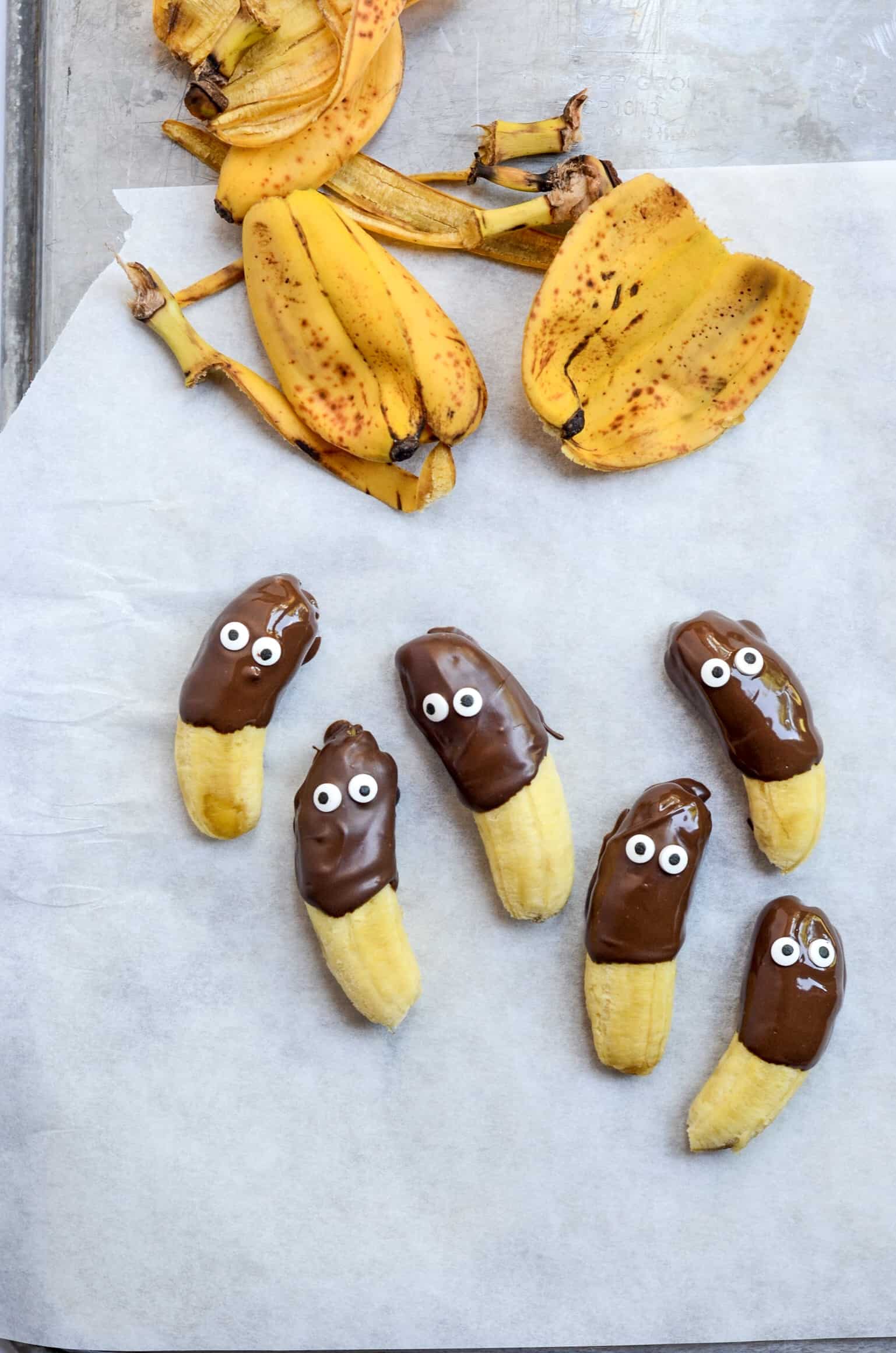 What about dessert?
These are healthy snacks, of course, but if you're hankering for some dessert check out these items:
Mummy Sugar Cookies are so easy when you use store-bought sugar cookie dough and frosting. Done.
Chocolate Brownie Cookies with Halloween M&Ms are ALWAYS a hit over here when you can't decide whether you want a brownie or a cookie.
What's better than dipped rice krispie treats made to look like monsters? You can use some of that melting chocolate up that you bought for #5.
More Halloween Inspo
This post is part of a larger collaboration with some insanely talented ladies. This Haunted Halloween collaboration features some more fun and festive ideas for Halloween this year:
Happy Halloween!
xox!
kathryn
As always, if you make anything from the blog, be sure to let me know! I love hearing from you in the comments on this post below or find Worn Slap Out on Facebook, Instagram, or Pinterest!