The juiciest, easiest pork chops you'll ever eat, these bone-in baked pork chops are the perfect main course for any weeknight dinner.
***This post has been updated in February 2021 with updates photos, minor tweak of the recipe, and new copy. Hope you enjoy!***
I love these pork chops for a lot of different reasons. First, pork is a great meat to add to your regular rotation because it's economical. You can get 4 large, bone-in pork chops for $12 -- which is such a bargain. You can feed a lot of people nice cuts of pork for very little.
Second, these pork chops are such a great weeknight meal because it is fuss-free and done in less than 30 minutes. Season the pork chops, sear them, then stick them in the oven. That's it.
Third, there are any number of roasted vegetables you can roast while the pork is cooking. My favorite is asparagus and cauliflower gnocchi from Trader Joe's. I'll explain more below, but it's a great combo.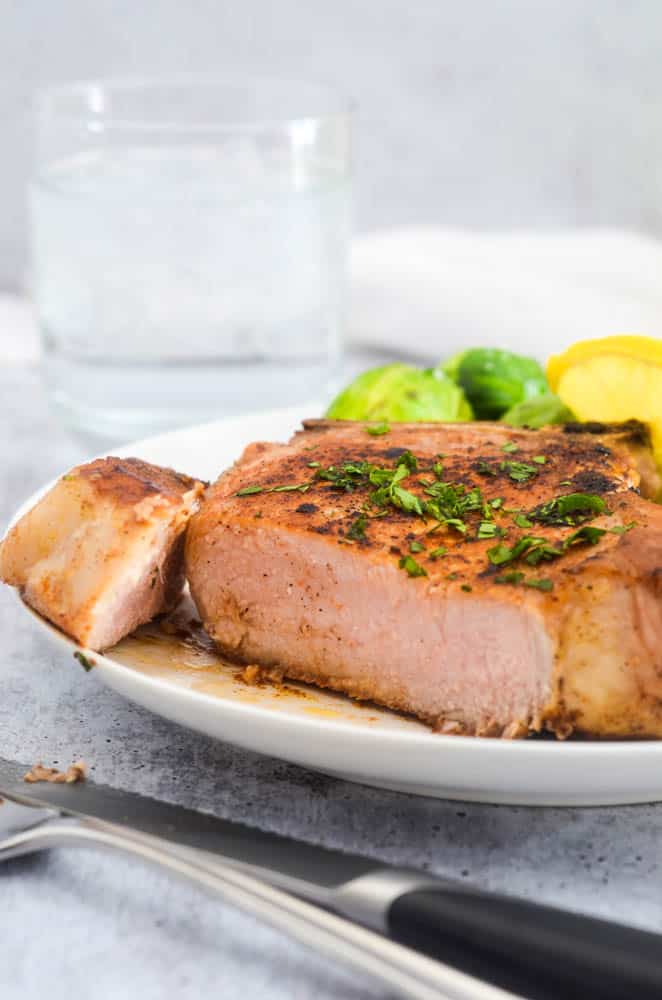 A Simple Seasoning
The seasoning requires only 4 ingredients to make the pork chops so flavorful:
Salt
Pepper
Garlic powder
Smoked paprika
Place all of the spices in a small bowl, mix, then sprinkle all over the chops OR if you're like me, just sprinkle the spices directly on the pork chops from the spice jar because you're in a crazy hurry.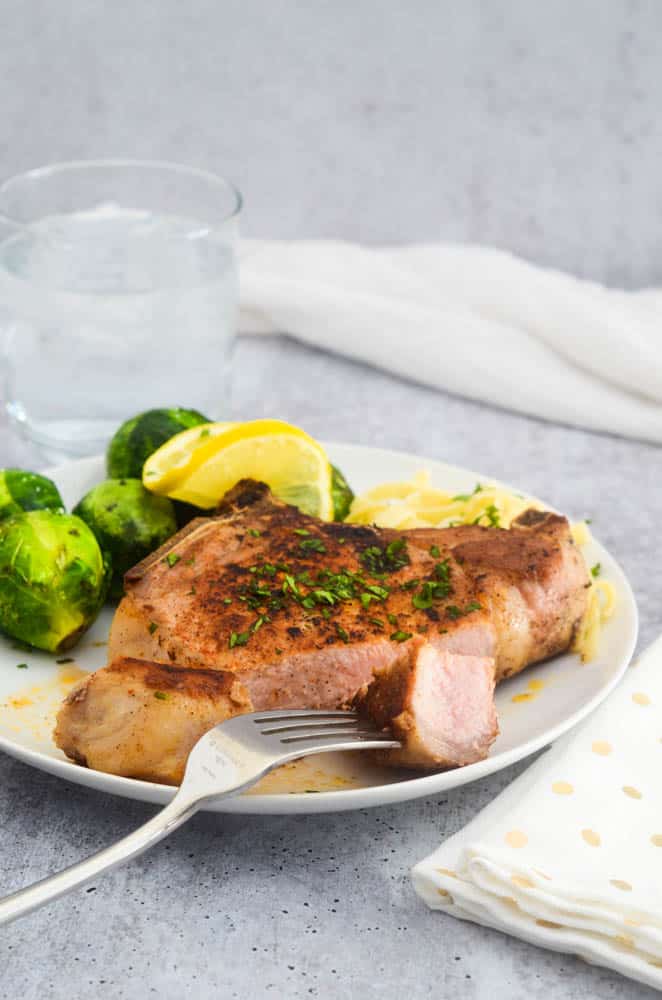 Tips and Tricks for Baked Pork Chops
The secret to these pork chops is two-fold:
Let your pork chops sit out at room temperature for at least 30 minutes prior to cooking.  Your meat will cook more evenly and make for juicier chops.
Sear pork chops first.  Don't just stick them in the oven. Searing not only makes the pork chop look *way* more appetizing because it has that nice brown coloring, but it actually adds a ton of flavor that baking won't give you.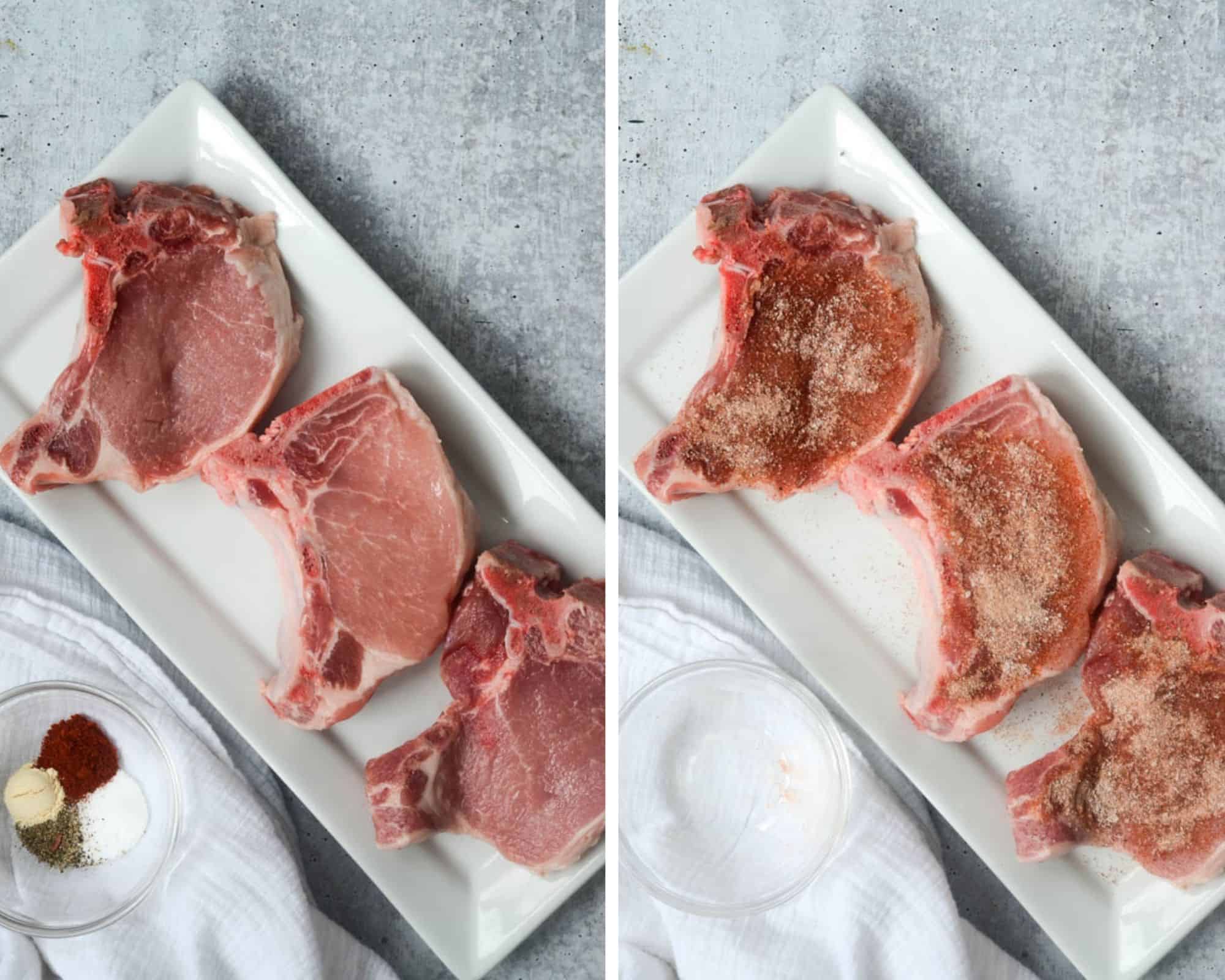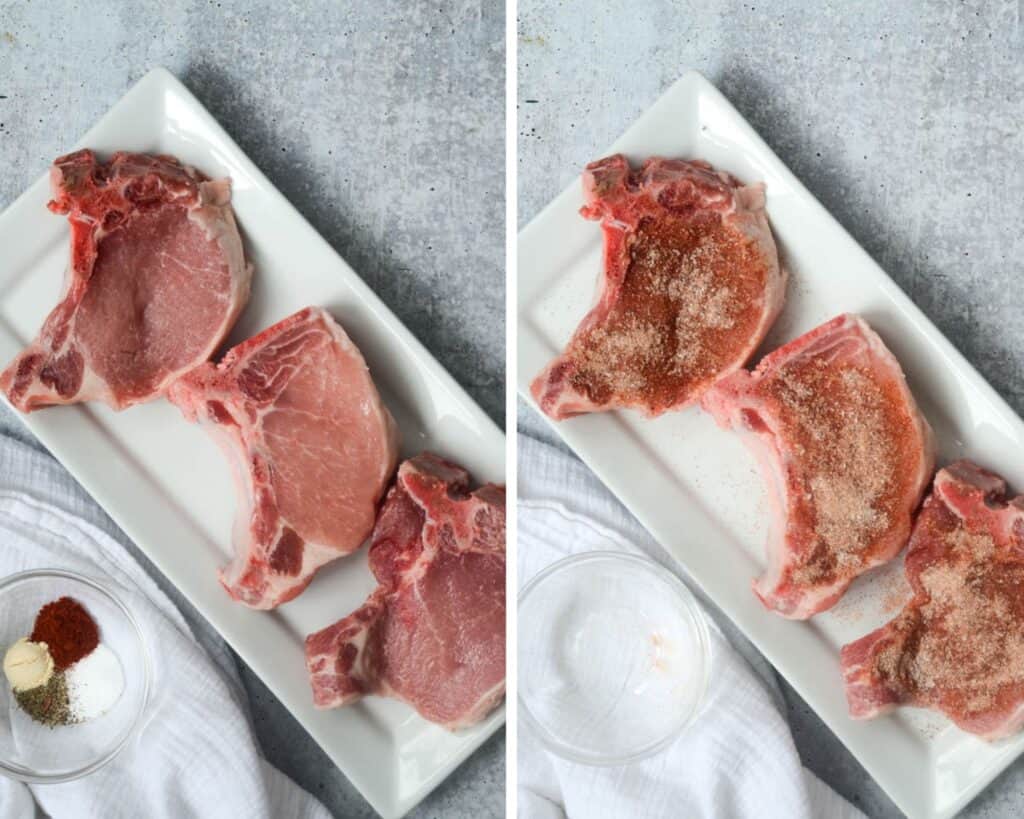 What to Eat with Pork Chops
Have you had the cauliflower gnocchi from Trader Joes?  Place the gnocchi in the microwave for one minute to defrost a bit, then pan sear them in the same pan that you cooked your pork chops (because the chops will be tented on a separate plate). So flavorful.  
My other favorite sides to serve with baked pork chops are simple veggies you can cook while the pork chop is searing -- like Smashed Roasted Brussels Sprouts or Simple Roasted Carrots. Asparagus is also super easy to stick in the oven while the pork chops are resting.
If you want to have something a bit more filling, this One Pot Garlic Pasta recipe is so simple.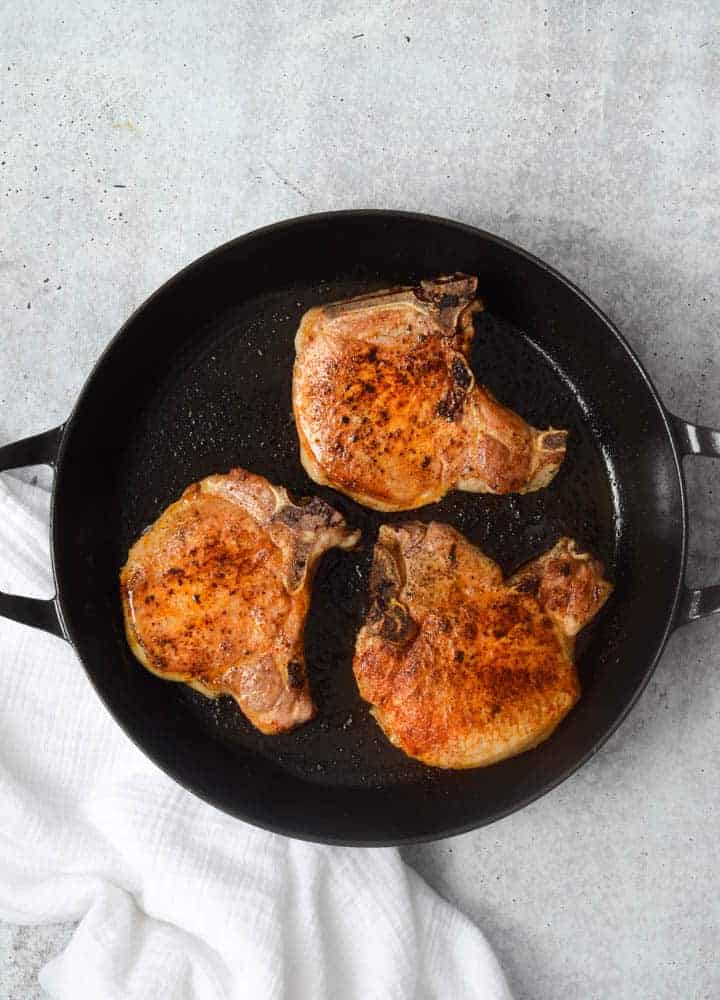 xox,
kathryn
As always, if you make anything from the blog, be sure to let me know! I love hearing from you in the comments on this post below or find Worn Slap Out on Facebook, Instagram, or Pinterest!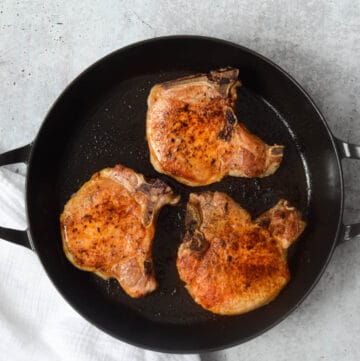 Perfectly Baked Pork Chops
The juiciest, easiest pork chops you'll ever eat, these bone-in baked pork chops are the perfect main course for any weeknight dinner.
Print
Pin
Rate
Ingredients
3-4

large, bone-in thick-cut pork chops

3

Tablespoons

olive oil

1

teaspoon

salt

¼

teaspoon

pepper

½

teaspoon

garlic powder

½

teaspoon

smoked paprika
Instructions
Preheat oven to 375˚F.

Season pork chops on both sides with salt, pepper, garlic powder, and smoked paprika.

Add olive oil to an oven-safe, non-stick pan and heat pan on high until it's very hot (A drop of water on the pan should sizzle).

Place pork chops in pan and let them sear for 3 minutes (don't touch them at all!). Flip pork chops and sear other side for 3 minutes. Place whole pan in the oven and bake for 5 minutes.

When pork chops are done, remove from pan onto a plate and tent the pork chops with aluminum foil. Allow to rest for 10 minutes before serving or cutting.
Notes
Make ahead: This meal is a great one to make in advance. Store in the refrigerator for up to 4 days. To reheat, place pork chops in the oven at 375˚ for about 20 minutes.