These pork chops with roasted asparagus and cauliflower gnocchi all come together in less than 30 minutes and everything comes together at the same time without thinking about it.  Here I share some tips for cooking the juiciest pork chops with a flavorful but simple seasoning and roasting asparagus to crispy perfect.  Don't forget some tricks to searing cauliflower gnocchi with added flavor, too (gnocchi is from a bag, of course!  Ain't nobody got time for that!)
This meal is seriously a perfect weeknight meal because it involves you making exactly ONE cut (cutting the tips off the asparagus!), can be made in under 30 minutes, is healthy, gluten free, and everything comes out at once.  I repeat: EVERYTHING.  COMES.  OUT.  AT.  ONCE.  I have a serious problem with this.  I don't have time to do calculations in my head about letting the water boil for this long or putting the broccoli in the oven at this point.  I'M ON A MISSION.  I tend to do whatever comes to mind first and don't think about the order in which things will get done.  This often leaves me with vegetables that sit out for a few minutes while the meat finishes cooking, which is certainly not the end of the world, but when it works out, it's like you have become an Olympic athlete in cooking.  Perfection.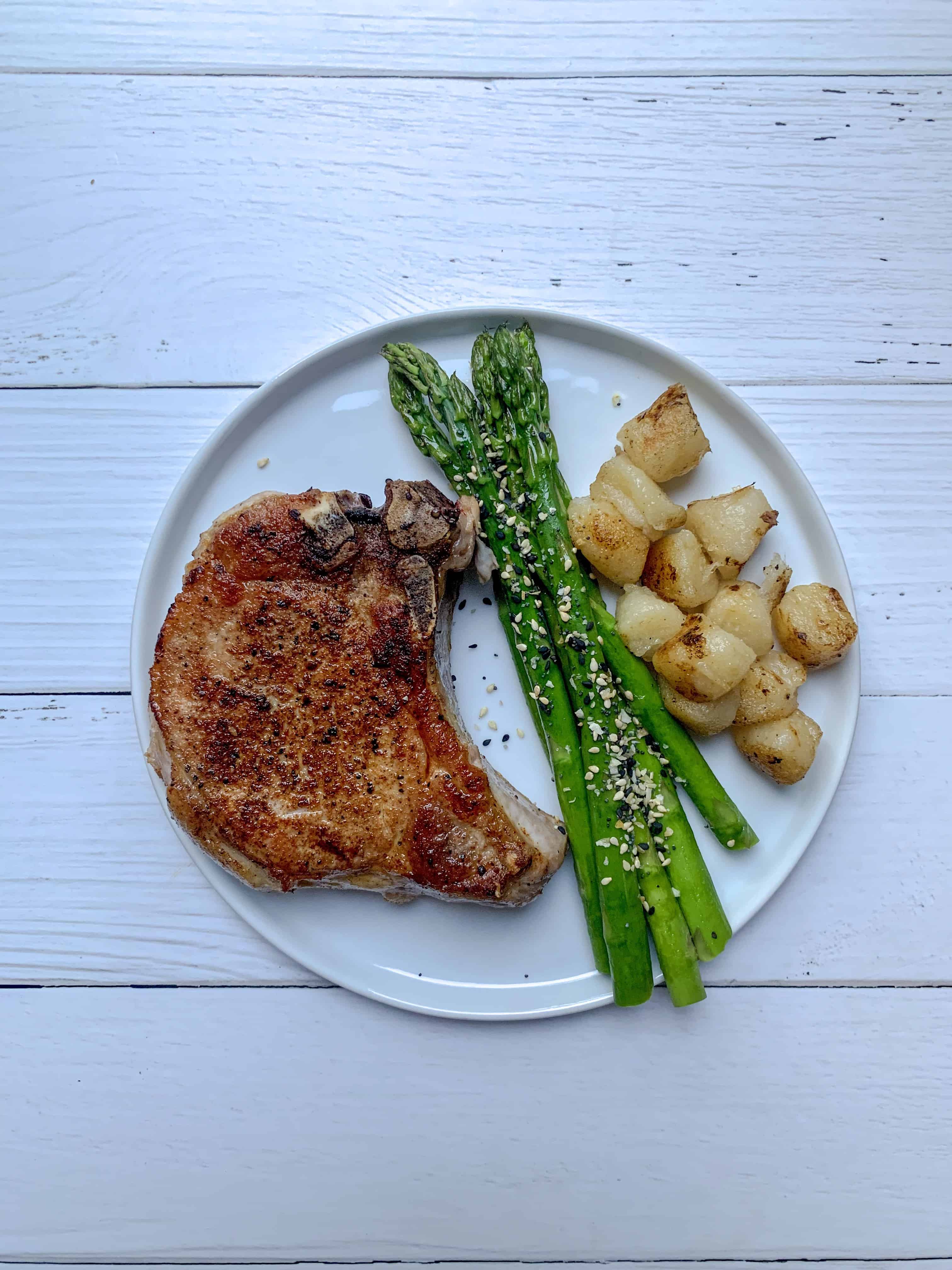 I love me some pork chops, especially the thick-cut pork chops with the bone in.  Pork is economical, healthy, and so totally delicious.   I much prefer baking pork chops instead of frying them or even coating them in flour, egg, and bread crumbs.  The secret to these pork chops is two-fold:
Let your pork chops sit out at room temperature for at least 30 minutes prior to cooking.  Your meat will cook more evenly and make for juicier chops.
Sear pork chops first.  Don't just stick them in the oven.  Nope.  Searing not only makes the pork chop look *way* more appetizing because it has that nice brown coloring, but it actually adds a ton of flavor that baking won't give you.
After letting them sit, I sprinkle four seasonings on the pork, which is a simple but killer combo:
salt
pepper
garlic powder
paprika
I generously salt the pork chops and then sprinkle on the rest to lightly coat them all over.  Don't forget to do both sides.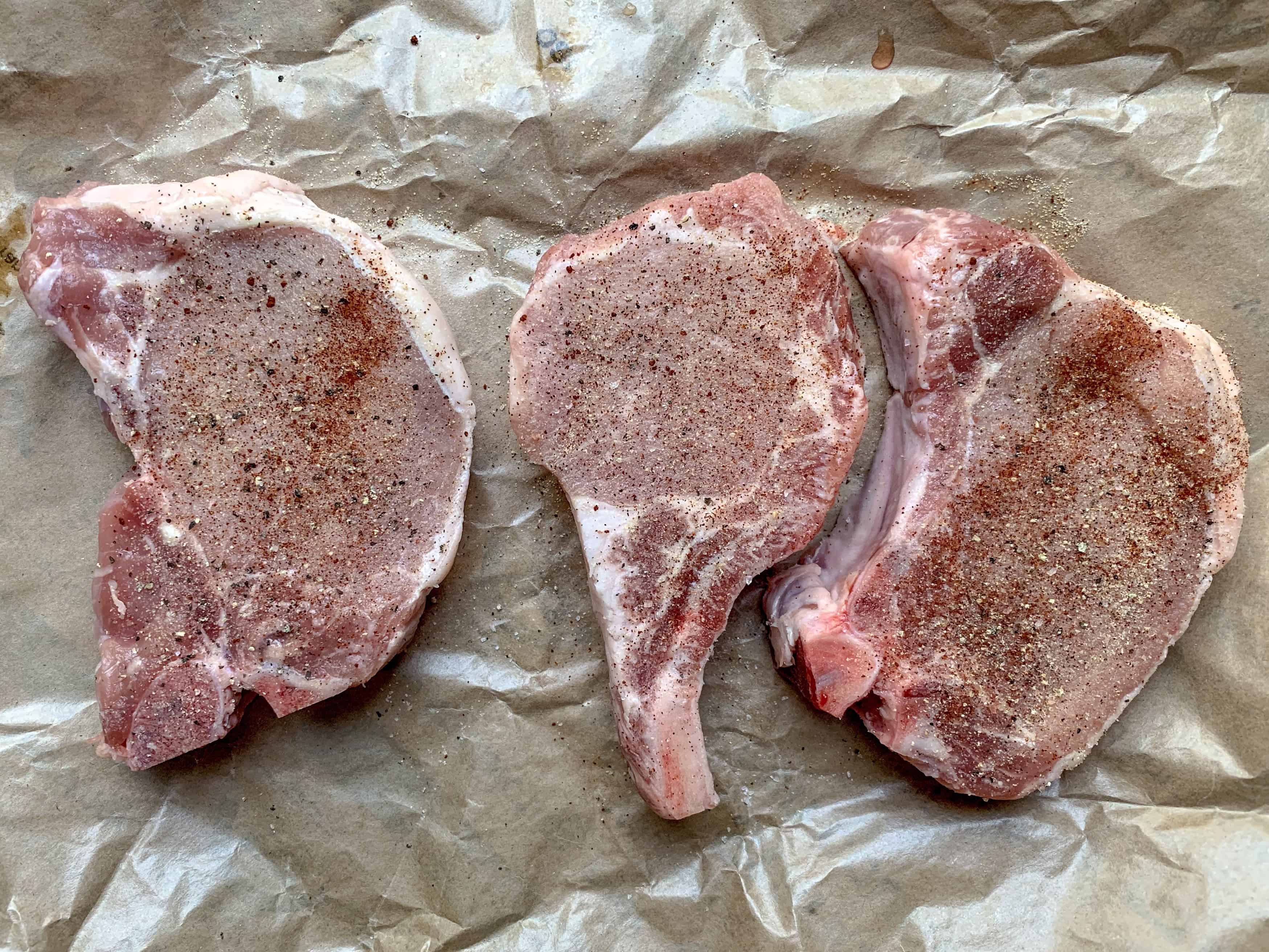 See how they get nicely browned?  Once you transfer them to a plate, cover them with aluminum foil because they need to continue cooking a little bit after they come out of the oven.  After 10 minutes, you can cut into them and admire their medium center — a nice, light-pink one.  If you prefer more well done pork, just add a couple of minutes to the baking phase.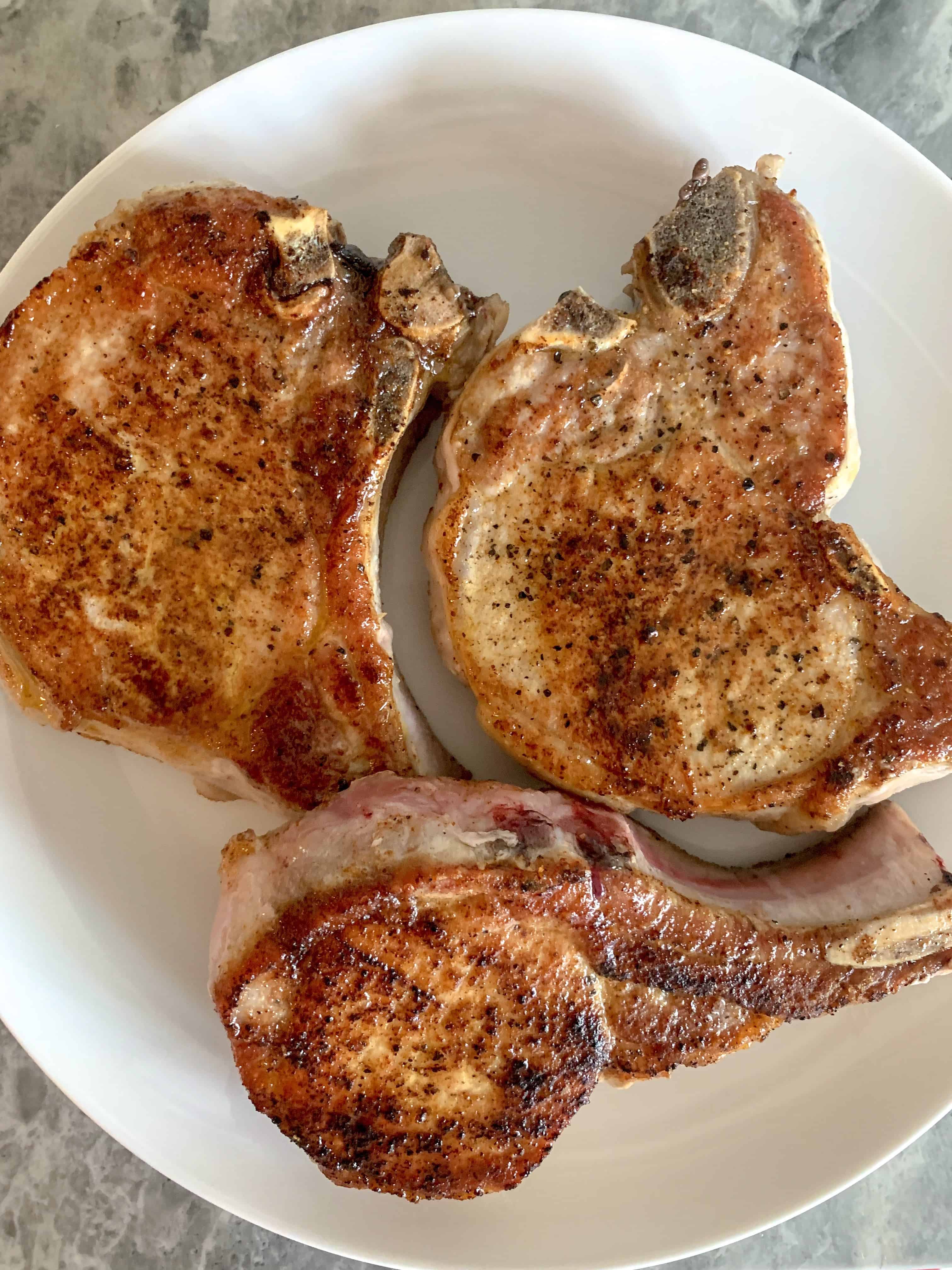 And have you HAD the cauliflower gnocchi from Trader Joes?  Have you cooked your cauliflower gnocchi IN the meat juices?  This is where it's at.  It makes the gnocchi so much more flavorful and further ties the meal together.  The cauliflower gnocchi from Trader Joes definitely needs to be seared and not boiled because boiling makes it mushy.  I put the cauliflower gnocchi in the microwave for a minute before searing in a pan over medium-high heat.  When the bottoms get nice and brown, I flip them over and sear the other side.  This stuff is really worth you making the trip to Trader Joes for.  And if you see it…BUY A LOT OF IT.  This stuff flies off the shelves at a rapid rate, and our TJ has issues keeping it in stock.
Active Time: 25 minutes
Total Time: 25 minutes
Yield: 3 large servings
Ingredients:
3 large, bone-in thick-cut pork chops
1/2 teaspoon salt
1/4 teaspoon pepper
1/4 teaspoon garlic powder
1/4 teaspoon paprika
3 tablespoons of olive oil
1 bundle of asparagus
1 package of cauliflower gnocchi from Trader Joes
This is Everything seasoning from Williams Sonoma (optional)
Directions:
Preheat oven to 375 degree Fahrenheit.
Season pork chops* on both sides with salt, pepper, garlic powder, and paprika.
Add olive oil to an oven-safe, non-stick pan and heat pan on high until it's very hot (drop of water should dizzle immediately…that's when you know it's ready).
Place pork chops in pan and let them sear for 3 minutes (don't touch them at all!).
Flip pork chops and immediately place whole pan in the oven for another 3-4 minutes.
Flip pork chops one more time and bake for another 5 minutes.
Meanwhile, rub asparagus with 1/2 Tablespoon of olive oil, salt and pepper.  Microwave your frozen cauliflower gnocchi for 1 minute to loosen gnocchi up.  Set aside.
Remove pork chops from oven and tent them on a separate plate with aluminum foil to further cook.
Place asparagus on baking sheet and bake for 8 minutes when pork chops come out.  When they come out of oven, generously season with This is Everything if you have it.
Pan sear gnocchi in the same pan the pork chops were in at medium-high heat until each side gets a crispy, brown sear (about 2-3 minutes per side).
Everything should come out at once…your pork chops are done resting, your asparagus is out of the oven and the cauliflower gnocchi is finished.
TIME TO EAT!
I love when things work out like this!
*Try to let pork chops sit for at least 30 minutes at room temperature before cooking.
xox