This step-by-step guide will help you make a perfect holiday charcuterie board with pomegranate for the holidays, full of a variety of meats, cheeses, crackers, and fruits and nuts to heighten any holiday party. 
Worn Slap Out, LLC is a participant in the Amazon Services LLC Associates Program, an affiliate advertising program. As an Amazon Associate, I earn from qualifying purchases. Each of your purchases via Amazon links supports Worn Slap Out at no additional cost to you.  
How do you feel about butter boards? Are you Team Absolutely or Team Nah? It's officially the holiday season in my book, which spans the last 4 months of the calendar year. Whether you are into a butter board or not, who doesn't love a good holiday cheese board? Add some favorite meats, crackers, bread, fruits, veggies, and spreads, and you've got the best Christmas board to bring to all your family gatherings this year.
This holiday board one won't take you hours to put together, and you can make ahead. The secret to a good holiday charcuterie board is to have a good variety of foods AND to follow just a few steps when placing everything on the board. Have you ever seen food just dumped on a board? It's unappetizing.
Here, I'll share with you all the charcuterie tips I've picked up along the way in hopes you make the most beautiful board you can be proud of!  
Why I Dig This Charcuterie Board with Pomegranate 
First, you can spread some holiday cheer. The charcuterie board spreads some serious holiday cheer with notes of jolly red and green. Show up with a full wooden board filled with delicious foods, and you know it will get eaten quickly as people graze at holiday parties and get togethers. 
Second, it's easy! Grab all of the ingredients at your local Whole Foods or Trader Joe's. It's one stop shopping for an easy appetizer. 
The charcuterie board is absolutely beautiful. This board creates so much visual interest once you get the hang of placing the variety of foods in the right spots. 
The charcuterie board is a great way to please everyone's palates. This holiday board can meet everyone's needs. There's something for everyone in this appetizer. My kids are picky but they went to TOWN on this board because, despite so many things they didn't like, there were more things they found that they did like.
As an added bonus, my kids also tried new things to expand their palate like olives and new cheeses. You can mix and match until you get your own, customized perfect bite. 
Best Charcuterie Boards
Type of Board to Use:
First, consider the number of people who will be picking at your charcuterie board. I've found (in a very non-scientific way) that each person eats about a 3x3" area on average (some guests will eat more while others will just pick at a couple of things). Whether or not you choose a large board or a small board will depend on the number of people who will be eating.
The large wooden cutting board I'm using is 12x12". This acacia wood board is beautiful and so is this more affordable charcuterie board. You can also buy a beautiful marble board (or marble-looking board) at places like Home Goods or T.J. Maxx.
Make Your Charcuterie Board Festive
I made this charcuterie board festive with pomegranates and meats to bring out the red and rosemary to bring out the green, but felt like I wanted just a tiny bit more pizazz without feeling like I needed to get a second Master's in charcuterie boarding. 
I simply got some wire ribbon I had from last year and tied it to the top diagonal of the board, taping it in the back so it wouldn't slip off. This is so simple but it really makes the board more festive. You could tie the ribbon in the middle or you could tie two bows to make it look like it's a present, too. 
Word to the wise: Stay away from glitter ribbon. It really gets all over your food. Just trust me on this one! 
You could also get those mini stockings that hold gift cards and place a couple on your charcuterie board with nuts spilling out or to hold the cheese knives.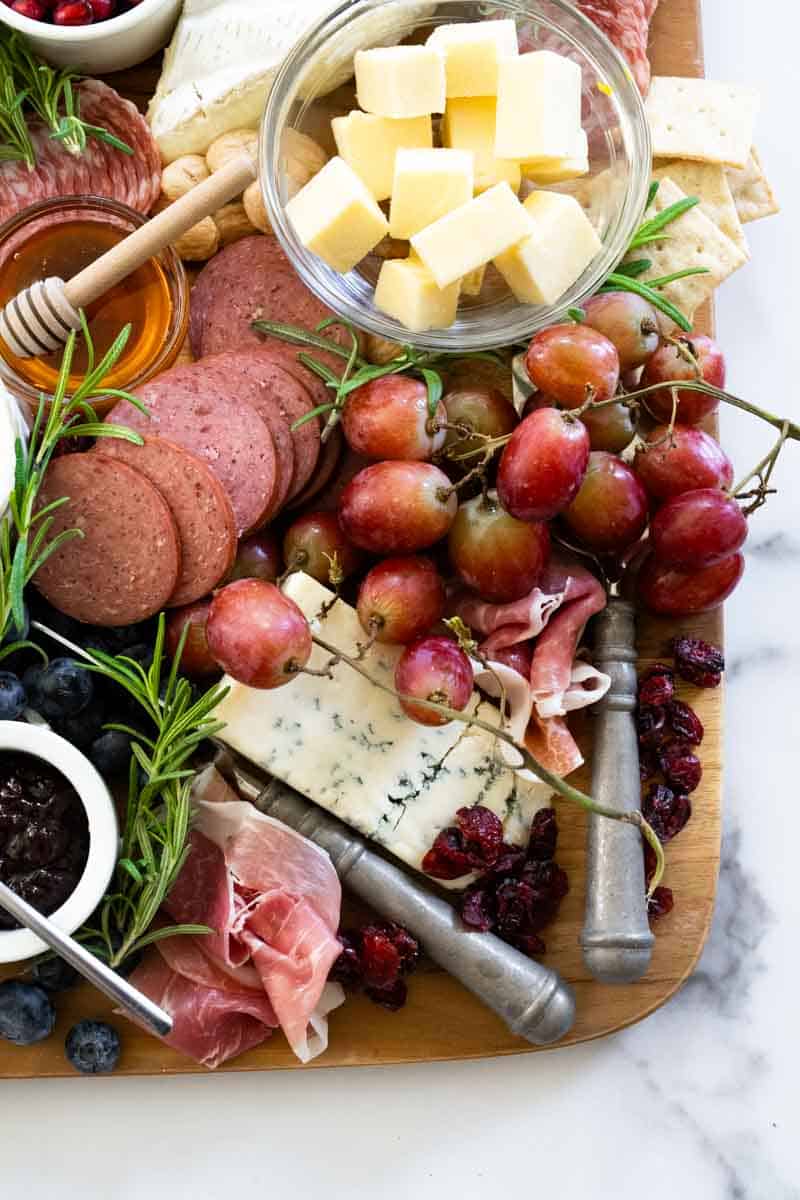 Types of Cheese to Use
You want to have an assortment of cheeses, both hard and soft cheese. This will ensure there's something for everybody. The rule of thumb is to have 1 ounce of cheese per person. For example, if you are expecting 12 people, buy 12 ounces of cheese.
What kinds of cheese should you consider?
Hard Cheese: sharp cheddar, Parmigiano, cheddar, Gruyère, Pecorino, Comté, manchego, Emmentaler
Hard cheeses are accessible cheeses. They're generally pretty mild. Hard cheeses can be presented in a variety of different ways, whether it's cubes, slices, or using a cookie cutter to cut out festive shapes. 
2. Soft Cheese or Semi-soft Cheese: Brie, goat cheese, fresh mozzarella, gouda, havarti, Fontina, Monterey Jack, Pepper Jack, taleggio, Reblochon, ricotta
Soft cheeses tend to be crowd pleasers, for their soft-textured, delicious taste.
3. Blue cheese: gorgonzola, Danish blue, stilton, Roquefort, Cambozola, cabrales
Blue cheeses are crumbly, strong and unique. They add a bolder flavor to your holiday board.
Tip when putting the cheese down on your board: With the soft cheeses, I put a piece of parchment paper underneath them so they don't make a mess on the cutting board. It's not so much to protect the cutting board as it is to make the board look pretty. It adds some visual interest, too. 
Clueless on What Cheeses to Buy?
If you're not sure what cheeses to buy, ask the person at the cheese counter at the grocery store. The cheesemonger will be able to point you in the right direction for 3-4 cheeses to include. If all else fails, buy your favorite cheeses. 
Don't forget to include cheese knives. You'll need these for most of your cheeses, especially the softer cheeses and blue cheeses.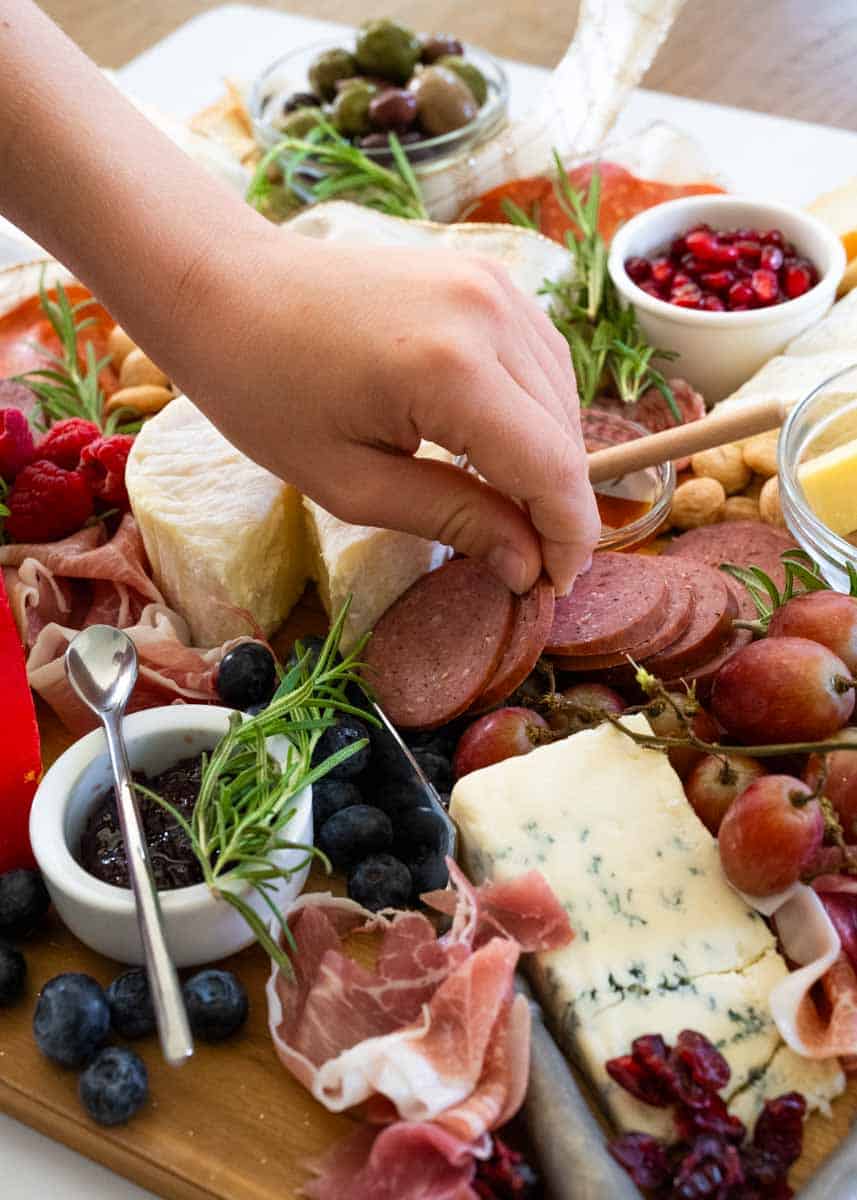 The Best Meats for A Charcuterie Board
Salami, prosciutto, pepperoni, and sausage are the best types of meat to use on a charcuterie board because these are classics everyone loves. You could also use mortadella or giancale. 
Salami can be made into roses because it's a sturdy piece of meat. 
Salami and pepperoni are typically sliced very thin, so they look nice fanned out and laying flat on the board. 
Pâté and foie gras are also two fancy meats you could have on your charcuterie boards. Smoked salmon is also a popular meat for boards.
Prosciutto looks nice in ribbons and creates a bit more depth for your holiday board. Slices of prosciutto can also easily be crammed into empty spaces. I typically save prosciutto for the very end to add where there are gaps. You could also roll prosciutto or other thinly sliced hams into cigars for another presentation.
Crackers, Breads, and Breadsticks (and Spreads!)
The crackers, breadsticks, or bread you use are critical because these items are the vehicle for getting most of the other tasty stuff into your mouth.
Consider slicing up a fresh baguette (that crusty bread is always a hit!), buying a variety pack of entertaining crackers, mini crostinis, or mini breadsticks to add some height to your board.
You can't have bread without a festive seasonal spread. Consider a fig spread for the holidays, a cherry compote, or a homemade cranberry sauce. A high-quality butter is also delicious. A thin layer of spread on a baguette with brie is quite tasty! 
Spicy mustard is one of my husband's favorite spreads to pair with meats, too. Honey is a crowd pleaser. I never make a board without honey.
Fruits and Vegetables
Having a variety of options on your charcuterie board is key. You can make the whole board a vegetable tray, of course. This board is centered around the holidays though, so I added pomegranates to bring in that beautiful pop of holiday red. Consider these options:
Pomegranate arils - I put the pomegranate seeds, or arils, on this board because I think pomegranate seeds are so delicious with a creamy brie, but you could display the pomegranate halves and use only for presentation if you wanted. 
Fresh raspberries
Apples
Grapes - red grapes go along with the festive red and green Christmas board theme
Fresh blueberries
Olives – get these at your local grocery store's buffet line…so easy! 
Artichoke hearts
Radishes 
Cherry tomatoes 
Carrots
Don't forget about dried fruits, too!
Dried apricots
Dried cranberries
Dried cherries 
Dried blueberries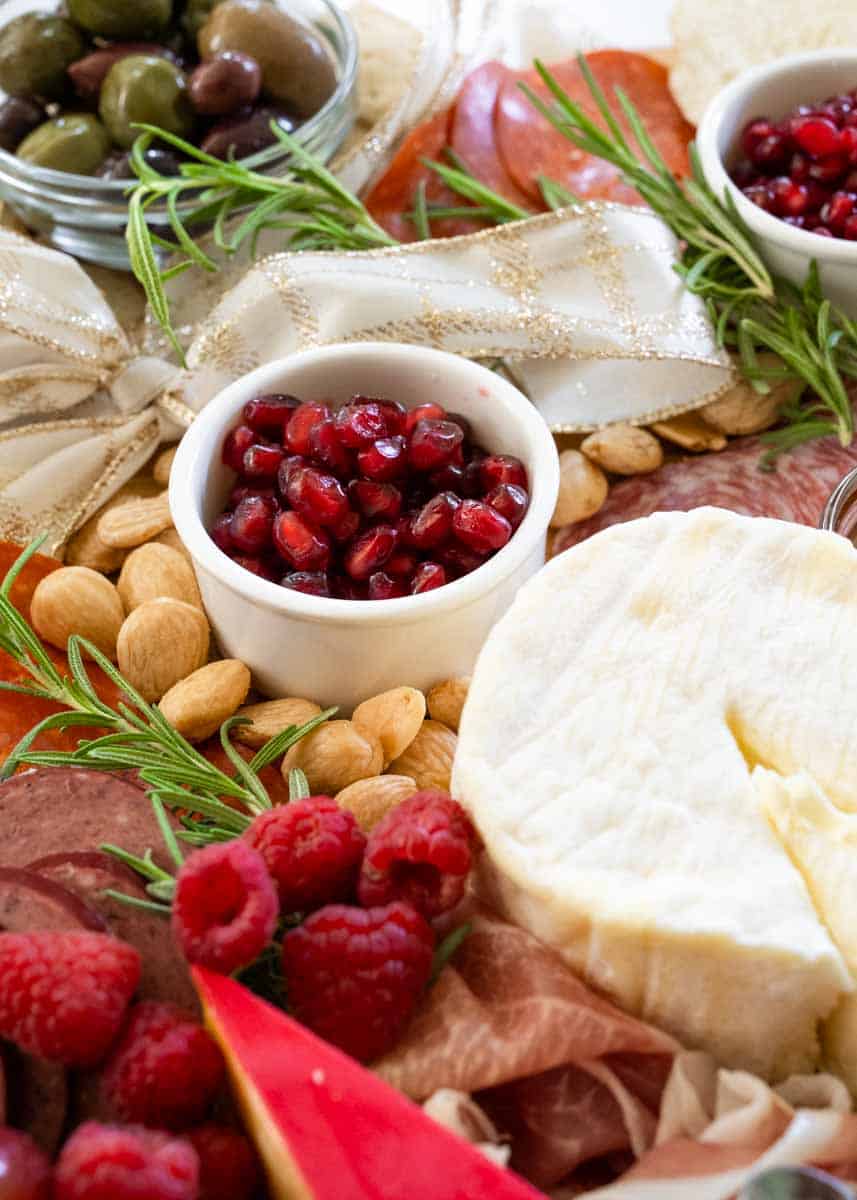 Other Charcuterie Fixins
Fresh herbs (fresh rosemary sprigs are my favorite for the holidays)
Cornichons 
Marcona almonds 
Pecans - go with plain or choose candied pecans if you want something a little sweet on your board. 
Pistachios 
Edible flowers 
Step-by-Step Instructions for How to Make a Charcuterie Board Look Professional
A good charcuterie board requires just a teeny bit of strategy rather than just throwing things down on a board and hoping for the best. Here's an easy step-by-step guide for how I build my cheese boards: 
Step 1: Place your cheeses and small bowls
Spread out your cheeses around the board. Cheeses are typically the focal point of your board.
Also, strategically place the containers or small bowls you're going to use around the cheese. Sometimes I contain fresh fruit in a container or two. I definitely always have a small bowl for honey and another one for a seasonal jam.
Step 2: Meats & Crackers
Lay down meats in a few different places, thinking about the thin slices of meat and ribbons of prosciutto, a salami rose, etc. Just like the meats, play around with different presentations of the crackers.
You can stack the crackers, lay the crackers upright or on their side, or fan them out. Breadsticks can be placed in a small cup and stood upright.
Step 3: Fill in spaces with fresh or dried fruits, nuts, and herbs
Grapes make for a nice presentation and take up a good deal of space. Grapes are good to fit on a corner and another edge. Nuts can also fit anywhere, as can dried cranberries or other fruits. You'll want to fill the rest of the board with small piles of all of your other delicious foods until you can't see the bottom of the board.
Finally, don't pass up the opportunity to add fresh sprigs of rosemary around the board once you're happy with the layout. The fresh herb not only smells delicious, but the rosemary adds a nice little holiday pop with the red pomegranate. You could also use whatever fresh herbs you have on hand.
Transporting Your Charcuterie Board
Press and seal plastic wrap works really well for a charcuterie board. The plastic wrap will rest on top of your food without ruining the contents. You'll still need to be very careful transporting, but you won't lose blueberries or nuts or any of the small stuff every time you make a left turn.  
Going far? If you're traveling far, consider packaging each of the ingredient categories (meats, crackers, fruits, etc.) separately in an airtight container and assembling once you get to your final destination.
Storing Charcuterie Leftovers 
Depending on the size of your board, you can place a sheet or two of plastic wrap right over the whole board and stick it in the refrigerator for the next day. This is the method I prefer because there's no clean up and its tomorrow's (very good) problem. I get to eat another round of the meats, cheeses, and other good stuff. 
If your board is too large to fit in the refrigerator, place the meats, cheeses, fruit, and crackers in separate bags to deconstruct your board. Store all the leftovers in the refrigerator because likely your non-refrigerated foods touched something that needs to be refrigerated.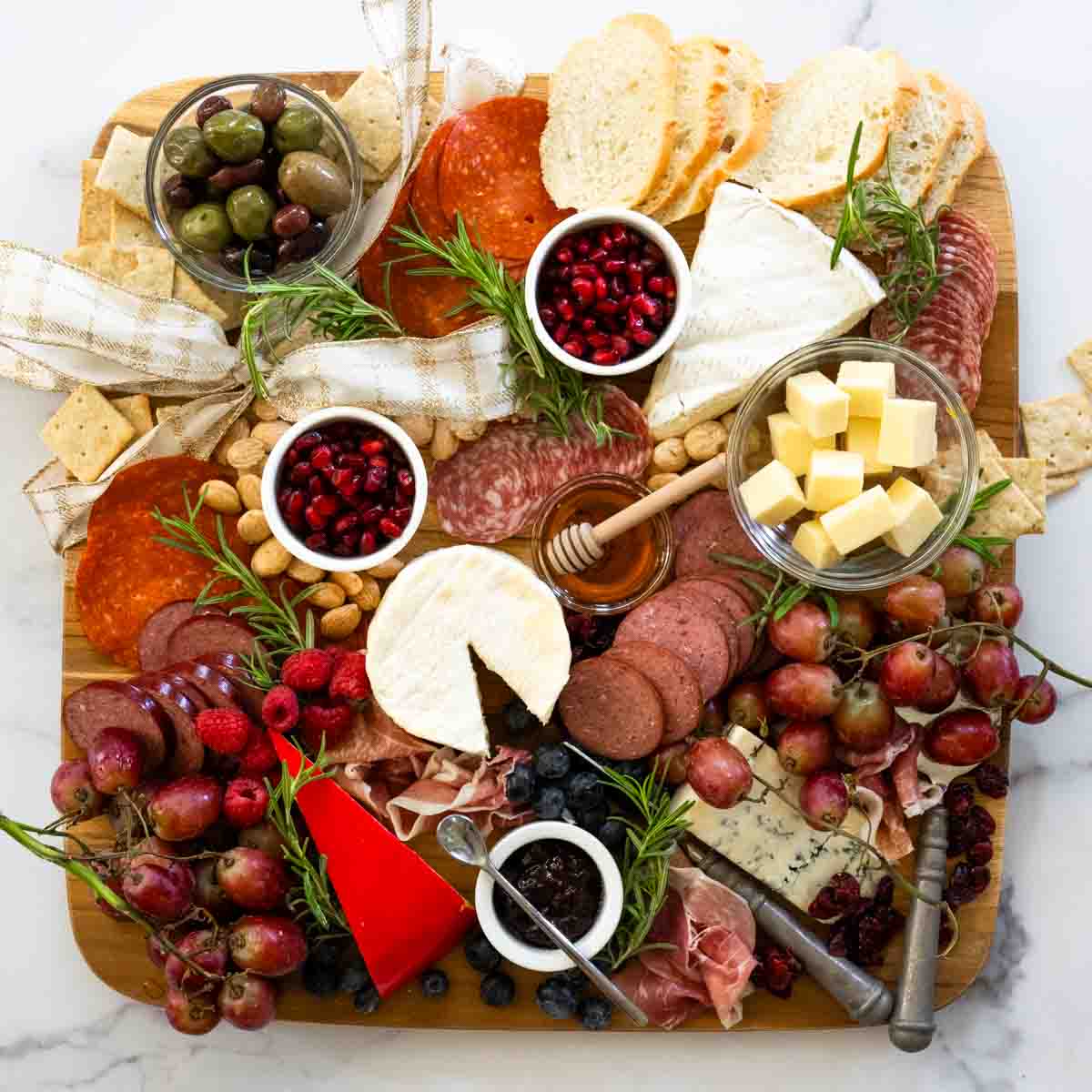 Other Holiday Charcuterie Tips 
Finally, here are some last tips to make sure your easy charcuterie board with pomegranate comes out just the way you like it:
Assemble the board cold but serve the food at room temperature. It's way easier to manipulate cheese and meats when they are both cold.
Serve this festive charcuterie board with pomegranates at room temperature. Meats and cheeses taste better when they're slightly colder than room temperature. 
Use your skills to make themed charcuterie boards for all sorts of seasons or events! A fall charcuterie board would be so fun with apple butter, apple slices, candied pecans, etc. Put a plaid bow on it, and this becomes an adorable board to bring to a fall party or gathering. 
Make it germ-friendly: If you're not feeling the communal food thing, you can still make a communal board. Consider adding toothpicks, making sure all of your meats are pre-cut or sliced and make sure all of your bowls have mini baby tongs or spoons. This will prevent people from getting their hands all over your board. 
Consider labeling cheeses: If you have a cheese that's less common or a cheese that may be unknown to your guests, consider putting a label on the cheese with a toothpick or on cute cheese flags.
Be sensitive to nut allergies: This charcuterie board was eaten by folks without a nut or dairy allergy; however, if you do have guests that have allergies or if you are not sure, consider putting the nuts in a self-contained dish or including a vegan cheese. 
Consider keeping a stash of extra charcuterie items when specific foods are popular. You can refresh the board easily and be ready for the next round of hungry guests.
Happy holiday-ing with your fancy charcuterie board!
xox,
kathryn
As always, if you make anything from the blog, be sure to let me know! I love hearing from you in the comments on this post below or find Worn Slap Out on Facebook, Instagram, or Pinterest!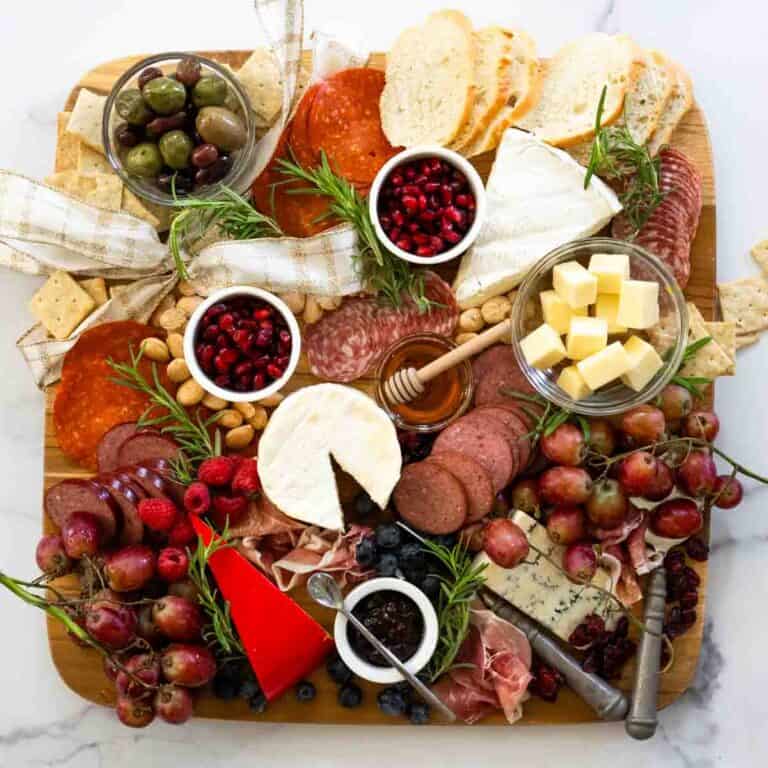 Easy Charcuterie Board with Pomegranate for the Holidays
This step-by-step guide will help you make a perfect holiday charcuterie board with pomegranate for the holidays, full of a variety of meats, cheeses, crackers, and fruits and nuts to heighten any holiday party. 
Print
Pin
Rate
Ingredients
Cheeses
3

oz

blue cheese (see post for examples)

3

oz

hard cheese (see post for examples)

3

oz

soft cheese (see post for examples)
Meats
4

oz

prosciutto

sliced thin

4

oz

salami

sliced thin

4

oz

smoked sausage
Crackers, Bread, and Spreads
1

loaf

fresh baguette

1

cup

favorite crackers

2

oz

seasonal spread (fig, cherry)

2

oz

honey

2

oz

spicy mustard
Fruits & Veggies
¼

cup

Pomegranate arils

¼

cup

blueberries

¼

cup

raspberries

¼

cup

grapes

½

cup

cherry tomatoes

½

cup

carrots

¼

cup

artichoke hearts

¼

cup

olives

¼

cup

radishes
Other Fixins
4

sprigs

Fresh herbs (fresh rosemary sprigs are my favorite for the holidays)

¼

cup

cornichons

1

cup

Nuts (Marcona almonds, pistachios, pecans) 

8

edible flowers

¼

cup

dried cranberries
Instructions
Start by getting your board cleaned and tie a wire-rimmed bow on the board if you want to make your board festive. Tape the back of the ribbon down to the bottom of the board.

Place your cheeses on the board, separating them around the board. Then place the containers or bowls you want around the board. Don't forget to also save room for the cheese knives and spoons for the spreads.

Place your larger fruits and meats around, varying the heights of different foods around the board. Also, place crackers around the board in smaller stacks or fanned out.

Place the rest of the fruits and nuts around the rest of the spaces on the board until the bottom of the board can't be seen.

Bring the board to just-above room temperature before serving! Enjoy!
Notes
To transport:
Place sheets of plastic wrap tightly over the top of the charcuterie board or individually wrap meats, cheeses, crackers, spreads, and other items in separate bags and assemble when you get to your destination. 
Storing:
If board fits in refrigerator, place a large sheet or sheets of plastic wrap over the whole board. Stick in the refrigerator until ready to enjoy again. 
If board is too large to fit in refrigerator, place meats, cheeses, fruits, and crackers into separate storage containers or bags and place in the refrigerator. 
Leftovers will last for up to 3 days. 
Nutrition
Calories:
389
kcal
|
Carbohydrates:
30
g
|
Protein:
15
g
|
Fat:
24
g
|
Saturated Fat:
8
g
|
Polyunsaturated Fat:
4
g
|
Monounsaturated Fat:
11
g
|
Trans Fat:
0.1
g
|
Cholesterol:
40
mg
|
Sodium:
885
mg
|
Potassium:
301
mg
|
Fiber:
3
g
|
Sugar:
12
g
|
Vitamin A:
1144
IU
|
Vitamin C:
4
mg
|
Calcium:
176
mg
|
Iron:
2
mg