A cross between a brownie and cake, these pumpkin bars are full of warm, fall spices and are a must to have on repeat this season.
Y'all. If there's one thing I love most about fall cooking and baking, it's pumpkin. Pumpkin bars, pumpkin muffins, pumpkin scones, pumpkin everything (but for the record, I don't love pumpkin spice lattes). Pumpkin is just so delicious and it's healthy (although if you ask my husband he'd talk about all of the natural sugars squash has in it...total buzzkill).
These Chocolate Chip Pumpkin Bars are the perfect dessert to make for your family, a dinner party, a school event, for whomever. They're basically the fall season in bar form. These are unique bars in that they're kind of in between the texture of a brownie (the butter and pumpkin puree makes them a little more dense) and cake because they're still pretty fluffy. They're a big hit with everyone, even among people who don't love pumpkin. My Kindergartener loves these...and he would never touch a pumpkin pie with a five foot pole. It's funny how that works.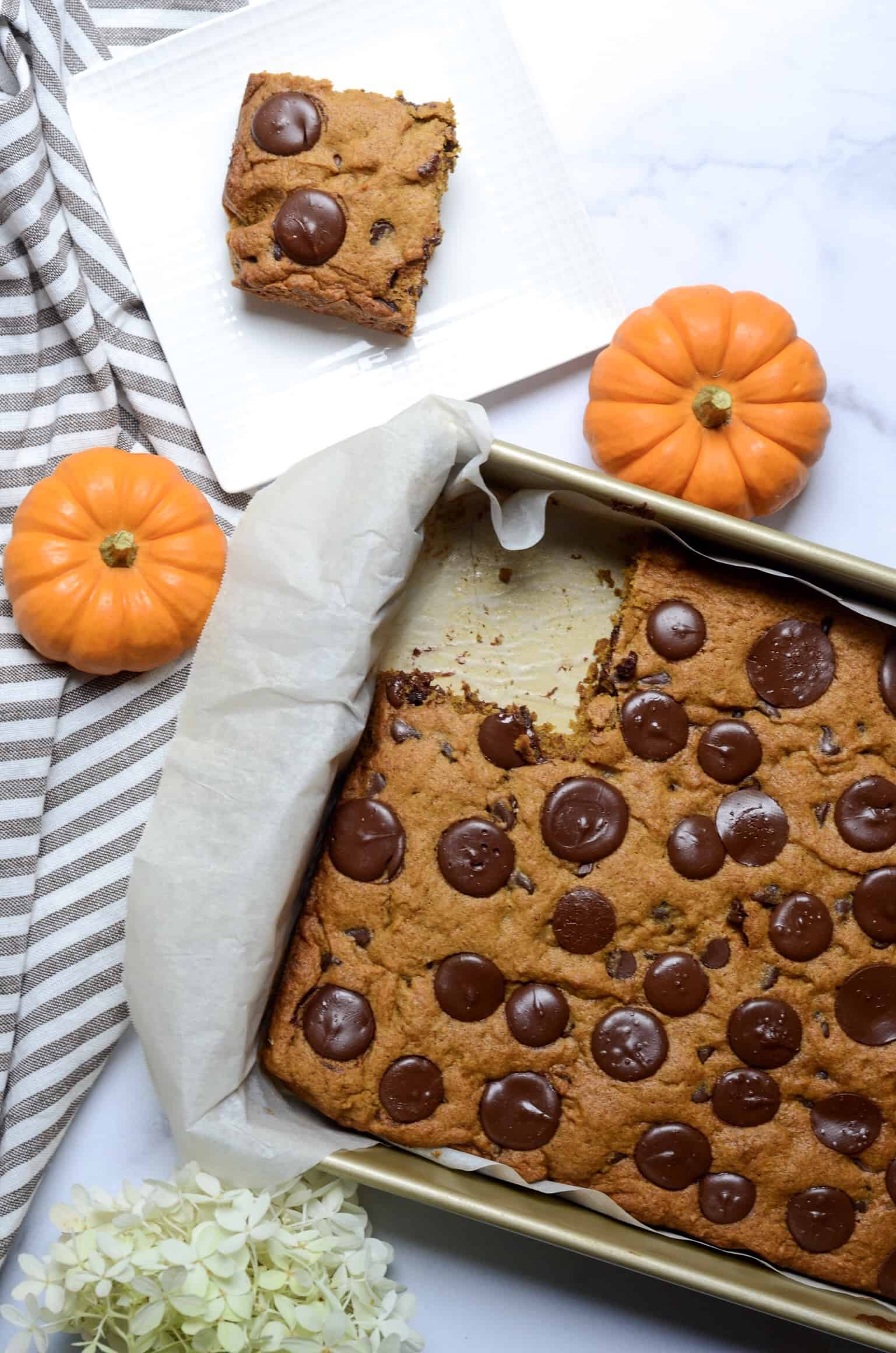 How to Make Pumpkin Bars
So. Simple. You'll mix your dry ingredients together, including flour and a bunch of fall spices (cinnamon, ginger, allspice, and cloves), then set aside. Next, cream your butter and sugars together. I use more brown sugar than white sugar in these to add more of a molasses taste from the brown sugar. After adding your egg, pumpkin puree, and vanilla extract to the creamed butter, you'll gently add in your dry ingredients, then fold in your chocolate chips. Then you'll pour the batter into the baking pan, and spread with even more chocolate before baking. Speaking of chocolate - baking discs are where it's at.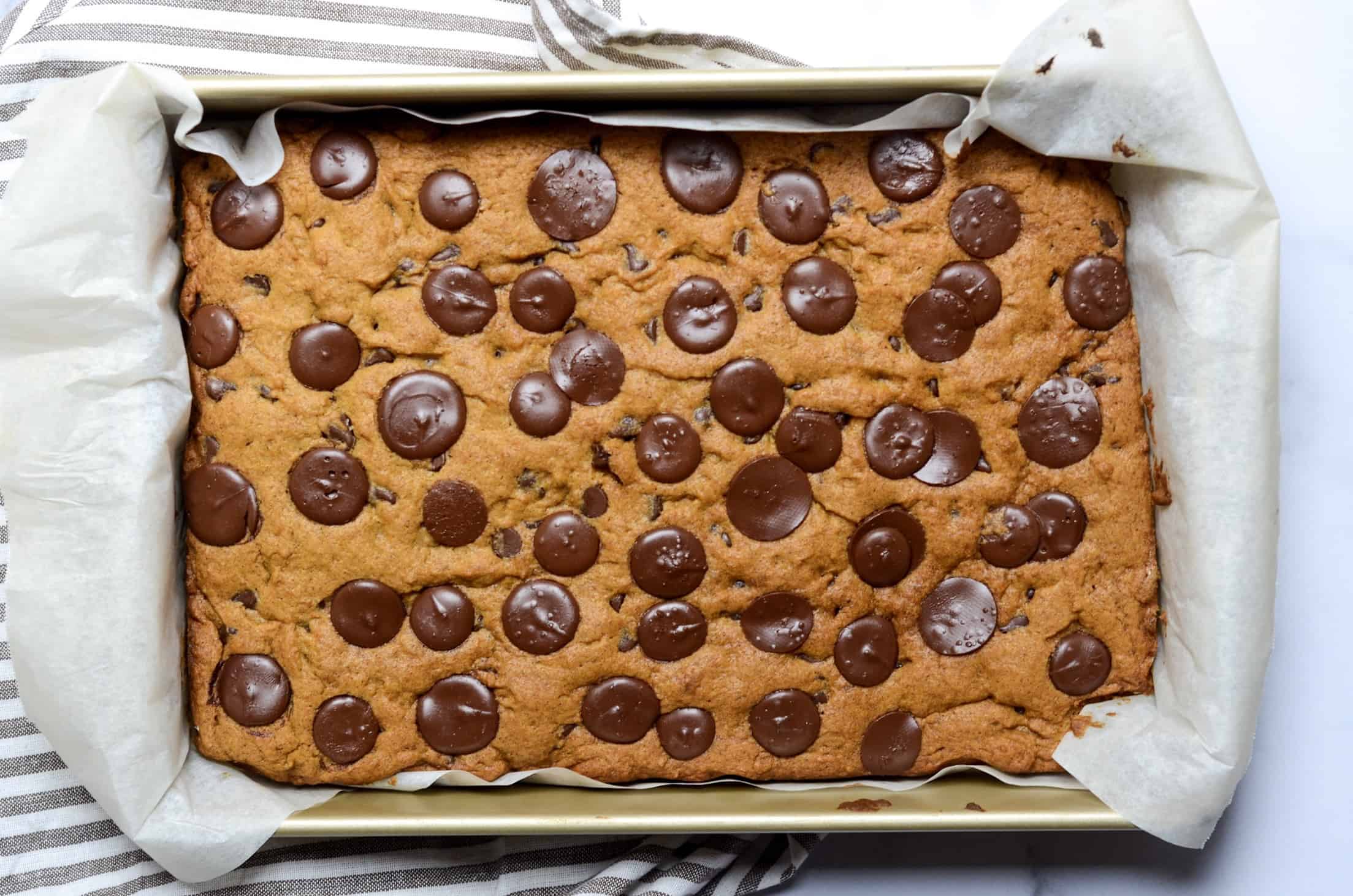 What are chocolate discs and what if I don't have any?
Chocolate discs are round chocolate pieces that you can find at a specialty store or from Whole Foods. At Whole Foods they come pre-packaged in a clear plastic container and can be found with the fancy cocoa and chocolates in the baking aisle. If you don't have chocolate discs or can't find them, no worries. Just use more chocolate chips. Chocolate discs just melt making these gorgeous (and more importantly, delicious) puddles of high quality chocolate, and who doesn't want that?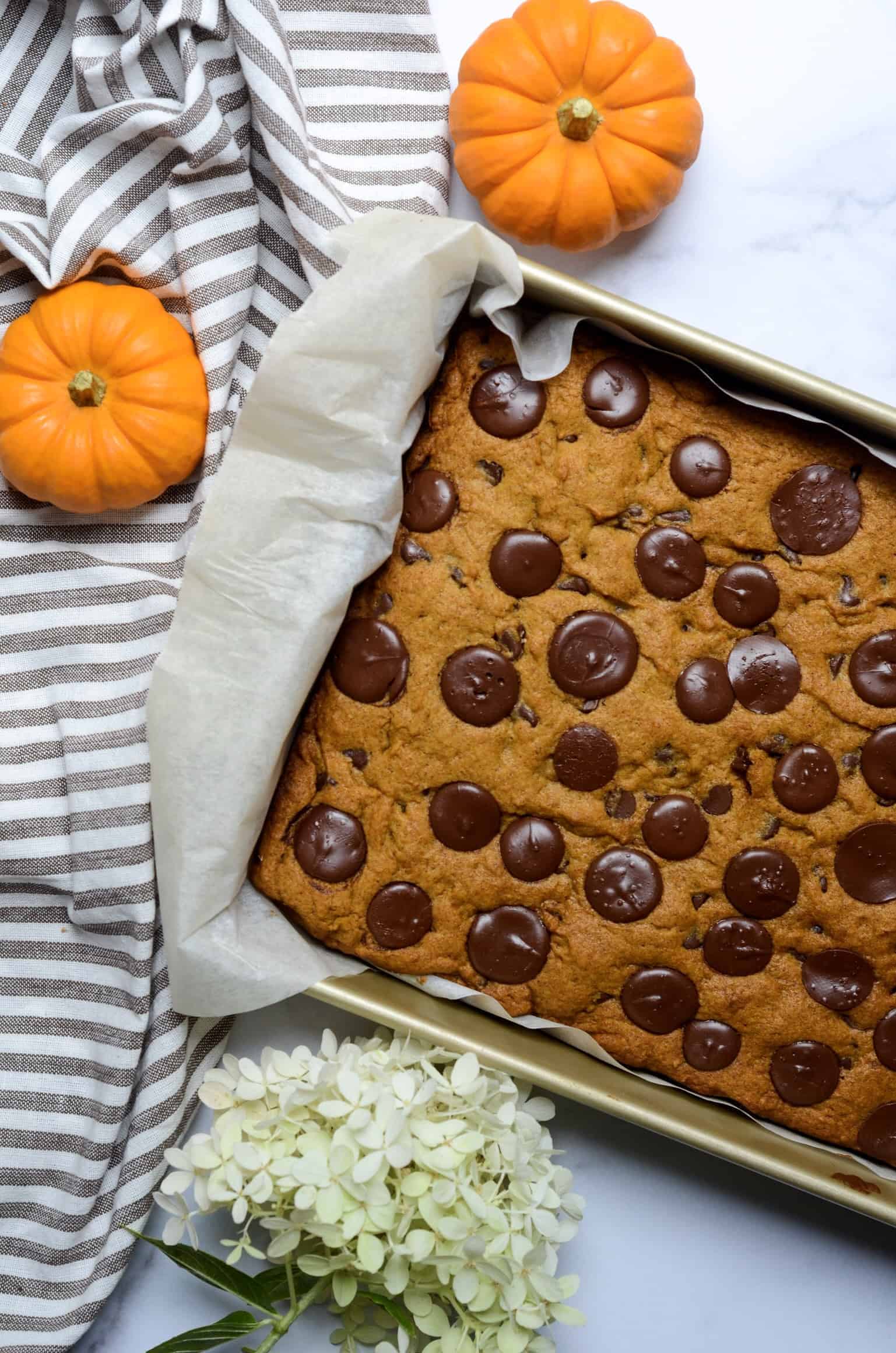 Storing and Freezing Pumpkin Bars
These pumpkin bars freeze well. Don't be scared. Just individually wrap the bars in plastic wrap then into a Ziplock bag. Stick in the refrigerator overnight to defrost or pop in the microwave for about 20 seconds.
More Delish Pumpkin Things to Make This Season
Want some more inspiration for using pumpkin?
xox
Kathryn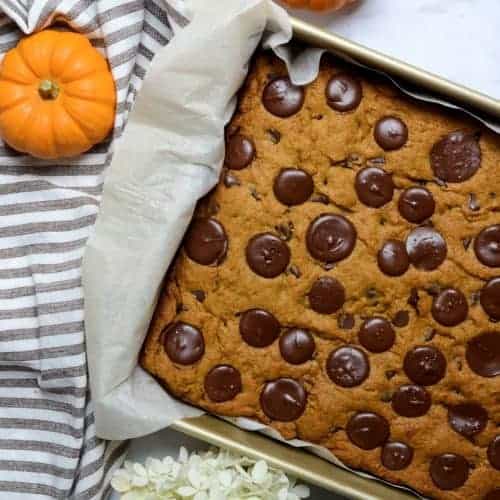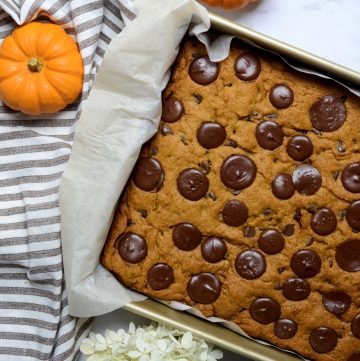 Ingredients
2

cups

all purpose flour

1 ½

teaspoons

cinnamon

½

teaspoon

ginger

½

teaspoon

allspice

½

teaspoon

cloves

1

teaspoon

baking soda

1

teaspoon

salt

1

cup

unsalted butter room temperature

¾

cup

brown sugar

½

cup

white sugar

1

large egg

2

teaspoons

vanilla extract

1 ¼

cups

pumpkin puree

1 ½

cups

chocolate chips

½

cup

chocolate discs

or more chocolate chips
Instructions
Preheat your oven to 350 degrees F. Line a 9x13" cake pan with parchment paper so the sides are sufficiently covered with parchment paper. Set aside.

In a medium bowl, whisk together flour, cinnamon, ginger, allspice, cloves, baking soda and salt. Set aside.

In a large stand mixer with paddle attachment, combine the butter and sugar. Cream for 5 minutes until light and fluffy. Scrape down the sides of the bowl as needed. Add in egg, vanilla, and pumpkin puree and beat until combined. Slowly add in flour mixture and mix until just combined.

Stir in 1 ½ cups of chocolate chips with a spatula. Pour mixture into baking sheet. Sprinkle the chocolate disks (or more chocolate chips) on top before baking.

Bake for 32-35 minutes or until pumpkin bars are browned and toothpick comes out clean. Let cool before cutting.
Notes
Store these bars in an airtight container.  They'll be great 2-3 days later. 
If freezing, individually wrap in plastic wrap then freeze in a Ziplock bag for easy access.  To eat, dethaw in the refrigerator overnight or stick in the microwave for 20-30 seconds.