Quick breads are the best — and this Pumpkin Chocolate Swirl Bread is at the top of my list as soon as fall hits with its moist pumpkin bread layered between sweet chocolate.
Hands down — this is my favorite pumpkin bread recipe because it's so moist, so easy, and involves a middle, very generous swirl of chocolate. Call me #basic, but this bad B loves pumpkin bread. Any luck getting your hands on some pumpkin puree cans lately? I scored 5 cans of pumpkin puree and thought I had won the lottery.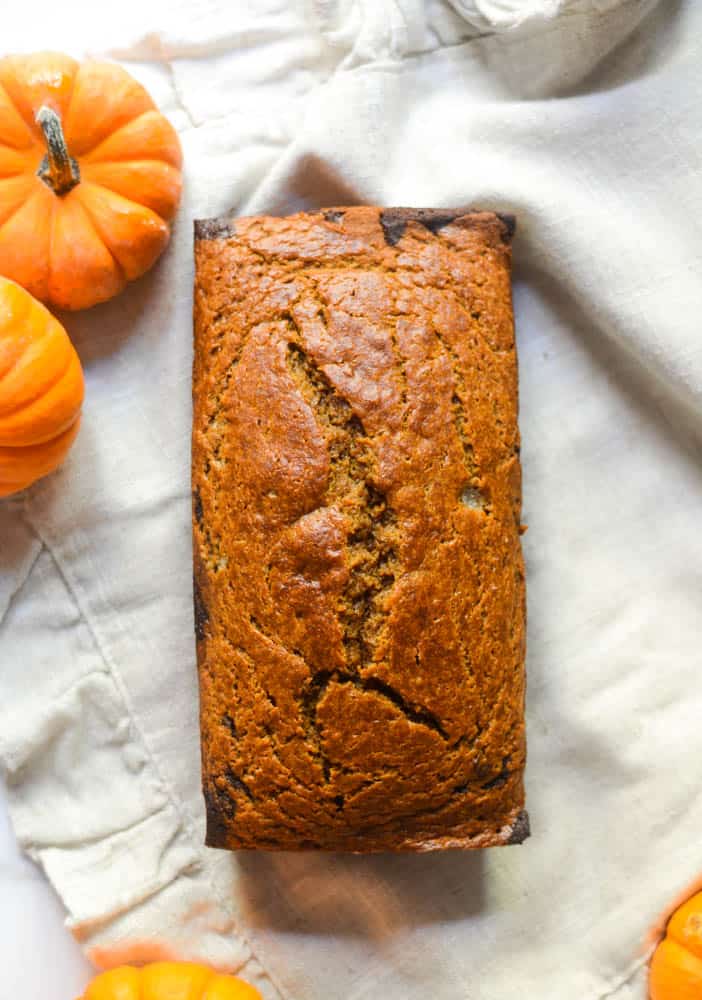 Is there a pumpkin puree shortage this year?
Stay calm, y'all. It turns out, there's actually not a shortage of canned pumpkin puree. Much of the hysteria may be due to the fact that people are starting their holiday baking early this year because why not? We need something exciting in our lives — and sometimes that means welcoming the holidays earlier than normal.
Libbys has also confirmed that demand has been higher earlier — and that they're trying to produce more earlier. If you're still missing pumpkin puree on the shelf, try again in a couple of weeks and we should see more. (It also doesn't help that when these news articles come out about there being less pumpkin — people immediately flock to the stores and buy it all up.)
Pumpkin Pie Filling vs Pumpkin Puree
These two things are VERY different. Pumpkin pie filling is already sweetened AND spiced, which you'll already be doing yourself in this recipe, so make sure you get pumpkin puree, which is simply cooked pumpkin. If you get pumpkin pie filling, you'll have the sweetest (and yuckiest!) bread known to man.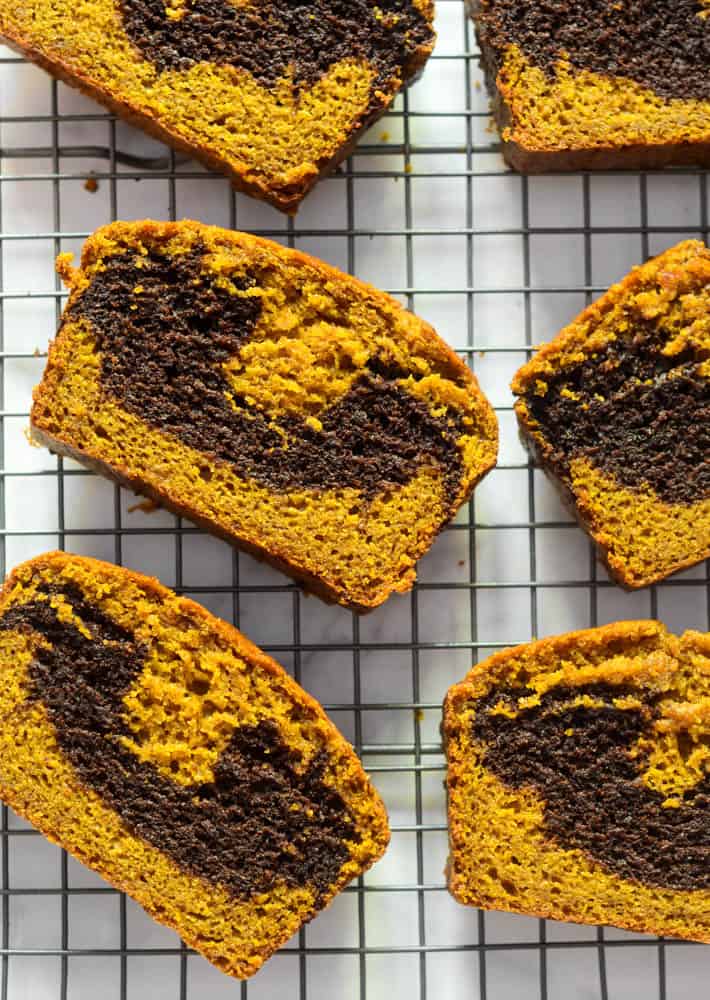 How to Make Pumpkin Chocolate Bread
Now that we cleared that up, how do you make this pumpkin chocolate swirl bread? Easy peasy.
Set aside flour and get your pan and oven ready.
First, set aside 1/4 cup of flour from the start. You'll see why later — but if you do it first, you won't forget. Trust me — I've been there. Then grease or spray the bottom and sides of an 8.5″ x 4″ loaf pan and line with parchment paper. Preheat oven to 350˚F.
Mix your ingredients.
Combine the flour, baking powder, baking soda, and spices into a small bowl. In a medium-sized bowl, whisk the rest of the ingredients except for the cocoa powder. With a spatula, fold in the dry ingredients into the wet ingredients until just combined.
Divide your batter and add cocoa & extra flour.
Then remove a heaping cup's worth of batter into the bowl that used to have your flour mixture in it. Add the cocoa to make the chocolate batter and give it a good stir. Add the remaining 1/4 cup of flour you set aside in the very beginning into the pumpkin batter. Stir to combine.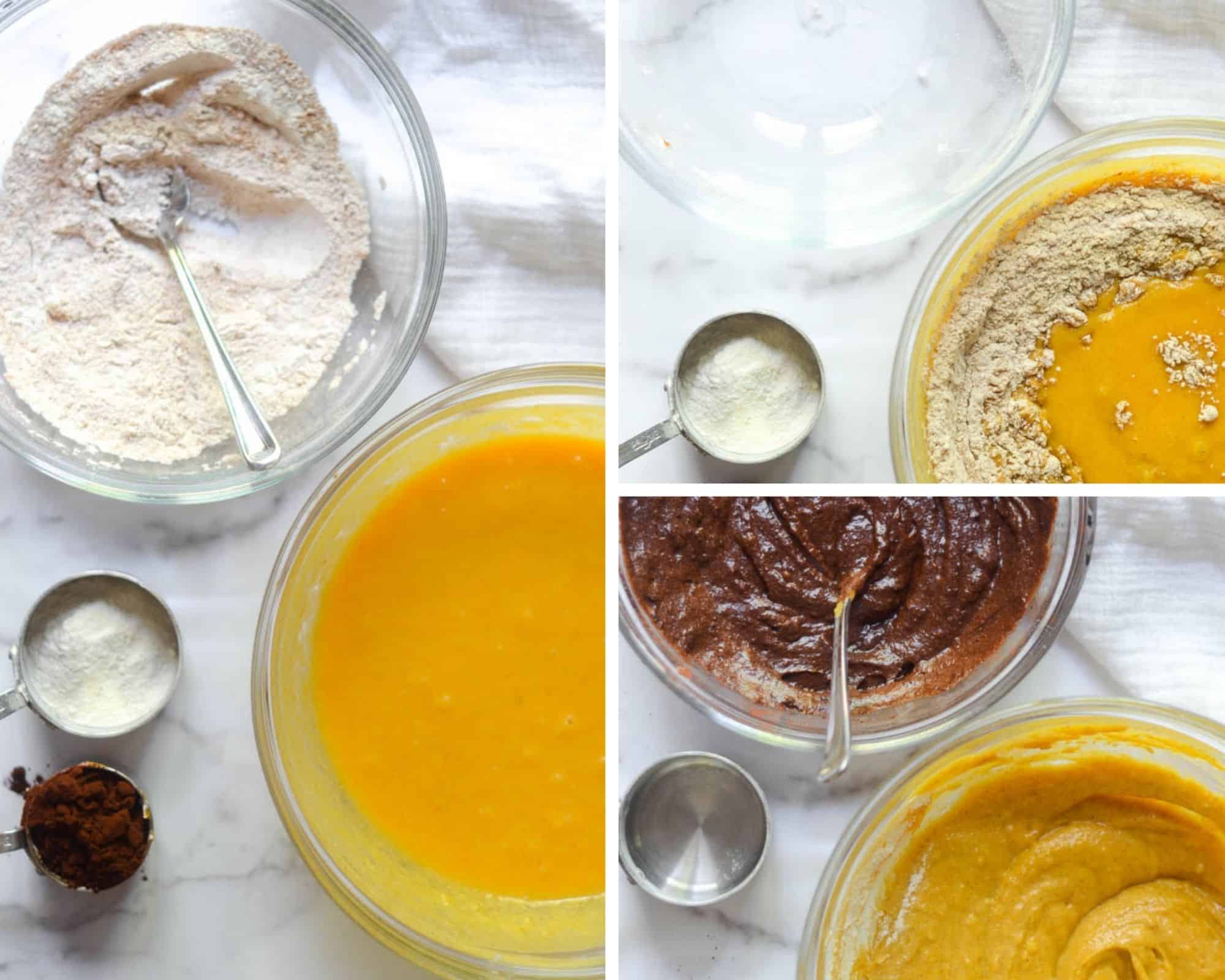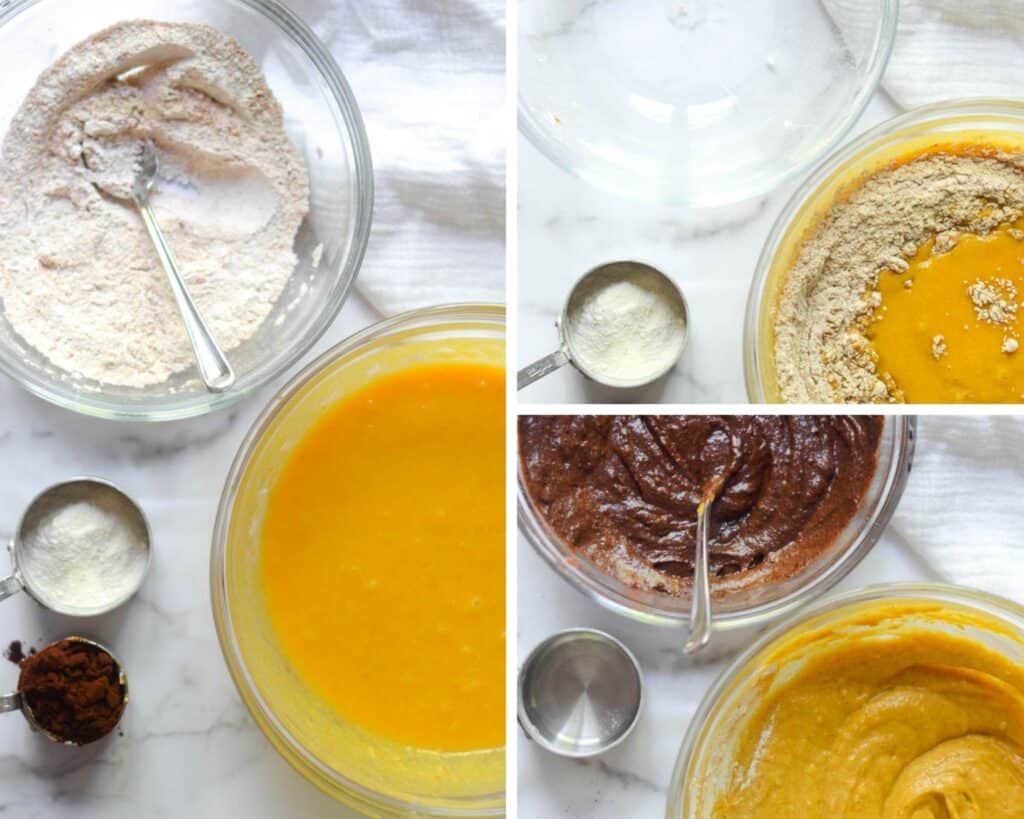 Add batter to pan and swirl.
Then either alternate between scoops of batter or do half of the pumpkin layer on the bottom, then chocolate in the middle, followed by pumpkin on top. Swirl the batter with a knife by doing two figure eights. I've done the latter.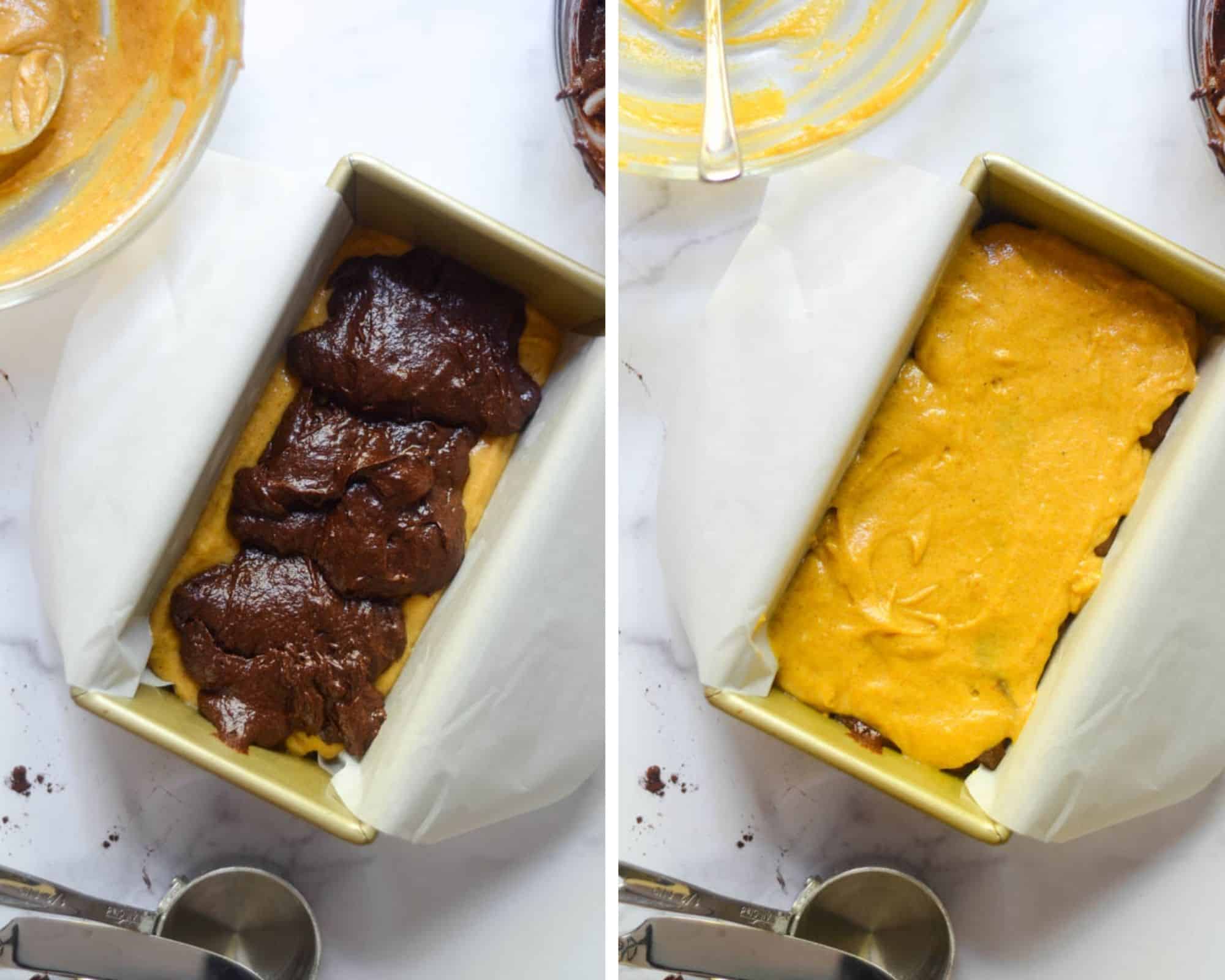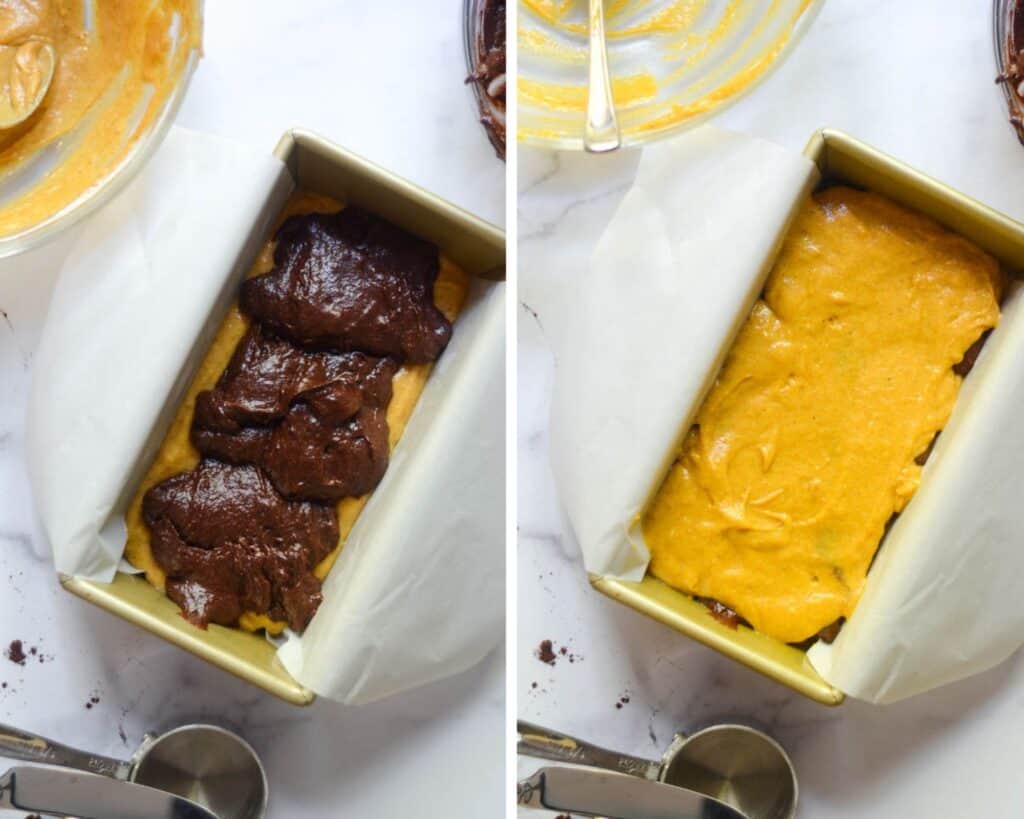 Bake and cool.
Bake the pumpkin bread for 50-55 minutes at 350˚F. Let the loaf cool for a few minutes before removing the bread from the pan and setting on a wire rack to cool completely.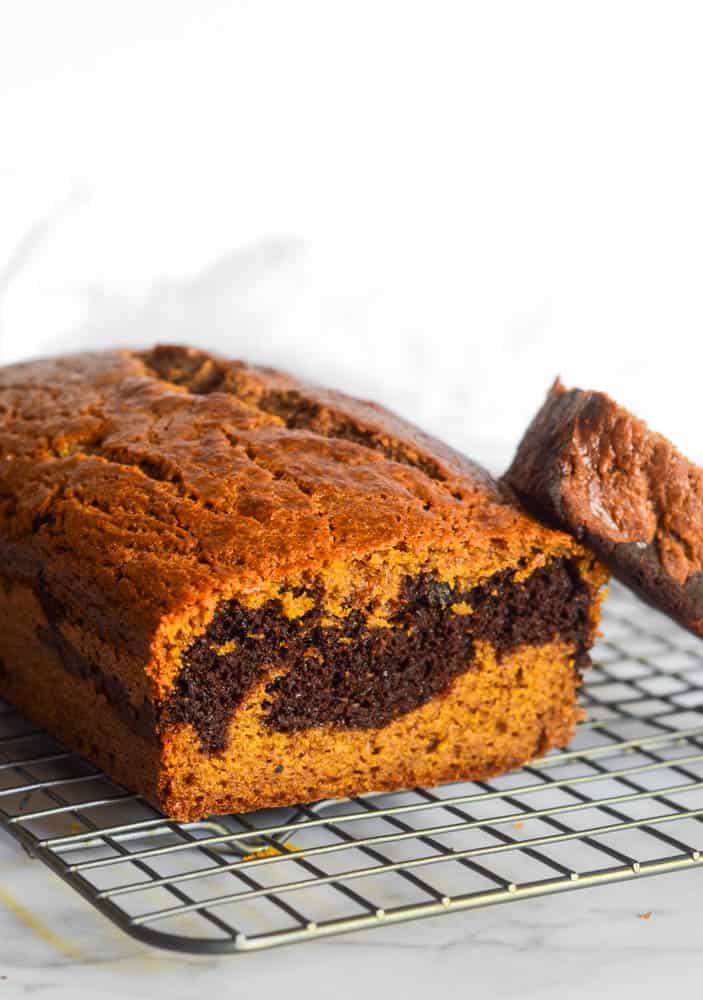 Other Pumpkin Favorites You've Got To Try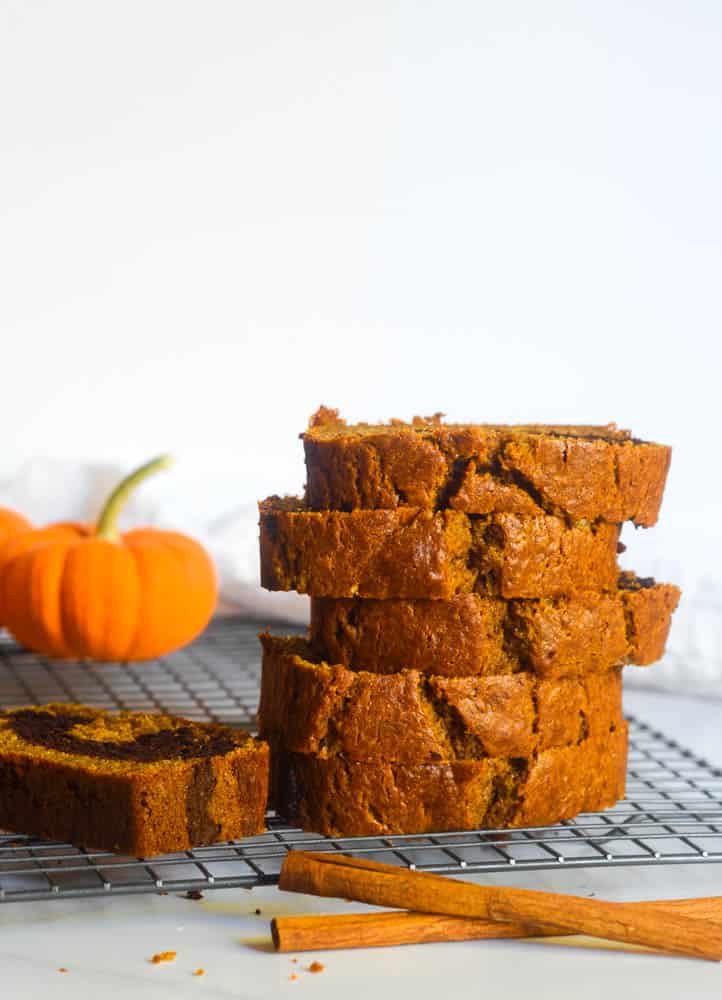 xox,
kathryn
As always, if you make anything from the blog, be sure to let me know! I love hearing from you in the comments on this post below or find Worn Slap Out on Facebook, Instagram, or Pinterest!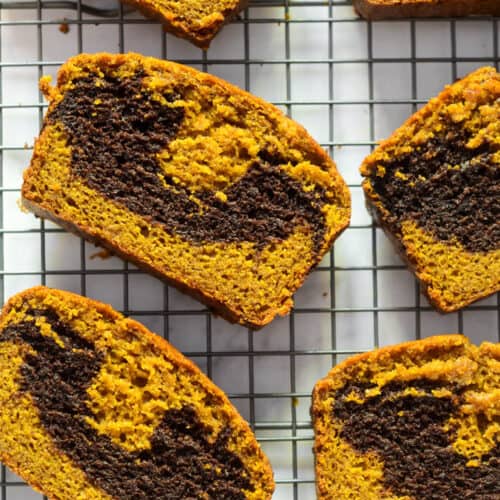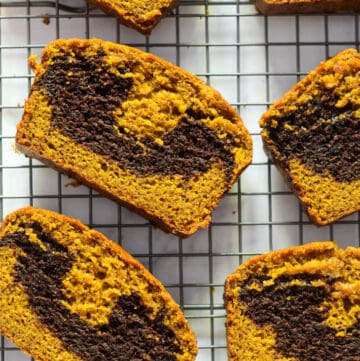 Pumpkin Chocolate Swirl Bread
Quick breads are the best — and this Pumpkin Chocolate Swirl Bread is at the top of my list as soon as fall hits with its moist pumpkin bread layered between sweet chocolate.
Print
Pin
Rate
Ingredients
1

cup

all-purpose flour

(DIVIDED!)

½

teaspoon

baking soda

1

teaspoon

baking powder

3

teaspoons

cinnamon

1

teaspoon

nutmeg

1/2

teaspoon

ground cloves

½

teaspoon

salt

3/4

cup

granulated sugar

2

large eggs

1/2

cup

unsalted butter (1 stick)

melted

1/4

cup

milk (any kind)

3/4

cup

canned pumpkin puree

(not pie filling!)

1

teaspoon

pure vanilla extract

3

Tablespoons

unsweetened cocoa powder
Instructions
Preheat oven to 350˚ F. Lightly grease or spray the sides and bottom of an 8.5×4-inch loaf pan. Line with parchment paper. Set aside.

Set aside 1/4 cup of flour so you don't forget later. Then in a small bowl, whisk together 3/4 cup of flour, baking soda, baking powder, cinnamon, nutmeg, cloves, and salt. Set aside. In a medium bowl, whisk sugar, eggs, butter, milk, pumpkin, and vanilla extract until mixed. Gently fold the dry ingredients into the pumpkin mixture just until you can't see flour. Don't over mix.

Remove a heaping cup of the batter to the small bowl you just had the flour in. Add cocoa powder and mix until just combined. Add the lone 1/4 cup of flour to the non-chocolate batter. Mix just until there is no more flour.

Start by putting half o the pumpkin mixture into the bottom of the pan. Spread out until all of the corners are covered in batter. Top that with all of the chocolate mixture, then end with the rest of the pumpkin mixture. Take a knife and do a couple of figure eights in the bottom of the pan so the two batters combine just a tad*.

Bake at 350 degrees F for 50 to 55 minutes or until a toothpick comes out clean when put into the center of the bread. Let the bread cool for 10 minutes before taking out of the pan onto a wire rack to cool completely.
Notes
*If you want there to be more swirl, instead of doing three layers of batter, alternate between scoops of batter instead.