These Small Batch Pumpkin Scones with Maple Glaze are perfect to have on a cozy, brisk fall morning with someone you love.
Yesterday, my dear friend came over with her husband and new baby to watch the Georgia v. LSU game (I'm still not ready to comment on this).  While I'm decent at meal planning for the week or knocking things off my to-do list at work, I'm terrible at self-care.  Not the massage or mani/pedi self-care circuit (also terrible at that), but the kind that involves spending time with your closest friends, who know your soul from what seems like another lifetime ago.  I think it's the best kind of self-care.  It was therapeutic and re-centering.  
Stephanie and I have known each other before babies, before husbands, and before the days, months, and years started flying by at warp speed.  In those carefree days of college, there wasn't a lot to worry about.  Maybe an upcoming date?  Maybe juggling a work commitment and your roommate's birthday party?  Maybe the Biology exam on Thursday when you hadn't attended class in 3 weeks?  You get the idea.  Things look a little different these days.  Stephanie and her sweet family only live 45 minutes away in Annapolis, but it seems like we're states away as we get caught up in the day-to-day grind on the home front.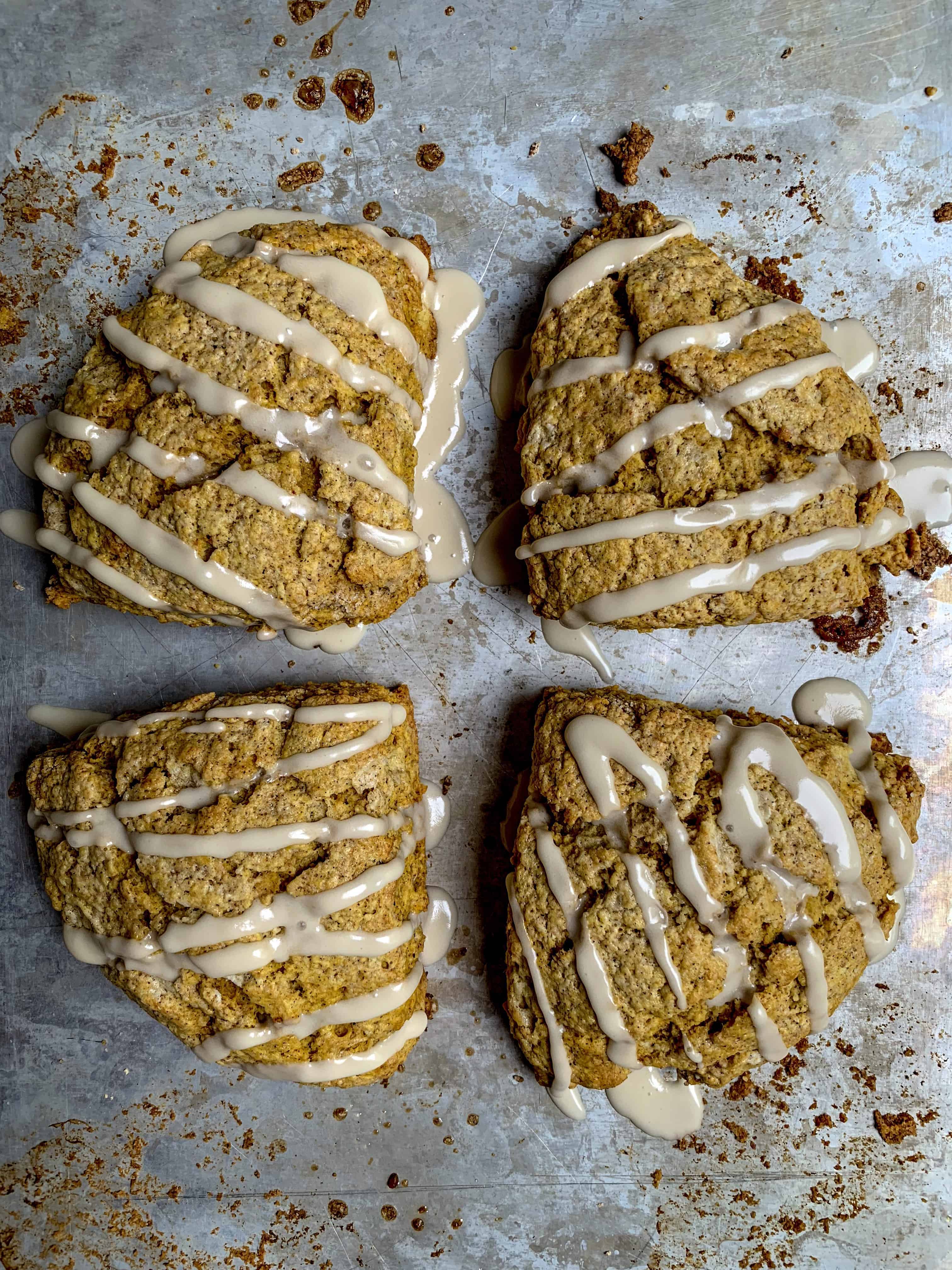 A quarter into the game when we were already losing terribly, we left the husbands and babies at home to grab some cocktails at Founding Farmers (don't worry...we still watched the TV at the bar). We talked about mutual friends we hadn't seen in forever, the challenges of being a working mom, the next steps in our careers. We talked about it all, and what seemed like 30 minutes turned into a couple of hours. Just the two of us, some cocktails, and some seriously good brie and caramelized onion and apple bites. I didn't know how much I needed this until it happened.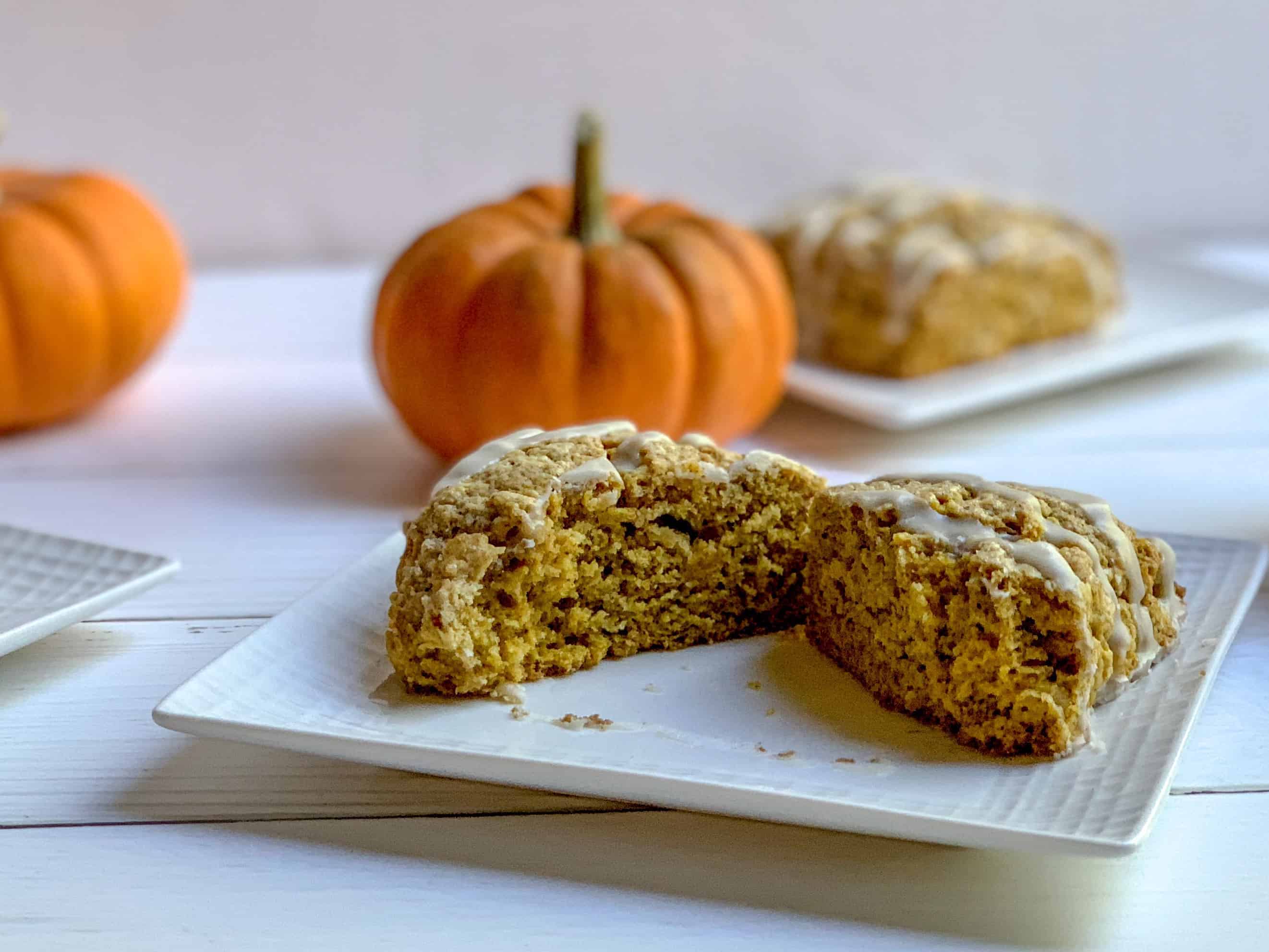 Pumpkin scones are perfect for some coffee talk.
Catching up with a friend over coffee is one of the my favorite things, especially if you're unable to give up a night. Plus, now it's time to talk all things pumpkin. If you know me, you know summer is my favorite season, so I don't wish fall to come early and all of the pumpkin things to be brought out immediately, but when it's time I'm all on board.
These scones are SO. SIMPLE. TO. MAKE. I used to be intimidating by scones, but I feel confident in saying that I've perfected these scones enough so that you can make them in 20 minutes from start to finish. I've made them twice this weekend. Starbucks has nothing on these scones. For real.
These These pumpkin scones are perfect for sharing with someone you love this fall -- maybe someone you haven't seen in awhile.  Who do you need to catch up with?  Perhaps this is your week to do it.  These scones are perfect to share with someone on a couch in your pajamas with a big cup of tea or coffee.  I don't think you'll be disappointed.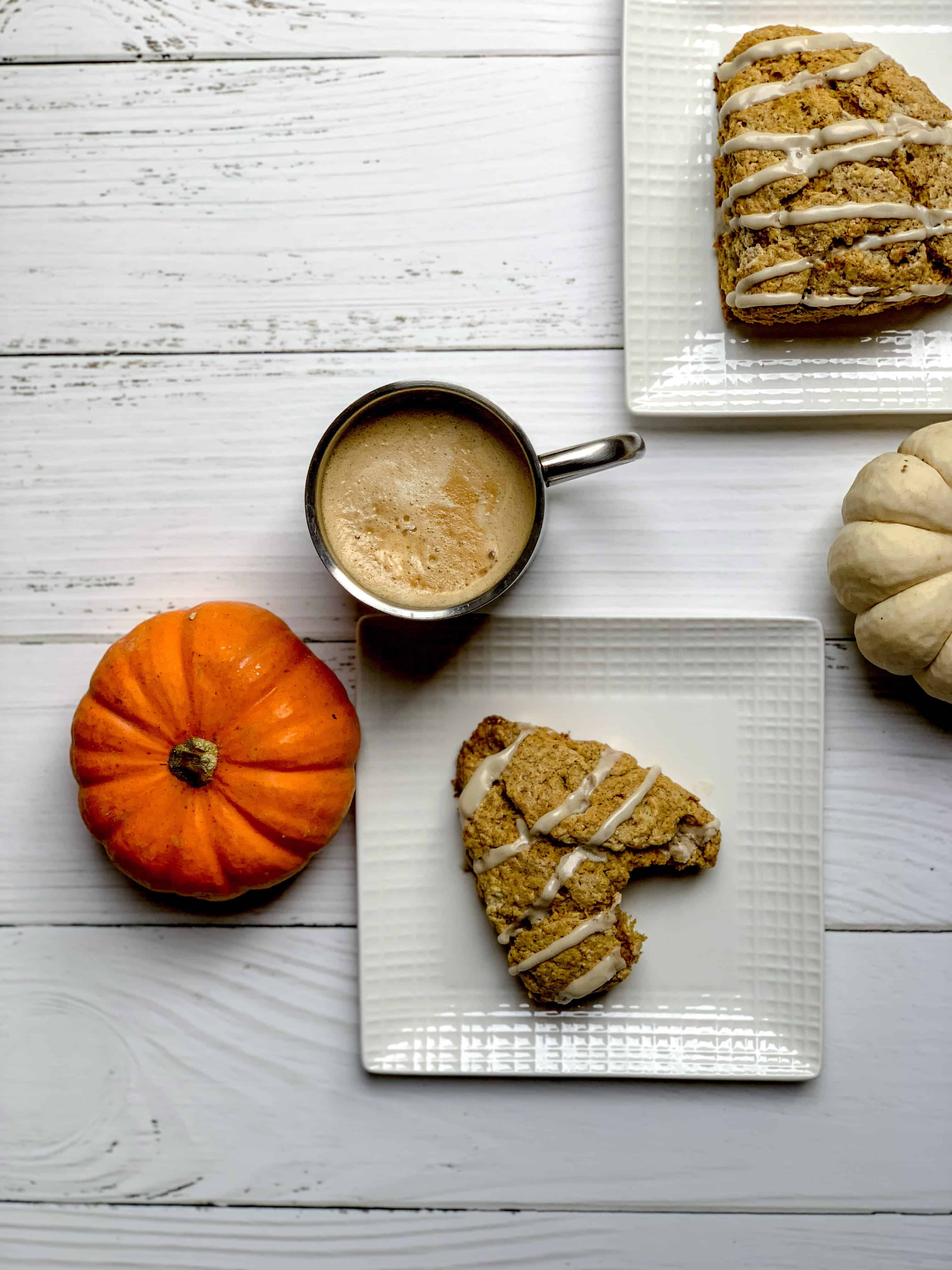 This glaze, y'all.
And this glaze.  OMG.  It's really quite an extravagance, so you may be tempted to skip out on the glaze, but you really should try it.  The mapley-goodness from the maple syrup gives it the extra fall coziness that complements the pumpkin really well.  If you need more glazes (because glazes make everything better, check out this Blueberry Breakfast Cake with Lemon Drizzle or this Lemon Buttermilk Pound Cake.
I am freezing one of the batches so I can have a little extra special breakfast for a few days.  It's also worth noting that I've paired this recipe down to only make 4 scones.  This is the perfect amount for us.  Any more and we usually end up wasting at least half of them, but feel free to double if you're making them for a crowd.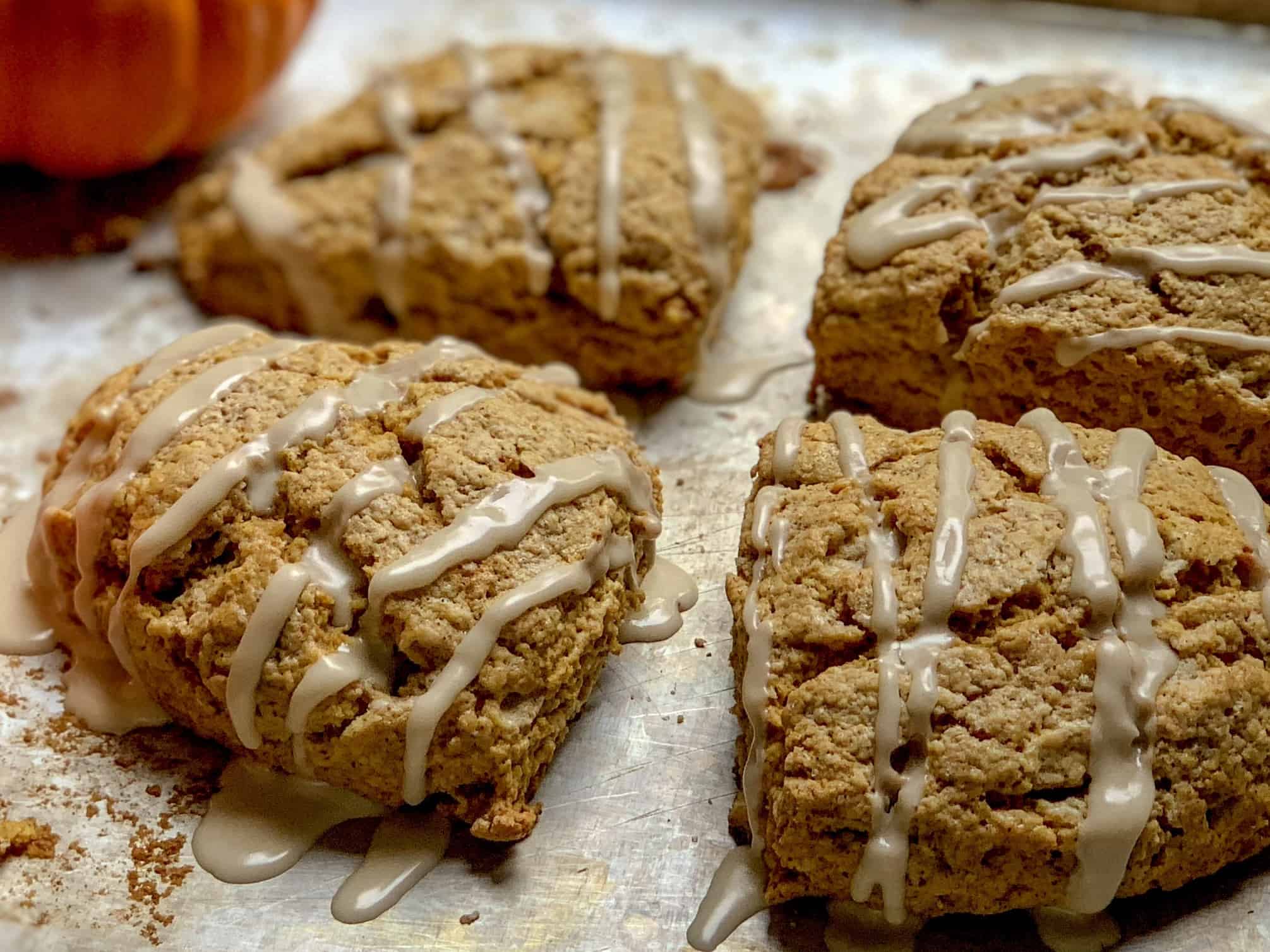 Now go call that old friend and enjoy!
And, as always, if you make something from this little blog, PLEASE tell me how you like it!  Nothing makes me happier than people trying my recipes.  Comment below or tag a photo on Instagram @wornslapout!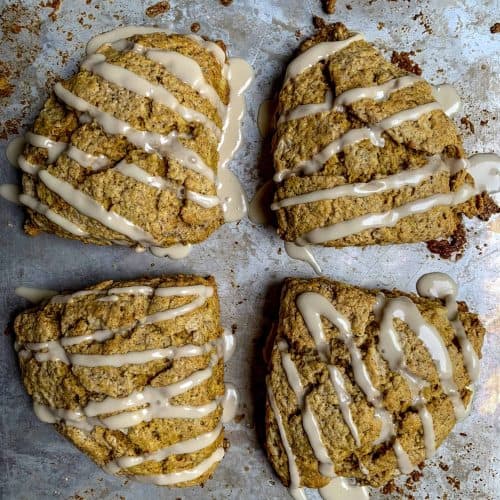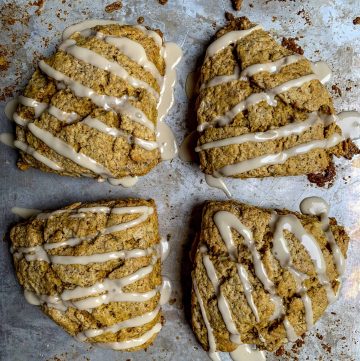 Pumpkin Scones with Maple Glaze
These Pumpkin Scones with Maple Glaze are the perfect match with some coffee on a brisk fall morning.
Print
Pin
Rate
Ingredients
For the scones
1 ¼

cup

flour

¼

cup

sugar

¼

teaspoon

baking soda

1

teaspoon

baking powder

1

teaspoon

cinnamon

¼

teaspoon

nutmeg

¼

teaspoon

allspice

¼

teaspoon

ginger

¼

teaspoon

cloves

¼

teaspoon

salt

2

tablespoons

butter

cold and diced

¼

heaping cup

pumpkin puree

⅓

cup

heavy whipping cream
For the glaze
⅓

c.

confectioner's sugar

3

teaspoons

maple syrup

2

teaspoons

heavy whipping cream, plus bit more
Instructions
Preheat the oven to 400 F.

Combine flour, sugar, cinnamon, nutmeg, allspice, ginger, cloves, and salt into a medium bowl.

Cut in cold, diced butter using your hands, two forks, or a pastry cutter. Whisk the pumpkin puree and heavy whipping cream together in a small bowl.

Add the pumpkin puree mixture to the flour mixture with a spoon.  Combine the two together but don't over mix.  It's okay if your dough has a little exposed flour and/or butter on them.  That's a good thing!

Scoop all of the dough onto your baking sheet and form dough into a circle about ¾" thick.  Cut the dough into four equal pieces. Brush the tops with some of the remaining heavy cream.

Bake 15-17 minutes until nice and crackly and a toothpick inserted into the middle comes out clean.

Meanwhile, whisk the confectioner's sugar with maple syrup.  Add 1 teaspoon of heaving whipping cream at a time until the glaze reaches a consistency that's spreadable but not too thin (you want it to coat the back of a spoon and slowly drizzle off).  Using a spoon or putting the glaze in a Ziploc bag that you've cut the tip off of, spread your glaze over the cooled scones.