Tweaked from Libby's famous pumpkin pie recipe, this pumpkin pie recipe from scratch adds maple syrup and bourbon for a little more interest. It's the classic pumpkin pie you love with a little bit of a twist.
Who can resist a piece of pumpkin pie during the holidays? With a big dollop of whipped cream on top? So creamy and dreamy...and I don't think there's an easier pie to make in the history of pies than this pumpkin pie. This truly is the best pumpkin pie recipe around -- see for yourself!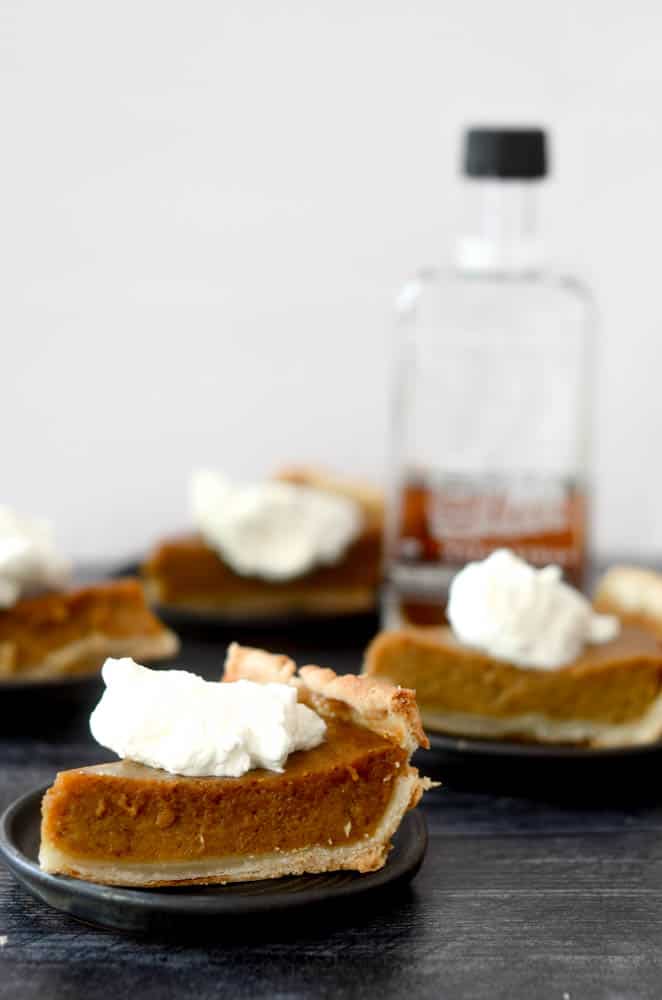 Libby's Famous Pumpkin Pie Recipe with Some Tweaks
If something's not broke, I sure as hell ain't gonna fix it. That's true with Libby's famous pumpkin pie recipe. HOWEVER, there are a couple of minor tweaks that I just couldn't resist, and it was all inspired by a bottle of maple syrup infused with bourbon. Runamok makes the most amazing maple syrups -- and while we've been enjoying the syrup (say "sir-up") on a variety of breakfast foods -- I kept imagining how good it would be in a pumpkin pie for some added interest.
I've tried this recipe with ½ cup of maple bourbon syrup and again with half maple syrup and half Maker's Mark bourbon. Both came out equally as delicious -- and honestly, I couldn't really taste the difference. Both had a hint of maple with just the slightest hint of bourbon. The bourbon makes the maple more pronounced more than anything, I think.
Speaking of Libby's, did you know there's now an updated version? Libby's calls it the New Fashioned Pumpkin Pie. The pumpkin pie recipe uses sweetened condensed milk in addition to the evaporated milk. I haven't tried it -- but I am intrigued. Let me know if you've tried this new fangled version.
A Perfect Pie Crust Every Time
You can most certainly take a huge shortcut with this recipe and use a store-bought, frozen pie shell. That makes this recipe take only 5 minutes of your time. If you're wanting a homemade pie crust though that's not difficult in the least, I have the perfect recipe for you.
This perfect pie crust from scratch is my go-to pie crust recipe for anything savory or sweet. It's just as good for a quiche as it is for a sweet pumpkin pie. The only part you really have to make time for is the chilling of the dough. It needs to be in the refrigerator for at least 2 hours (and longer is even better). It's really hard to work with warm dough (and it doesn't hold as well under the oven's heat either. The chilling is essential.
There's also some tips in the pie crust post above about how to crimp your edges so they look pretty. Trust me -- the baked version isn't as pretty as the unbaked version, so just know that in advance. Everyone takes pictures of their whole pie prior to baking for this very reason!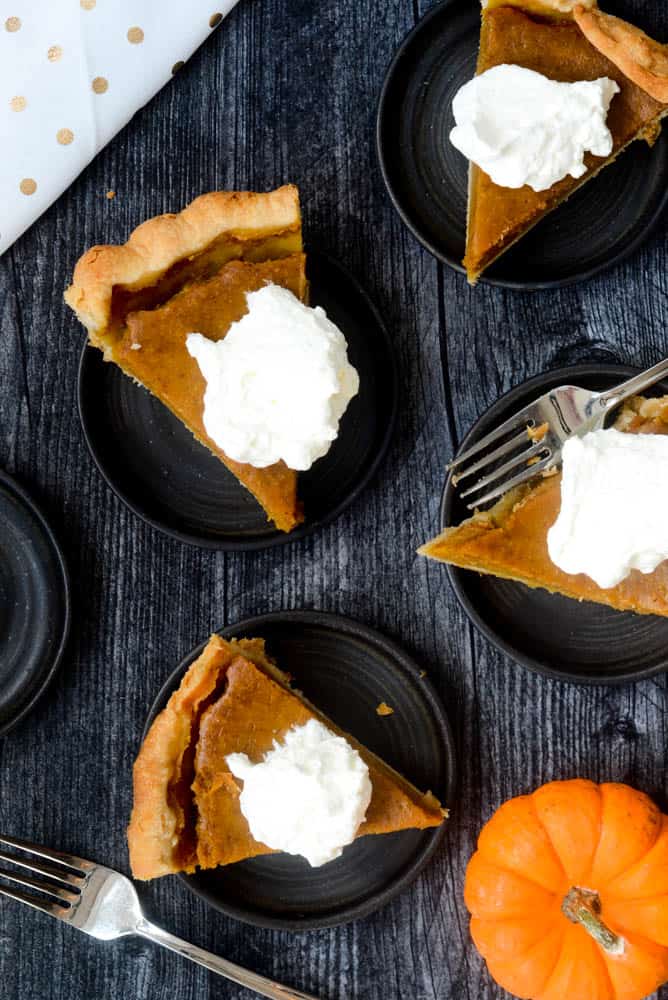 Pumpkin Pie Mix or Filling v. Pumpkin Puree
These two things -- pumpkin pie mix (also called pumpkin pie filling) and pumpkin puree are two different items...and it's a huge bummer when you accidentally buy the pumpkin pie mix instead of the puree. The pumpkin pie filling is already sweetened and spiced -- so that would be a double dose of sweetness. Bleh. Make sure you get the all-natural 100% canned pumpkin puree.
How Do You Make Pumpkin Pie Filling From Scratch?
It's as simple as combing all of the ingredients into a large bowl and whisking until combined. Then pouring into your pie shell. THAT'S IT, FOLKS!
granulated sugar
ground cinnamon
salt
ground ginger
ground cloves
eggs
can of pumpkin puree
evaporated milk
maple syrup
bourbon
If you don't have ginger, cloves or cinnamon, you can use 1 ¾ teaspoons of pumpkin pie spice.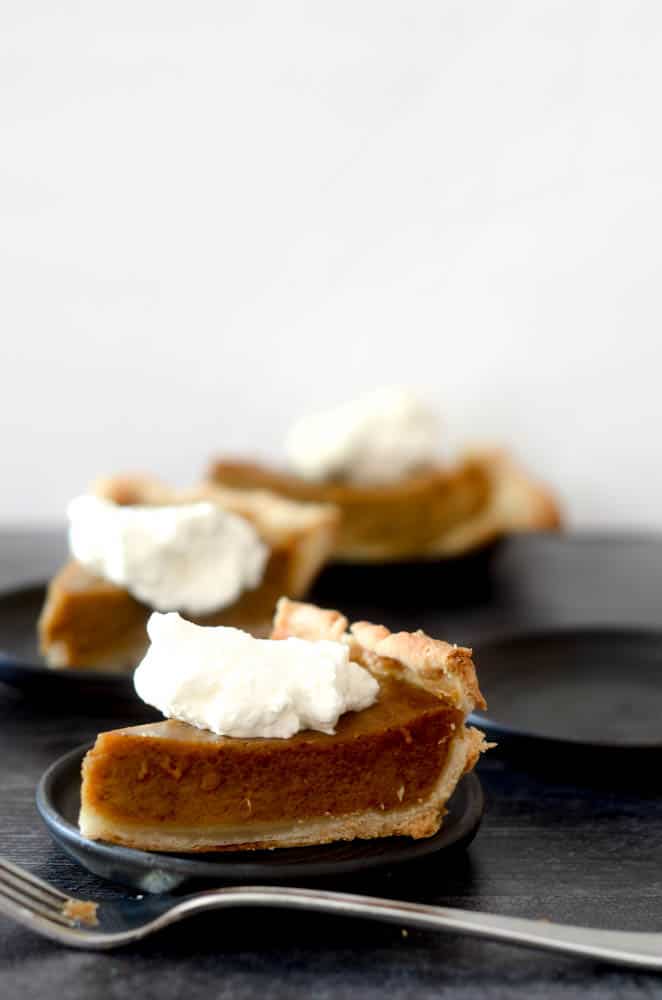 'Tis the Season for Pies
Check out these other pie recipes for some other delicious options to add to your table:
Happy Holidays to you and yours!
xox,
kathryn
As always, if you make anything from the blog, be sure to let me know! I love hearing from you in the comments on this post below or find Worn Slap Out on Facebook, Instagram, or Pinterest!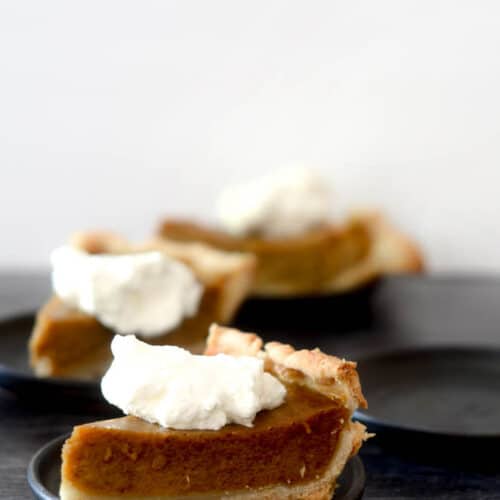 Maple Bourbon Pumpkin Pie
Tweaked from Libby's famous pumpkin pie recipe, this maple bourbon pumpkin pie adds maple syrup and bourbon for added sweetness and flavor, making it a show stopper.
Print
Pin
Rate
Ingredients
1

9" unbaked pie crust

¾

cup

granulated sugar

1

teaspoon

ground cinnamon

½

teaspoon

salt

½

teaspoon

ground ginger

¼

teaspoon

ground cloves

2

eggs

1

15 ounce can pumpkin puree

½

cup

evaporated milk

¼

cup

high quality maple syrup

¼

cup

bourbon
Instructions
Preheat oven to 425 degrees F.

Combine all of the ingredients into a large bowl. Whisk until combined. Pour into pie shell.

Bake for 30-0 minutes or until a knife inserted in center comes out clean. Cool on wire rack for 2 hours. Serve immediately or refrigerate.