Made with a quick homemade dough, this cheesy Christmas tree pull-apart bread with spinach and onion is a filling and delicious appetizer for entertaining this holiday season.
I've been experimenting with a lot of quick doughs lately -- where you can make the dough and eat within an hour -- whether it be for bread sticks or pizza. After much trial and error (including a lot of dough that never even made its way into the oven)...I've found it! This is the dough for all of these occasions. It only needs about 30 minutes of resting time for the dough to rise, making it a great option for you to feel confident making it home despite the ease of store-bought dough. And I honestly don't know what's a better smell than the smell of freshly baked bread...especially during these chilly, wintry months.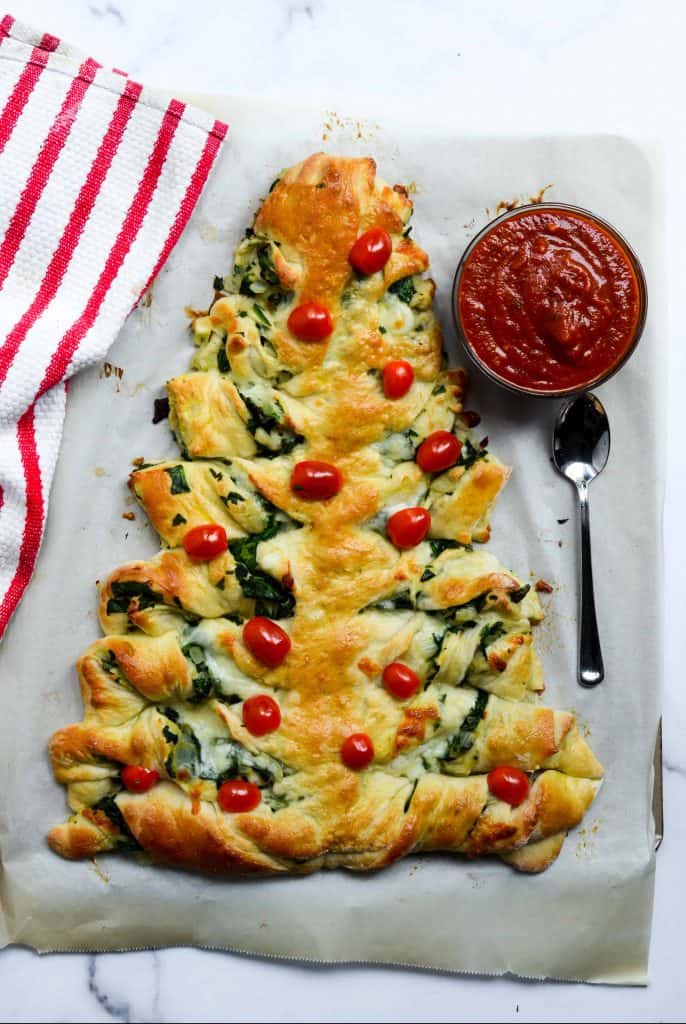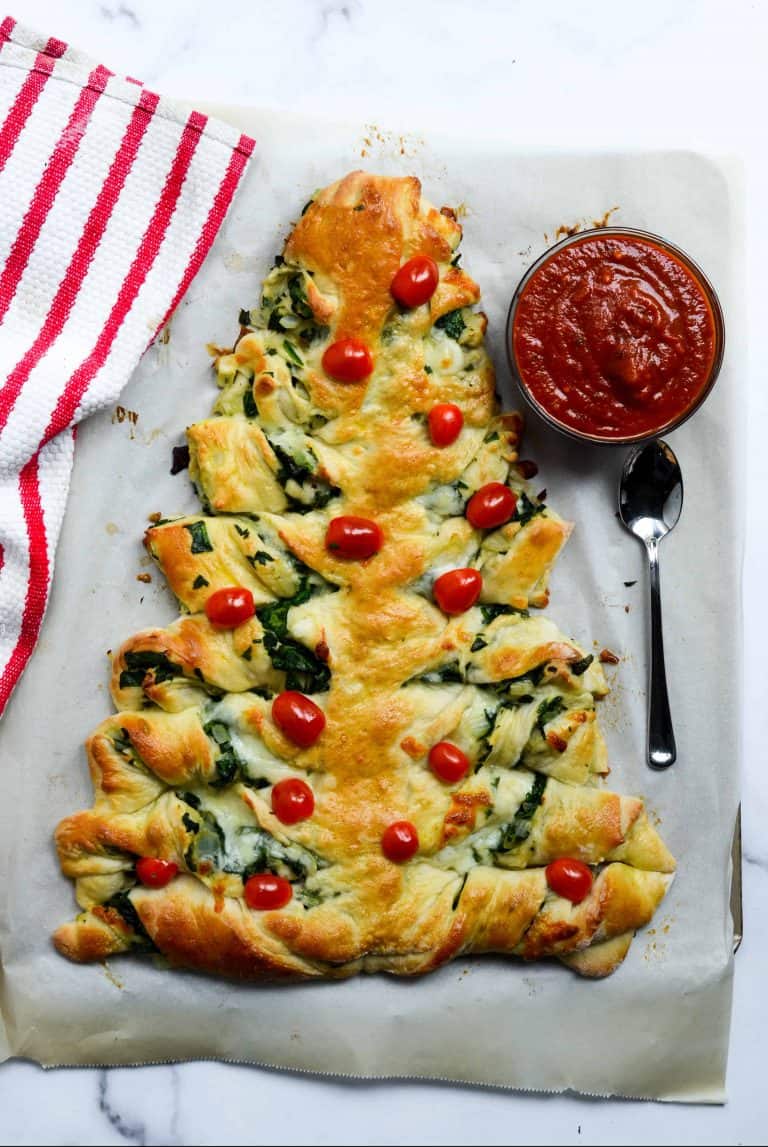 How to make Christmas tree bread
Let's go step-by-step. It's not difficult but there are a decent amount of steps. Once you make the Christmas tree bread one time, you'll feel confident to make it again in half as much time. You'll be able to work a little faster with the dough and not feel like you need to keep putting the dough in the refrigerator (more on that below).
Start with your homemade, quick dough
The dough consists of yeast, a touch of sugar, warm water, salt, olive oil, and all-purpose flour. That's it. Nothing fancy, nothing special. You'll first activate your dough by combining your yeast, sugar, and warm water together in the bowl of a stand mixer. If you don't have a stand mixer, don't panic. You can do all of this by hand using a regular bowl and a wooden spoon.
Wait about 5 minutes when the yeast, sugar, and warm water are combined and you should see the yeast activate -- meaning it starts getting bubbly or foamy. That's perfect. Then add in the salt, olive oil, and gently mix in your flour on low. Start with about 2 cups of all-purpose flour, and if it seems like it needs more, add more flour bit by bit. You shouldn't need more than 2 ½ cups though. The dough should be sticky but not so sticky that you can't touch it without it getting all over your fingers.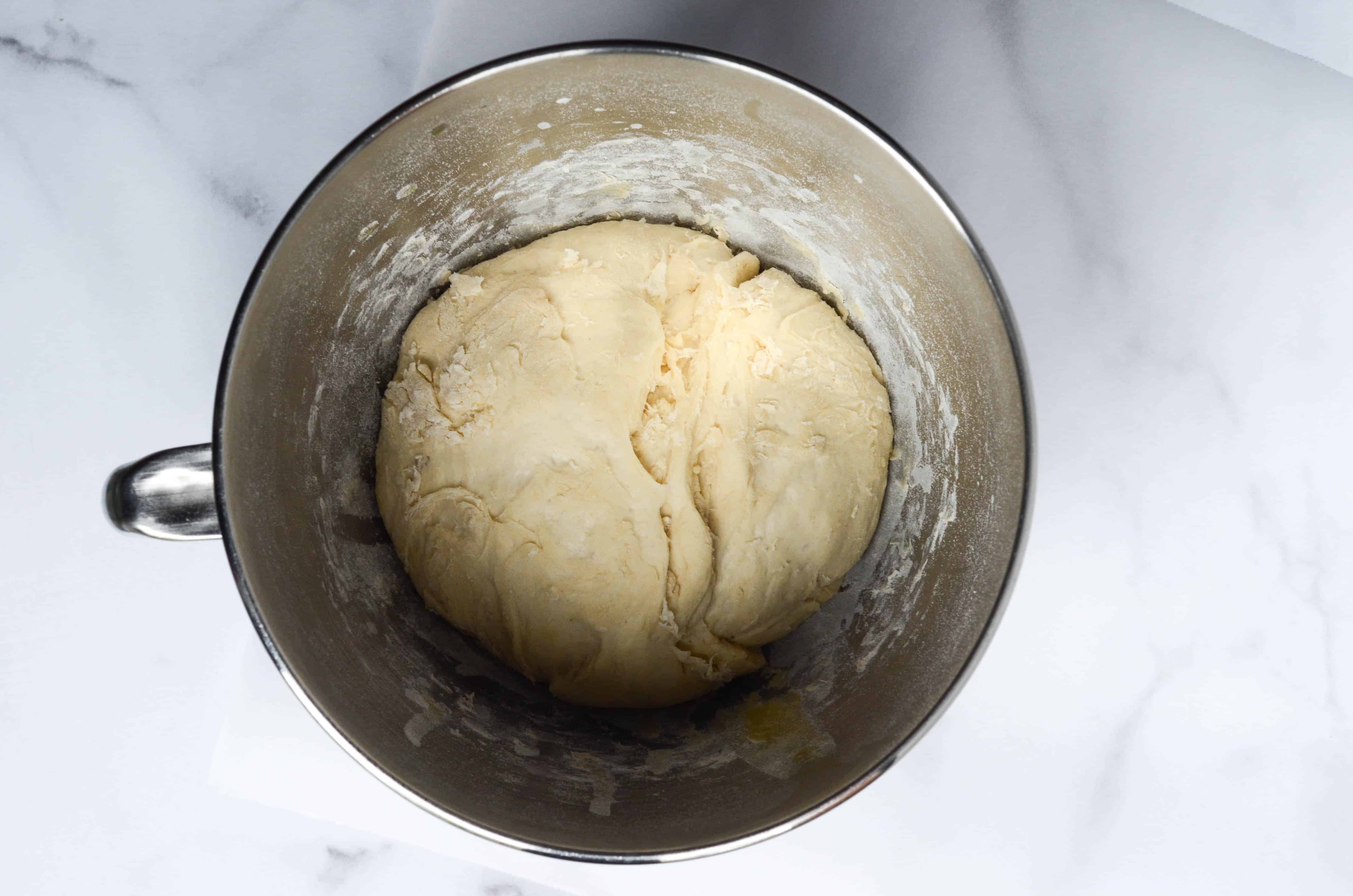 Form the dough into a loose ball, cover with a kitchen towel, and let it sit in a warm place for 30 minutes to rise a bit. Then knead the dough about 10-12 times either on a lightly flour surface or just inside the bowl itself just enough to make sure all of the flour is combined. No need to strangle the dough a million times.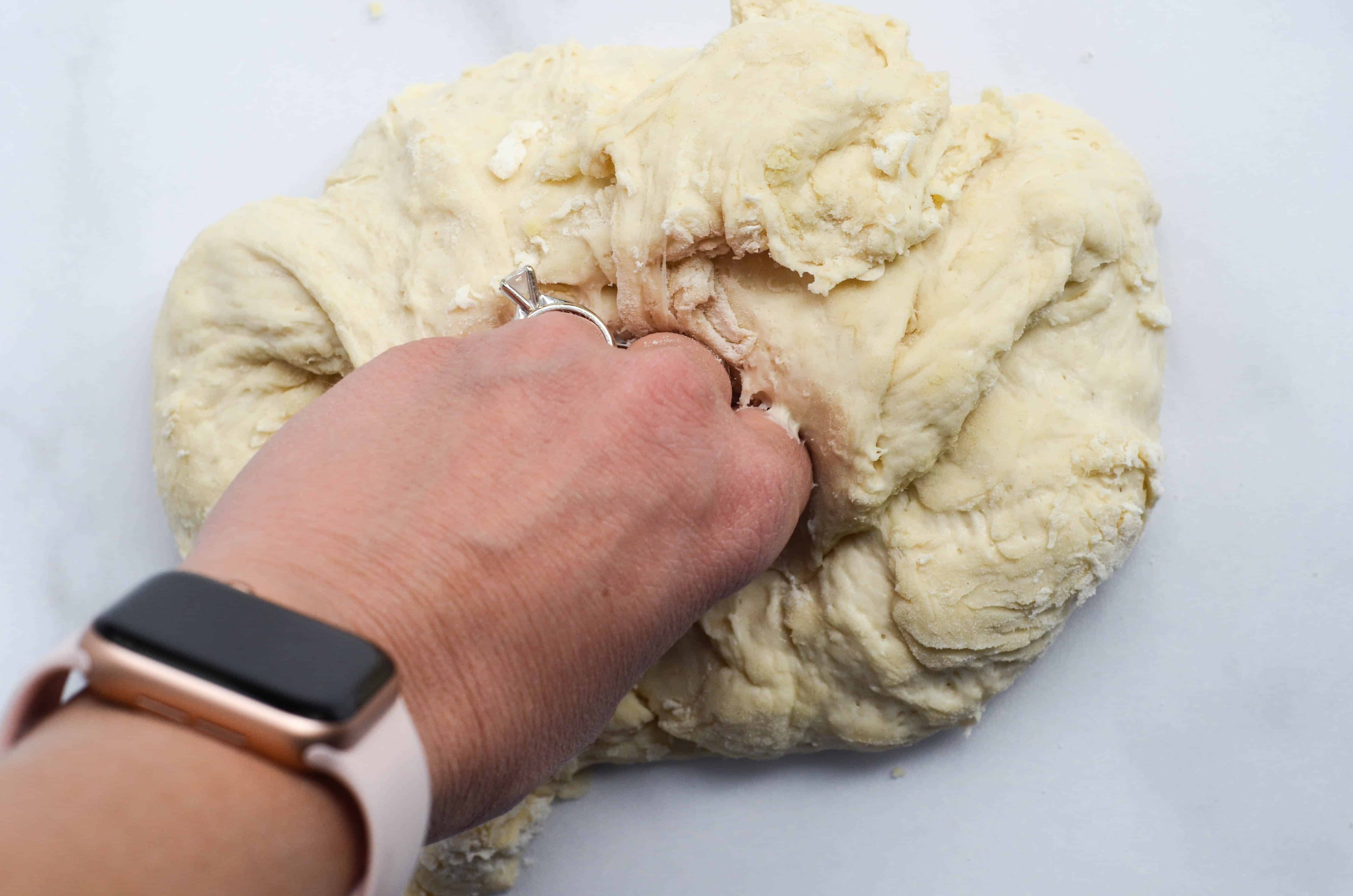 Make the filling
While the dough is resting, go ahead and make your filling by sautéeing your onions with some olive oil. When the onions are soft and translucent, add your spinach and cook until just wilted. Take off the heat and set aside until you're ready. You don't want this to be hot when adding it on top of the dough.
Roll out the dough and create two triangles
When the dough has risen a bit, lay the dough out on a lightly floured surface. Using a rolling pin, roll the dough into a large rectangle (about 14" x 9"). You may need to use your hands to stretch the dough in the corners.
Now you're going to make two cuts to form a triangle using a sharp knife.
The two triangles you cut off the sides of the main one will then be smoothed together to form a second big triangle. This second big triangle will become your bottom layer of the Christmas tree (just because it's not as pretty). Place this triangle on a parchment lined baking sheet.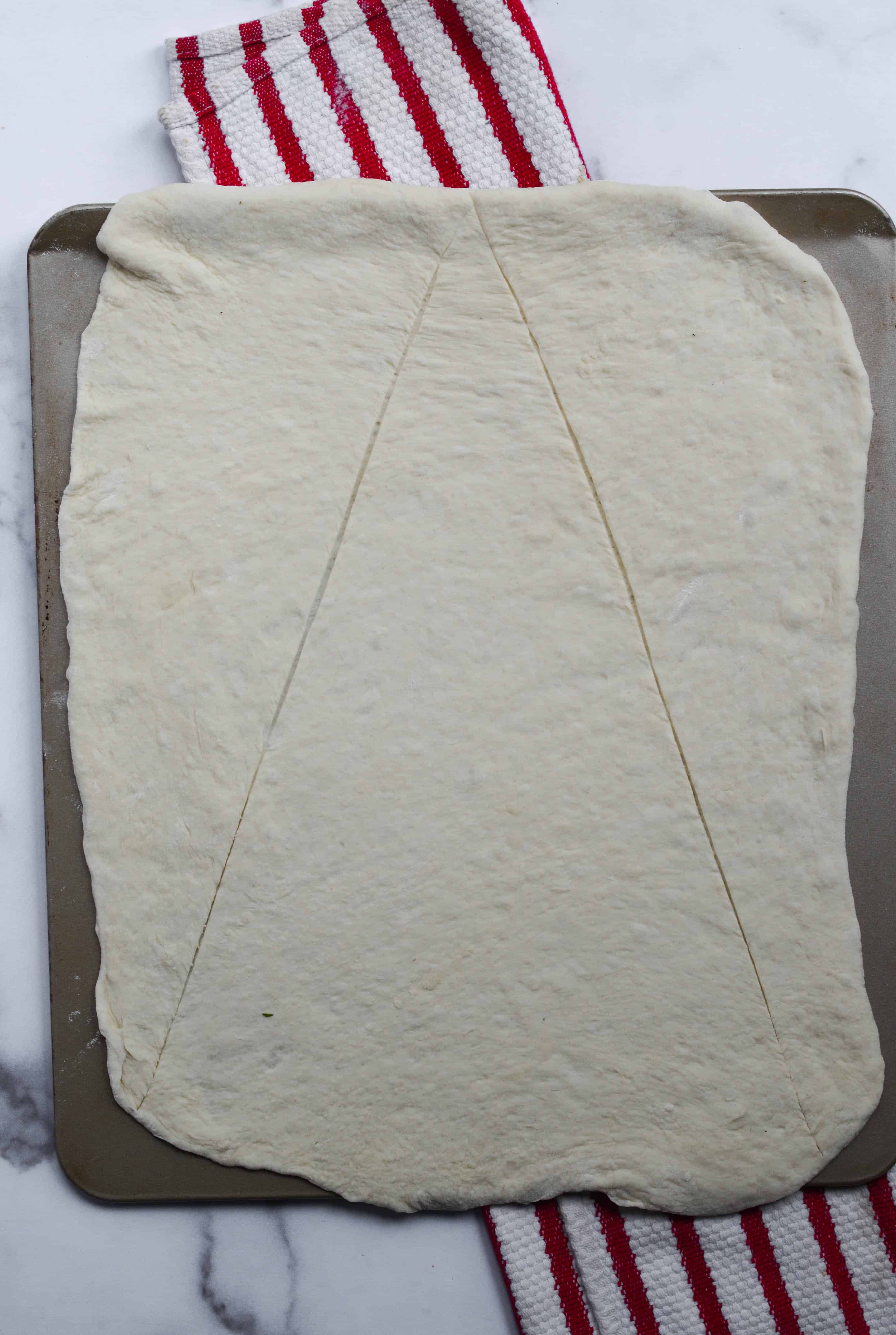 Add the onion and spinach filling
Add the filling to your triangle dough.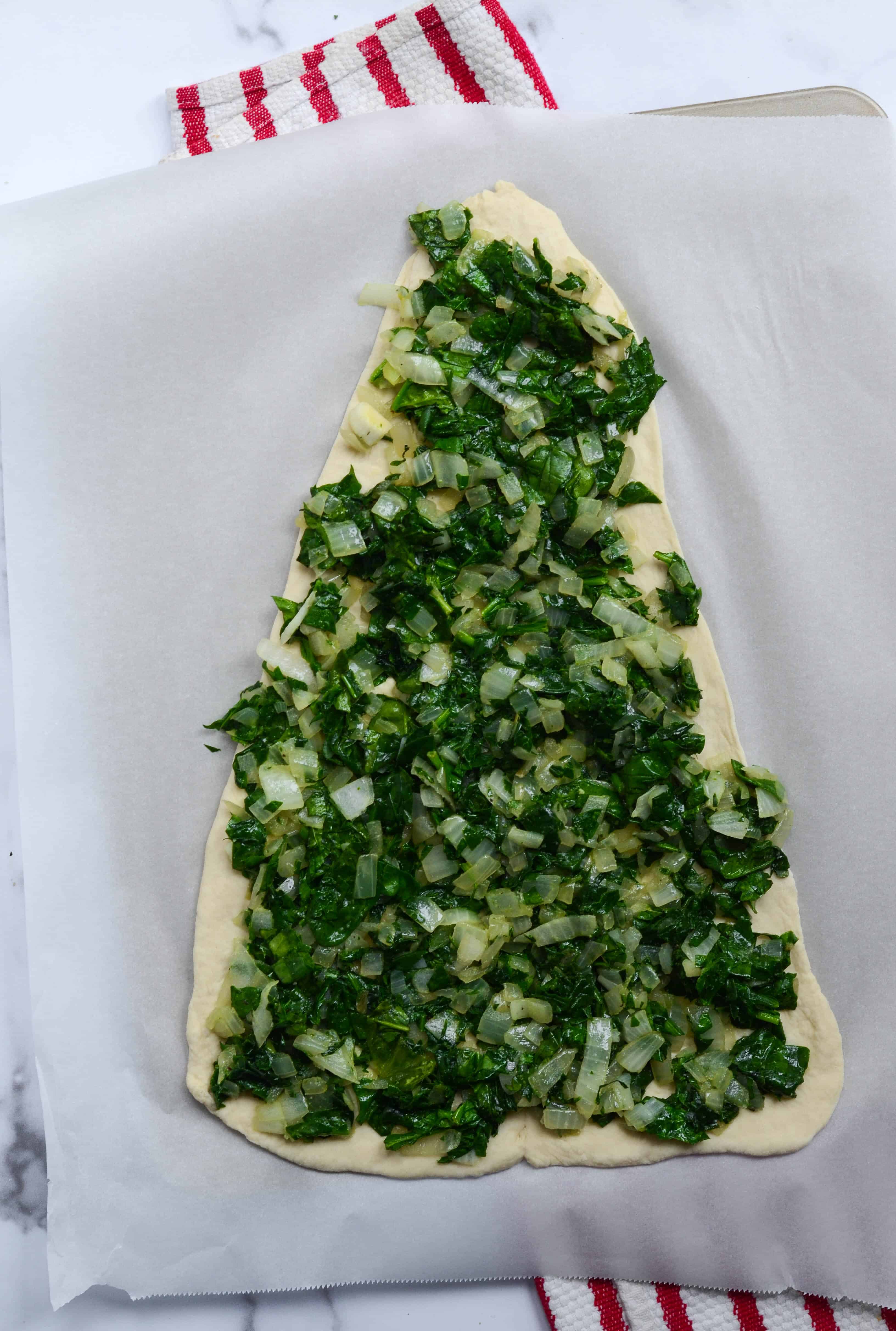 Don't forget to also sprinkle your cheese generously over the filling. I forgot and how to go back and pull apart my bread...whoops.
Make cuts and twist, baby, twist
Add the top triangle to line up with the bottom triangle. Use fingers to stretch the dough where you need it to go. Gently pinch the bottom and top layers together. You don't need them to seal completely. Just enough to get most of the edges holding the contents of the tree.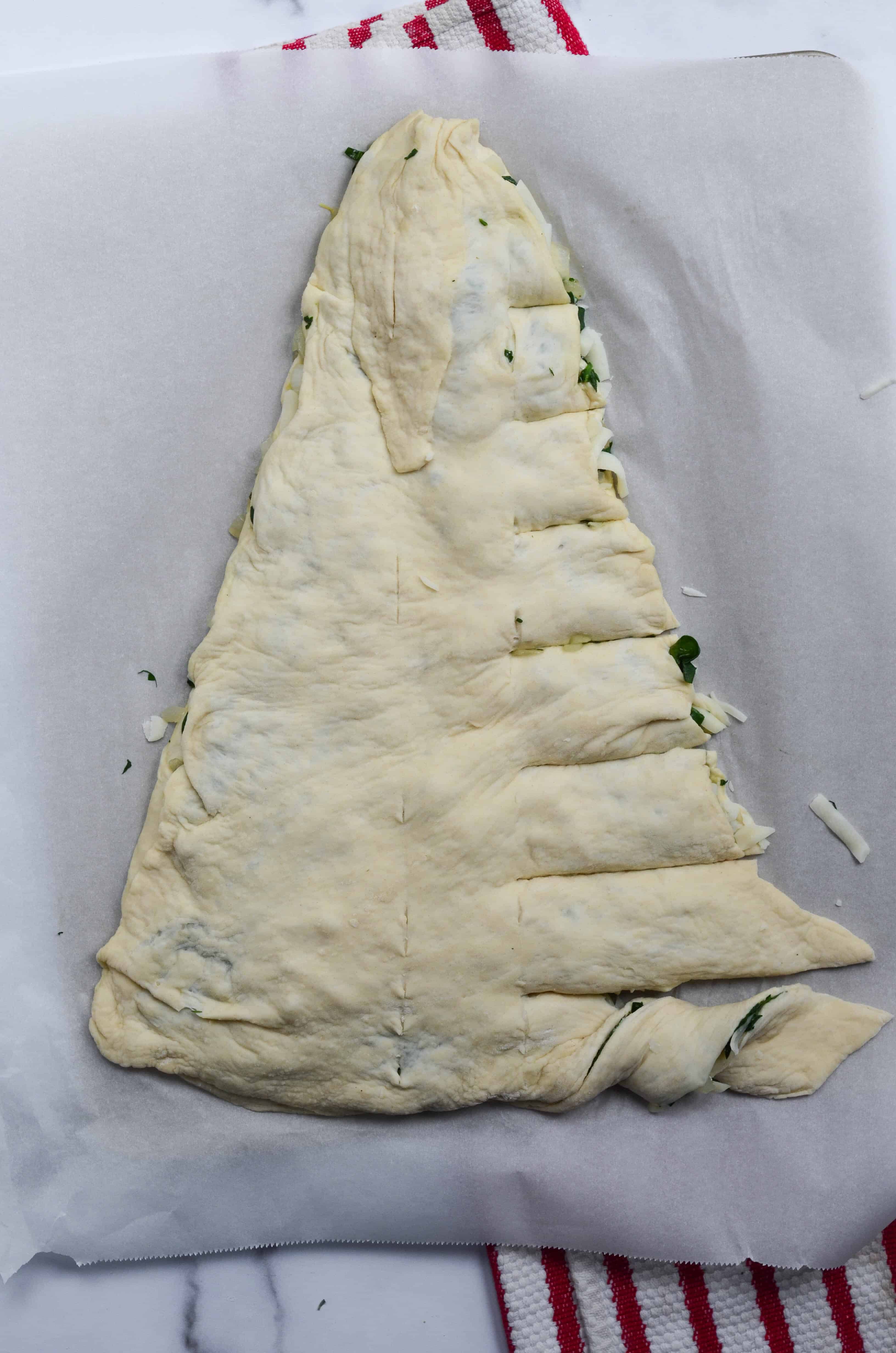 This is the point where I typically have to refrigerate the dough for about 20 minutes (see tips).
Once the dough is chilled, make two barely-seen vertical lines about 1 ½" apart straight down the middle of the tree. This is the zone you can't cut in. Then make your branches by cutting horizontal lines about 1 ½" apart. Twist each branch 1-2 times, keeping filling in tact as much as possible (again, it's fine if some spills out!).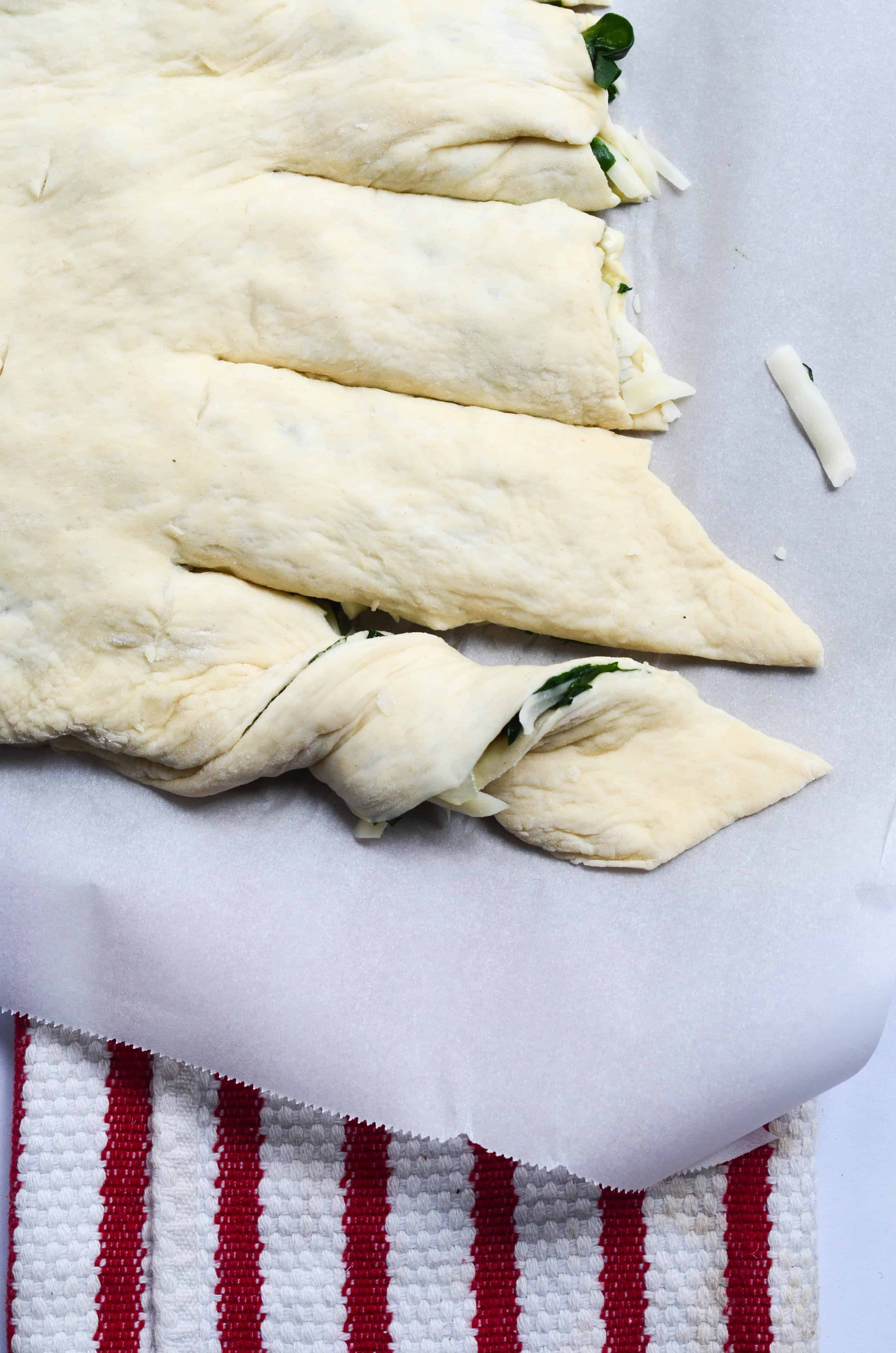 Egg wash and bake
Give the Christmas tree a good brush with egg wash, and stick in the oven. It's ready to bake for 15-17 minutes or until golden brown. Once the bread comes out, let it cool for a couple of minutes and stick some cherry tomatoes on top to create ornaments on the Christmas tree bread. Dip in marinara, and you've got yourself a meal!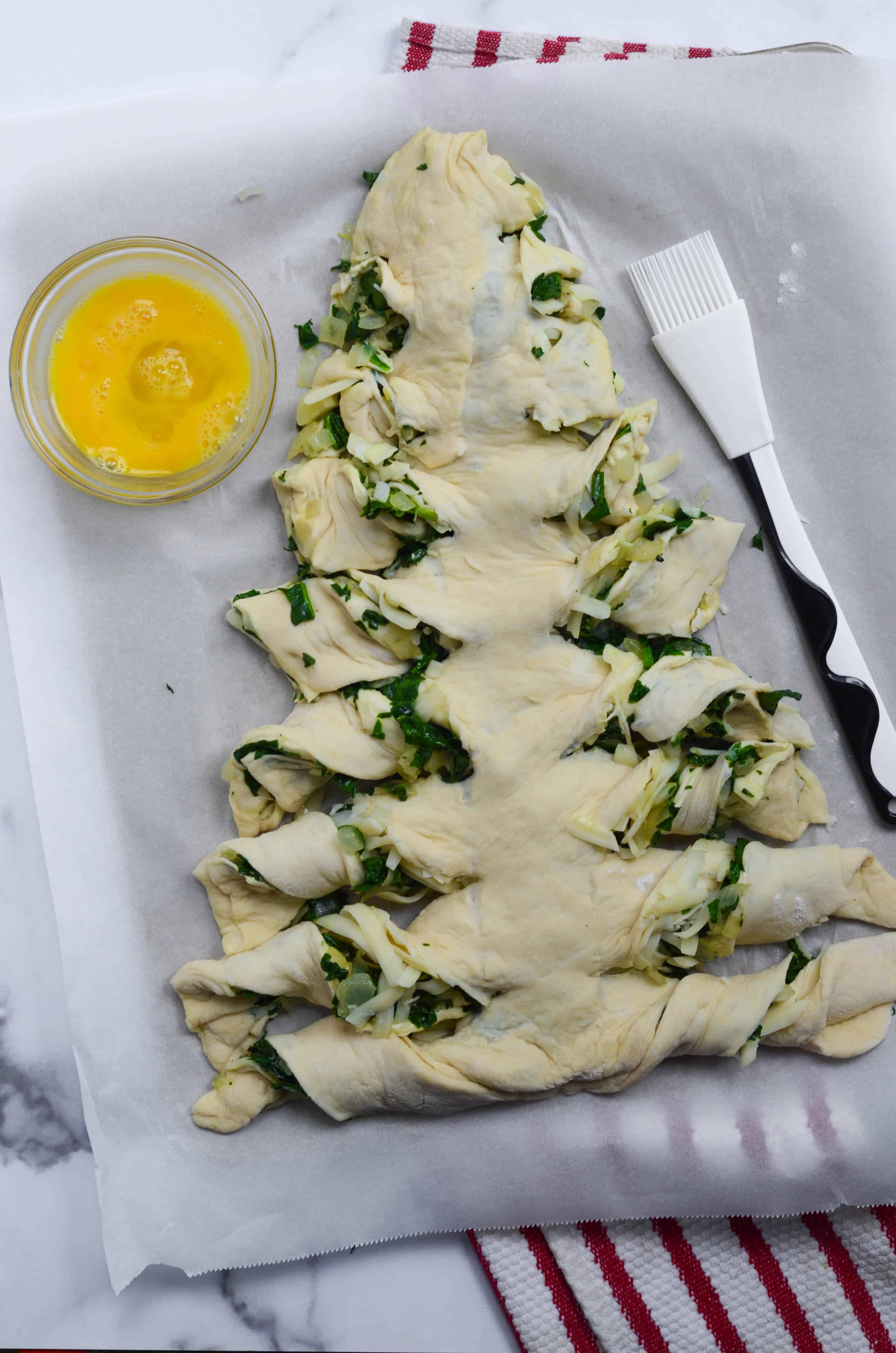 Tips for making the Christmas tree pull apart bread
Dough hard to work with? Refrigerate, refrigerate, refrigerate for 20 minutes each time. Don't be scared to do this a couple of times. Dough is always more compliant when it's cold. Once it warms up it gets difficult to work with and can break apart and cause havoc..
Use a sharp knife so cut the triangles out and the branches of the tree. Don't use a pizza cutter because sometimes those can go haywire and rogue on you. A nice, harp knife works much better.
Put the small triangles you smooth together on the bottom just because it's not as pretty as the big one you cut out from your rolled out, rectangular dough.
To make this bread that much faster, buy store-bought pizza dough. It'll be the exact same product...so don't stress if homemade dough is...well, stressful.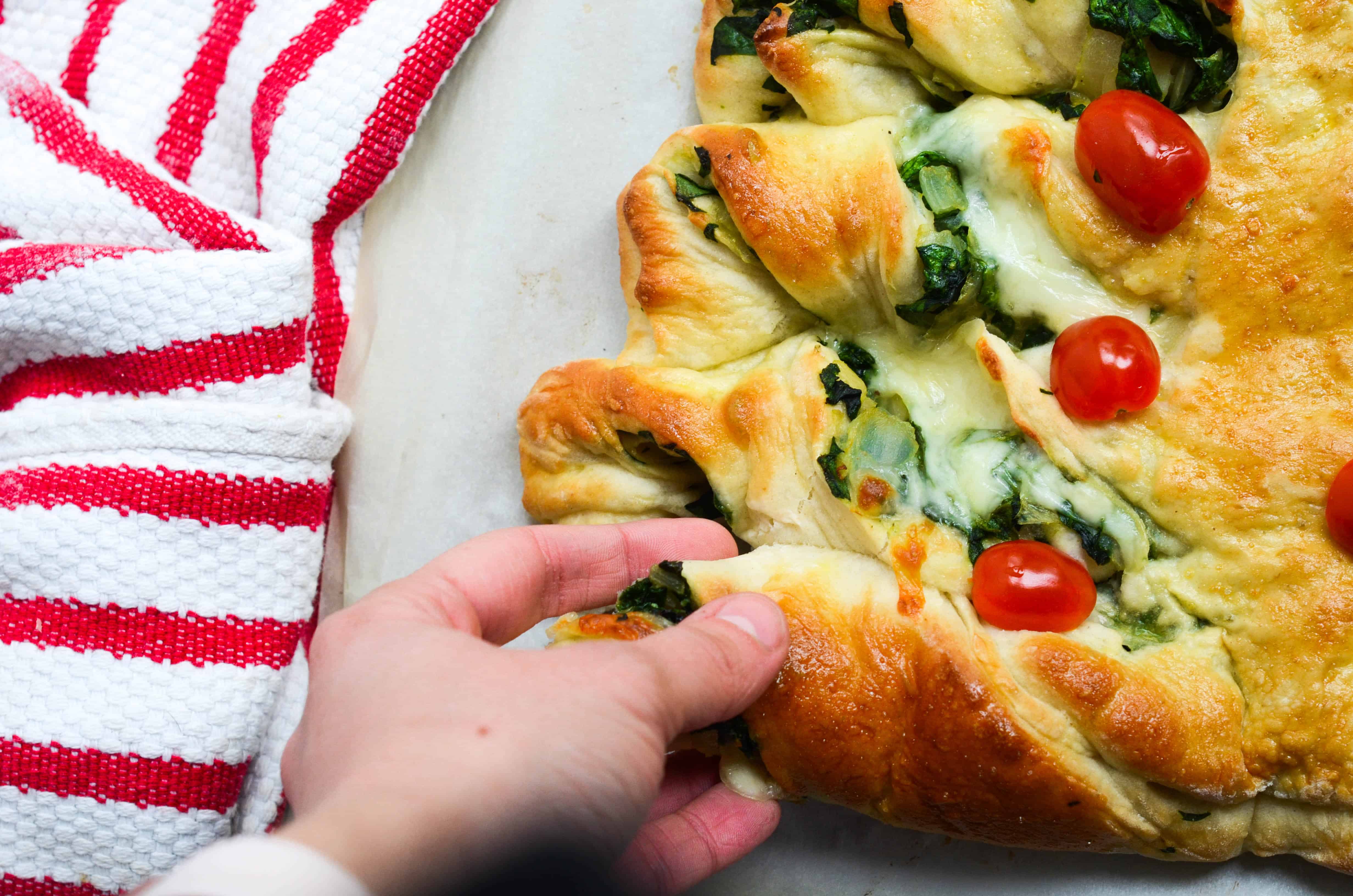 Variations on the filling
There are SO many variations you could do with this bread. For starters, change up the cheese. Try gruyere and mushrooms. Or if you want something smooth and creamy try spreading a herbed goat cheese. That'd be delicious.
Maybe you want to get rid of the cheese completely and make this vegan. How about filling the Christmas tree bread with a nutty basil pesto? And maybe add some roasted red peppers, too?
Finally, you could make this a sweet bread and add some cinnamon and sugar to the middle and a generous amount of Nutella smeared all over. The options are really endless. Feel free to adapt the recipe to meet your specific needs...and whatever you have readily available in your own pantry.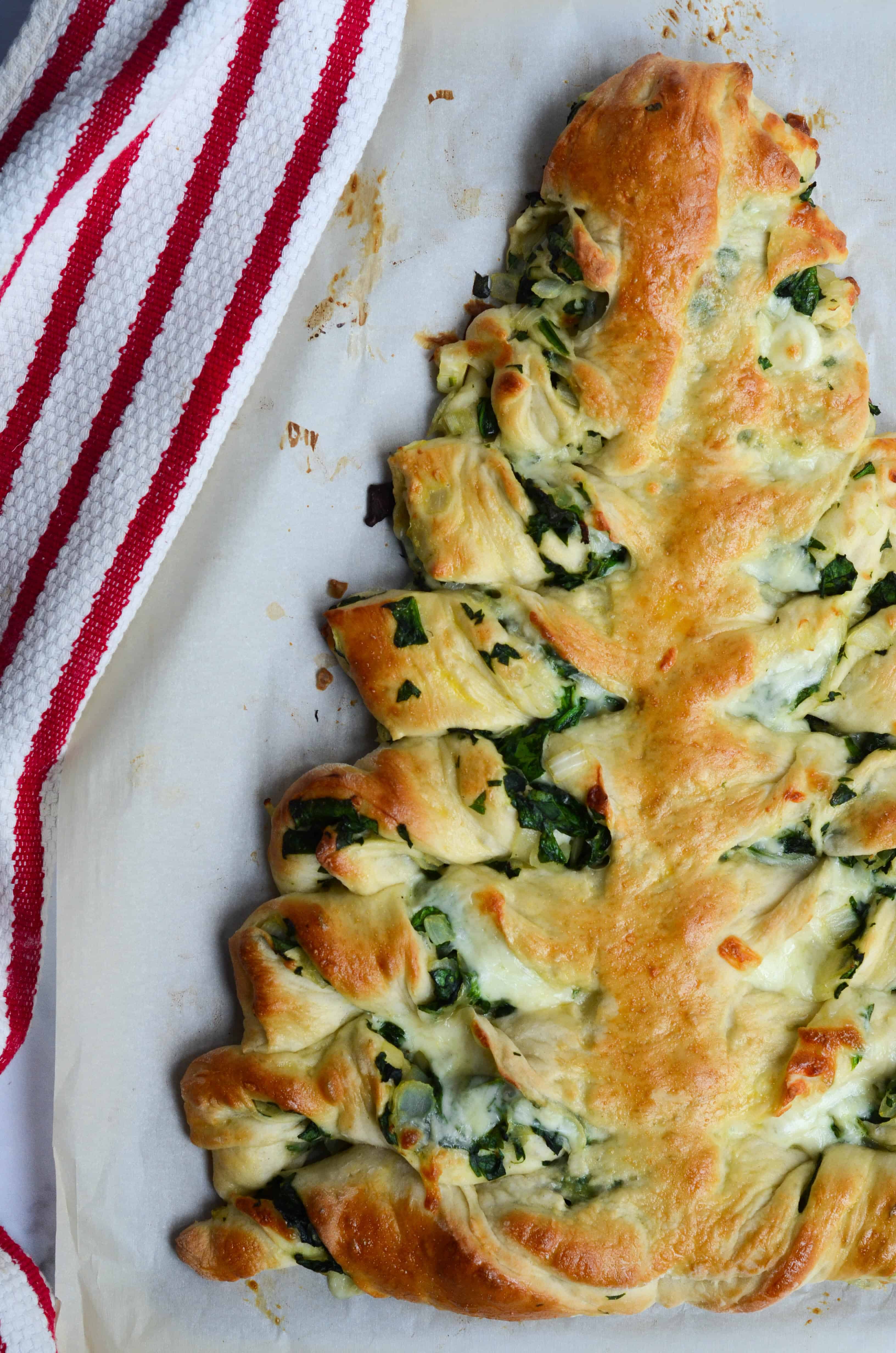 Other Christmas breads
Try this Cinnamon and Sugar Star Bread that I perfected last winter. I think I made this about 8 times last winter to try to get it right, and it's a good one that's a snow day favorite in our house. I also love Mom's quick cranberry muffins for Thanksgiving and Christmas. They're a must on our table. Look at these 10 holiday breads from around the world from Good Housekeeping.
xox
kathryn
As always, if you make anything from the blog, be sure to let me know! I love hearing from you in the comments on this post below or find Worn Slap Out on Facebook, Instagram, or Pinterest!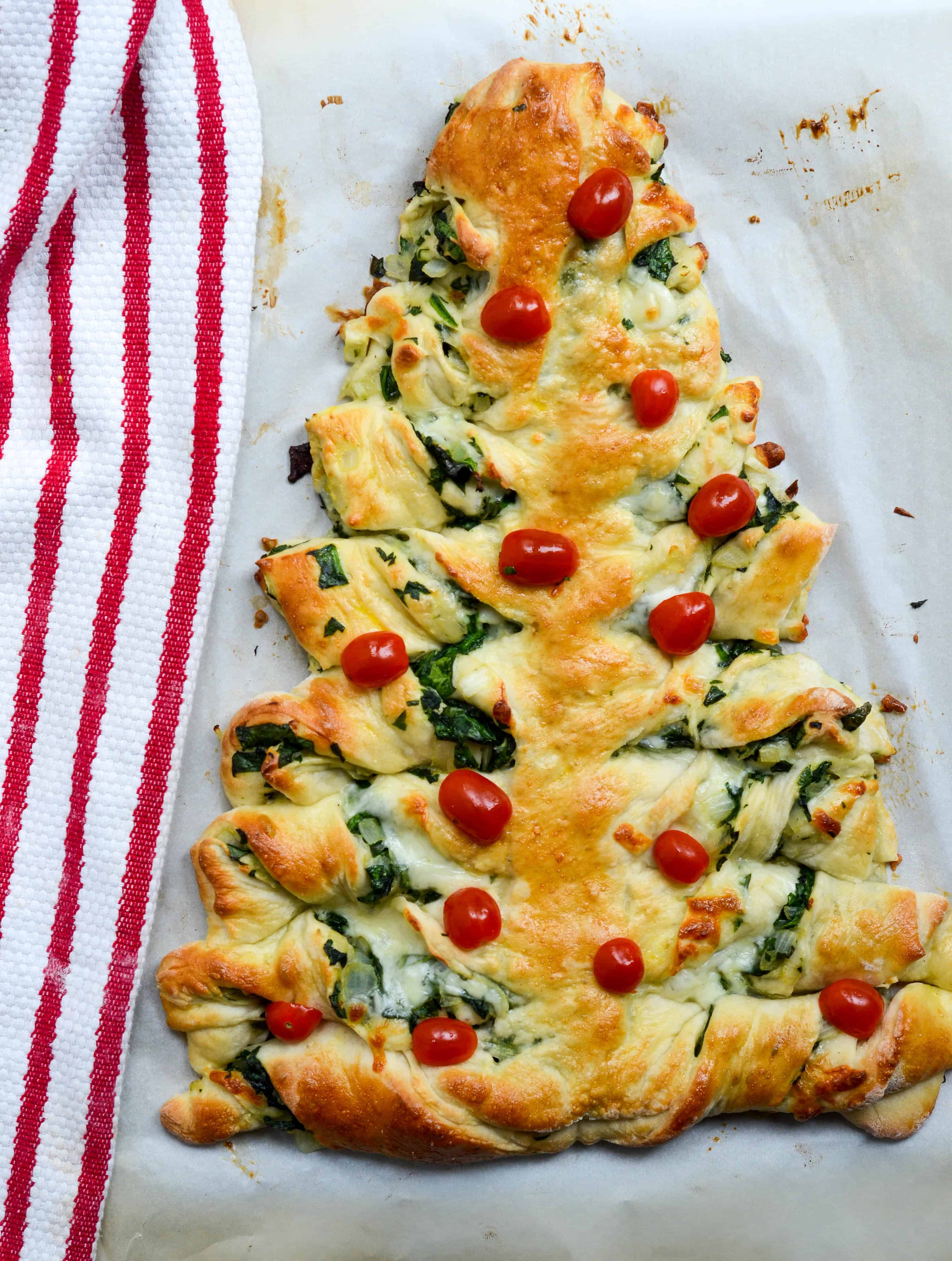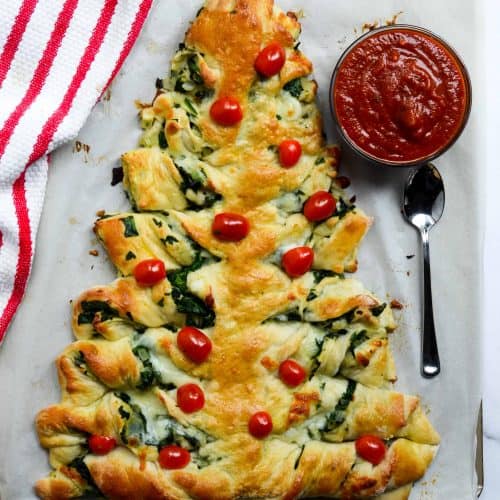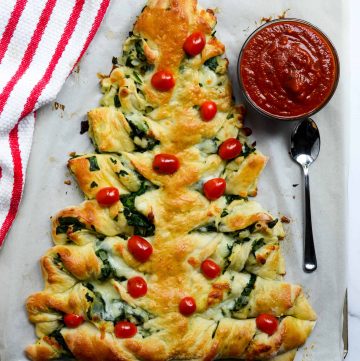 Christmas Tree Breadsticks with Spinach and Onion
Made with a quick homemade dough, this cheesy Christmas pull-apart bread with spinach and onion is what you need for any festive and fun get together.
Print
Pin
Rate
Ingredients
For the dough
1

package

active dry yeast

1

tsp

sugar

1

cup

warm water

1

tablespoon

olive oil

1

tsp

salt

2-2 ½

cups

all-purpose flour
For the breadstick filling
1

tablespoon

olive oil

1

onion, chopped

½

tsp

salt

¼

teaspoon

pepper

1

teaspoon

garlic powder

1

8 oz

package of fresh spinach, roughly chopped

¾

cup

shredded mozzarella cheese

1

egg, lightly beaten

¼

cup

cherry tomatoes,

optional for garnish

1

cup

marinara sauce,

optional for dipping
Instructions
In the bowl of a stand mixer, combine the yeast and sugar. Pour warm water over sugar-yeast mixture and let sit for 5 minutes until bubbly and frothing. This is how you know it's activated.

With your hook attachment (or by hand) on medium speed, mix in olive oil and salt. Then switch to low and carefully add in flour. When you get to 2 cups, stop and check for consistency. If dough is sticky, continue to add a bit more flour. (Usually I use just under 2 ½ cups of flour). I also bump the speed up to medium-high for just a couple of seconds to make sure the hook has gotten all of the flour from the bottom of the bowl. Form dough into a bowl with your hands (still in the same bowl), cover with a kitchen towel, and let sit in a warm place for 30 minutes.

Meanwhile, in a non-stick frying pan with olive oil over medium heat, cook your onions, salt, and onion powder until onions are translucent (about 5-7 minutes). Add chopped spinach and stir to combine until spinach is just wilted. Set aside and let cool.

By now, your dough should have risen slightly. Take dough out of bowl and knead on a lightly floured surface 10-12 times to make sure all flour is combined. If dough seems too warm from your hands, always put back in the refrigerator for 15 minutes.

Roll out dough into a rectangle - about 14"x9". Cut a triangle from the rectangle. With the two smaller recntagles on either side of the main triangle you just cut, smooth the edges together with your fingers to make another triangle. This'll be the bottom of your Christmas tree. Set that triangle on your parchment-lined baking sheet and manipulate the dough with your hands until you're happy with the shape. Again, if dough becomes warm and hard to work with, stick in the refrgierator for 15 minutes.

Now is a good time to preheat your oven to 400 degrees F.

Add spinach and onion mixture to the triangle you formed. Add mozzarella cheese on top. Then place the other triangle (your main triangle) on top, stretching dough to match the bottom as much as possible. Use your fingers to pinach the bottom and top layers together.

Saving about an inch strip running down the middle of the Christmas tree, cut horizontal slits about 1 ½" apart all the way up the tree. Repeat the identical cuts on the other side of the Christmas tree. Twist the strips 1-2 times depending on the length of the strip. Brush the top of the Christmas tree with egg wash.

Bake for about 15-17 minutes until dough is a golden brown.
Notes
Don't be scared to keep putting your dough in the refrigerator.  For me, I can generally do this pretty fast (because I've made this bread so much).  I typically put the dough in the refrigerator right after I've cut the dough into triangles.  It helps me more easily manipulate the bread to make sure my bottom and top triangles match up.