Cranberry muffins are adapted from my mom's recipe and are a delicious, easy bread to have at any festive, holiday table. These muffins take only 20 minutes to prep and bake!
***This recipe has been updated with revised copy, new photographs, and a slight tweak in the recipe in November 2020. Hope you enjoy!***
I really love cranberries. I don't care whether it's the cranberry bliss bars from Starbucks, cranberry sauce, cranberry tart, cranberry bread...I love cranberries and they scream the holidays to me. Let's make the most of cranberry season and use them up in some delicious ways.
This easy cranberry muffin recipe is adapted from my mom's recipe, which she makes every Thanksgiving and Christmas. These cranberry muffins were always one of my favorite parts about Thanksgiving aside from the stuffing and mashed potatoes (duh!). When these bad boys come out of the oven so hot and with a pad of butter melted on top...perfection!
If you're looking for a quick bread to have on your dinner table, look no further. These cranberry muffins are your hero.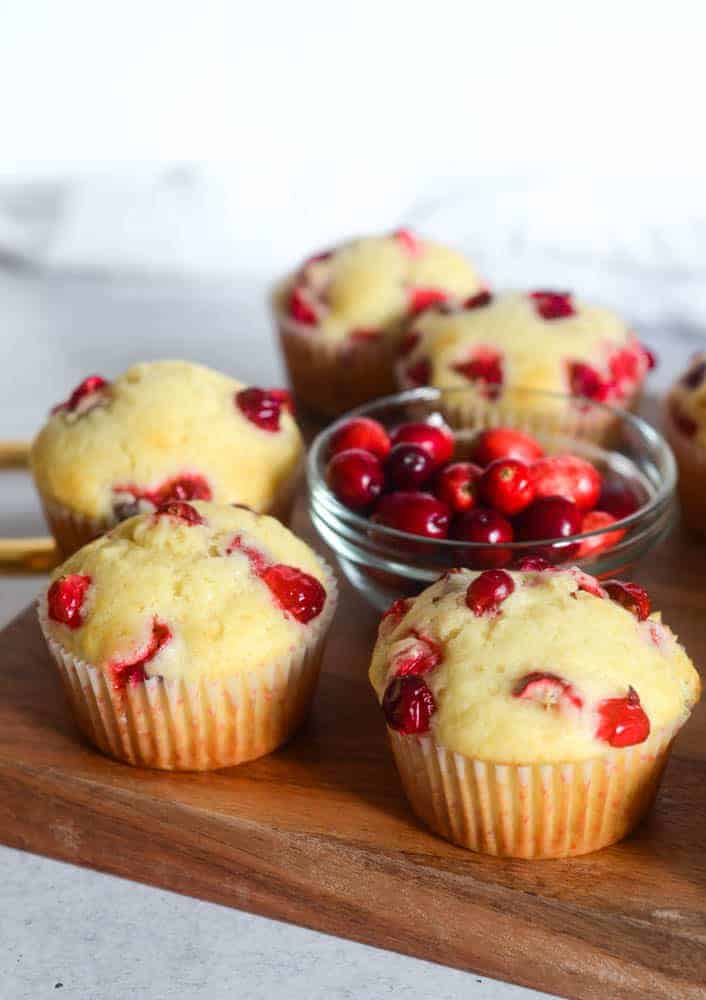 The Health Benefits of Cranberries
I'm by no means a health expert, but I really enjoy learning why healthy foods are healthy for your body. Cranberries happen to be one of the best superfoods for you. Here's why:
One cup of raw fruits has 25% of your daily Vitamin C, 9% of your daily Vitamin A , 6% Vitamin K, and then some potassium, iron, and calcium (WebMD).
Cranberries can help prevent liver disease, urinary tract infections, can lower blood pressure
It's important to note that when cranberries are dried, they lose most of their vitamins but keep most of the minerals -- like potassium and calcium. Doesn't mean they're not good...you're just losing some of the goodness.
No Bitterness Here
The only downside is that fresh cranberries are pretty bitter, and aren't something I can eat raw (but I know some people aren't bothered by them in the least...so this is definitely a personal preference). The sugar in these muffins help counteract the bitterness of the fresh cranberries.
You could also use frozen cranberries if that's all you have on hand. Just don't use dried cranberries.
Ingredients For Cranberry Muffins
The ingredients list is incredibly simple, and you likely have most of these ingredients already in your pantry or refrigerator:
all-purpose flour (or measure-for-measure gluten free flour if wanting to make these muffins gluten free)
salt
baking powder
egg
milk
vegetable oil
fresh cranberries
sugar
So simple, right?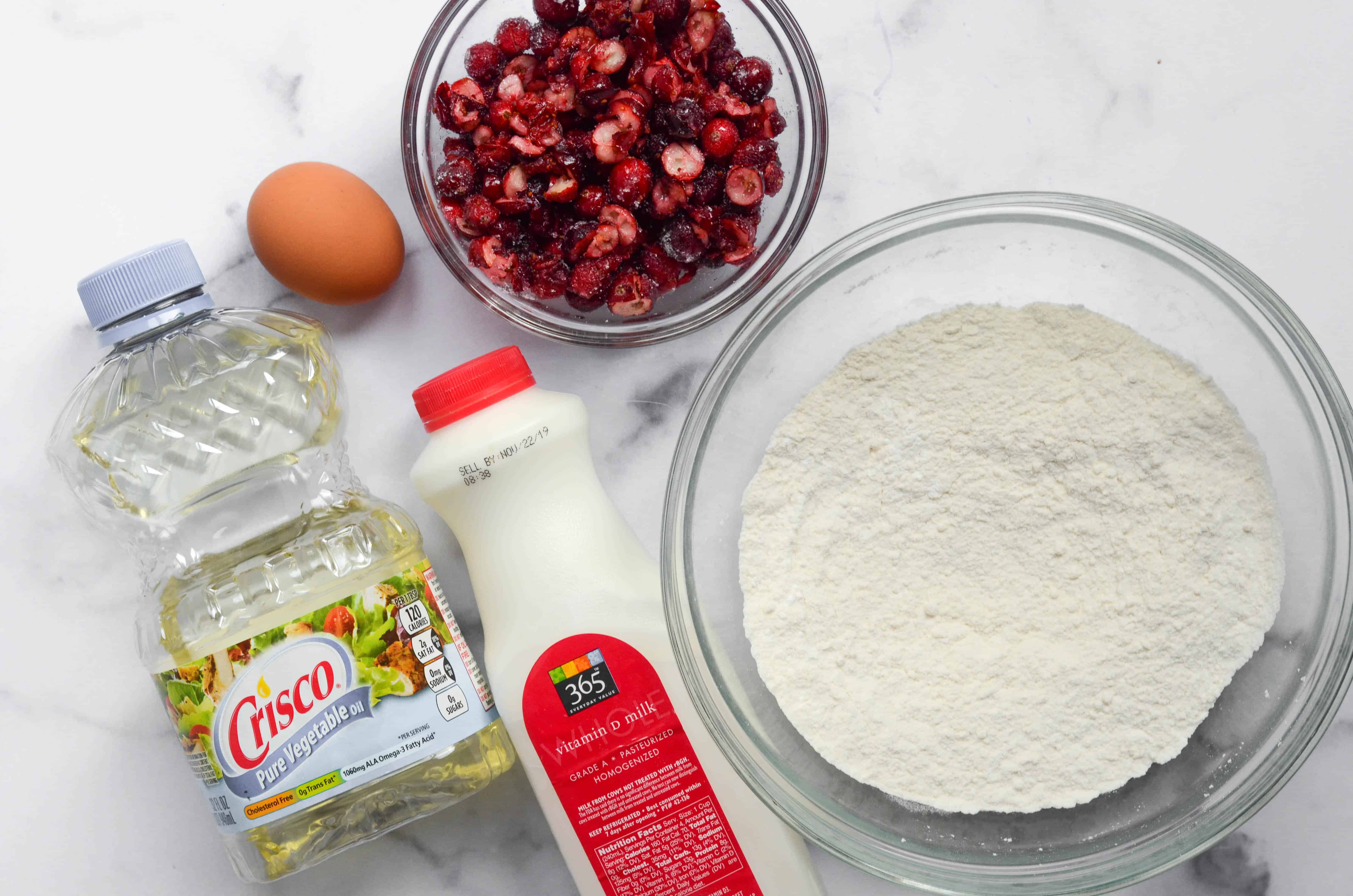 How to Make Easy Cranberry Muffins
Step 1: Chop cranberries and toss with sugar & prepare dry ingredients.
Let the cranberries absorb the sugar while you combine the rest of the ingredients. The sugar makes the cranberries a little bit less bitter. Then combine the dry ingredients (flour, sugar, baking powder, and salt).
Step 2: Make a well in the center and add in oil, milk, and eggs. Stir to combine.
No need to combine the wet ingredients ahead of time. This is a one bowl-kind-of-recipe!
Step 3: Give it a stir until just incorporated.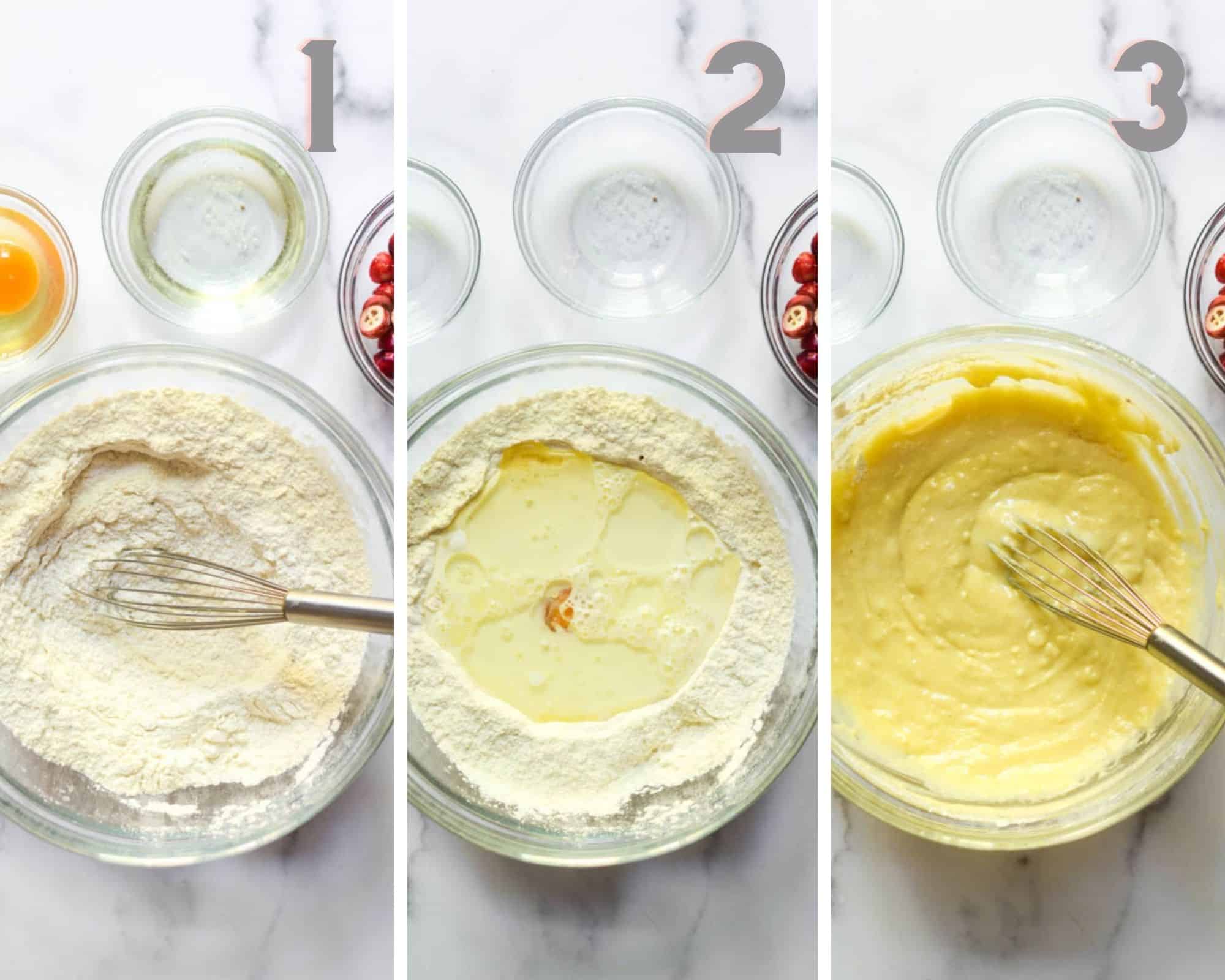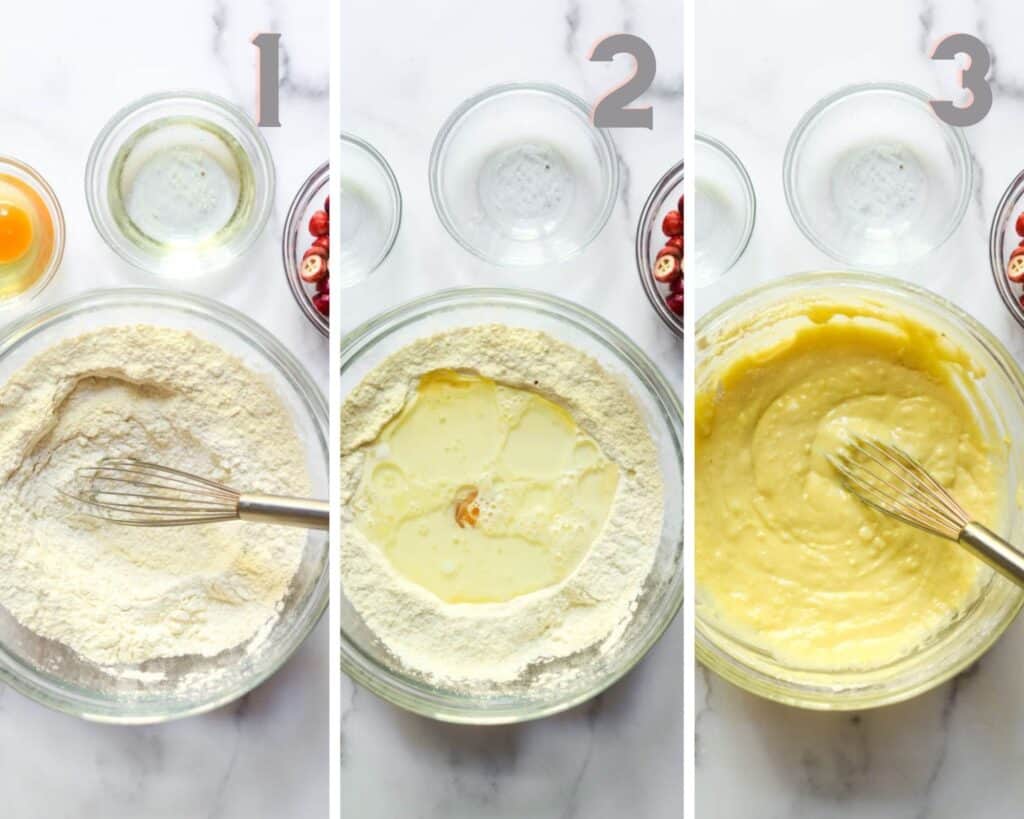 Step 4: Add sugared cranberries
Step 5: Fold in cranberries until just combined.
No need to over mix. Just give the batter a gold fold with a spatula.
Step 6: Fill muffins tins and bake.
Fill your muffin tins about ⅔ full. This recipe makes exactly 12 large muffins. Add extra chopped cranberries on top to make them even prettier, then bake the muffins for about 15 minutes.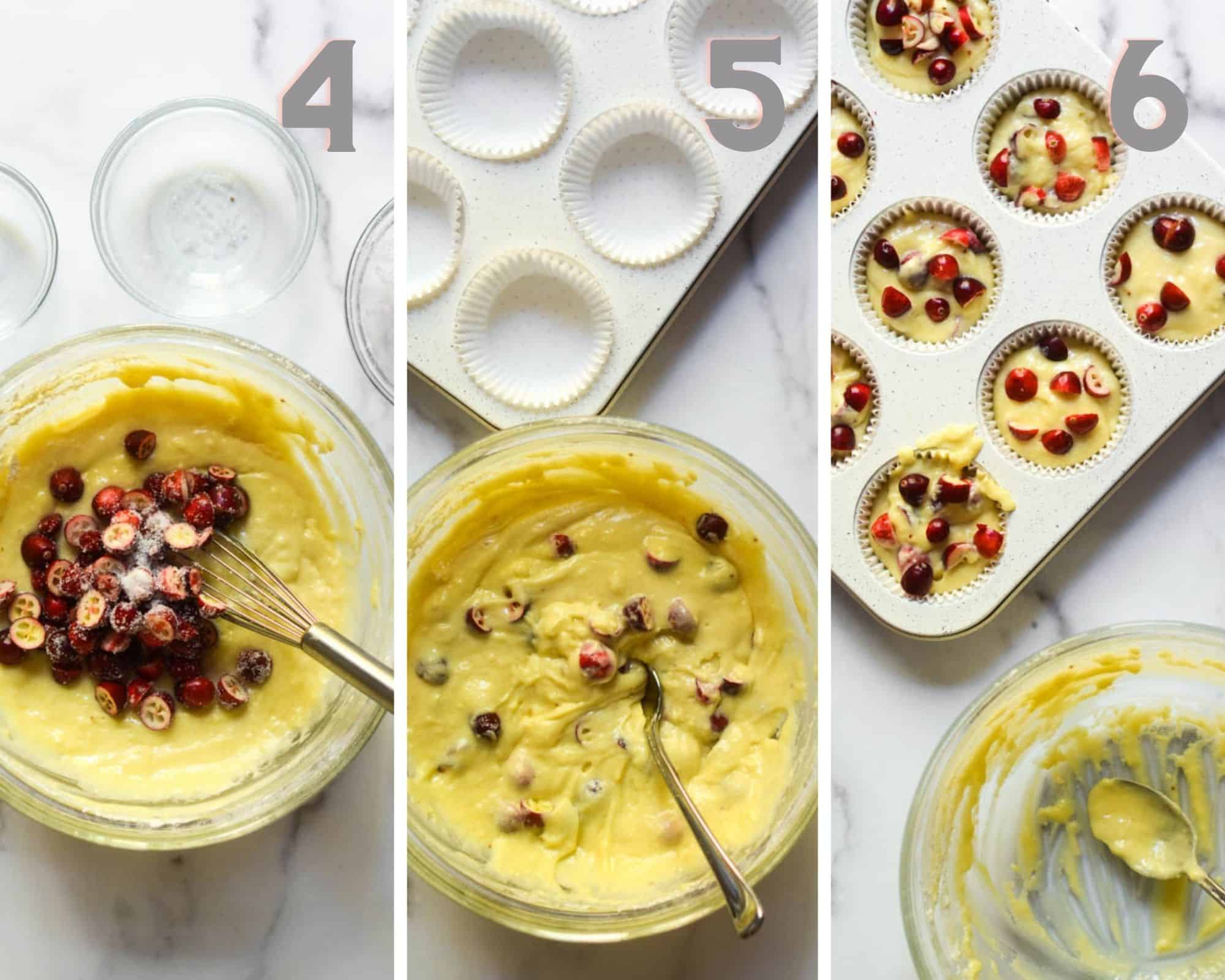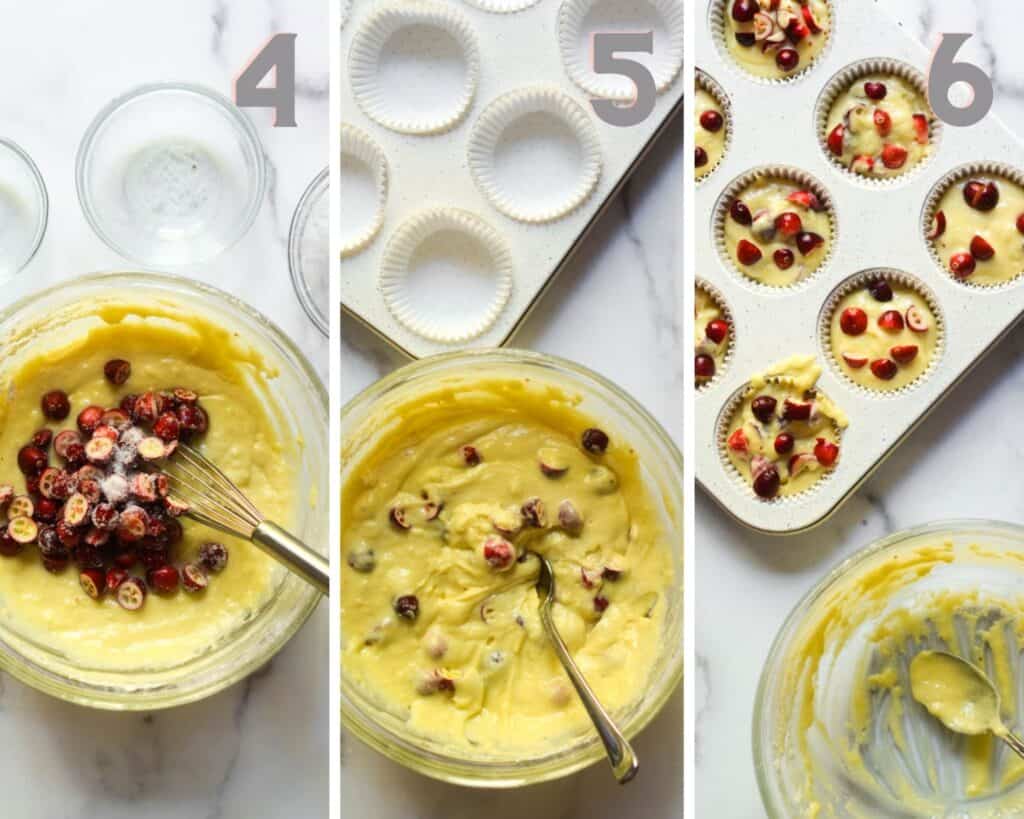 Storing cranberry muffins
These muffins can be stored at room temperature in an airtight container. They'll stay fresh for 2-3 days, but they're definitely best to eat on the first day.
On Day 3, I've been known to cut a muffin in half and toast it before adding a generous slab of butter on top. Delicious!
You can freeze these muffins very easily, too so you don't have to worry about needing your oven on Turkey Day. These muffins will stay great in your freezer for 3 months. Just let them unthaw at room temperature for a few hours before eating.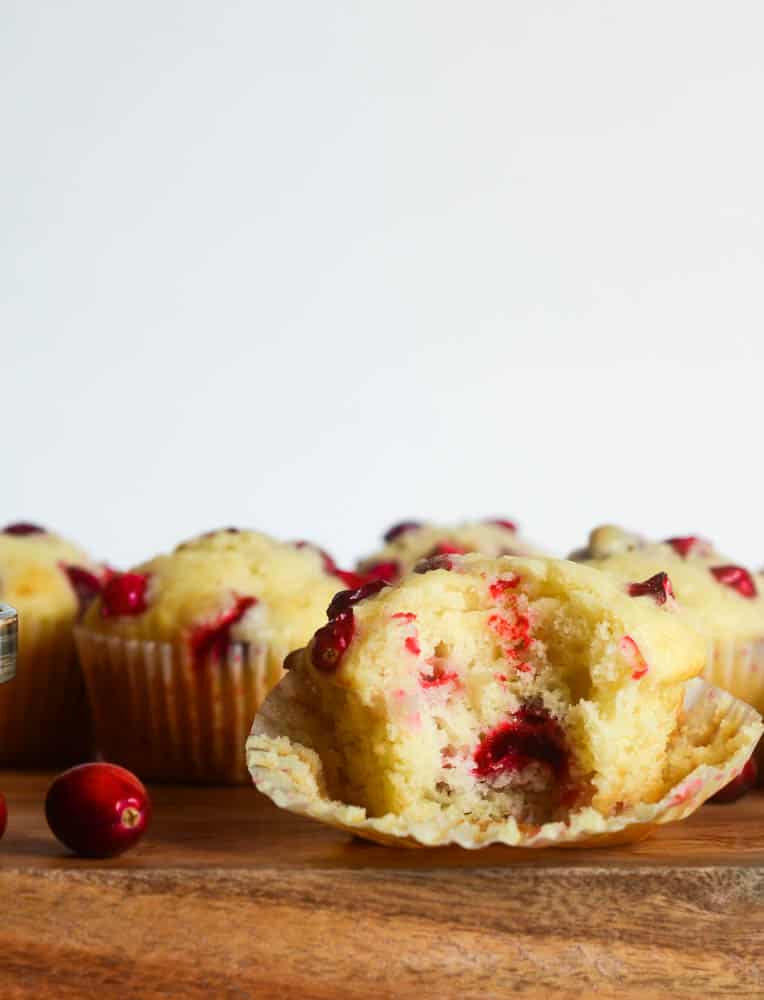 More Ways to Use Cranberries:
Looking for other fun holiday recipes? Check these out: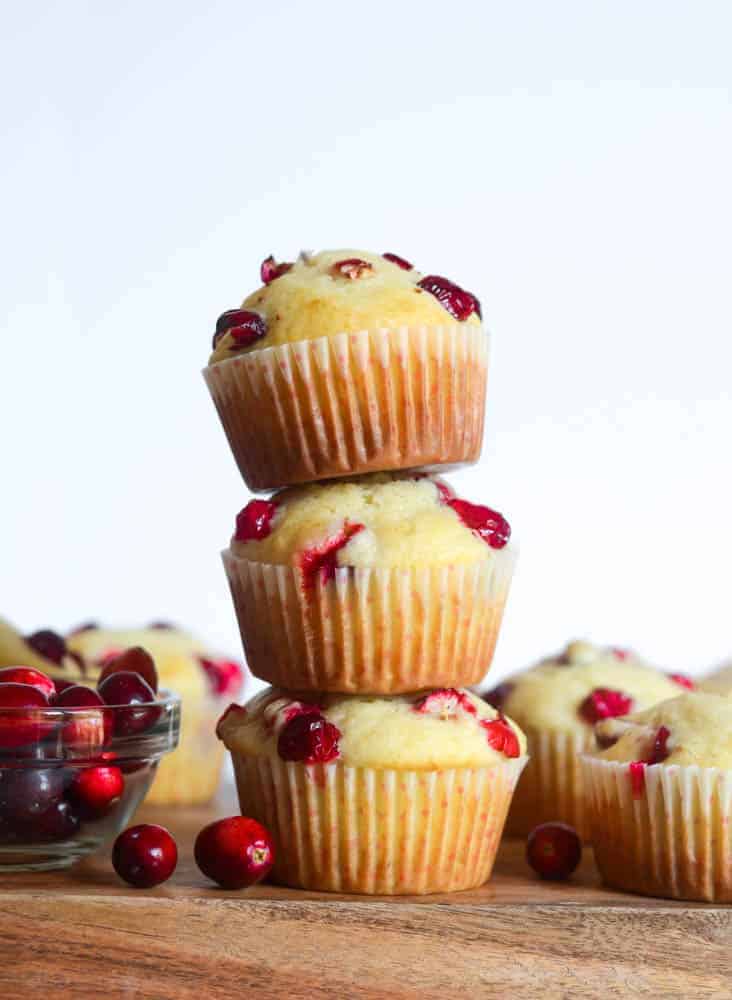 Hope everyone has a very wonderful holiday season!
As always, if you make anything from the blog, be sure to let me know! I love hearing from you in the comments on this post below or find Worn Slap Out on Facebook, Instagram, or Pinterest!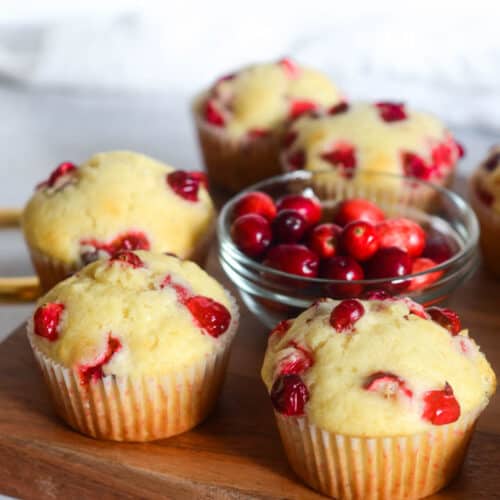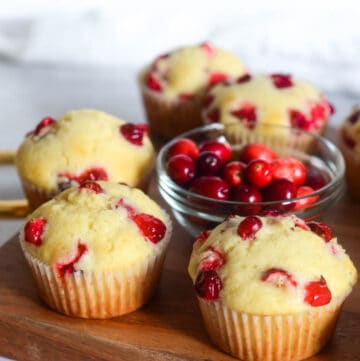 Mom's 20 Minute Cranberry Muffins
These quick cranberry muffins are perfect to accompany a festive, fun dinner and can be whipped up in no more than 20 minutes.
Print
Pin
Rate
Servings:
12
large muffins
Ingredients
1 ¾

cups

all-purpose flour

½

cup

sugar + 2 Tablespoons

2

tsp

baking powder

½

teaspoon

salt

1

beaten egg

¾

cup

milk

¼

cup

vegetable or canola oil

1

cup

fresh cranberries, coarsely chopped

plus handful more for topping muffins
Instructions
Preheat oven to 400 degrees F. Grease muffin cups or line muffin cups with liners. In a small bowl, combine 2 tablespoons of sugar with coarsely chopped cranberries.

In a medium bowl, combine flour, remaining sugar, baking powder, and salt. Make a well in the center of the dry ingredients.

Add egg, milk, and oil to the center of the well. Stir until just combined (be careful to not over mix). Fold cranberries into batter.

Pour batter into muffin tin (about ⅔ of the way full) and top with a few extra chopped cranberries. Bake for 15 minutes, or until toothpick comes out clean.
Notes
Storing: Once completely cooled to room temperature, store in an airtight container. The cranberry muffins will stay fresh for 2-3 days. 
FREEZING: These muffins can also be frozen.  When you're ready to eat, leave them out at room temperature for 2-3 hours before eating.