This beautiful cinnamon and sugar pull-apart bread is surprisingly simple to make (just need the time!) and perfect for breakfast or brunch on a cozy day indoors.
**This recipe and post was updated December 2019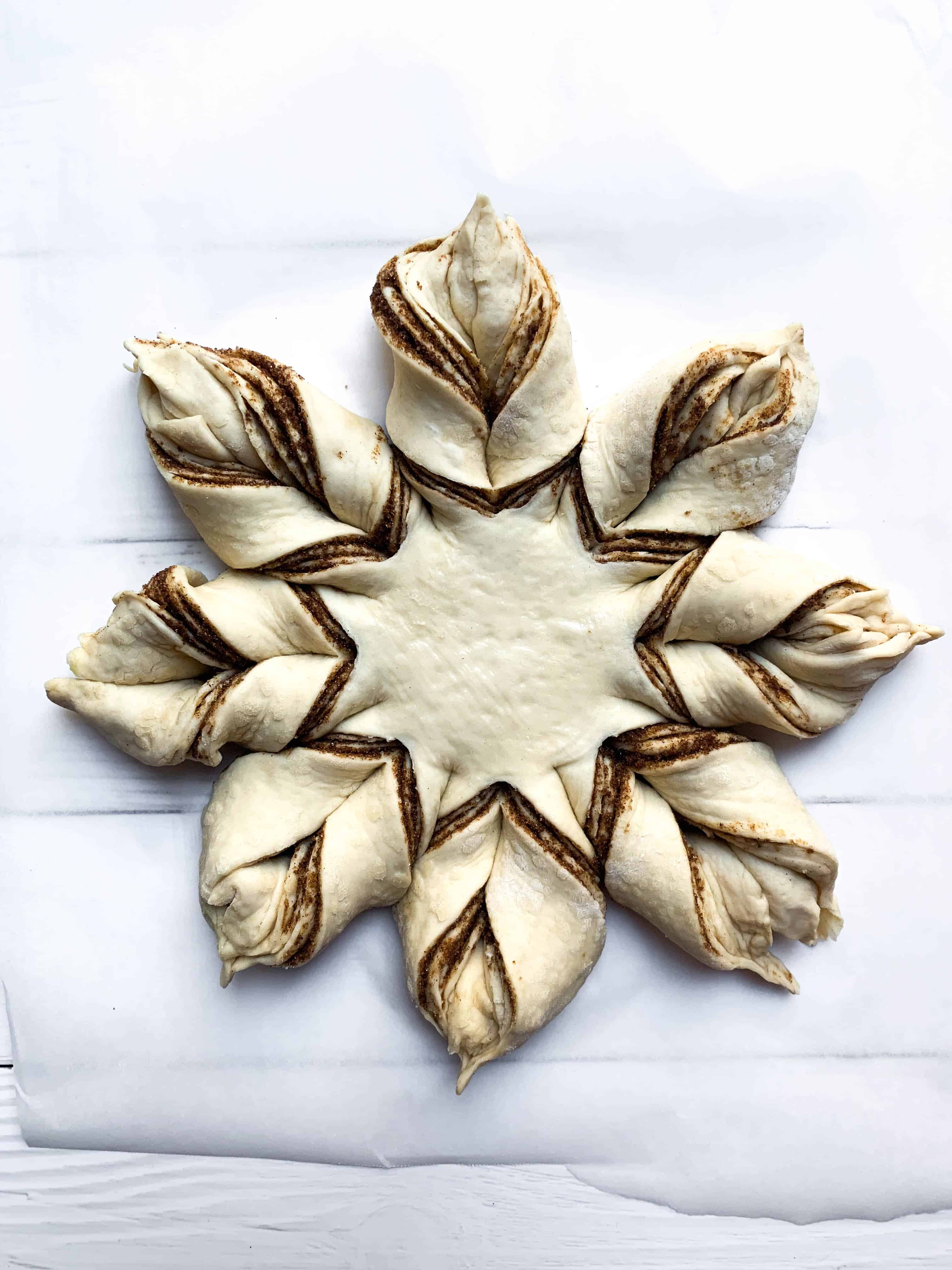 Can I tell you how excited I am that spring is right around the corner? And with spring weather comes more daylight and new seasonal fruits and vegetables. I'm trying to not wish away the next three weeks but seriously...I NEED YOU, SPRING.
I haven't posted much in awhile because things have just been busy. Not with any one thing in particular, but the general, day-to-day busy-ness that consumes most of us. The monotony of the "regularly scheduled programming" as we like to say.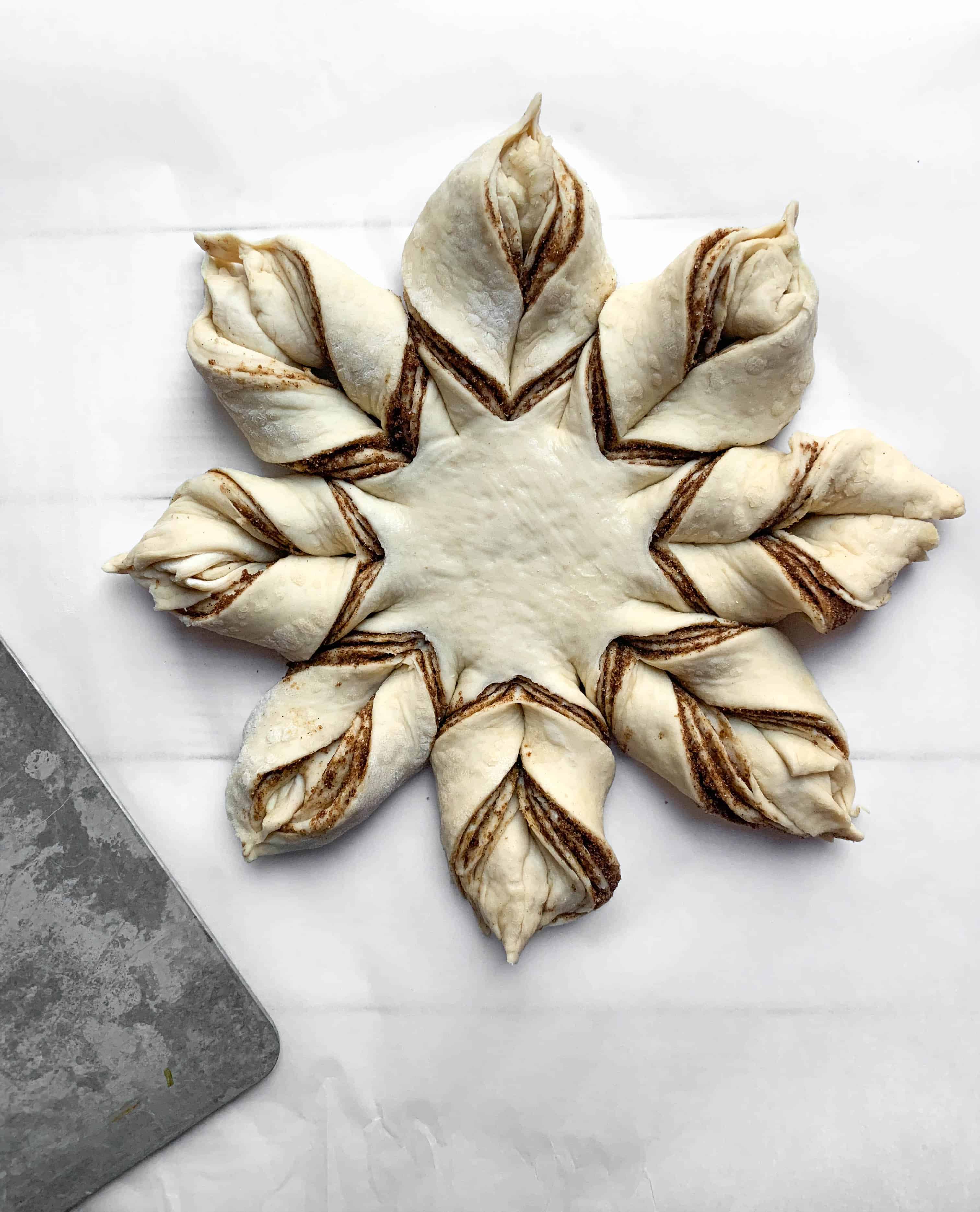 Break making is perfect in cold weather
We're under a winter storm warning tonight through early tomorrow morning, so there's a chance we'll have another snow day tomorrow or maybe just a delay. I'm hoping (always) for a snow day though. The time off from work acts as a bonus day with my two little loves...and this time with them is priceless. It's become a little bit of a tradition in our house to make some kind of bread on these days together because we have no other agenda. Waiting three times for the bread to rise in no big deal because we're consumed by movies, puzzles, and playing lava over and over again. Plus, it's so much fun cooking with little people if you can get past the mess that always ensues. They *love* punching the dough, kneading it like their Playdoh, and using the rolling pin.
When I saw star bread for the first time, I thought it was beautiful but never something I could do due to time constraints. Kids, man. Then I watched one YouTube video and realized it's easy peasy. That makes this a great one to do for guests. You know I'm all about the food that looks fancier than it really is. Optics, people. All about the optics.
How to make star bread
The pictures aren't very blog-worthy, but what I'm trying to show you is just how easy it is to make the star. Once you've divided the dough into 4 equal pieces, this is when the fun begins.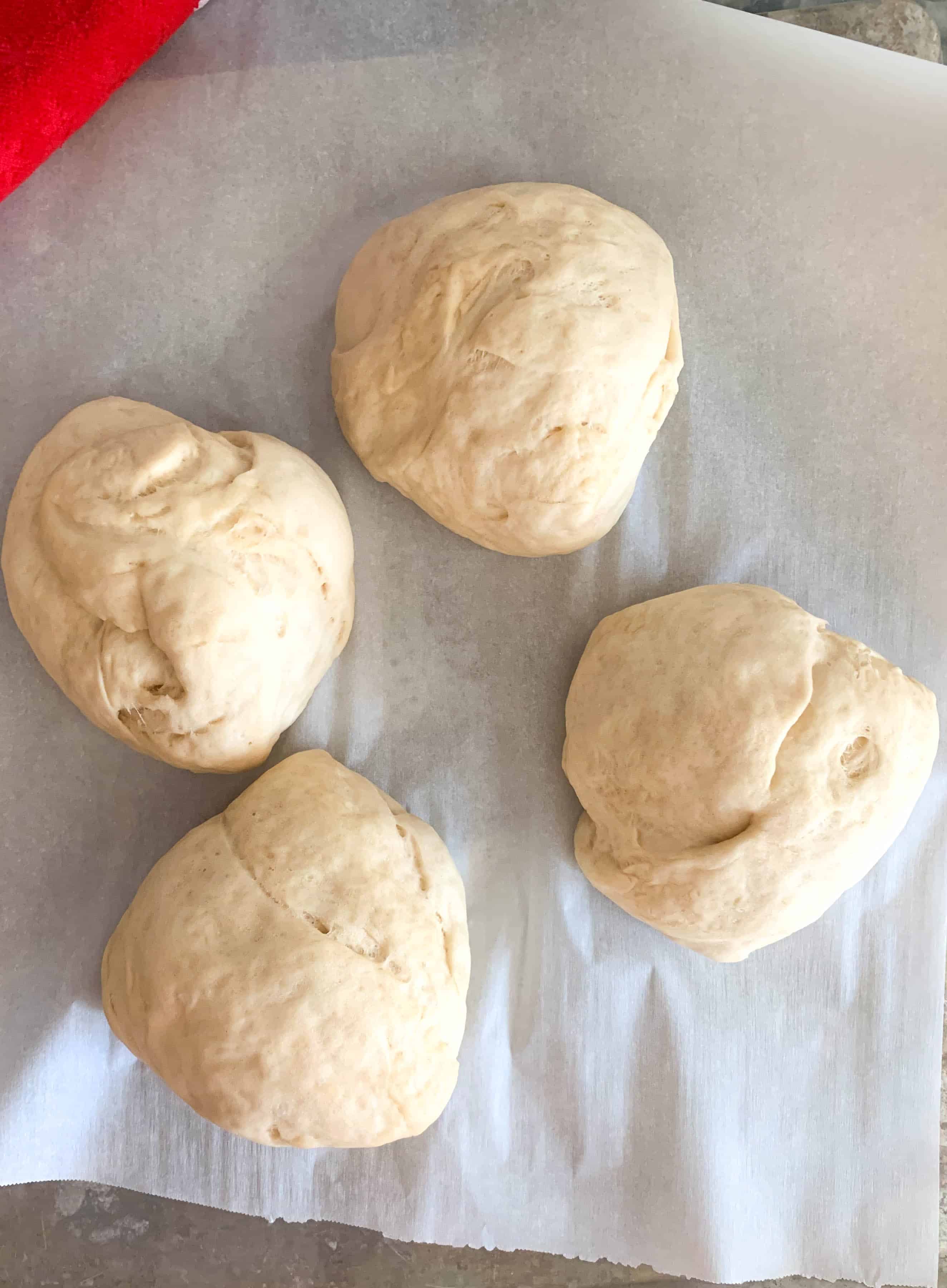 You make four layers of dough with cinnamon and sugar in the middle.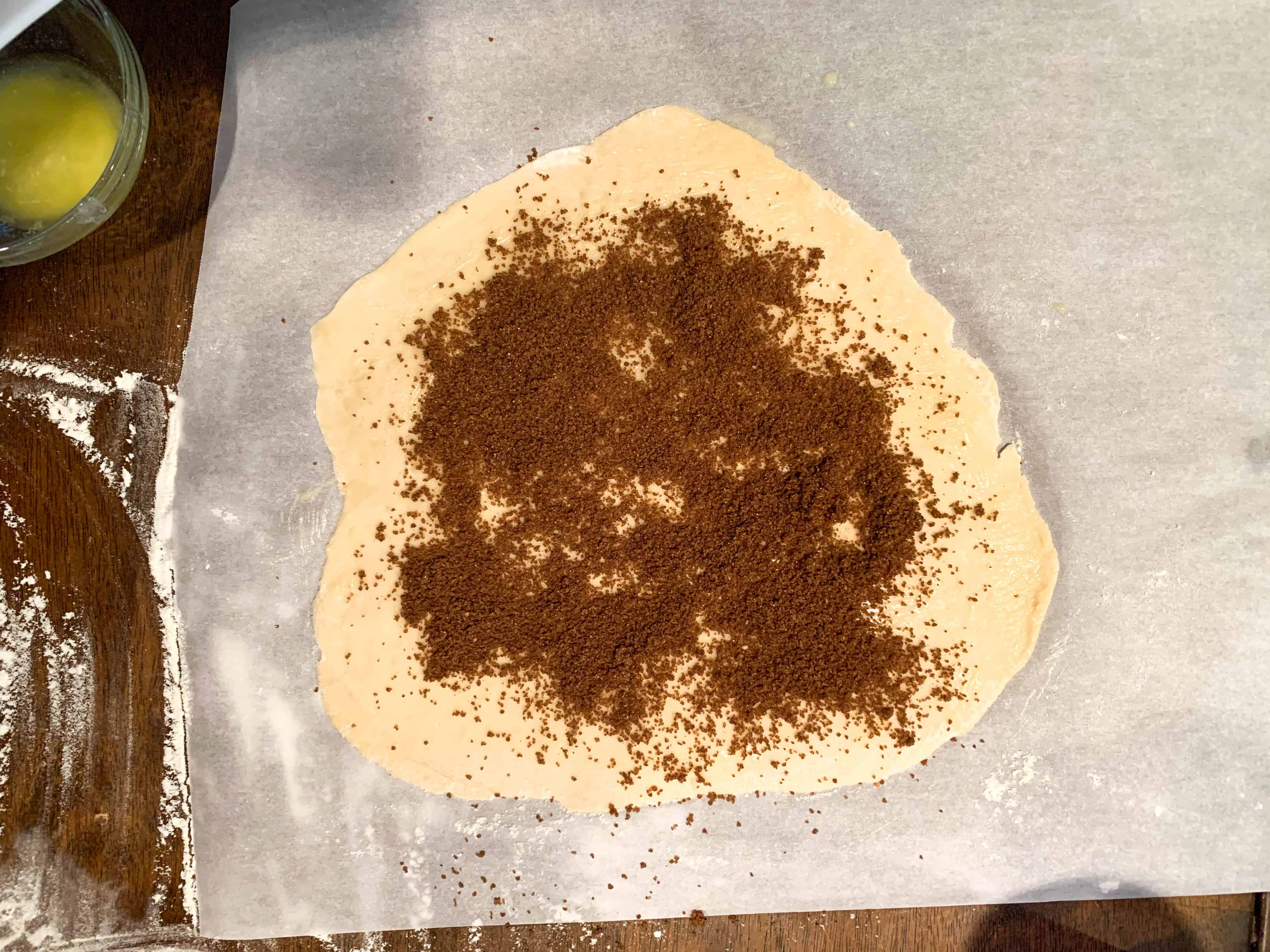 Use a cup to make a subtle indention in the middle of the top circle. You'll then make 16 cuts (I cut the dough into quadrants then cut the quadrants into quadrants to try to make the strips as uniform as possible) starting on the circle indentation and going to the edge of the circle.
Then you gather two strips in your two hands and twist the two pieces away from each other twice and pinch them together at the ends to create a point. Voila. If you follow me on Instagram, you can also see in my saved stories how to make this (my 4 year old recorded me!). You can create this 8 point beauty in a matter of minutes: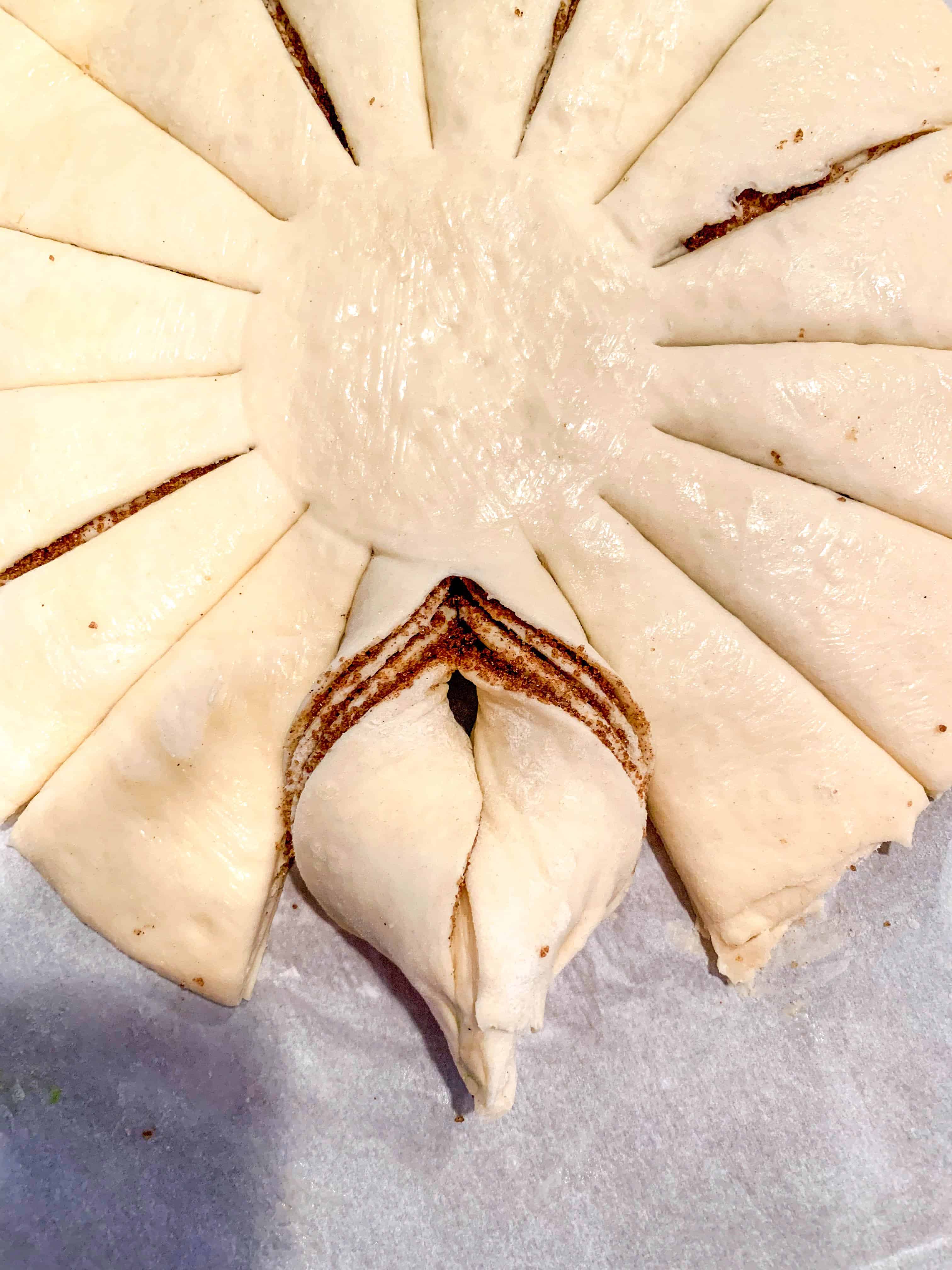 Other filling for the star bread
Think of this recipe as a base recipe, so feel free to add your own twist and favorite fillings. Here are some other options that are delicious:
Make a savory bread with pesto instead of cinnamon and sugar and served with dinner. How delicious would that be?
Try filling with Nutella instead of plain cinnamon and sugar
Use the same filling you'd use for cinnamon buns -- with brown sugar. This will make it ooze and be delicious.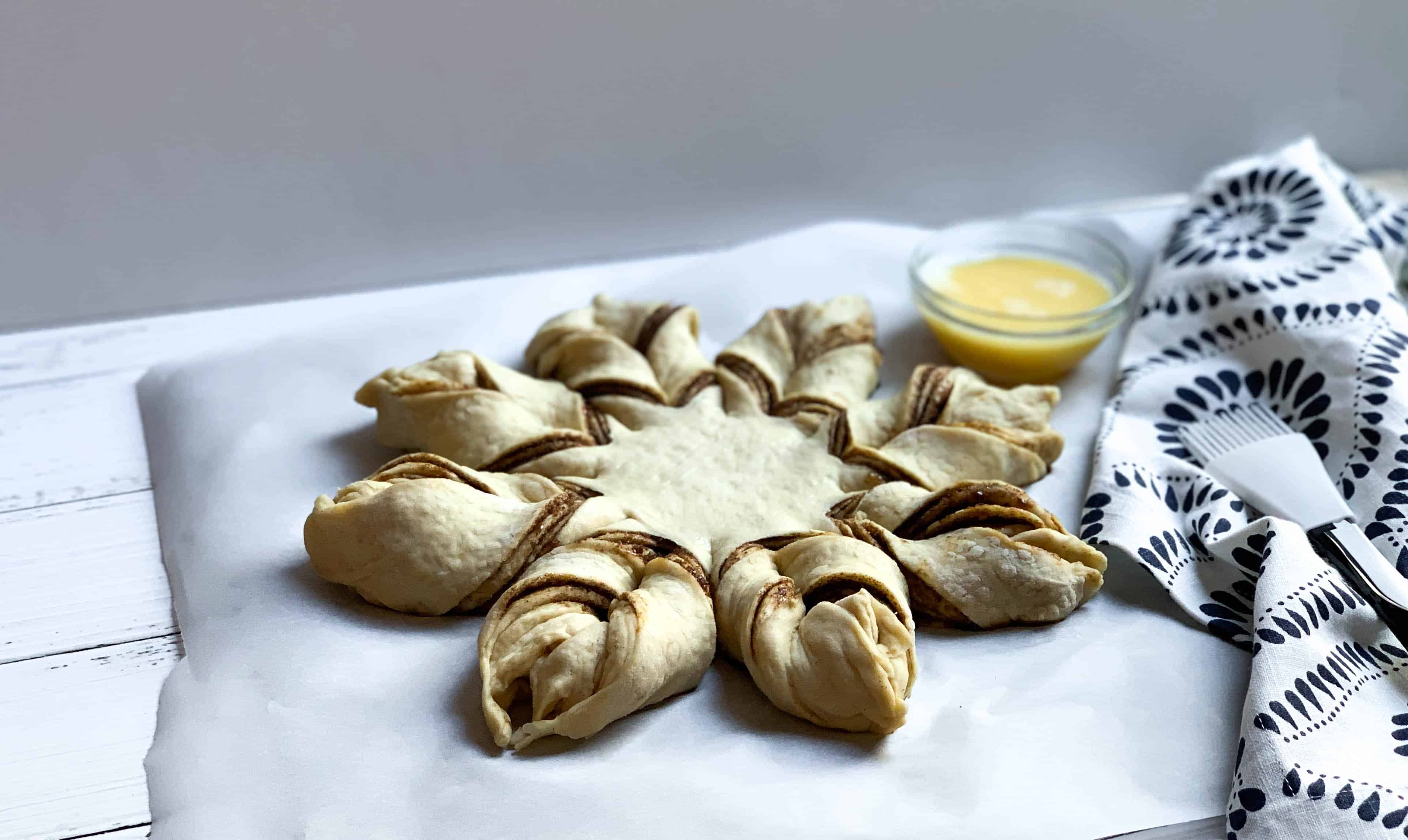 Favorite Breads
Speaking of bread, here are my top five favorite breads to make in our family:
Clearly this one (cinnamon and sugar star bread) is one of my favorites. I've been perfecting the ratio of the flour and butter all year, and I'm really proud of this one. It never gets old. And it's beautiful to start a project and be able to finish it. Maybe that's what I love about cooking and baking.
This Challah -- such a staple in our house. It's an Ina Garten recipe. She's the queen. What can I say about this? It's delicious and who doesn't love a good, buttery challah loaf?
These cinnamon buns are a Connor favorite in our house. He just can't get enough of them (although we've made them a few times this year so he may be getting sick of them).
Irish Guinness Bread (again, from Ina Garten). This brown bread has a little crunch on the outside from the brown sugar but is a perfect combination of dense and fluffy on the inside. It's probably what I'll make tomorrow if we have a snow day.
This banana bread or this healthier version. Connor absolutely loves the first banana bread. I've made it since he was a baby. John and I prefer the second. Bri doesn't really eat either. (And forgive me for the quality of the post and pictures on the first banana bread. It's kinda embarrassing to look back and to see what I posted last year after I've gotten better about my photography. Maybe one day I'll update it!)
xox
kathryn
As always, if you make anything from the blog, be sure to let me know! I love hearing from you in the comments on this post below or find Worn Slap Out on Facebook, Instagram, or Pinterest!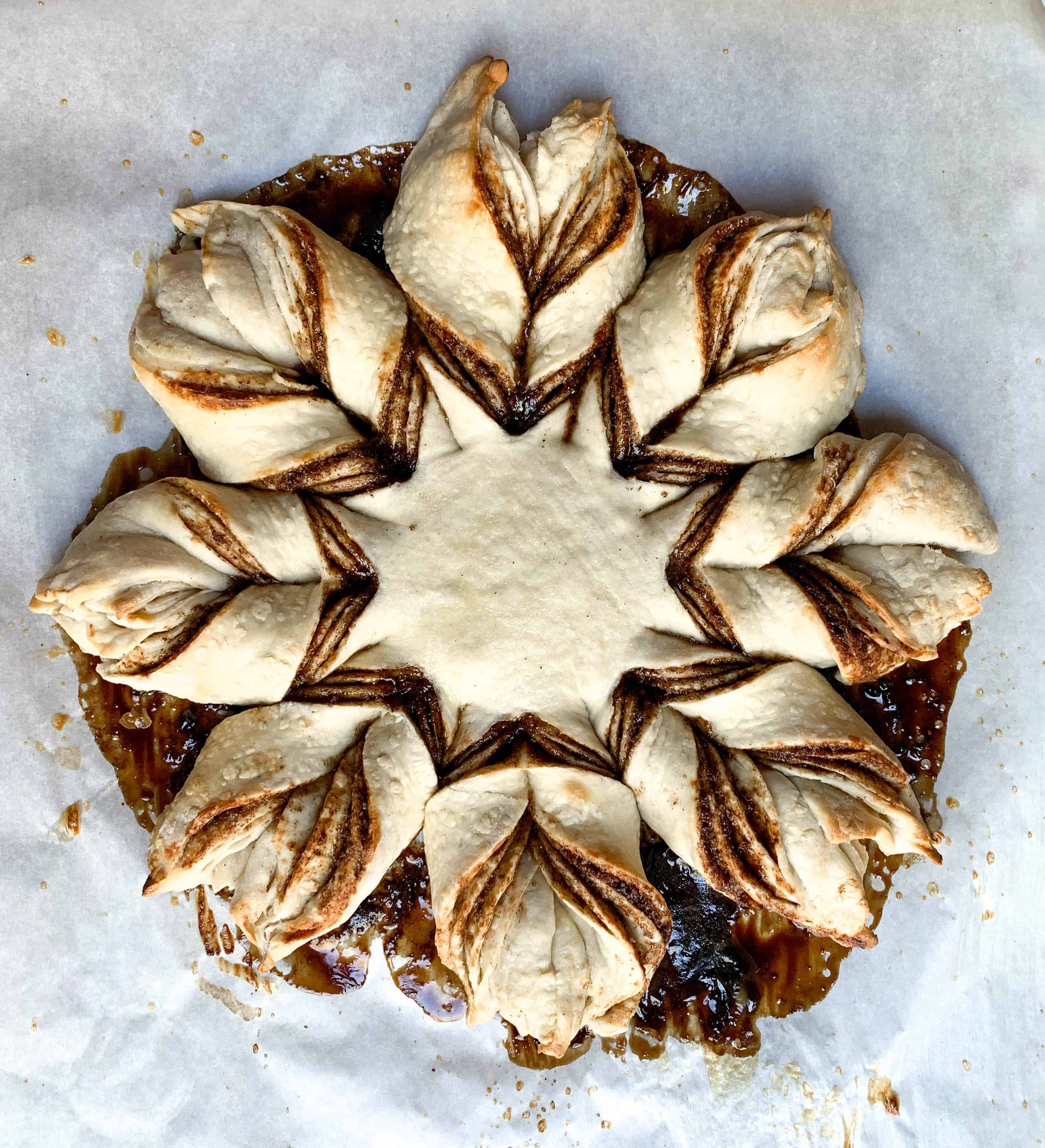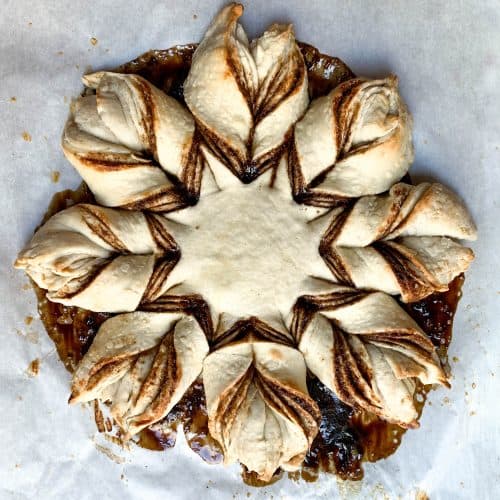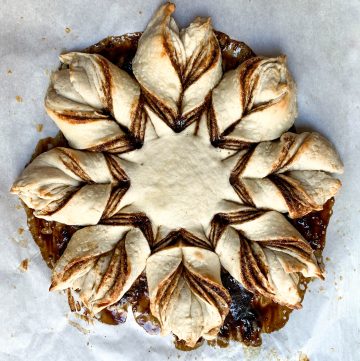 Cinnamon Star Bread
This beautiful cinnamon and sugar pull-apart bread is surprisingly simple to make and perfect for breakfast or brunch on a cozy day indoors.  
Print
Pin
Rate
Ingredients
For the dough
3 ½

cups

all purpose flour

1

teaspoon

salt

5

teaspoon

active dry yeast

2 packages

1

cup 

warm water

2

tablespoon

granulated sugar

5

tablespoon

unsalted butter melted and slightly cooled

1

teaspoon

vanilla extract
For the filling
1

egg

beaten

¾

cup

brown sugar

1

tablespoon

ground cinnamon

pinch salt

2

tablespoon

unsalted butter melted and cooled slightly
Instructions
Sift flour into medium bowl and add salt.  Set aside.

In bowl of stand mixer, combine yeast, warm water, and sugar. Gently stir together, then leave to rest for 10 minutes or until foamy.

Once yeast mixture is foamy, add butter and vanilla, then slowly stir in the flour mixture in thirds, mixing on medium speed with a dough hook attachment. Beat dough at medium-high for 2-3 minutes, or until we'll combined.  Transfer to a lightly floured surface and knead for 2-3 minutes.

Transfer to large bowl sprayed with oil or butter. Cover bowl with clean towel and set in a warm area. Let rise for one hour, or until dough has doubled in size.

Once dough has doubled in size, place onto lightly floured surface. Use a large knife or pastry cutter to cut dough into four four equal pieces. Shape each piece into a ball, cover the balls with a thin towel, and allow them to rest for 15 minutes.

While dough is resting, mix together brown sugar, cinnamon, and salt in a small bowl, melted butter in another bowl, and beaten egg in a third.

Take one dough ball and roll out into as close of a circle as possible (about 10" in diameter).

Transfer the first circle onto a parchment paper lined baking tray. Brush a thin layer of egg, leaving a ¼" rim. Then sprinkle a thin coating of the brown sugar mixture across the circle except for the rim.

Continue rolling out the second ball of dough, placing it on top of the first, then brushing the egg on top and sprinkling the brown sugar mixture across the circle. Repeat three times total.

Place the fourth dough circle on top. Using a sharp knife, trim all of the layers so they look more like a circle. Brush a small amount of melted butter across the top layer without adding the brown sugar mixture. 

Place a 2 ½"-3" round cutter or juice glass in the center of the dough circle. Press down just enough to leave a little circular imprint.Take a sharp knife and cut the dough into 16 equal strips. Use the round imprint as a guide for a stopping point to keep from cutting into the center of your eventual star. (I cut the dough in quadrants and then cut those quadrants into quadrants.)

Using two hands, pick up two dough strips that are next to each other and twist them away from each other two or three times.  Then pinch the ends together to firm the points of each of your stars.  Repeat with the remaining strips of dough so that you end up with eight pairs of strips.

Cover star with towel and let sit for 45 more minutes.  This is also the point where you can cover tightly with plastic wrap and stick in the refrigerator to bake the next morning.

Before baking: Preheat oven to 375.  Brush star with a thin coating of butter. Bake bread for 15-20 minutes or until golden brown.  Transfer star to wire rack to cool for 10 minutes before serving.  Serve warm.