This Copycat sweetgreen Chicken Pesto Parm salad recipe is chocked full of healthy, whole ingredients like warm quinoa, crisp spinach, tender roasted broccoli, salty parmesan flakes, fresh tomatoes, and crispy za'atar breadcrumbs that will not leave you hungry!
Let me be the first to say that I love sweetgreen. They have truly delicious combinations of salads, and I particularly have a love for their warm bowls. Even in the summertime, I like the heartiness of their warm bowls. The warm salad bowls feel like I'm eating a meal, and I'm not left wanting more. True story: we spent so much money at sweetgreen when they first opened in Bethesda several years ago that they sent us sweetgreen merchandise. It was a winter hat, tote, and other random stuff that all read "Beets Can't Kale My Vibe." Needless to say, the merchandise wasn't worn but I appreciated the gesture.
We eat salads for dinner at least twice a week. We actually eat the same salad two times because making really good salads is not a quick task, so I'm going to make it worth my time. I even get a lunch in there, too.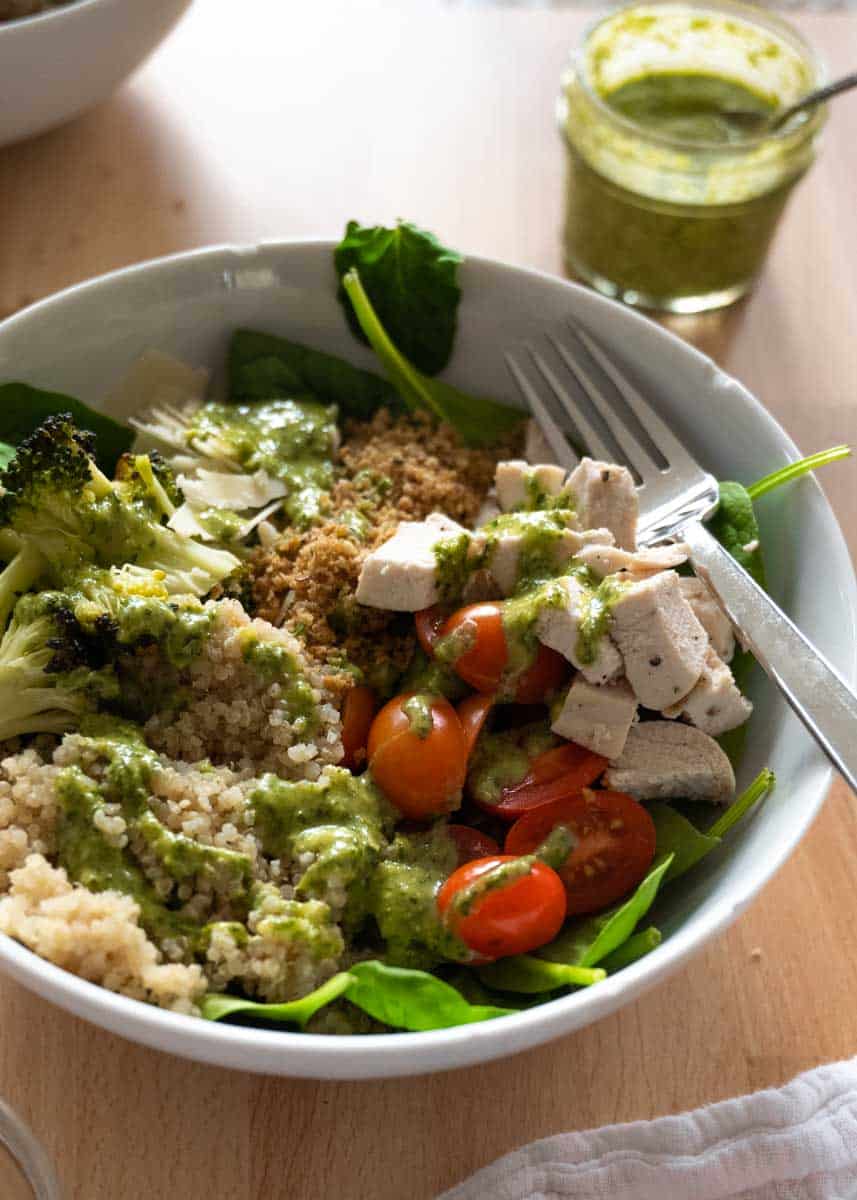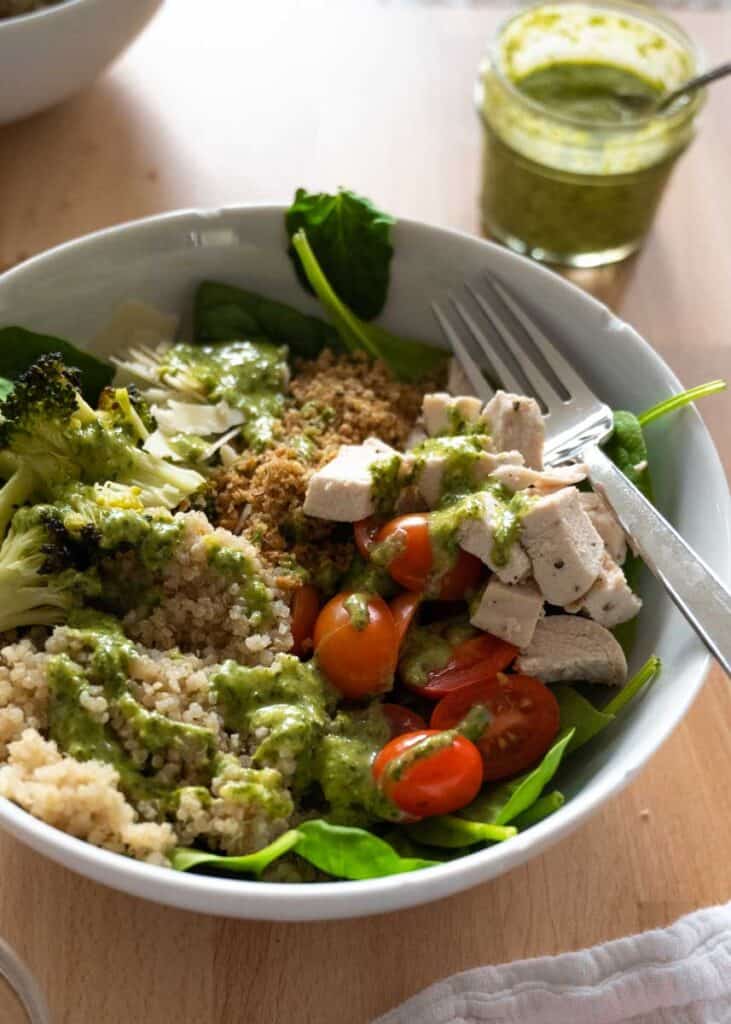 Why This Salad?
I love this sweetgreen chicken pesto parm salad knock-off for a few reasons:
I can easily double the recipe and more than justify the time and energy that goes into making this salad
This chicken pesto parm salad has a coherent but distinct flavor profile (I don't know if that's a thing but it's a thing with this salad). You have a little spice from the broccoli and any hot sauce you put on top, the warmth and softness of the quinoa, the saltiness from the cheese, the herby and zesty vinaigrette, and the crunch of the breadcrumbs.
This salad is HEALTHY. It's packed full of nutrients and whole grains. You can't go wrong.
Ingredients You'll Need
To make this chicken pesto parm salad, you'll need cooked chicken (save time with rotisserie chicken!), quinoa, parmesan cheese shavings, cherry tomatoes, za'atar breadcrumbs, broccoli, and spinach.
For the vinaigrette, you will need basil, parsley, garlic, red wine vinegar, Dijon mustard, salt, pepper, and olive oil. You can also drizzle hot sauce on the salad like the restaurant.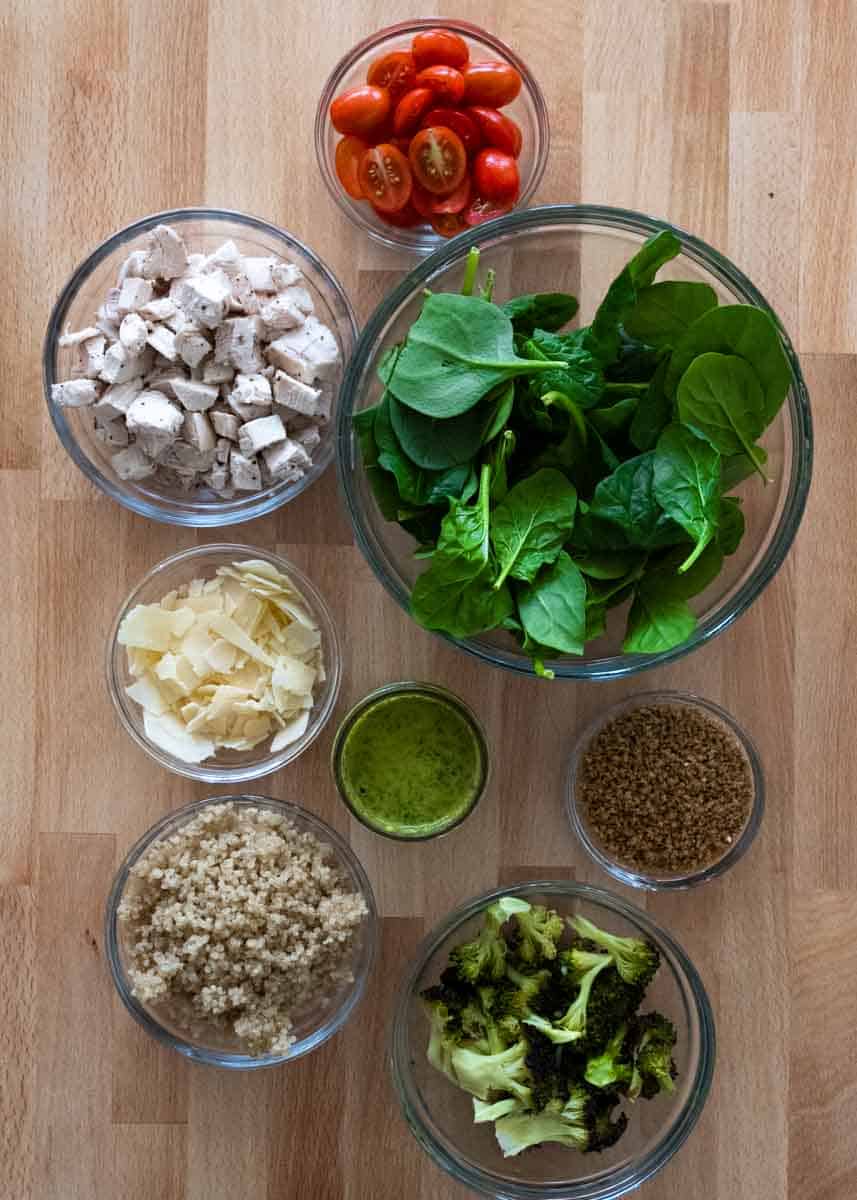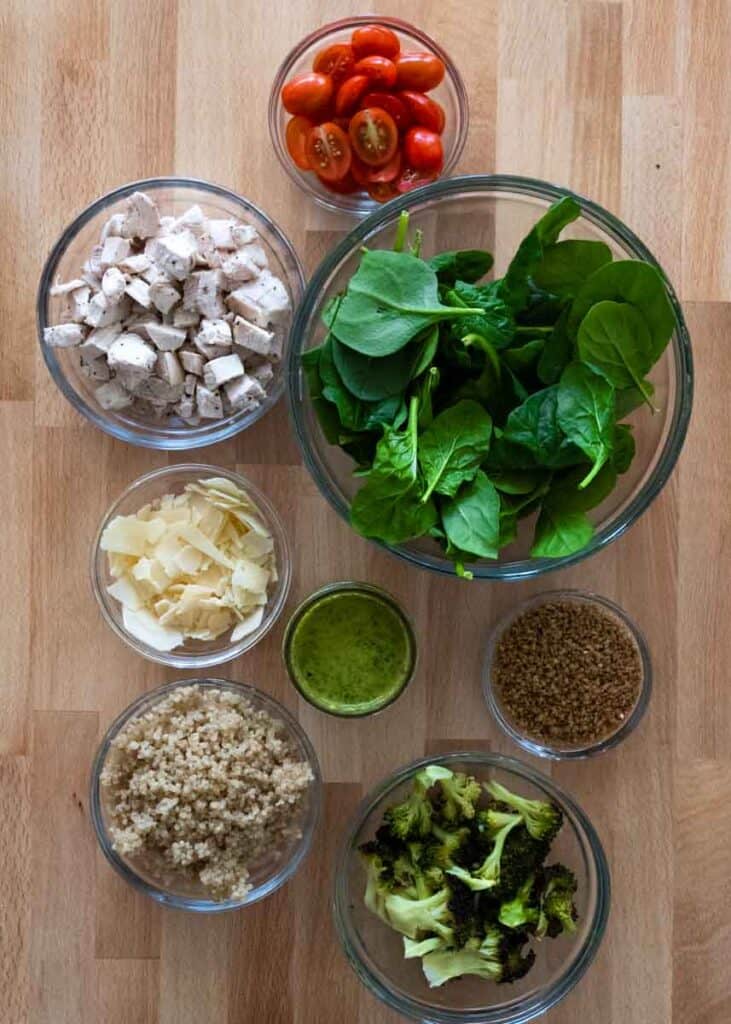 Worn Slap Out? Try These Shortcuts!
It happens to the best of us. We don't have the time to spend (even if it's only 30 minutes) or the energy to expel. We've all been there. Here are some shortcuts you can take to still have this delicious salad on your table on a weeknight:
Double or even trip the recipe. It will take you barely anymore time to double or triple this recipe. I find that when I invest in making a salad this delicious, I want to eat it for a few meals. Don't be shy. Make it worth your while.
Use rotisserie chicken. While chicken can easily cook in the same oven as the broccoli, you can save this extra step by using pre-cooked chicken.
Cheat with the breadcrumbs. If you don't have any day-old bread, use 1 cup of panko breadcrumbs tossed in one tablespoon of olive oil and two teaspoons of za'atar. Sprinkle breadcrumbs on a large baking sheet in an even layer and toast for about 2 minutes at 400˚F.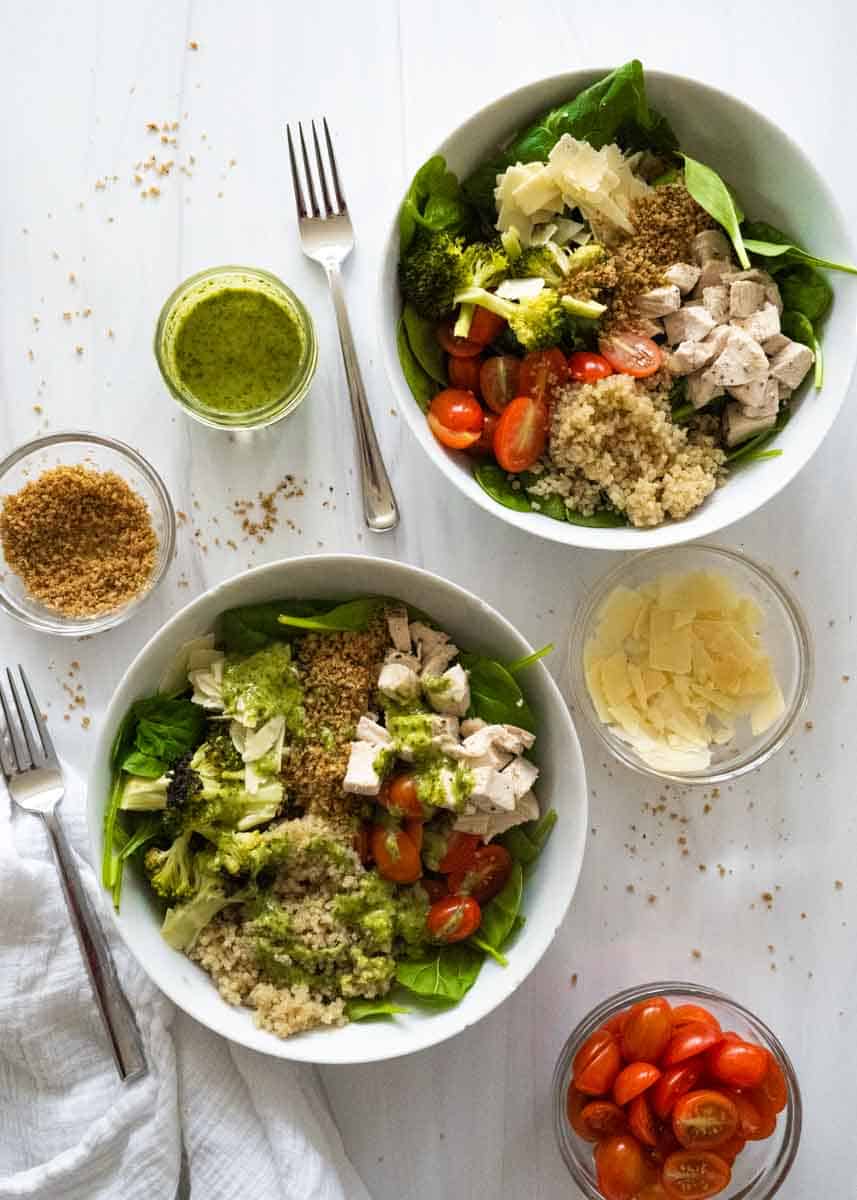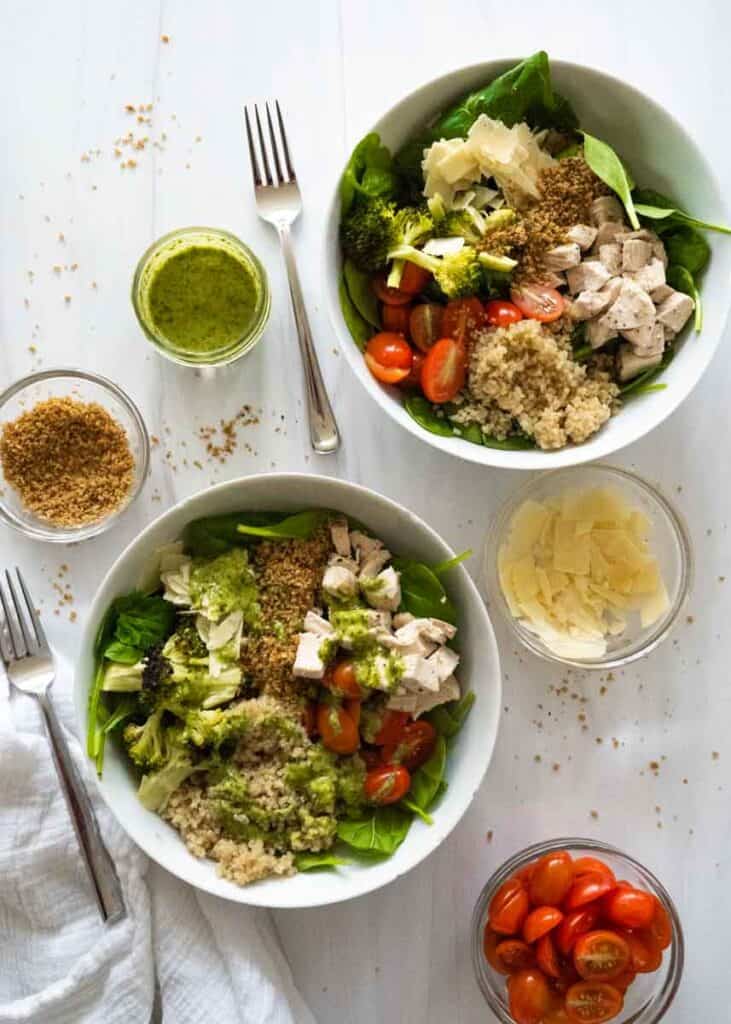 How to Make the sweetgreen Chicken Pesto Parm Salad Bowl
Step 1: Roast your broccoli.
This takes the longest time. The broccoli can be roasting while you do everything else though. Place the trimmed broccoli florets on a sheet pan. Rub with olive oil and red pepper flakes and roast at 400˚F.
If you don't have cooked chicken to use, this is a good time to cook the chicken at the same time and temperature as the broccoli. sweetgreen puts umami seasoning on their chicken. This is easily found at Trader Joe's, but is also a step I skip because I can't taste the umami at sweetgreen to save my life. Do this if you would like here, too.
Step 2: Cook your quinoa.
Cook the quinoa according to the package directions, but quinoa only takes about 15 minutes total. I prefer to cook quinoa in either chicken stock or vegetable stock rather than water. It always come out more flavorful.
Step 3: Make your vinaigrette & chop your tomatoes.
Make the vinaigrette by putting all of the ingredients into a food processor (except the olive oil) and process until everything is chopped finely. Then slowly add the olive oil. It's that easy.
Don't forget to chop your tomatoes. This is the only vegetable that really needs cutting after the broccoli. Hooray!
Step 4: Assemble, baby.
This is the fun part. You've got all of these delicious ingredients that are going to come together to make this hearty and delicious salad. I put in a modest amount of spinach, a ton of warm quinoa, some chicken, broccoli, tomatoes, and don't forget the za'atar breadcrumbs!
Making Za'atar Breadcrumbs
Za'atar breadcrumbs are crazy easy to make. See this blog post for a step-by-step tutorial. Hint: it only takes you 5 minutes. And who doesn't always have nearly-stale bread lying around their counter on any given day?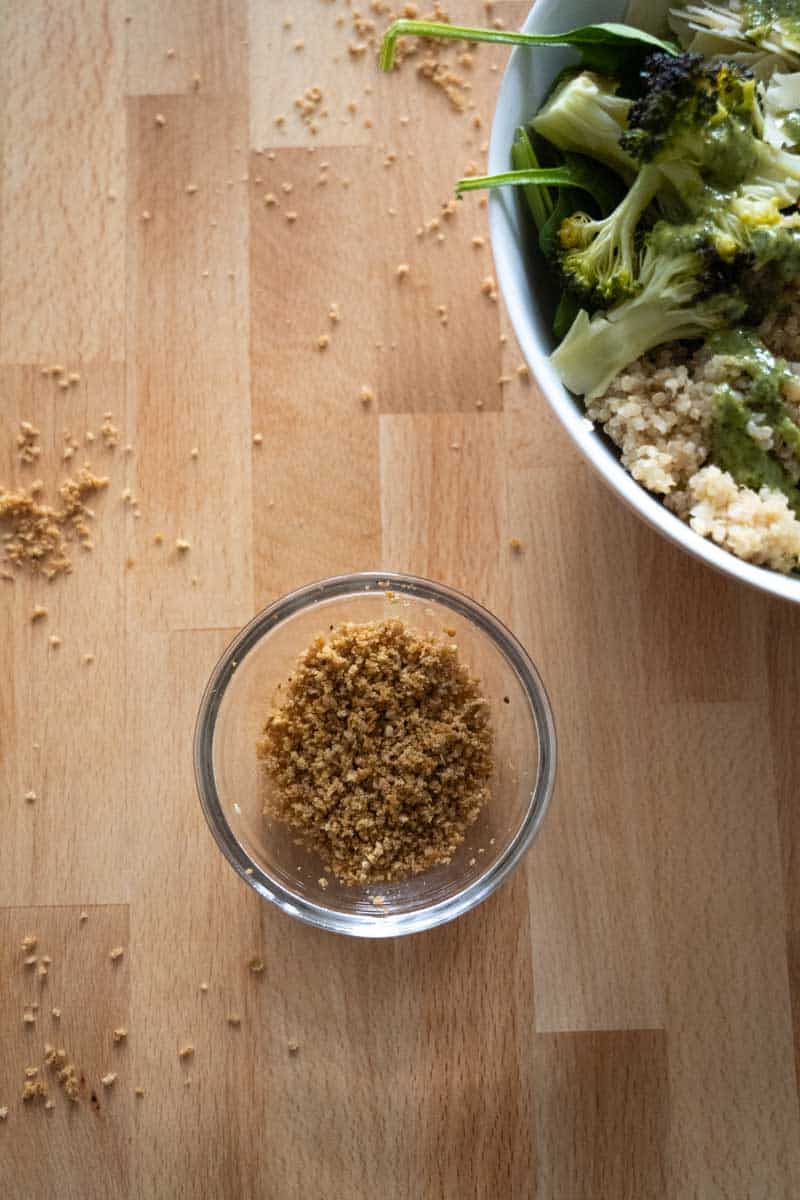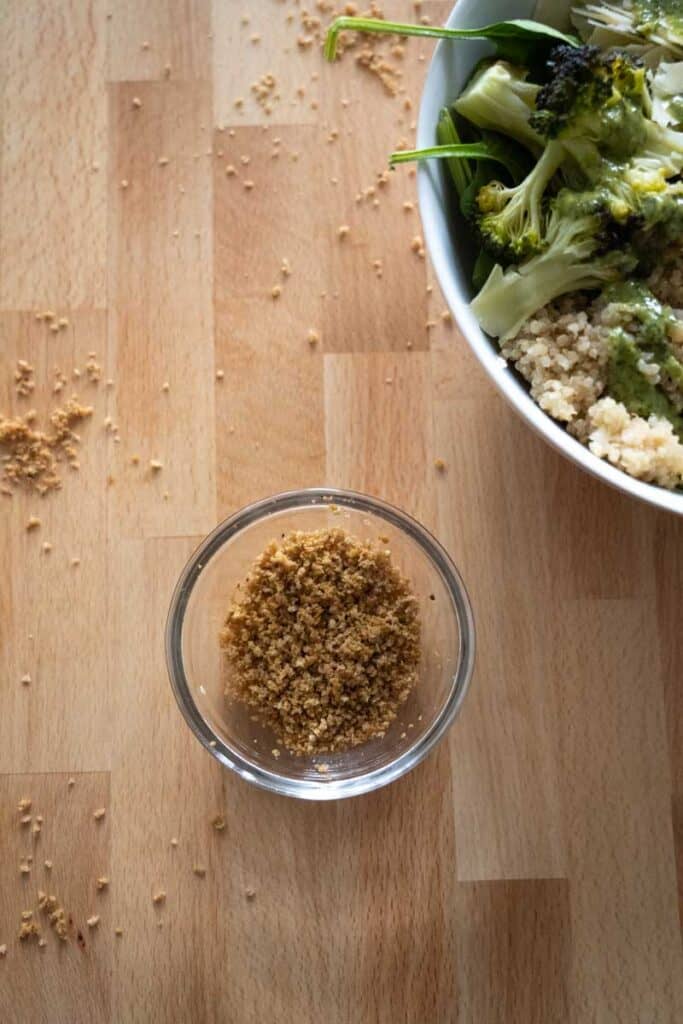 Other Make Ahead Salad Recipes
---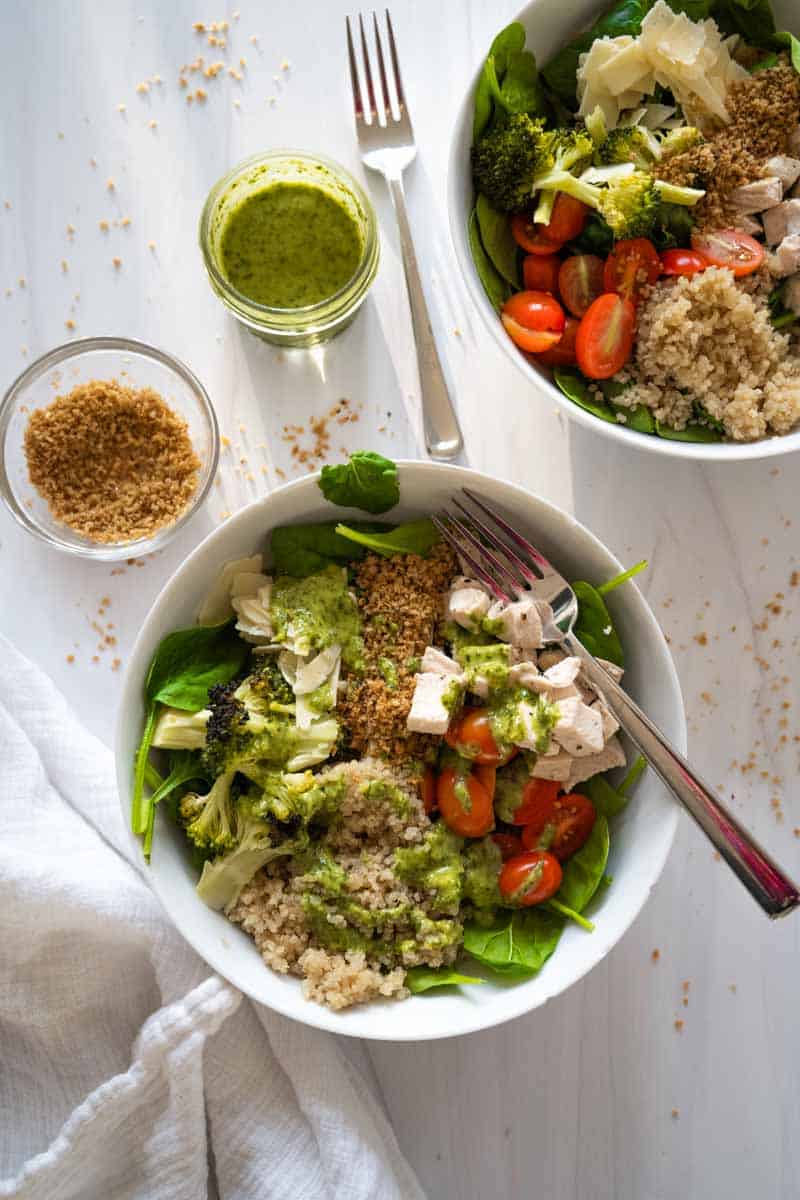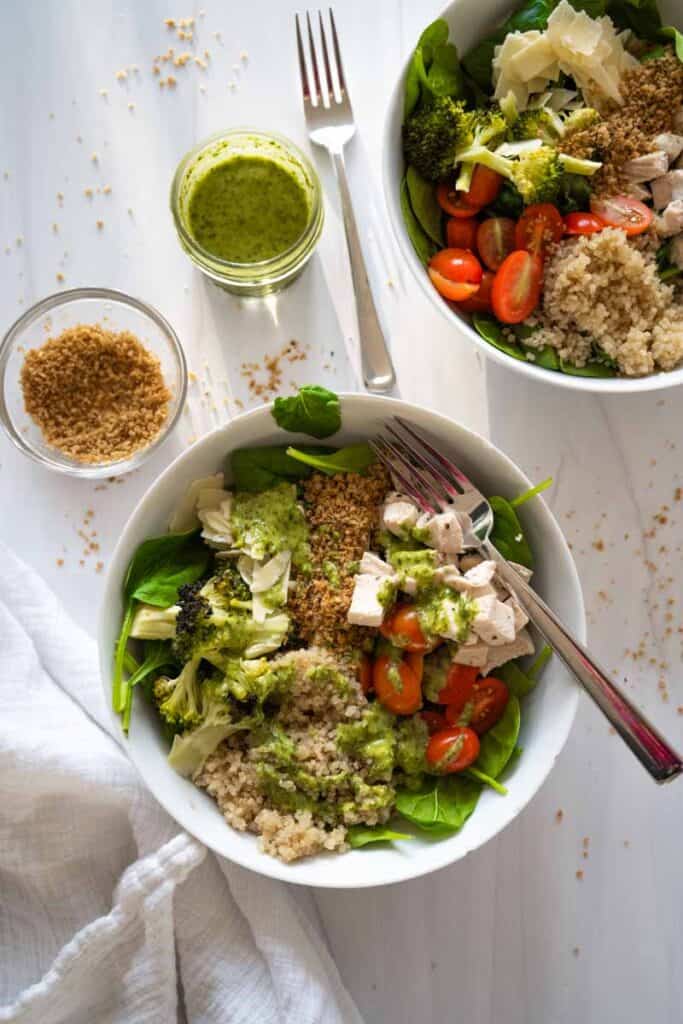 xox,
kathryn
---
As always, if you make anything from the blog, be sure to let me know! I love hearing from you in the comments on this post below or find Worn Slap Out on Facebook, Instagram, or Pinterest!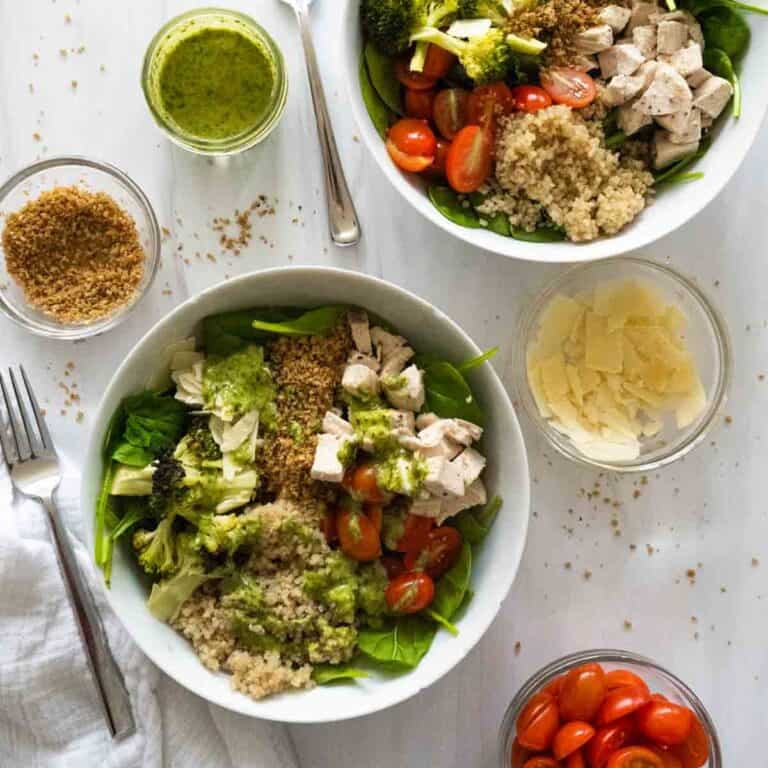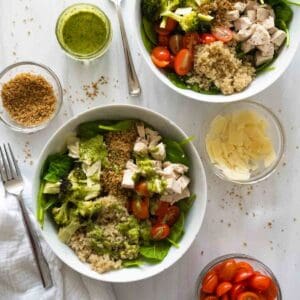 Copycat Sweetgreen Chicken Pesto Parm Salad Bowl
This Copycat Sweetgreen Chicken Pesto Parm recipe is chocked full of healthy, whole ingredients like warm quinoa, crisp spinach, tender roasted broccoli, salty parmesan flakes, fresh tomatoes, and crispy za'atar breadcrumbs that will not leave you hungry!
Print
Pin
Rate
Ingredients
For the salad:
1

cup

broccoli

stems cut

1

tablespoon

olive oil

2

cups

quinoa

¼

teaspoon

red pepper flakes

6

cups

spinach

2

cups

cooked chicken breast

chopped

½

cup

grape or cherry tomatoes

halved

¼

cup

parmesan

shaved

¼

cup

za'atar breadcrumbs

favorite hot sauce
For the pesto vinaigrette:
1

cup

basil leaves

1

cup

parsley leaves

2

Tablespoons

red wine vinegar

1

Tablespoon

dijon mustard

2

cloves

garlic

½

teaspoon

salt

¼

teaspoon

black pepper

½

cup

high quality olive oil
Instructions
Preheat oven to 400˚F. Rinse cut broccoli florets and wipe dry with a paper towel. Toss with olive oil, salt, and red pepper flakes. Roast for 25 minutes.

Meanwhile, cook the quinoa according to package directions.

Make the vinaigrette by putting all of the ingredients except for the olive oil in a food processor. Process on high until all of the ingredients are in tiny pieces. Slowly add in the olive oil and continue processing on high until dressing is thin.

When broccoli and quinoa are both done, create salad bowl, starting with spinach as a base. Add chicken, broccoli, quinoa, cherry tomatoes, parmesan, and za'atar breadcrumbs. Drizzle pesto vinaigrette and hot sauce over the salad and enjoy!
Notes
To make za'atar breadcrumbs, see this recipe. 
Make ahead: This salad can easily be made ahead and eaten with all of the ingredients cold. If I'm making it for the whole family over the next couple of days, I'll store the ingredients separately and assemble when we're ready to eat. Otherwise, store the salad (minus the breadcrumbs) in an airtight container. Put the dressing in a mason jar separately as well. 
Nutrition
Calories:
356
kcal
|
Carbohydrates:
42
g
|
Protein:
26
g
|
Fat:
9
g
|
Saturated Fat:
2
g
|
Polyunsaturated Fat:
3
g
|
Monounsaturated Fat:
4
g
|
Cholesterol:
43
mg
|
Sodium:
382
mg
|
Potassium:
769
mg
|
Fiber:
6
g
|
Sugar:
1
g
|
Vitamin A:
4099
IU
|
Vitamin C:
39
mg
|
Calcium:
151
mg
|
Iron:
5
mg