This tomato and peach salad with whipped goat cheese uses all of the best and freshest summer produce, from tomatoes and peaches to watercress.
Life's a beach.
We just got back from a long weekend at the beach, and I have enough memories of the kids being cute and adorable to last me a lifetime. I hope to always remember how elated Connor was when we told him we were going back to Funland to visit the arcade and drive bumper cars or how excited Bri was to ride the helicopters there. I'll always remember Connor walking into The Blue Hen restaurant and saying, "Oh wow. This is fancy" or when they'd giggle and chase each other on the beach at night while eating a popsicle. (Side note: This boy knows fancy. He told the babysitter the other night that his parents' favorite restaurants are the fancy kind where you put your napkin in your lap). I also hope to always remember how sick and tired (literally) both John and I were those first couple of days, wanting to just call it off and head home. There was seemingly no energy to parent and the usually bickering between B and C seemed more annoying than usual due to a very low tolerance level. We didn't head home though fortunately. We rallied and had a great time together. I hope to never forget just how hard it is to be a parent -- at every stage.
Now we're back, and I'm excited to get back into the groove cooking. There's only so much beach pizza and peanut butter and jelly sandwiches you can eat before you're ready to get back into the regular routine.
One of the first things on the menu when we got home was this tomato and peach salad I had a dream about when we were at the beach. I think it was a combination of trying to think of seasonal salads that didn't require any roasting and this amazing peach caprese salad I had at The Blue Hen in Rehoboth. We ate the salad with some shrimp last night and had everything ready to go in about 15 minutes. Pretty perfect, right?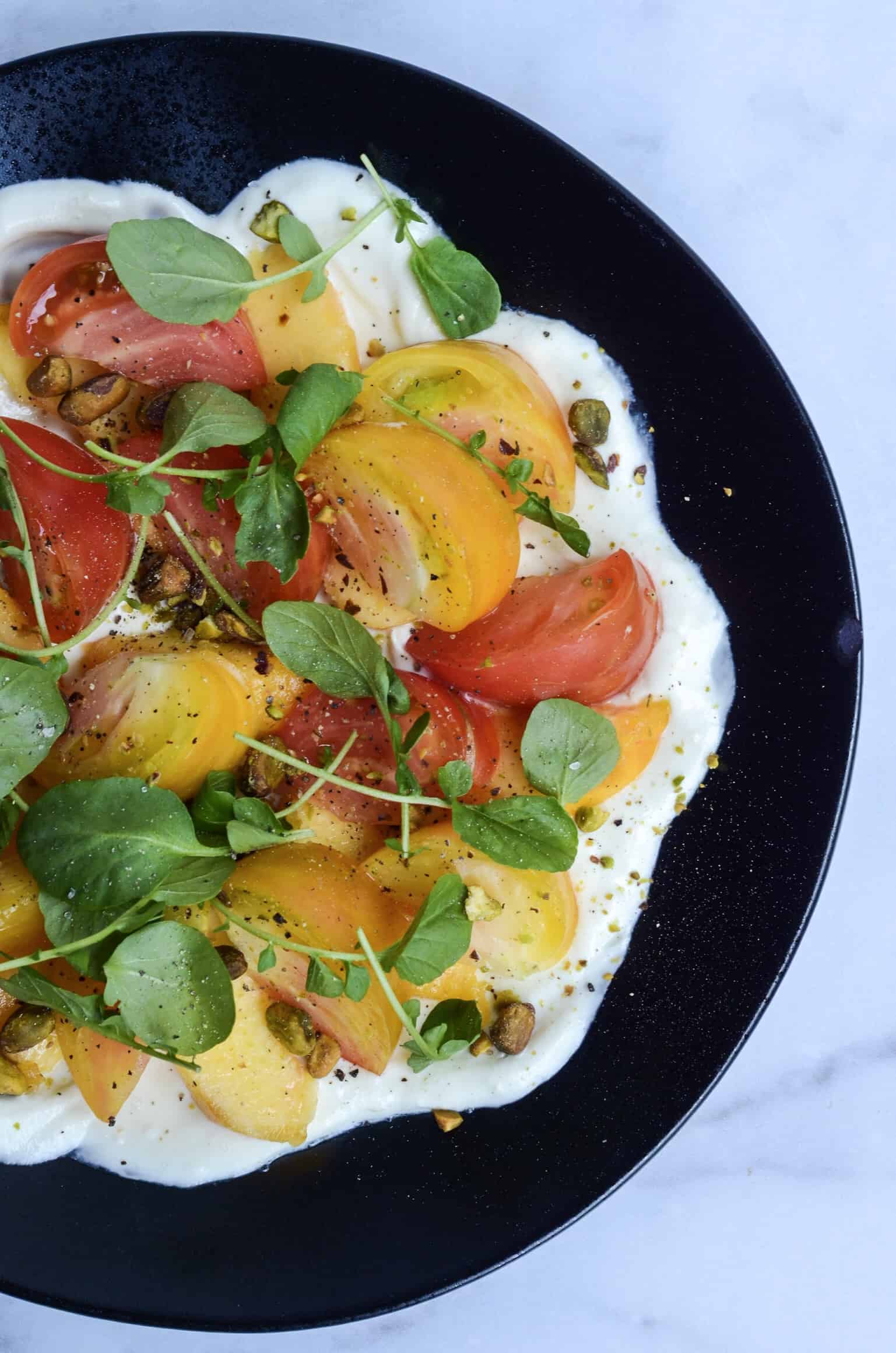 Summer salads are so hot right now.
They're hot because they're not hot. You don't have to turn on the oven for this bad boy and this takes 15 minutes to whip up. This is a necessary thing when it's a whopping 100 degrees out there. I'm also really into salads that aren't lettuce-based (like my fav sugar snap pea and ricotta salad), so I chose to give this one just a splash of watercress and have the peaches and tomatoes do the heavy lifting.
If you get your produce these days at a local farmer's market, you won't regret it! You can find most all of your ingredients there, I bet. We happened to stop at the farmer's market on the way home, and I was able to pick up most of the ingredients there.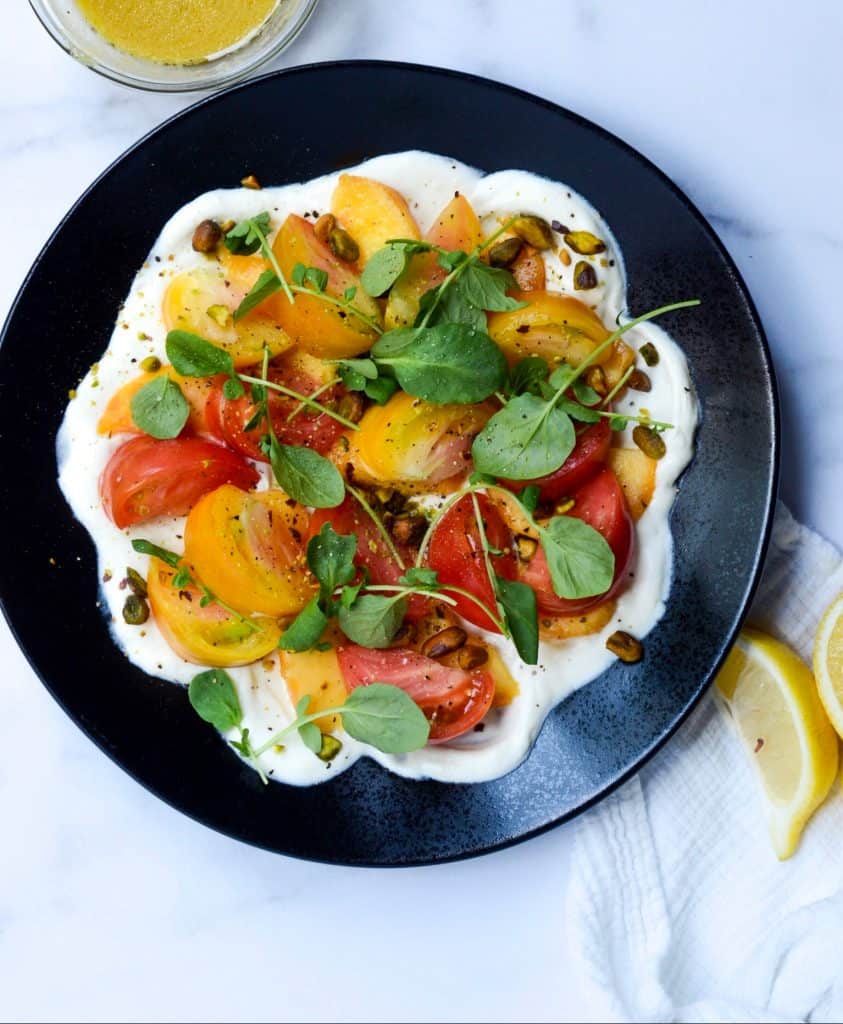 You clearly need dessert.
This tomato and peach salad with whipped goat cheese is a part of a light summer meal, so you'll definitely want dessert. I recommend pairing this meal with either a peach galette if you'red not peached out or some no bake cookies (very old post...sorry for the pictures!).
Hope y'all enjoy!
xox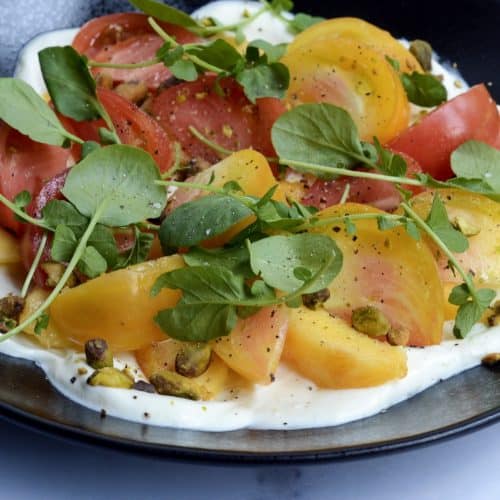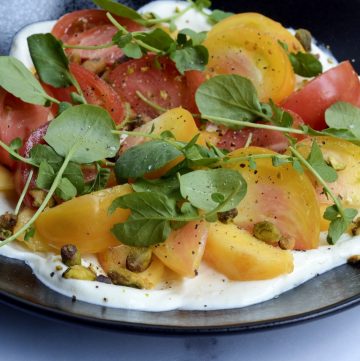 Ingredients
4

oz

goat cheese,

room temperature

½

teaspoon

lemon zest

1

tablespoon

lemon juice

3

tablespoon

heavy cream

2

heirloom tomatoes, cut into wedges

1

peach, cut into 1" wedges

½

cup

watercress

4

tablespoon

pistachios, chopped

salt and pepper, to taste
For the dressing
1

tablespoon

olive oil

½

lemon, squeezed

salt and pepper, to taste
Instructions
In the food process, process the goat cheese until smooth. Add lemon zest and juice and blend until incorporated. Slowly add whipped cream tablespoon by tablespoon until you reach the desired consistency. Salt and pepper to taste.

Whisk all dressing ingredients together in a small bowl. Set aside.

Arrange the goat cheese on a plate or shallow tray. Top with peaches, tomatoes, pistachios, and watercress. Drizzle dressing on top. Serve immediately.