A fun take on a Southern staple, these easy bacon and scallion buttermilk biscuits are crunchy on the outside and pillowy soft on the inside and only take 30 minutes.
Biscuits don't have to be hard to make from scratch.
Biscuits. Whoa. You just assume they're too hard to make from scratch so you do one of two things: buy them out of the can (you know the one...the one that freaks you out as you wait for it to pop and scare you to death) or just never eat biscuits. I'm here to tell you that amazing biscuits don't have to be so time-consuming or complicated. There's no special skill involved, and you don't need any special equipment either (other than a food processor...which, at this point, I hope everyone reading this blog has one because I use mine multiple times a week).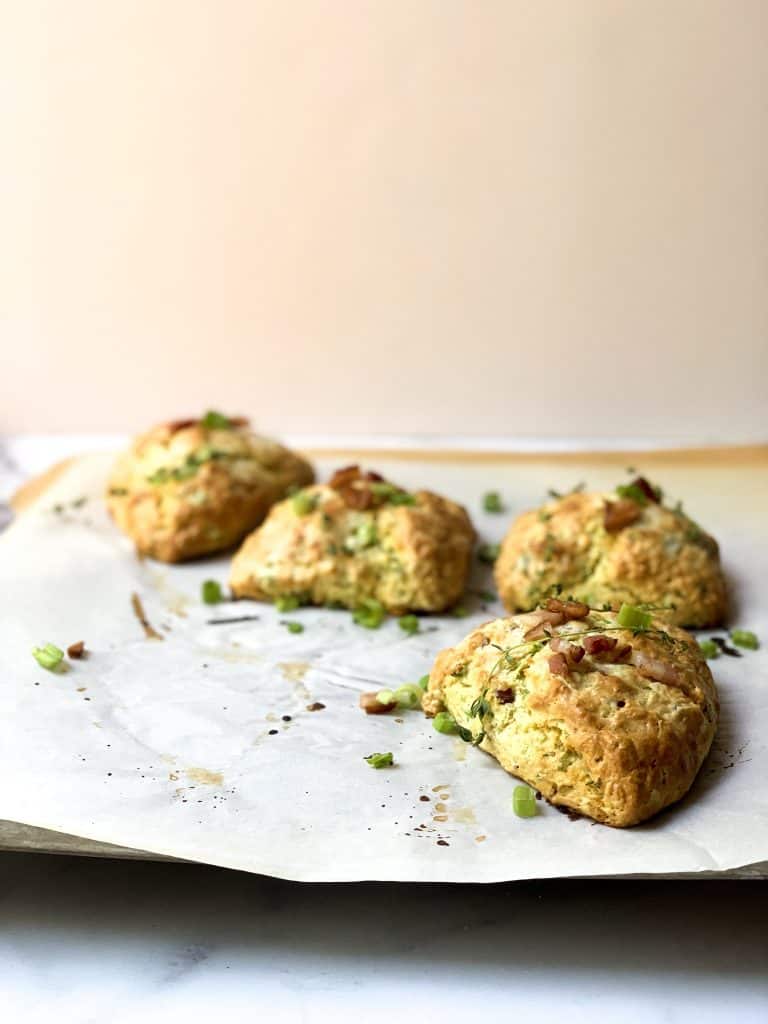 I guess it's the Southerner in me, but I LOVE biscuits. Call me a connoisseur or a biscuit snob, but I like my biscuits a certain kind of way...exactly like the biscuits from Mama's Boy back home in Athens, GA to be exact. Their biscuits are absolutely huge with a crunchy, buttery exterior and a soft, pillowy interior. They're beautifully golden brown and you find yourself wanting to eat them for breakfast, lunch or dinner. Basically what I'm trying to say is Mama's Boy's biscuits are perfect.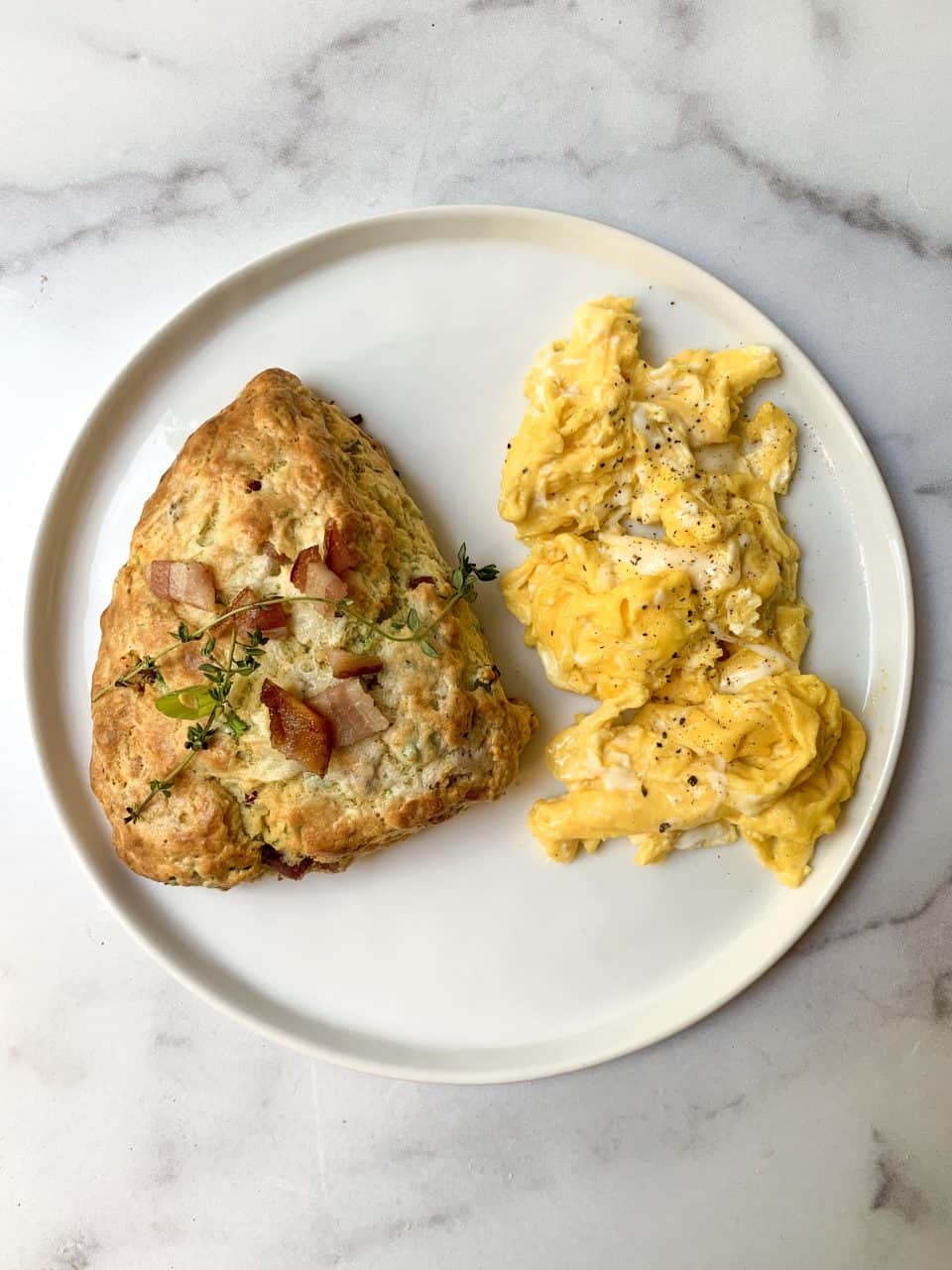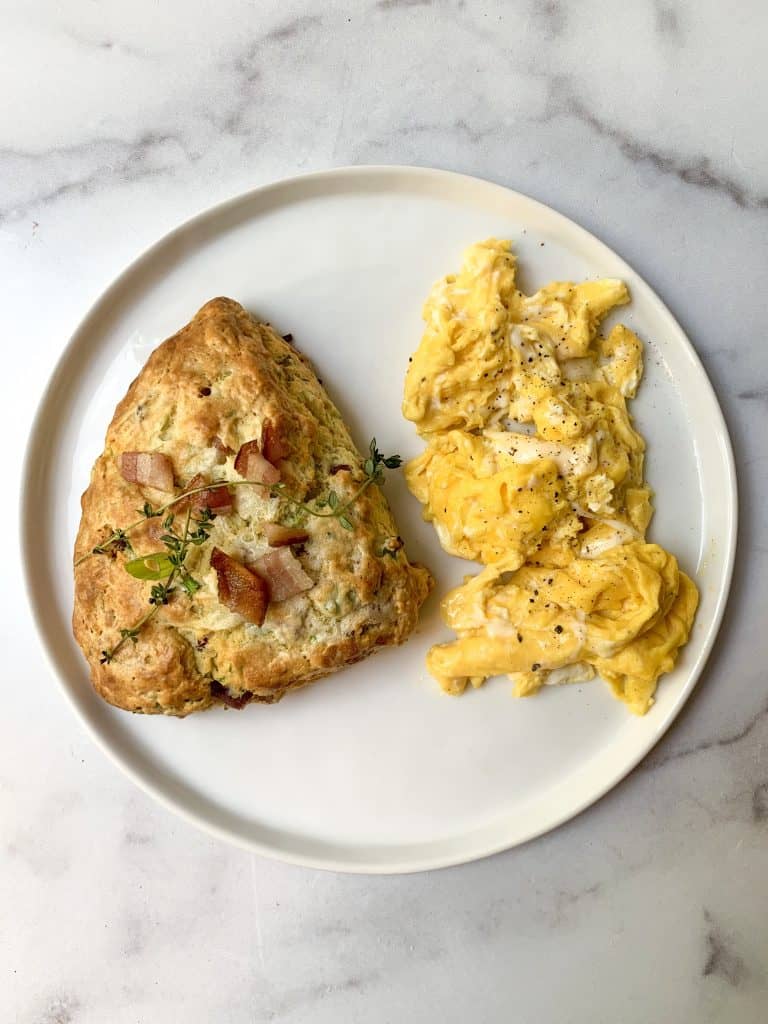 How to make buttermilk biscuits
These biscuits require you to throw almost everything in a food processor (minus the bacons and scallions) until well combined. Then you'll just lightly pulse in the bacon and scallions until they're incorporated into the dough.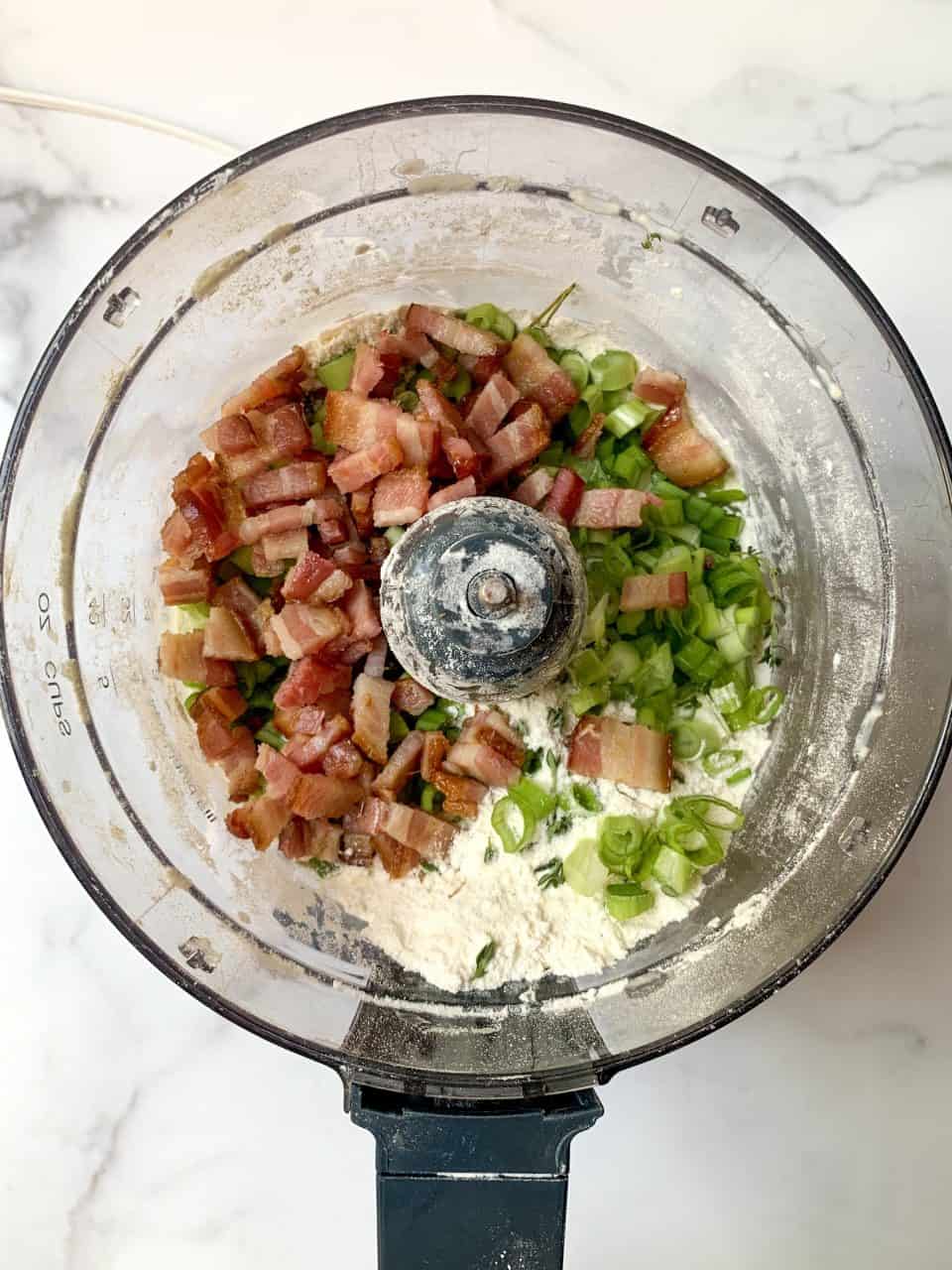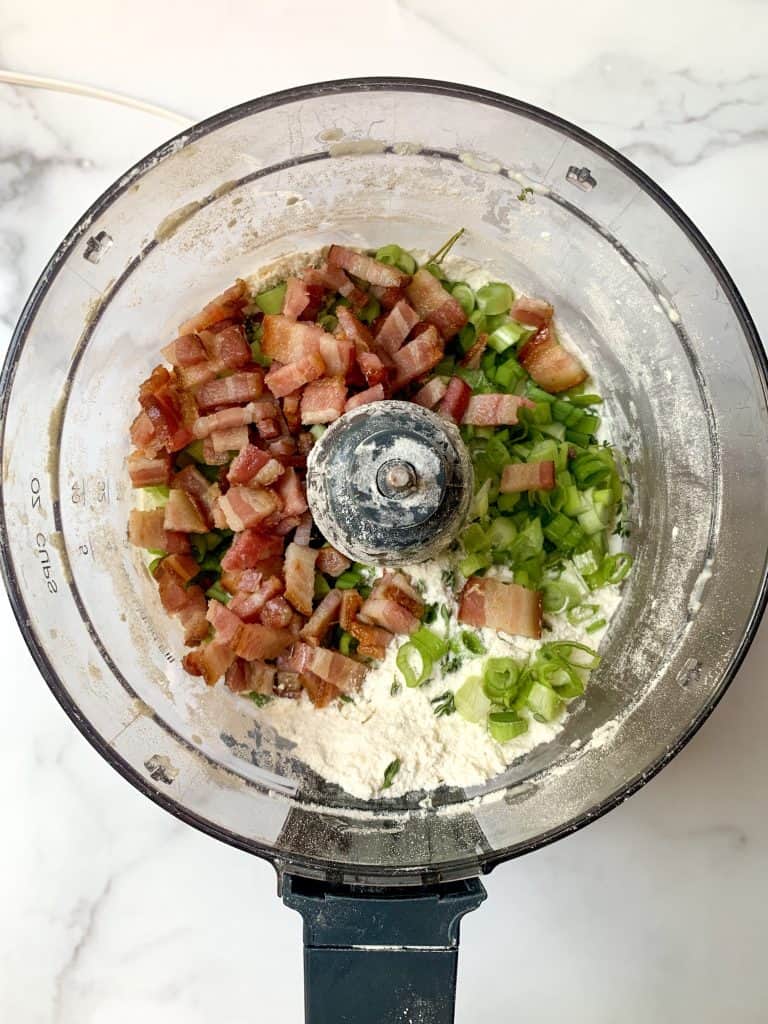 The dough should be pretty sticky and clumpy. That's okay. You don't want a smooth dough because that means you've overmixed (see tips below).
You'll then put the dough on a parchment lined sheet, fold the dough over itself 2-3 times (again, not a lot), form the dough into a square, and cut the dough into four sections with a sharp knife or pastry cutter.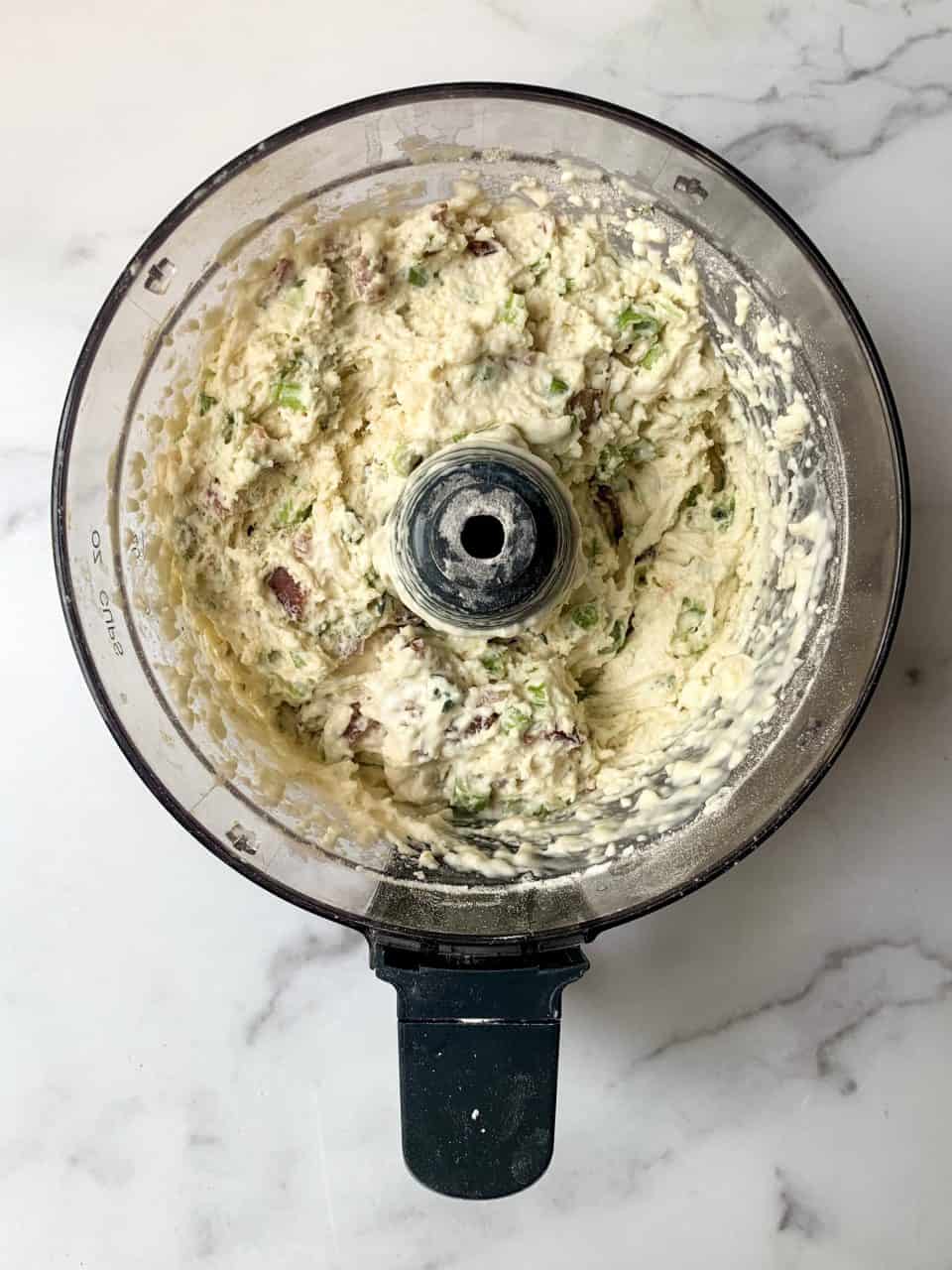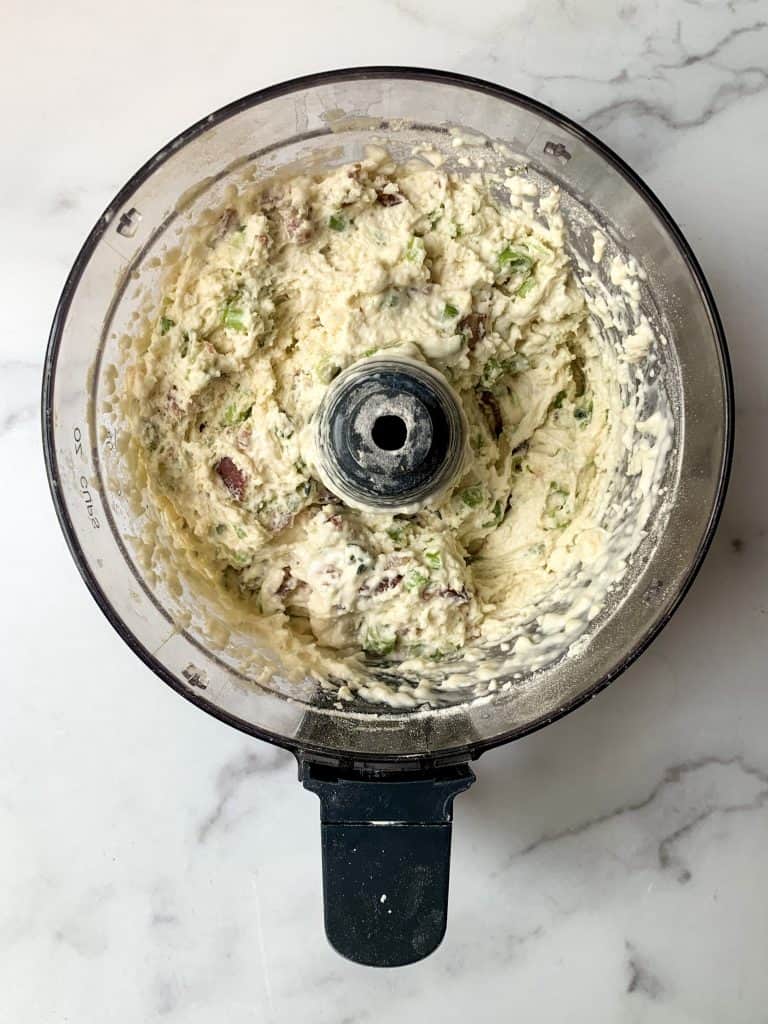 Finally, with about 2 Tablespoons of buttermilk, give the bacon and scallion buttermilk biscuits a good coating of buttermilk with a pastry brush. You don't need a ton on there, but this'll help give your biscuits that beautiful golden brown color you expect from your biscuit.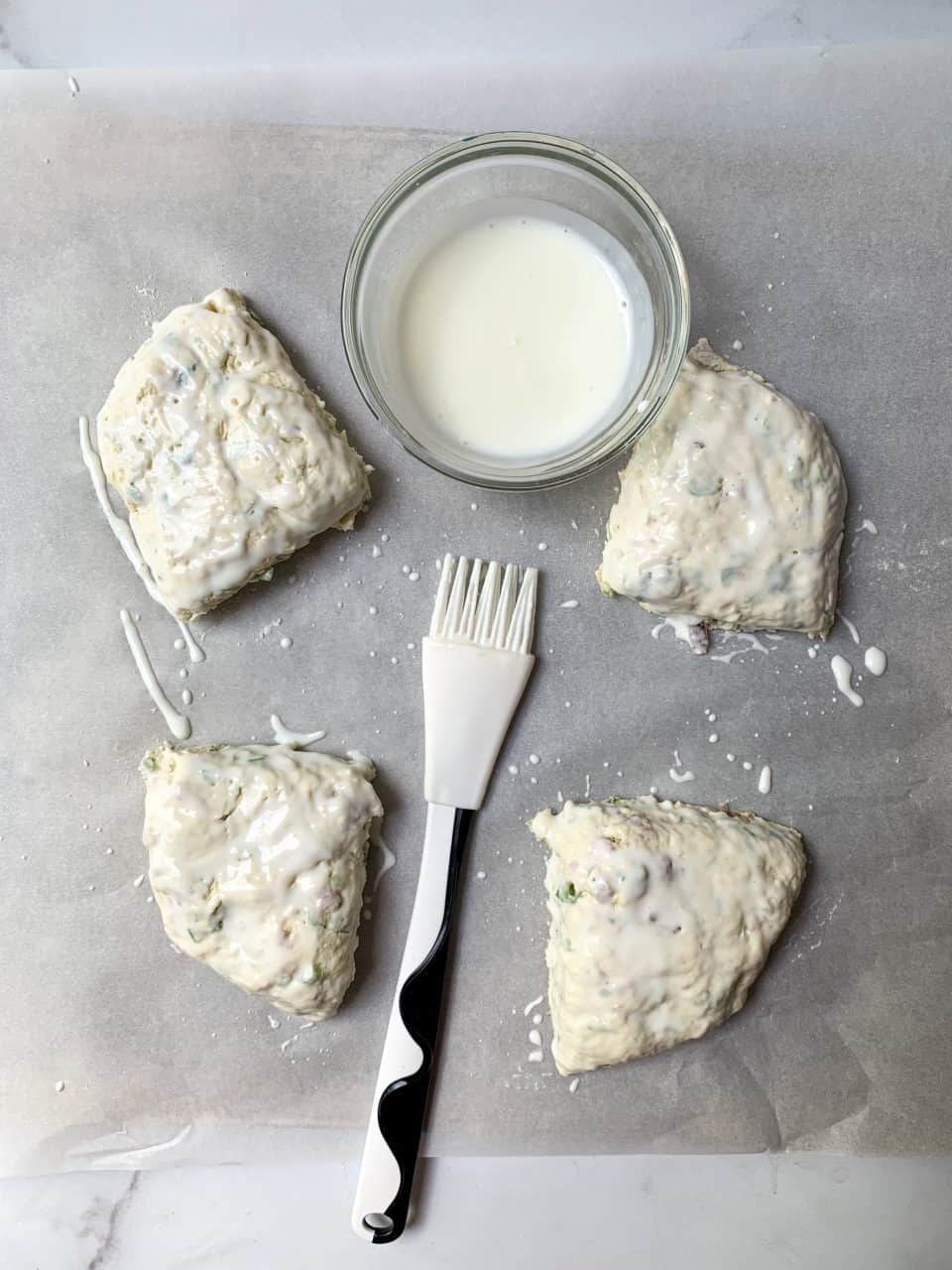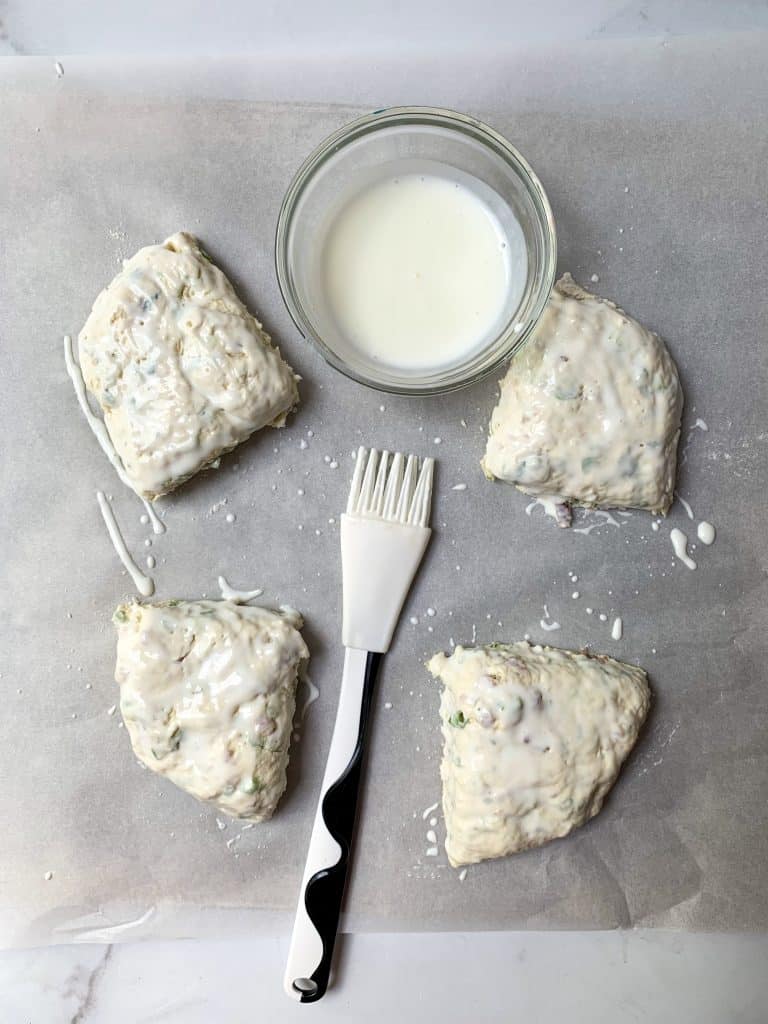 Tips for making amazing biscuits
Preheat your oven. You don't want the dough to get too warm as you're waiting for the oven to preheat, so when the biscuits are cut, they're in the oven! (See tip #2 for why)
Start with cold, unsalted butter. Don't use room temperature butter for these guys. Cutting in cold butter into the dough allows small pieces of butter to remain in the dough. The pea-sized pieces of butter will melt in the oven and create the fluffiness you know and love. If you use room temperature butter, the butter will melt evenly, and you'll be stuck with really dense biscuits.
Don't over-mix. You want to refrain from over-processing in the food processor. Stick with pulsing the ingredients together. When all of your ingredients have been combined in a food processor, there's really no need to knead. Just fold the dough 2 or 3 times on top of itself to make sure you have one cohesive dough. Done. Over-mixing works the gluten and can lead to tough biscuits.
Biscuits are versatile and meant to be easy.
Biscuits are a Southern staple and historically, they've been made very informally as a quick bread to eat for every meal -- with bacon and eggs for breakfast, as bread for a ham sandwich for lunch, and with pork and gravy for dinner, for example. It's really a very versatile bread. Don't make it over complicated. (Think of it as the opposite of this cinnamon star bread I perfected over winter break) If you follow these tips (which are easy enough), you'll have foolproof bacon and scallion buttermilk biscuits. No need to constrain yourself to eating these for breakfast. How amazing would these be with a beautiful thick-cut pork chop?
Buttermilk Biscuits Calories
These buttermilk biscuits have approximately 376 calories -- and I can assure you those 376 calories are well spent on these beauties. Buttermilk biscuits -- or really any kind of biscuit that's worth anything -- will not be a low calorie food. That butter makes the biscuits tender and flaky, and I wouldn't take any shortcuts here. Embrace those buttermilk biscuit calories!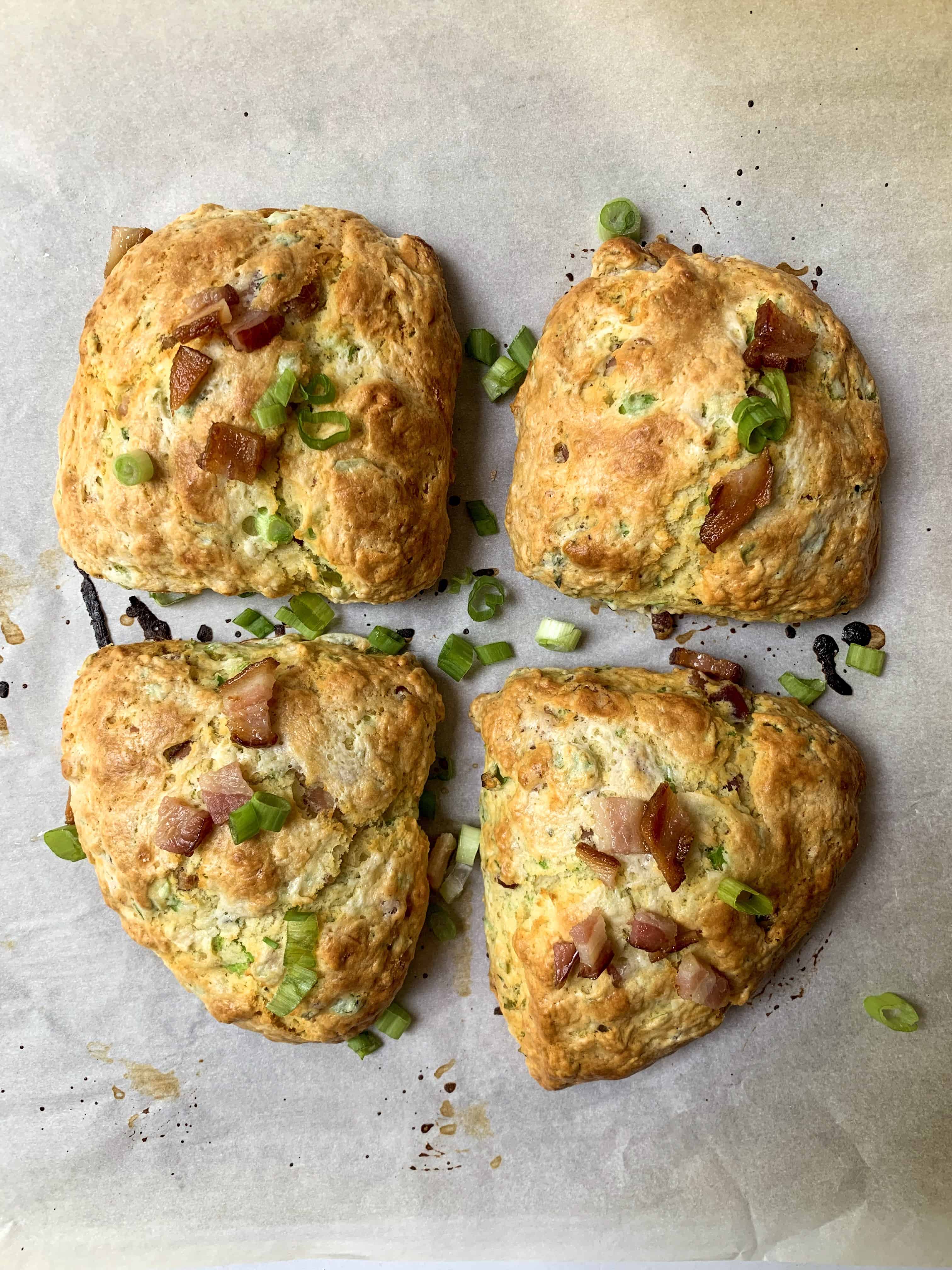 If you make anything from the blog, be sure to let me know! I love hearing from you in the comments blow or on Facebook, Instagram, or Pinterest!
Enjoy!
xoxo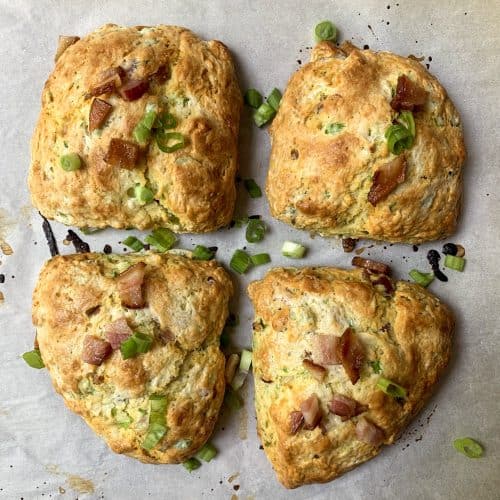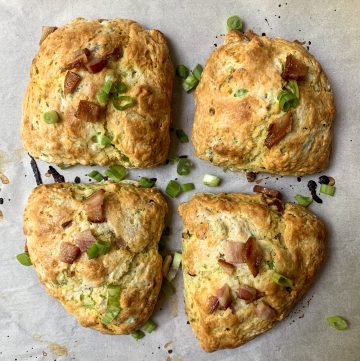 Bacon and Scallion Buttermilk Biscuits
These 30 minute biscuits are the epitome of delicious, fluffy, and fast. Who doesn't love a good Southern staple?
Print
Pin
Servings:
4
large servings
Ingredients
2

cups

flour

1

tablespoon

baking powder

1 ½

teaspoon

baking soda

¾

tsp

salt

¼

cup

cold, unsalted butter

cut into small pieces

1

cups

buttermilk

plus a little more for coating before baking

⅓

cup

scallions,

sliced into small pieces

1

teaspoon

fresh thyme

4

pieces

thick-cut bacon, cooked and cut into ¼" pieces
Instructions
Preheat oven to 425 degrees F.

In a food processor, pulse flour, salt, baking powder, and baking soda together. Add the butter and pulse until everything is just combined.

Add scallions, bacon, thyme and buttermilk and pulse just until combined. Don't over-process.

Turn dough out onto floured surface. Fold dough 2-3 times until fully incorporated. Add a bit more flour if dough is too sticky.

Form dough into a square that's about 1" thick. Cut into 4 squares with sharp knife or pastry cutter. Place 2" apart on a parchment-lined baking sheet. Brush biscuits with buttermilk.

Bake for 15 minutes or until golden brown.
Notes
*Store biscuits tightly in plastic wrap in the refrigerator but best eaten at room temperature.  Biscuits will stay fresh for 2-3 days.
Nutrition
Serving:
1
biscuit
|
Calories:
376
kcal
|
Carbohydrates:
52
g
|
Protein:
9
g
|
Fat:
14
g
|
Saturated Fat:
9
g
|
Polyunsaturated Fat:
1
g
|
Monounsaturated Fat:
4
g
|
Trans Fat:
0.5
g
|
Cholesterol:
38
mg
|
Sodium:
1338
mg
|
Potassium:
183
mg
|
Fiber:
2
g
|
Sugar:
3
g
|
Vitamin A:
561
IU
|
Vitamin C:
2
mg
|
Calcium:
266
mg
|
Iron:
3
mg