This easy shredded chicken is seared then braised in tomatoes and salsa to make tender and tasty chicken that can be used for so many weeknight meals.
***This post was updated February 2021 with updated copy, slight tweak in the recipe, and new photos. Hope you enjoy!***
By now, if you've been following along on this culinary journey of ours, you know we need meals cooked in 30-ish minutes or less.  Chopping for days or creating fancy sauces, all of that stuff isn't in the cards right now.  We both work full time and try to get some gym time in before picking up the kids.  Without fail, the kiddos are ravenously hungry when we pick them up from school. 
It was especially difficult between the ages of 18 months and a little over 2 years old.  They were completely hangry every day, and if you didn't give them 10 snacks to make them stuffed before dinner, they would totally lose it and melt down.  I started coming home, quickly prepping dinner, putting it on the stove or oven and then would pray our house wouldn't burn down when I left to pick them up.  I'm happy to say we've moved past this point, but it's still critical to be quick about getting food on the table.  Plus, we genuinely love spending time with each other, so the less time we're in the kitchen, the more time we have to play restaurant or build a Magna-Tile zoo.
Easy Shredded Chicken is Your Answer
Look no further. You need this shredded chicken in your life. It requires about 45 minutes, so it's longer than my typical weeknight meals, but it can last for a couple of nights. This makes up for the longer cook time. It's also a great meal to make on Sundays and then it's ready for the week (or packed for lunches!).
It's a simple concept: sear the chicken on both sides so there's some browning that occurs (which means added flavor) then braise the chicken in tomatoes and salsa. It really doesn't get easier than that.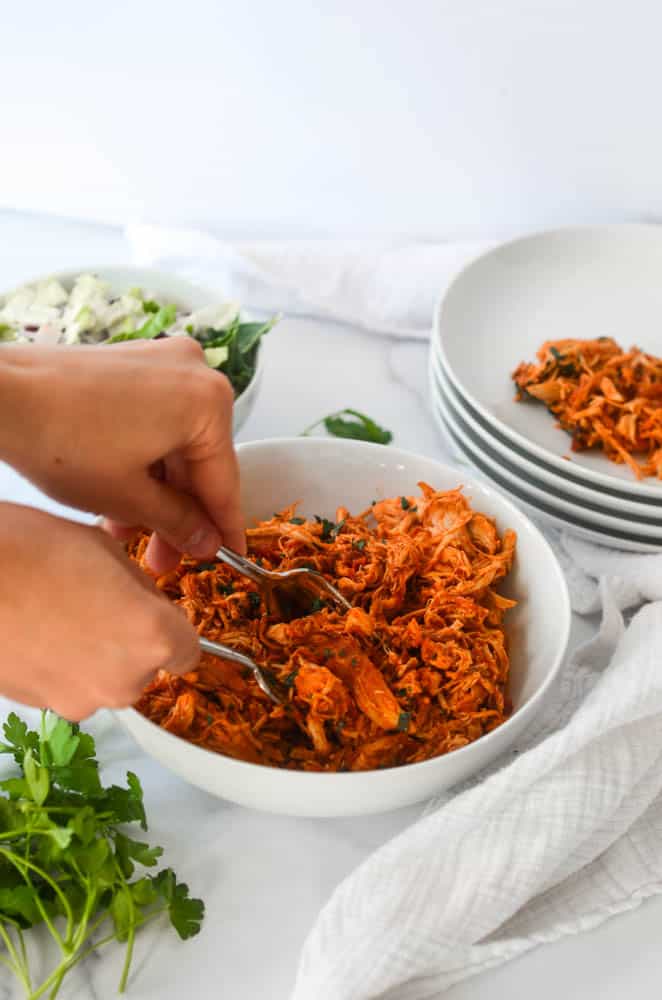 How to Make Easy Shredded Chicken
It's so simple. First, pat your chicken dry with a paper towel. Season with salt and pepper.
Sear your chicken on both sides with very high heat. Add tomatoes and salsa. Reduce the heat to medium-low and put the lid on the Dutch oven or heavy-bottomed pot. Simmer for 20 minutes.
Flip the chicken and cook for another 10 minutes if using thighs or another 20 minutes if using large chicken breasts.
Immediately shred the chicken with two forks while it's still warm. The longer the chicken sits, the harder it is to nicely shred. Voila! That's all.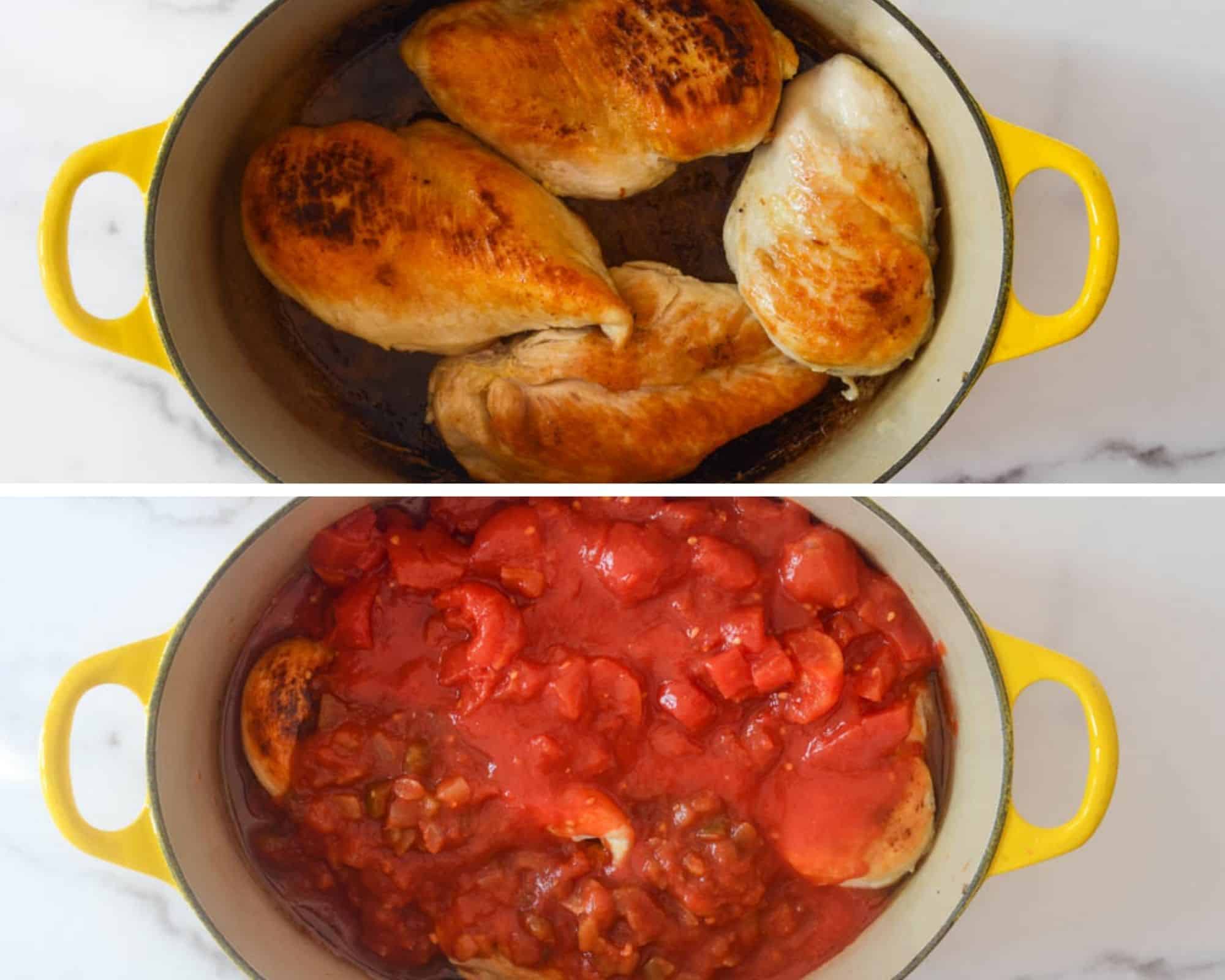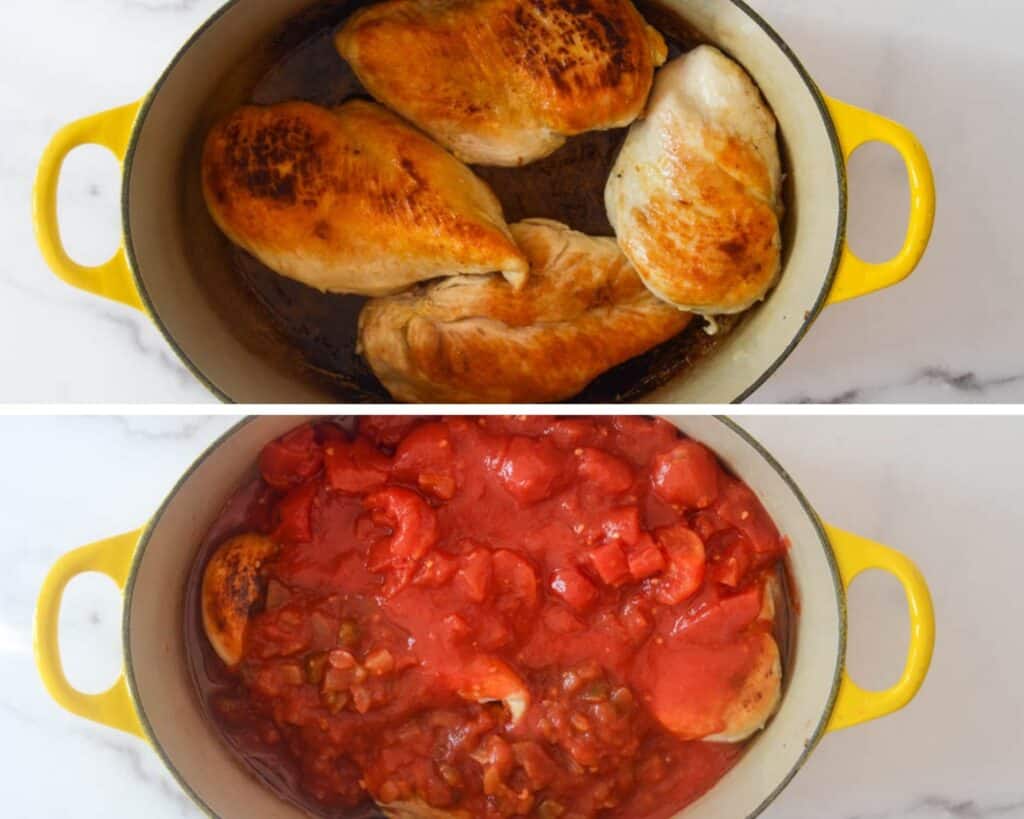 Other Tips and Tricks
Pat your chicken dry before searing. Excess moisture will make it very difficult to get a nice brown sear.
Use whatever salsa you have on hand. There's no particular salsa that works best here -- just a personal preference.
Shred chicken right away. It's hard to shred chicken once it cools, so go ahead and take two forks to it as soon as it's done.
The Many Uses of This Chicken
This chicken is VERSATILE. I put my shredded chicken in tacos with some cilantro, sour cream, and avocados, the kids had deconstructed tacos (which basically means they dip their chicken in a huge vat of sour cream with some cheese on the side), and John put his chicken over a salad and made a bowl.  Everyone can have it exactly as they wish.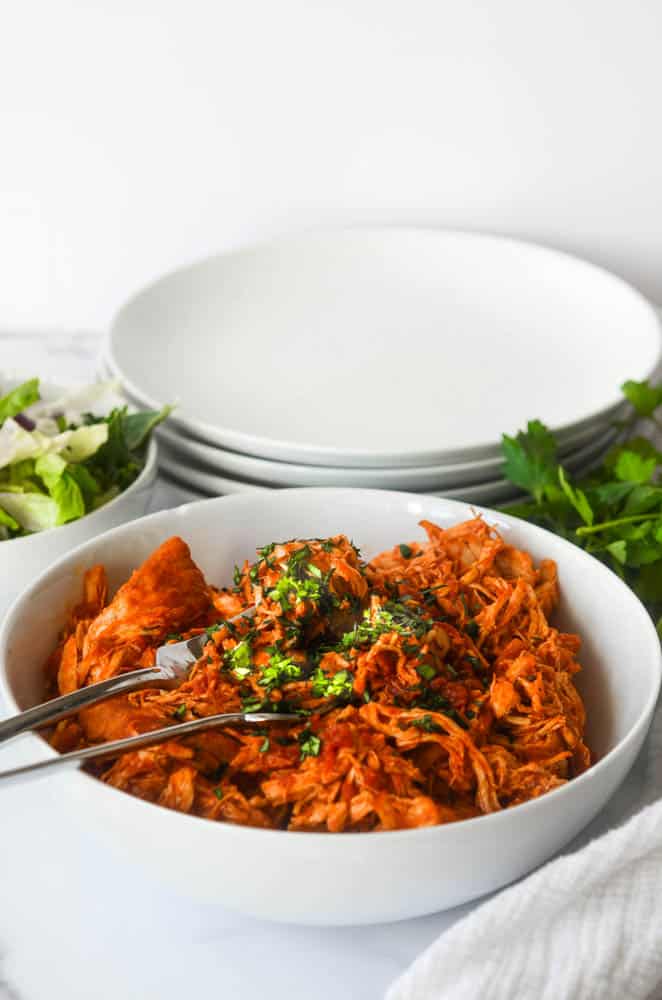 Other Recipes Perfect for A Couple of Meals
xox,
kathryn
As always, if you make anything from the blog, be sure to let me know! I love hearing from you in the comments on this post below or find Worn Slap Out on Facebook, Instagram, or Pinterest!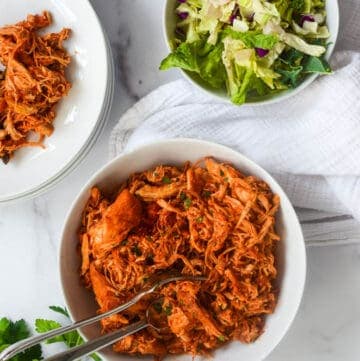 Easy Shredded Chicken with Tomatoes
Easy shredded chicken is seared then braised in tomatoes and salsa to make tender and tasty chicken that can be used for so many weeknight meals.
Print
Pin
Rate
Ingredients
8-10

boneless skinless chicken thighs OR 4 large chicken breasts

½

teaspoon

salt

¼

teaspoon

black pepper

3

tablespoons

olive oil

1

28 oz.

can diced tomatoes (regular or fire-roasted)

½

cup

salsa, any kind

(spicy, tomatillo, the options are endless)
Instructions
Pat chicken thighs or breasts dry with paper towel. Season with salt and pepper. Set aside.

Heat Dutch oven with about 3 tablespoons of olive oil over medium-high heat. When Dutch oven get very hot, add the chicken thighs or breasts (be careful of the oil splattering!).  Sear without touching chicken for 3 minutes per side.

Add the diced tomatoes and salsa.  Cover with lid.  Turn down to medium to medium-low heat.

Let the chicken cook about 20 minutes before turning chicken over to cook for another 20 if cooking breasts or another 10 minutes if cooking thighs.

Take chicken out of the Dutch oven and shred immediately with two forks.
Notes
The chicken is great to eat over the course of 3-4 days. Store leftovers in an airtight container in the fridge.