These hibachi vegetables are an at-home version of what you love at your favorite Japanese steakhouse. Use whatever vegetables you have at home and have a healthy meal ready in under 20 minutes.
I'm not bitter. I'm not bitter. My husband's birthday was during the very first week in quarantine and we were supposed to go to his favorite childhood Japanese hibachi spot -- Benihana -- to watch the kids stare in wonder at the fire and knife tricks. You know -- the kind where they flip the shrimp into their hat and throw four knives in the air dangerously close to your kid's face? That one.
Alas, that outing never happened obviously. We celebrated quietly at home, but I eventually brought the hibachi home, minus all of the fire and knife tricks, so basically it was just a delicious meal. But without all the fun. My description sounds really depressing now that I write it out.
There are no bells and whistles necessary when making these hibachi style vegetables. The vegetables are sautéed until tender and covered in a fragrant sauce made from soy sauce, honey, black pepper, and a touch of hoisin. The sauce is a perfect combination of salty and slightly sweet -- and then everything is finished with the piece de resistance -- butter. These vegetables will almost have you convinced they just came off the flames. That's what I tell myself at least.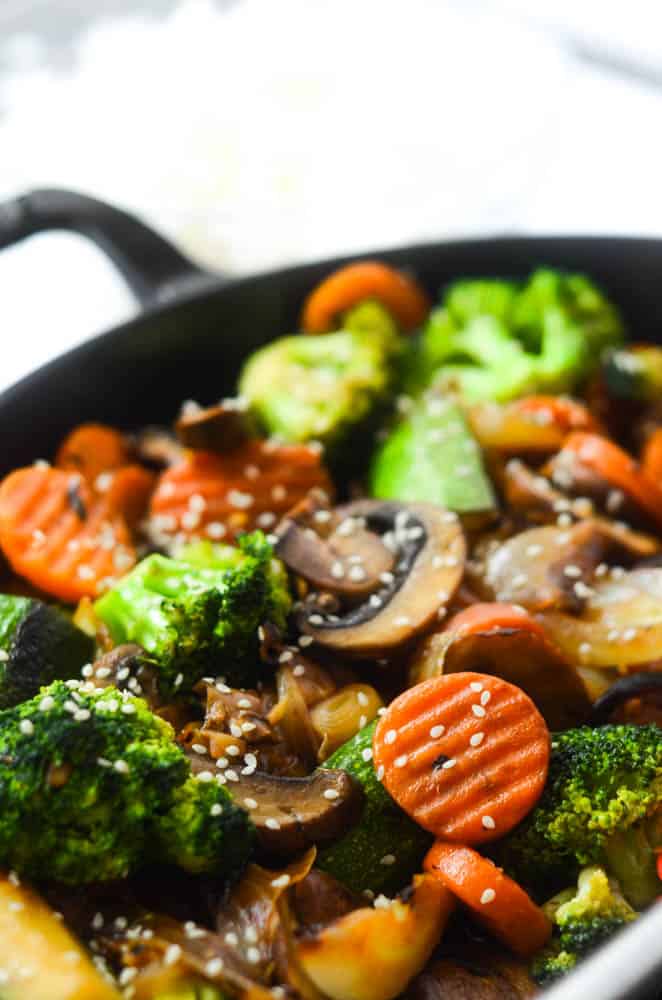 Ingredients You'll Need
This recipe for hibachi vegetables is so simple. Here's what I use:
soy sauce
honey
hoisin sauce
black pepper
olive oil
onion
garlic
carrots (I used the frozen crinkle cut kind)
zucchini
mushrooms
broccoli florets
unsalted butter
jasmine rice, sriracha, sesame seeds (optional for serving)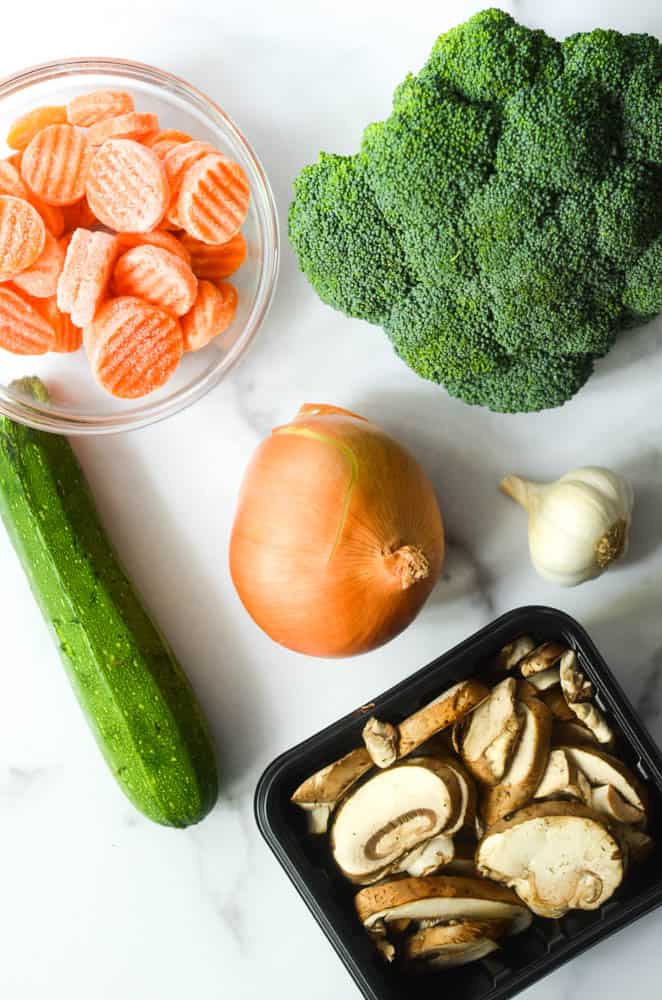 Tailor Recipe To Make It Work for You
Do you know what else would be delicious with your hibachi vegetables? Whatever you have in the fridge. Don't be afraid to mix and match. Cabbage would be a delicious addition, as would yellow squash or asparagus. I really can't think of too many vegetables I wouldn't want in this. This is a great "clean-your-refrigerator" kind of meal.
How to Make Hibachi Vegetables
It's as easy as sautéing the vegetables until tender in whatever sauté pan you have, adding the sauce, and finishing with some butter to make the vegetables that much richer and the sauce silky smooth.
Hibachi Style Vegetables
If I'm being accurate, I should really use the term "hibachi-style" vegetables because we aren't cooking these vegetables under an open flame over a flat, iron griddle to cook in front of people (and for the record, this is actually teppanyaki cooking I've learned). I feel the need to point this out because food origins matter. With that said, this is the absolutely closest I can get to the hibachi style vegetables that are cooked under high heat.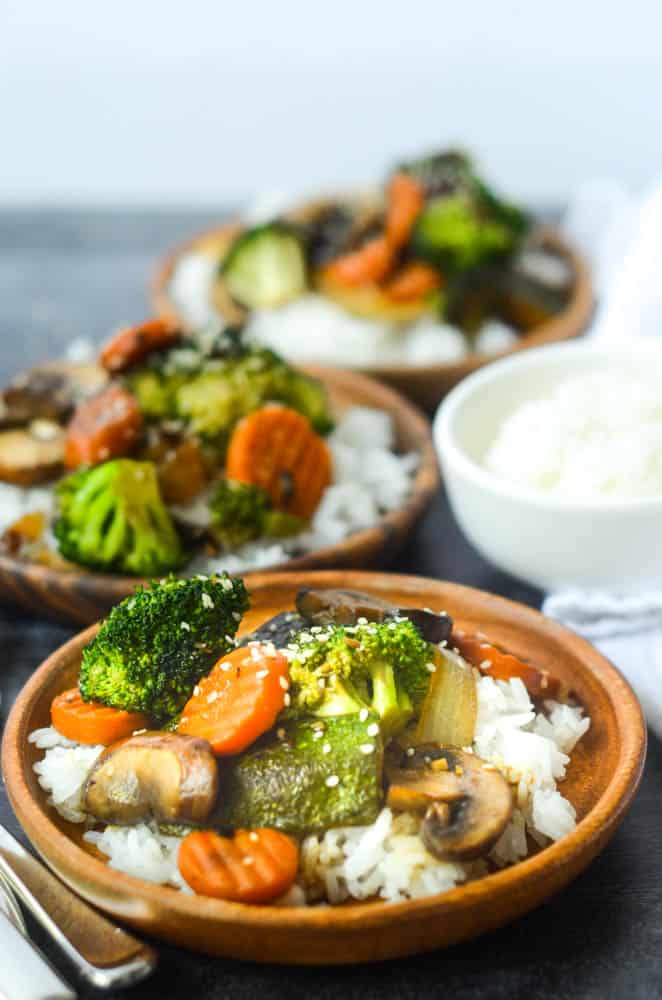 Tips to Make the Best Hibachi Vegetables
Use high heat. It's okay to crank your heat up to medium-high to high to get a nice blister on your vegetables.
Use a wok if you have one or just a deep non-stick or cast iron sauté pan. This allows you to toss the vegetables without making a mess.
Cook onions first because they need the most time to get tender.
Add butter at the very end. This has got to be the most magical part Think of the huge beehive shaped slabs of butter the chefs have at hibachi restaurants. While this only uses a fraction of that (a mere tablespoon), it makes the vegetables buttery smooth and is the most perfect finish.
Hibachi Vegetables Calories
According to Very Well Fit, there are 126 calories per serving in this hibachi vegetables recipe. I'm not a person who counts calories, but this is a pretty healthy meal, high in Vitamin D and fiber.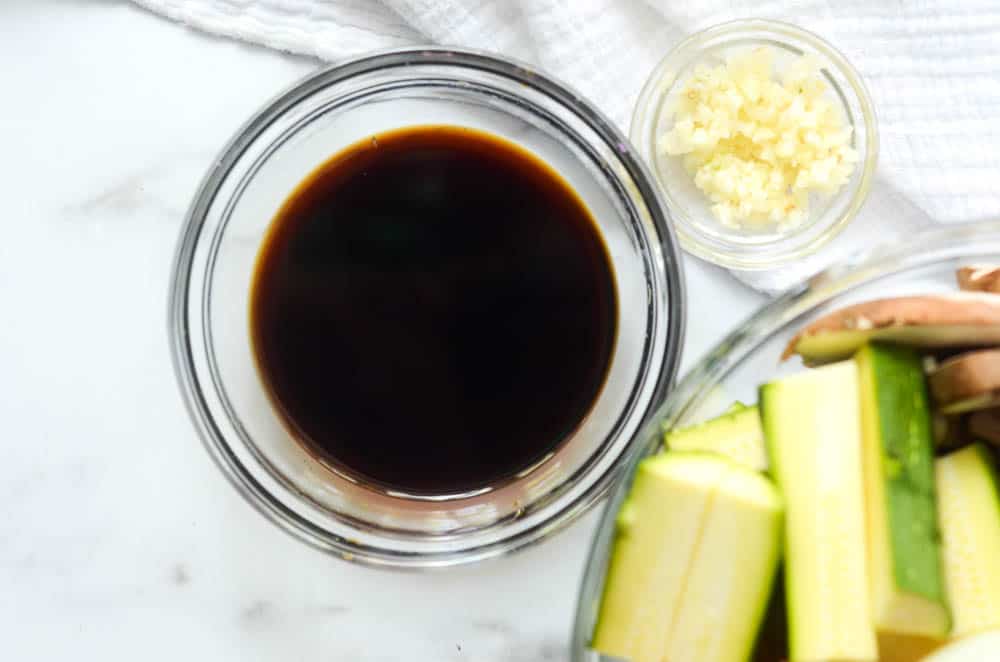 What to Eat with These Veggies
Steamed rice -- clearly steamed rice is a must. It soaks up all of the remaining juices -- yum.
Hibachi chicken -- make it a meal with protein and throw in some chicken after cooking up your vegetables! The hibachi chicken uses the exact same sauce -- so double the sauce and use it for both.
Yum Yum Sauce -- everyone place has a different version of this, but my friends and I would go bananas over this stuff at Inoko Express in college. We'd get hibachi chicken with rice and vegetables with their secret yellow sauce (and I still can't think about the fact that there's loads of mayonnaise in this). You can easily buy this kind of sauce at any grocery store or make your own.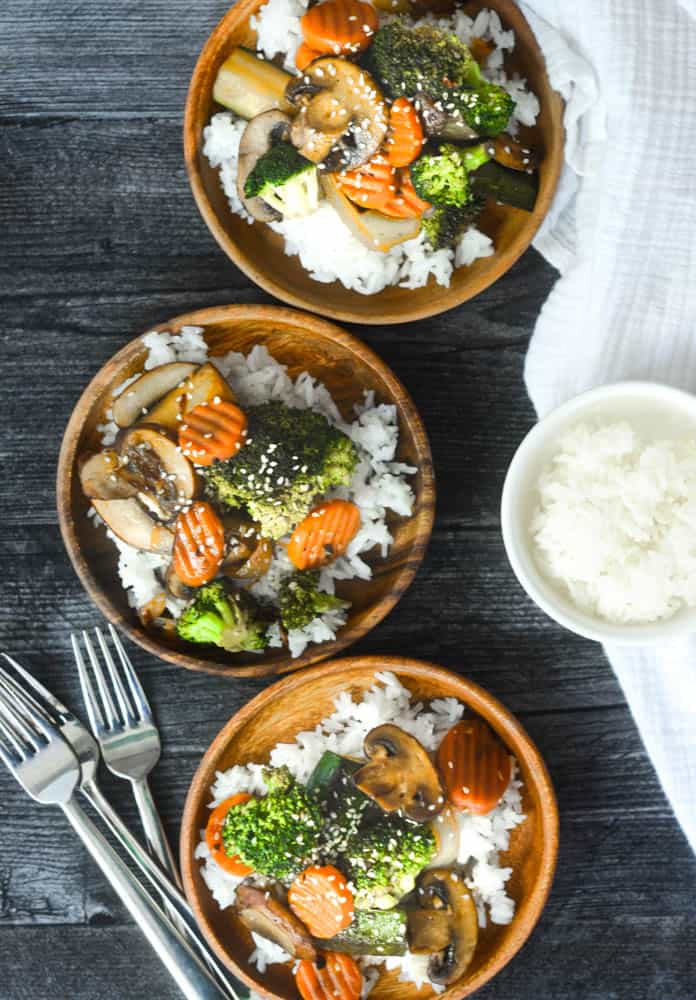 Other Asian Inspired Favorites
xox,
kathryn
As always, if you make anything from the blog, be sure to let me know! I love hearing from you in the comments on this post below or find Worn Slap Out on Facebook, Instagram, or Pinterest!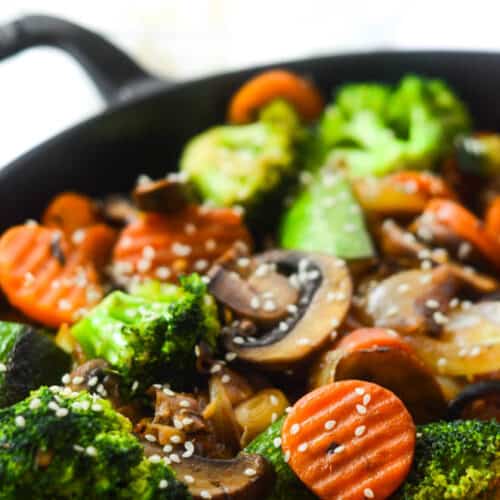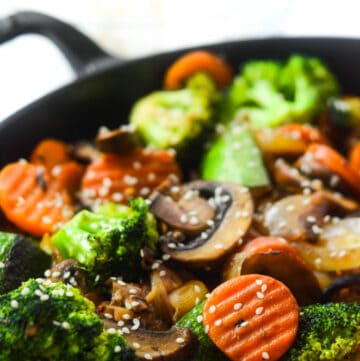 Hibachi Vegetables in 20 Minutes
These hibachi vegetables are an at-home version of what you find at your favorite Japanese steakhouse. Use whatever vegetables you have at home and have the meal ready in under 20 minutes.
Print
Pin
Rate
Ingredients
For the sauce:
3

Tablespoons

soy sauce

low-sodium

1

Tablespoon

honey

1

teaspoon

hoisin sauce

¼

teaspoon

black pepper
For the vegetables:
2

teaspoons

sesame oil

2

Tablespoons

olive oil

1

onion, sliced

3

cloves

garlic

1

cup

carrots, I use frozen crinkle cut carrots

1

zucchini, cut in ½" matchsticks

2

cups

mushrooms, sliced

2

cups

broccoli florets

1

Tablespoon

unsalted butter

jasmine rice, sesame seeds

(optional for serving)
Instructions
In a small bowl, combine sauce ingredients with whisk. Set aside.

Place sesame oil and olive oil in a deep sauté pan at medium-high heat. When pan sizzles when a drop of water falls on it, add your onions and cook until just translucent (about 4-5 minutes). Add in garlic and stir until just aromatic (less than a minute). Add the rest of the vegetables and stir frequently until they become tender, about 7-8 minutes.

Pour sauce over vegetables and stir to combine. Add butter just before turning off heat. Serve vegetables over jasmine rice, remaining sauce, and top with sesame seeds.