This easy Hibachi Chicken recipe is fast and something the whole family will love. It's a perfect meal served with hibachi vegetables and steamed or fried rice!
A large part of my childhood food memories of Athens, Ga revolve around fast-casual Japanese hibachi-style places like Inoko Hibachi Express. When we wanted to get really fancy, my family and friends would hit up the regular Inoko (the fancy, sit-down place) across from Beechwood shopping center. There, we celebrated countless birthdays ooing and ahhing at the chef's knife skills and ability to cook anything over the teppanyaki grill.
Later in college, I continued eating at these restaurants. Not only was it so delicious -- with the combination of salty and sweet flavors -- but it was perfect for a college student's budget. $5 for a plate that would last you for two meals? Yes, please.
Hibachi At Home
This recipe aims to recreate this very Americanized version of hibachi cooking but in your own kitchen without any special equipment. There's a very simple sauce that is both salty and sweet that coats the chicken but isn't very "saucy" like it is in these fast-casual restaurants. This is where you can whip up a very similar sauce (frequently called yum yum sauce) as they do in these types of restaurants. More on the history below!
What is Hibachi Chicken?
I don't own an authentic hibachi grill. In fact, I don't even own a charcoal grill, so this is my attempt to recreate the chicken that's usually cooked over an open flame in your own kitchen. My limited experience with Japanese cooking (and I mean really limited) is this very Americanized hibachi style chicken found at a Japanese steakhouse like Benihana or Inoko Express.
Ingredients You'll Need
chicken breasts (or any cut of chicken you have)
olive oil
sesame oil
unsalted butter
soy sauce low-sodium
honey
hoisin sauce
black pepper
sesame seeds optional for topping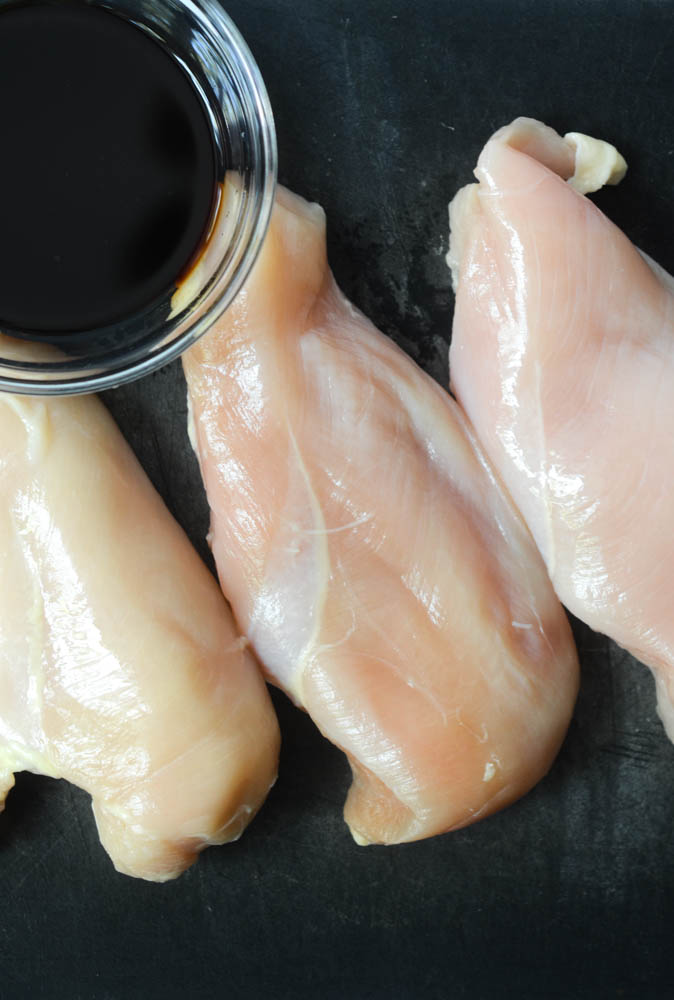 Great for Meal Prep
I know we're all not leaving our homes for the next 40 years, BUT meal prepping is still important to
keep your sanity by not having to cook a new meal every single night
save money
create less food waste
This hibachi chicken is a great meal to make a double-batch of on a Sunday and have it last for lunches all week or for a couple of family dinners.
How to Make Hibachi Chicken
It's going to be really simple. Here are some step-by-step directions:
First, bring a non-stick skillet to medium-high heat.
You'll need olive oil and a touch of sesame seed oil. if you don't have sesame oil, no worries. Add a bit more olive oil.
Next, cook chicken in sizzling pan until browned and cooked through.
You'll know when the pan is ready because a drop of water will sizzle in the pan. Success! Cook chicken in two batches, transferring the cooked chicken to a separate plate.
Once all of the chicken is cooked through, add the other batch back to the pan.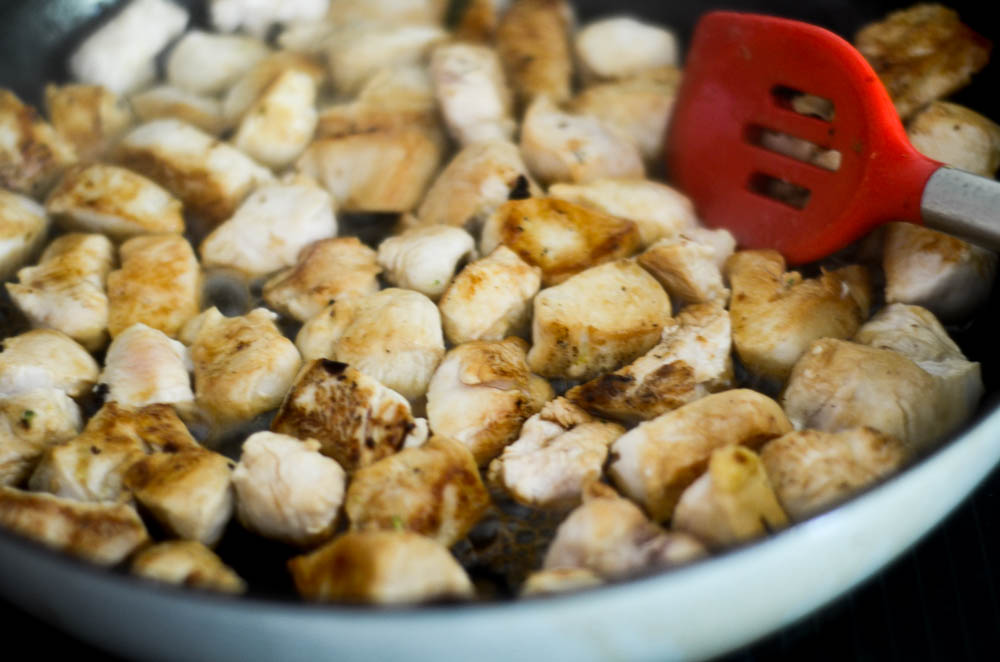 Finally, toss the chicken with the sauce.
Give it a good stir for about a minute to make sure the sauce gets warmed up. Then finish off the whole dish by adding a tiny bit of butter. This makes the sauce creamy and oh so delicious. Don't skip this step!
Sprinkle with sesame seeds and serve over rice with hibachi vegetables!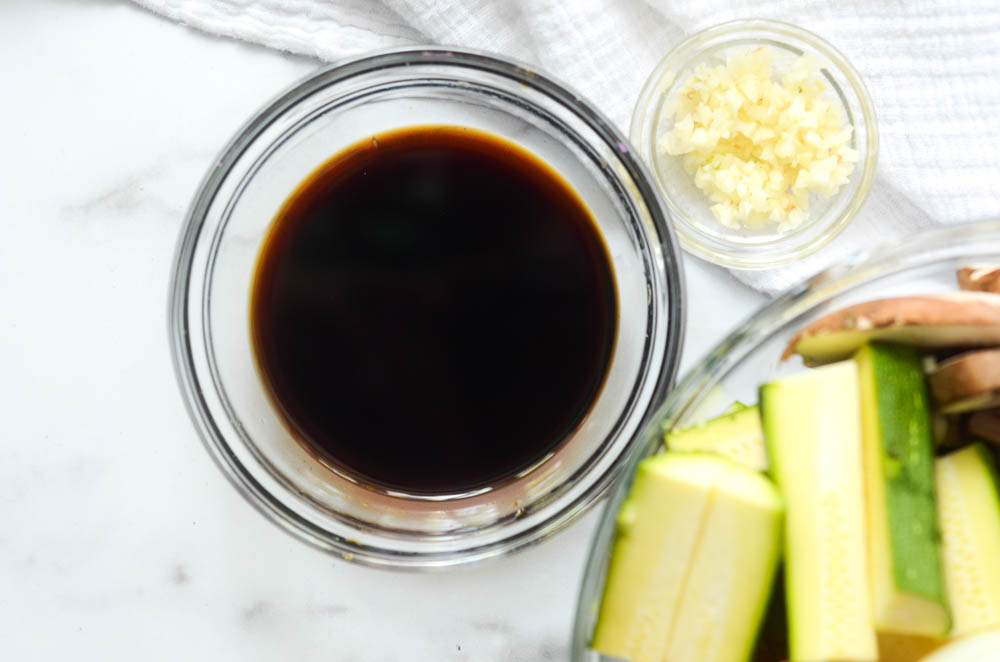 3 Tips for Making Hibachi Chicken
Cook the chicken in two batches. You don't want to crowd the pan. Crowding the pan creates lots of liquid, which never allows the chicken to get crispy and browned.
Cook on medium-high heat. Wait until the pan is very hot (a drop of water dropped on the pan should start to sizzle...that's when you know it's ready). Don't turn or move the chicken until it's nicely browned. If you keep stirring, the chicken won't sear.
Add butter at the very end. This really finishes the dish and creates this buttery smooth coating on the chicken. It's dreamy.
Hibachi Chicken and Vegetables
Hibachi chicken and vegetables are two foods that go together like peanut butter and jelly. If you want to add hibachi vegetables to your meal, just cook the chicken, place on a separate plate and cook the vegetables the same way. Double the sauce recipe and toss the sauce in both the vegetables and chicken. Stir until warm and you're done!
The History of Hibachi
I think it's important to recognize the origins of food, especially if it's not a type of food from your own culture (and certainly I don't claim hibachi-style chicken to be in my cultural wheelhouse). The history is really fascinating though.
Hibachi style cooking came to America from the Japanese after World War 2 after affluent Americans brought back this casual way of cooking to their own patios and back yards. These affluent Americans didn't have the kind of outdoor space for the Japanese's large outdoor grills, so the backyard grills became smaller and smaller in the 1980s and 90s only to get bigger and bigger as their popularity grew.
When you go to a Japanese steakhouse that's cooking in front of you on a large griddle, this isn't actually hibachi -- it's technically teppanyaki cooking...which is made all the more confusing because most of these fast-casual Japanese-American places have "hibachi" somewhere in their name.
Homemade Yum Yum Sauce (or Sakura Sauce)
If you have been following my recipes, you know I can't do mayonnaise (except in my husband's crab cakes). HOWEVER, I love the sauce that comes from hibachi-style restaurants (or "yellow sauce" if you're from Athens and grew up eating Inoko Express).
These sauces that are more yellow (as opposed to this one that's slightly pink) comes from Japanese mayonnaise, which uses only egg yolks instead of the whole egg like in Hellman's or Duke's. You can buy Japanese mayo online though if you're interested.
To make yum yum sauce, whisk the following ingredients into a small bowl:
1 cup mayonnaise
2 tablespoon ketchup
2 teaspoons paprika (regular, not smoked)
2 teaspoons rice vinegar (or apple cider vinegar)
1 teaspoon garlic powder
1 Tablespoon water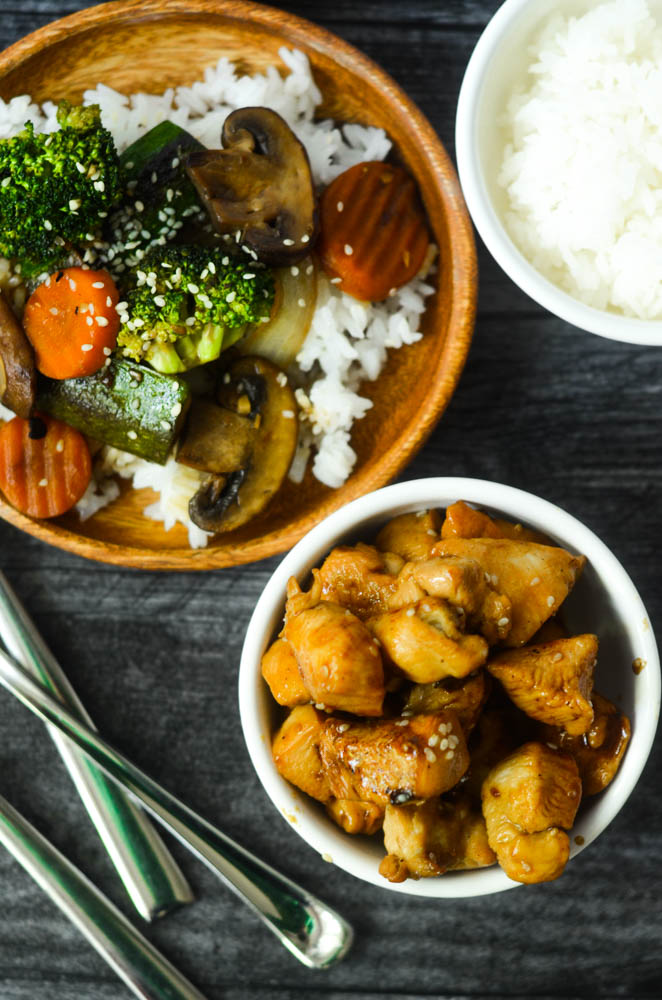 Other Quick Chicken Meals
xox,
kathryn
As always, if you make anything from the blog, be sure to let me know! I love hearing from you in the comments on this post below or find Worn Slap Out on Facebook, Instagram, or Pinterest!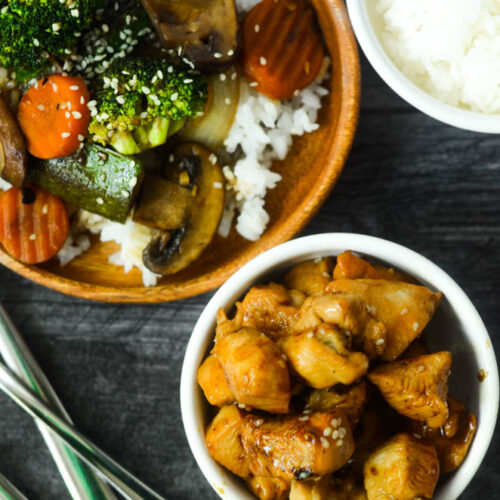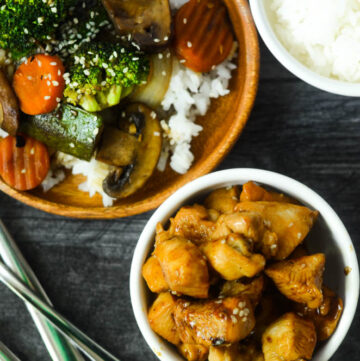 Easy Hibachi Chicken
This easy Hibachi Chicken recipe is fast and something the whole family will love. It's a perfect meal served with hibachi vegetables and rice!
Print
Pin
Rate
Ingredients
1

pound

chicken breasts, cut into ½" pieces

2

Tablespoons

olive oil

2

teaspoons

sesame oil

1

Tablespoon

unsalted butter
For the sauce:
3

Tablespoons

soy sauce low-sodium

1

Tablespoon

honey

1

teaspoon

hoisin sauce

¼

teaspoon

black pepper

sesame seeds

optional for topping
Instructions
In a non-stick skillet over medium-high heat, add sesame oil and olive oil. Heat until very hot.

While pan is heating, make the sauce by whisking soy sauce, honey, hoisin, and black pepper in a small bowl. Set aside.

Add chicken to skillet in two different batches, adding more olive oil and sesame oil for the second batch if needed. Cook chicken until browned and cooked all the way through (about 4 minutes per side).

Toss in sauce until the chicken is completely coated and warmed up, about one minute. Serve hot topped with sesame seeds over steamed rice
Notes
To make homemade yum yum sauce, whisk
1 cup mayonnaise
2 tablespoon ketchup
2 teaspoons paprika (regular, not smoked)
2 teaspoons rice vinegar (or apple cider vinegar)
1 teaspoon garlic powder
1 Tablespoon water
Store leftovers in an airtight container in the refrigerator.  The chicken will last 4-5 days in the refrigerator.  This is a great meal to make in advance.