Using whatever vegetables you have on hand, this egg and vegetable crescent roll breakfast ring uses crescent roll dough to make your life super simple. It's cheesy, delicious, and decently healthy. You can have an impressive breakfast on the table in less than 25 minutes.
It's been a big week in our house. I started taking showers while both kids play with one another...like by myself. Showers are no longer a privilege anymore, reserved for when my spouse is home. I thought the kids would kill each other or at the very least draw blood, but the worst thing that's happened is excessive tattletaling from the older one. SHOWERS. ARE. A. PART. OF. REGULAR. LIFE. NOW. Let's pop open the bubbly and celebrate together, no?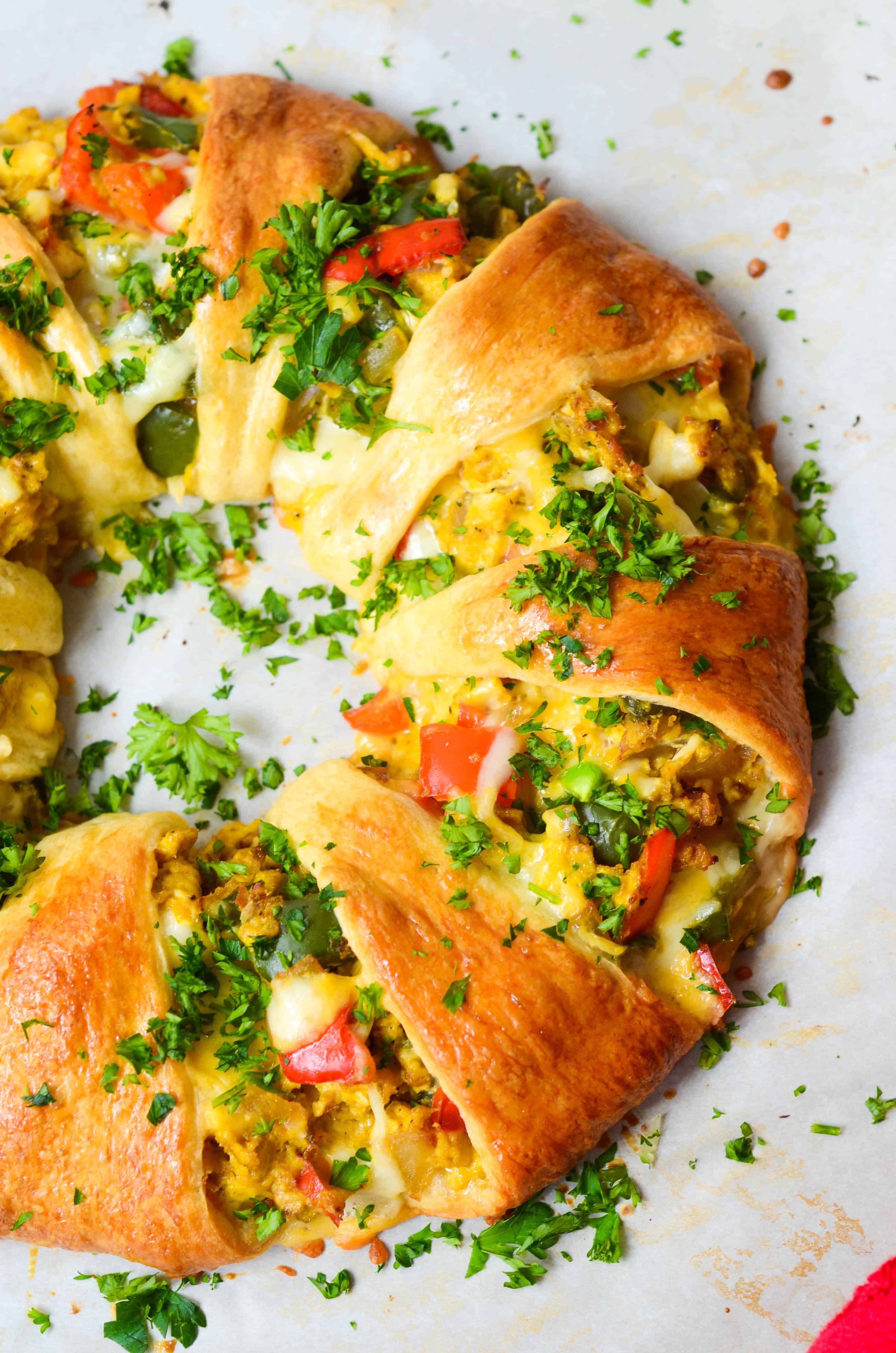 Aside from the state of my cleanliness, I'm also bringing you this super simple and beautiful Egg and Vegetable Crescent Roll Breakfast Ring -- or Egg and Vegetable Wreath or Egg Bake Ring -- or whatever you prefer it be called. I'm going to make the breakfast ring for Christmas morning along with some fresh fruit and homemade cinnamon buns.
What makes this crescent roll breakfast ring so special?
For starters, this breakfast ring uses Pillsbury crescent roll dough (or whatever brand you prefer...I just know the Pillsbury kind has exactly 8 triangles, which is perfect for this), so this is super quick to make when you don't have a lot of time.
It looks beautiful. It looks like a wreath, which is fun and festive, especially this time of year. People thing you spent way longer on this than you did, which I always secretly love.
You can easily customize it to please your own palate. Do you have leftover vegetables in the refrigerator? Scramble egg with those! You can easily add some bacon or sausage to your breakfast ring, too, for some added protein.
Done and done.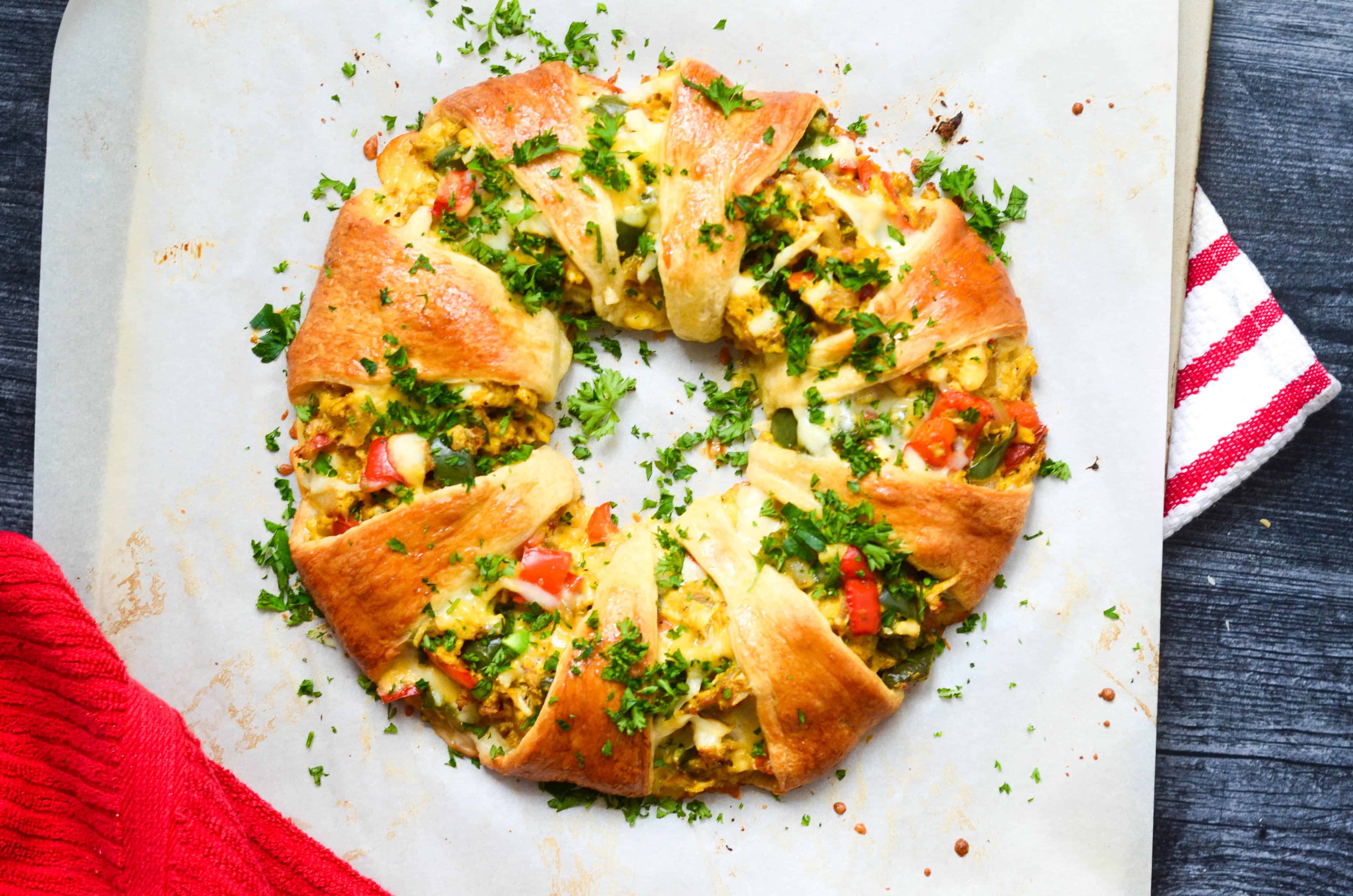 How to make a crescent breakfast ring
First, get whatever vegetables you want in your crescent breakfast bake. Since I'm preparing this for Christmas breakfast, I used an assortment of red peppers, green bell peppers, and onion. The vegetables will sauté in olive oil, garlic powder, and cayenne (optional) until tender and onions are translucent, about 5-7 minutes. Then crack open 6 eggs and scramble them in with the vegetables until they're soft scrambled, about 2-3 minutes. Set aside.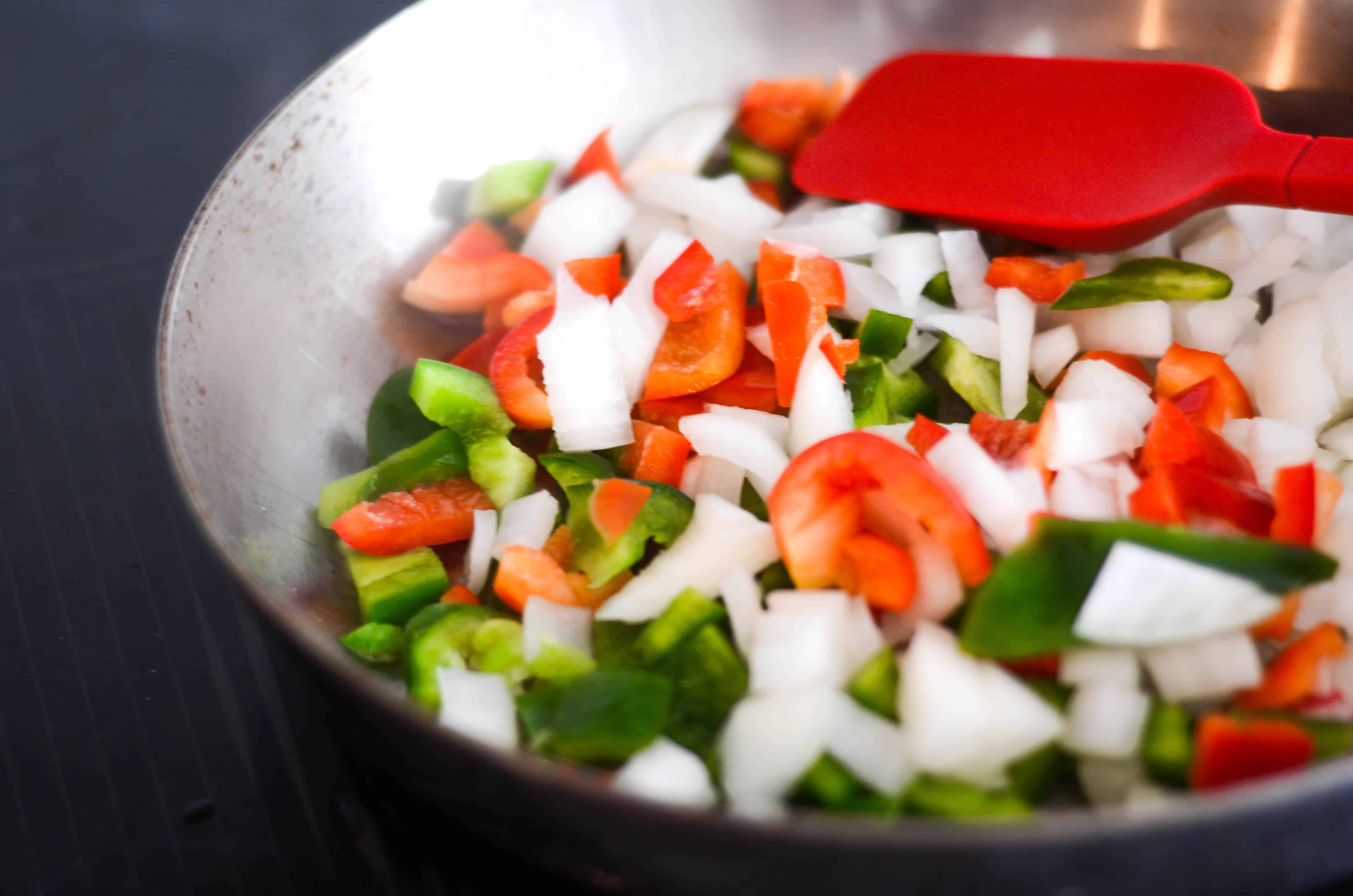 Here's the part that makes this crescent breakfast ring impressive yet so, so simple. A pack of Pillsbury crescent rolls comes pre-cut into 8 triangles. Spread the 8 triangles out to form a circle (as close to one as possible, anyway).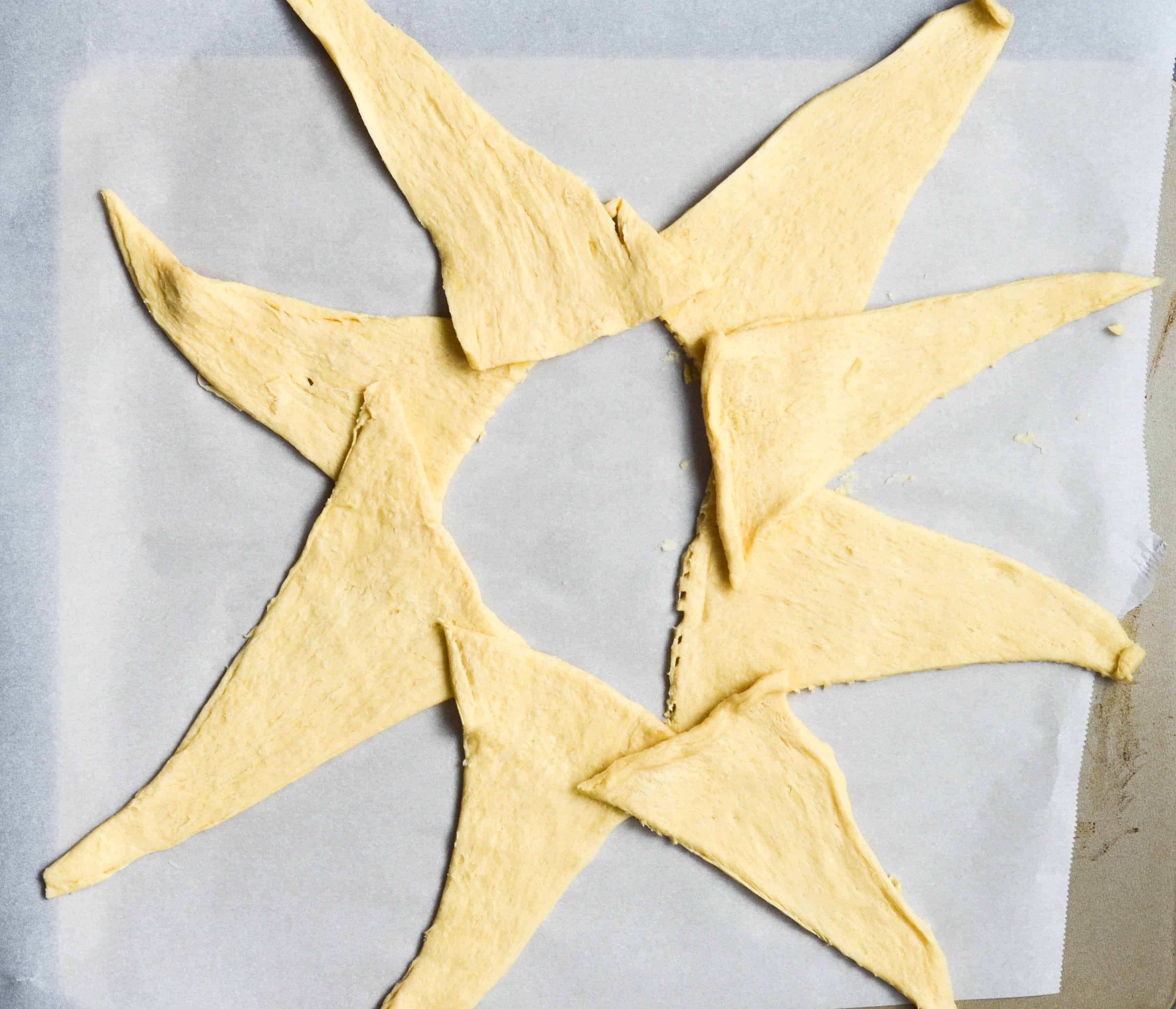 Next, add some cheese around the wreath. I use Tillamook because their thick-cut cheese is the bomb and I can get it at my neighborhood Giant.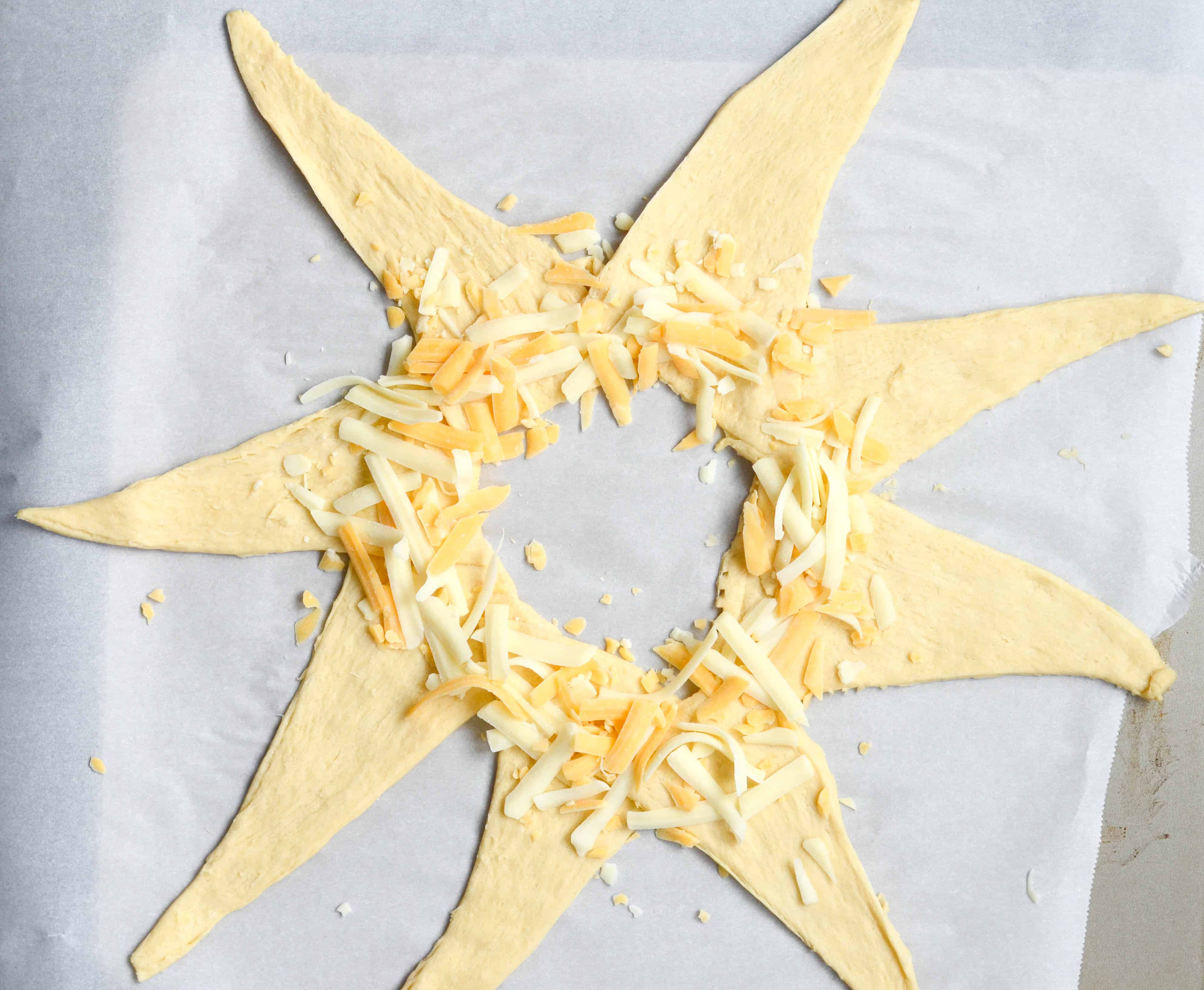 Then add your egg and vegetable scramble over the cheese, leaving a circle in the middle of the wreath open.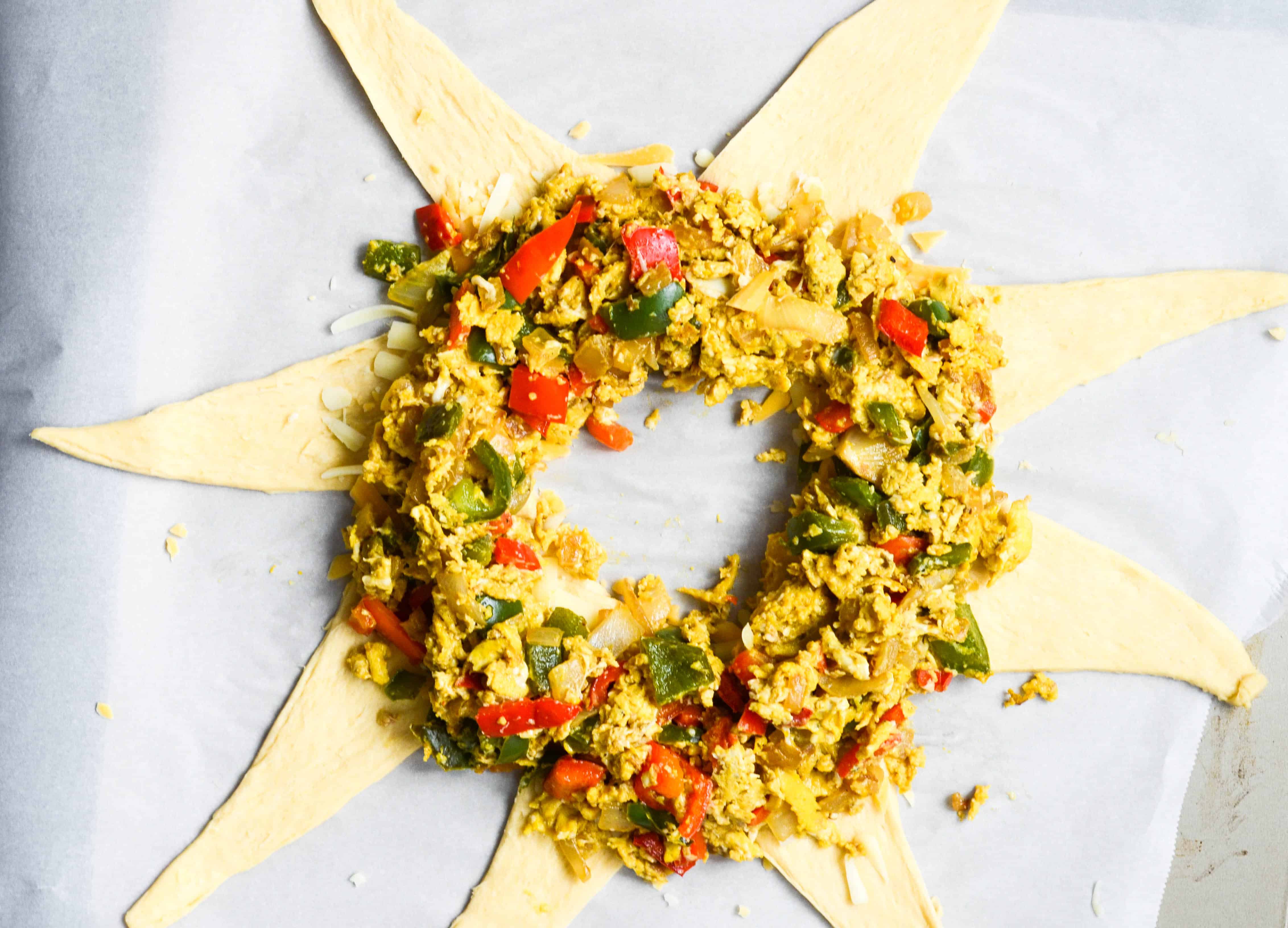 Add a little bit of extra cheese for good measure because why the hell not?
Then fold, baby, fold. Food each of the triangles points over the egg scramble and pinch ever so slightly at the bottom of the wreath.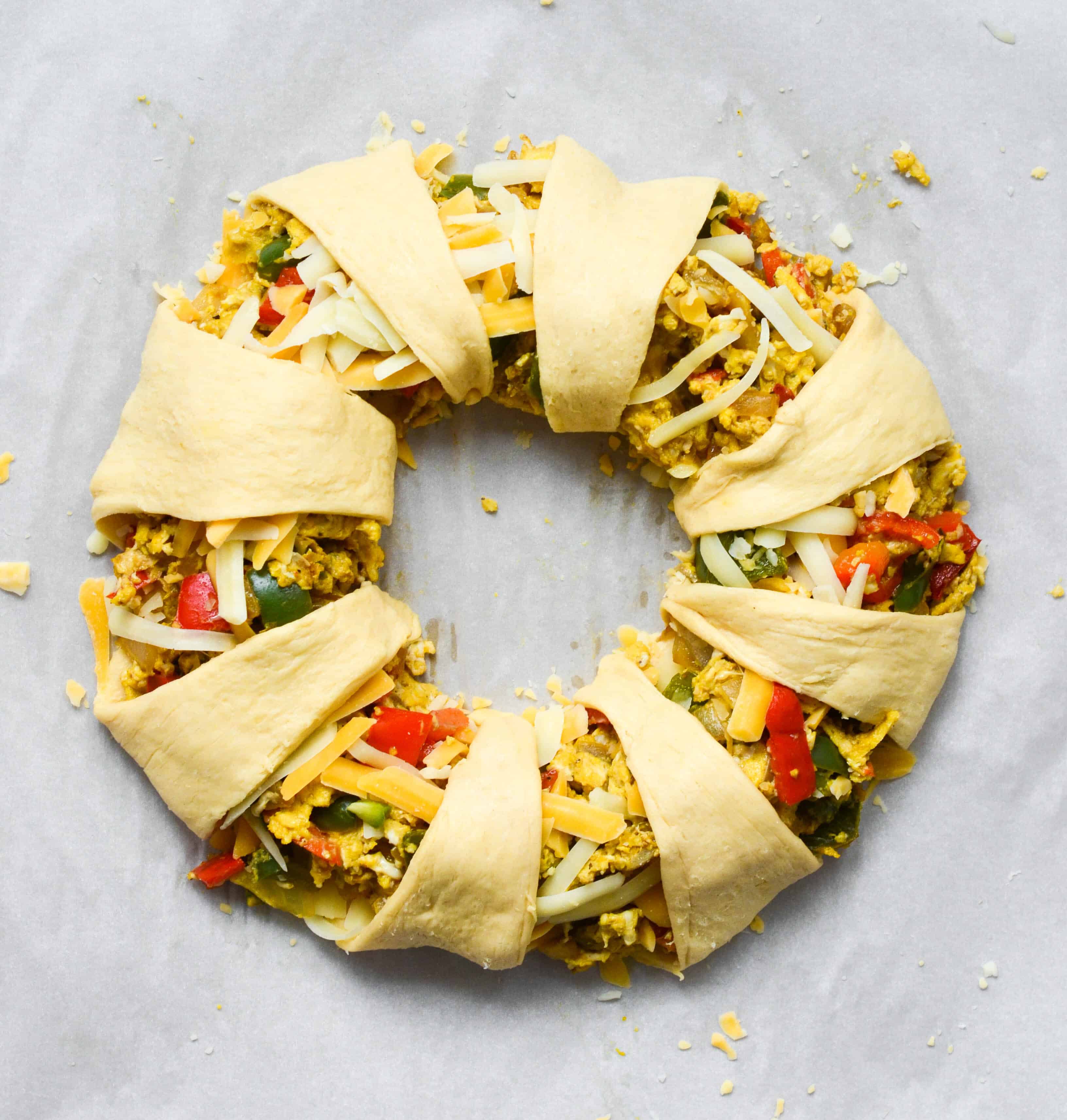 Brush the crescent dough with an egg wash (a beaten egg with a splash of water). This will allow the crescent roll to become nice and brown when cooking, making a beautiful and scrumptious product.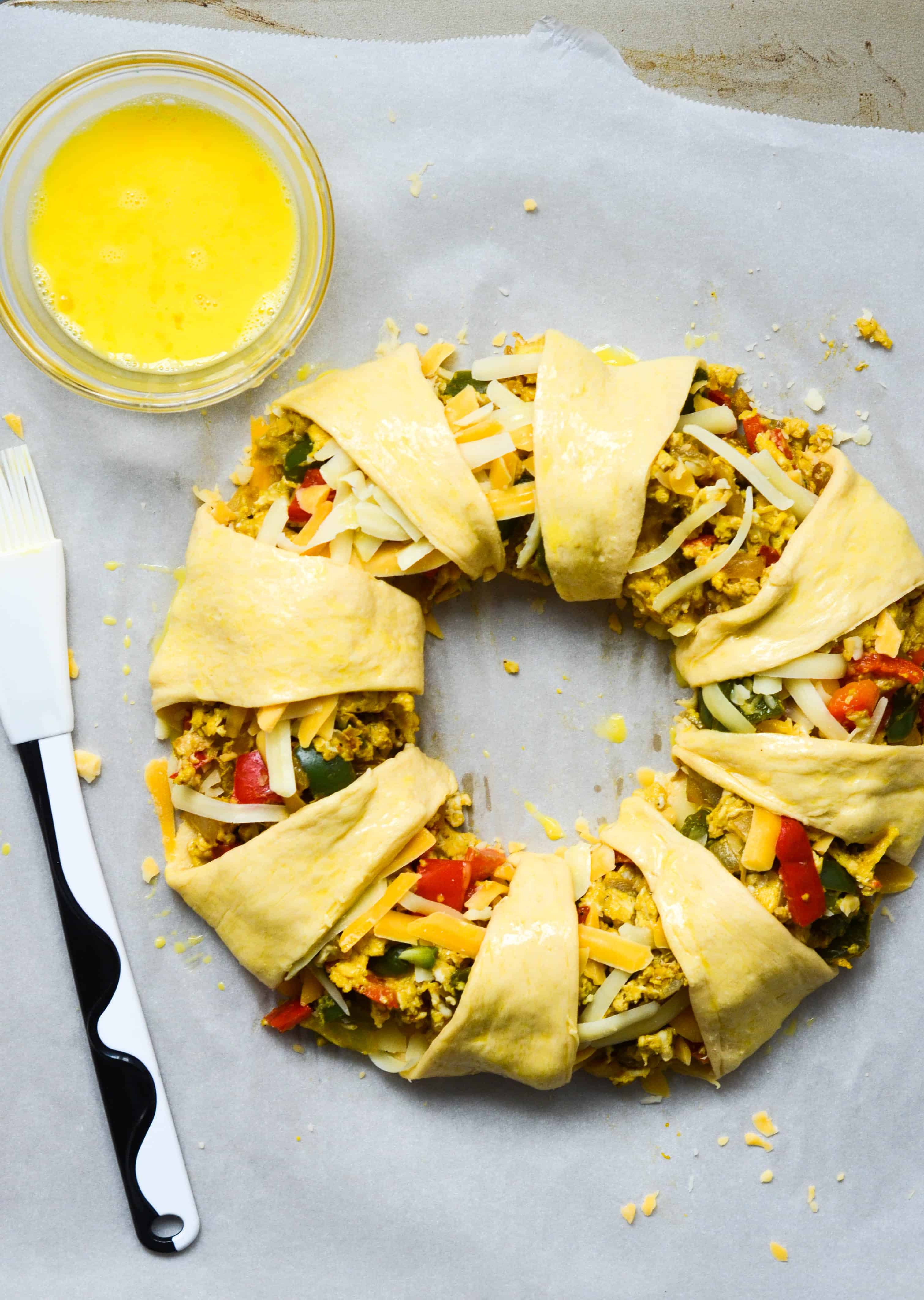 The crescent roll breakfast ring then goes into the oven for 16-18 minutes, or whenever the crescent dough is a golden brown. I like to sprinkle parsley over the top of the wreath because fresh herbs always finish things nicely, but you do you. You could also top with cilantro, salsa, hot sauce, ketchup, whatever you like with your eggs.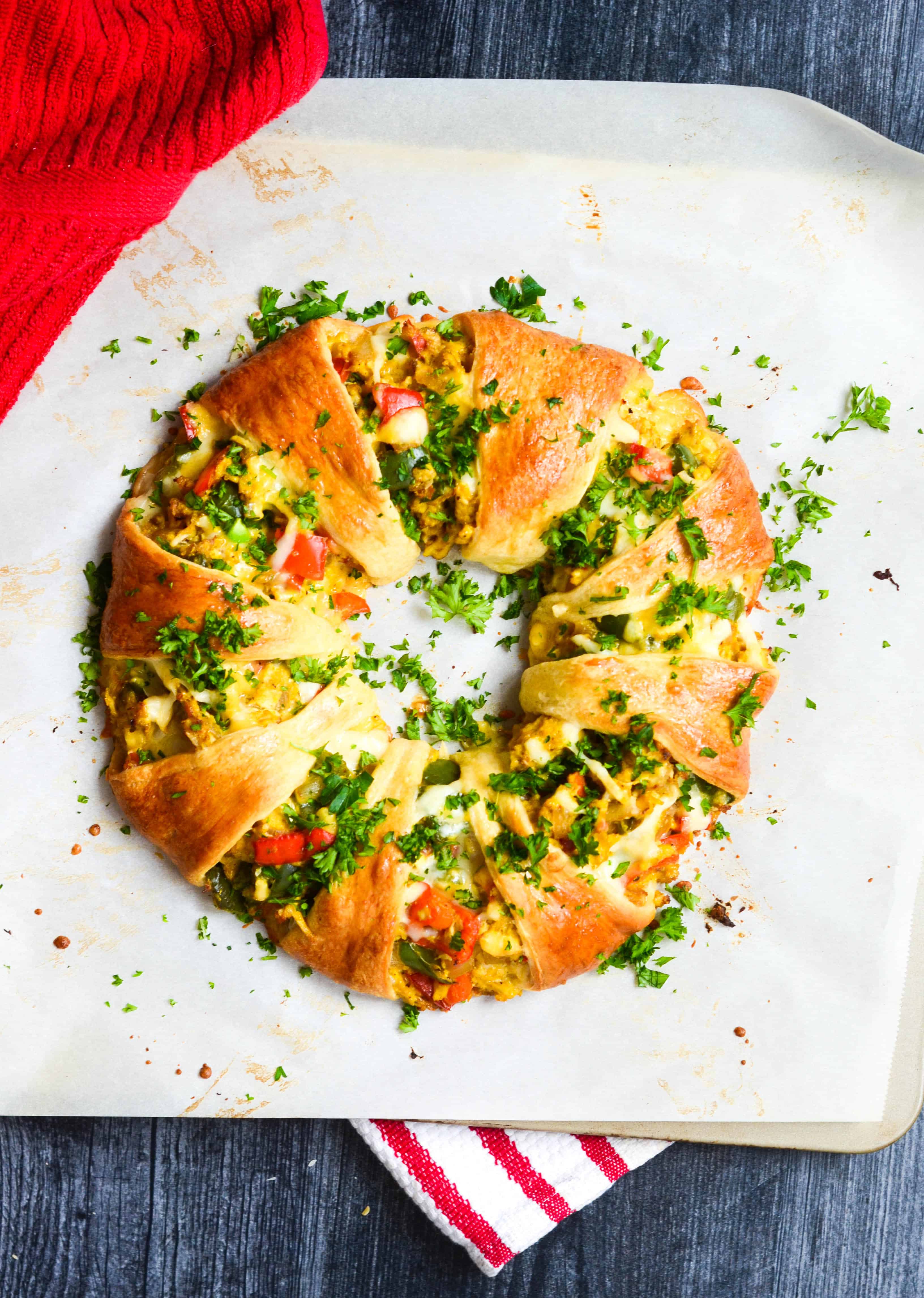 Ways to mix up your breakfast ring
You could do so many different things with this as long as you follow the same general idea. Here are some other ideas:
Add some meat. Before putting your cheese down, you could add a slice of sizzling bacon to each point of the star or a cut, fully cooked sausage link. That would be delicious and give you some added protein to all you carnivores out there.
Add different vegetables to your breakfast ring. Don't stop at red and green bell peppers and onions. Mushrooms would be delicious, too. And don't forget about leftovers. Leftover vegetables make for a great scramble. Broccoli, why not? Asparagus? Sure!
Think about accoutrements. What do you like with your eggs? Some basil pesto? Salsa verde? Hot sauce? Good ole ketchup? All of these would be great to serve alongside the breakfast ring.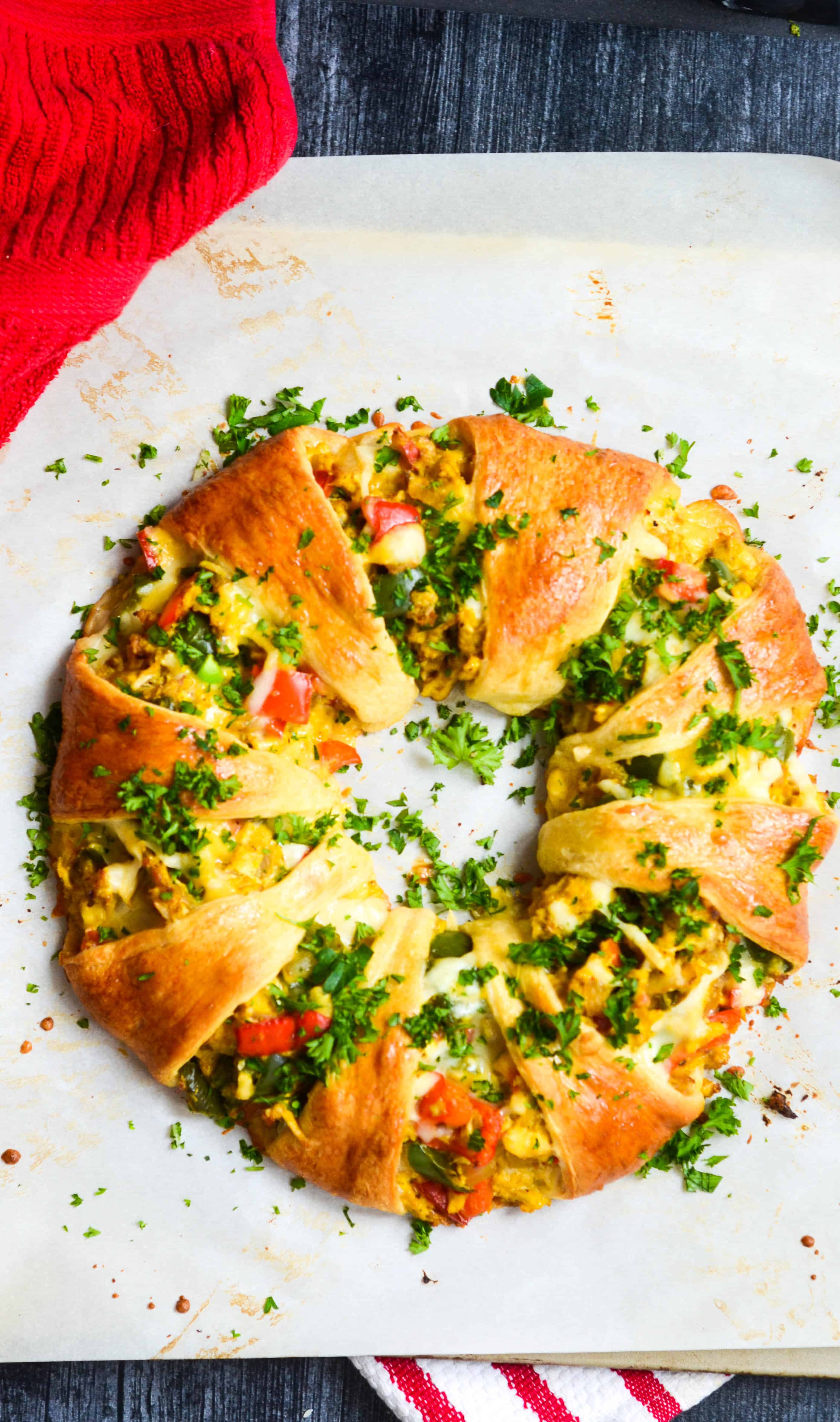 Here's all 7 steps in one gallery for your viewing pleasure. Pretty simple, right?
Can you make this crescent roll breakfast ring ahead of time?
Yes! You can do everything except the baking the night before. Just put the whole tray in the refrigerator and bake it in the morning!
Hope y'all have a very Merry Christmas to all those who celebrate.
xox,
kathryn
As always, if you make anything from the blog, be sure to let me know! I love hearing from you in the comments on this post below or find Worn Slap Out on Facebook, Instagram, or Pinterest!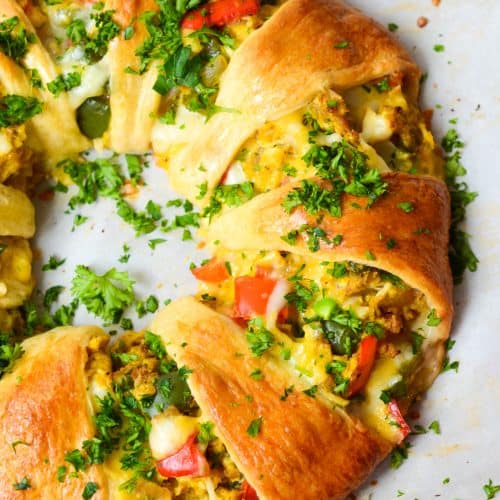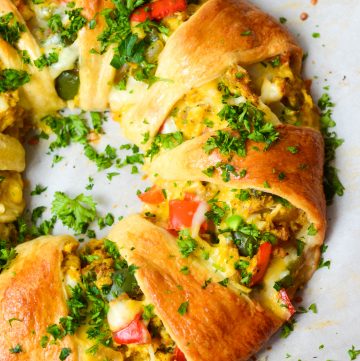 Egg and Vegetable Crescent Roll Breakfast Ring
This show stopper is beautiful and so, so simple to make for a family. It takes about 10 minutes of hands-off time and less than 20 minutes to bake.
Print
Pin
Rate
Ingredients
1

pack

Pillsbury crescent rolls

1 ½

cups

shredded cheese

½

green bell pepper,

chopped

½

red bell pepper

chopped

½

onion

chopped

½

teaspoon

garlic powder

¼

teaspoon

cayenne pepper

optional

1

tablespoon

olive oil

7

eggs, divided
Instructions
Preheat oven to 375 degrees F. On a parchment lined baking sheet arrange the 8 triangles of the crescent rolls in a circle. Add 1 cup of cheese around the base of the triangles. Hold the rest of the cheese for later.

Heat up olive oil in a frying pan with olive oil over medium-high heat. Add your vegetables, garlic powder, and cayenne and cook until tender and translucent. Crack 6 eggs into the pan and cook until softly scrambled, about 2-3 minutes.

Add egg scramble on top of the cheese, keeping a hole in the center of the ring. Wrap the points of the triangle over the egg scramble and nestle into the bottom of the ring. Brush with egg wash (beaten egg with a splash of water).

Bake for 16-18 minutes or until crescent roll is golden brown. Garnish with fresh parsley and whatever condiments you like with your eggs.
Notes
Feel free to add bacon or sausage links to the crescent roll breakfast ring for added protein. 
Make ahead of time: do everything but bake the breakfast ring.  Just store in the refrigerator the night before you're ready to bake.