This flank steak recipe with blueberry balsamic sauce is melt in your mouth delicious! The 4-ingredient marinade leaves the flank steak tender and juicy while the blueberry balsamic sauce adds some tang and interest. It'll have you re-considering why you don't include fruit on your meat more often.
***This post has been updated in July 2020 with updated copy and new photos...same great recipe!***
Blueberry Sauce For Your Meat is LEGIT
Y'all! I first tried steak with a blueberry balsamic reduction at Acqua Al 2 in DC many years ago. This authentically Italian restaurant is known for their filet mignon cooked in a blueberry reduction. I really liked the blueberry sauce because it was so unique (fruit on meat?! GASP!), so I knew I wanted to recreate this but with a more economical meat option that could be prepared on a weeknight.
Enter this easy, marinated flank steak with blueberry balsamic reduction. The only part you need to remember is to make the marinade in advance. The more time to marinate the better, but sometimes (hand up!) that's not always possible, so 30 minutes works in a pinch, too.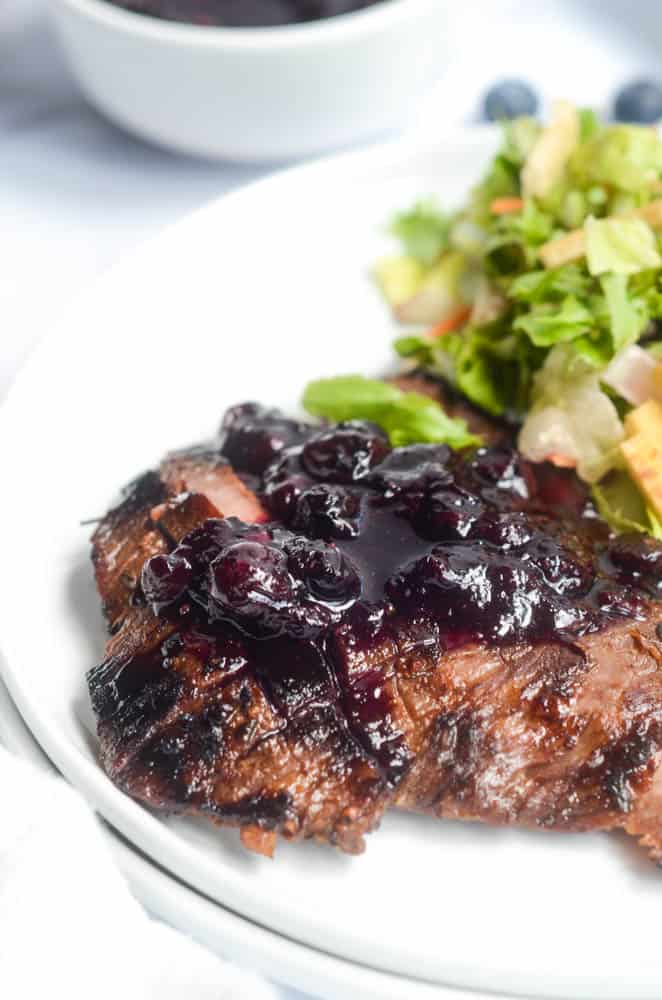 Preparing Your Flank Steak
Flank steak is a cut of beef that's typically very lean, so it can sometimes be on the tough side. This is why you usually see flank steak recipes that call for a marinade. It's an absolutely delicious piece of meat though. We eat flank steak about once a week -- it's our go-to weeknight steak option. The kids love it, we can double the recipe to last two nights, and it's just plain delicious.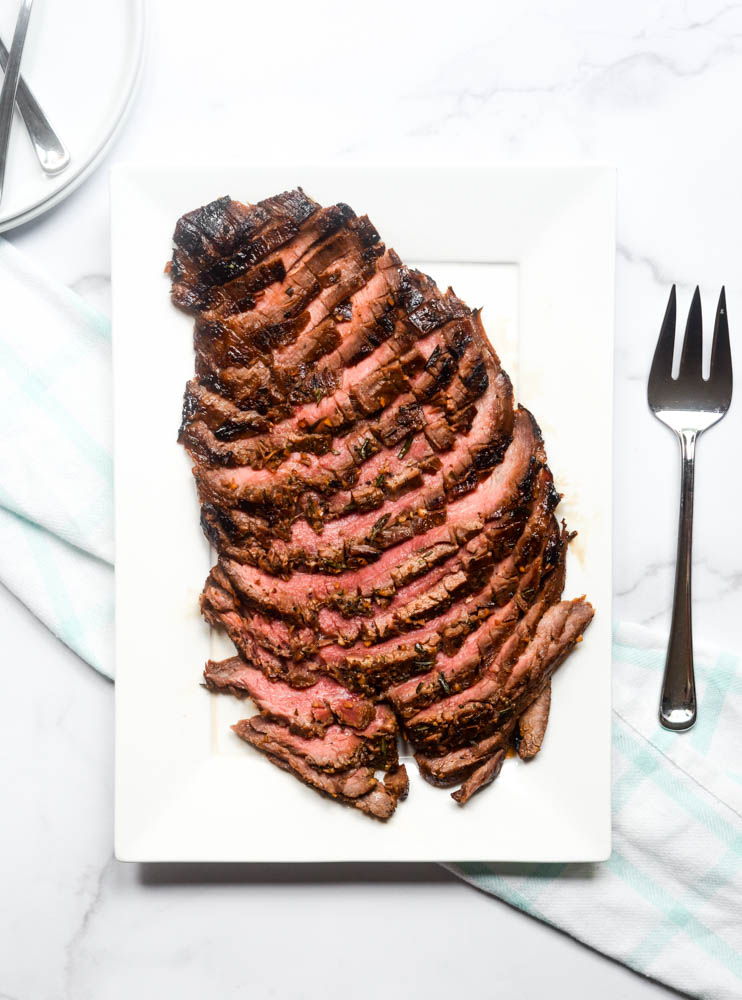 You'll want to score your steak (just make cuts into the meat with your knife) so the marinade can seep into the flank steak as much as possible. This particular marinade uses just 4 ingredients (aside from S + P). The acidity of the balsamic vinegar tenderizes the steak and the olive oil keeps it juicy. Match made in heaven.
When your steak is cooked, make sure you cut the flank steak on the diagonal so you get wide pieces. This'll break up the muscle fibers to make double-sure you don't get a tough piece of meat in your mouth.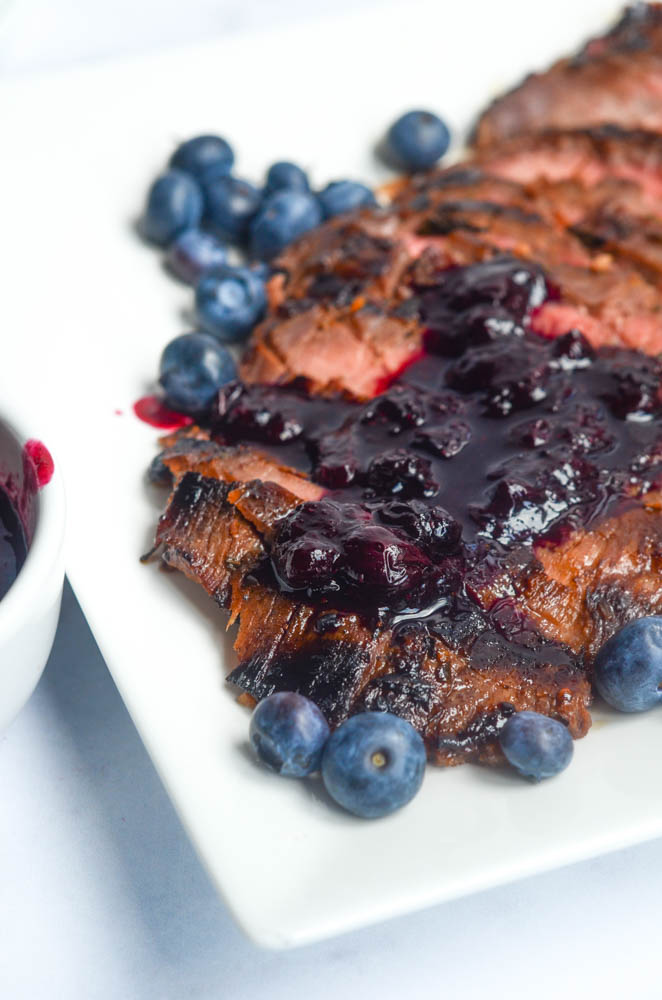 This Blueberry Sauce for All Meats
Don't limit yourself to flank steak either. Try using the blueberry sauce on chicken, pork chops, or if you want to get fancy -- give it a try with a nice filet.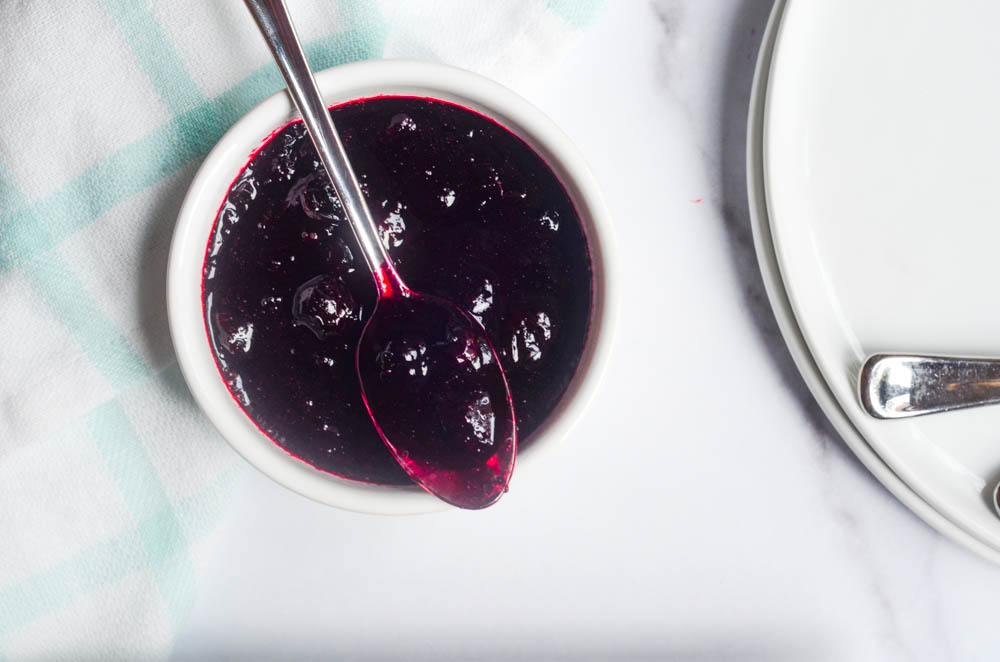 Whatcha cookin' for July 4th?
Here's some more ideas:
xox,
kathryn
As always, if you make anything from the blog, be sure to let me know! I love hearing from you in the comments on this post below or find Worn Slap Out on Facebook, Instagram, or Pinterest!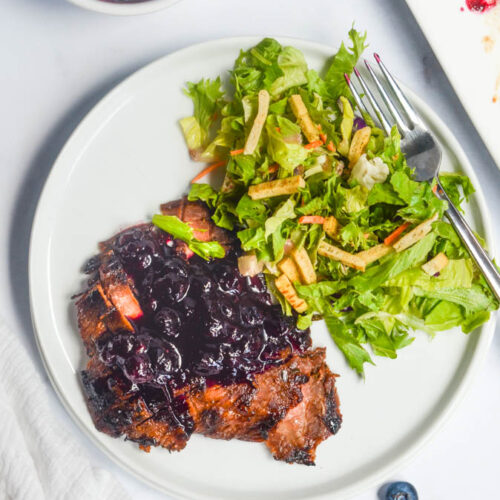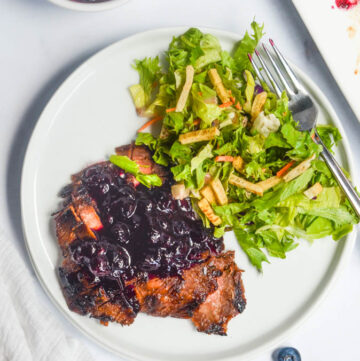 Flank Steak with Blueberry Balsamic Sauce
This flank steak becomes juicy and tender when marinated, then it comes with the most delicious blueberry sauce to devour!
Print
Pin
Rate
Ingredients
For the marinade:
1

cup

extra virgin olive oil

½

cup

high quality balsamic vinegar

3

garlic cloves, minced

2

tablespoon

rosemary, chopped

¼

teaspoon

salt

¼

tsp

pepper
For the blueberry balsamic sauce:
2

tablespoon

high quality balsamic vinegar

1

cup

fresh blueberries

1

teaspoon

brown sugar*

1

tablespoon

freshly squeezed lemon juice
Instructions
Lay out flank steak on cutting board or parchment paper. Score the steak with a knife to allow marinade to seep into the steak. Set aside.

Put marinade ingredients in a small bowl. Stir until well combined. Transfer meat and marinade to a double-lined freezer bag. Be sure all parts of the meat get covered in the marinade by squishing it all around. Let it rest for at least 30 minutes or overnight if possible.

Turn on your oven's broiler.

On a roasting rack, cook the meat under the broiler for 6 minutes per side for medium-rare cooked steak. Take steak out of the oven once both sides have cooked and let rest for 10 minutes.

While steak is resting, combine all ingredients in a small sauce pan. Over medium heat, boil blueberry mixture until blueberries break down and mixture is reduced (about 6-8 minutes).

Pour blueberry balsamic mixture over cut steak and enjoy!
Notes
*If you're trying to keep it refined sugar free, feel free to substitute maple syrup (1 Tbsp) instead of brown sugar!