Super Bowl Sunday is right around the corner, and there's no better excuse for a meal made entirely of snacks than on Super Bowl Sunday.  These easy, peasy garlic knots are made from pre-made pizza dough, chopped fresh herbs sauteed in butter, and topped with fresh parmesan cheese. Pair the garlic knots with some meatballs and you've got yourself a delicious, fast meal ready to go!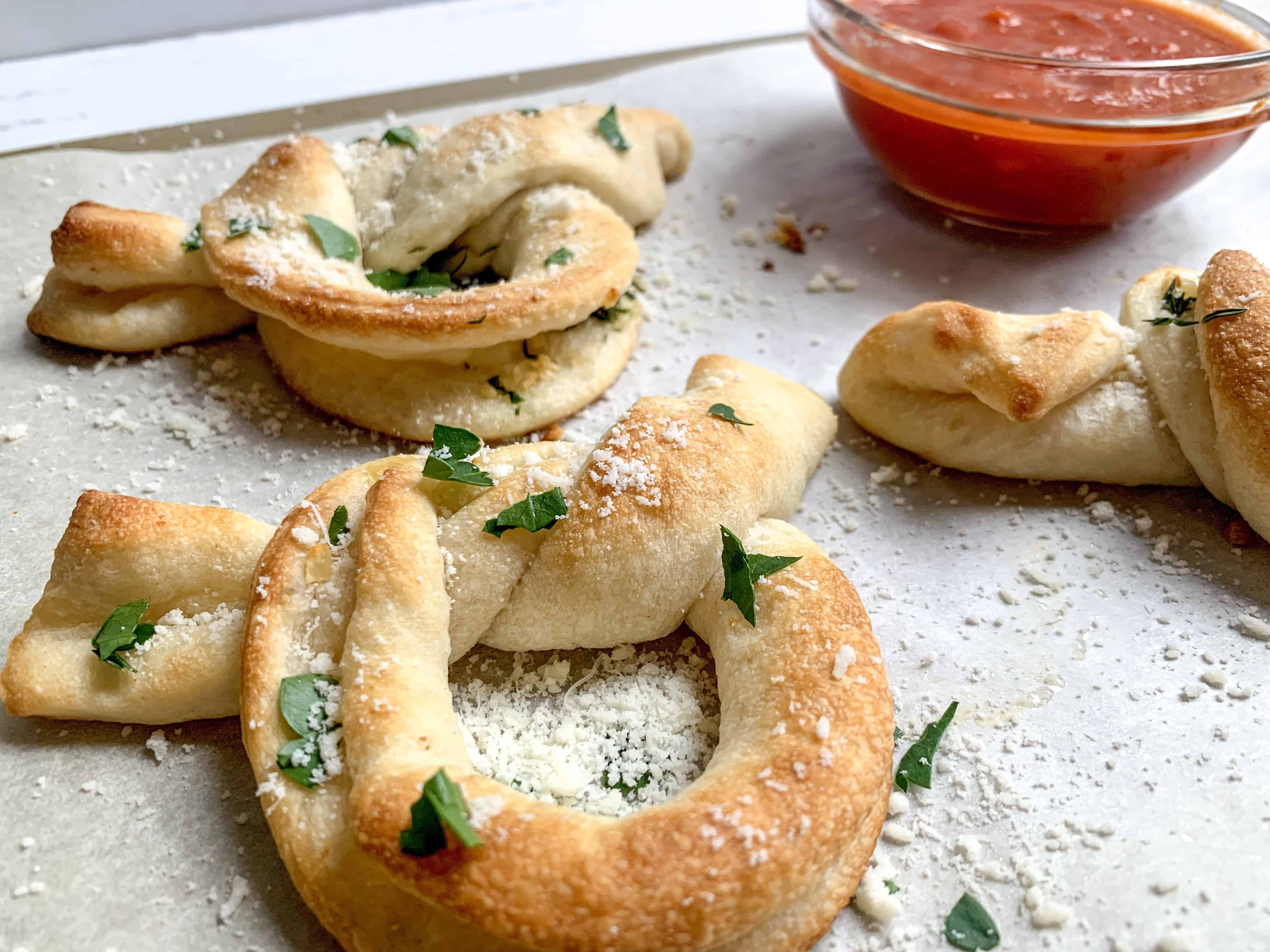 The actual Super Bowl?  Eh.  I really don't care much for the game because I've never been able to really latch on to a NFL team.  College football is just in my blood.  I like the heart of guys who don't get paid millions of dollars to run around tackling one another while we pay our teachers pennies.  Sorry.  It just isn't right what we value in this country but that's a post for another day.  What I DO love about the Super Bowl is the excuse to make really delicious and indulgent snacks one last time before college football starts back up in the fall.  And as a side note: I always thought I'd be one of those moms who was good about juggling the old life pre-children with the new life post-kids.  I'd never miss a Georgia game and would keep up with the players, recruits, coaches like I did in college. Nope. There's so many other things to keep filed in my brain these days that even Georgia football has taken the backseat.  One day this'll change and I'll be sad about not having babies to keep up with.  In the meantime, there's at least still snacks.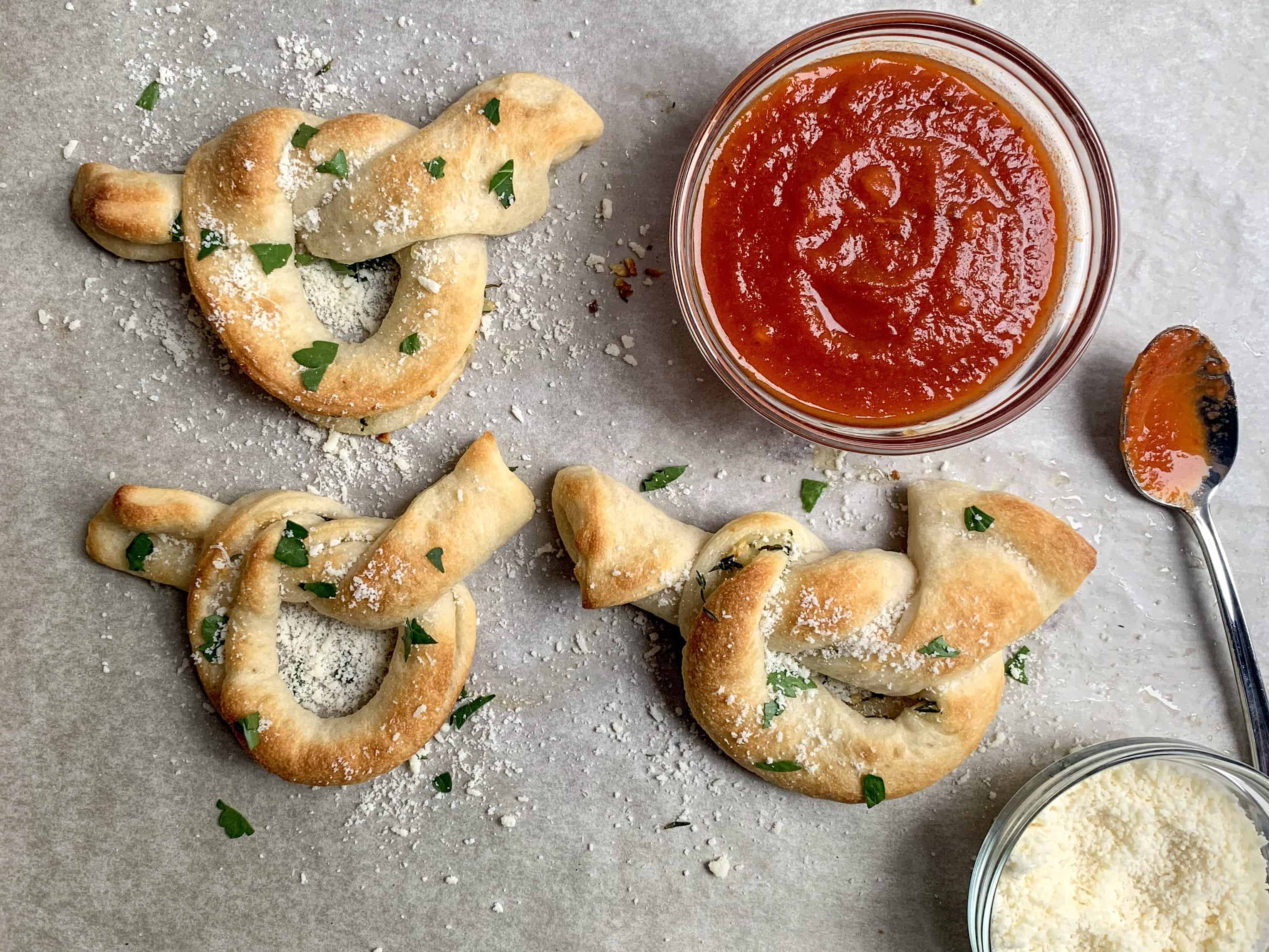 Maybe this year I'll get into the commercials?  Although, like my thoughts on how much we pay professional football players, I feel a little queasy thinking about how much these companies spend on one 30-second ad.  I feel like we could cure world hunger with one Doritos commercial.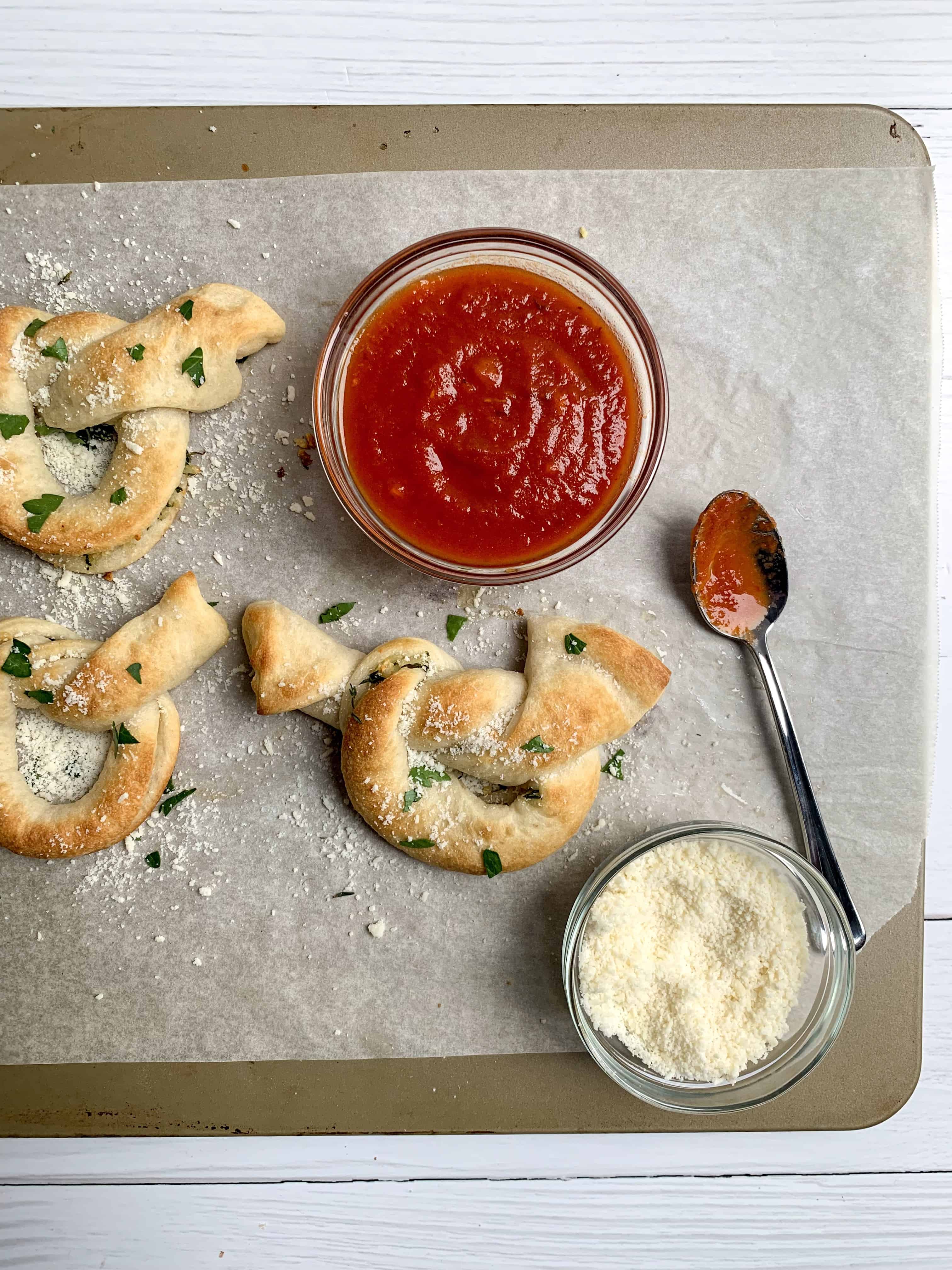 Getting back to these garlic knots.  If you're really into the kind of garlic bread that is sopping wet from butter, these garlic knots aren't it.  You'll probably want to double or even triple the butter.  I prefer just a hint of butter on my garlic bread without it feeling like my stomach could be rung out afterward.  Also, use whatever fresh herbs you have in your refrigerator.  Here, I used thyme and parsley because that's what I had.  Basil, oregano…whatever.  It'll be delicious.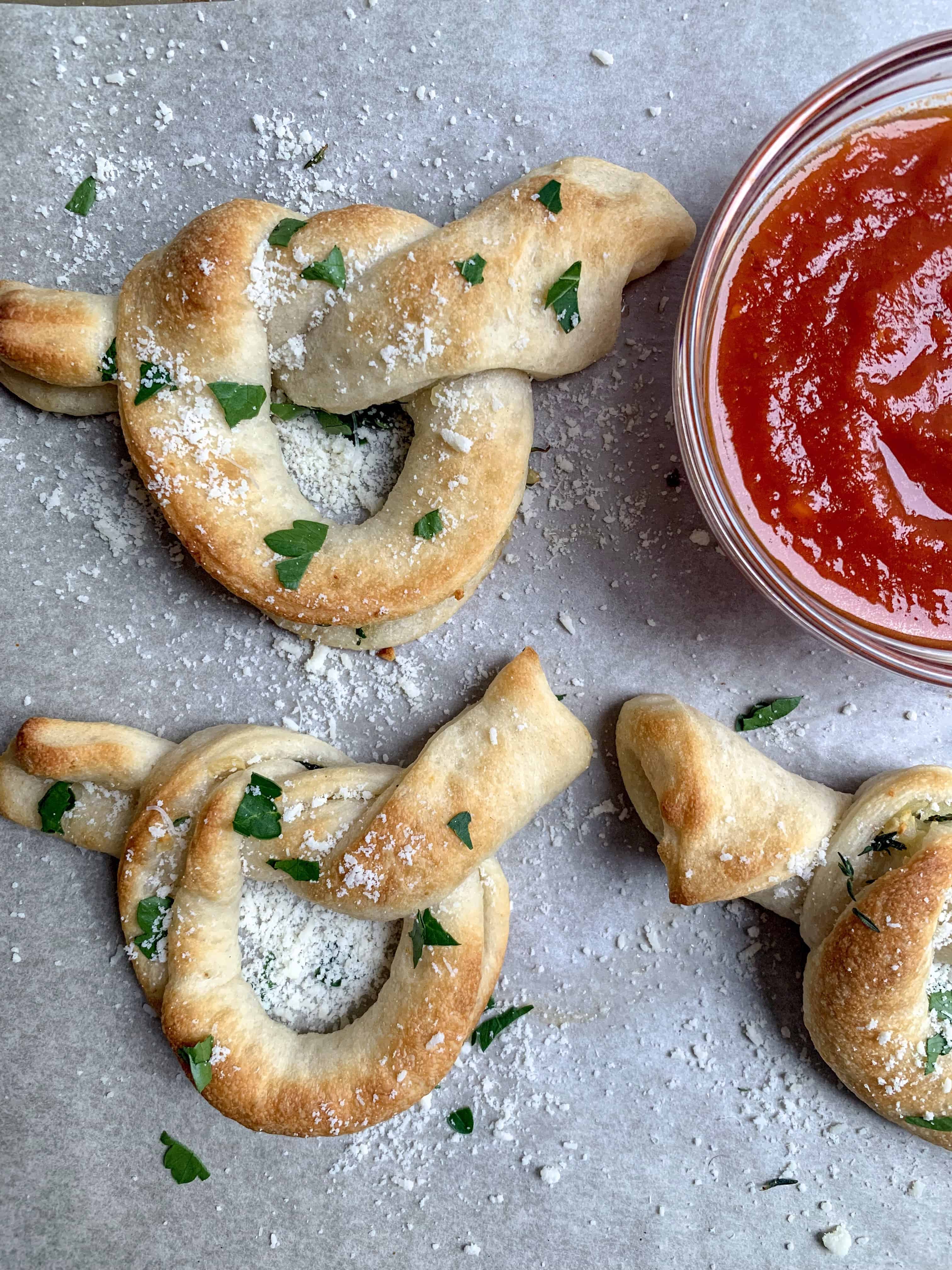 We often eat these with meatballs we have in the freezer and some marinara sauce and call it a meal.  They were a big hit with the kids, especially because it's an atypical meal.  They're all about the random meals that have no vegetable.  I can still hear C say, "You mean we don't have to eat any vegetables tonight?!" in only the way that C does.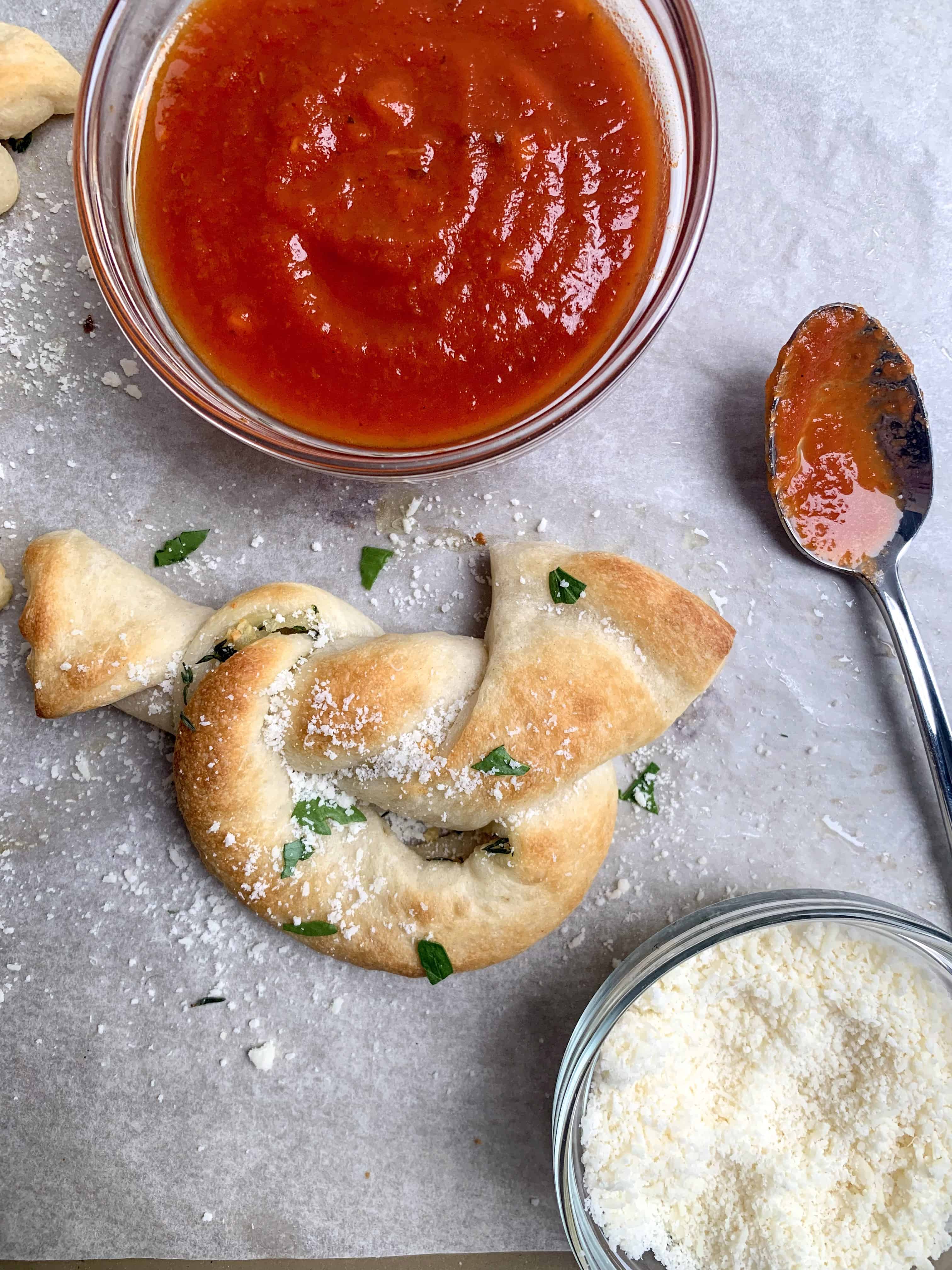 Active Time: 15 minutes
Total Time: 25 minutes
Yield: 8 large garlic knots
Ingredients:
1 package of pre-made pizza dough (here, I used Pillsbury)
3 tablespoons butter, melted
3 cloves garlic, minced
2 teaspoons fresh thyme
2 tablespoons parsley, chopped (plus more for garnish)
1/3 cup fresh parmesan cheese, grated
Directions:
Preheat the oven to 425 degrees and line a baking sheet with parchment paper.  Set aside.
In a small saucepan, heat the butter and garlic under medium heat until melted and sizzling, about 2 minutes.  Be sure not to burn butter.  Turn heat down if it's burning. Add fresh herbs and saute for another 1-2 minutes until fragrant.  Take off the heat and set aside.
Roll out pizza dough until it's a 14 x 8 rectangle.  (If you're using Pillsbury, it's already in a rectangle and you can just stretch dough out with your hands)
Using a pastry brush, brush dough with the butter mixture.   Cut dough into 8 strips with a pizza cutter.  Roll each strip of dough into a rope, then tie the dough in a knot.  Set knots on parchment paper.  Top with parmesan cheese.
Bake for 7-10 minutes or until dough is lightly browned.  Remove from the oven, top with parsley, and serve with a side of meatballs and/or marinara sauce.
Enjoy!
xox