One day you're young and fun and the next day you're getting excited about 15 minute baked Italian meatballs that also allow you to sneak in some spinach. These things in life just sneak up on you, ya know?!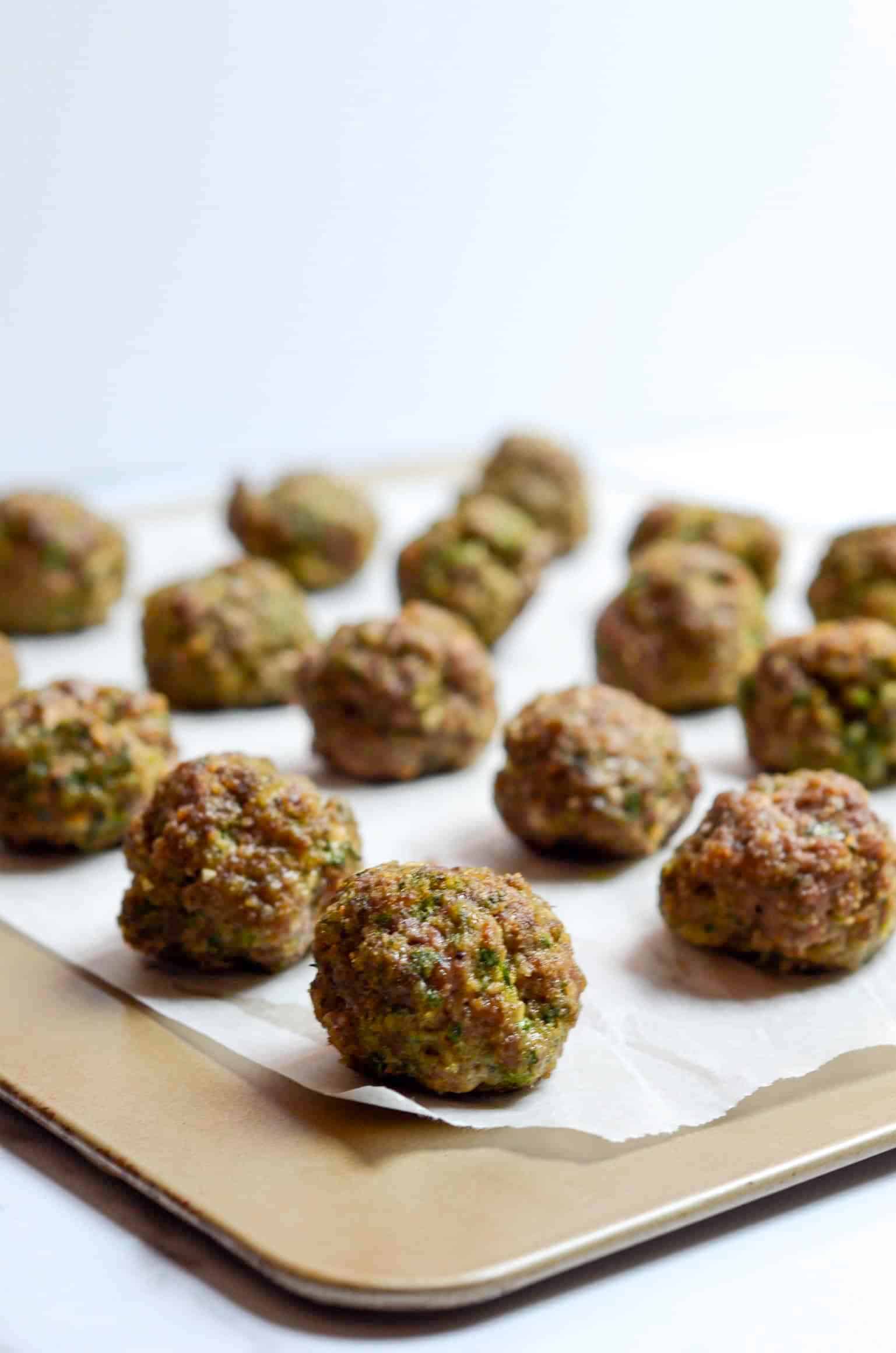 I used to get pop culture references. Now I vaguely know what others are talking about (oh, I totally watch "You" -- wait! what's "You" about?), but I have reached a point where I can now embrace getting older and the shifting of priorities. It's comical to remember I used to watch the same TV shows as other people in the world. I used to wear fashionable clothes. Hell, I used to shower daily and do my hair and make-up, but now I'm going way off topic here. Now it's just me, some trashy Monday night TV (if I'm lucky) and these baked Italian meatballs.
Somehow, someway, I've made peace with this..and let me tell you, if given the choice between these meatballs and being cool, I'd choose these meatballs any day. These are the best meatballs ever. Famous, I'd even say.
What makes these meatballs bomb
These meatballs are my happy place and can be made in under 15 minutes. They also don't have a ton of "filler" so they're meaty and substantial.
These meatballs are baked in the oven, not pan fried, so there's very little hands-on time involved.
Not only are these meatballs extremely kid-friendly, but they allow me to sneak in some spinach for some added greens you don't even know you ate.
They are perfect to make in advance for the busy week ahead. They also freeze really well. Stick them in the freezer and take individual meatballs out as needed. It's an awesome feeling knowing you have meatballs in the freezer when everything else is bare.
These meatballs are so versatile. If you're sick of spaghetti, make a meatball sub, dropped in minestrone soup, or added as a topping on homemade pizzas.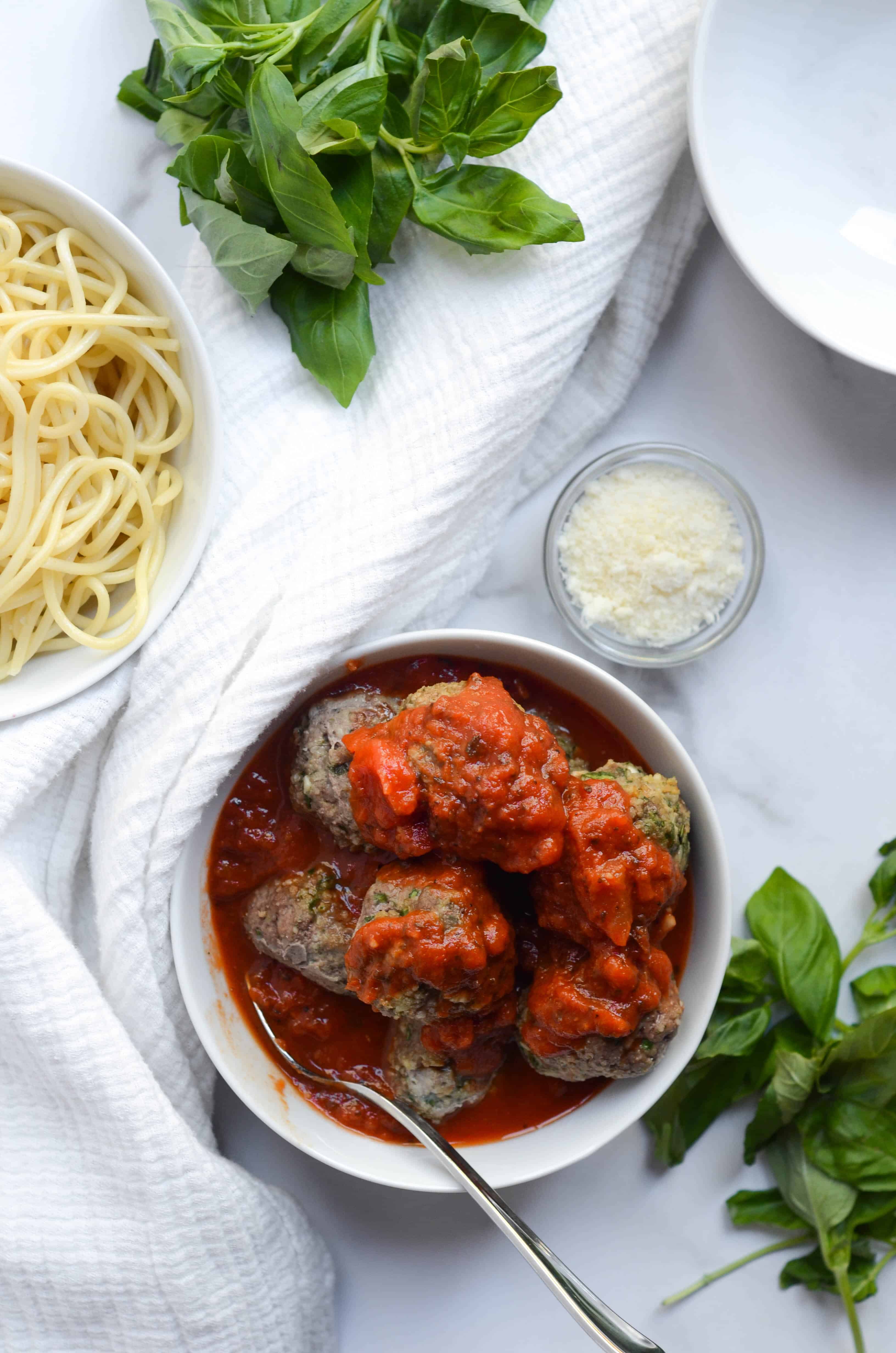 Ingredients for baked Italian meatballs
Ground meat. You can use whatever ground meat you prefer (½ ground pork and ½ sirloin, all pork, turkey, chicken...), but I always use 85% sirloin for ours.
Breadcrumbs. Buy the kind of breadcrumbs with Italian seasoning in them to make it easier on you. If you don't have Italian breadcrumbs, add 1 teaspoon of Italian seasoning. We usually always use gluten free breadcrumbs (more on that below), and you'd never know they were gluten free.
Parmesan cheese. Essential!
Worcestershire sauce. I freakin' love this stuff. I could drink it by itself, I think.
Egg to bind all of the ingredients.
Garlic. Can you have too much garlic ever? (That's rhetorical!)
Spinach. Just trust me on this one. If you're not a fan of spinach, don't worry. You don't even know it's in there. Truly. More on this below.
Salt and pepper
Make the meatballs gluten free
We are not a gluten free family; however, there are some things I *always* make gluten free because I truly taste zero difference. Meatballs are by far my favorite gluten free food.
I highly recommend Aleia's breadcrumbs (not sponsored...I just love them). I can buy them at our local Giant, and they are flavorful, fresh and you would be hard-pressed to find anyone who could tell the difference between gluten-full and these gluten-free breadcrumbs.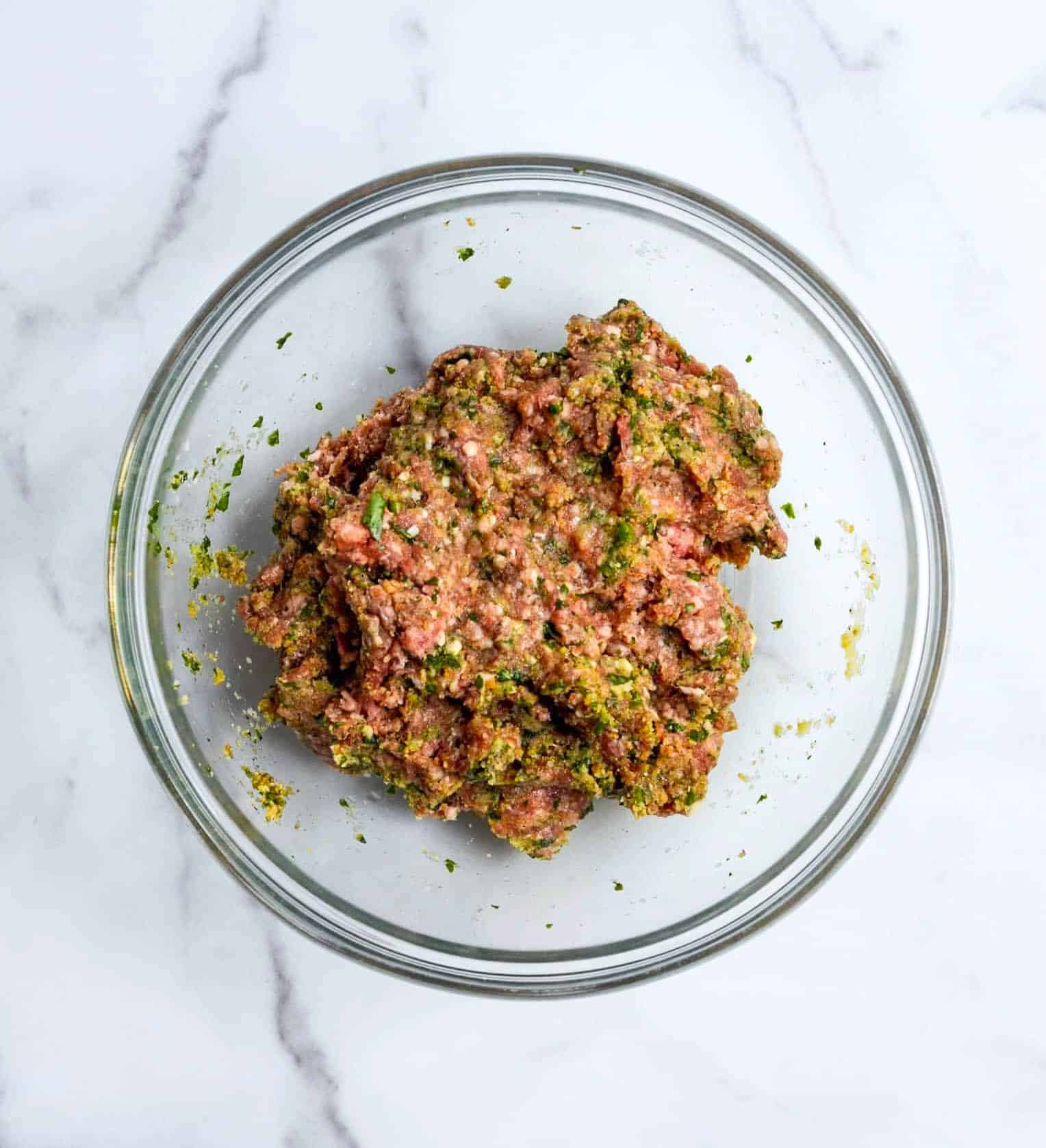 Tips and Tricks for making the best baked Italian meatballs
Here are some little tips of the trade for making gluten free Italian meatballs (spoiler alert: they're so easy):
Use a cookie scoop if you don't trust yourself to have a somewhat standard-sized group of meatballs. This will ensure even cooking and makes your plate prettier if there's not a small guy and a massive guy on there.
Put meatballs on parchment paper for easy clean up. Do you have to wash the cookie sheet if you don't technically "use" it?!
Broil meatballs for the last minute or so to get them nice and brown and just ever so slightly crunchy on the outside.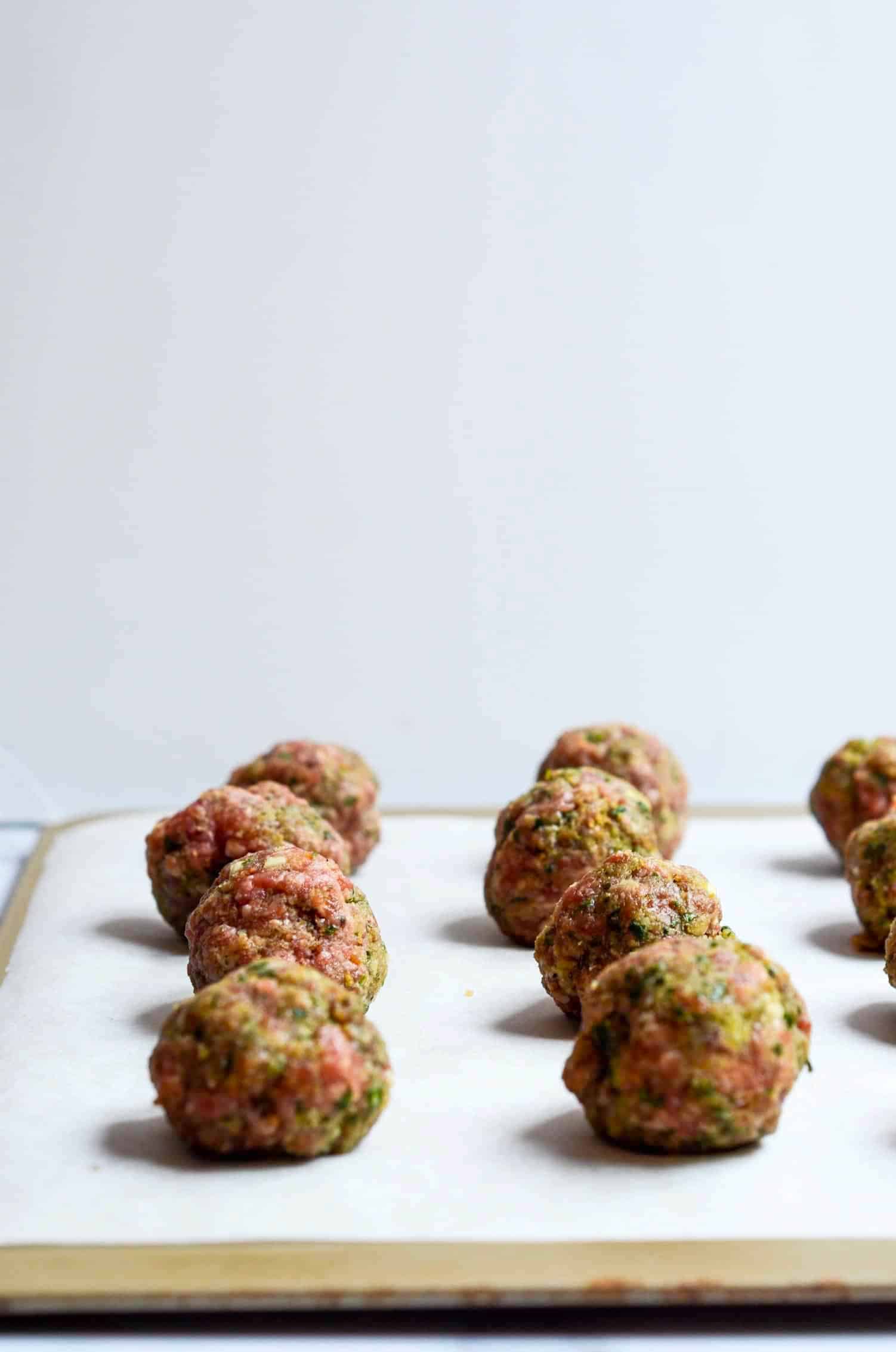 Other uses for breadcrumbs
If you're looking for ways to use your breadcrumbs, bread chicken fingers with them and then bake or take a look at this Panko and Rosemary Cod. It's delicious and so easy for a weeknight meal.
One of my favorite ways to cook shrimp of all time are these Healthy Baked Coconut Shrimp. You would probably not want Italian breadcrumbs for these, but if you have regular Panko breadcrumbs, these are my favorite.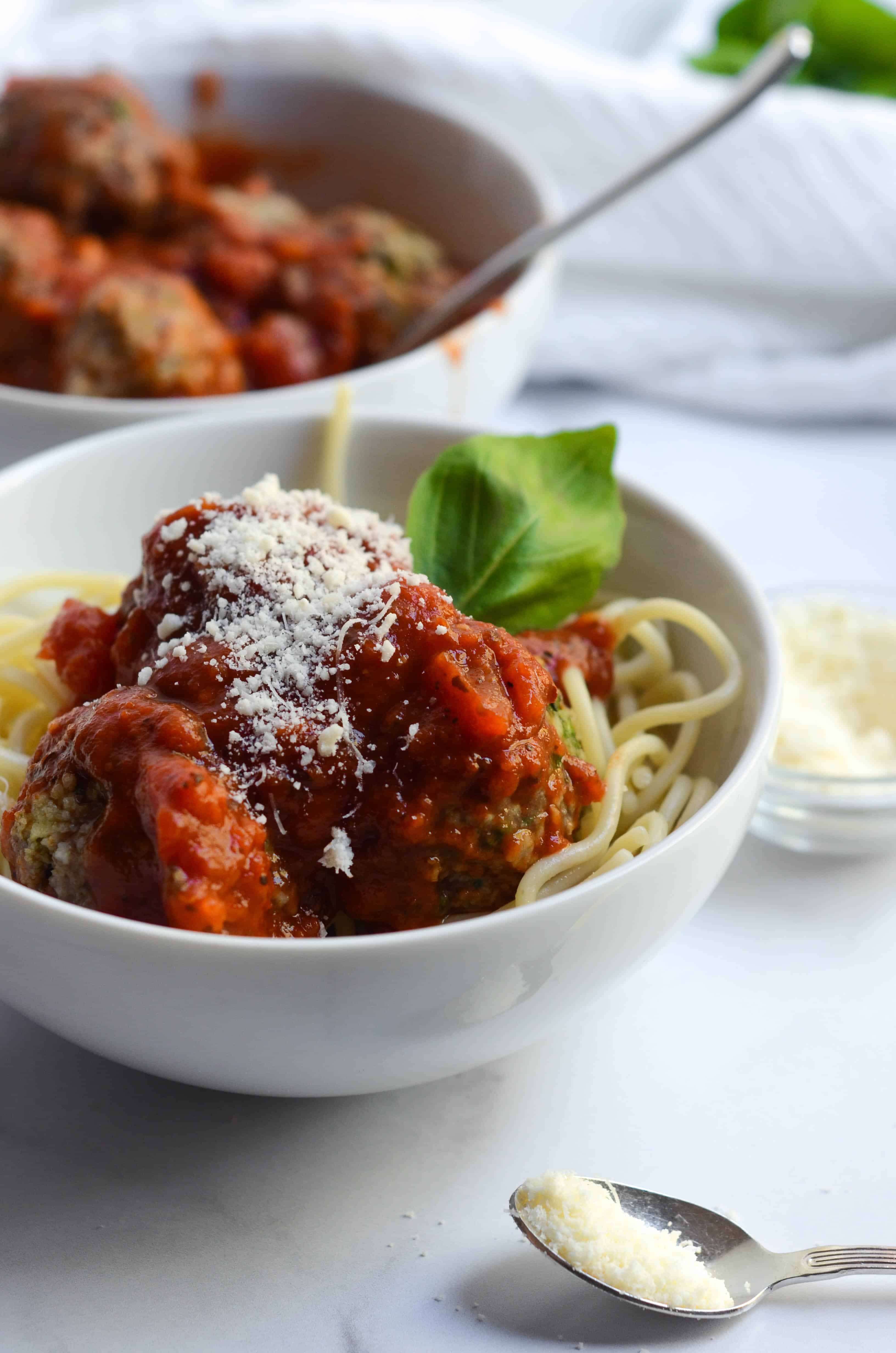 Love and comfort food!
xoxo
kathryn
As always, if you make anything from the blog, be sure to let me know! I love hearing from you in the comments on this post below or find Worn Slap Out on Facebook, Instagram, or Pinterest!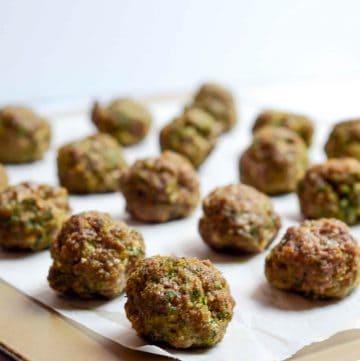 Gluten Free Italian Meatballs
One day you're young and fun and the next day you get excited about gluten free Italian meatballs that take you less than 15 minutes total. These things in life just sneak up on you, ya know?!
Print
Pin
Rate
Ingredients
1

pound

ground sirloin or beef

1

egg, lightly beaten

⅓

cup

gluten-free Italian breadcrumbs*

3

teaspoons

Worcestershire sauce

¼

cup

freshly grated parmesan cheese

2

cloves

garlic, finely chopped

¼

cup

spinach leaves, chopped in small pieces

(from about 1 ½ cups of whole spinach leaves)

salt and pepper
Instructions
Preheat the oven to 425 degrees Fahrenheit. Line a baking tray with parchment paper. Set aside.

In a large bowl, combine all of the meatball ingredients with your fingers. Shape them into 1 to 1 ½" balls. Place on lined baking sheet. Bake for 8-9 minutes or until meat is cooked through. To get them a little crispy on the outside, put meatballs under the broiler for the last minute.