I'm not going to lie.  I eat few processed foods these days, and when I do get desperate and grab something like a piece of candy, I'm usually disgusted at how sugary the treat is.  Crazy for someone who bakes all the time, right?  I did this the other day with a Reese's peanut butter cup.  It was so salty and sugary, I regretted wasting my daily sugar intake on one of them.  But I was at work, probably irritated...and vulnerable.  Sigh.
These chocolate almond butter cups are the healthy version -- made with good quality cocoa (Valrhona 4 Life) and almond butter.  If you're a Reese's peanut butter fanatic, you should definitely give these a shot.  They're a delicious and healthy snack or dessert you don't have to feel guilty for popping before dinner and contain a fraction of the sugar.  They're also vegan.  After all, cocoa has some serious health benefits.  Did you see this article from WebMD?  Everyone knows all of the good research you need when you're up in the middle of the night wondering what disease you or your children have comes from WebMD, amiright?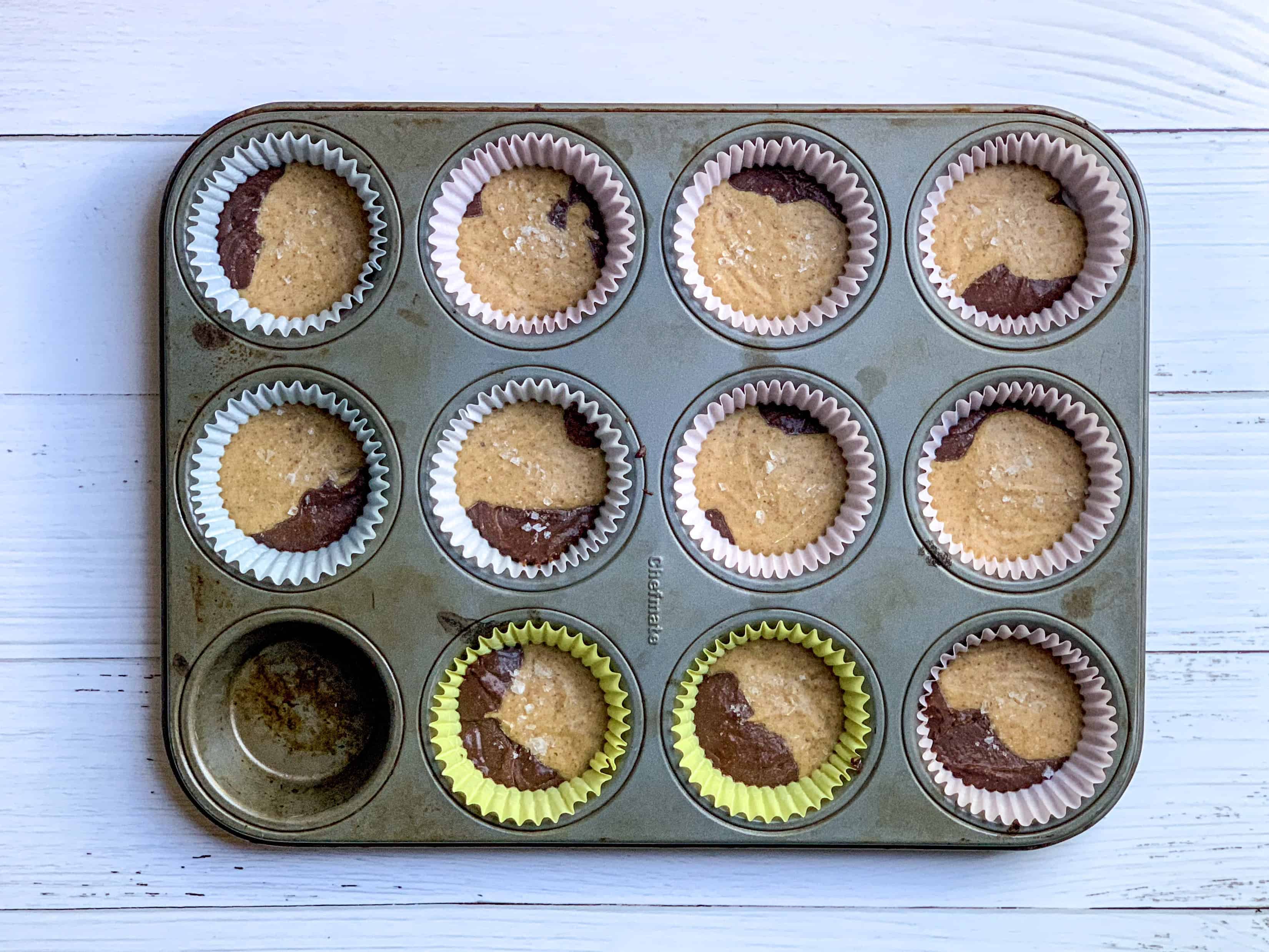 The unsweetened cocoa powder gives it a deep, intense chocolate flavor, and the maple syrup adds some sweetness.  The other two ingredients (for a whopping total of 5 ingredients!) is coconut oil and some Maldon sea salt to add some salty goodness on top.  The Maldon sea salt is essential to get that satisfying salty flavor, so don't skip this.
Literally.  That's it.
You could likely make these with peanut butter, too (just make sure it's the creamy kind).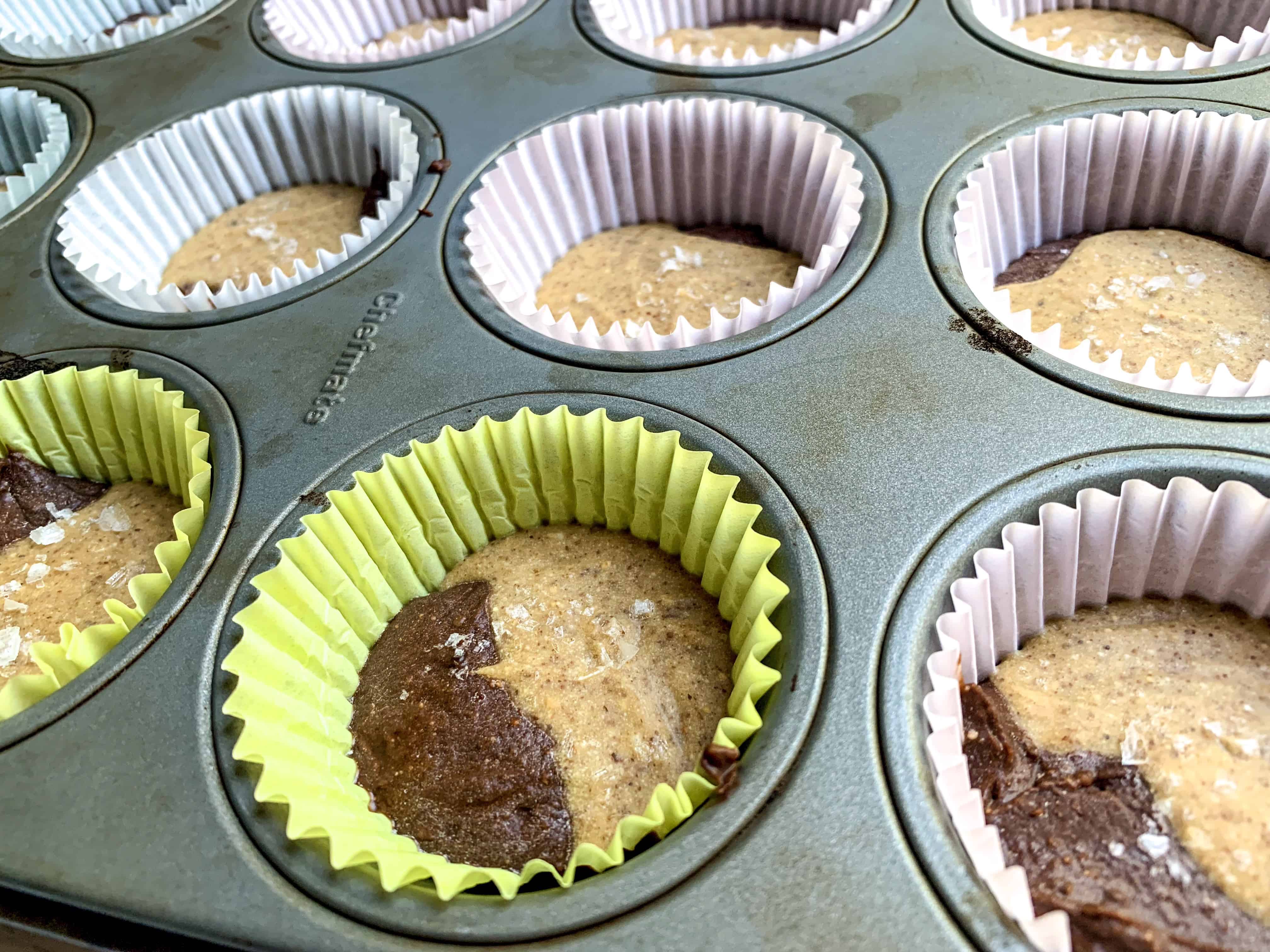 Active Time: 10 minutes
Total Time: 10 minutes (plus more for freezing)
Yields: 10 cups
Ingredients:
Bowl 1
1 tablespoon coconut oil
½ cup almond butter
½ teaspoon vanilla extract
2 tablespoons maple syrup
Bowl 2
Everything above plus...
3 tablespoons quality cocoa powder (I like Valrhona from Whole Foods)
Directions:
Line a muffin pan with 10 paper cupcake/muffin liners.
In two separate bowls, add your melted coconut oil (I just put in the microwave for about 30 seconds).  Stir in almond butter, vanilla extract, and maple syrup in both bowls.  Add cocoa powder to the second bowl.
If you need to place bowl in the microwave for 15 seconds so you can stir mixture until it's a little bit loose, do so.  It won't be liquidy, but it shouldn't be one big clump either.
Drop one tablespoon of almond butter mixture into each muffin tin.  Add one tablespoon of the chocolate mixture.  Use your fingers to spread out the almond butter and chocolate mixture until it spreads out in the muffin liner.  Slam the whole muffin pan on the floor a couple of times to make sure the mixtures have settled.
Sprinkle each treat with Maldon sea salt and place in the freezer for about 30 minutes until they harden up.
You'll want to store these suckers in the freezer...and they're perfect when you need a little something something after dinner (before dinner) or really anytime you need something a little sweet without the guilt.