Simple and creamy, this Corn and Zucchini Chowder uses a potato to make the soup extra creamy and filling. Perfect for summertime with fresh corn or in the middle of winter with frozen!
It's a weird craving to have in the middle of summer, but I crave me some corn chowder like crazy. New England clam chowder has no appeal to me, but VEGETABLES in chowder form -- YES PLEASE.
I just ate three servings of this soup in approximately 10 minutes while sitting outside in the 90 degree heat while watching my kids play with bubbles. It's just that good.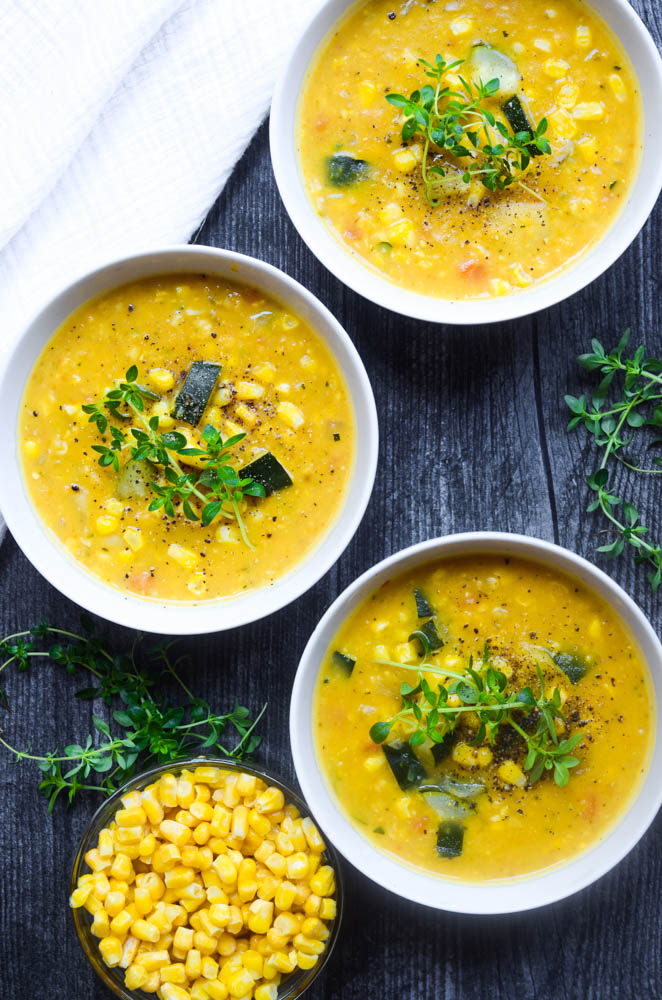 Creamy without Using Much Cream (or None At All!)
This Corn and Zucchini Chowder is a little unusual in that it doesn't have a lot of cream in it (only ¼ cup). Three things make this soup creamy:
Using a Potato. The secret weapon to creaminess is using a potato like in this Creamy Carrot Ginger Soup.
Blending. Toward the very end of the process, you'll blend half of the soup into a blender or food processor (or use an immersion blender) and then add the pureed soup back in. This gives you added creaminess, opens up some of the herbs, and still allows for some of the vegetables to remain whole. That's always appealing.
Adding a touch of cream. Again, totally optional. The soup is creamy without the heavy cream but it does add more richness, makes the soup a beautiful pale yellow color, and technically makes the soup a chowder.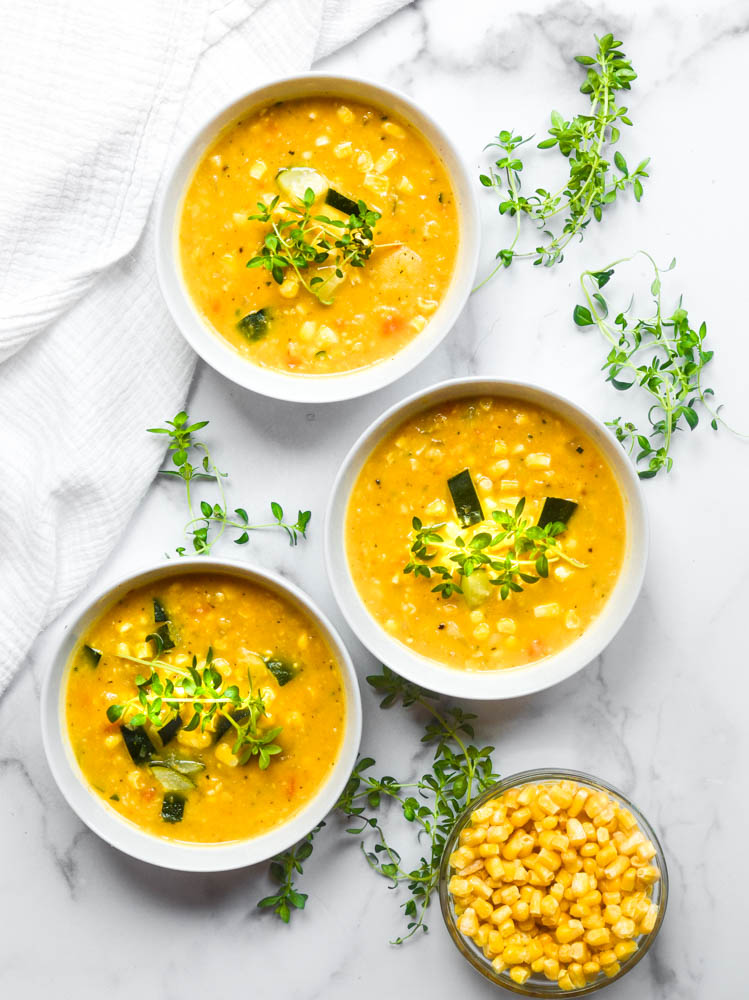 A Soup for All Preferences
This soup can be very easily adapted to accommodate a variety of preferences. It's naturally gluten free and vegetarian.
This soup is perfect for vegetable lovers. I guess technically a couple of the vegetables are starches, but I'm totally counting them.
As we already covered, this soup is great for those who are dairy free or vegan. You can easily skip the heavy cream to make this soup even healthier.
Have a meat lover in your life? Add some bacon to the soup for some added protein.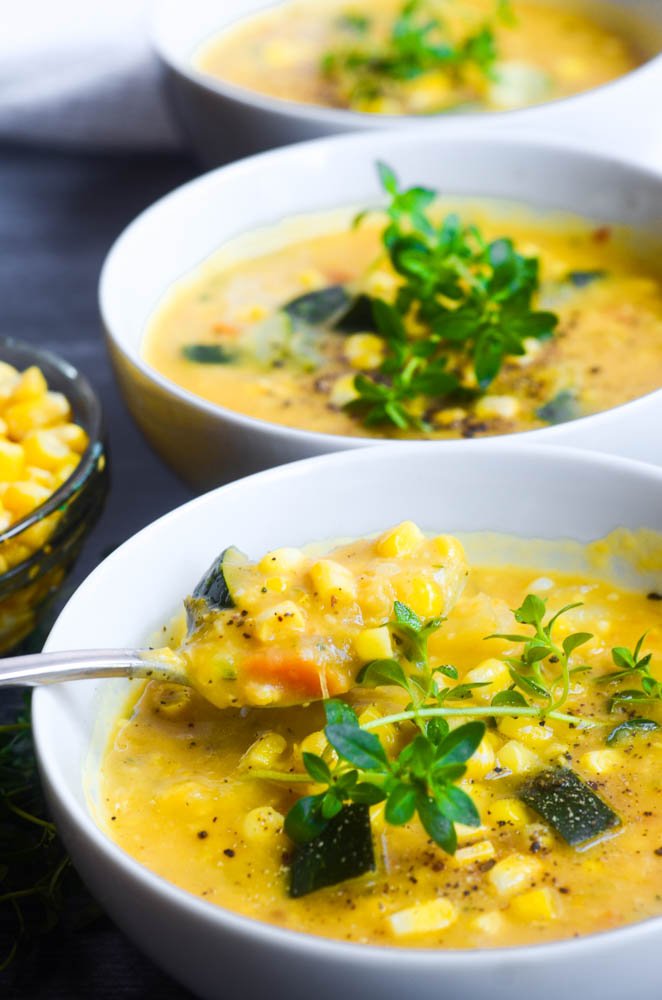 Ingredients You'll Need
olive oil
onion
carrots
celery
garlic
potato
vegetable or chicken broth
bay leaves
dried thyme (or fresh)
3 fresh rosemary sprigs (or dried...use what you have on hand!)
zucchini
corn (fresh or frozen)
heavy whipping cream (totes optional...it really doesn't need it)
bacon, parsley, thyme for garnishing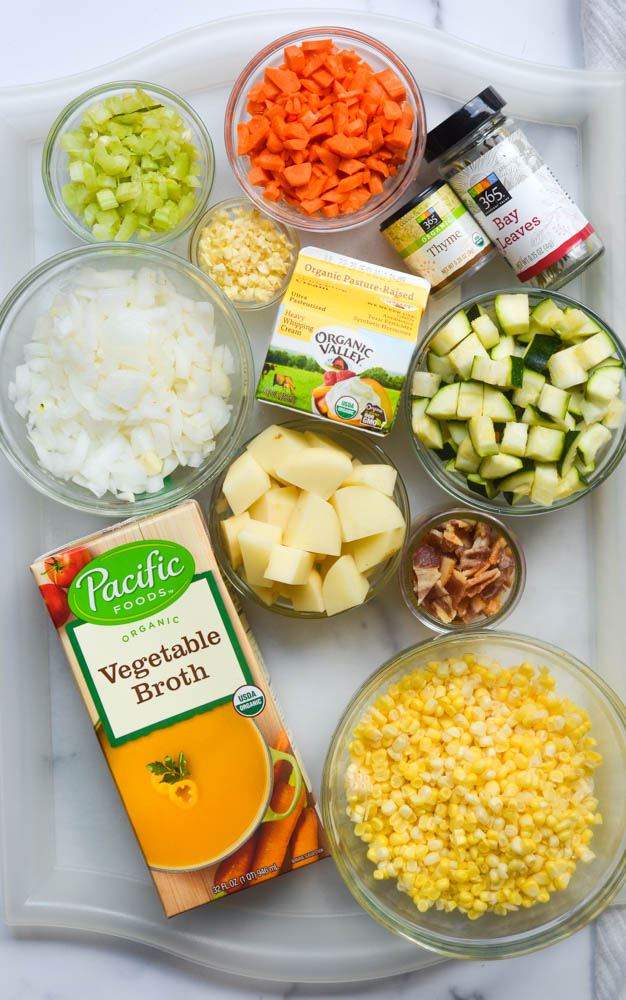 Shortcuts to Making Corn and Zucchini Chowder
What's really annoying about making soup is the insane amount of chopping you have to do. If you find yourself unable to devote 20 minutes to chopping alone, consider these shortcuts:
Buy pre-cut carrots, celery, and onions (or a mirepoix mix). I don't know what mirepoix means in French but it's somewhere close to "I give zero effs right now." Sometimes you just run on a deficit for a little while and that's okay.
Use frozen corn. This is obviously what you have to do if you're not lucky enough to grab fresh corn for the few weeks it's in the grocery store. No worries. Frozen corn kernels taste delicious with this soup.
Use dried herbs. Just remember dried herbs are more potent than fresh ones, so you'll need less dried herbs than you do fresh herbs.
Spend 45 minutes every Sunday chopping the vegetables you need for the week. Much easier said than done, but in my fantasies, this is what I always do to make the week that much less crazy.
How to Make Corn and Zucchini Chowder
Step 1: Saute your veggies in batches.
Sauté the onions, carrots, and celery first.
Then garlic.
Then potato.
Then add broth and herbs.
Step 2: Let soup simmer.
The soup should simmer for about 10 minutes until potatoes just start getting soft. Then add zucchini and corn and simmer 10 more minutes until potatoes are all the way tender.
Step 3: Blend half of soup
In a food processor, blender, or using an immersion blender, blend half of the soup until creamy and smooth. Add it back into the soup, give it a good stir, and add your cream to finish.
Step 4: Top with your favorite ingredients.
Here's where you can get creative -- jalapeños, bacon, extra corn, thyme, parsley...the options are endless!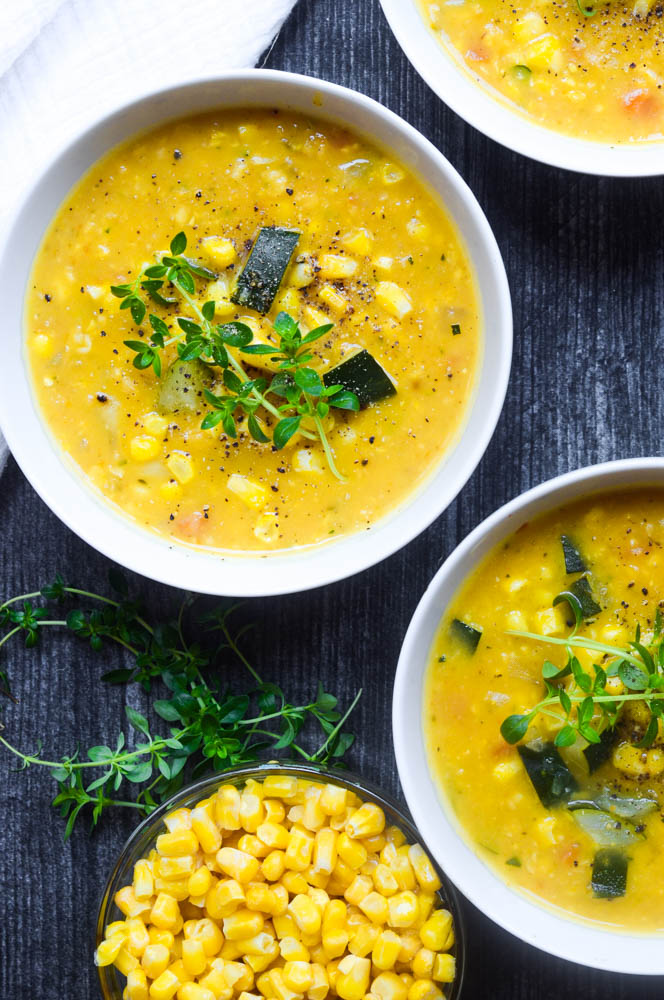 What to Serve with Corn Chowder
There are so many delicious things that pair well with this corn chowder. Just remember that the soup is pretty filling on its own!
May you have the most amazing summer weather and all teh fresh corn you can find!
xox,
kathryn
As always, if you make anything from the blog, be sure to let me know! I love hearing from you in the comments on this post below or find Worn Slap Out on Facebook, Instagram, or Pinterest!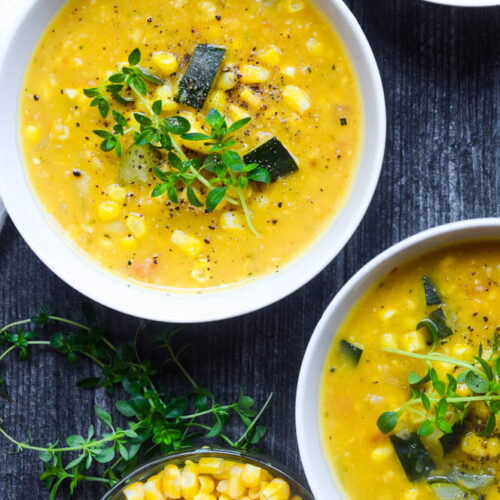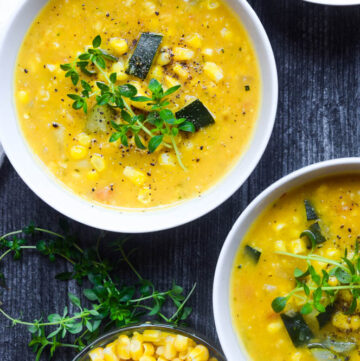 Corn and Zucchini Chowder
Simple and creamy, this Corn and Zucchini Chowder uses potatoes to make the soup extra creamy and filling. Perfect for summertime with fresh corn or in the middle of winter with frozen!
Print
Pin
Rate
Ingredients
3

tablespoons

olive oil

1

onion

diced

½

cup

carrots

diced

½

cup

celery

diced

3

cloves

garlic

minced

1

large potato

diced

4

cups

low sodium vegetable or chicken broth

2

bay leaves

¼

teaspoon

dried thyme*

3

fresh rosemary sprigs*

1

large zucchini

diced

2 ½

cups

corn kernels

fresh or frozen

¼

cup

heavy cream

fresh parsley, bacon, thyme

for garnish
Instructions
In a large dutch oven or large sauce pan, heat olive oil over medium high heat. Add the onions, carrots, and celery and cook for 4-5 minutes or until tender. Add the garlic and cook another minute until fragrant. Add potatoes and cook for another 5 minutes.

Add the broth, bay leaves, rosemary, and thyme. When soup boils, cover with a lid and lower heat to low. Simmer for 10 minutes, then add zucchini and corn and simmer for another 10 minutes until potatoes are tender (you should be able to pierce the potatoes with a knife).

Remove the bay leaf and rosemary sprigs and transfer half of the soup into a food processor o use an immersion blender to blend soup until creamy. Pour the blended soup back into the pot and stir. Add the heavy cream if using (this is totally optional because it's also delicious without). Serve with fresh parsley, thyme, or bacon.
Notes
*Feel free to use fresh thyme or dried rosemary to the soup depending on what you have available.  Just know if it's fresh, you'll need more than you would if using dried herbs. 
Storage:
Soup is really delicious the next day once the flavors settle even more.  Store in an airtight container in the refrigerator once the soup has cooled.  It will stay fresh for 3-4 days.